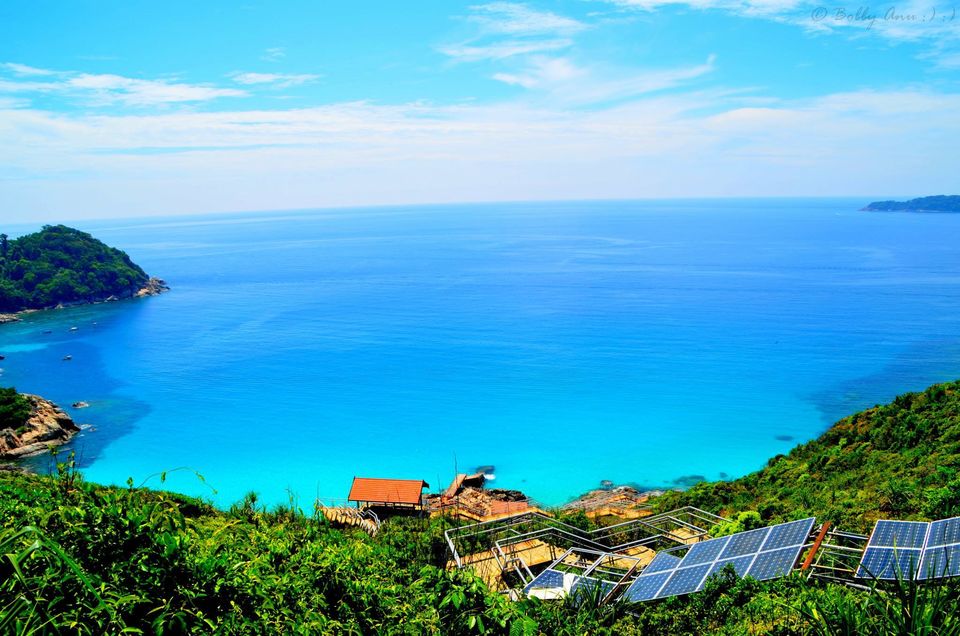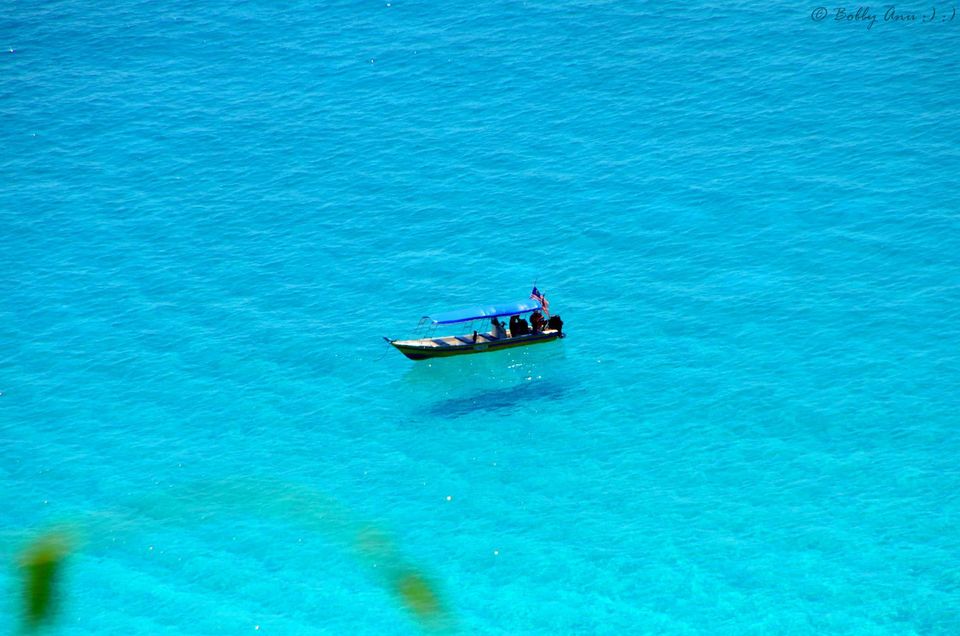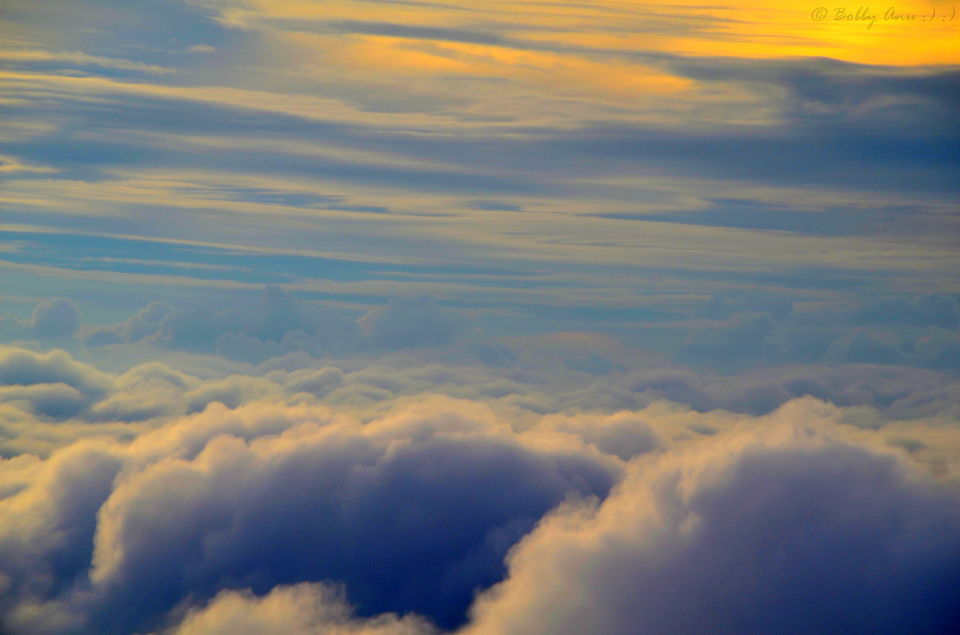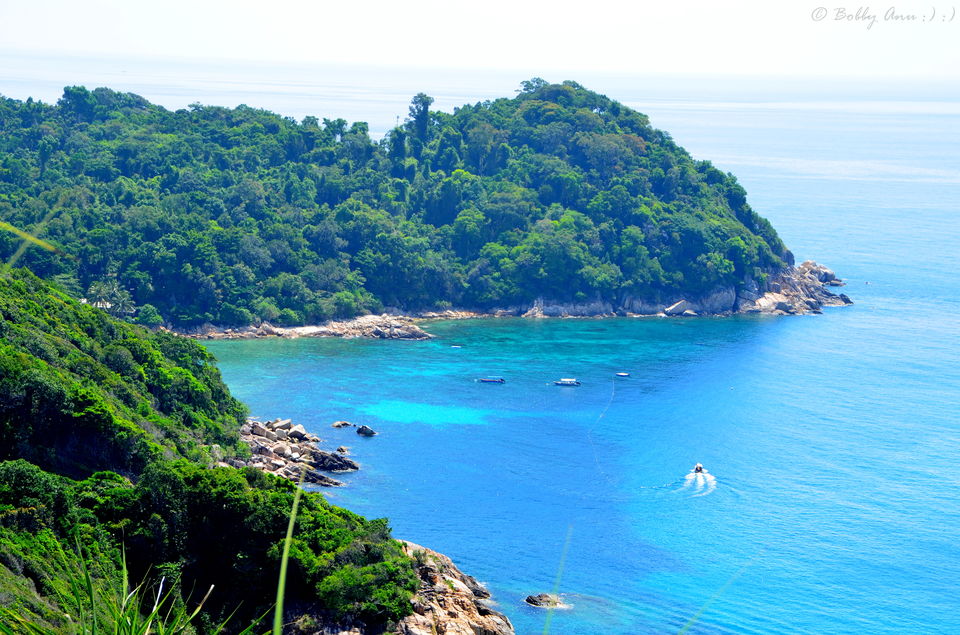 Perhentian Islands - Malaysia's backpacking secrets, the Perhentian Islands. Consists of Pulau Perhentian Besar (The Large Perhentian Islands, more resort based) and the Pulau Perhentian Kecil (The Small Perhentian Island – much better backpacker scene).
We (Me & my wife) always prefer to be a Backpackers and hence,we prefer to stay in Small Island and you will find Crystal Clear Blue water everywhere.
Basic things to carry - Swimming Goggles, A pair of shorts, Sun Screen lotion.
Best time to Visit -  March to October (Our visit time is in June )
Things to do - 
Scuba diving
Snorkeling ( Our Snorkel Album - Snorkel at Perhentian Islands, A tropical Paradise in Malaysia )
Sea kayaking
Trekking through the jungle
Day1
Trip started @ 6.30 AM by catching a flight from Kuala Lumpur to Kota Bharu (which is nearest airport to Perhentian).  Flight fare would cost you very less (30 RM /person, in our case).
Prefer a window sear to catch a glimpse of Early Morning sunrise between the beautiful clouds from the flight window.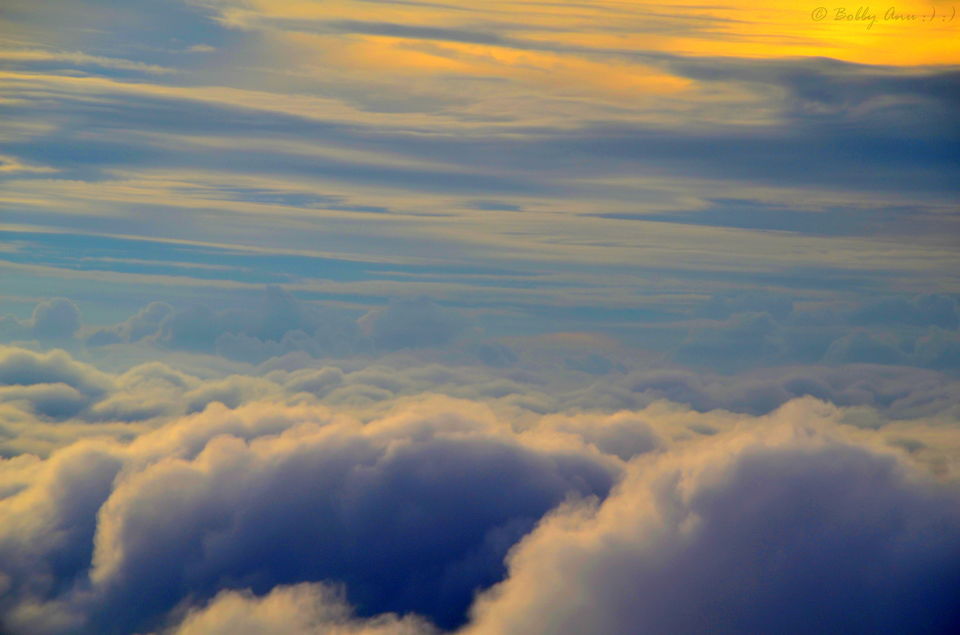 Reached 7.45 AM to Kota Bharu Airport; You need to go to Kuala Besut jetty, which is 1 hour drive from Kota Bharu Airport to catch a ferry to Perhentian Island.
There are few travel agents in Kota Bharu airport, which is easy to book tickets.  Ticket Fare - 80 RM / person (Includes Up & Down Ferry fare, One side Taxi fare from Airport to Kuala Besut).  Remember to pay a conservation fee of RM 5 at Jettypoint.
Reached Kuala Besut Jetty by 8.45 AM and 9 AM is our Ferry to Perhentian Islands (Coral Bay Jetty)., Travel time - 20 minutes.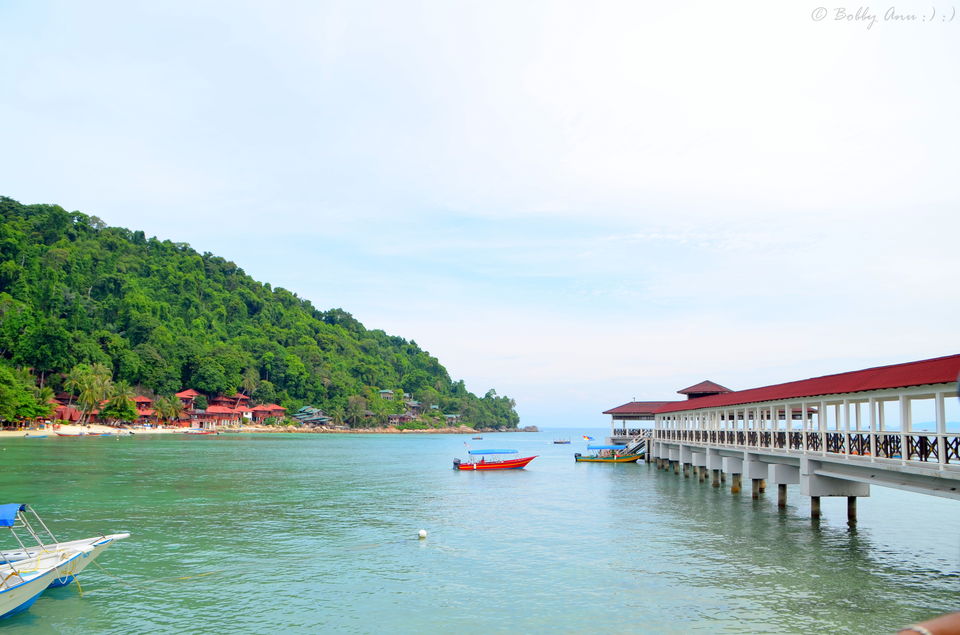 A Beautiful Coral Bay Beach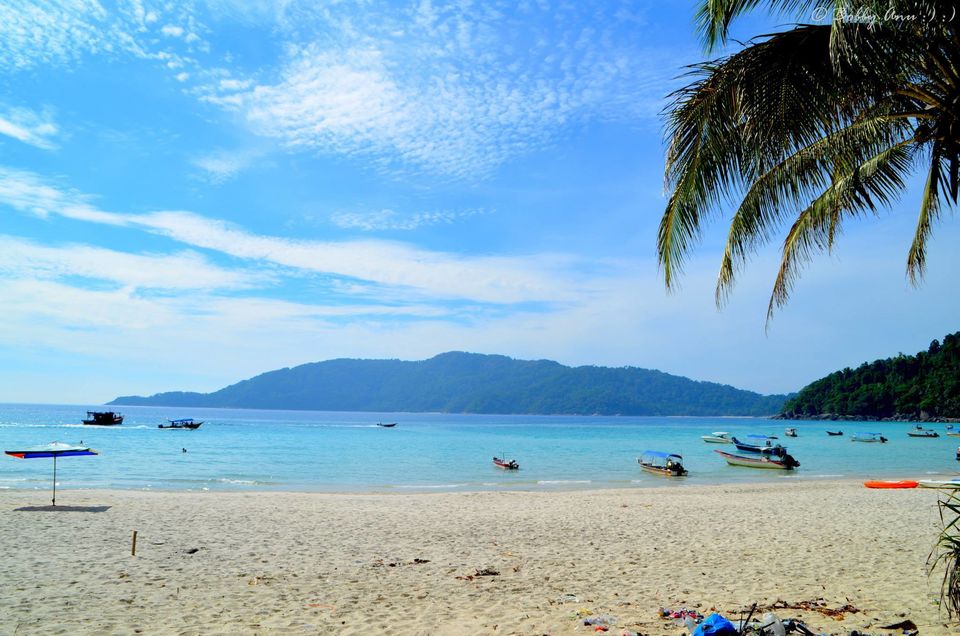 We booked Shari-la Resort, which is just next to CoralBay beach, giving us beautiful view of the island.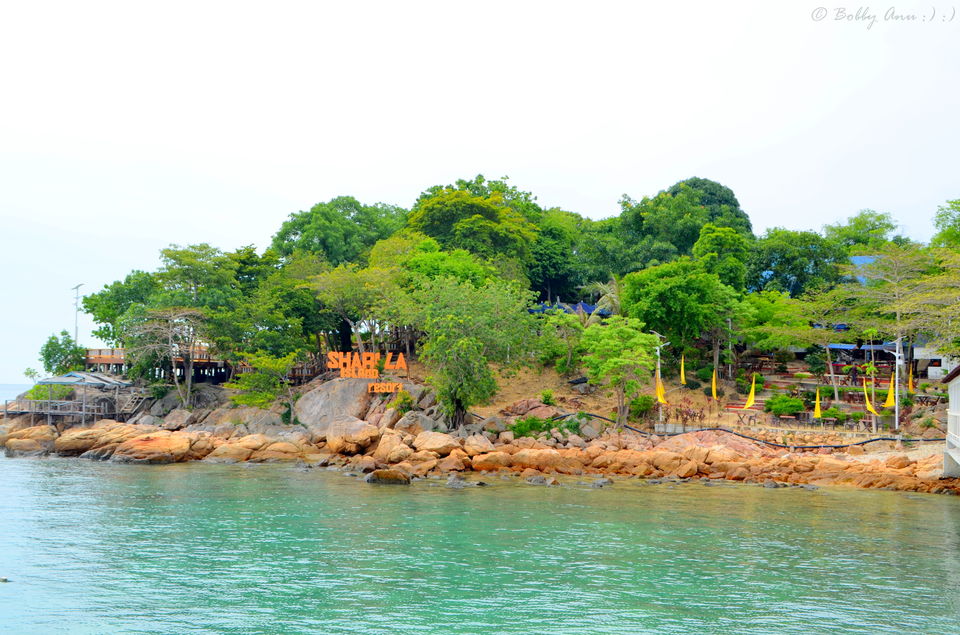 Trust me, those are the fishes you can see just in seashore.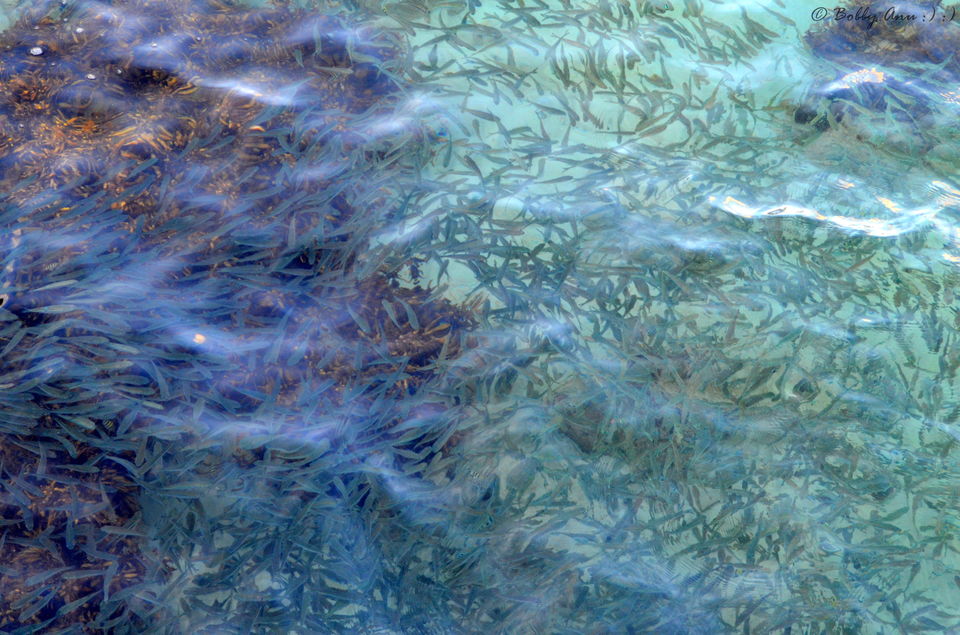 There are lot of restaurants near Long beach and Coral Bay beach. So, Don't worry about food here.  Remember, there are no street lights on the island, so just carry your mobiles / torch during night time.
Don't worry about safety here,  Perhentian is absolutely a safe place during nights.
Spent sometime in Long Beach & Coral beach (both are on different direction and walking distance will be around 15 mins)
There'll be some events during night times and it will make u sit on the shore whole night with drinks before you ;) 
Day 2 - Day started with a Jungle trek from our resort and the time for trek is 1 hour.  You need to sweat to reach the top,but the view from top of the Hill is breathtaking.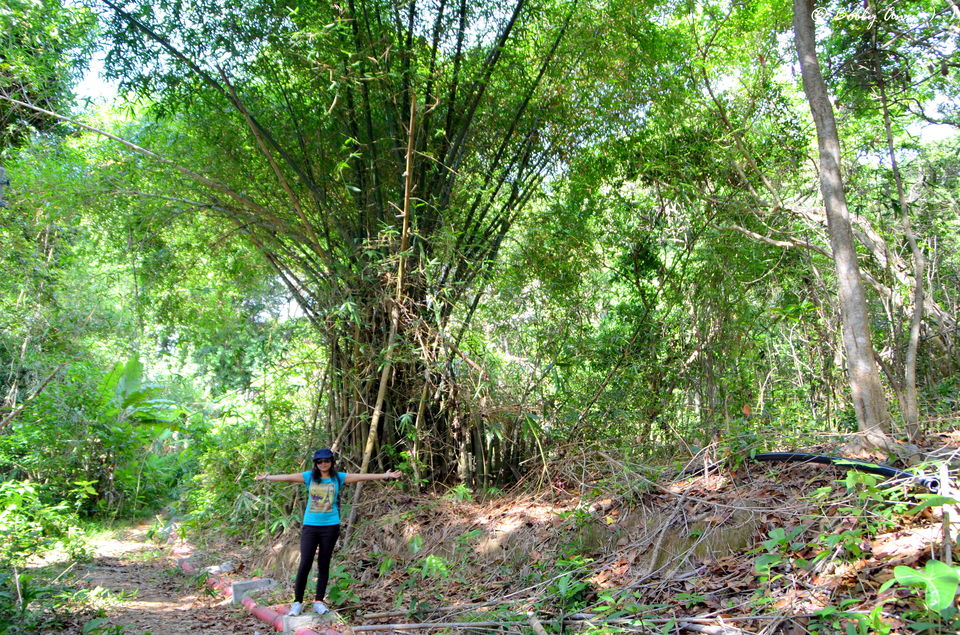 Windmill's on the Hilltop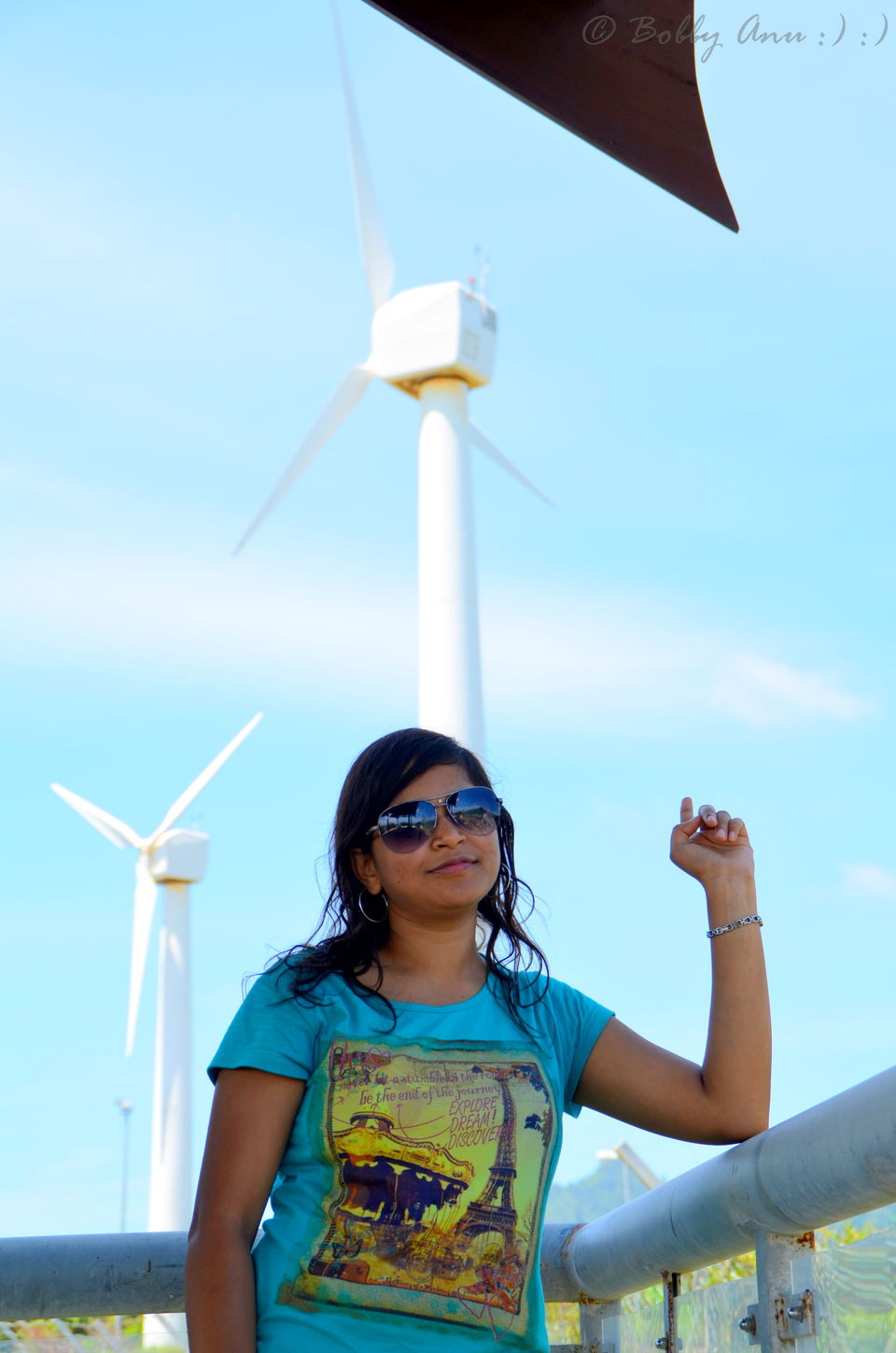 Breathtakin View from Hilltop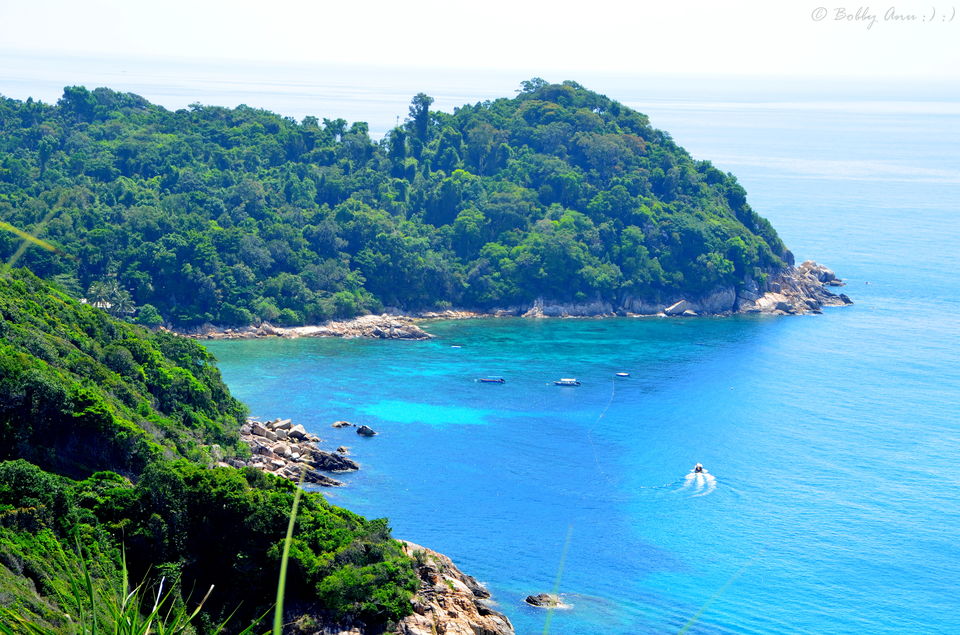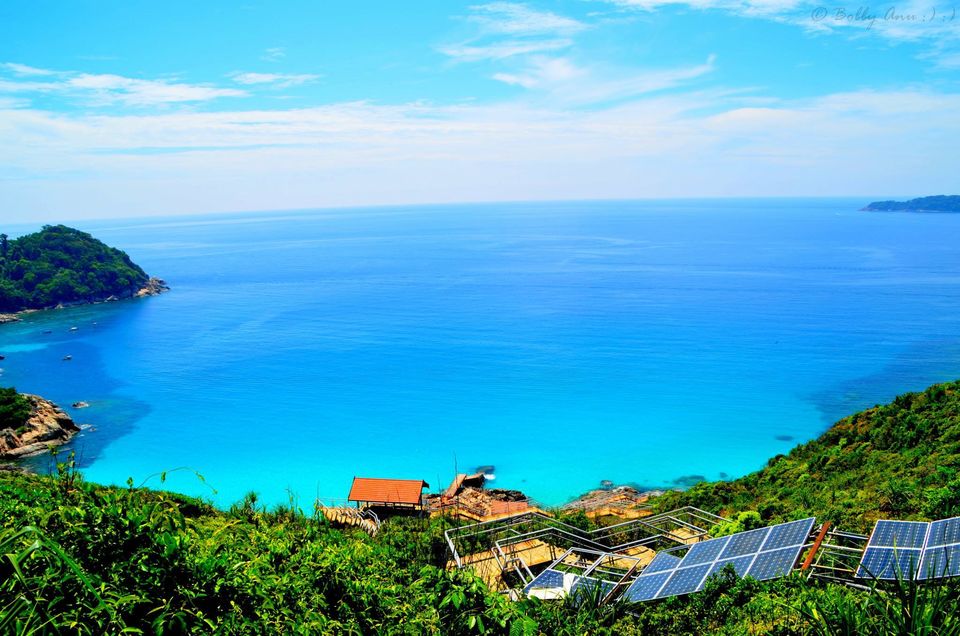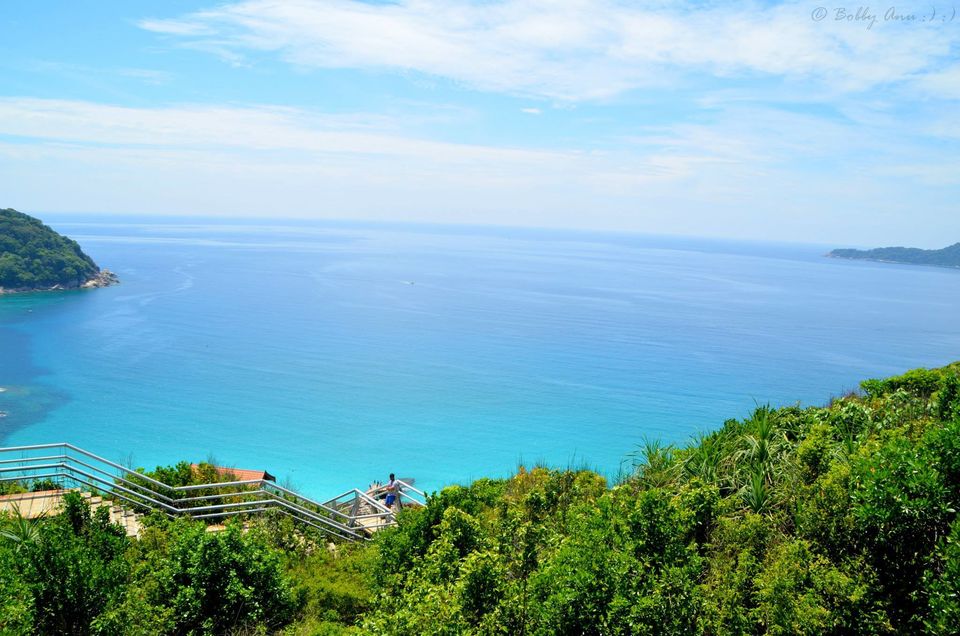 Plenty of monkeys, bats,  Giant Monitor lizards and massive spiders will be visible during trekking.
Giant Monitor lizards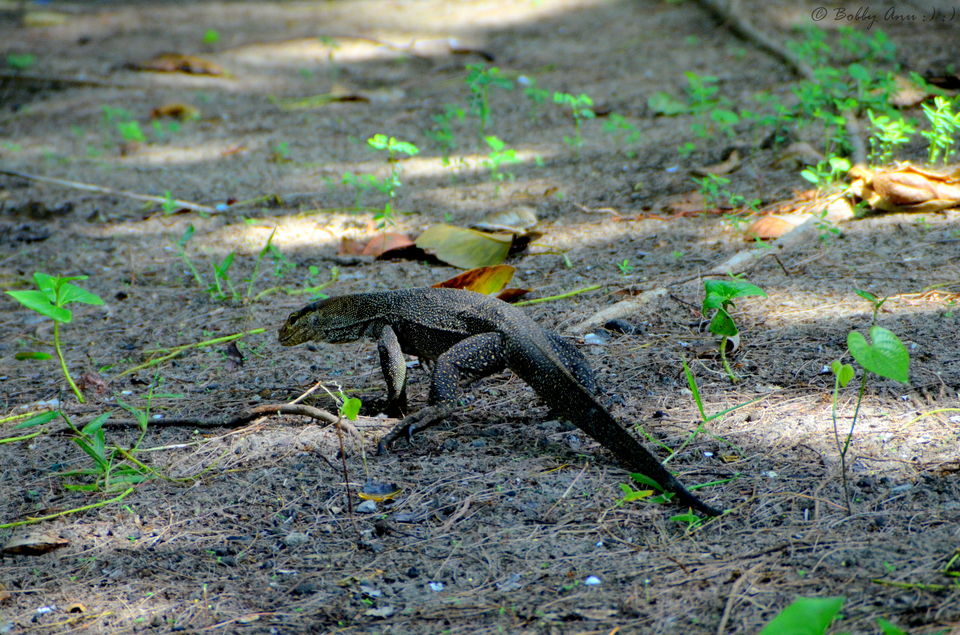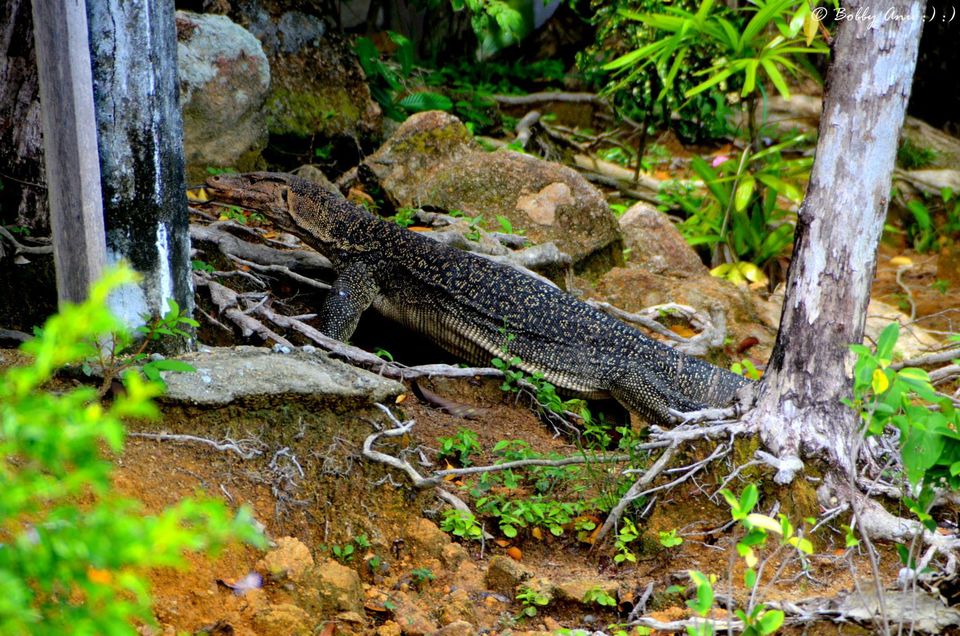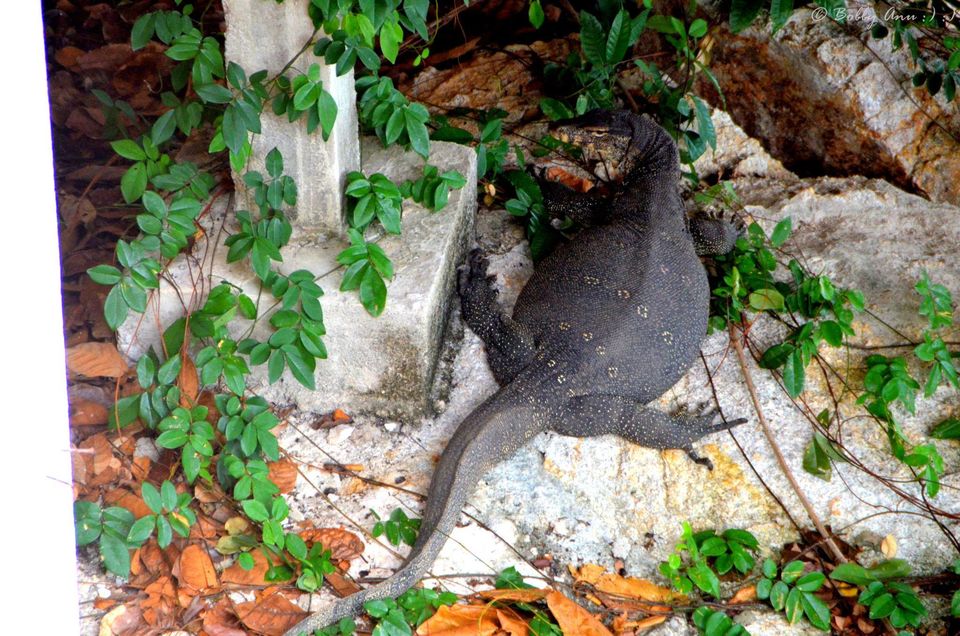 From top of the hill, there are ways.., One is the same way used to climb up and another way is to D-Lagoon, the opposite side of Coral Bay beach (travel time - 45 mins)
Reached D-Lagoon by 2 PM, Had Delicious food in D-Lagoon restaurant, took some rest there.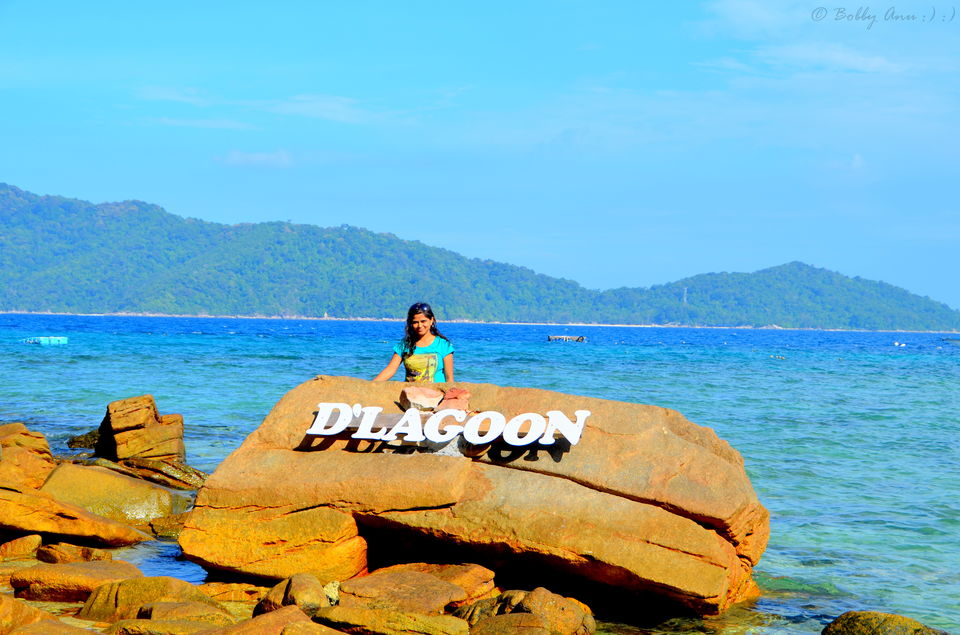 D-Lagoon Private Beach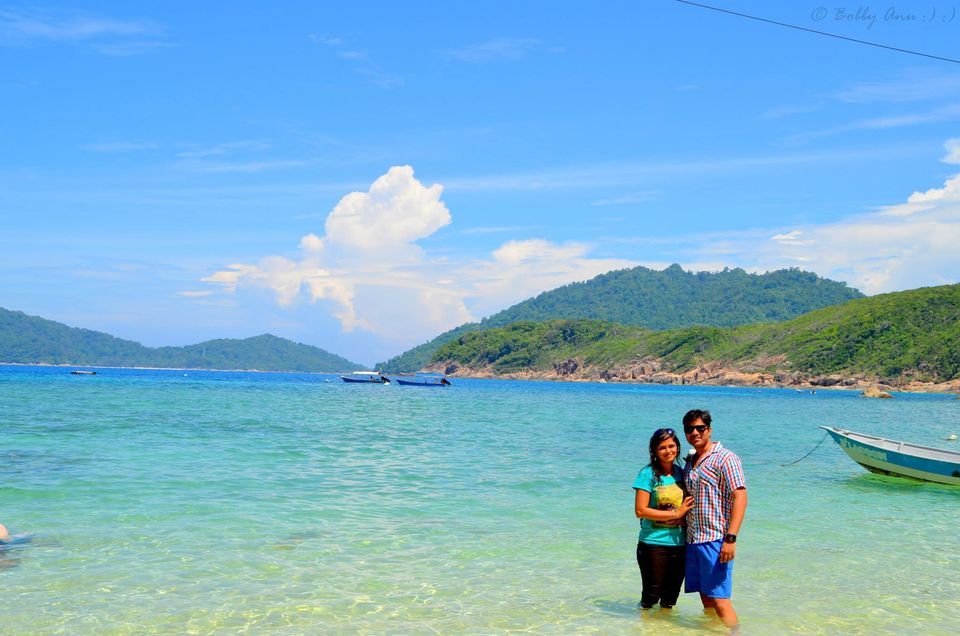 ATV ride available in D-Lagoon to go into the jungle and it was really fun and exciting for 20-30 mins.  Fare - 20 RM /person
Returned to our Guest house in Sea Taxi from D-Lagoon ; Fare - 10 RM / person
View of Windmills and the hill from the boat, that we did trekking.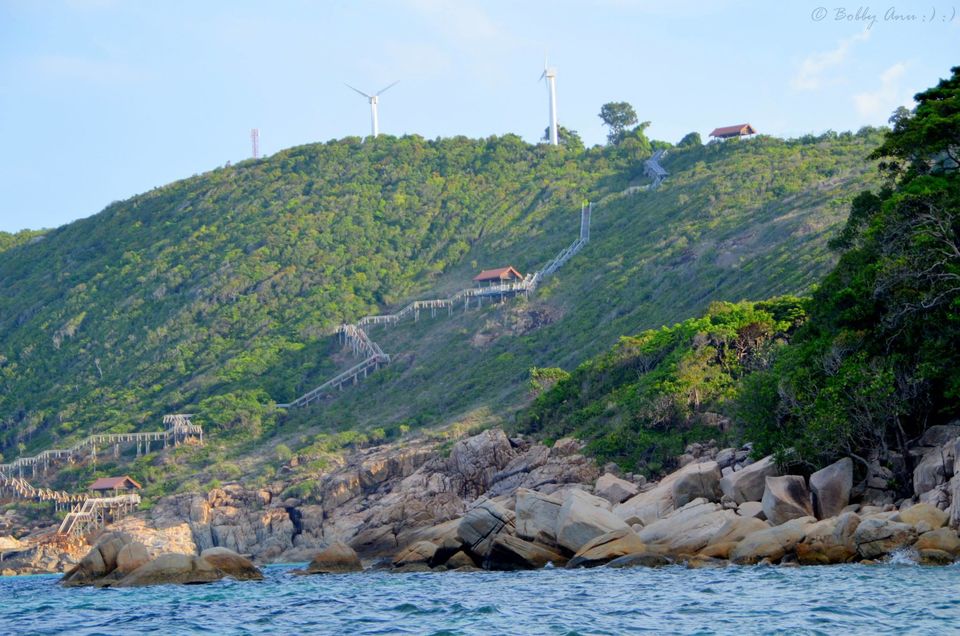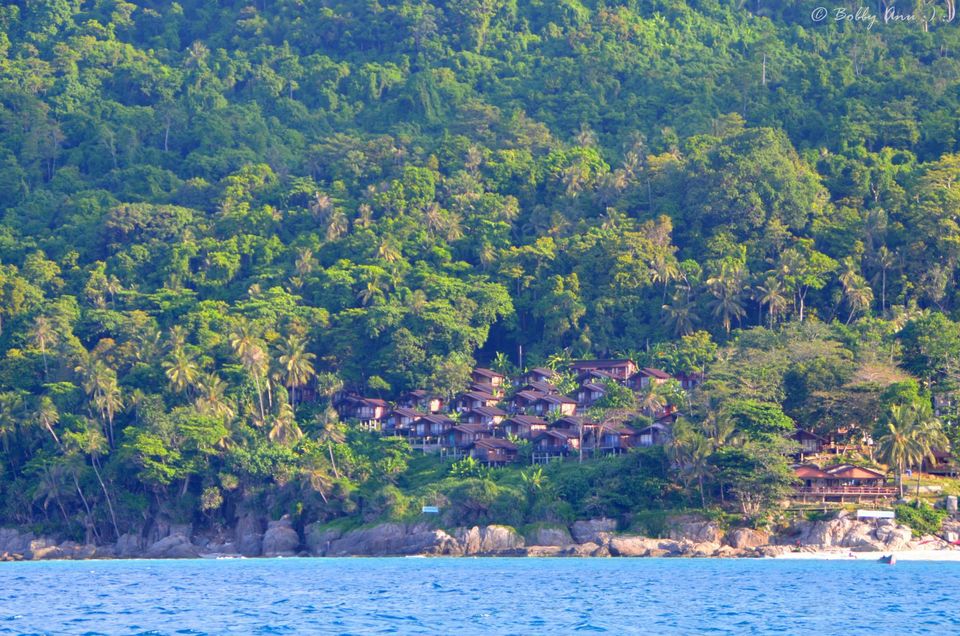 Day3 - Went for Snorkel and returned in evening 4 PM.  
Snorkel trip Album can be viewed here - Snorkel at Perhentian Islands, A tropical Paradise in Malaysia
View of Lighthouse from our hotel room window, where we did Snorkel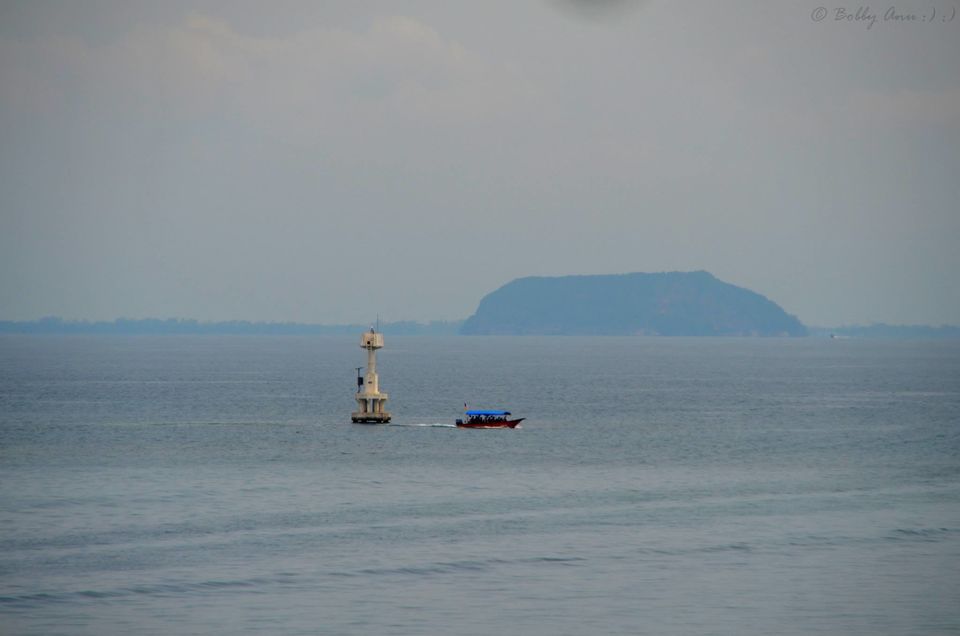 Next day, it was again a Snorkel and If you are going Perhentian, Don't come back without doing Snorkel.
There were no vehicles in Perhentian and where-ever you have to go, just walk . .Alternatively, you can take Sea taxi.
Perhentian Highways ;)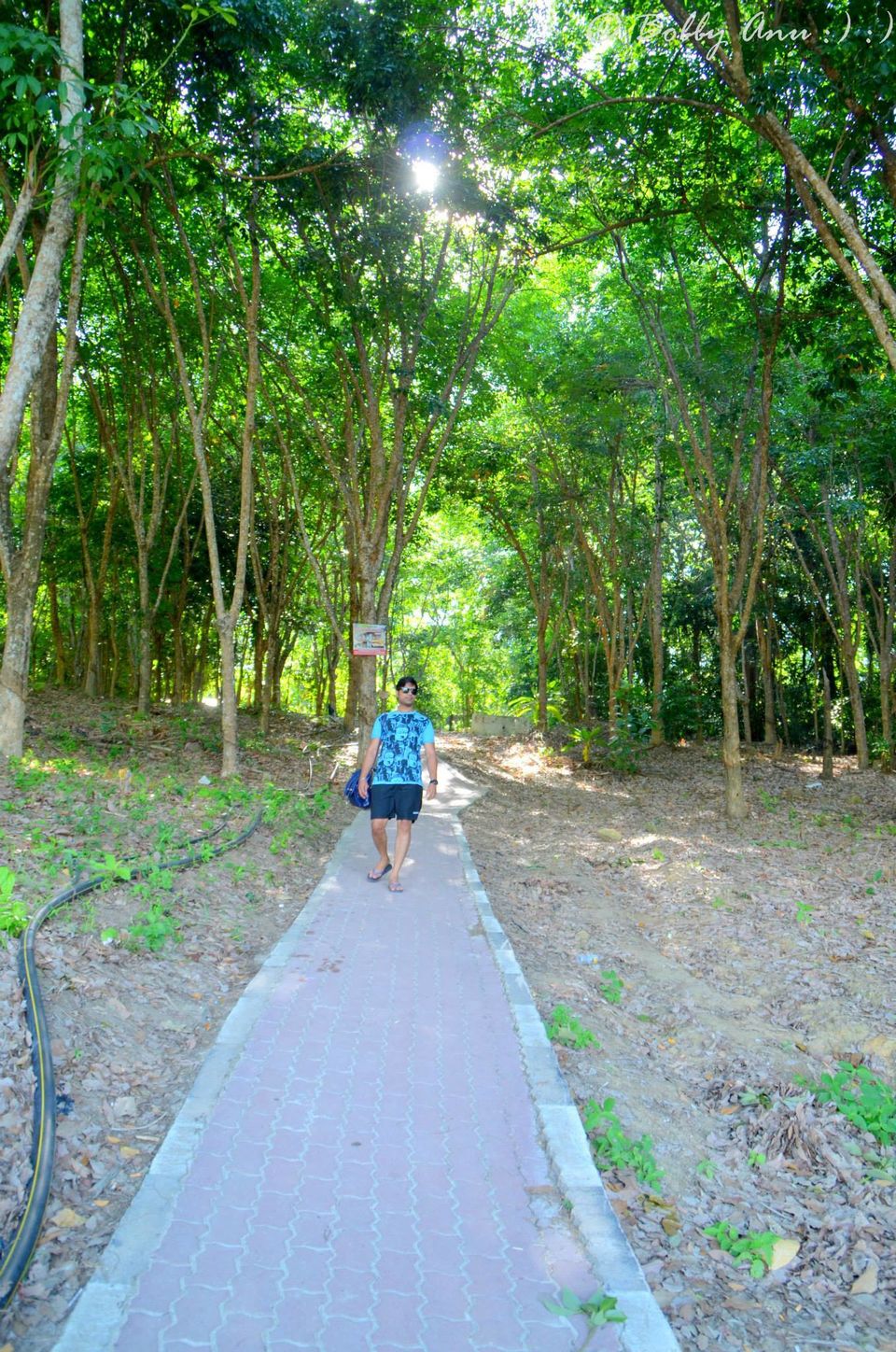 Took Speed boat to Kuala Busut Jerry and from Jetty to Airport by 7 PM.  Took flight from Kota Bharu Airport @ 9 PM to Kuala Lumpur; Arrival @ 10 PM
If untouched beaches is what you're looking for, then Perhentian should be your next travel destination.  
Looking forward to visit this place again!!