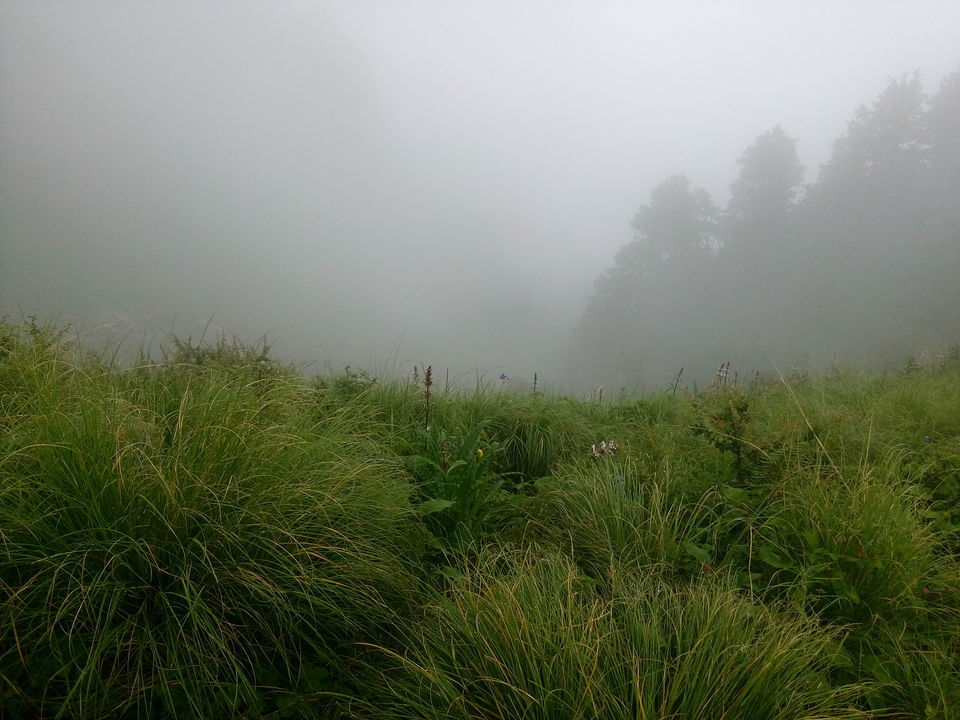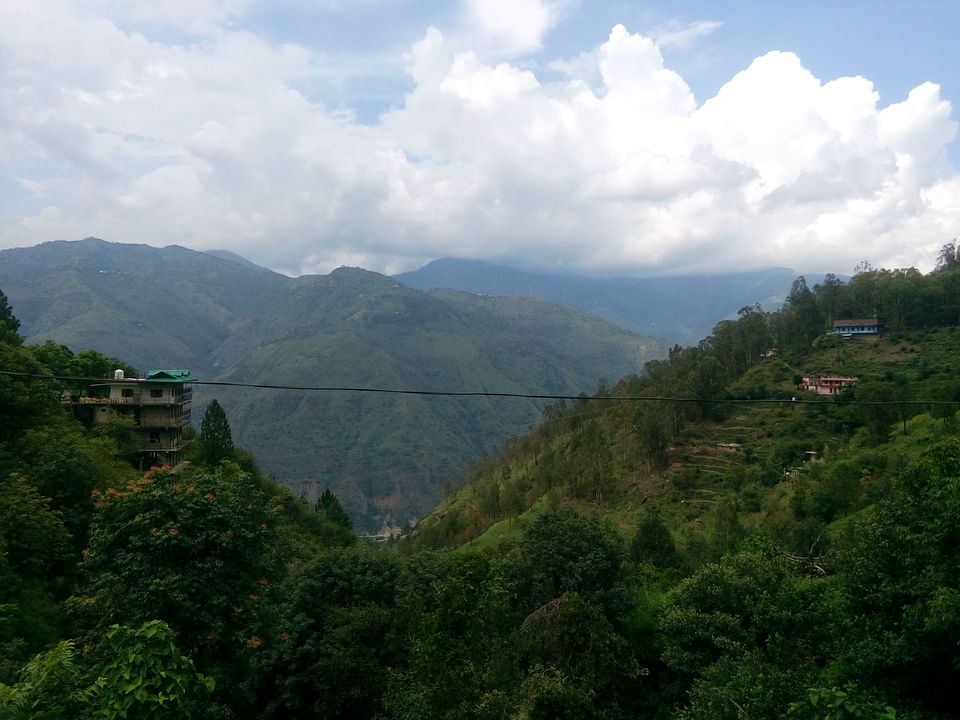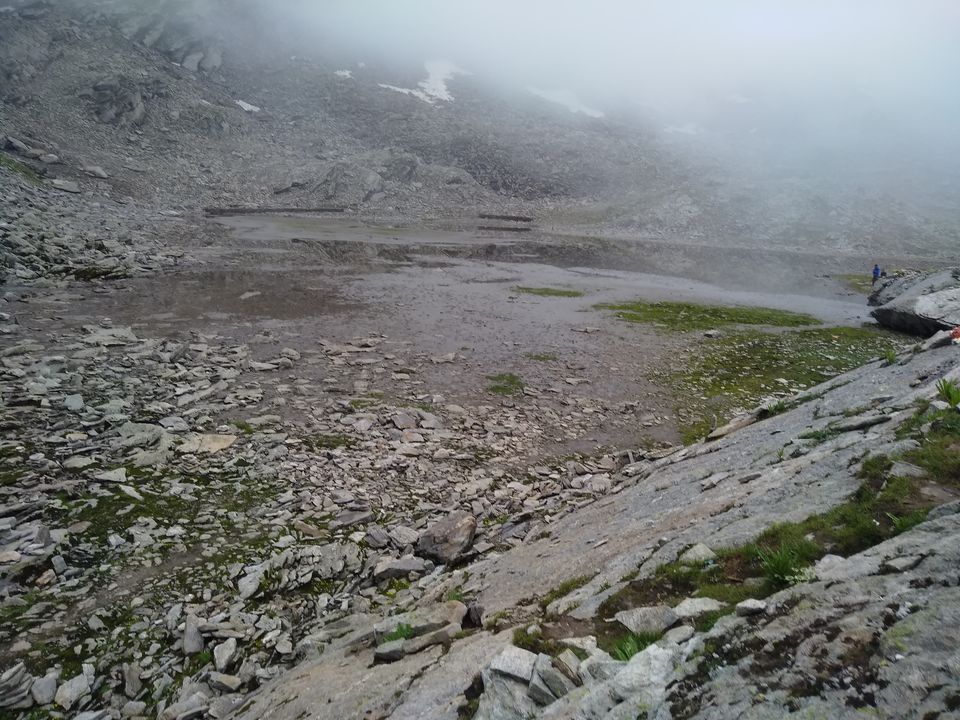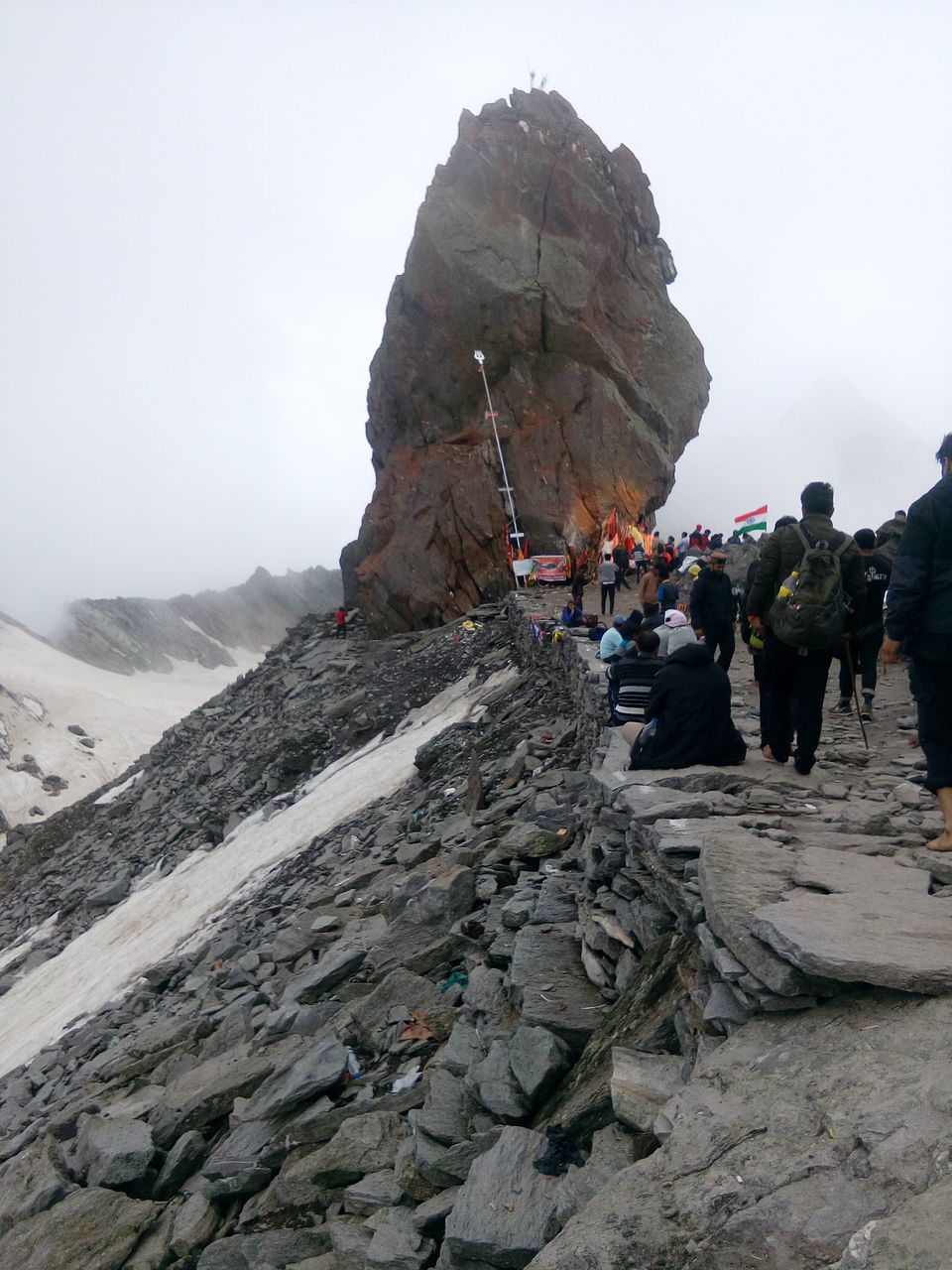 So, Finally after a long time... I had privilege to visit the Might Srikhand Mahadev. As i was going alone at this trek, i was well prepared and confident. I started my journey from Shimla to Rampur, a town 110 KM from Shimla. I took the HRTC, yeah The Best Drivers in world. I reached Rampur in afternoon. Now to start for Srikhand, I should be reaching Jaon first. Then I took a bus from Rampur to Jaon and reached there at 6 PM. Now as I'm quite known to Mountains, I headed to Sinhgad (The Base camp). but this is not recommended to someone not having experience of mountains..! Then i started my Trek, It was not that bad path.... It was okay...! It was also getting sunset and there is no source of light midway...! So i went at my best speed. I reached Sinhgad within 3-4 Hrs. There I met with some of my office colleagues who were also on there way to Srikhand. We had dinner there and Had some Puffs in the beauty of Himalayas....! Then we planned to move till Baratinala, a small place. Then we relaxed and slept in Tents...!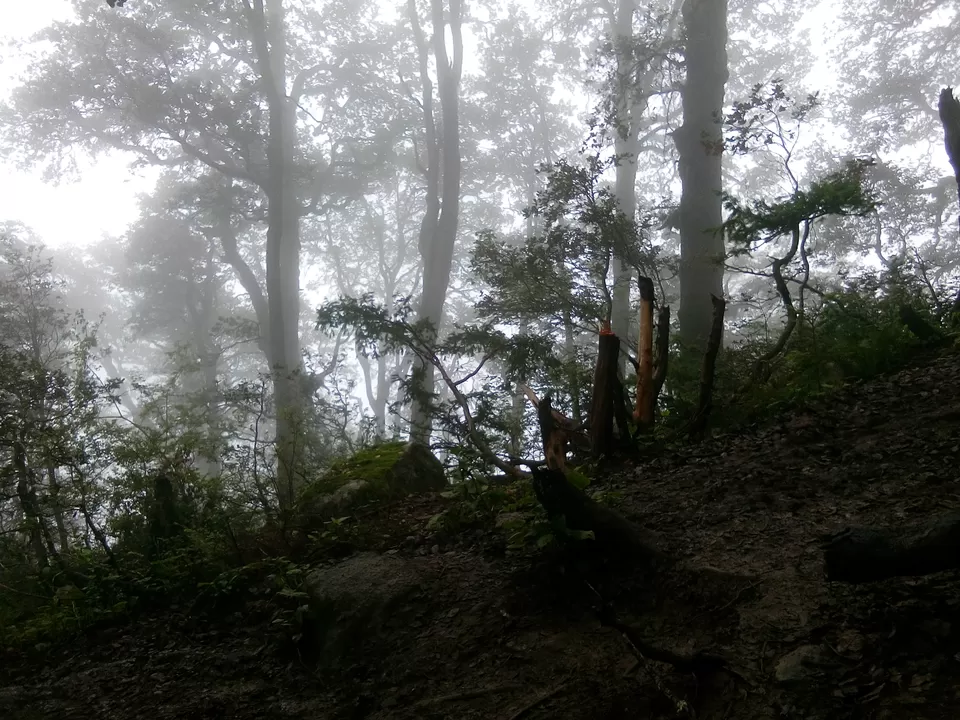 After early breakfast at Baratinala, We started our journey towards Bhimdwar. Actually we all were Pahari's so we covered a notable distance in very less time...! As we started, we faced the challenging "Danda Dhar". Its quite a steep for a way... ! But we went on and kept witnessing the Beauty of the Mountains. We crossed Kali Ghati, and reached Thachru (Traditionally Night halting point) and had Lunch there.. After relaxing for a while, we rose again and started again.... Also if you are constantly being High since Day N Night, I'm not sure how the way passed on and our feet kept walking... We reached Kunsha around 4 PM and had our break. After that we headed to Bhimdwar....... We reached there at 7 PM and booked a tent, had dinner and started our Tantrums again...!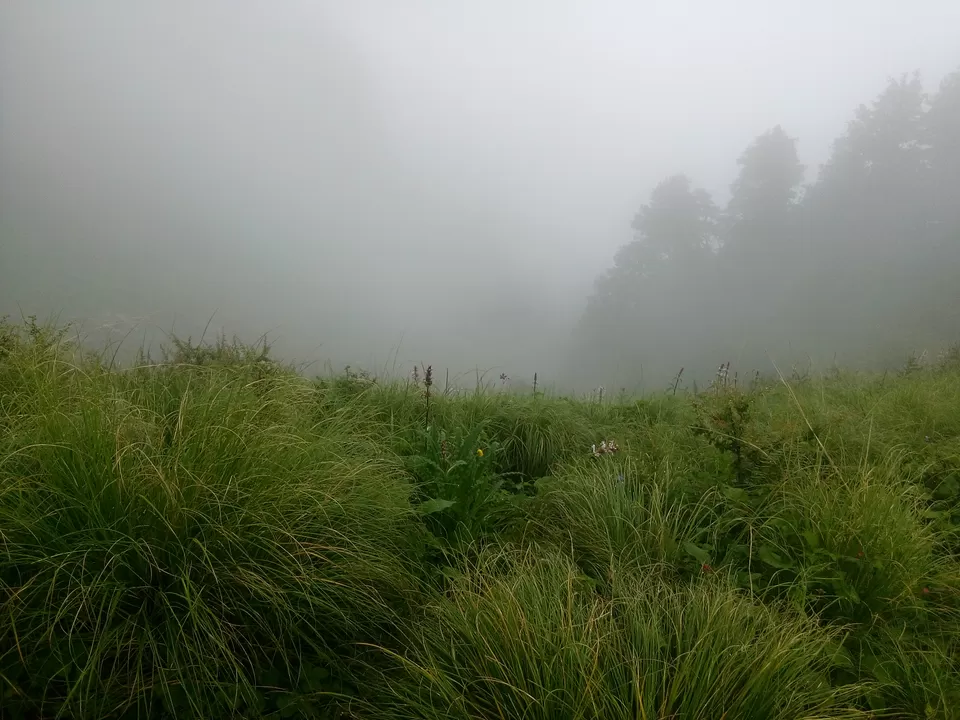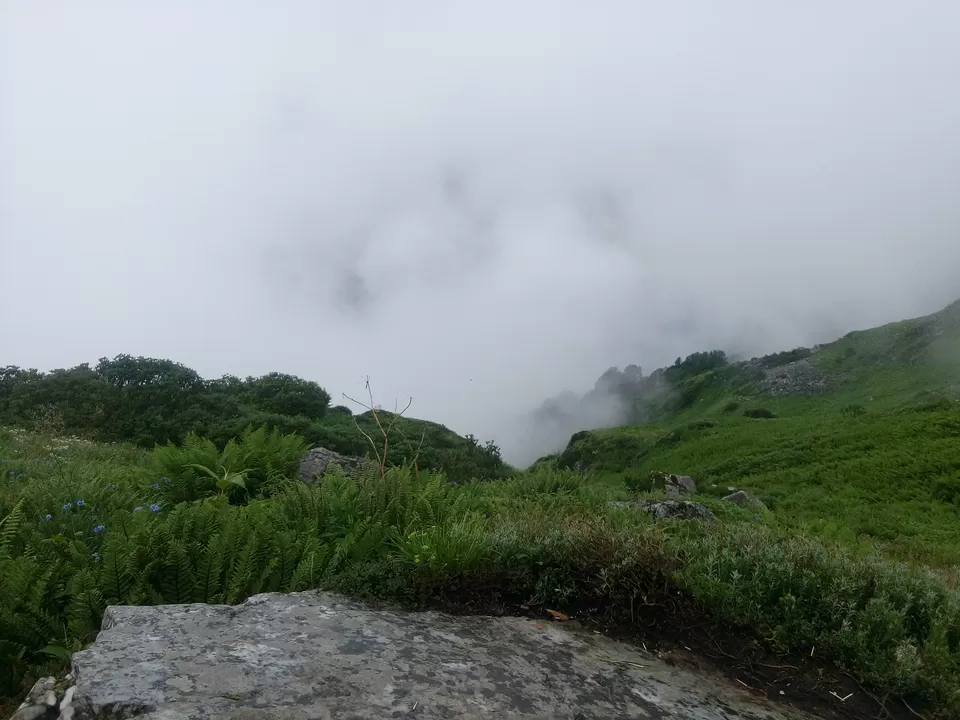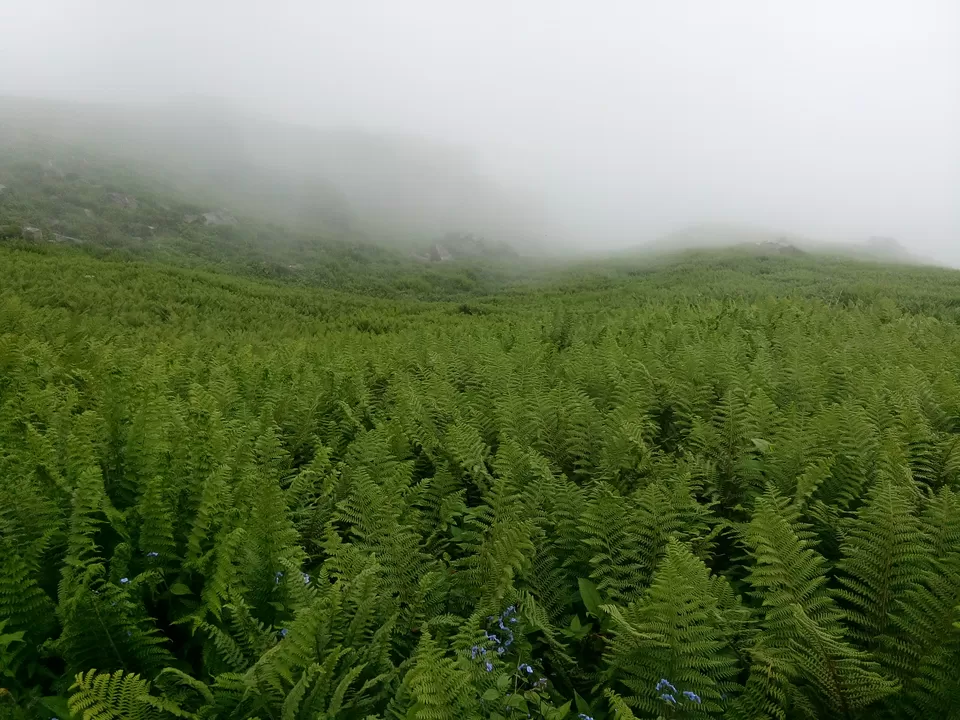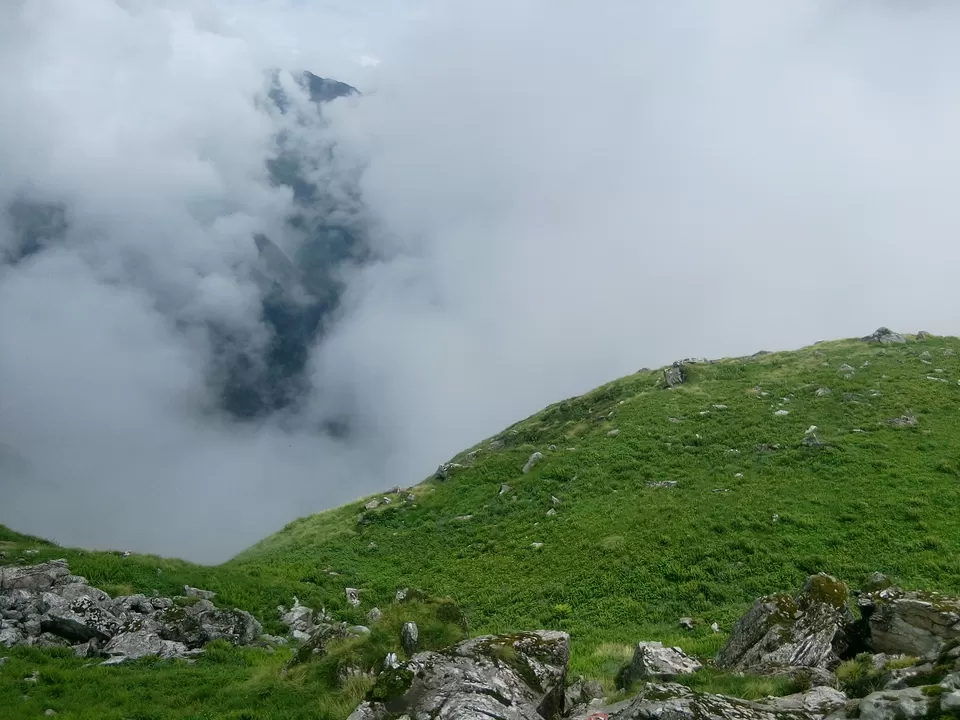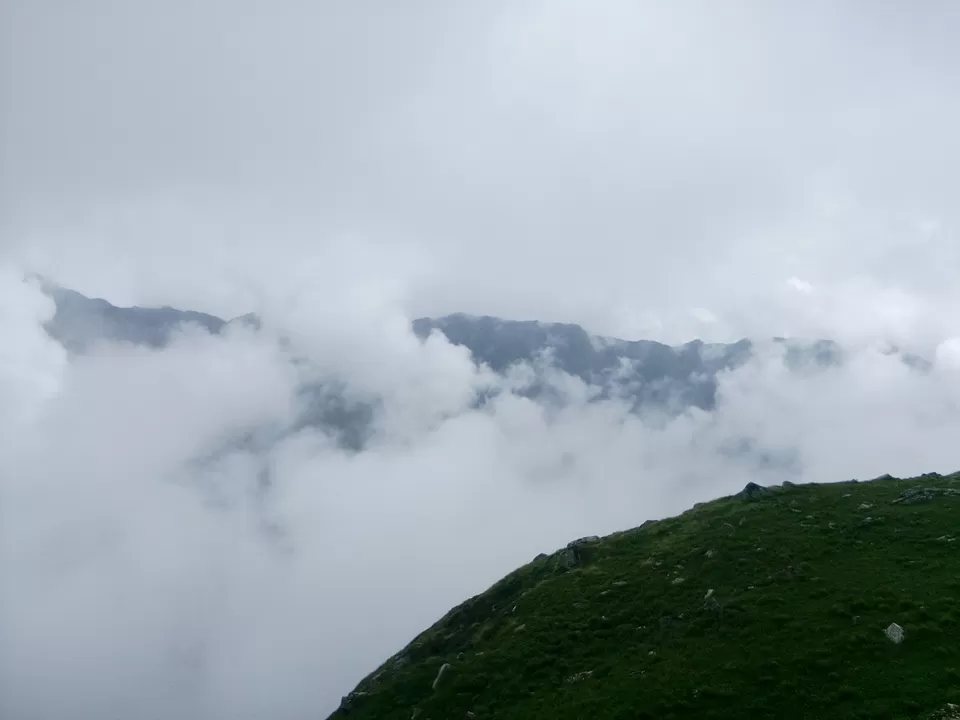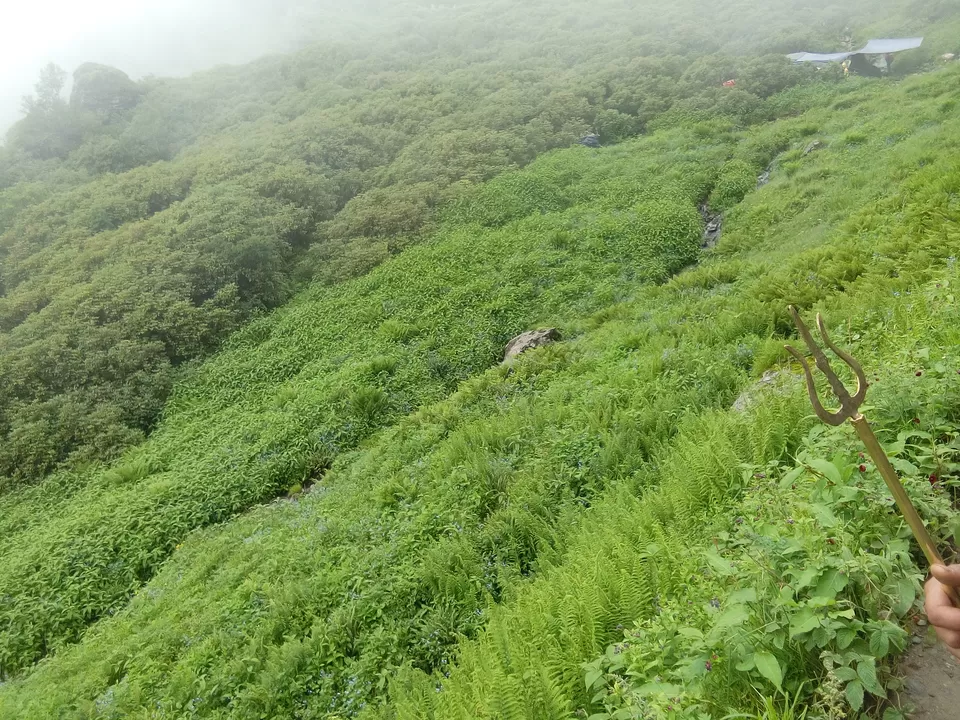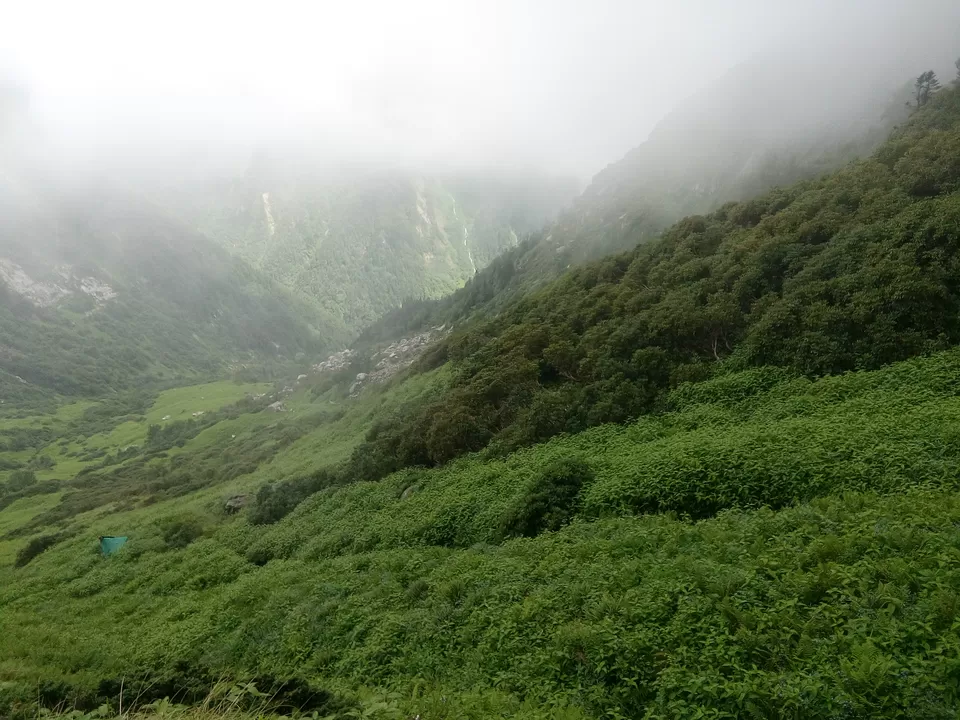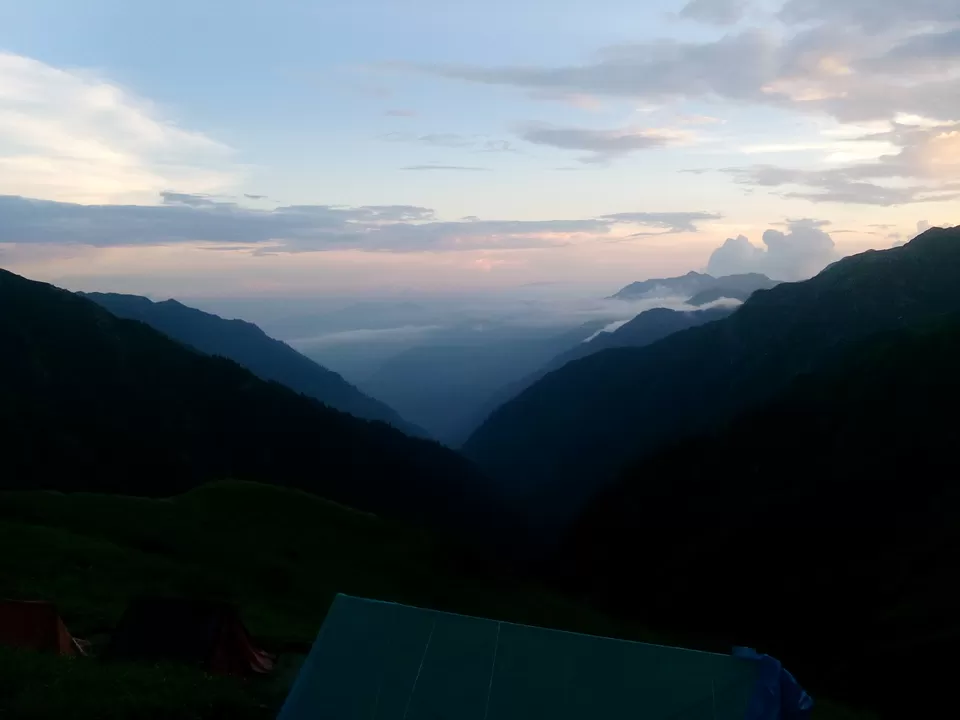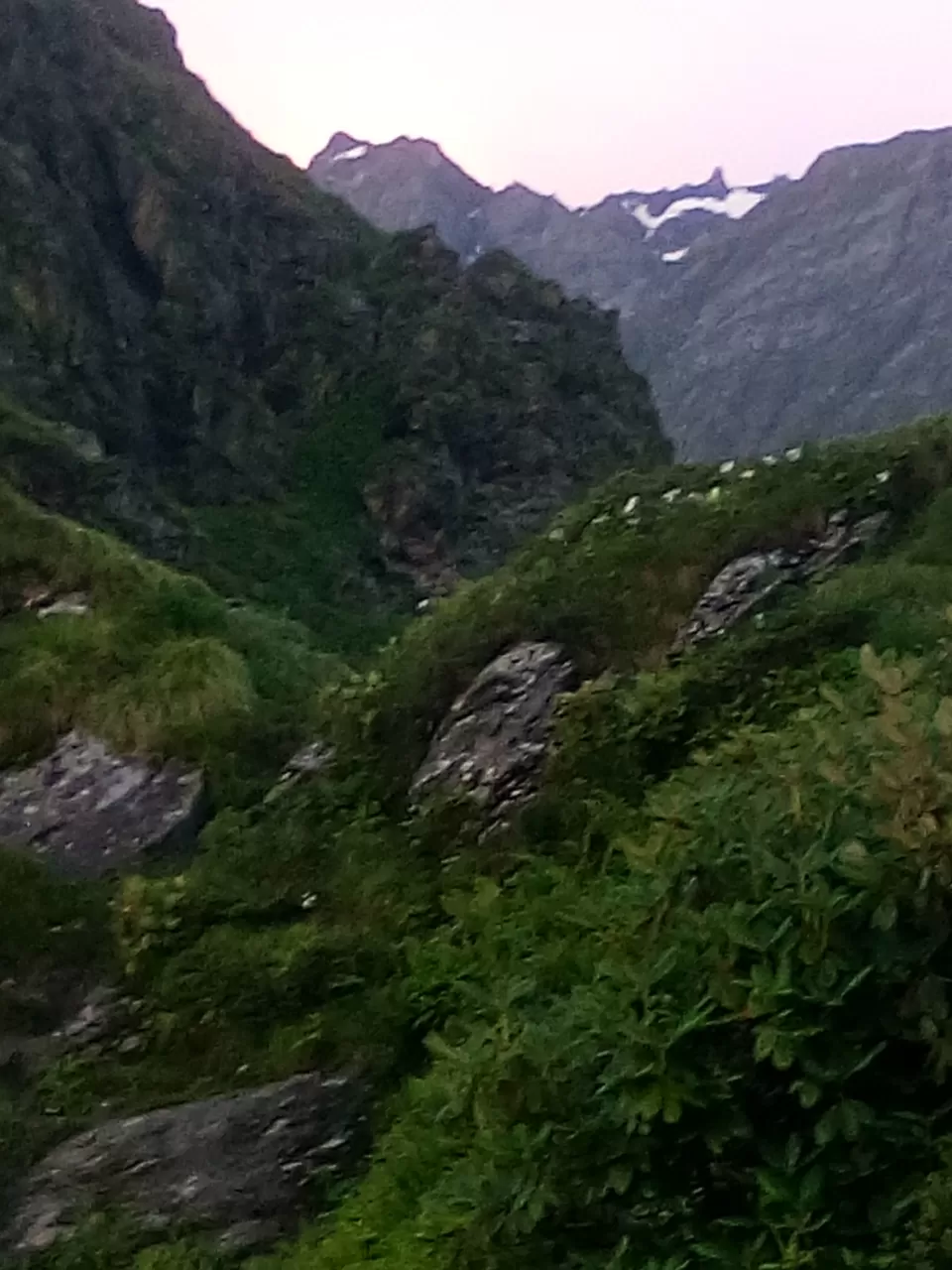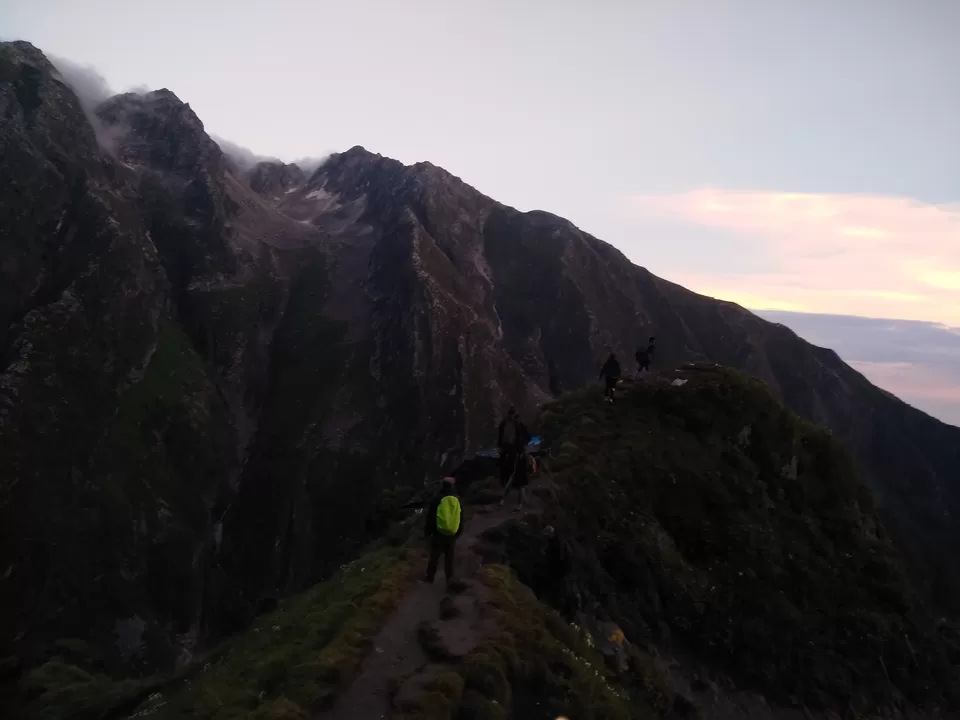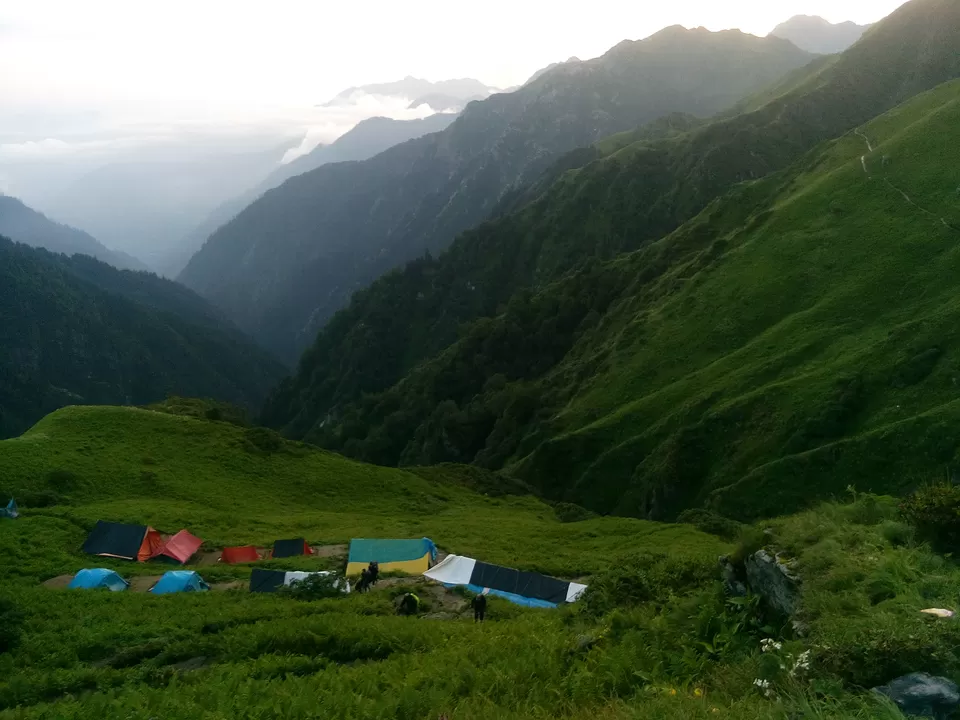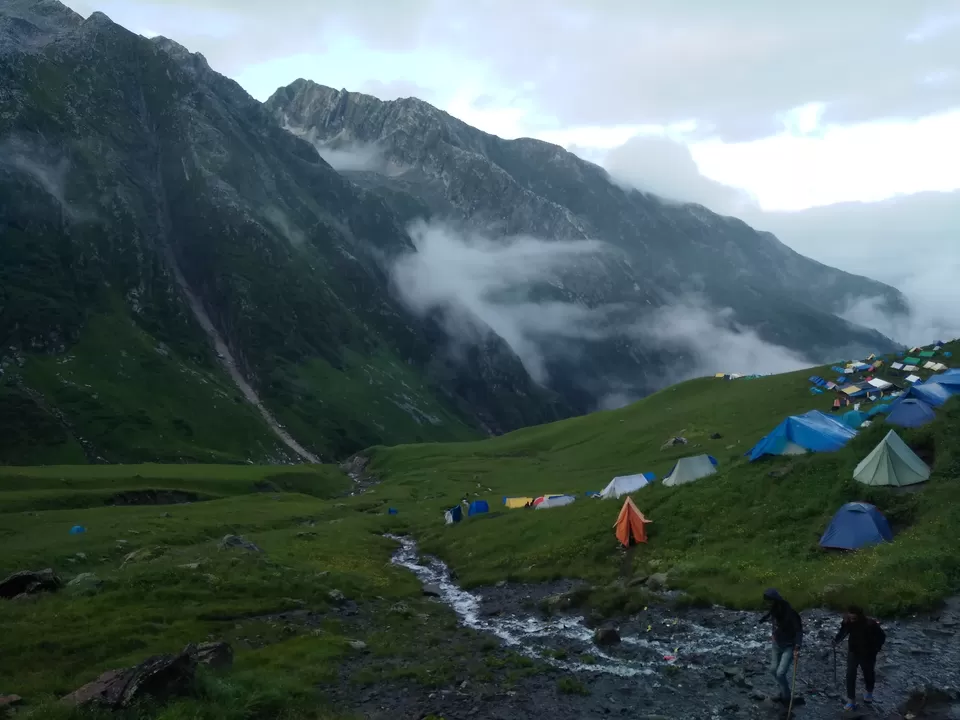 I was waken up by my mates, and as i walked out the tent, I was awestruck by nature and its beauty...! Truly Bhimdwar is the most Beautiful destination on the entire trek. We had breakfast and started our journey to our Ultimate Destination, 'The Srikhnad Mahdev"
We started our trek @ 7 PM and soon we reached Parvati Bagh, Its the last place with facilities like Tea, Water etc. Parvati bagh is unique in its own way...! It's beauty is just outstanding...! Just one turn back and you see a marvelous side of Nature...! One can also find the rare "Bramha Kamal" flower, which is only found in heights of Himalayas.....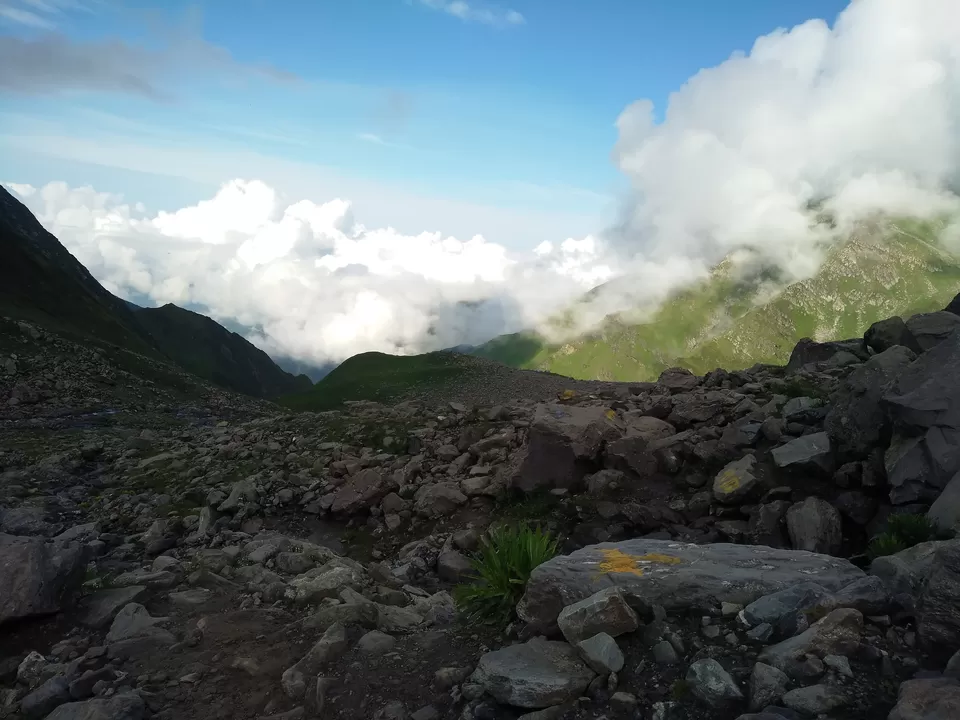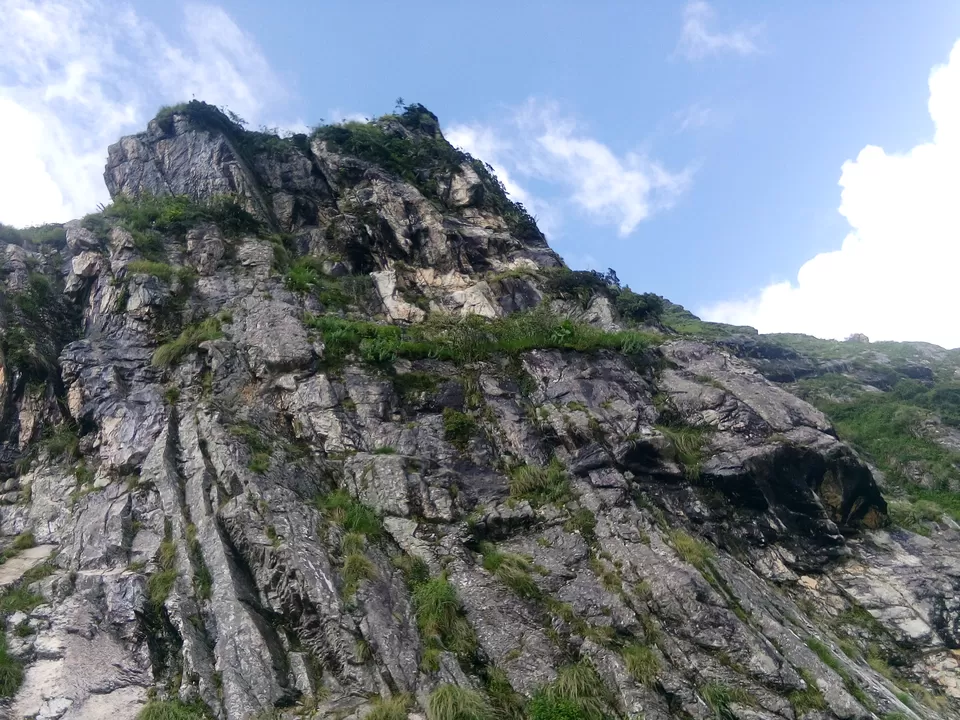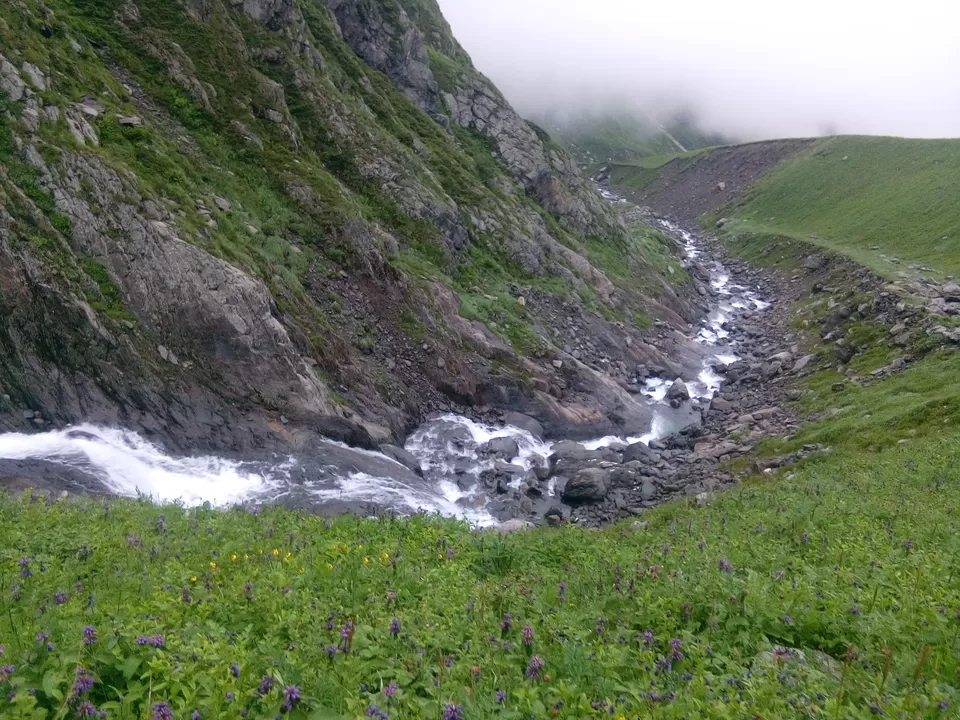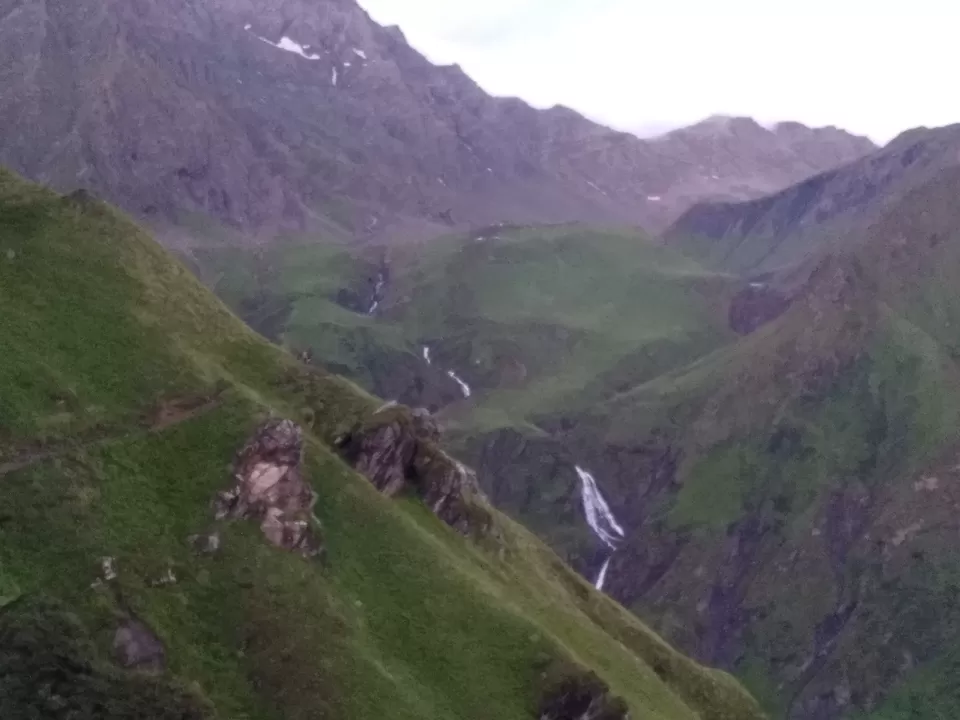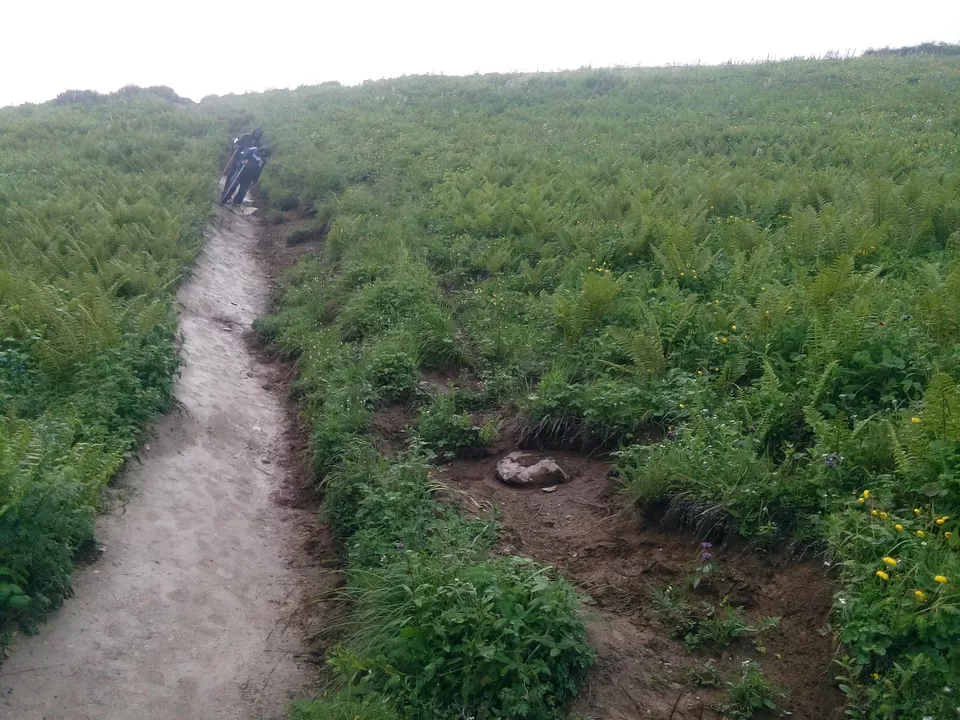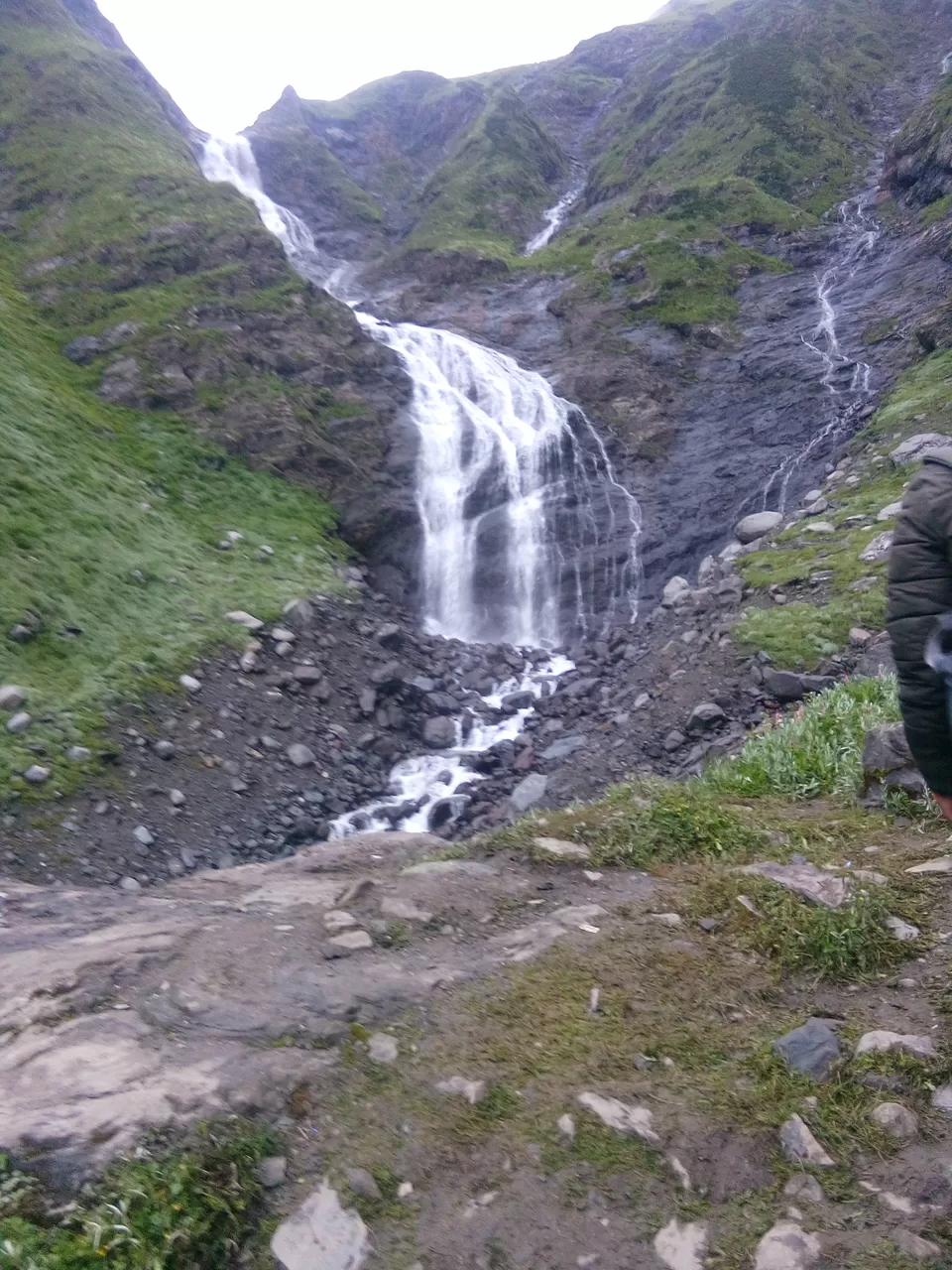 Now at around 10 AM, we were at Nain Sarovar. Nain sarovar has its own value. It is said that Srikhand yatra is incomplete without paying respect to Nain Sarovar. From here there is no vegetation till peak.. Paths also get creepier as rocks turns to boulders and oxygen level is also low.....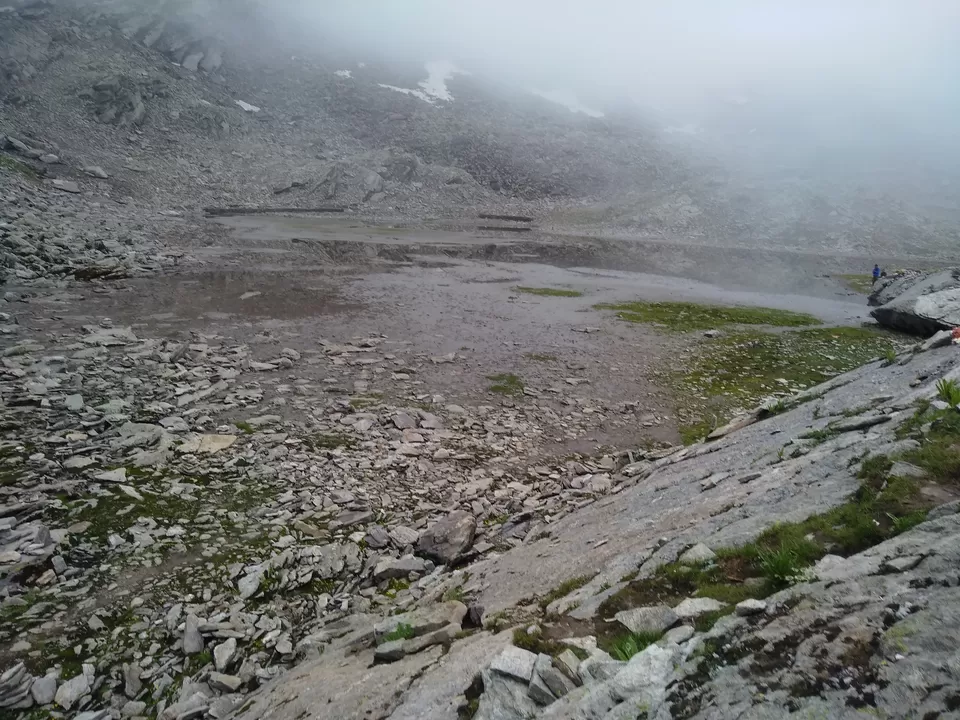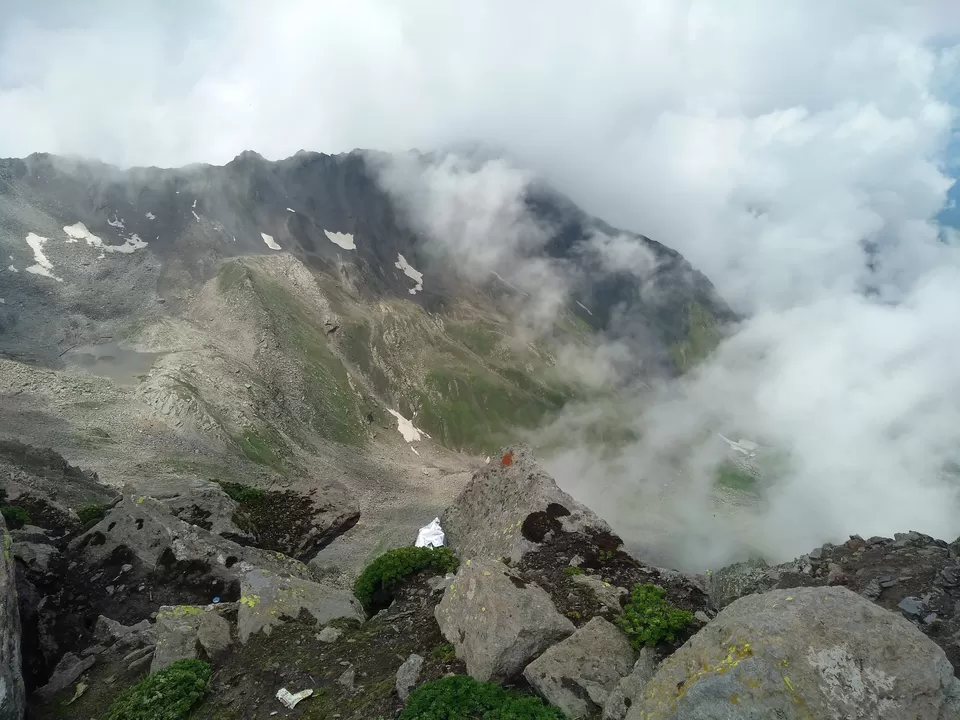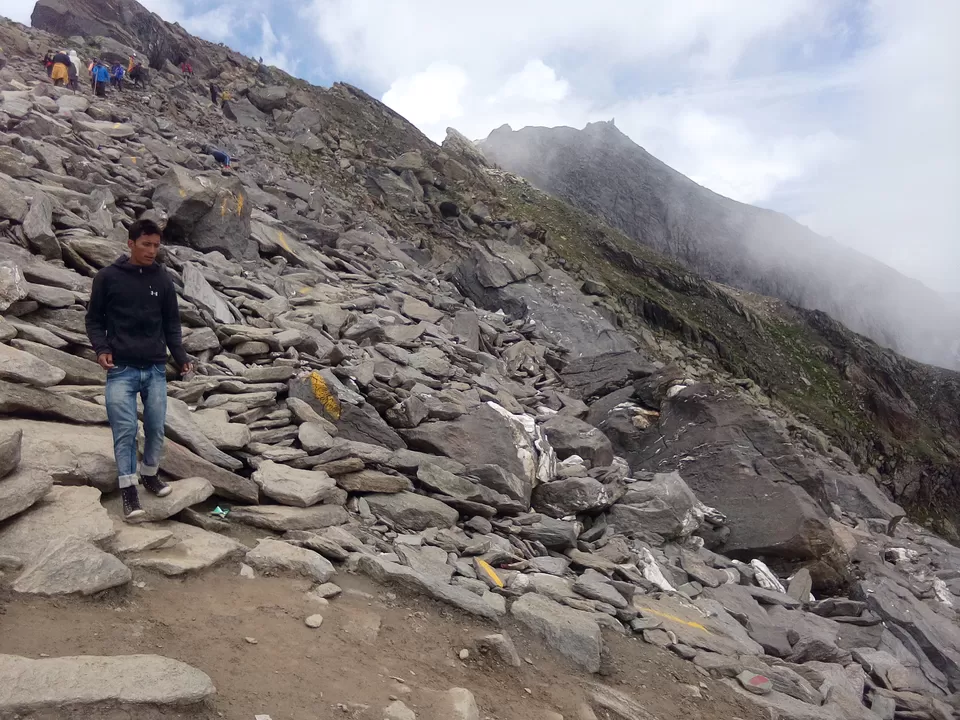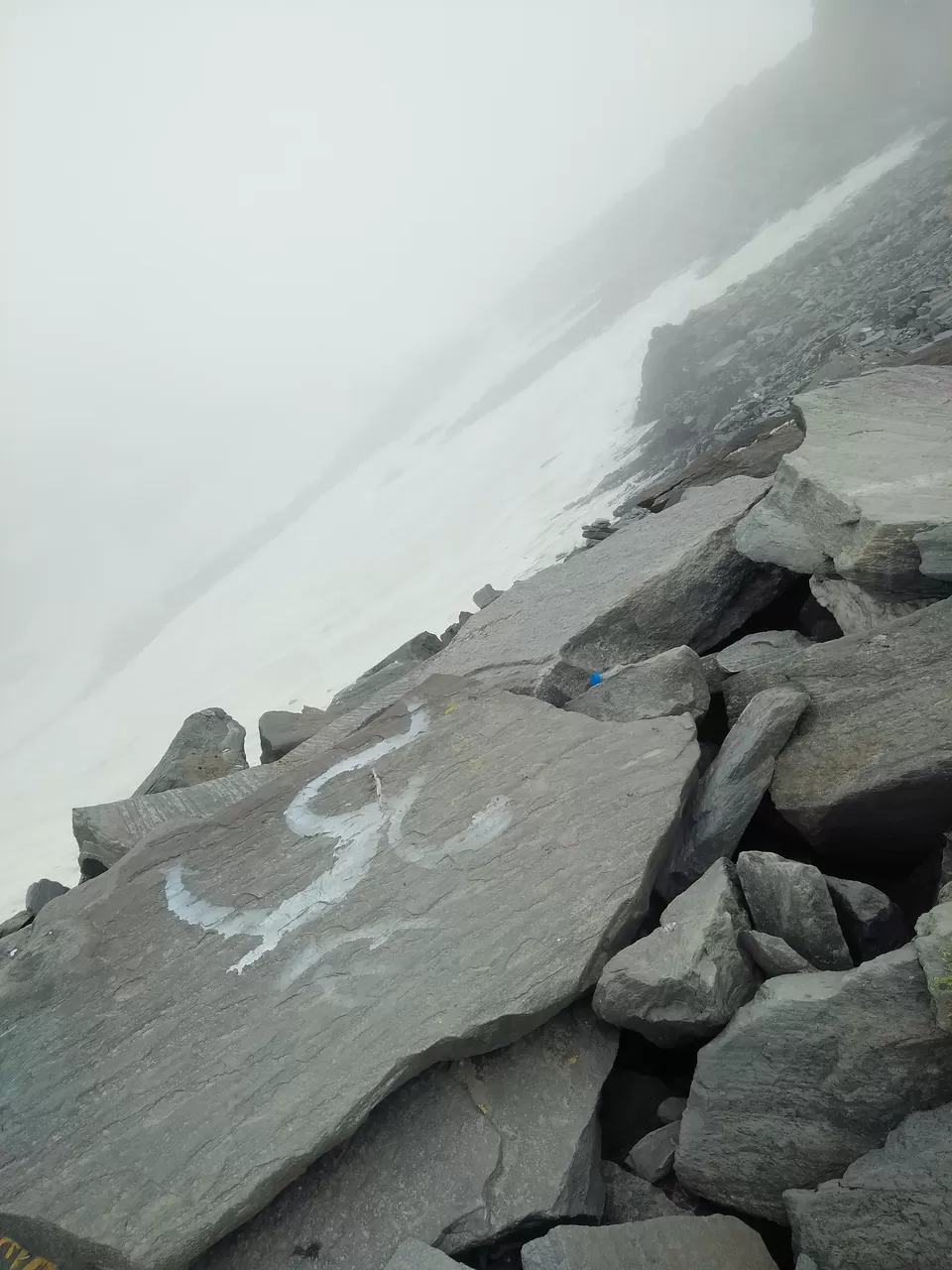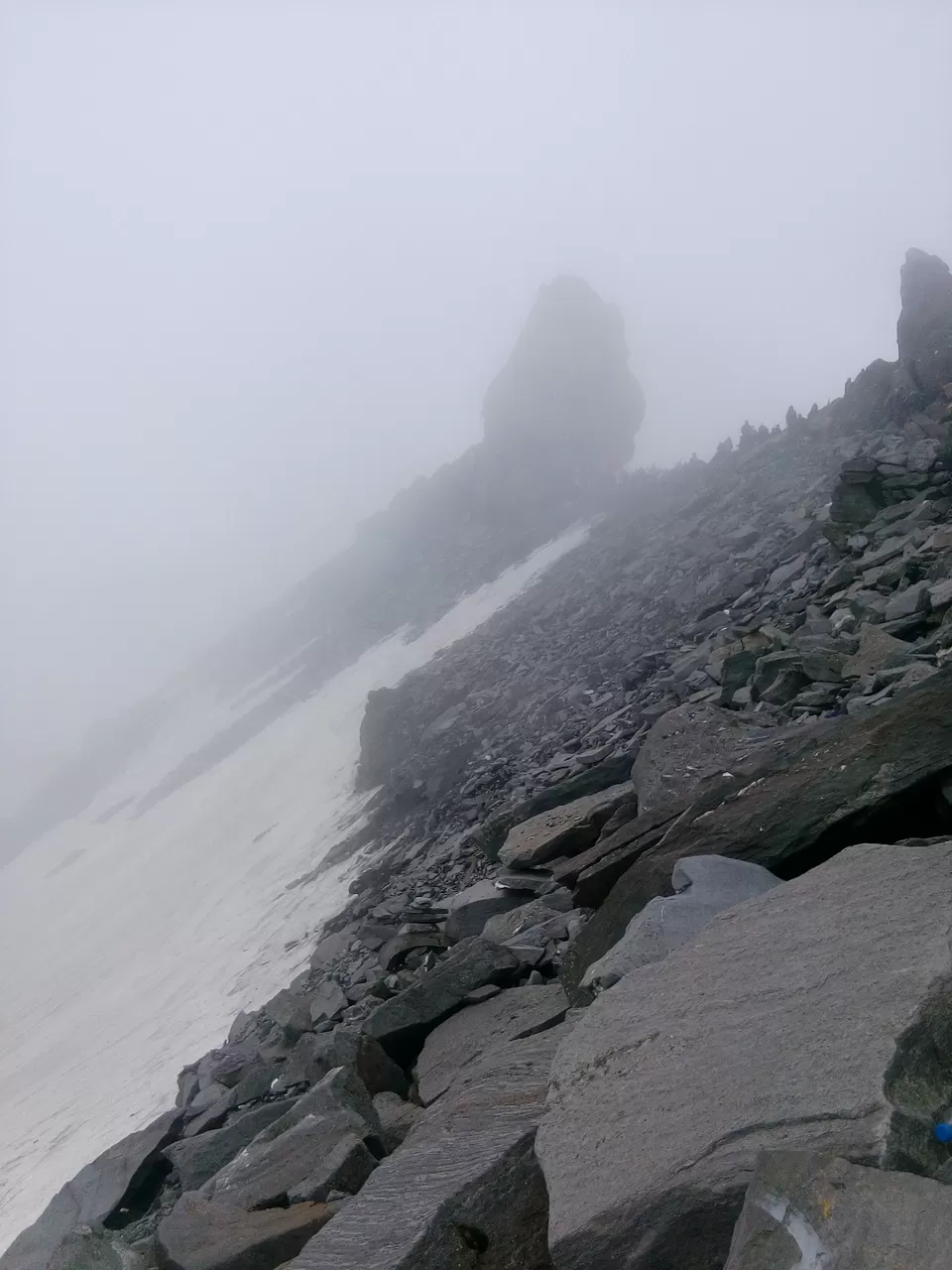 After a tough trek finally we had the moment we were waiting since long.... ! The Supreme Srikhand Mahadev. We had to cross some very big rocky structures, Body chilling glaciers and a low level of oxygen.... ! But as soon as we Witnessed the Pinnacle, all our previous stress, exhaustion, tiredness everything just vanished...! We thanked God for our Safe journey, because we saw 2 dead bodies returning from top midway. Actually its a spiritual place meant to be Honored, but Young generations doesn't get the fact. It's my humble appeal to everybody, Let's respect the sanity of these places and keep them pure both in physical and spiritual manner..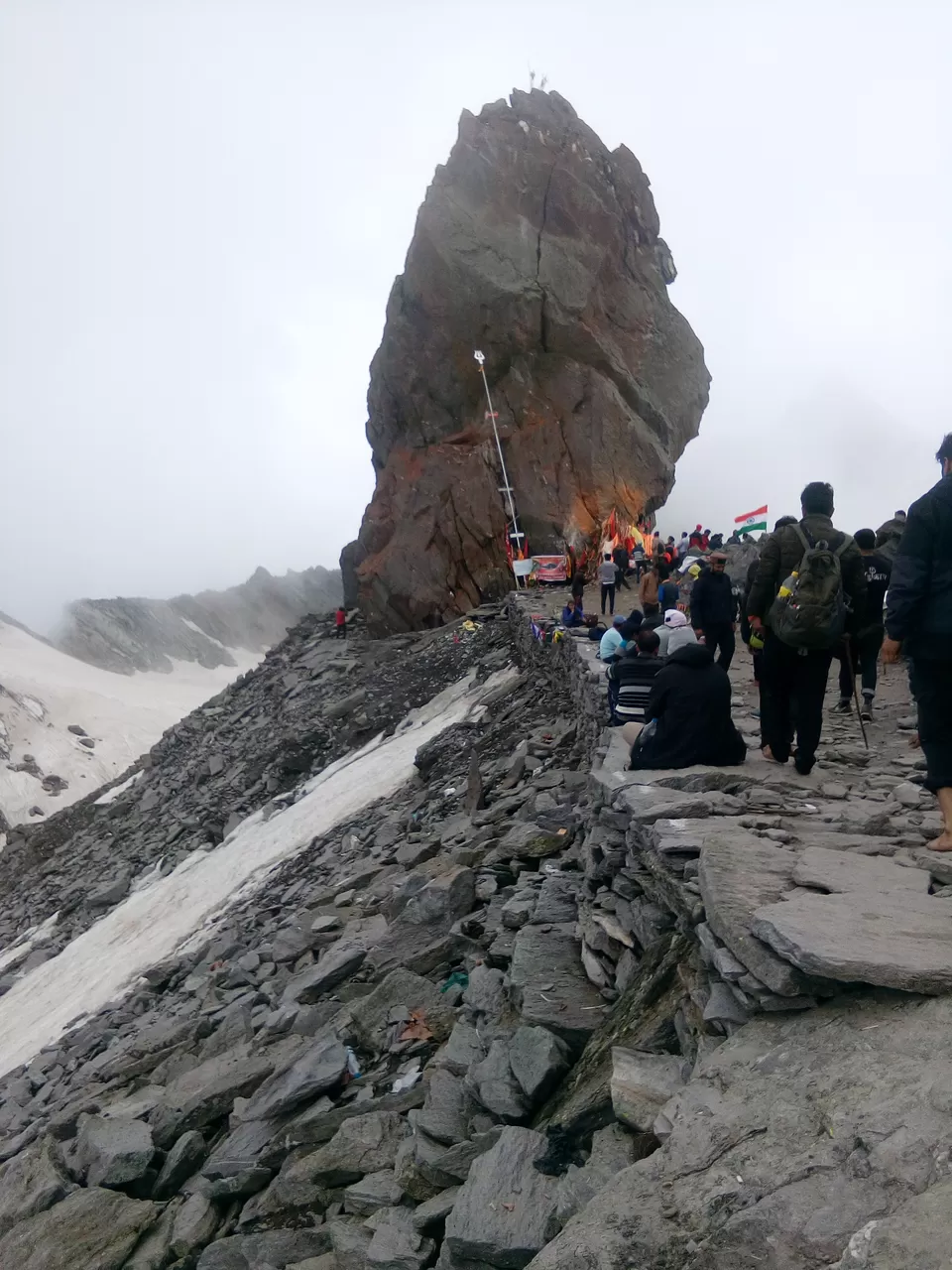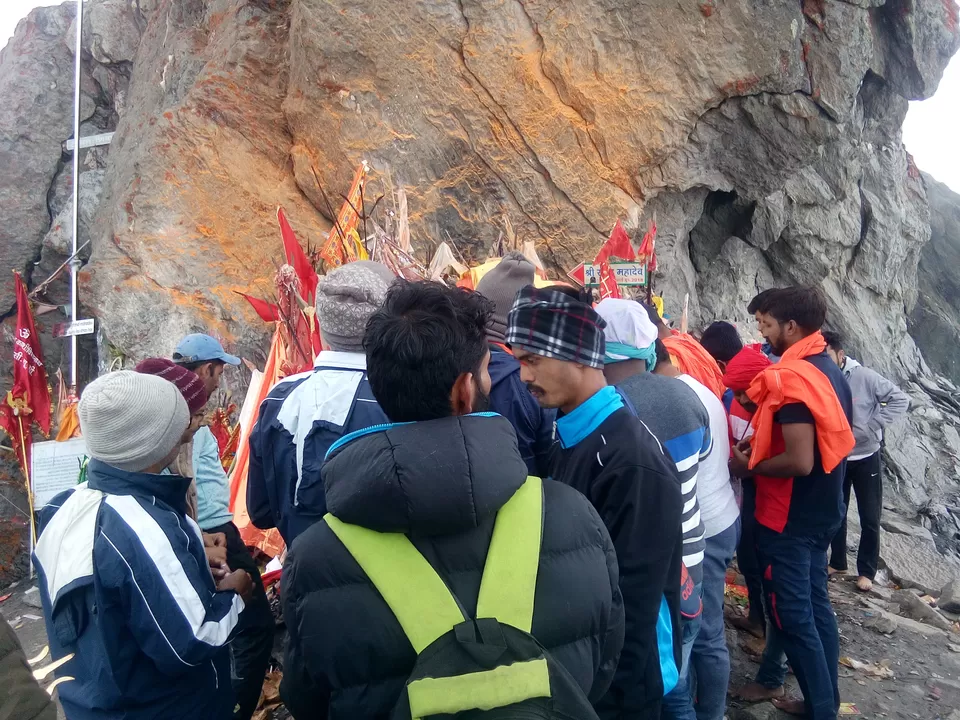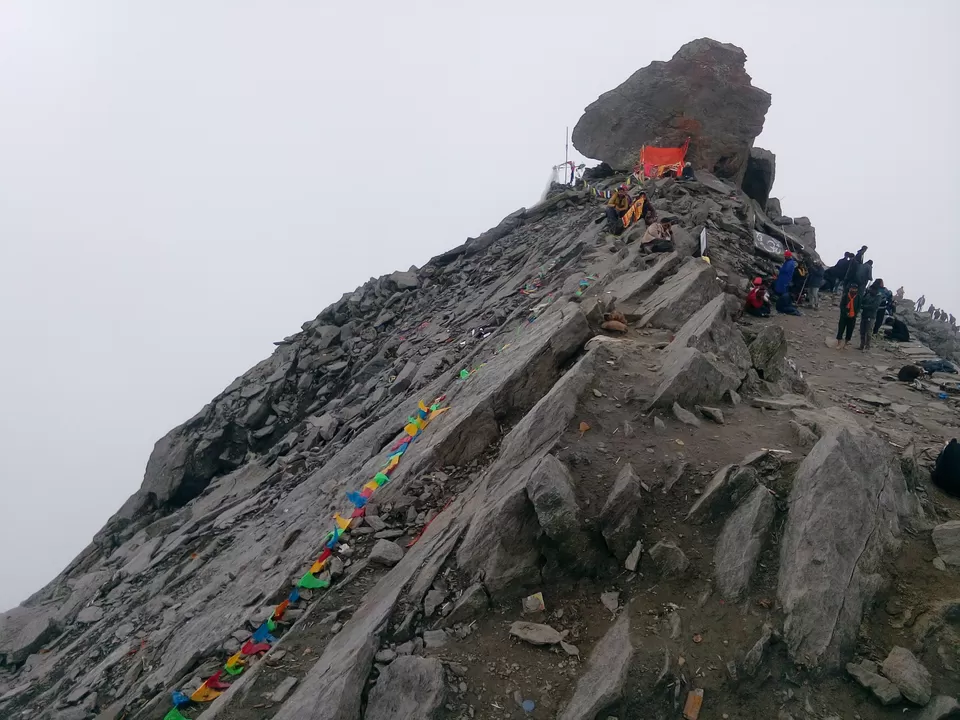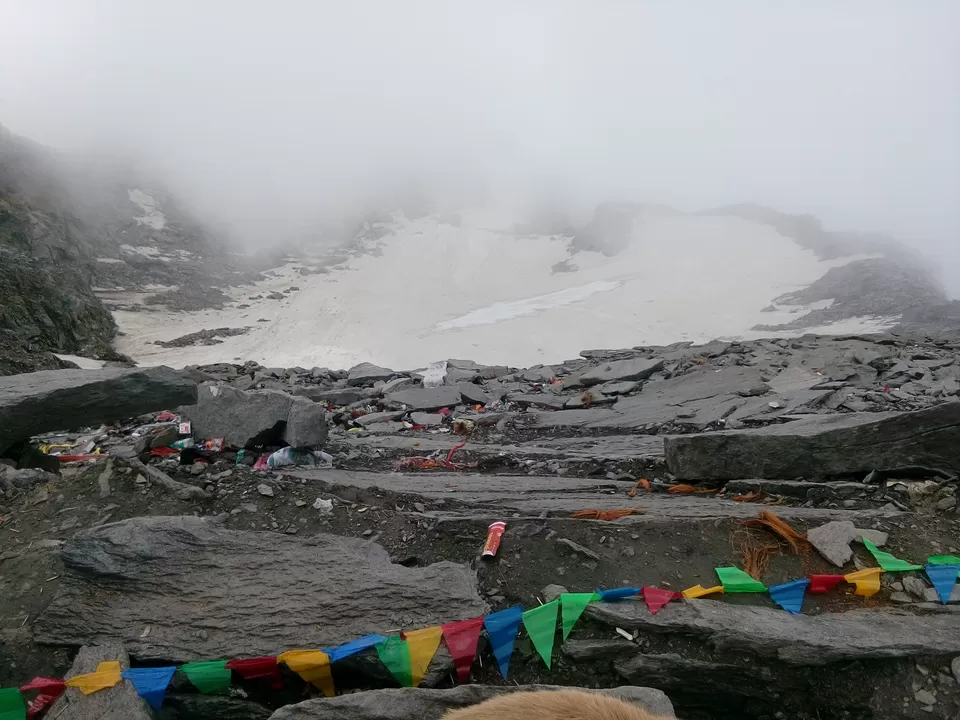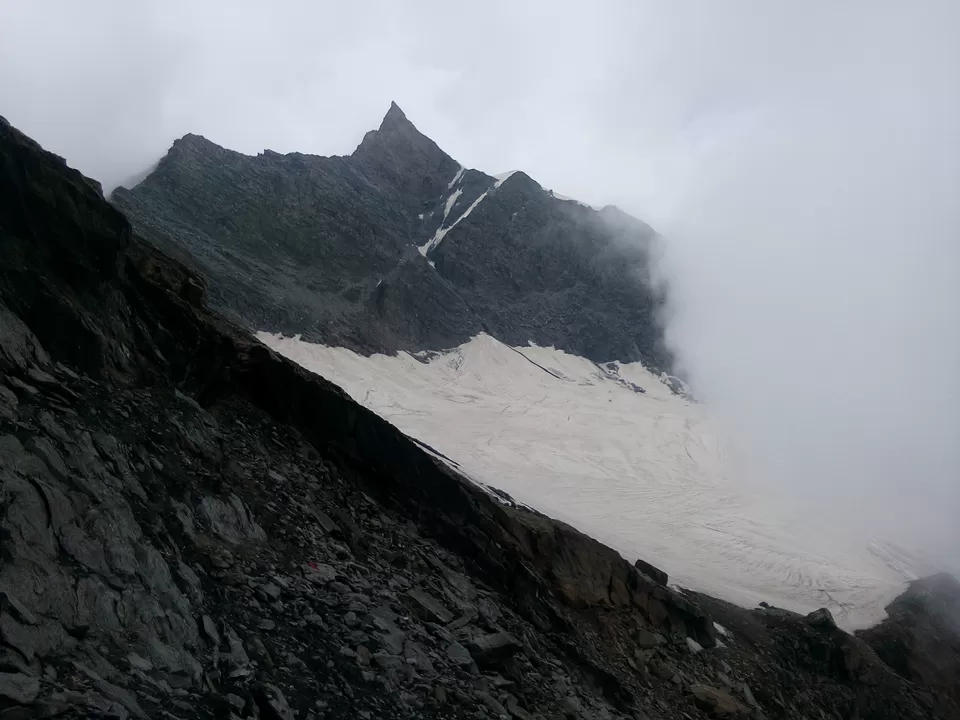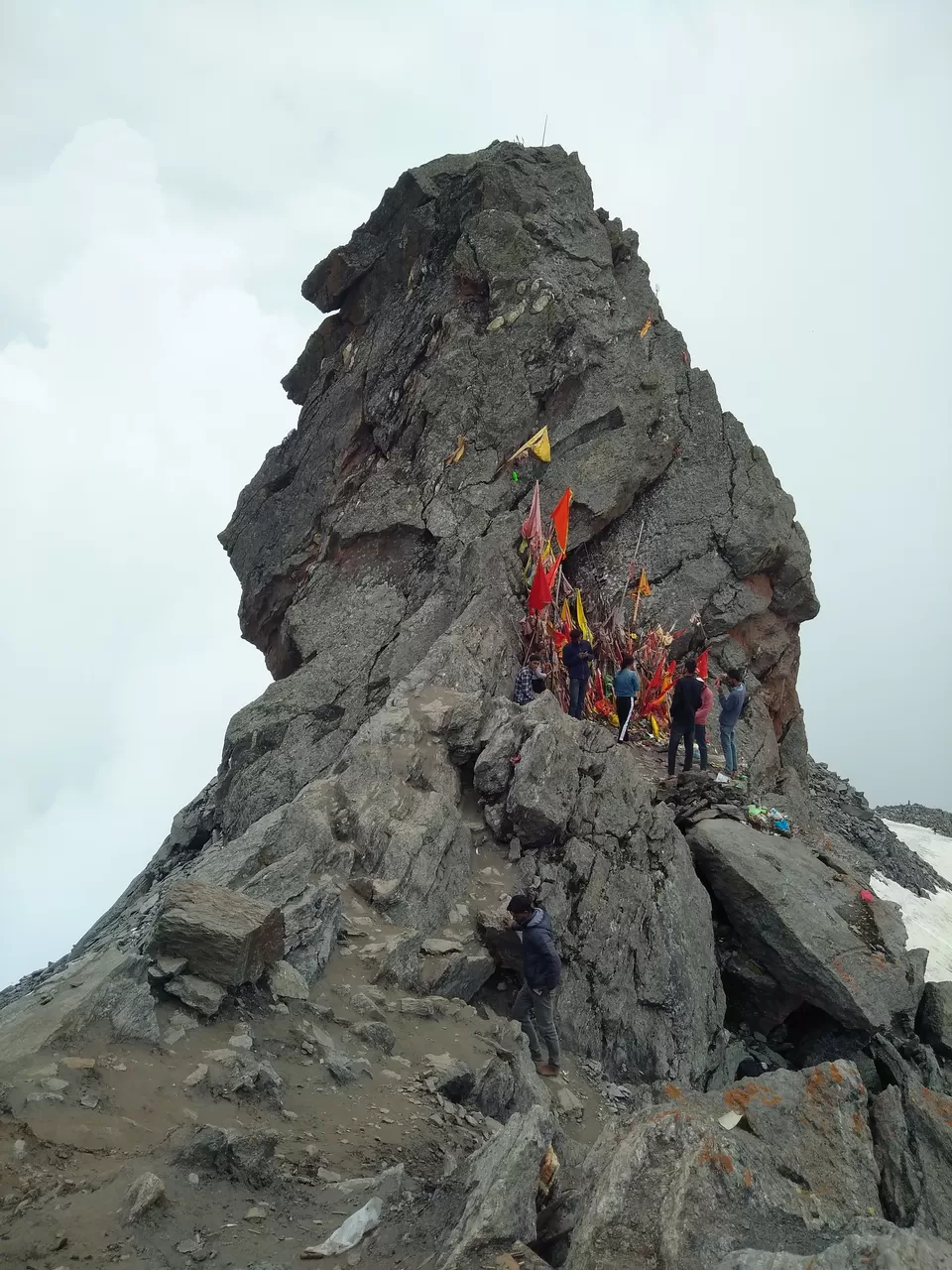 After spending some time at summit, we started to descend towards Bhimdwar. Returning journey was more tougher than climbing. And Rain made it all a spoilsport. Somehow we managed to keep the pace and returned back to Bhimdwar........ We relaxed here, Had Tea..! and then I set alone at a point for my own sake.......! Then in night we had Dinner and slept for the Day...!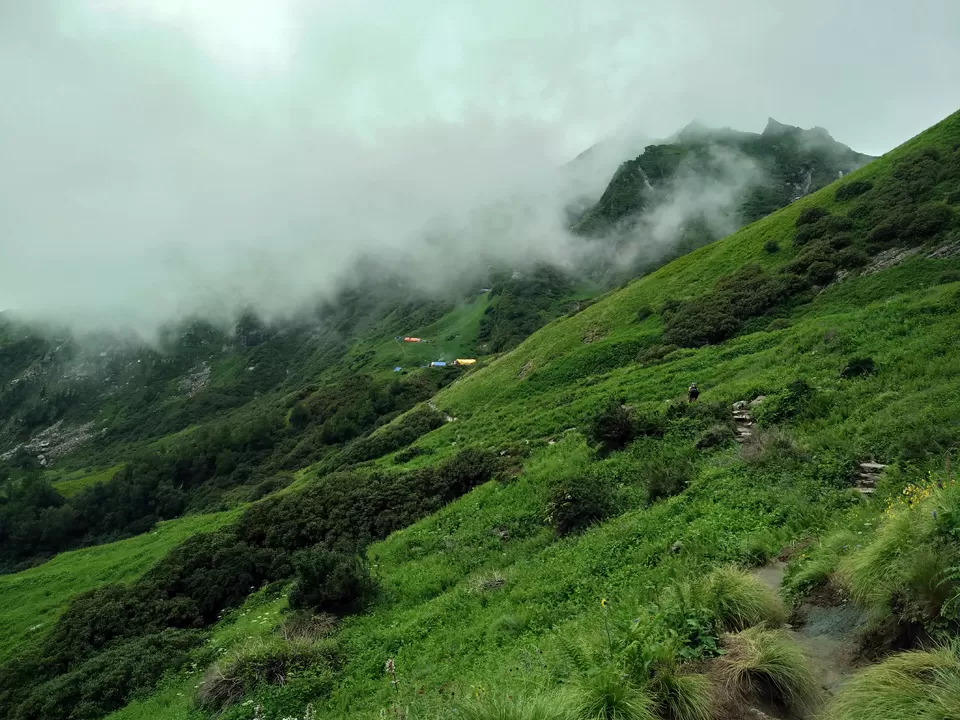 In Morning after Breakfast we began for Sinhgad (Traditional Halt is Thachru). After a pleasures journey with a perfect scenery of Kunsha, Bhim Talai and Kalighati, we reached Thachru in afternoon. We had a break and had Lunch. Then after relaxing for a while, we started to go down via "Danda dhar". in Evening we reached Baratinala, my first Halt. We had Tea and kept walking till Sinhgad...... We reached here at Sinhgad on 8PM. After that we had Dinner and Slept. It was most tiresome day for us as we had covered 30-35 KM's in a single day....! So as we laid, We slept amazingly with the Happy memories of the way...!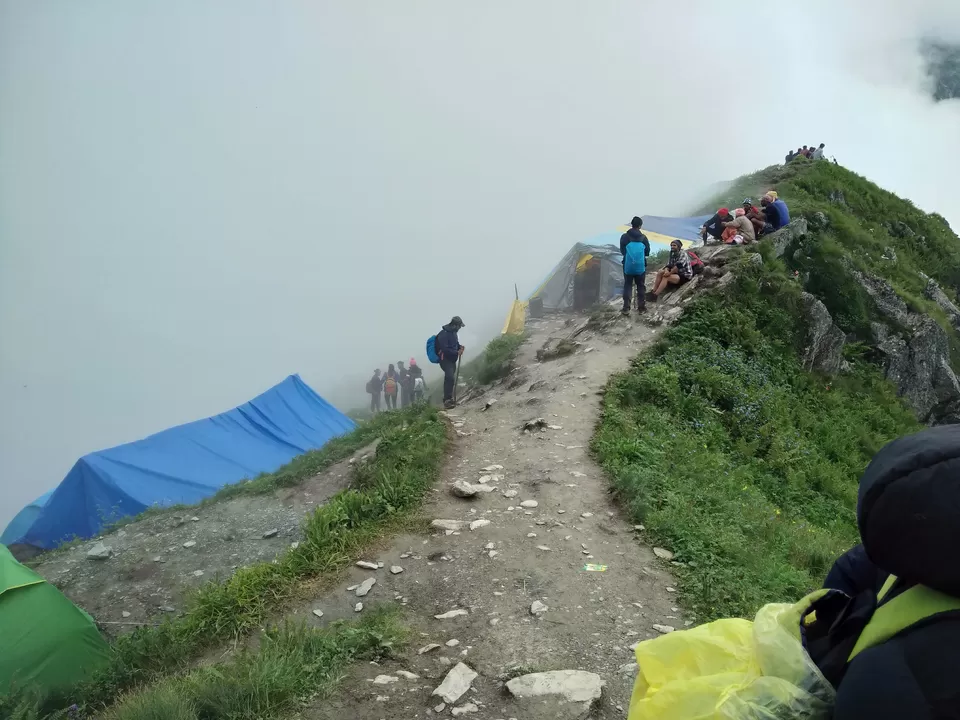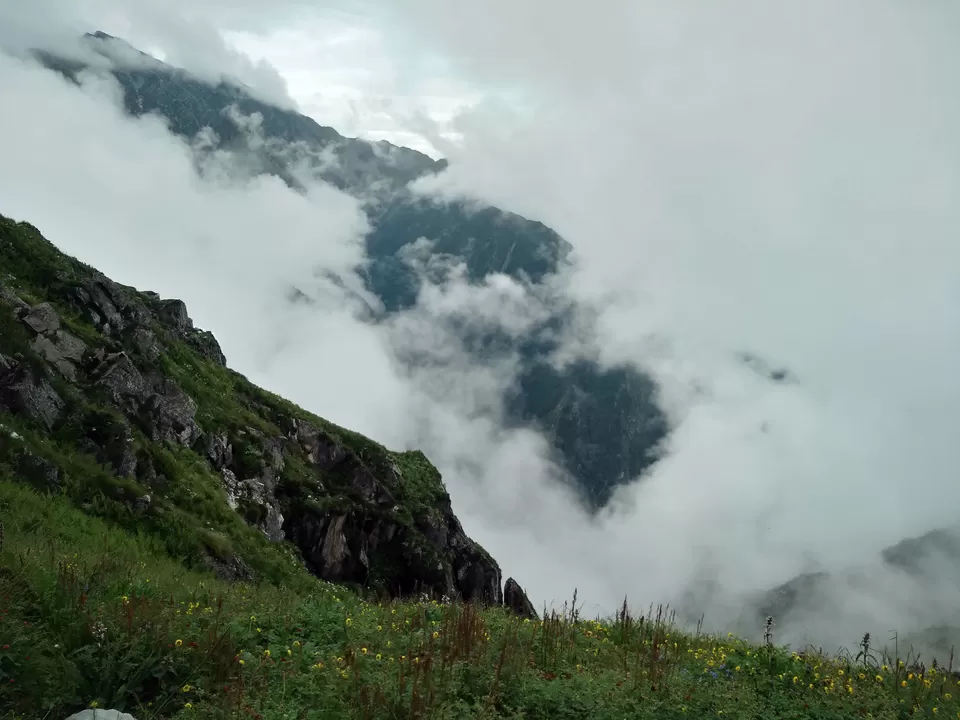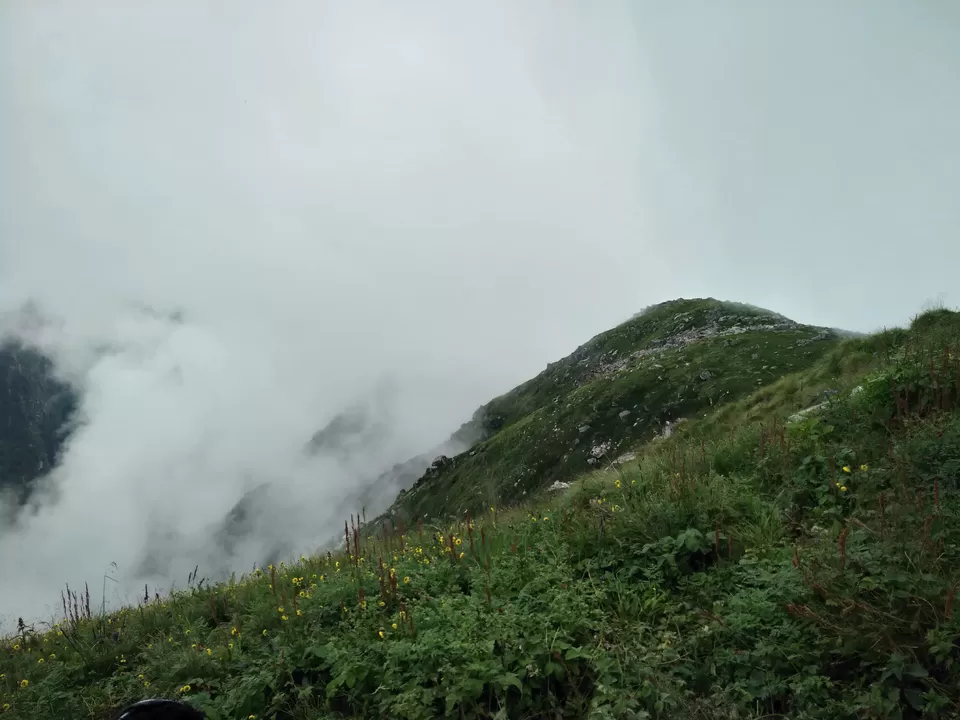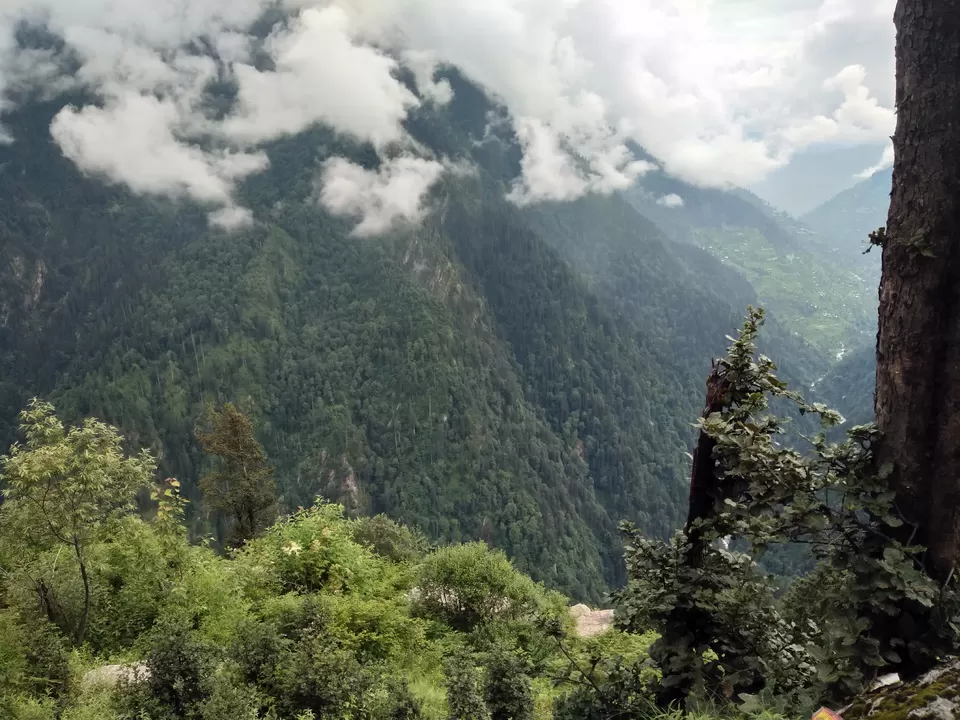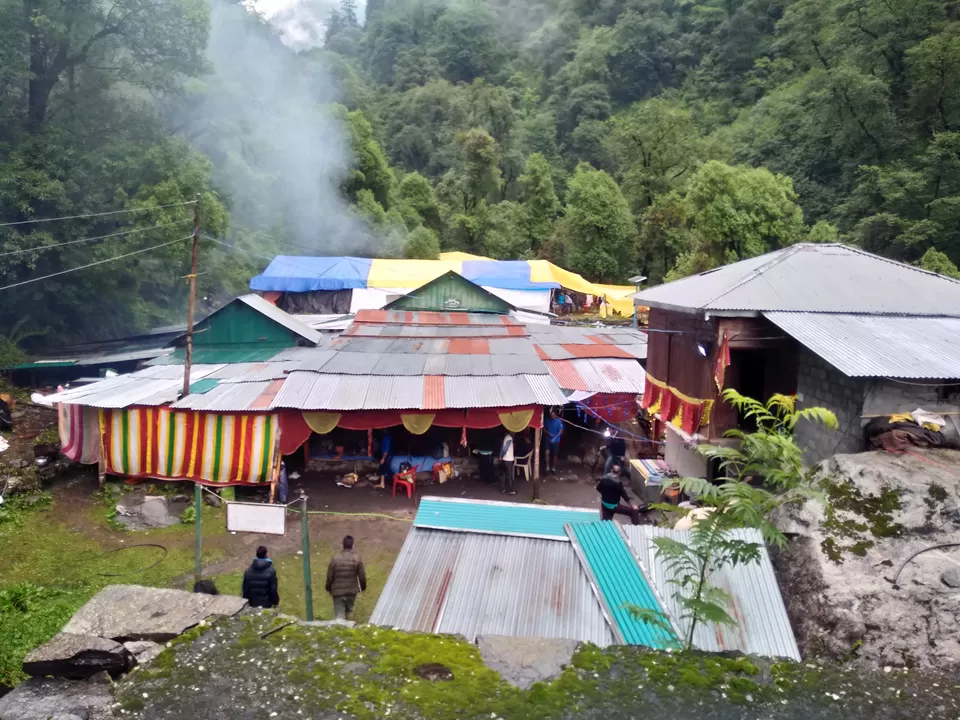 We started early in the Morning from Sinhgad after breakfast....! We reached Jaon at 8 AM. Then we walked down till Bagipul. (Even it was not required, there are transport options available) We took a Bus from Bagipul to Dev Dhank.
Dev Dhank is the starting point for traditional yatra, so we decided to go there as well. We reached Dev Dhank @ 2 PM. We gave our respect there at the Holy Cave of Dev Dhank. After that we went to Duttnagar, Rampur, by crossing the Satluj River there. From Duttnagar, we get boarded on HRTC again to reach home, Shimla.......
Srikhand Mahadev is a place that fills great joy, peace and satisfaction in our mind. We were highly blessed by the Nature in it's lap....! Keep in mind that it is not a place where you go to enjoy or picnic. It's a place where Nature is King and everybody must respect the rules. Come with preparation and be ready for any emergency because here, as I've already mentioned, "Nature is King"