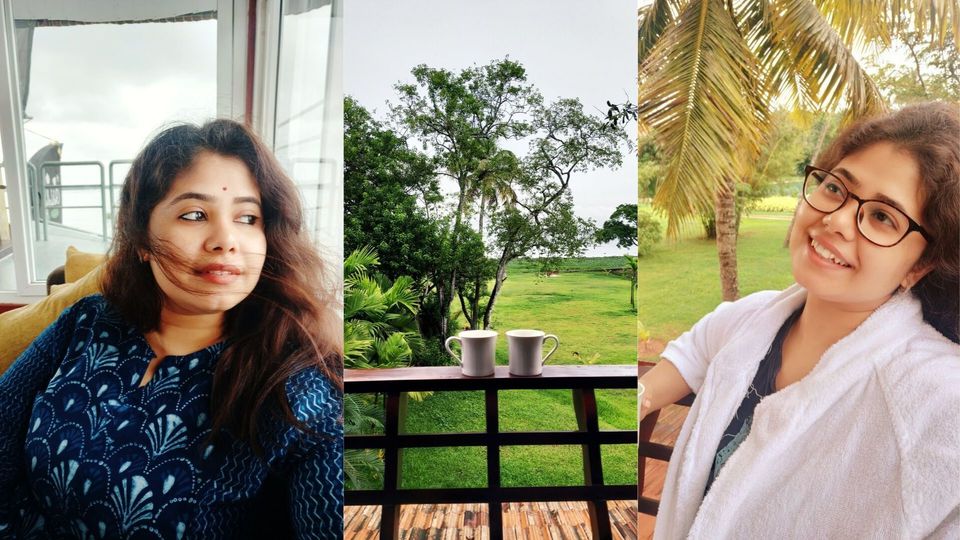 Between the toxic hustle and bustle of the greying city that shape our mundane modern lives to pungent politics of the workplace AND the nation, we have forgotten to look at life like it is meant to. Sometimes, we buzz off to the mountains, smoke some good grass – and we have this illusion that somehow, all is well. But again, just a week after our weekend trip, we find ourselves slugging through every moment of life – painfully waiting for the next Sunday to drown our misery in drinks. What we need is a full detox that will stay with us even through tough times. We need to learn to shield ourselves from the hellish dystopian nightmare of the present. What we need is to look inside for happiness rather than go outside scouring for it – and a week-long Ayurveda vacation amidst lush greenery, blue sky and tranquil waters taught me just that.
Freedom is when you are happy from the inside, and your body responds to yourself and not to the toxicity around you. This is the core learning I received at Kerala's beautiful wellness resort Niraamaya Retreats Backwaters and Beyond, Kumarakom. While I still had the headphones on and the phone played Freddie Mercury's "I Want to Break Free", the resort car zoomed through a soothing green landscape and I rolled down the windows to let the drizzle play with my skin for a while. 2 hours from Kochi International Airport, Niraamaya Retreats Backwaters and Beyond, presents a sight to behold. Nestled at the banks of Lake Vembanad, the huge property is an embodiment of the blend of modernity and the beautiful traditions of Kerala.
We got the traditional Kerala welcome as we entered, with a chandan tika on the forehead, a garland around the neck and soul-stirring tender coconut water as the welcome drink – to be had straight from a coconut. Check-in took no time, thanks to the super helpful staff. Mridul from the operations department took it upon himself so we arrive on time and in comfort, right from before our flight departed from New Delhi. Heading down from Reception, we walked through a beautiful, green and sculpted pathway to reach our superior lake-facing room, named after the river Karuvannur. Set amidst 8 acres of lush tropical gardens, this wellness retreat has 27 luxurious villas designed to maximize the glorious views of the lake. Among breezy coconut palms and soothing tropical foliage, the traditional balcony overlooking the blue Vembanad Lake promised me of a stay too good to be true. Indeed, wellness begins from the inside. And my insides were at peace – just from the ambience alone. The secret of true happiness is: I have to internalize this sense of peace in a way that I find serenity even among chaos. And that is precisely why I was there.
Rooted deeply in Kerala's rich ancient cultural heritage and tradition, Niraamaya's philosophy is aimed at a holistic development of the mind and body. Offering 5000-year old Ayurvedic practices for treatment of different ailments of the body, mind and soul, Niraamaya Retreats looks at wellness very seriously. Their primary focus is on the healing nature of mind amidst a relaxed, private atmosphere. There is no early-morning yoga or meditation – as they believe that a good, sound sleep with no tension of waking up early and rushing, is the first step to a healing mind. And trust me when I say this, I have never slept this well anywhere in the planet before.
My first day went by in appreciating the blue skies, the huge lake right before my eyes, and the huge property with such tasteful living spaces. The food was insanely good! I swear to everything that is good – Café Samsara makes the best appam my mouth has ever tasted. After a late breakfast, I went to meet the in-house doctor who is devoted to work with the guest to help them pick the right treatments to suit a holistic development. Dr Suchitra is the spa manager and also an Ayurveda doctor who specializes in healing, yoga and Reiki. With her calm voice and a soothing presence, Dr Suchitra offered me a medical consultation based on which she suggested a message for the next day. The resort offers the guests to choose from a wide range of Ayurveda packages that come with stay in a luxurious suite, doctor's consultation, and therapies administered in a beautiful spa area, meals, and yoga and meditation classes.
Niraamaya's excellent Ayurvedic treatments and massages help to maintain a healthy radiance, tone muscles, strengthen the system, induce relaxation and reduce stress. I came back and after a refreshing swim, had a filling lunch, followed by a much-needed long siesta. I missed my Yoga class in the evening and Dr Suchitra assured me that I had nothing to be sorry for since my body was asking for rest. And that's how she told me how to listen to my body and how to provide it with the right things. "That's also self love", she said with the sweetest smile.
My evening by the lake was dark and peaceful – punctuated by the sound of night flies and the fresh, water-laden wind rustling through the leaves. I held my husband's hand and we closed our eyes, breathing slowly, and somehow feeling every palpable moment. Sometimes, the silence between two hearts speaks a thousand stories. As we returned from our walk, we were told there was a special Kerala thali waiting for dinner. I was over the moon!
The next morning was meant for our spa treatments. My husband wanted a treatment to induce good sleep, and I wanted something for body pain and stress. Dr Suchitra suggested he go for a hot stone message and I was prescribed a full-body Abhyangam (Ayurveda full-body message with essential Ayurvedic oils) followed by Shirodhara. We both had 2 hours of intense message sessions and my therapist, with just the right pressure at the right spots, vanished the stress away. After a steam-bath, I drank a cup of herbal tea with honey, and I could barely keep my eyes open. The world just seemed ten times better. Spa is often synonymous to self-pampering, but this was different. This was treatment. Although it felt like I was being pampered, my ailments were also slowly disappearing. Such is the magic of Ayurveda.
My body would never be more relaxed than this, I thought. We had a house boat ride arranged by the resort post lunch, and the boat owner himself came to pick us up. The huge houseboat had a huge seating area with a dining table and large sofas. Inside, there were two bathrooms and a big bedroom. We chose to stay in the living area, and just take in the lush green view of the backwaters in all its glory. Through the backwaters, the boat took us in the middle of the Lake Vembanad, the longest lake in India and the largest one in the state of Kerala. After an hour of soothing green and tranquil water engulfing my senses, I fell asleep on the couch as my husband chose to read a book. The two-hour boat ride was as fun as it was memorable. And yes, it was definitely more relaxing than I had imagined.
Upon returning, we went for an evening yoga and meditation session. Dr Suchitra, our yoga guide, showed us some poses and moves to help us de-stress, which she said would eventually help us in the long run if we continue doing this for at least half an hour everyday. Followed by a meditation session, she helped us understand the superior power of AUM chanting and the vibes of positivity it brings within us. Looking inside for happiness is key, she stressed. As she ended the session with a beautiful chanting of the gayatri mantra with her sweet. calming voice, I rose from the savasana feeling refreshed, energized, and very happy.
Niraamaya Retreats cast its magic on me since the moment I checked in. I had completely forgotten about office woes, my city life, deadlines, and to be a little selfish, my small apartment at the 20th floor in dusty, rugged Noida. But my memorable stay in Kerala gifted me with the power to create that little nest into a home. Home is where peace is. And Niraamaya's healing hand moulded my soul into believing that peace is wherever I carry it.