When Tarsar Marsar Trek in Kashmir got cancelled due to political tension, it was such a disappointment especially because the trek was in Kashmir, "Where I have left my heart"!!! Well, when a travel bug bites you hard, you don't really be disappointed for failure of plan A, there will be plans up to Z ???? Supposed to be a trek/trip with friends, but then they couldn't continue with plan Z at the last moment, I had to decide whether to cancel everything or go solo. As I strongly believe in "Quitters never win", I landed in Udaipur, City of Lakes" to kick start my first ever Solo Trip. Exploring southern parts of Rajasthan has been nothing but full of adventure, great fun and experiences for lifetime !!!

Day 0:
I had my flight from Bangalore to Mumbai and then Mumbai to Ahmadabad at night 9pm, reaching Ahmadabad around 2am. I had booked morning bus from Ahmadabad to Udaipur.
Day 1:
After waiting for almost 5 hours in Ahmedabad airport, I boarded bus from airport circle to Udaipur at 7.30am. Entire night spent on flight journey and waiting at airport was taking a toll on me and all I did during 6 hours of bus journey was to sleep! The bus stopped for breakfast on the way around 10am and I ate one of the tastiest poha ever!
I had booked my stay at Banjara Hostel for first 3 nights and then Bunkyard for next 2 nights in Udaipur. I checked-in around 2pm, got freshen up, explored the hostel, rooftop restaurant a bit. I had 2 other roommates who had gone out for the day. I was kinda feeling confused that first time completely alone at unknown place not knowing whether I can do this solo trip.
Not sure of where to start with exploring, I slept off for couple of hours, spent rest of the eve at rooftop doing nothing, just gazing at the lake and palace, befriend the waitress Bhoomi who was very sweet and knowing I came solo she helped me with talking to someone to arrange shared cabs for Chittorgarh and Kumbhalgarh.
When I came back to room at night, I met my roomies who were veterinary doctors practicing in Pune. After chatting for sometime, I decided to join them next day for exploring city palace in the first half. Also, the fact that they reminded me of my hostel days, my friends.
Day 2:
Morning after breakfast, the 3 of us set to explore city palace. As the hostel was close to City Palace, we went by walk. My roommates wanted to take a guide, so we opted for a guide tour for 300 Rs. Within 5 mins, we realized the guide was of no use. Thankfully he himself asked another guide to continue with us. The new guide was very funny, talkative, showed off his photography skills proactively which signaled us that he is expecting more tips from us. Obviously we paid good enough tips which caught him by surprise! If you are a history lover, you can spend whole day in city palace. However 2-2.5 hours is sufficient to get soaked yourself in the history of Mewars. Major portion of the City palace is still owned by the royal family and not open to public. Ahh I imagined myself to be part of the royal family :p
As it was last day in Udaipur for my roomies, they decided to spend some time in shopping and other stuffs, I decided come back to hostel to have lunch at rooftop restaurant and relax a bit as it was very hot outside. In the afternoon, I visited Jagdish Temple just a couple of minutes walk from my hostel. There was some other temple procession was happening, I spent some time enjoying the festive atmosphere and huge crowd gathered outside dancing and singing bhajans, lost in devotion.
Later I went to Bhagor ki Haveli for the evening cultural show from 7pm-8pm. Ticket counter opens an hour early around 6pm. There wasn't long queue, so within 10-15 mins I got my ticket. Since there was still time for the show, I went to Gangaur Ghat which is just outside the Haveli. Evenings at Gangaur ghat was peaceful yet beautiful feeling that I experienced when in Udaipur. I was so glad to have booked both of my hostels at such a prime location and close to most of the tourist attractions. I could just travel by walk and whenever I want :) The cultural show included Rajasthani folk dances from various parts and puppet show. For camera, there was additional ticket which I had not bought assuming its only for DSLR. When many people started taking pictures and videos, but not really paid for the camera, the organizers had to announce in the middle of the show to buy tickets and record. Nobody bought tickets, rather stopped taking snaps, after all we are Indians :p I returned to hostel after the show, my hostel rooftop being my latest favorite, I didn't feel like exploring any new restaurant. It offered great views of Lake Pichola, City Palace, Jagdish Temple and Monsoon Palace covering all 3 sides. It had live music and nice crowd to get lost in solitude! Also, people who know me, knows very well that I am not a foodie in first place and I can literally live with water and one time meal in a day :p That's how I save while travelling !!! ;)
Day 3:
Today was the day full of adventures, risks and my soul wandered crazily and freely so much that my heart skipped a beat or two !! I rented a scooter "CliQ" from my hostel for whole day at 300 Rs. I started with Fateh sagar lake. As it was morning time, there wasn't much crowd and no food stalls. It started drizzling while I enjoyed the calmness and beautiful views across the lake. After spending half an hour there, my next stop was at Saheliyon ki Bari. It has a major garden, fountains and small museum. If you have come with family and kids, it's a good place to spend leisurely hours here especially escaping from heat and relax under shadows surrounded with lush green lawns, lotus pool and marble elephants. Coming from garden city, I didn't waste much of my time here because I was eagerly waiting to visit Bahubali Hills!
Bahubali Hills is a viewpoint offers great views of Badi lake with Aravali hills surrouding the place. I had seen amazing pics of this place in instagram and heard a lot about this place from my hostel receptionist. This place had topped my bucket list ! Little did I know that most of the locals either doesn't know about this view point or calls it by some other name. They knew only Badi Lake, not this view point. Google showed a different route than what the locals suggested me assuming that could be Bahubali Hills, so I ended up at Pratap Gaurav Kendra where 50 ft tall Maharana Pratap's statue is there. When I asked at the counter they said it's closed due to some construction work and there is nothing they are aware of Bahubali hills :( I called up my hostel guy to cross verify, he wasn't sure either suggesting me to just visit Badi Lake and return. With much disappointment I drove to Badi Lake. Somewhere on the corner of my heart I still had hopes that I might have searched at wrong places, so thought of exploring little ahead of Badi Lake as showed in Google. The road was patchy or no proper road most of the time, not many travelers on the road, bit far from the city, had to cross small villages. Finally, when I reached the village at the base of the hills, I met couple of locals who suggested me to park the vehicle at a place where few others had parked their vehicle and hike from there. There was an old woman collecting parking fee! When she told me that I am at the right place, I had no bounds to my joys :) I was so excited to reach the top that I literally started running on the muddy, rocky trail not caring about my sandals, scorching hot or few tourists walking down on the way looking at me like I have lost my mind :D It was 2.30 pm and I didn't even carry a water bottle or hadn't have anything after breakfast, driving crazily all the while, disappointment of not finding the viewpoint, all of that disappeared like a passing cloud when I reached the top!!! I was so awestruck by the scenery in front of me that I couldn't let out a WOW for couple of minutes. It was absolutely breathtaking! If I had not followed my gut feeling, I would have missed this GEM of nature! Thanks to me :p There were not many people, hardly any tourists except few local teenagers. I was so lost in its beauty that it took a while to observe my surroundings and to take pics. After spending good amount of time, I started descending to return to the city. Although I very much wanted to witness sunset from this viewpoint, I decided to visit Monsoon Palace for the sunset and it turned out to be a good decision.
All the way on returning to the city, I was so happy that I thought my heart would burst out of happiness :) Next and last stop for the day was Sajjangarh Palace or Monsoon Palace. I had only 100 bucks in my wallet, so was searching for ATM's on the way. Found two and both ran out of cash. I have this habit of travelling without cash many times in Bangalore unplanned though. Hoping I would find ATMs on the way, I kept on driving and reached Sajjangarh entrance where we supposed to buy tickets with only 100 rs in hand. I asked an Auto driver if I can transfer him money through paytm/phonePe etc and he give me cash in return, only to know he didn't have any payment wallets :( I definitely was not ready to go back just because of money, after coming all the way till Sajjangarh. Thankfully the palace entry fee plus parking fee costed me 100 rs. So left with empty wallet I started my ride to the top of the hill and within 2 mins I realized that scooter is in reserve mode :p It was around 4pm, started getting cloudy, no money in wallet, not much fuel in scooter, never drove in curvy roads before, that too all alone, I just wanted to reach the top no matter what! Praying to my gannu on every turn I took, I reached the top and let out a sigh of half relief :D Monsoon Palace is a must visit if you are in Udaipur. It offers panoramic view of Udaipur. Especially in monsoon season, the entire city surrounded with greenery, the view from this hill top gets as amazing as possible. I never imagined Rajasthan to be this green. After exploring the residential palace and surrounding views, finally I rushed to the cafe outside (thanks to digital India, they accepted card :p) to have my lunch at 5.30pm. It was cloudy by now, there was no hope for witnessing a sunset, my mind was constantly reminding me of not having much fuel in scooter so better to leave before it gets too dark and difficult to drive in zig-zag roads, however I didn't want to leave just yet. The panoramic view was so mesmerizing that I just wanted to be there for indefinite time. By 6.30pm I got back to my practical senses and with a mixture of heavy and happy heart I bid good bye and returned back to my hostel. Today was such a fulfilling day for me beyond any measure. As they say "the best surprises comes when you least expect it", it was one such day which I am gonna cherish for the rest of my life <3
When I returned to my room, there was a girl from Spain as my new roomie. Maria was sweet, talkative and friendly, we instantly connected. She not having any fixed plan until then, decided to join me for Chittorgarh and then Jodhpur as well.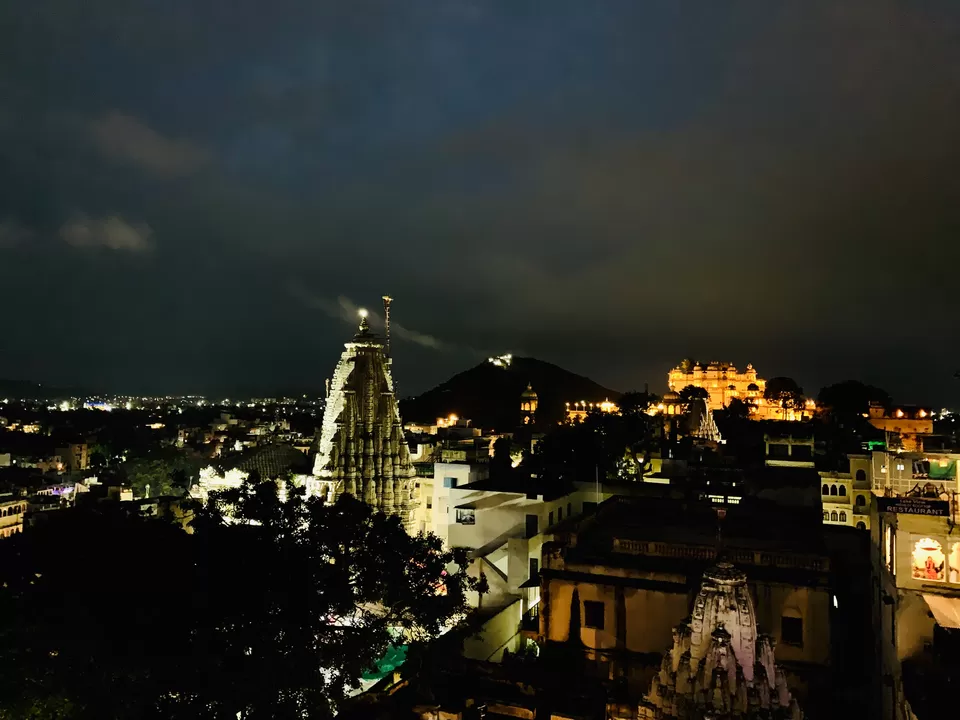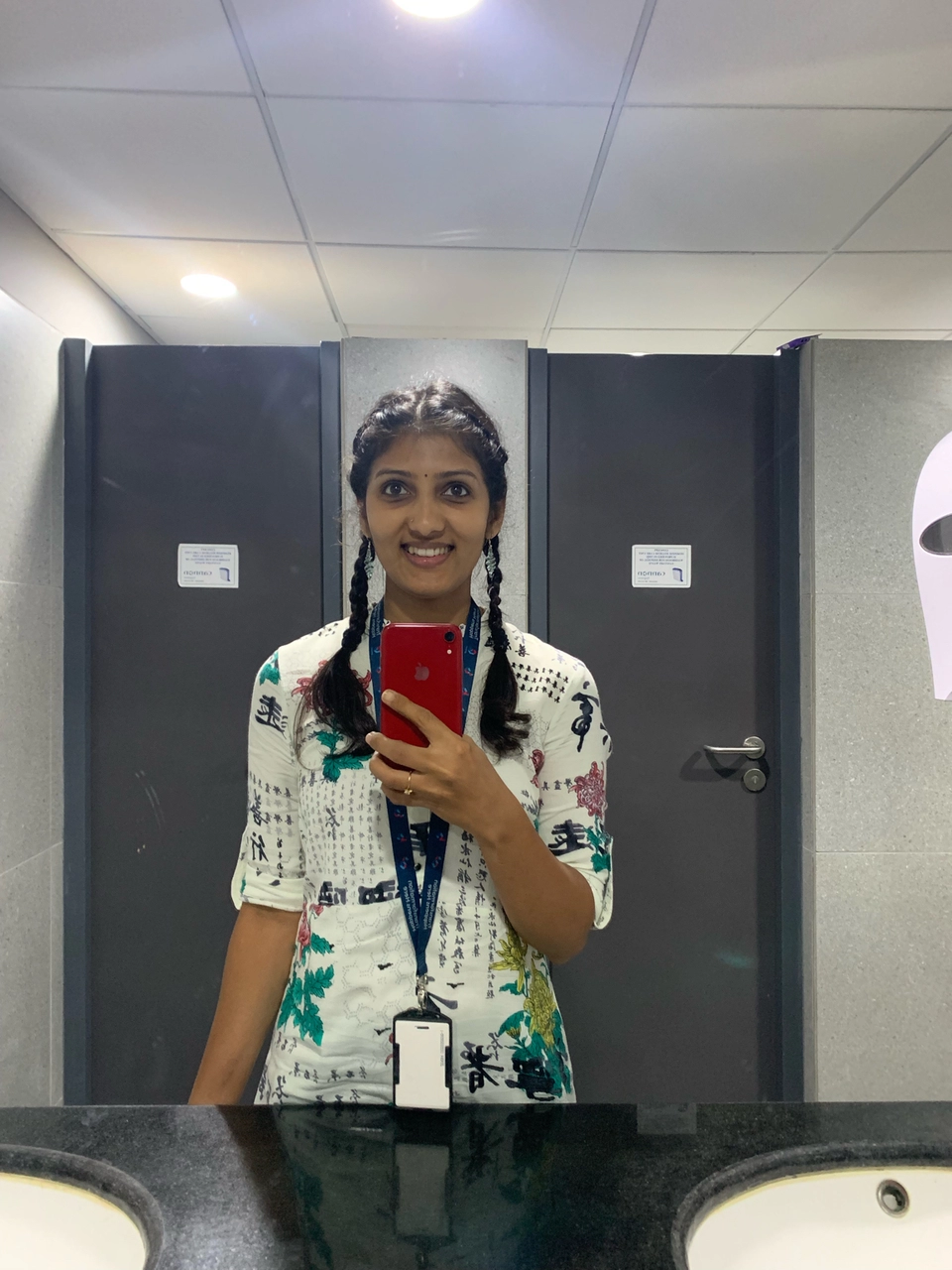 Day 4:
We had booked cab for Chittorgarh from the hostel itself. It was 2400 Rs for day trip shared by two of us. It started raining on the way but not heavily though. Rajasthan in monsoon is completely different feeling altogether. Lush green on both sides, great company and long drive in rain to Chittorgarh was nothing short of any romantic getaway. We decided not to hire any guide, explored the fort by ourself with basic information shared by our driver. It was drizzling throughout, raining little heavily in between. Nothing stopped us from getting mesmerized in the beauty of temples, towers and the ruins of the fort which resonates the bravery and sacrifices of the Mewars. History being my favorite subject, I usually read about the history associated with the place before visiting. Wandering around Chittorgarh was like an emotional moment for me, all the more because of Padmavat movie. I was imagining the bygone era, felt as if each wall and stone of the fort screaming a story unheard since ages. How royal it would have been, how happily people would have lived until it was attacked by the foreigners !
Feelings apart, Maria and I had great fun posing crazily especially with monkeys :D I had never seen so many monkeys at one place until then. When I was taking a video, Maria stepped on a monkey's tail unknowingly and I standing closer to the monkey, became victim of its anger :p survived with minor scratches on leg. But we surely put up an entertainment for the tourists around us. Chittorgarh surely caught my heart and I didn't expect I would enjoy so much even with rain so much so that we forgot about our lunch until driver reminded us that it was 4pm already. We had lunch in a restaurant outside the fort and started for Udaipur. We reached hostel around 8pm, I and Maria decided to meet after freshen up for dinner as I had to check-in to different hostel today. Maria figured out some nice restaurants in Ambrai ghat area and we headed there around 9.30pm. The restaurant was very beautiful, lit up with lights, plants, wall decors. The restaurant was half empty but tables near the lakes were full but we badly wanted to relax enjoying the lake view, we waited for sometime to get one near the lake :) It was worth waiting.. Food was tasty, atmosphere was filled with romantic music and great views. I wished the night never ended. It was midnight when we finally thought of leaving the restaurant with heavy stomach and heart :p and It was Independence day ! I never walked alone at midnight in my own city, but it felt so good walking on the streets of Udaipur at midnight with a girlfriend who I met a day before, then walking alone to my hostel, it was kinda sense of overcoming the boundaries I have put to myself. I wasn't scared, I wasn't afraid of anything even if it was dark. All I felt was wondering about how could I enjoy all alone in an unknown city with a stranger. I was genuinely happy and there is nothing more exciting than realizing it. That was indeed a very happy Independence day for me in every sense.
Day 5:
It was raining heavily since early morning and didn't seem like it would stop anytime soon. I was supposed to visit Kumbhalgarh today, but Maria had to explore Udaipur for a day and I anyway had buffer day in hand, decided to use it in Udaipur. I was lazy to wake up when it was pouring outside and water was inside the hostel too making it literally living in the middle of lake :D I had suggested Maria about the places she can explore in a day and meet her in the afternoon for boat ride if rain stops. That was the only thing I wanted to do before leaving Udaipur. I thought of exploring the hostel which itself was so beautiful. One thing that I was obsessed with the most in Rajasthan was it's wall arts and colorful doors. I might have taken pictures of every doors and walls of the city. Bunkyard is full of such wall decors, overlooking the lake view. I went to rooftop restaurant for breakfast, ended up having an hour long conversation with the owner who served me one of the best Poha and hot tea to keep me little warm and active in that cozy and lazy weather.
While I was enjoying my lazy day at hostel, I met a guy from Mumbai who had come for short vacation with his friend, stayed in next room. When I asked him for Kumbhalagarh, he decided join us as they didn't have any other plans. I was happy that I have enough people to share a cab now for Kumbhalagarh and Ranakpur. We booked the same cab from my previous hostel who had come to Chittorgarh.
Day 6:
We had planned to start by 8.30am after checking with driver. It was pouring since 2 days and we were praying it would stop at least when we reach Kumbhalgarh. I and Maria checked out from our respective hostels as we were going to Jodhpur from Ranakpur while the two guys would be coming back to Udaipur in the same cab. I must say, the hostel staffs were very kind and helpful throughout my stay in different hostels. The guy at the reception was so sweet, he even offered me to drop by and use the room for few ours at the hostel instead of waiting in railway station during my return journey as I had my train to Bangalore was from Udaipur.
Driver had arrived on time but we were waiting for breakfast which was served very slow. So finally when we started off at 9.15am, driver was annoyed for we being late. Also he had a misunderstanding that all of us would be going to Jodhpur. When I said 2 people would be returning with him which I had already mentioned while booking, he started arguing price would be different in that case, he wasn't aware of this etc. All of us knew it was his mistake, still tried to pacify him and he started talking very rude spoiling our mood even before trip started. Fortunately, the car broke down someone on the outskirts of Udaipur. The driver called someone else to get another car for us and asked that new driver to continue with us for Kumbhalgarh. I sighed in relief as it was very unpleasant atmosphere in the car after we had fight with the earlier driver.
But the day seemed to be kinda unlucky for us as it never stopped raining, not even reduced a bit. So when we reached Kumbhalgarh, we set to explore the fort holding our umbrella tightly which was turning upside down cos of the blowing wind. Walking in such a heavy rainfall and wind itself was a big task for us. When we reached the top of the fort, nothing was visible around us. Everything covered in fog and we couldn't see a thing in front of us. Once in a while, the clouds and fog used to disappear presenting us with the grand view of Kumbhalgarh fort that we imagined to witness before coming here. It was like playing hide and seek with the fog and fort.
By the time we are done with the fort, we were completely drenched. The driver took us to some view point near by from where we could see gorgeous and mammoth fort enclosed by a huge wall stretching for 30 kms. However, due to rain and fog we couldn't see a bit even after waiting for 15 mins. Also we were getting late to visit Ranakpur. The close time for foreigners is 5pm at Ranakapur temple and we really didn't want Maria to miss this after coming all the way here. We had not had lunch until then and it was 2.30pm. Driver was suggesting us to have lunch but we decided to have it in Ranakpur. There was some problem with number plate, so driver stopped somewhere close to Ranakpur. We found a maggie shop there and finished our lunch with hot maggie and tea meanwhile the driver was fixing the number plate:)
It was just 5 mins to 5pm when we rushed to the entrance of beautiful jain temple I ever visited. There is entry fee for foreigners which includes camera or mobile fee. For Indians it is only camera fee of 100 Rs. Once you step into the temple, it fills your eyes with the beauty of intricate architectural marvels. This temple is definitely one of the best and unique work of art, representing the rich cultural heritage of Rajasthan. I was so mesmerized looking at the delicately carved sculptures on pillars and walls, making it the best sight of the day. After spending 30-40 mins, it was time to leave, we settled the bill with the driver, bid goodbyes to the 2 guys who were returning to Udaipur. Maria and I waited outside the temple for about 10 mins before the bus came. While we ran inside a small shed to get our luggage, there was a group of 10-15 local tourists who were staying in shed started screaming to stop the bus, helped us to get into the bus with our luggage and waved at us when the bus left. It was such a sweet and filmy moment to experience :) The bus was jam-packed, but driver and the temple priest who travels in that bus daily, managed to get seat for us. These small gestures of kindness and helpfulness what I cherish the most from my travels. The bus journey from Ranakpur to Jodhpur was an epic one! Maria and I enjoyed so much, talking about the people, their cultures, sharing our moments of laughter and fun with co-passengers. It was 10.15pm when we reached Jodhpur bus stand. We got into an auto outside and he agreed to drop us at Zostel Jodhpur. But he took us to Moustache Hostel and asked us to get down as this is what he thought is the drop location and he cant take us to Zostel because the road is clogged with water due to heavy rain. WTF?? how can an auto driver just randomly drop us at wherever he want and say something so stupid. It was 10.30pm and the auto driver was ready to take us back to bus stand but not to Zostel. Sick of his stupidity, we decided to go back to bus stand and checked with other auto drivers. But no one was ready to come till Zostel due to rain. I called up Zostel for help. The staff said roads are fine now and asked me to convince the driver. Ola and Uber rides were also not available at that time. Finally at 11pm we found an auto driver who was ready to drop us to Zostel.
We both were so tired and dirty with all the travel we did whole day in rain, first thing we wanted once we checked-in to Zostel was to take a nice hot shower. Guess what??? There wasn't any water at all!!! Staffs said we get it only next morning. We were not sure whether to cry or laugh at our fate :( We had no other option than just sleep off and wait for next day.
To be continued...
Frequent searches leading to this page:-
solo travelling in udaipur, is udaipur safe for solo travellers, things to do in udaipur, offbeat places to stay in udaipur, udaipur solo trip cost, offbeat things to do in udaipur, hidden treasures udaipur, udaipur travel guide, best places for solo trip to udaipur, 10 popular udaipur trips, best hotels in udaipur, weekend trip to udaipur, things to do in udaipur in solo trip