We had booked an overnight sleeper bus from Jodhpur to Udaipur. The bus reached Udaipur at around 4/4.30am. After some bargaining rounds, we got into an auto for Rs.150, well there was not much compromise on this. While in Rajasthan, you have to get used to excessive auto fares. The chill November breeze pierced through the skin. The auto wala offered to show us around the city for Rs.500 a day. He convinced us well and shared his mobile number. We reached our hostel, had to wake up Mr.Dikshanth to check us in. He was quite welcoming and helpful that he immediately handed over the keys (even though the check-in time was 10:00 am).
We retired in the room and woke up at around 9:00 am for breakfast. The food on the menu was a little expensive to have on a daily basis and the options were either of these in most of the backpacker hostels - cornflakes, pancakes, bread, butter/omlette or aloo parathas. We got a suite room in the hostel, quite a spacious room with large windows facing the lake and a balcony to sit back and chill.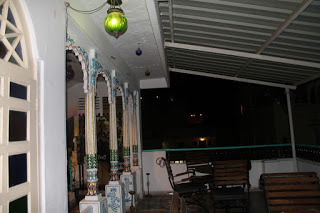 We rang up the auto guy by noon and started the city tour. The first on list was a boat ride on the lake. After the ride, we skipped a few small attractions on the way and stopped at Saheliyon ki Bari. As per history, this garden was designed by the king himself and he presented this garden to his queen. The Queen was accompanied by 48 maids in her marriage. This patterned garden used to be the popular relaxing spot of the royal ladies. The queen with her maids and female companions used to come here to spend their time in leisure. It will take only 10 minutes to cover this spot.
We visited the Bhartiya Lok Kala Museum (handicraft museum) expecting to see a puppet show. The museum has many good exhibits relating to various tribes in Rajasthan and it helps learn more about the Rajasthani culture. The puppet show will be conducted only if there are a minimum number of visitors and we were lucky to witness it along with a small crowd. It was a memorable experience to see a live puppet show. We congratulated the artists after the show and gave some tips too.
We had our lunch at a restaurant named Green chilly, the food was quite filling and tasty. Further we explored a government aided handicraft showroom. There were plenty of interesting stuff to see, but a bit expensive as they are all either exquisite hand-made items to support village artists or traditional classic pieces from history. These showrooms were previously Havelis (mansions) of the Royal members, now given free of rent to the artists to sell their items.
We visited another shop named Riyo near the city palace from where we bought some natural fibre clothes. The sales person explained the various types of natural clothing materials available such as textile made from bamboo fibres, lotus stem fibres, etc. The fabric felt very smooth on the skin unlike the artificial textiles that we usually buy.
Our next stop was the City palace of Udaipur. We bid adieu to our auto wala and entered the palace grounds. There was a wedding going on in the premises which included Baarat (procession).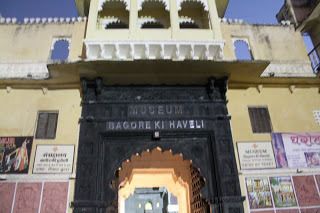 We felt that the entry fee was quite expensive and they have an additional camera charge of Rs.250. This was not so favorable, so we kept the DSLR at the locker and decided to roam the palace interiors without clicking any pictures for a change! Trust me, this was a cool decision as the palace was simply splendid, better than all palaces that we saw in Rajasthan. One reason must be because the visitors could explore almost the whole palace as it is and its unlike a museum. So we could get a clear picture of the past Royal life. The wall paintings and decors were worth praising. We had a good sunset view of the lake in front of the palace.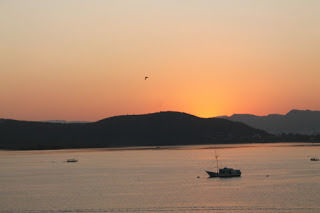 Before we retired for the day, we headed to Bagore ki Haveli musuem for the folk dance show at 7:00pm. After waiting for about half an hour we were seated inside the haveli style building with a huge crowd. We continued the 'No-Camera' style here also. So we just sat there to absorb the real feel of 'being in Rajasthan'. If we don't have the intention to take pictures, we would surely enjoy the little happy moments with open mind & eyes!
There were plenty of foreigners present, which is why I suggest you reach early to find a good seat in the front. A guy in traditional Rajasthani costume described about the type of dances performing and the names of artists. He briefly narrated stories before each performances so that the Non-Indians also understand the importance. There were many types of folk dances by beautiful Rajasthani women, a skit based on Goddess Kali, a puppet show, fire dance (a lady danced with a fire pot on head) and finally a pot dance which is related to life in desert. The highlight of this show was the artist, a 70 year old woman.
Although all of the shows were amazing, the last performance stole the audience's heart. The elderly lady kept on adding the number of pots on her head, until there were about 10 pots. She was exceptionally good at her work and was highly confident. All of us congratulated her at the end of the show, I noticed her eyes turned moist. She is one brave lady I'll never forget in life. I guess this is the best place to indulge in true Rajasthani culture.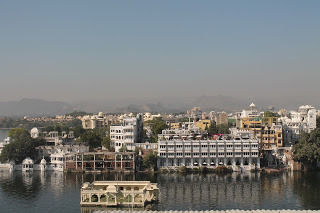 We skipped other main attractions that our hostel guy suggested like Monsoon palace, lake palace and vintage cars museum. Our hostel was near to the Jagdish temple. This is a small nice temple, worth a visit for its marble carvings and architecture.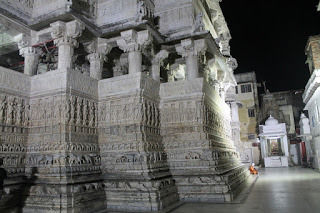 I suggest you can do some shopping near Hathi Pol area, where you will get good clothes for reasonable rates.
On the third day morning, we got into a bus from Udaipur bus stand heading to Ranakpur, our next stop.
This post was originally published on Fire Fly Sree.
Frequent Searches Leading To This Page:-
udaipur holiday packages from mumbai, udaipur to manali tour package, tour package chittorgarh udaipur mount abu, udaipur mount abu tour package from delhi, tour packages of udaipur, best things to do in udaipur, weekend getaways to udaipur from delhi, weekend trips in udaipur, 5 places to visit in udaipur, 4 star hotels in udaipur