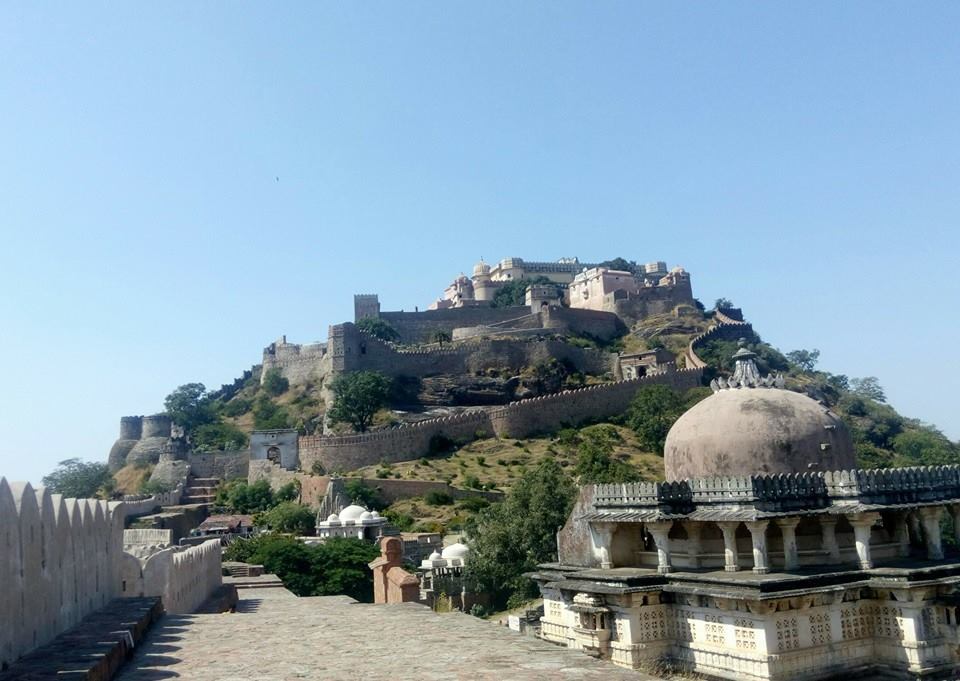 Hey Guys,
'Raja-Sthan' (Land of Kings) I was always fascinated by this royal land ,its vibrant festival, fairs and heritage.
Luckily this time I managed to get my long leave approved, packed my bag and headed straight for this dream destination.
Stayed there for 11 days, explored 6 cities and with total damages of 15k only . Here's sharing detailed itinerary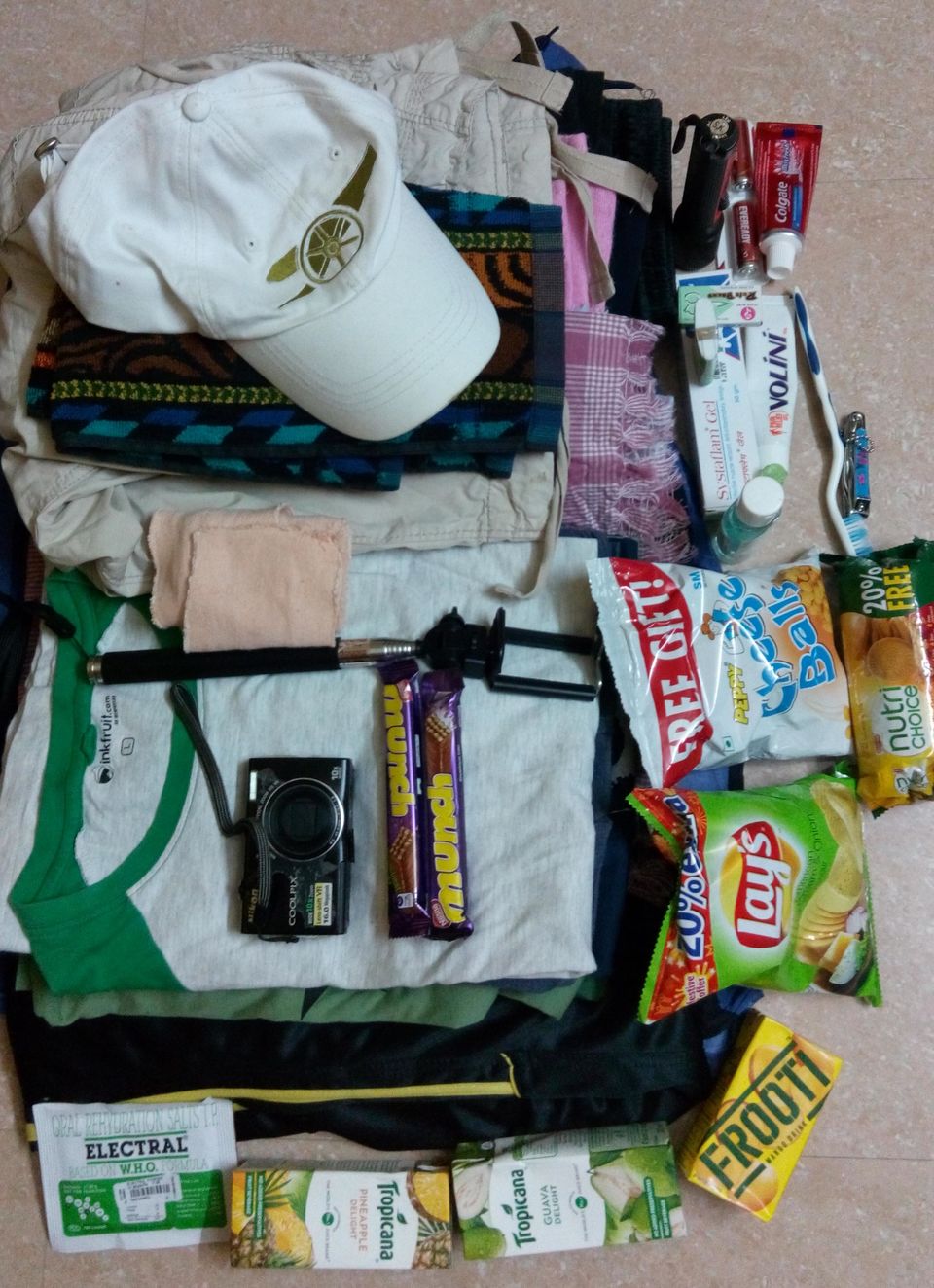 Like many I don't like long train journeys and I always prefer to break them in small stops.
As I am from Mumbai I decided to start with Mount abu as Abu road station is much nearer to mumbai (overnight 11 hour journey) than Jodhpurs / Jaipurs.
Also as I am more of SoloTraveller I prefer statying at Hostels/Dorms rather than Hotels as it not only helps me to keep expenses at minimum but also to meet other SoloTravellers.
Travelling is not just about sightseeing its also about meeting new people, socializing, sharing experiences and making new friends.Sadly most of Indians are unaware about hostels/dorms culture and hence end up missing most fun part of travelling.
If incase you want to know more about these hostels then refer sites like hostelworld, hostelbookers, hostels.com
Anyways..back to itinerary!!
Mount Abu
Day 1)
Reached abu road station in morning at 10. To get to Mount Abu you have to reach Abu road bus stand first(10 minutes walk from station). Buses are frequent and takes about 45 to 60 minutes to reach Mount abu.
Mount Abu is decent.. nothing extraordinary. Only thing unique about Mount Abu is 'Dilwara Jain Temples'. These temples are famous for their magnificent marble sculptures.
Note: Cameras are not allowed inside.
After visiting jain temples I spent some time at nakki lake, ate veg thali at sher-e-punjab restaurant near market and then left for Udaipur in evening by bus.
What to Eat: Abu road's specialty is its Creamy and delicious 'Laccha Rabdi'. Do try it!!
Udaipur -Venice of the East 
Reaching from Mount Abu : State transport and Private buses operate frequently from Abu road bus stand and Mount abu.
Where to stay: I stayed at Udai Haveli Guest house & I very much enjoyed my stay. Rooms starting from 400/-.
Other recommendation are Bunkyard or Zostel. Both 450/- per dorm.


Day 2)
Start day at Karni Mata temple to enjoy sunirse and breathtaking 360 degree view of city.(Note: Ropeway is available but I guess timing is 9AM to 9 PM so take stairs instead)
Then visit lake Pichola, JagMandir, City Palace, Bagori Ki Haweli and vintage car collection.
Post lunch you can head towards Fatehsagar lake and later visit either eklingji & Nagda temples or sahelion-ki-Bari & Moti Magri.
Though eklingji & Nagda temple are little far from city center I would highly recommend them for their beautiful artwork and location (surrounded by Aravali Mountains and Lotus lakes)
To enjoy sunset come to Sajjangarh (also known as Monsoon palace). or else you can go to Karni Mata temple again..but this time by ropeway.
How To travel: I and my hostel friend rented bike (bajaj boxer) for 350/- per day + Petrol expenses.
lake Pichola

Udaipur City 


Sahelion-ki-Bari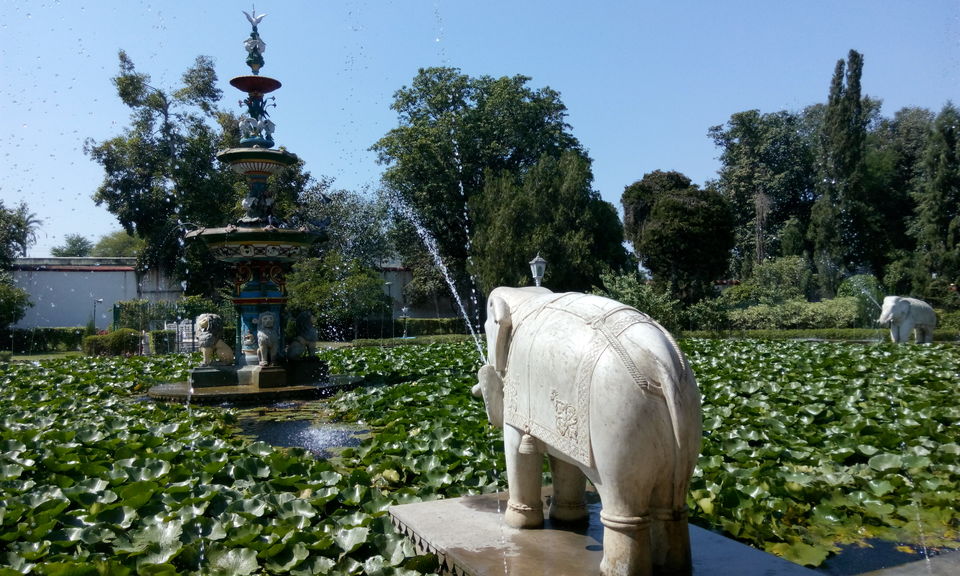 Eklingji & Nagda temples



Day 3)
Leave early morning for Ranakpur temples. Have lunch on the way and then do Kumbhalgarh fort in second half.
You can enjoy sunset here followed by Light and Music show. Leave udaipur for chittorgarh late evening or if you wish, you can extend you udaipur stay .
How To travel: 4 of us (I and 3 friends I made at hostel) rented a car for 2k.(including driver expenses)
Kumbhalgarh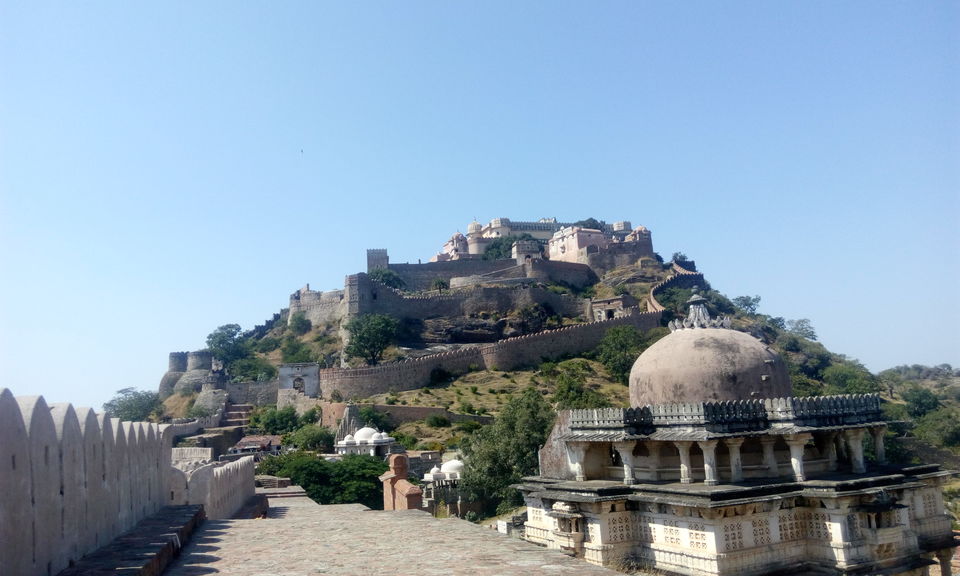 Ranakpur temple


Day 4) (optional)
Visit some of the places which you could not do on day1.
Or chill around, walk on bustling narrow streets of udaipur, eat chat, Kanda kochoris and enjoy city life.
You can go to nearby swimming pool and enjoy evening there till sun sets on town and then leave for chittorgarh.
Chittorgarh
Reaching from Udaipur: Train or Bus available. Travel time:2-3 hours max. Expenses : Less than 300/-
Day 5)
Reach chittorgarh early morning. You can hire tuktuk from station for market and from market there are share tuktuks which take you to fort.
3-4 hours are sufficient to explore fort.
If in case you are too lazy or tired then I would advise you to use your negotiating skills and strike a deal with tuktuk driver.
Generally you shouldn't be charged more than 400/500 for Station-ChittorgarhSightSeeing-Station.
Leave Chittorgarh for Jaipur in evening.
Where to stay:  If you plan to stay and are on low budget then stay at Jain dharmshala situated exactly opposite station. Rooms are available for 200/250
Chittorgarh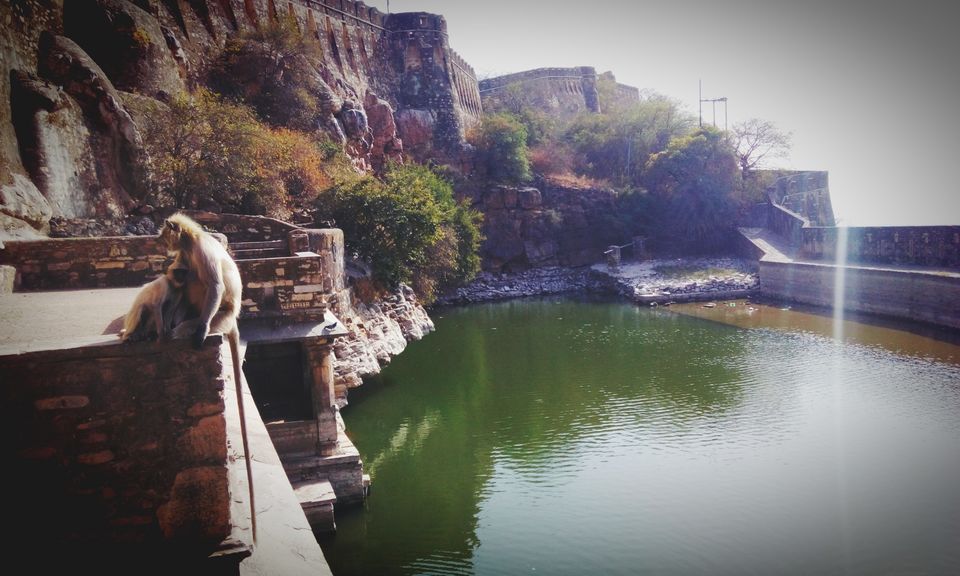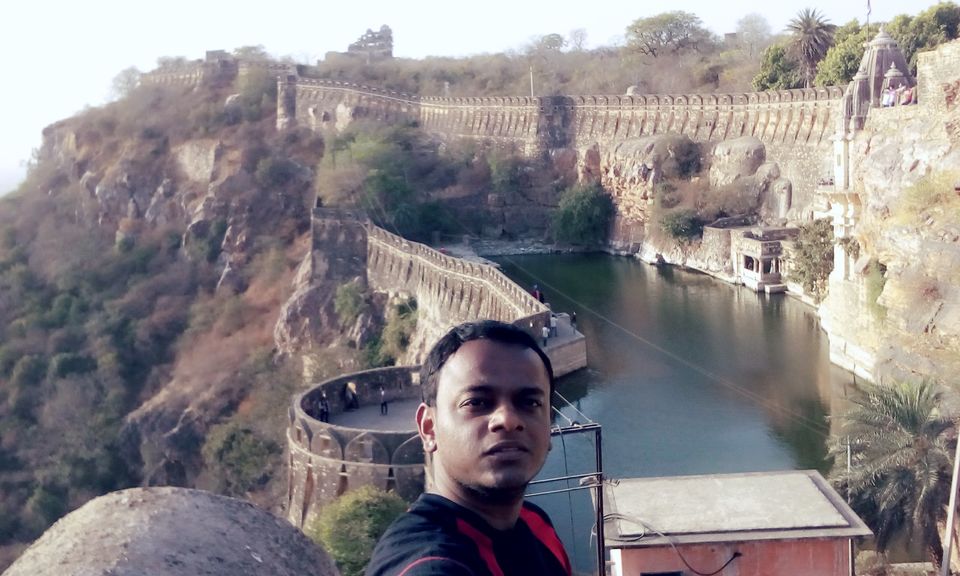 Jaipur Pink city
Reaching from chittorgarh: Train /Bus available. Travel time: 8-9 hours max. Expenses : Less than 600/-
Where to stay: I stayed at Bunkyard Jaipur which is ten minutes walk from Civil lines metro station.Dorms starting from 200/-.


Day 6)
Leave early morning for Pink city. Jaipur is well connected by metro lines.
Get down at Chand pole metro station, from here you can share battery car for Hawa mahal for 10/-.
Visit Hawa Mahal, City Palace and then Jantar mantar.
Enjoy lunch @Santosh Bhojanalaya.
After having heavy,rich and delicious lunch its time to burn some fats
Head towords Nahargarh fort for sunset. Mind you..its 40-50 minutes uphill climb which will be a test for your lungs and muscles
But once you reach there breathtaking view of city will wipe out your fatigue.
Hawa Mahal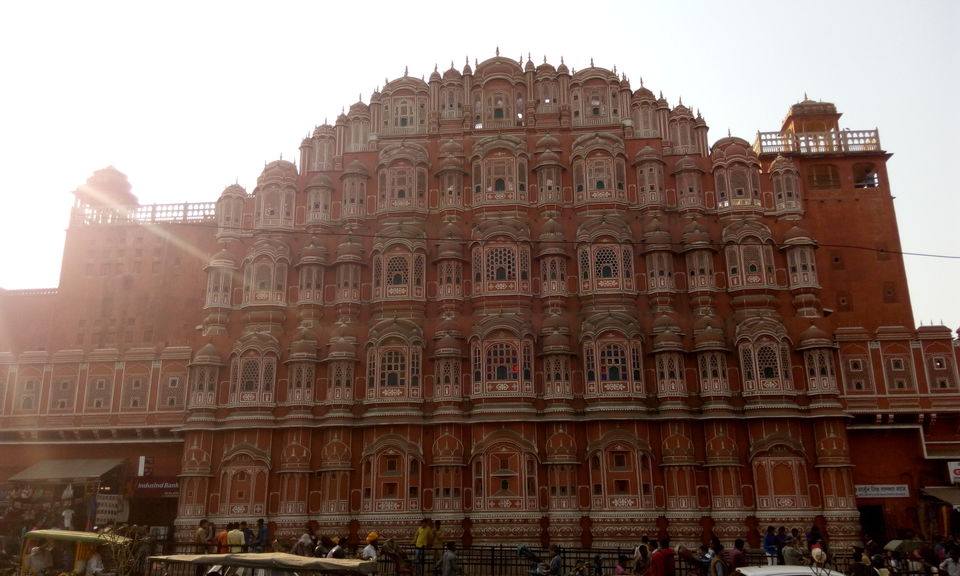 EEEspecial Thali @Santosh Bhojanalaya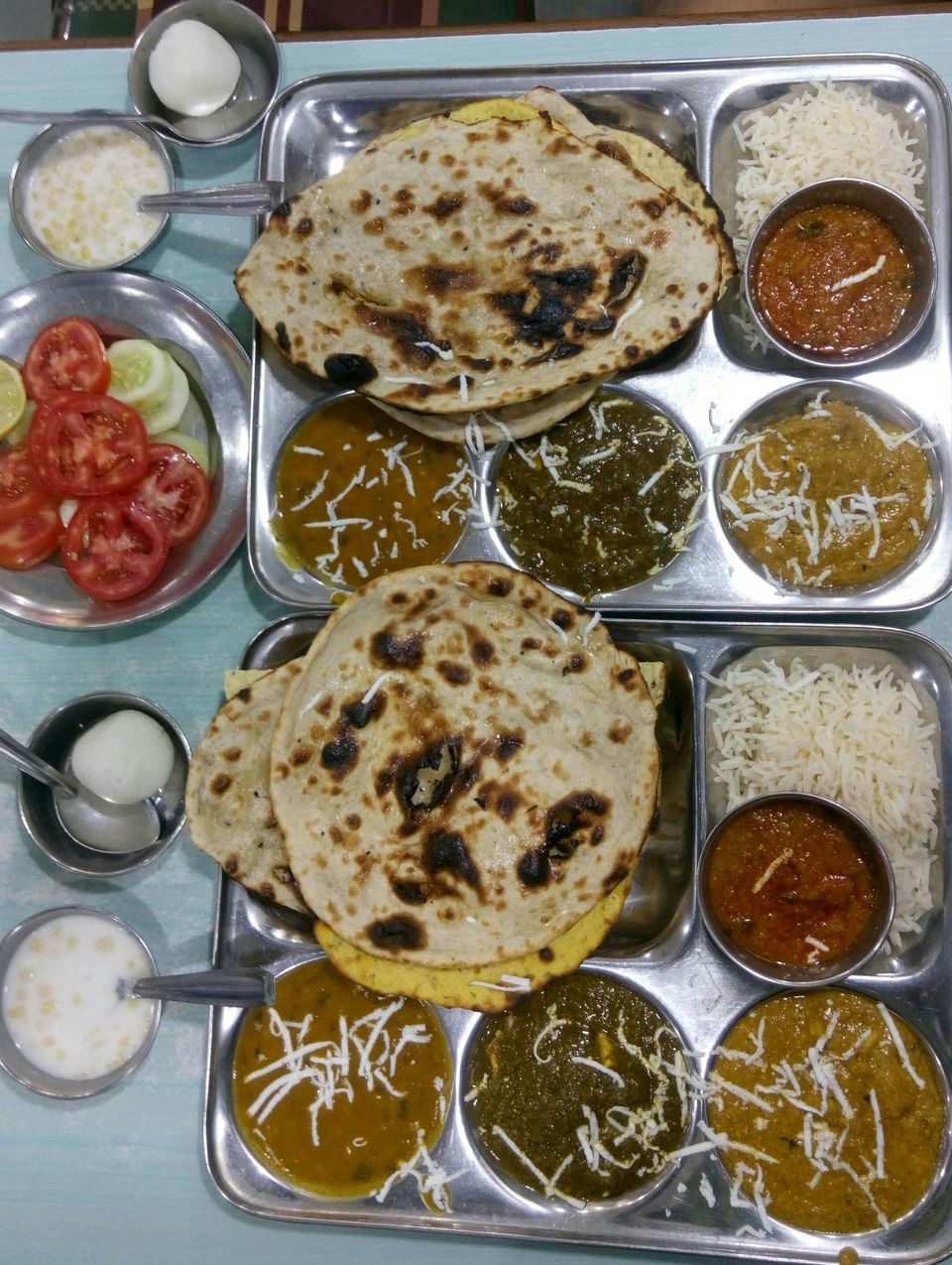 En-route Nahargarh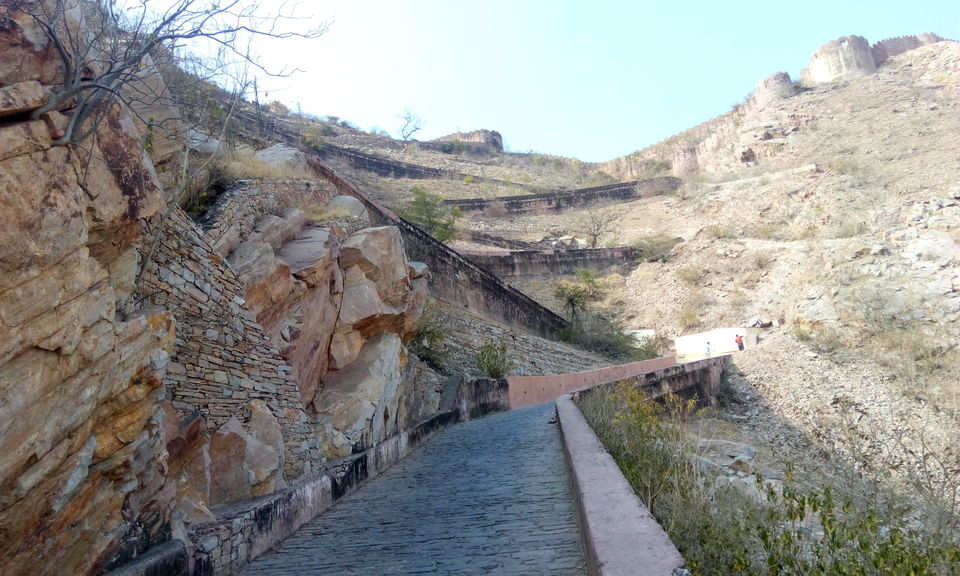 Panoramic view of Pink City from Nahargarh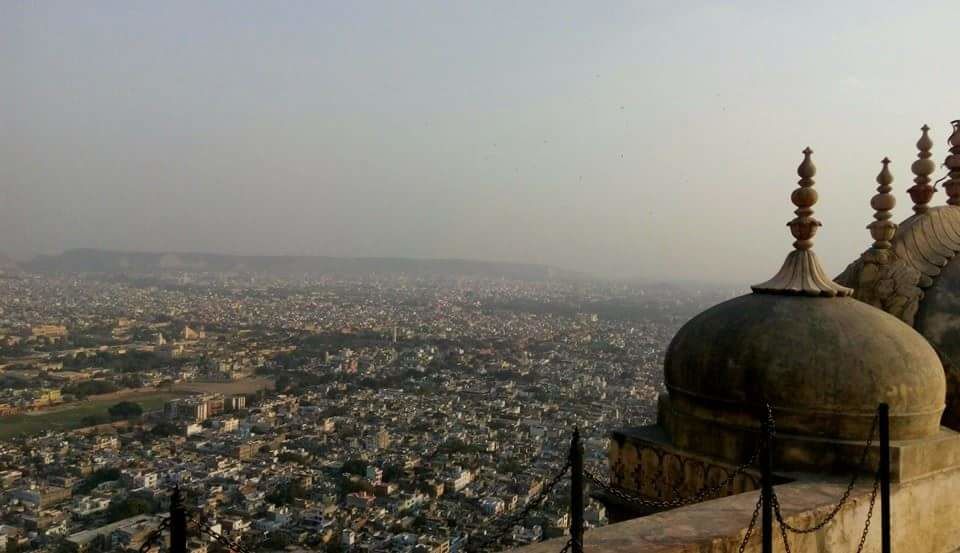 Day 7)
Have breakfast at Rawat Mishthan Bhandar/ Kota Kachori.
Visit birla temple or Explore pink city markets. Though I would strongly recommend latter.
After lunch head for Amber and Jaigarh fort for sunset.
Leave for Pushkar in the evening.

Amber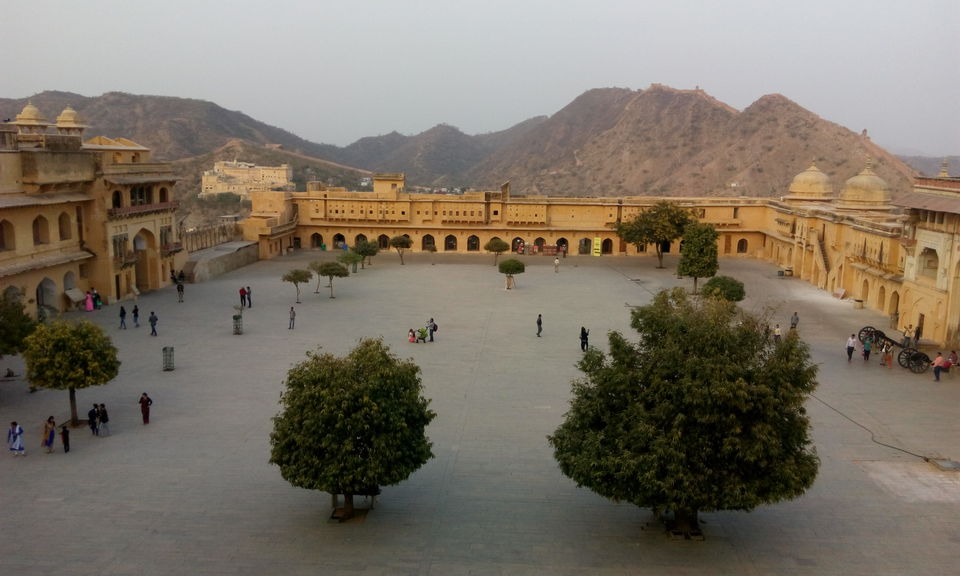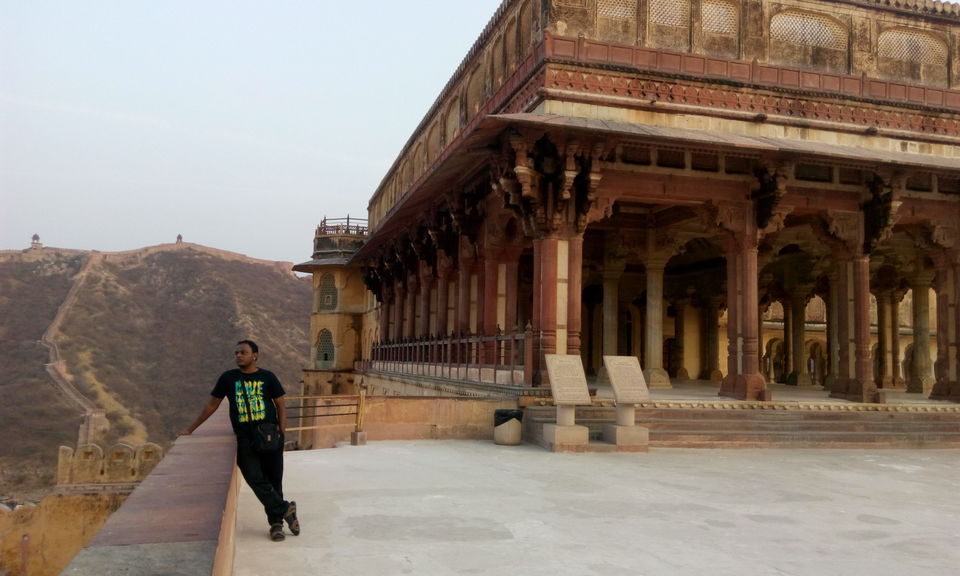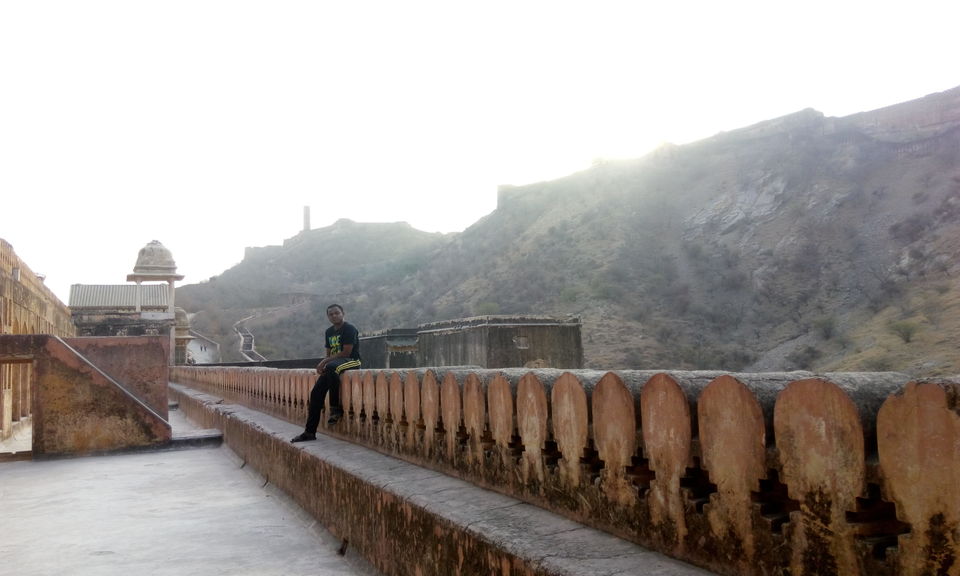 Pushkar
Reaching  from Jaipur: Train or Bus available till Ajmer. Preferred option train. 3 hour journey. Expenses : Less than 300/-
Then take state transport bus from Ajmer bus stand to Pushkar which should not be more than 40 Minute journey.
Day 8)
Pushkar is small town situated around pushkar lake and can be covered in one day.
I arrived early afternoon and left late in evening. Spent most of the time walking on market streets window-shopping, exploring town and tasting local delicacies.
I must say pushkar is very spiritual place. Attending morning or evening prayer at ghats is unique experience.
Would have loved to stay there for one more day but had to leave for Jaisalmer in evening.

Pushkar Ghat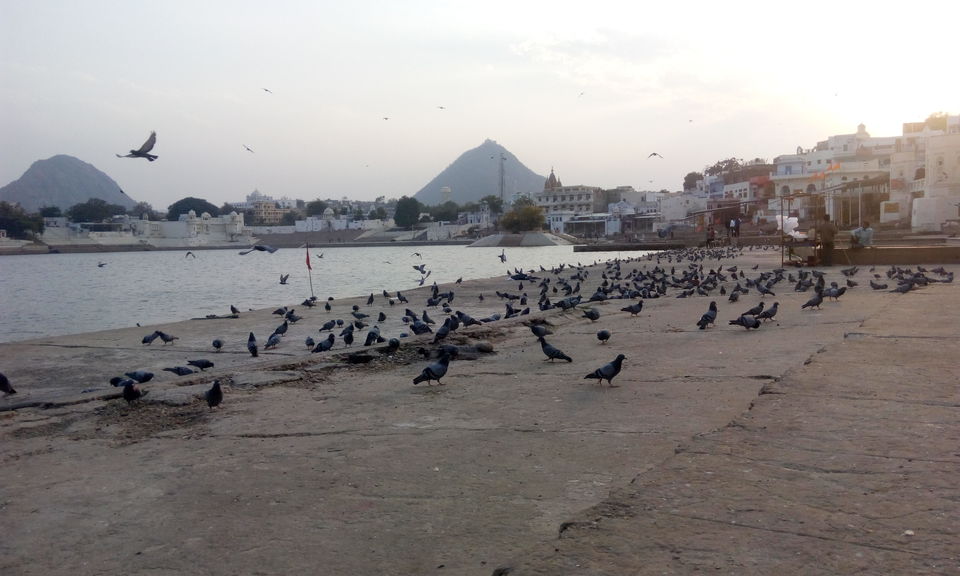 Jaisalmer
Reaching from Pushkar: Overnight buses available. Travel time: 8-9 Hours max. Expenses : Less than 600/-
Where to stay: I stayed at 'Abu Safari' near jaisalmer fort. I rate it 7/10. Dorms starting from as low as 150/-
Day 9)
I went to Jaisalmer during 3 day desert festival and this place was absolutely buzzing. Couldn't help but falling in love with this place.
2 days are sufficient to explore Jaisalmer + 1 day for overnight safari
On day1 you can explore Jaisalmer fort (also known as Sonar Quila) and market.
Enjoy 360 view of fort from 'Free Tibet'(not to be confused with Little Tibet) restaurant while sampling juicy steamy momos.
In the evening you can go to Gadisagar lake to enjoy sunset while doing some boating.
View of Jaisalmer Fort from place where I was staying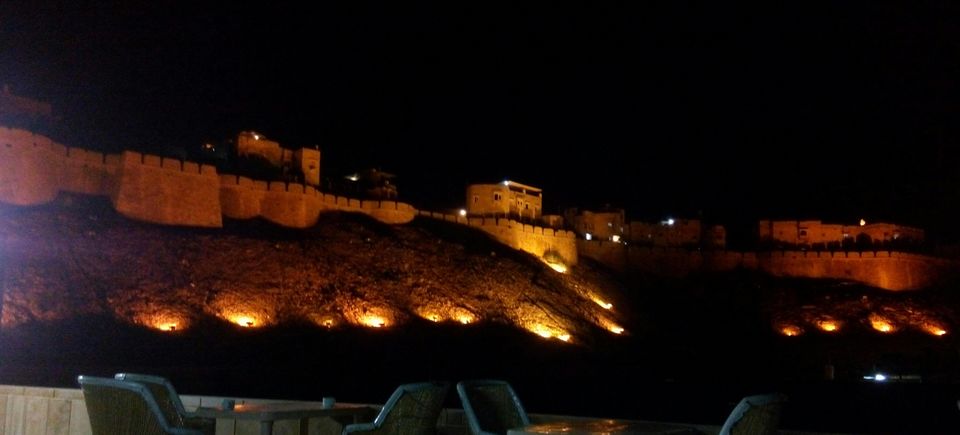 Because printing is too mainstream.. They Paint it !! :-)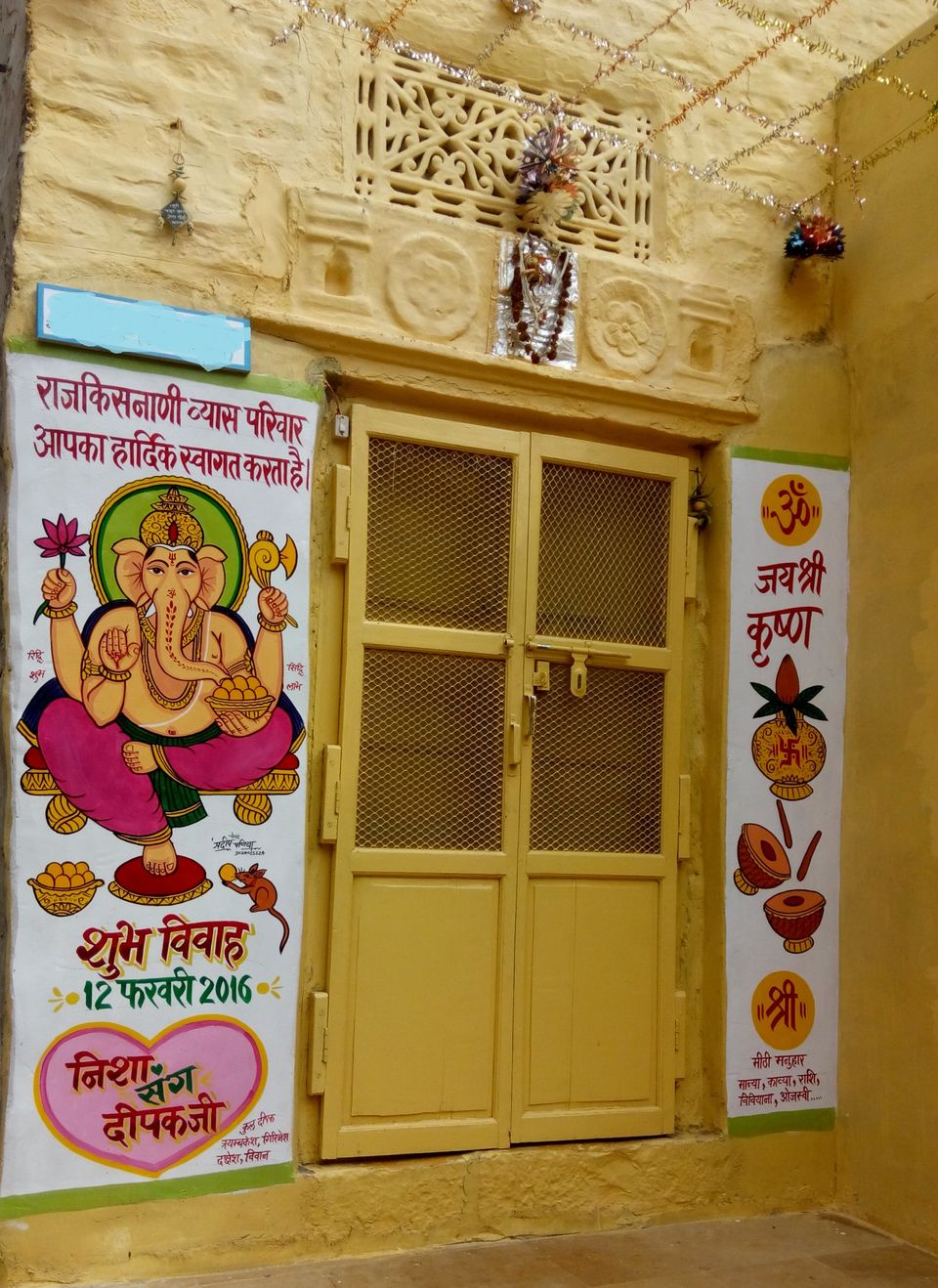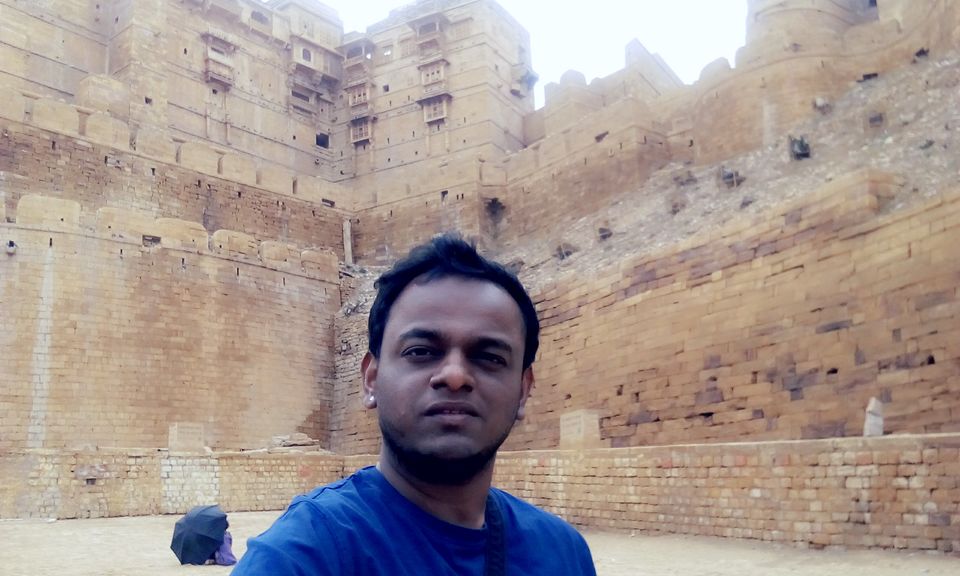 Day 10)
Visit hawelis nearby fort. Like Salim, Nathmal and Pawa ki haveli and bada bagh.
Do some shopping in market. Buy a Kurta if you plan to go for safari.
And Yes..If you wanna get HIGH then there is 'Goverment authorized Bhang shop' and well as 'CHILD' beer shops near fort main gate ..so try your luck with Bhang chocolates, lassis, milkshakes and Thandai :-D

In evening leave for overnight desert safari. There are plethora of option and packages for same, so do your homework before you chose one.
Me and other hostel buddies went there with 'Abu safari' and I would definately recommend it. Expense 1.5k. For more details check their website
Some MAGIC bed sheets @market to cure your problems ;-)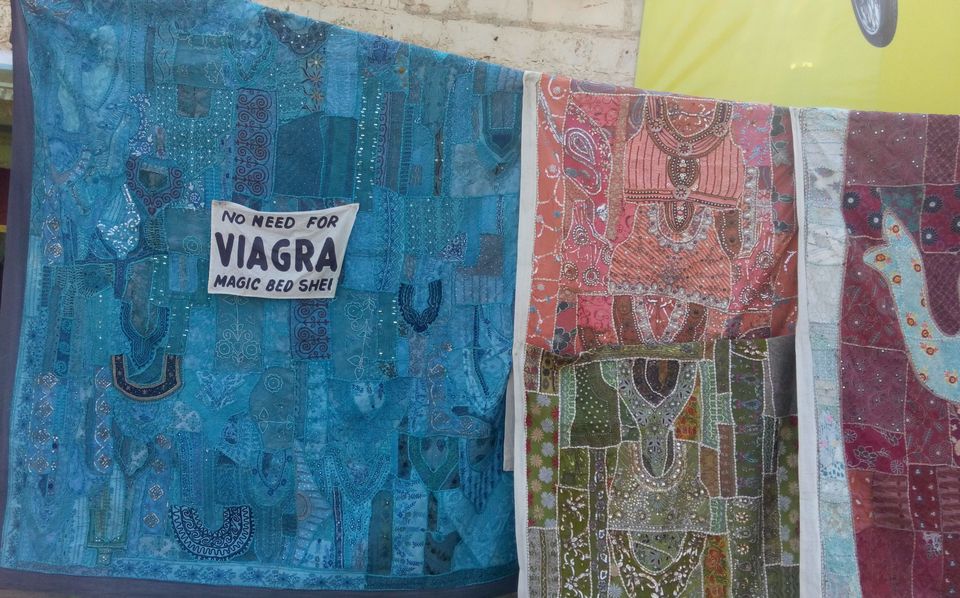 Wife. Ok. Please!!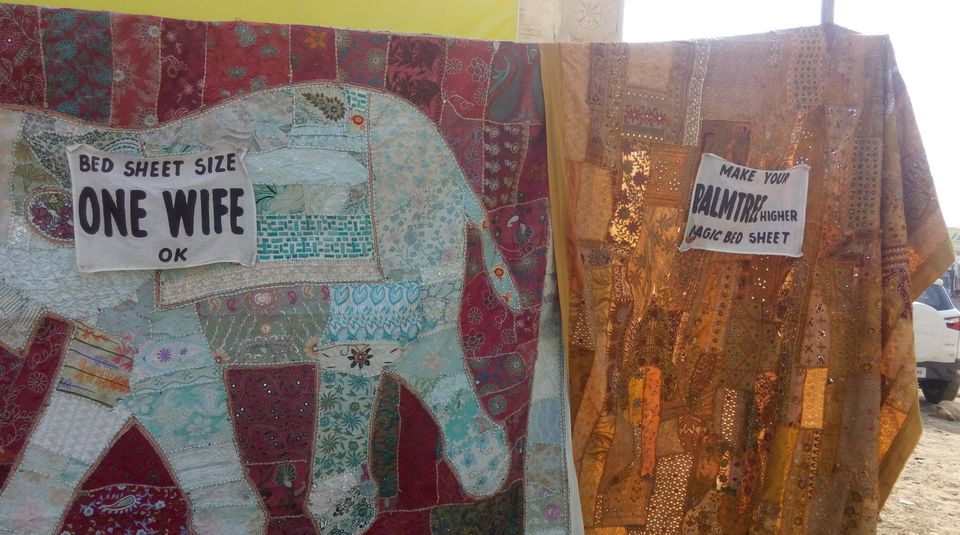 Strictly for CHILDs!!!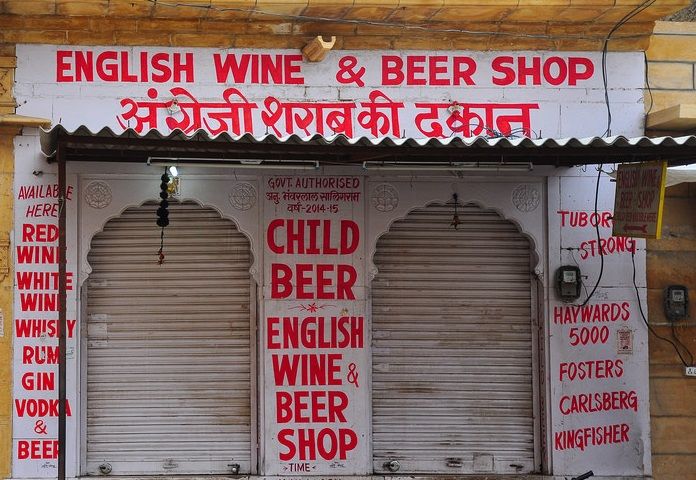 Hmmmmm...  .... ...............   ..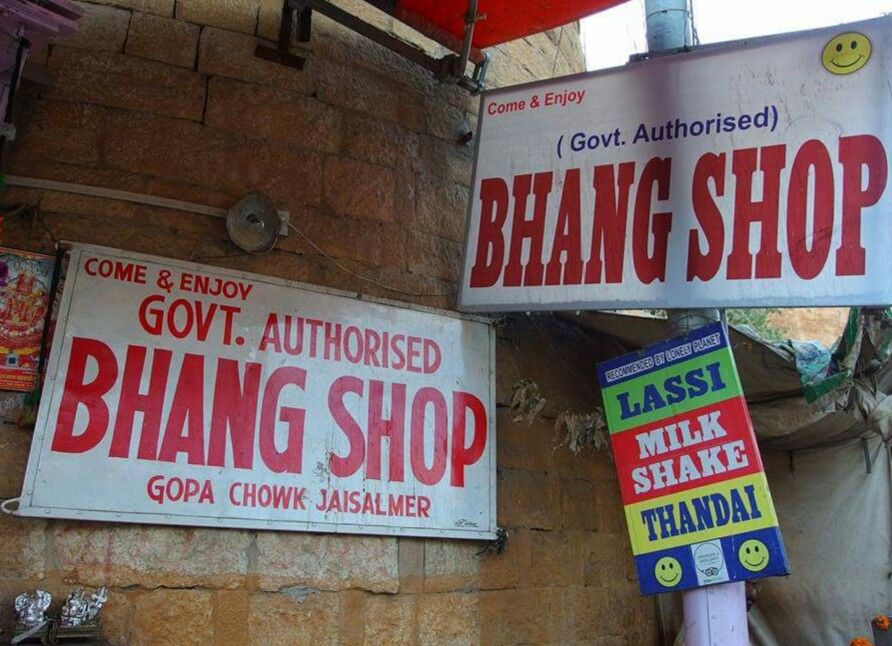 Day 11)
Riding on camels for 2 hours in scorching heat of Thar desert is definitely unique experience but it takes its toll on you as well.
You'll be back from safari around 12 pm next day. So Have lunch, have nap and relax a bit.
Late evening you can leave for Jodhpur.
En route desert camp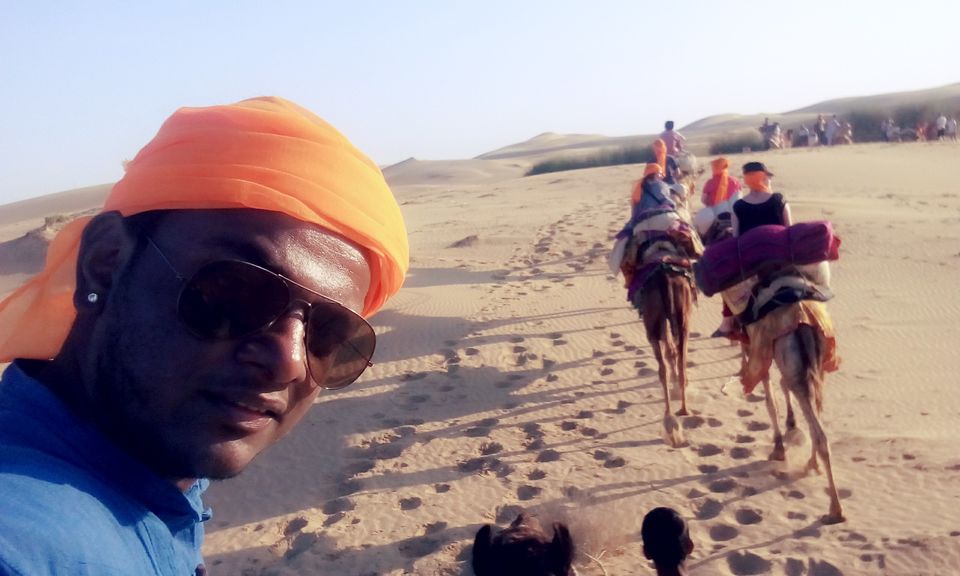 Glorious sunset!!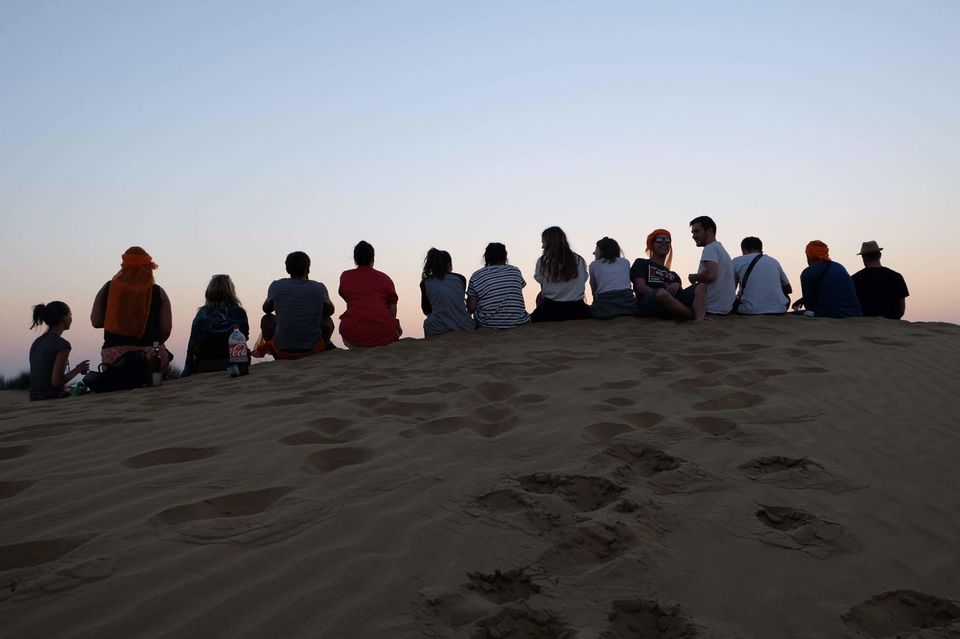 Gorgeous Sunrise!!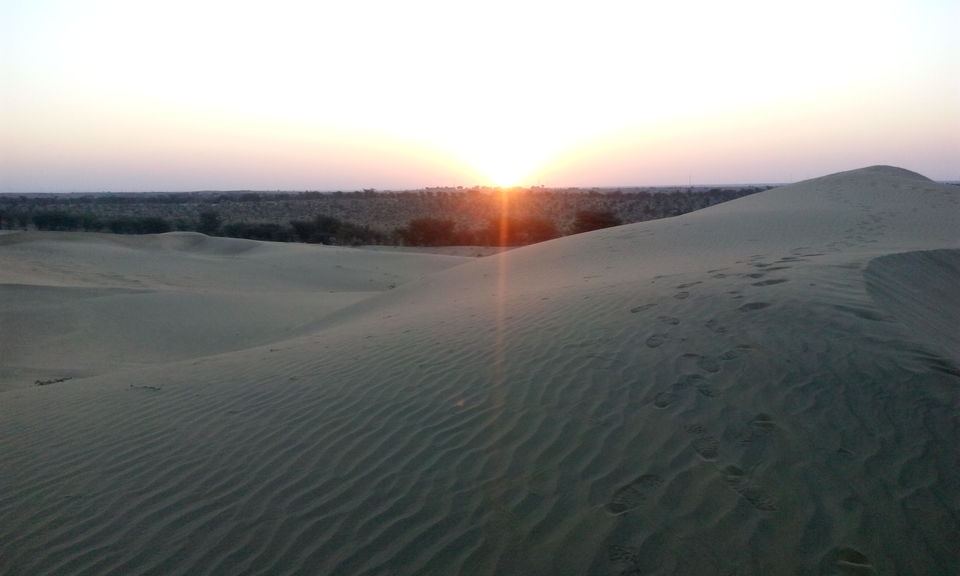 Sadly I had to leave for mumbai on 11th day so couldn't do Jodhpur. But hopefully I'll be visiting it soon. Will definitely edit itienary to add day 12,13,14 for Jodhpur :-D
But just FYI reaching Jodhpur from Jaisalmer is easy.
Though there are Few overnight trains operating from Jaisalmer to Jodhpur, Private buses operate with good frequency 24*7
Travel Time: 5-6 Hours. Expenses : Less than 500/-
Thats it guys..Thanks for taking your precious time to read my First Tripoto blog. I hope you liked it and find it useful :-)