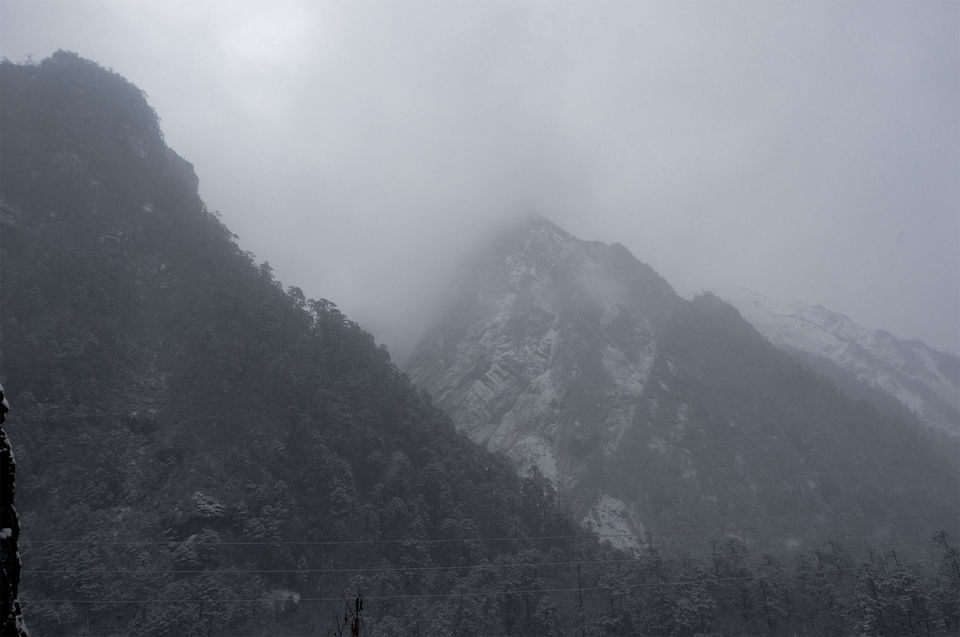 Bitterly cold would probably sum up our short yet wondrous stay in Lachen.
We pulled up into the parking lot of our hotel minutes before the sun went down. The town of Lachen felt like it was stuck in time, never moving, never changing. I could imagine it sustained the ticking of the clock, inhabited it's favourite moments and just stayed.
The thing about people from the mountains is that they get sweeter with the rise in altitude. The higher and more secluded the place, the nicer the people.
The hotel manager helped us carry our tiny luggage into our room which was as basic as it could get.
With one exception, of course, the windows gave view to Lachen's breathtakingly beautiful snow clad mountains. And that made it extraordinary.
The room was fitted with a heater, a tea kettle and a fan. As if we would ever need the latter.
The wooden floors and pillars made it cozy and the staff, mercifully, had supplied the bed with extra warm blankets.
After the spectacular 10 hour journey, listening to discographies of a few metal bands, we had nothing to do but wait for tomorrow.
As the sun went down, the temperature dipped. If the evening, itself, had dropped a subzero bomb on us, we wondered how we could sleep through the night.
The only logical solution was to have a wee bit of rum and hope for the best.
We walked around the lazy town, flashlights in hand, jackets zipped up to the limit and wonder in our eyes. Lachen did not have street lights so we had to be extra careful not to bump into the many cows on the way. The inky blackness finally gave way to a small light in a store, promising snacks and drinks.
The few tourists that we saw seemed to be stumbling and making merry, like us.
I bought a few local snacks while Sahil handled the rum and coke part of it and we headed back to our, hopefully, toasty room.
The staff brought us one of the most delicious thalis we've ever had. I don't know what it is about the mountain people but they have the power to make even bitter gourd taste amazing!
The thali consisted of rotis (flatbread), rice, chicken curry, kidney beans, cauliflower and potatoes.
We scarfed down everything on the plate and kept moving closer to the heater as it was getting colder by the minute.
We downed our last drink, that was stronger for obvious reasons and headed to the ice cold bed.
The next thing I knew was it was 4 in the morning as D'punk was knocking on our door, asking us to wake up. Reluctant as we were to leave the now snuggly bed we knew if we wanted to see the lake, it had to be now.
The staff members brought us eggs, toast and chai and carried our luggage down on the same trip.
We bid farewell to the hotel staff and their beautiful dog, climbing into the now toasty cab. D'Punk was a gift from the Gods. He blasted the heater a little more until everything was loaded up, and off we were to see the astonishingly beautiful Gurudongmar Lake.
Travel music is extremely valuable to us. It has the ability to make our journeys sweeter and lift our spirits even more than they usually are. After a lot of skipping and shuffling, we settled on Porcupine Tree's In Absentia. One of the best decisions we've ever made. It also branded one of the best moments of our lives that we cherish whenever the album plays.
As we started ascending, the track Lips of Ashes started playing. I could see the wonder in his eyes as the first tufts of snow started falling. It had begun to hail. You'd think only rain pitter-patters down, you may be wrong.
As the little-frozen balls of water bounced off the windshield, we rolled down the windows and breathed in. The air suddenly had this exotic quality to it and no matter the temperature, it brought us a feeling of infinity.
Nothing could take this moment from us. He laughed like a child, wide-eyed, in awe. He had never seen snowfall before. I had, but it paled in comparison to what I witnessed at that moment.
Feeling pure ecstasy, we ascended further in distance as we did in exuberance.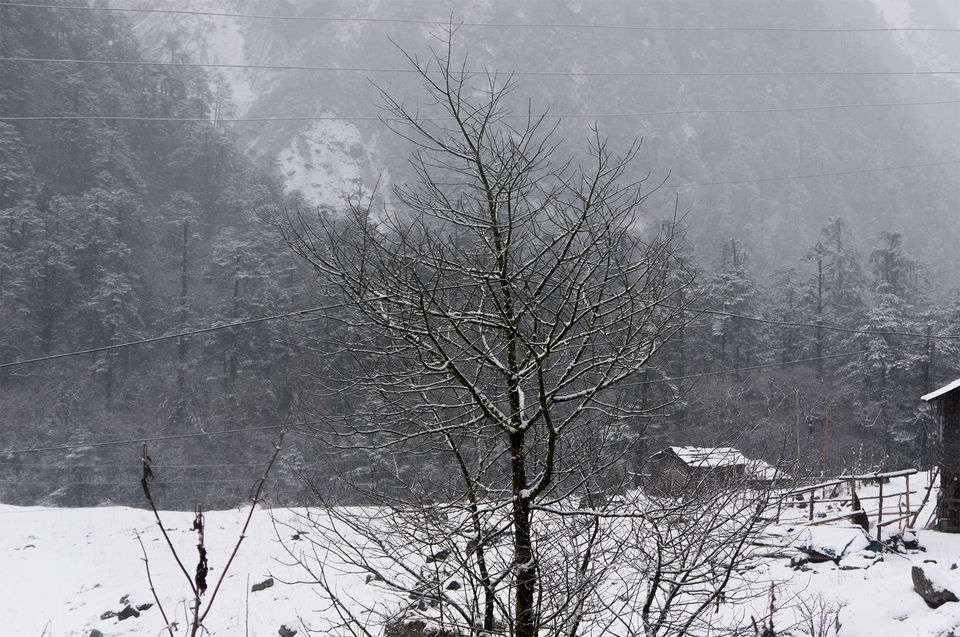 Who was the fool that said "All good things must come to an end"?
That b*tch.
The sun was coming up, giving the snow flakes a charismatic prism like quality, making the snowy mountains glint off with a soft glow and bringing the dark vision of cabs turning back; descending.
Our journey to the lake would sadly be incomplete.
Drivers shouted at each other in frustration. The road was blocked and all vehicles were to retreat. There was no way anyone could reach the lake today. Cabs were stuck midway and were making a journey back to Lachen, if it was possible. Going higher would only result in either a long u-turn back or literally getting stuck in the middle of nowhere.
Since we were only a little way up, we could retract with ease.
There was a fair chance of this disappointment, we knew about it before we left Gangtok but our hearts broke a little, nevertheless.
We turned back after a half hour of waiting for some good news. Maybe, with time, it would be possible to try again but the snow had made the roads slicker and only Army vehicles could manoeuver them.
With the snowfall over and the last of it melting in our beanies, our heavy hearts in check, we started descending.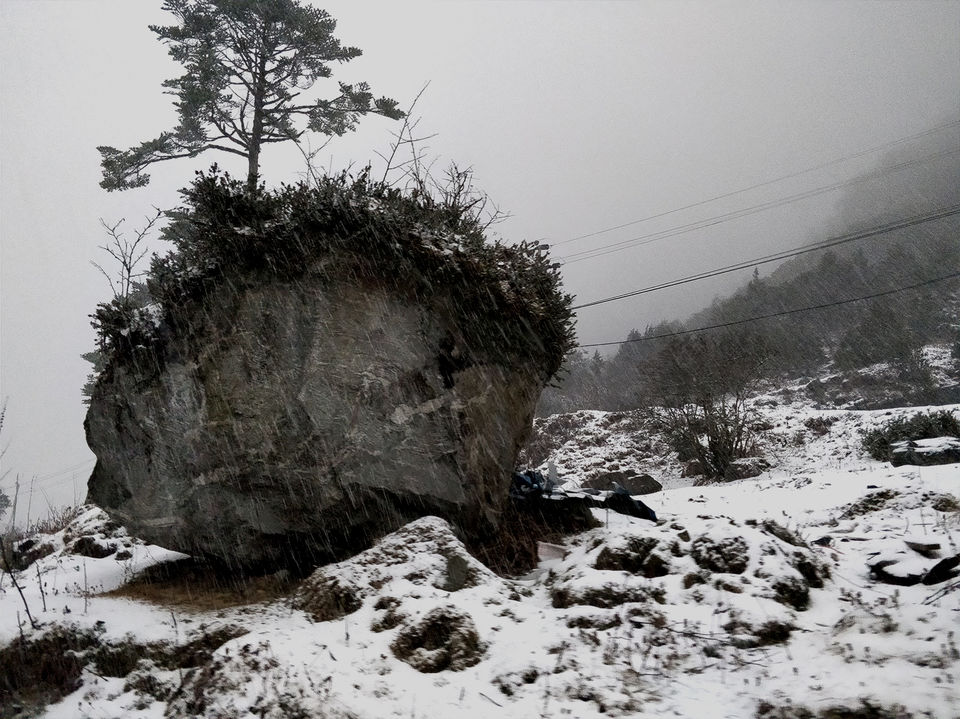 As we turned, a few local women approached us, asking for a ride back to Lachen. We learned that these ladies have no other means of transportation and hitch a ride with tourists on their way back from the lake!
They loaded up their bags squeezed into our cabs. After a few friendly smiles and questions in broken Hindi, they were bobbing their heads to Periphery's All New Materials with us.
And as if the Universe was giving us consolation, it started snowing again!
The women told us that this is even rarer than the snowfall we saw before! Lachen sees heavy snowfalls like these maybe two times a year and here we were, seeing our second snowfall of the day!
Now that the sun was out, the sight of the snow against the beautiful, barren backdrop was more than we could have asked for.
Our little lake expedition was mothballed but our day was far from over.
We returned to our hotel for an hours' worth of rest, said our goodbyes and thank yous to the staff, played with their adorable puppy and left for Lachung.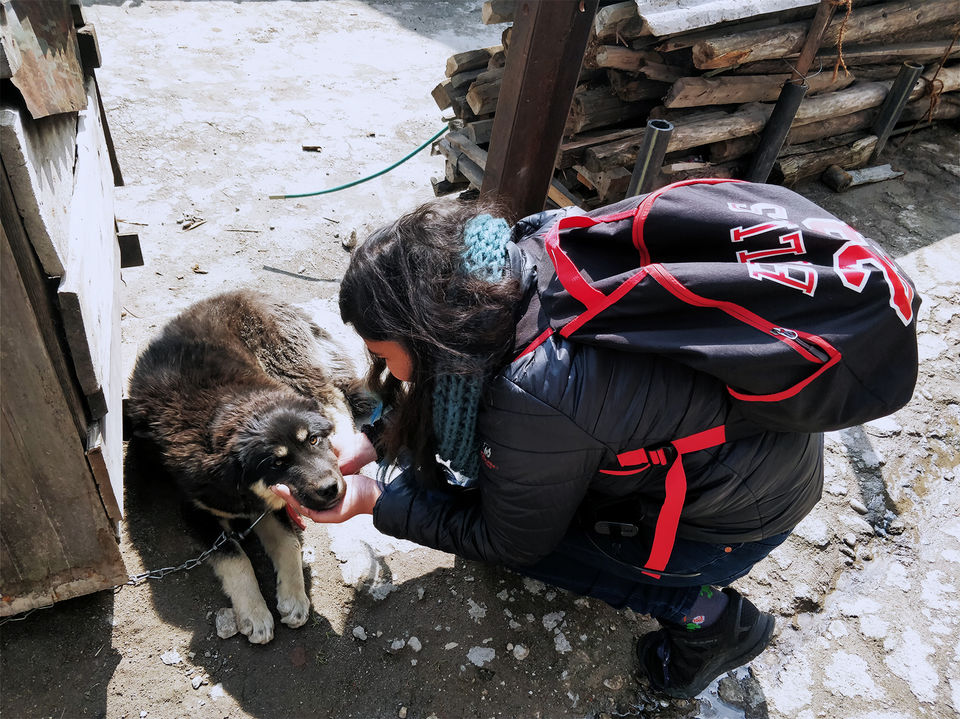 It's true, you know, sometimes the journey is better than the destination.
Happy travels! Until next time!
- One of the Two.
------------------------------------------------------------------------------------------
Travel Tips:
- There is little to no network in Lachen and your cell phone won't have any, for sure. Make sure to contact anyone you need to and let them know this, beforehand. Our moms worry a lot.
- Gloves, thick jackets and inners are must-carry items.
- Be prepared to return back without seeing the lake. Please do not blame your drivers, they tried their best and really cannot control the situation.
- If you have vertigo, motion sickness or issues with altitude, please carry the necessary medicine.
- Hydrate yourself as often as you can.
- It's said that having meals rich in carbohydrates and fibre are good for you at high altitudes.