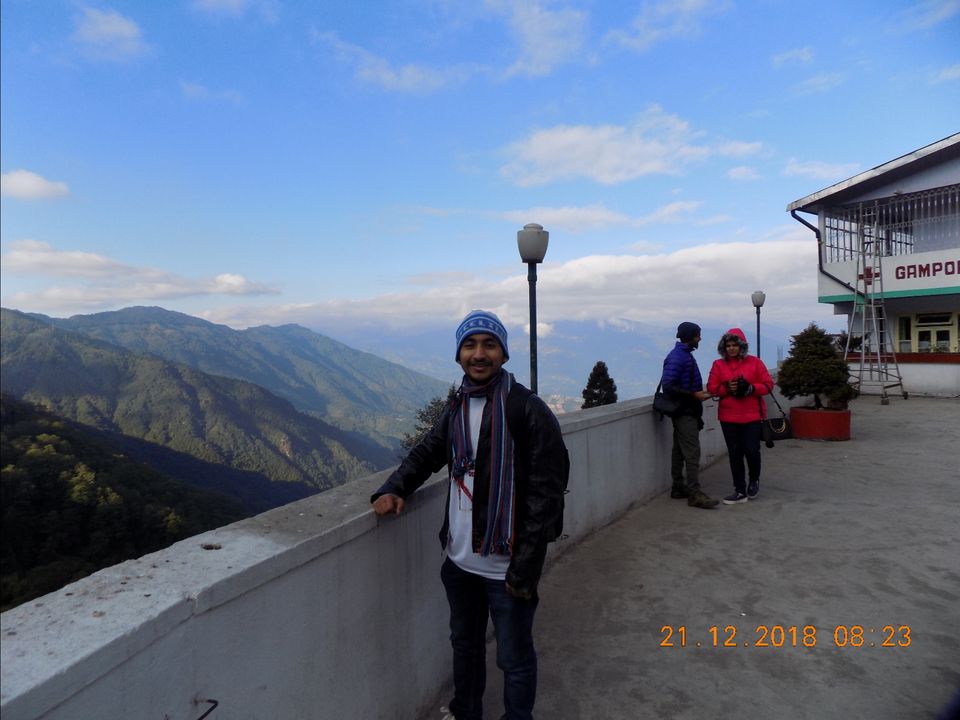 I reached my hotel i.e. Hotel Raphkhang(The staff is awesome!) and I got fresh and left for the evening toy train ride. I reached the station at 3:50PM(Breathless!). The ride leaves at 4 PM and returns by 6 PM. I was lucky to get a seat. It's like any other station and you need prior reservation to get a seat. Some of the passengers did not come and 2-3 seats were empty. So I had a talk with the people concerned and they agreed to take me in that empty seat. (Well! Ofcourse I had to bribe them! About 6/7th of the fare was their minimum bribe.) The ride was beautiful and then after returning by 6, I headed straight to Mall Road.
I boarded a train to New Jalpaiguri Station(NJP) from Sealdah Station in the previous evening. I reached New Jalpaiguri in the morning and had a good breakfast at Food Plaza on the station itself before I started my journey.
Next thing I did was to book a seat in my cab for Darjeeling. The charges were about ₹250-300 per head. There are one or two stopovers on your way to Darjeeling which depends on the driver. If you request him, maybe he'll stop at a place but not for very long.
This Mall Road had a variety of restaurants and shops which remain closed on Thursday. Lucky for that a few shops were on and I got just what I needed to shop. And ofcourse had some mouth watering dishes at the Glenary's. It's a bit heavy on the pocket though.

This was  a very tiring day, thanks to my love for travelling!

The next day I booked a seat in a sharing car for Tiger Hill(3-Point) and Mixed point. This costed me ₹1400. By afternoon, I was back to my hotel and was read to check out for Gangtok. On your Mixed-Point tour, keeps your time and your bucks reserved for Darjeeling Zoo and Himalayan Mountaineering Institute. The stalls on both sides of the road are famous for honest pricing and genuine quality. Do not take any food or drinks with you. The watchman at the entry point will throw all in the dustbin or ask you to finish it before you step in.
I stayed here and I don't remember the room number exactly but the room's view is unmatched! You can see all the hills once you remove the curtains of the room! The hotel lies at the edge of the cliff and there is no blockage in your view. (Except for the fog.) They even have a restaurant where they serve pure vegetarian food!
The famous MG marg in Gangtok is like any other common road. Except, people walk on that road and no cars are allowed. It's a grand market like very few others! The goods are a lot overpriced. Try to bargain as much as you can. I bought a Sweatshirt prices at ₹2400 for as low as ₹400. I contacted a tour operator for my next trip.
Just for the reference, I'd give you the location of the operator I chose because his caring is unmatched! The hotels, the rooms and everything was the best that could be. None of the rooms had heaters though but the rooms were of best quality and good view.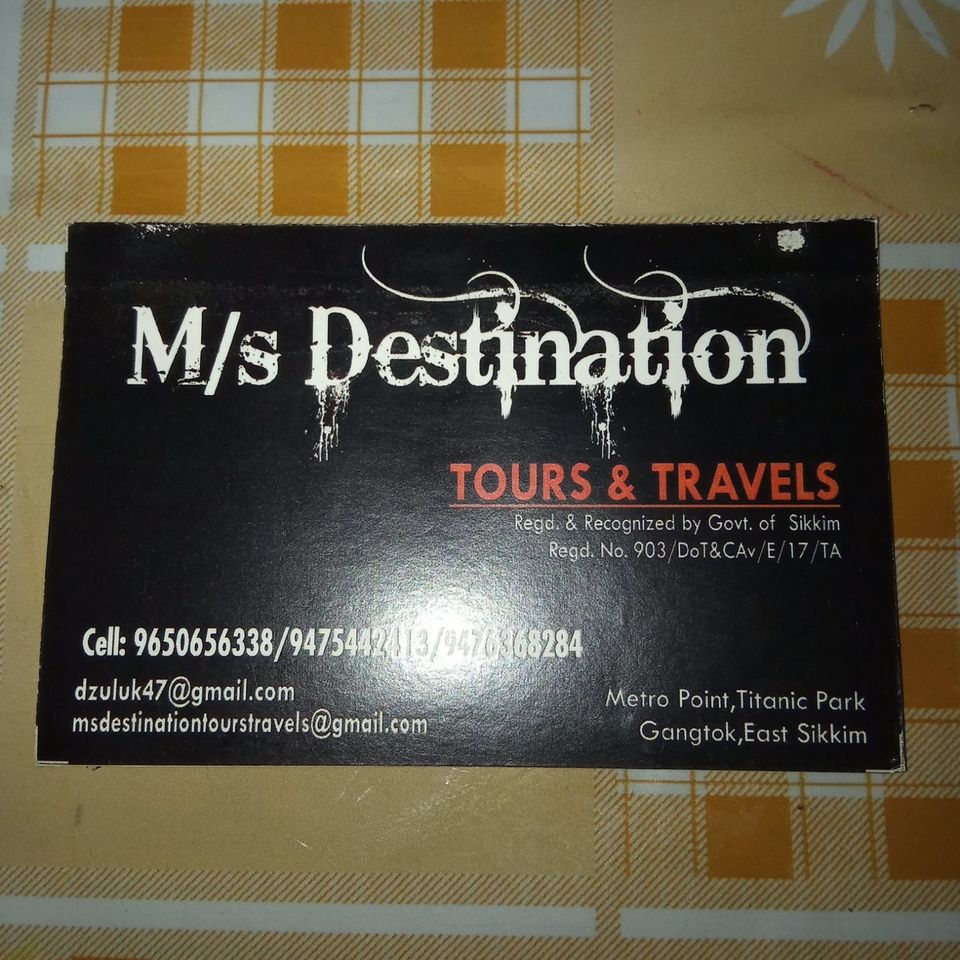 Moving on, today I visited Tsomgo lake and also did the Asia's Highest Ropeway at 14000+ feet because the Nathula Pass and Baba Mandir were closed due to heavy snowfall on the road. If the roads were open, we couldn't have possibly done the ropeway. There are specific documents and passport size photographs you need to carry with yourself if you need permits. Keep all documents and photographs handy as the charges for a black and white xerox is 8 times what it is normally. Your tour operator will brief you more on the topic.
SAFETY PRECAUTIONS: The path is too dangerous and slippery. One wrong step and you fall into the frozen lake. There will be no rescue team to save you in that case. Do not rely on the boots that the shopkeepers rent. Wear a good grip shoe and make sure it's warm enough else you might have to let go of some of your toes to frostbite. Though I had a decathlon trekking shoe, I had to step carefully. If by any chance you get hurt, try keeping that place as warm as you can. I got hurt while getting out of the car and I applied balm and covered my head to keep the blood flow running. The cold can clot blood from internal bleeding if you get hurt.
After returning, I visited MG Marg again and did some shopping and dining. The overall cost for the above trip was about ₹1200 per head but as the two locations were not allowed permits, it reduced down to ₹750 per head.
Next was the 3-day trip to Lachen, Lachung and Yungthang Valley.
The first day is nothing but a car journey from 12PM to 7PM. The temperature at Lachen was -1 degrees when I reached. I stayed at a Hotel Dhunkila. The staff there was a schoolgirl who was flirting with my co-passengers while I was busy eating. The food gets cold in less than 5 minutes at these places. ('Food before everything!': Motto of every foodie ever born.) Try making sure you have a good driver because my driver was not a smooth one and 2 passengers vomited out of car sickness. Oh all you get here is rice and dal. And chicken if you are a non-vegetarian.(That tastes awful!)

Wake up and have a breakfast on your way. The car journey starts again and if you're lucky, you may reach The Frozen Gurudongmor Lake! We had many stops and barriers on our paths but we crushed one after the other by God's grace and finally managed to stop 2.5 Kms before the lake. Of the nine people in my car, my one friend was the only one who could trek that far and see the lake, click pictures and also inform us that there were only 7 people on the other side out of 7 shared cars that had reached the destination. The lake is at 18700 feet and if you get to read that sign board, understand that the lake is right in front of you, covered in snow.
You can also convince your driver to go to Kaala Pathar which costs an extra of about ₹ 2700-3000 per car.
SAFETY PRECAUTIONS: Do not try trekking up to the lake if you have breathing issues or feel light headed or breathless. Under any such circumstances, sit on the closest dry spot and try getting yourself normal and slowly get to the car. Try carrying a packet of 'kapoor' with you as it can be used as an inhaler. Don't swallow it by any chance but. Just smell. There are no medical facilities for about 7-8 kms and it is a general rule that noone will come to your rescue because the rescue operation can take more lives. So your life gets outnumbered.
Next we returned to Lachen and headed to Lachung. We reached Lachung in a very little time. We had dinner and we took off the next morning with all our luggage straight for Yungthang Valley.
Yungthang Valley is not far from Lachung but the only issue is that there is snow on the road and that makes it difficult for some cars like Toyota to pass. I don't even know why these cars are allowed for tourists at such difficult terrains. Our car was a Maxx which had very little difficulty in moving on the road. We did some shopping at the valley and stepped inside the cold water of the River Teesta with our boots on! The water was flowing at -6 degrees while snow lay all around it. On the banks, the water had frozen and crystals formed.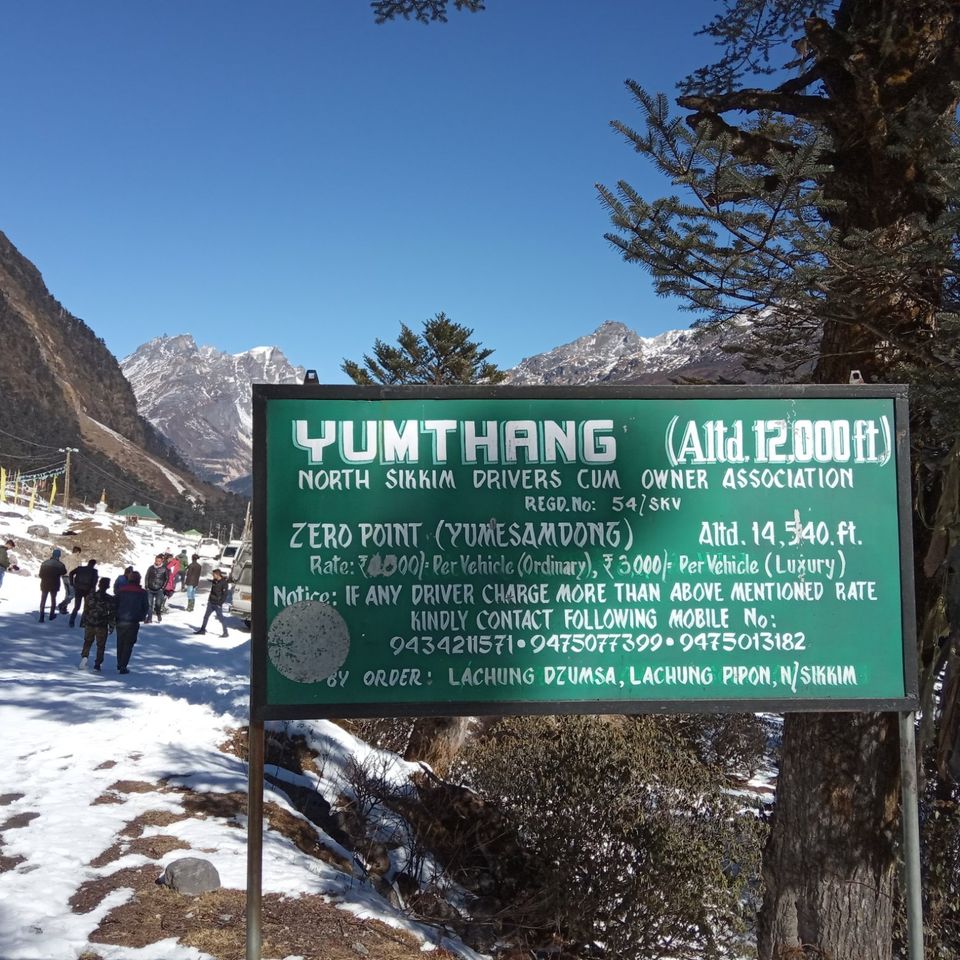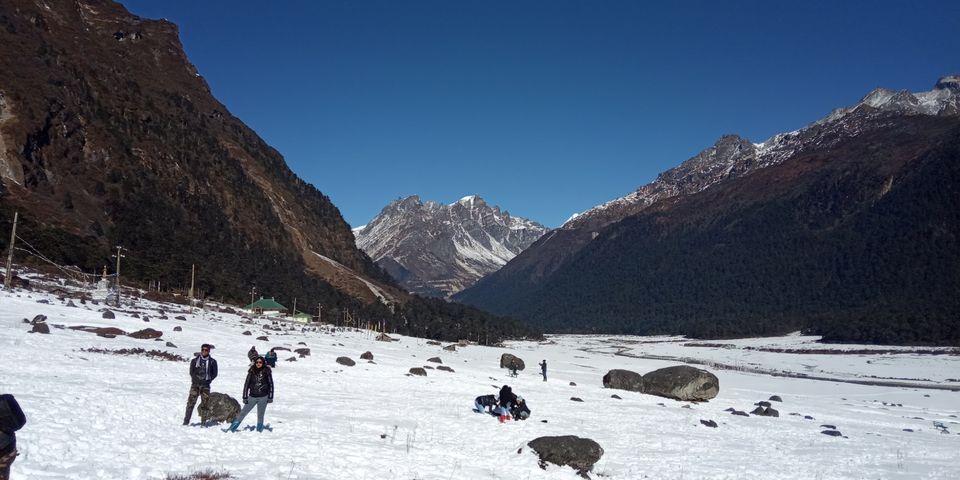 We were dropped back to Gangtok and then we headed back to our Hotel Jain - The Sikkim Continental. It was the Christmas eve and we went to the MG Marg and the place was as lively as it could be. Stuffed with couples wearing red, it was the best Christmas eve.
The whole 3 day trip was just ₹3500 per head.
Tip - If you have a lot of luggage, you can keep them at the tour operator's office and take only what's necessary.
Now, I headed back to NJP. The people at Sikkim are a lot better than those at Darjeeling or NJP. Behaviour wise and other ways. On our way back, we made sudden plans for Bengal Safari. The tickets were again full and I was lucky enough. I purchased an entry ticket for ₹50 and then I asked the gardener there to set me up on any of the buses for a complete Safari. I had to pay him ₹200 per seat. We got to see all the wild animals in the enclosure. The enclosure is a little small but still feels like a good one.
At NJP, I had dinner at Food Plaza. Do try the biryani and mixed veg! They are the best of the lot! I also had Roti because I was sick of eating Rice everyday!
We boarded our train and returned to Howrah Railway Station early in the morning and joined back with our work.