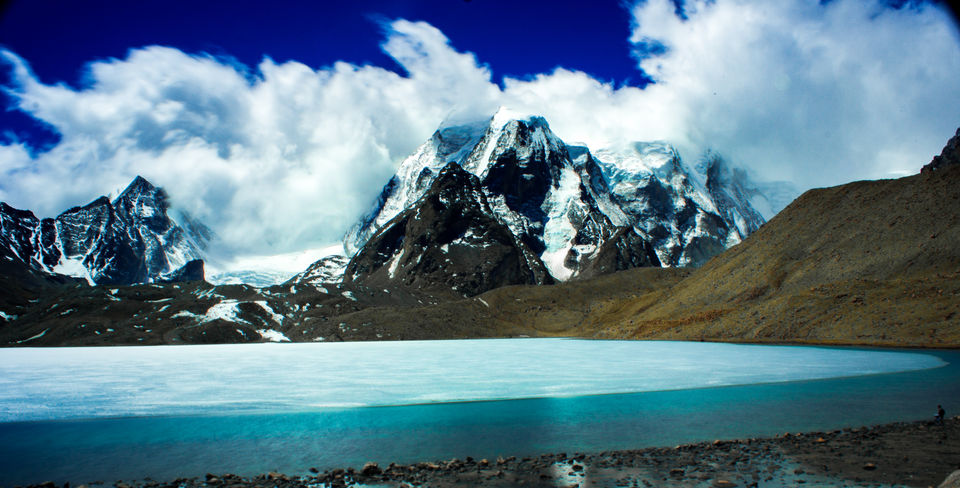 I had been to Sikkim quite a few times before May,2017 but the Northern Parts of this state, which are also the most beautiful and the most remote, couldn't be ticked off from my bucket list for a long time. With a few lazy friends, a modest amount of savings from the last 3 months, a couple of warm clothes and loads of zeal, I set out to explore some of the country's most extreme and cold corners.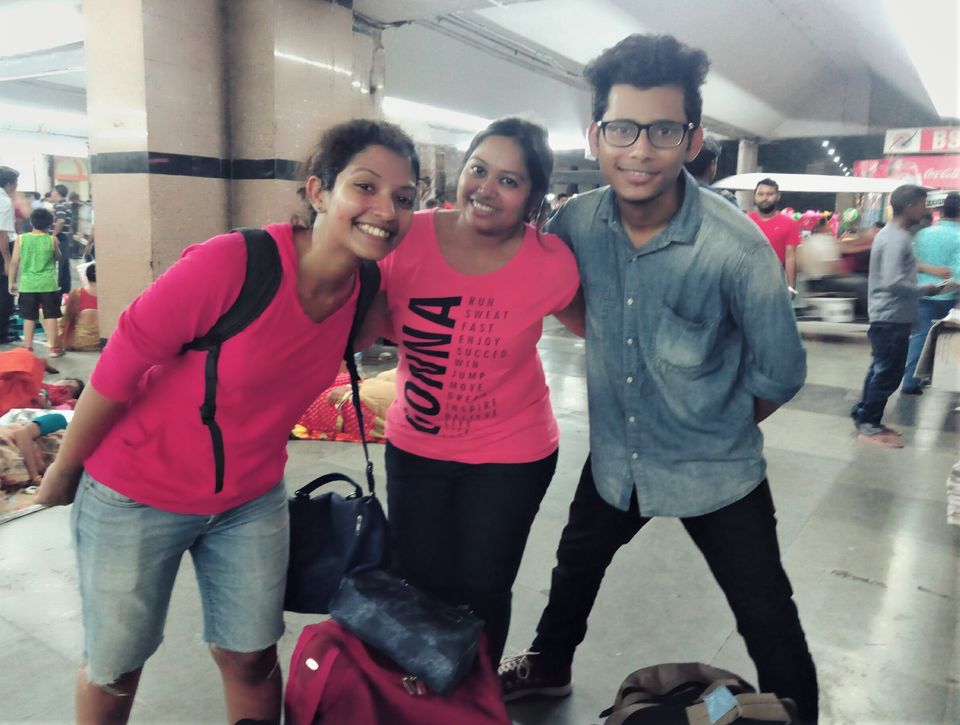 So first things first, Gurudongmar Lake, at an altitude of 17100 ft , is one of the highest lakes in India. It is located in the northern-most edge of Sikkim, very close to the Chinese Tibetan border. With clear blue skies above and the majestic Himalyan mountains encircling it, this lake sits like a queen in all its in grandeur. Its snow fed waters is a major source for the river Teesta which flows across the entire length of Sikkim and some parts of Bengal. Interestingly, a specific part of this lake remains unfrozen, even in winters. This part is believed to have been specially blessed by Guru Padmasambhava, from whom the lake derives its name.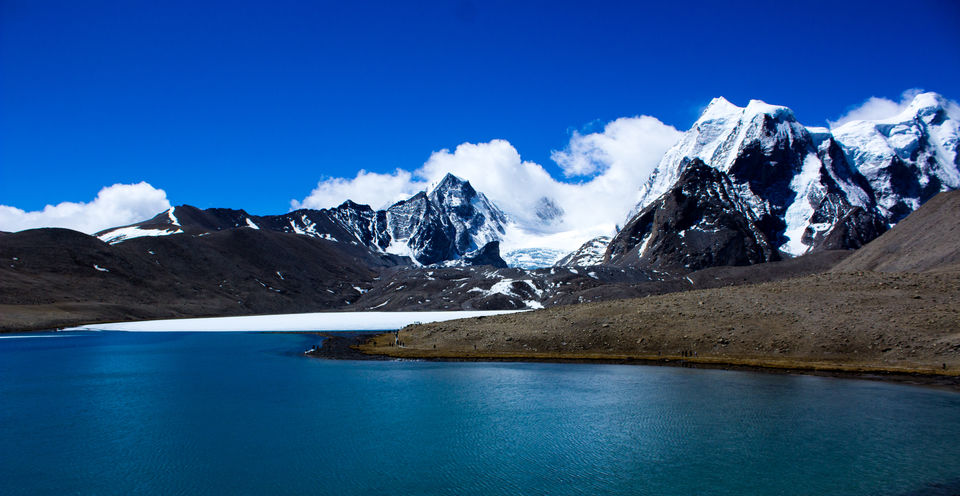 But it is not just the beauty of this lake that allures travelers to take that 4 hour steep ride, beat the chill and endure the physical difficulty to reach this place. The journey to this heavenly place is an experience in itself. You will see things and meet people on your way that will change you as a person forever.
The lake is about 68 km from Lachen, a small beautiful village and also the nearest place in terms of tourist accommodation. Lachen, on the other hand, is 120 km from Gangtok, the capital city of Sikkim.You need proper permits (issued at Gangtok) to visit most places in North Sikkim.The nearest airport to Gangtok is Bagdogra and the Railway station is New Jalpaiguri. You will get both reserved and shared vehicles from Bagdogra or NJP to Gangtok.
A stay at Lachen in essential as the trip to Gurudongmar Lake usually starts very early next morning (4 am is recommended). The plan is to reach early when the oxygen levels are still endurable and return before the weather gets too harsh.We had traveled to Lachen from Gangtok the previous day and rested at our homestay.
We wrapped ourselves in layers of warm clothes and started at 4:30 am.The cold, the silence, the darkness and the dangerous roads created an uncanny feeling which lingered until the sun rose and lit up the entire valley. I had never witnessed such a beautiful dawn. The high ,snow-white peaks turned golden with the sun-rays while the smaller, distant hills were silhouetted against the sky.
The valley at this point was narrow with steep ranges, sheathed in lush green pine plantations and river Lachen softly meandered along its curves.The ride was extremely bumpy and steep, the road merely a muddy trail of rocks and puddle. But the view outside was so breathtaking that we could not complain.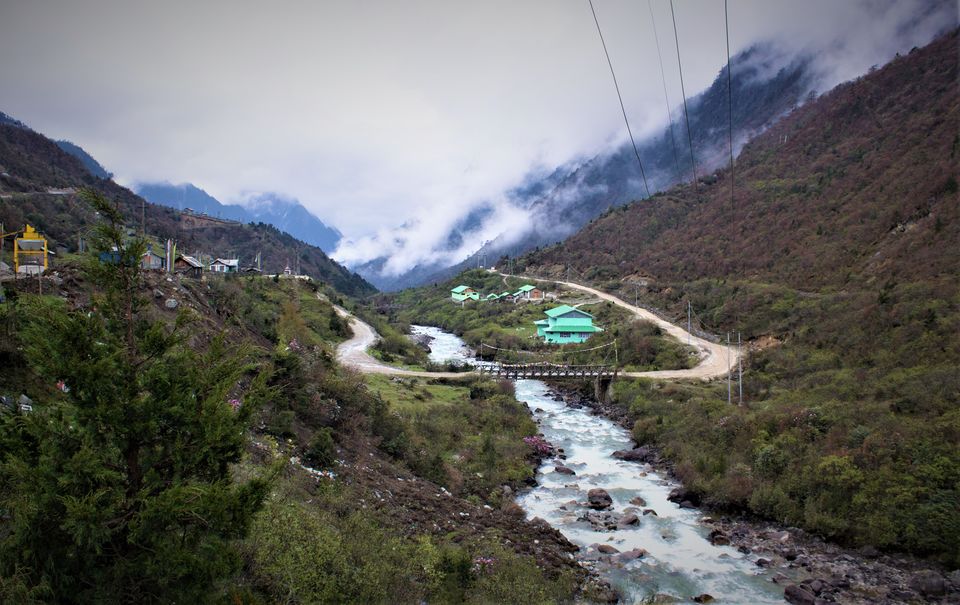 We reached Thangu (30 kms from Lachen), a miniature village and the last one of the Indo Chinese border. Here we took a short break and had maggi and bread-butter which was already packed and brought by our driver, Ratan.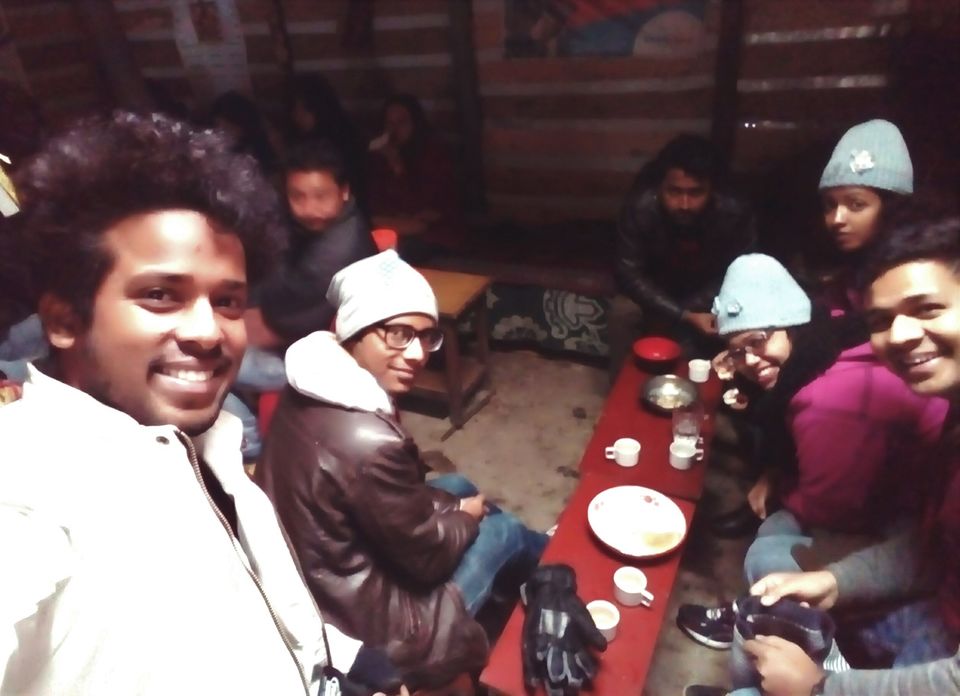 There were no human settlements after this point except army barracks.The river continued to flow parallel to our path but the valley started to widen up as we approached Chopta Valley. For international tourists, the tour is limited till here, a few kilometers before the lake.
At places the road was beautifully fringed with rhododendrons and small lavender color flowers.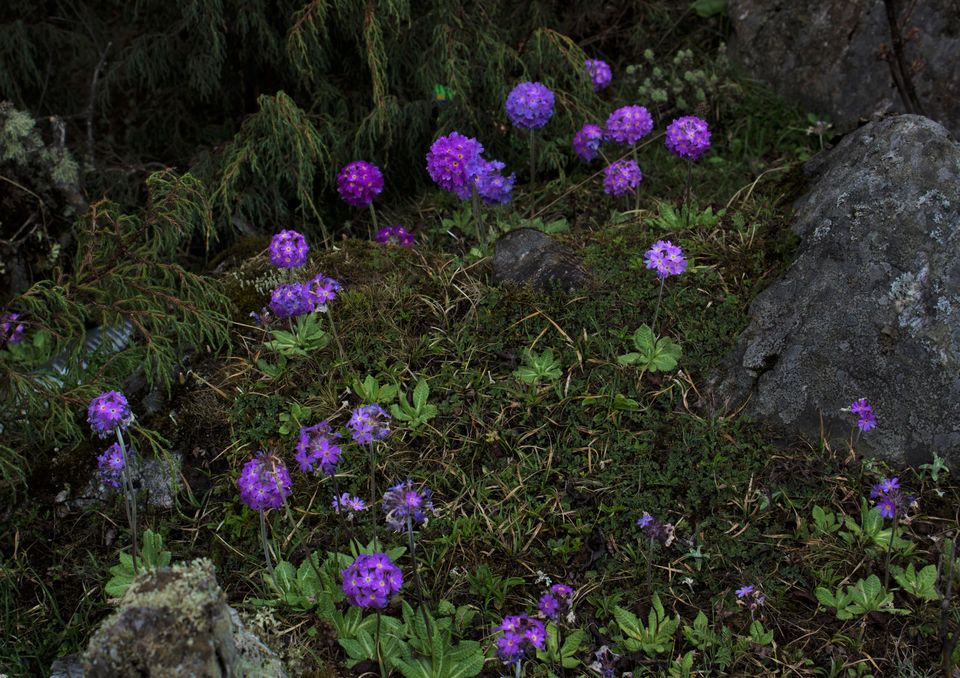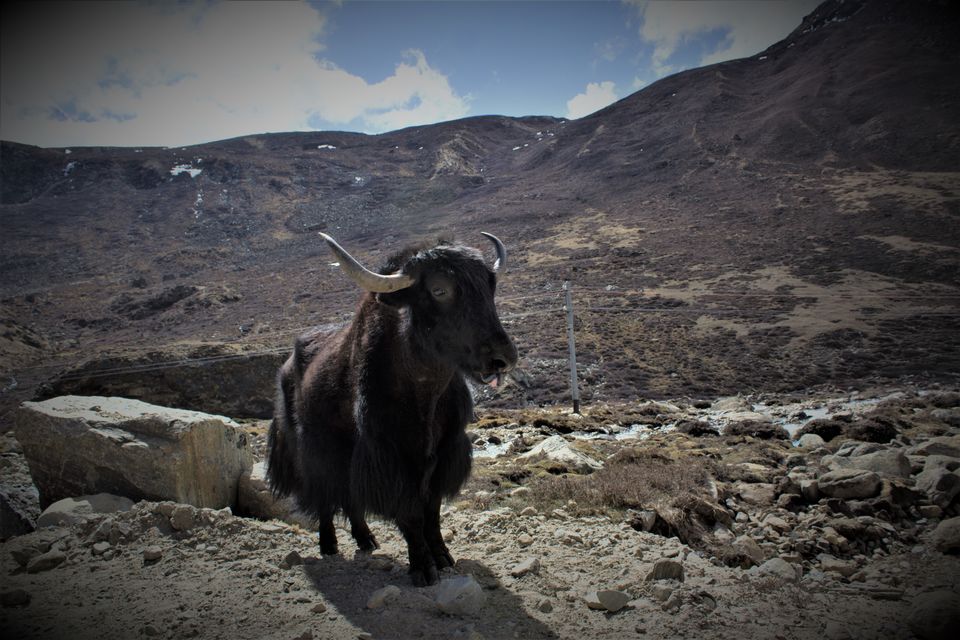 We kept gaping at these views and did not realize when snow had started appearing right on our rocky path.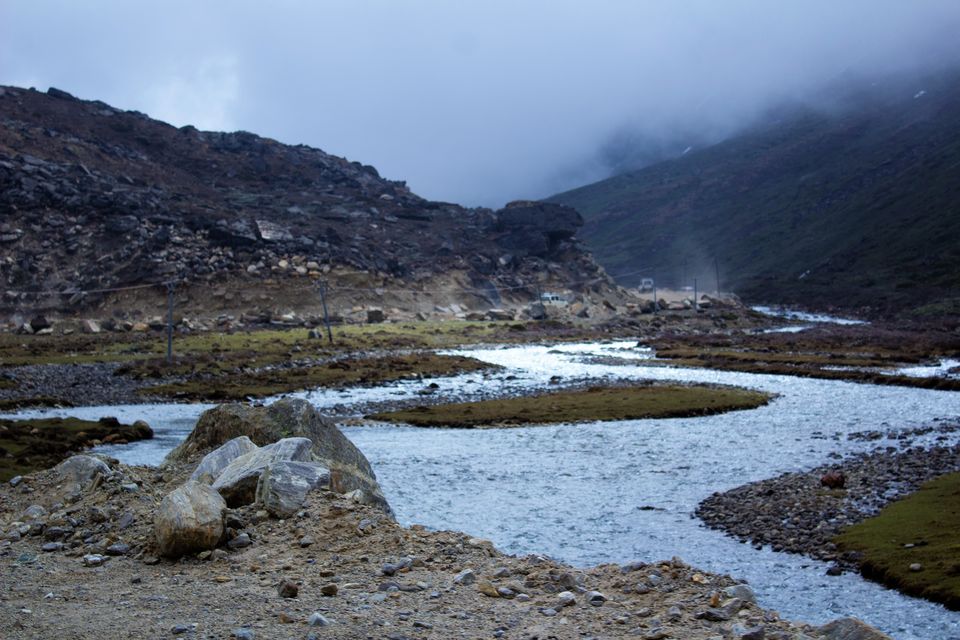 Soon, the scenery changed from green and vibrant to more barren and rustic.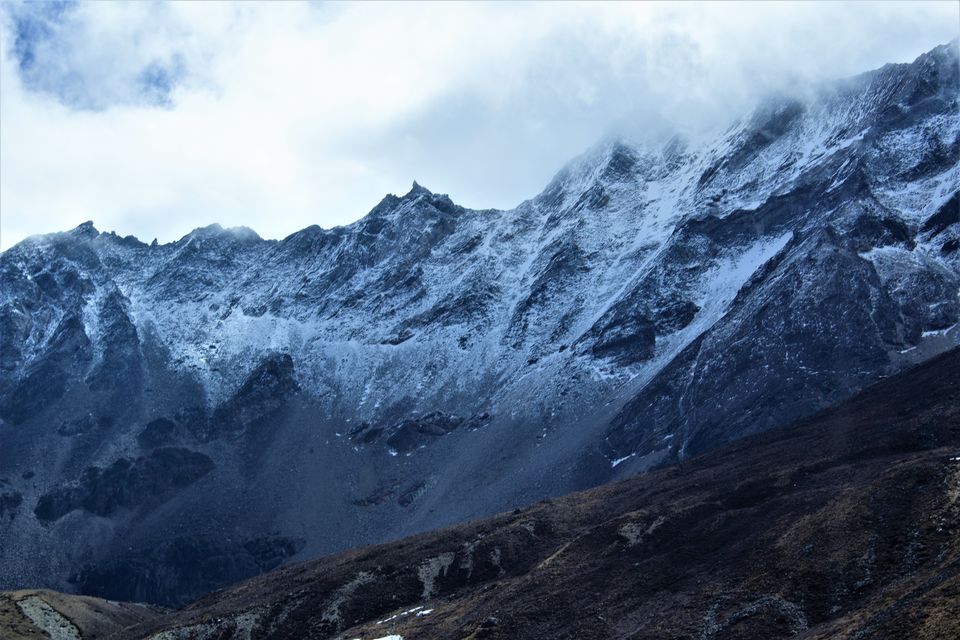 Snow-capped peaks became a common sight now and army bases became more frequent.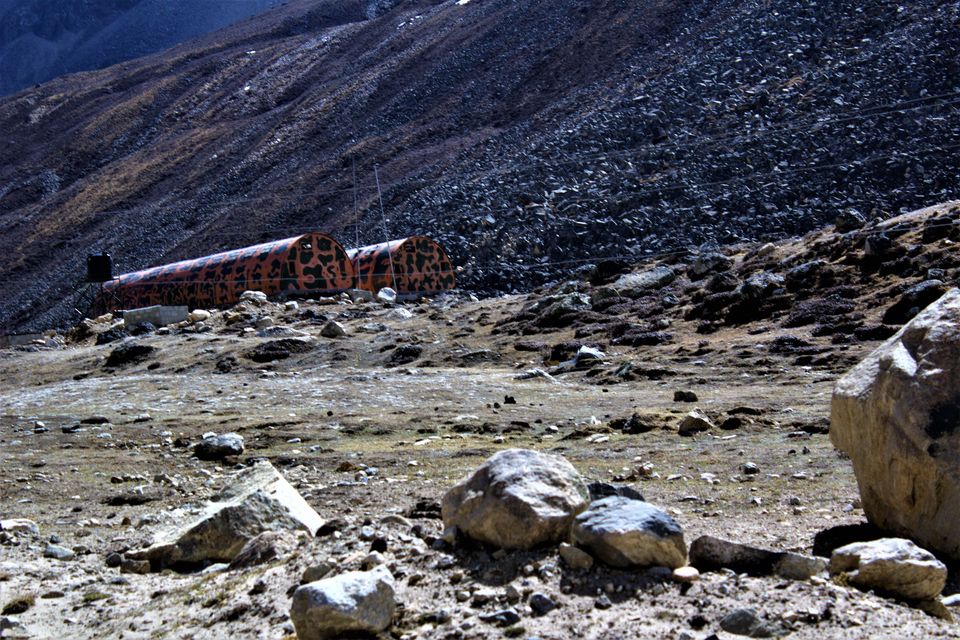 At the final check post at Giagong (15000 ft), we dared to get out of our car and look around while Ratan showed our permits. I still remember the sudden sharp shiver that ran down my spine when the first gust of chilly wind hit my face, my only part of skin not covered. I remember how I was about to run back into the warmth of the car when I noticed our army jawans jogging towards the valley for some routine training.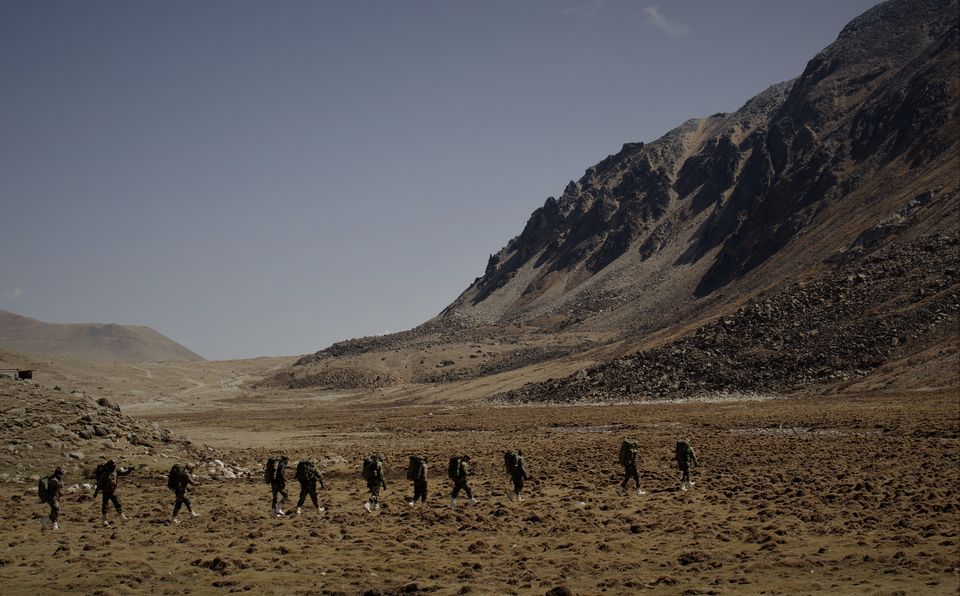 Then I saw the Indian Flag fluttering in the strong wind and could not help myself bloat up with respect, humility and gratitude.
The freedom as well as safety that we ignorantly enjoy, is not to be taken for granted. Some people, some families, out in the world's most desolate places, are risking their lives and comfort to protect ours. Everything about these army camps – the cleanliness, the order, discipline, the uniforms and the politeness of the jawans, will make your chest swell with pride and somewhere deep down,redefine your perceptions.
Both the road conditions and the landscape drastically changed after this. We drove smoothly on a bitumen laden road for the next 15 kms .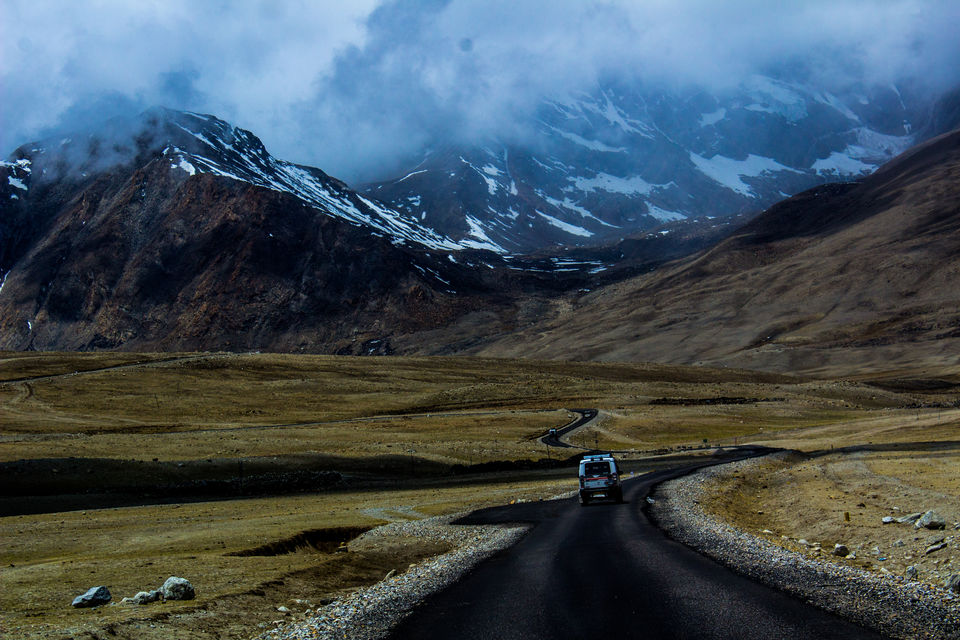 There was no green anymore, only vast plains rising up to treeless mountains, frosted heavily at the top. Before Ladakh happened, this was my best road experience. Even as we were amazed by this magical unfolding of nature's beauty, a thought kept lingering – how can there be a lake in the midst of all this aridity!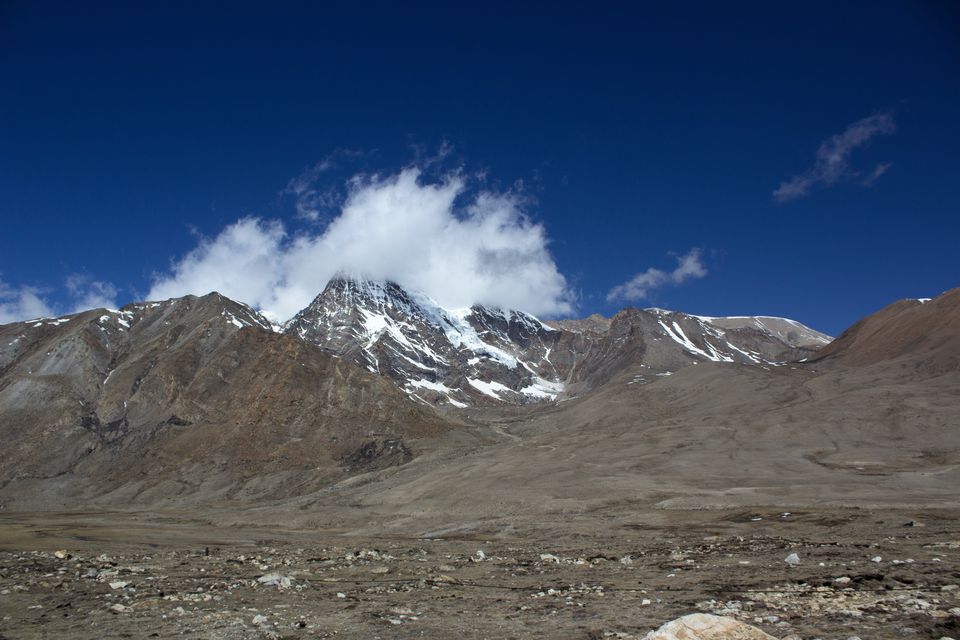 Even when we reached the spot we could not see the lake from inside the car.It was a cold desert all around us. The moment we stepped out of our vehicle, the chilly winds pierced our skin and shook every nerve.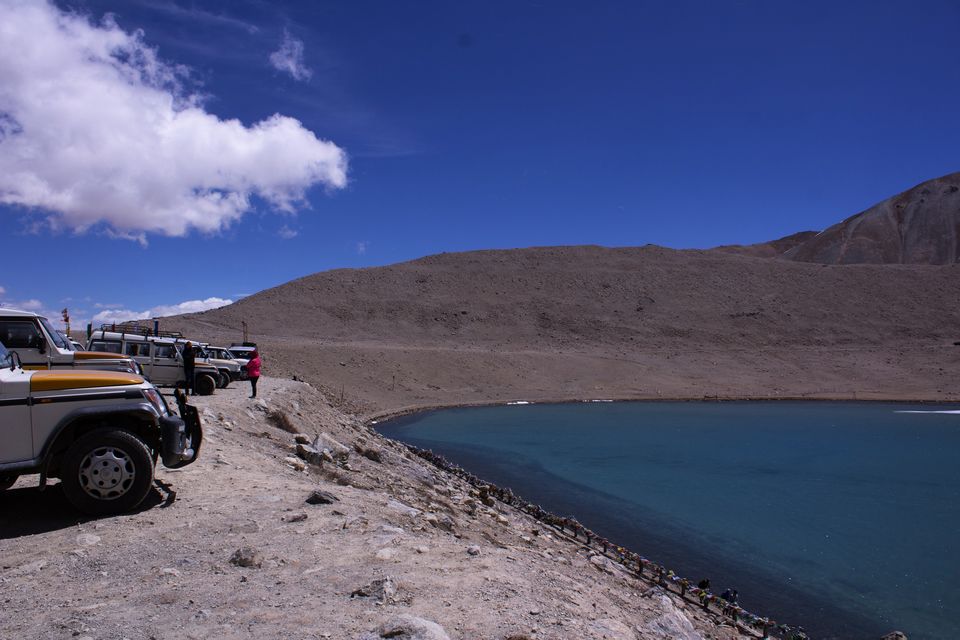 We immediately got back and grabbed whatever extra clothing we had, gloves,mufflers. You will be told all the way that this place is cold, but trust me, nothing will prepare you for this.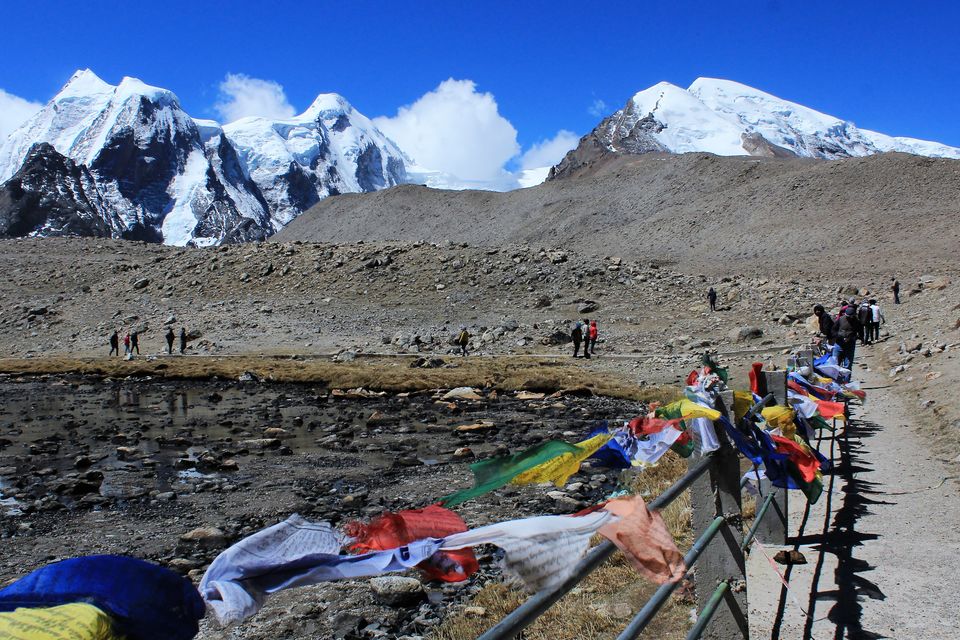 We walked downhill into the valley and then the lake was right before us, bluish green water on one side and ice on the other half, unexploited, undisturbed, guarded by the snow-peaked mountains all around.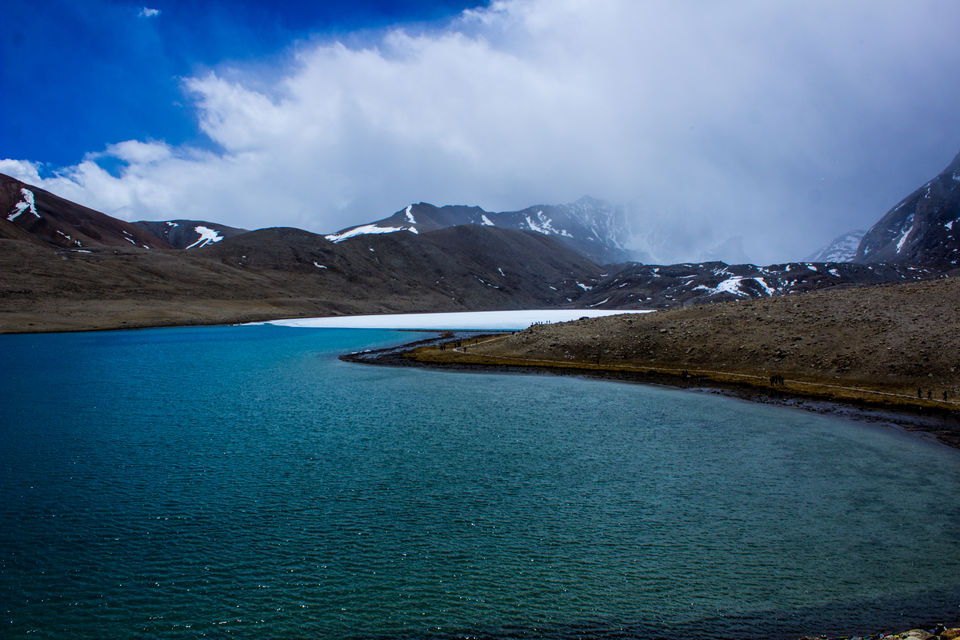 Plethora of words and thoughts crossed my mind as my eyes tried hard to articulate the image to my brain. Nothing will prepare you for this too!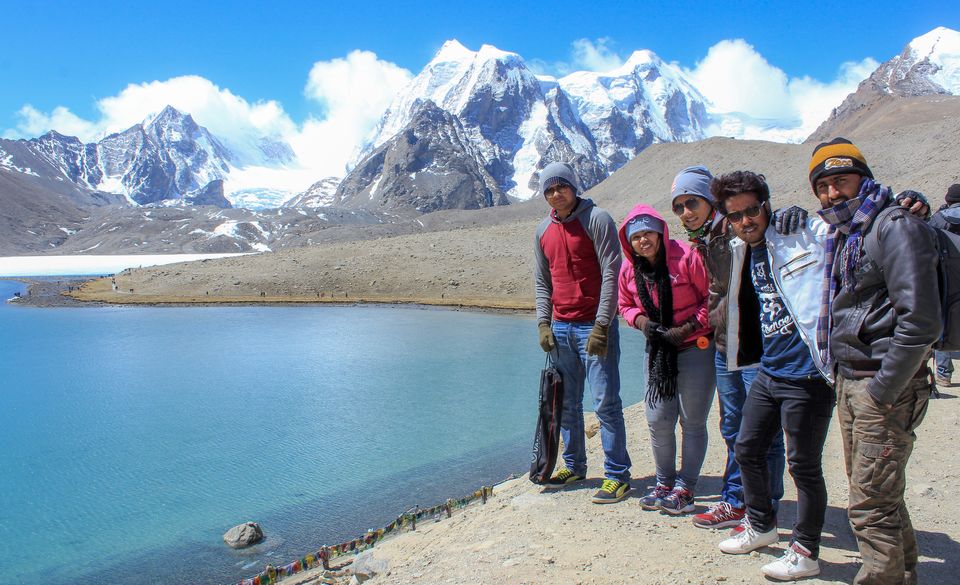 With small steps, we went to the other side where the waters reflected the clouds, as clear as a mirror.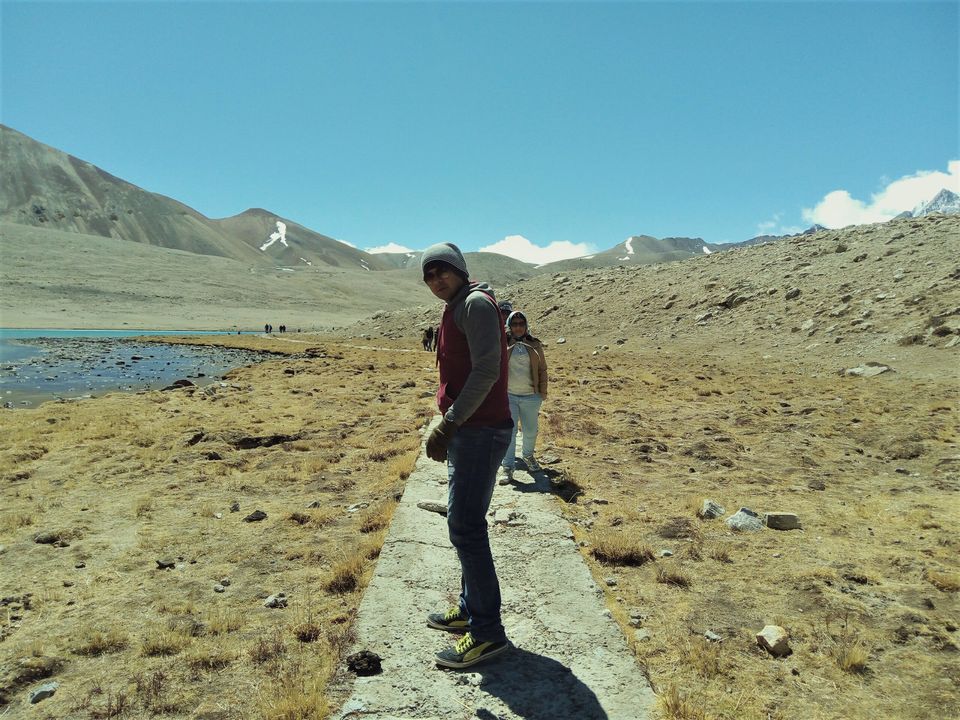 Physically it was the most challenging 30 mins I had spent for the sake of a rare experience.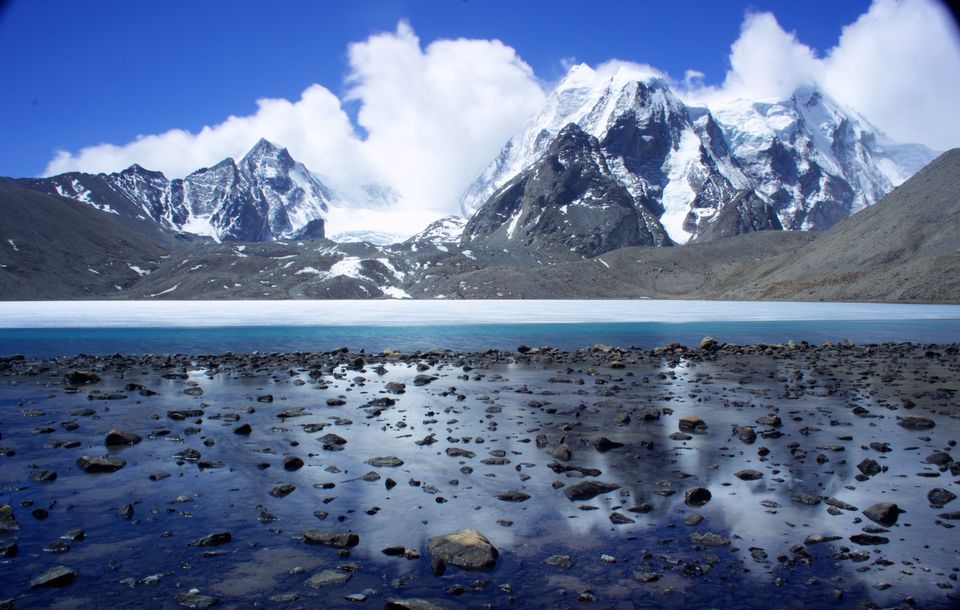 But it is indeed an experience worth that pain, the scarcity of oxygen, the subzero temperatures, the dizziness and the struggle with every step.
Thousands of feet high up from my ordinary silly life, here I was, sitting on a rock, shivering like a leaf and contemplating a half-frozen lake.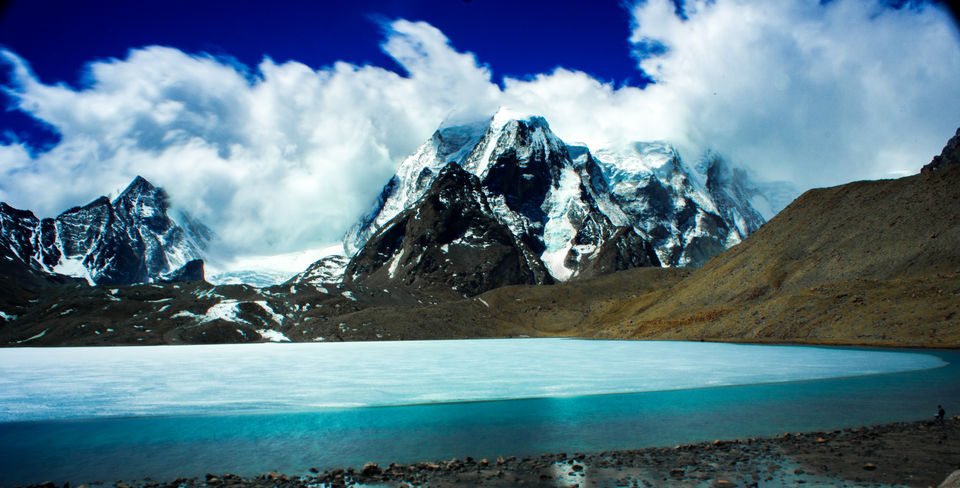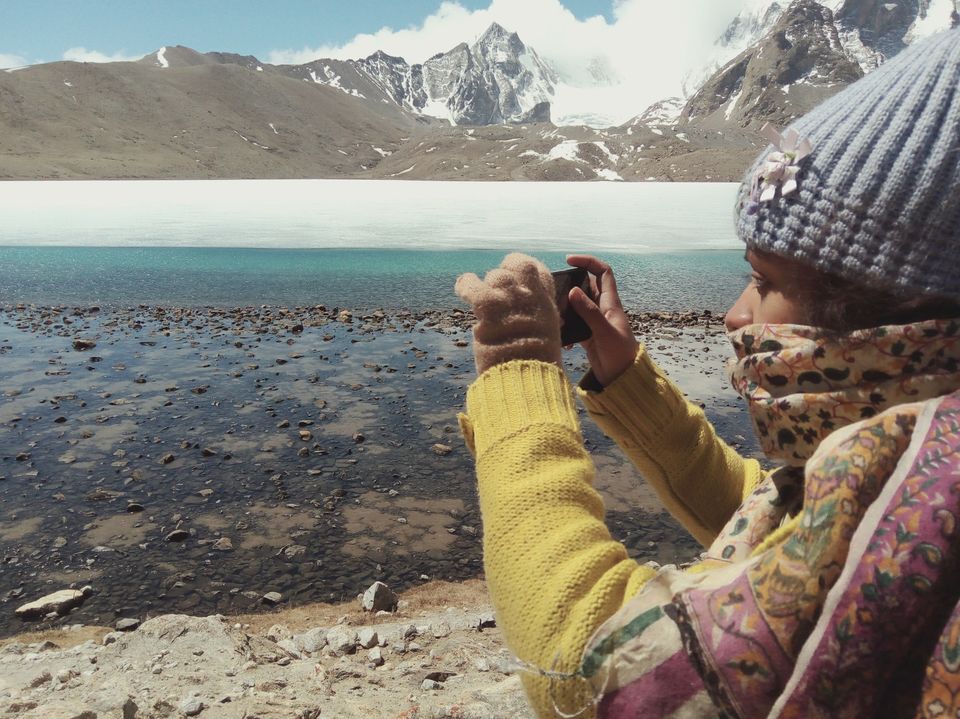 After sometime we returned to the parking area as some of us were feeling dizzy and facing difficulty in breathing. There is a small Buddhist Temple and a stall selling coffee, tea and maggi. I couldn't miss this coffee for anything! I scooped the cup using both hands as they were trembling badly. Our eyes still fixed on the lake, the warmth from every sip spread throughout our body and brought a little life to our senses. Needless to say, at 17000 ft and around -10C , this feeling was DIVINE!
The winds started getting colder and stronger, forcing us back to our vehicle. In no time, we saw tiny white particles falling on the windshield. At first I thought they were dust particles, but suddenly all of us realized it was snowing! We screamed in perfect synchrony – "SNOWFALL!" We requested Ratan to give us just 5 more minutes. We quickly got down and stretched out our hands and raised our faces, allowing the soft white flakes to gently kiss our skin. Coming from cities where ten out of twelve months are hot and sultry and having seen ice only in our deep freezers, this natural phenomenon was not only rare but enchanting! It might not be a big deal for everybody, but for me it was my first snowfall and the moment was very special :)
Exactly after 10 minutes Ratan popped back into the driver's seat and shut the door a little louder than usual – using it as his final call for the return journey. We dashed back into our car and before we could lock our doors, Ratan had pulled the reverse gear. We were the last vehicle leaving the spot.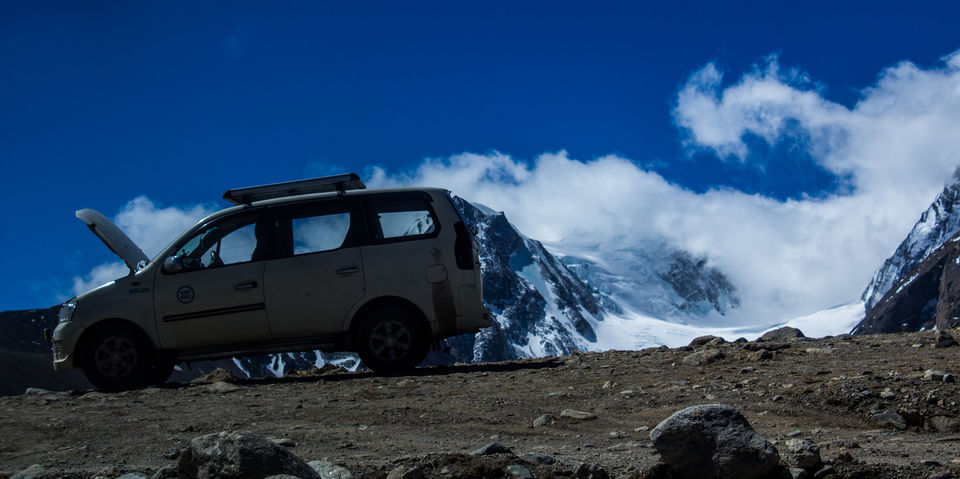 I kept staring outside, savoring the fleeting moments of this memorable event, till the snow flakes were engulfed in a blanket of mist.
We spoke in exclamatory sentences for a good part of the return journey, each of us interrupting the other to describe his own experience. Funny how our body reacted to this extreme climate in a similar way but our minds and vision reacted so differently. Each of us had noticed different aspects of the lake, of the terrain, of the clouds, of the winds. In the middle of our stupid disagreement on the exact color of the lake, we realized that we hadn't clicked a single picture or video of our first snowfall.
We drove back to Lachen , had lunch at our guesthouse and after some rest , started for Lachung.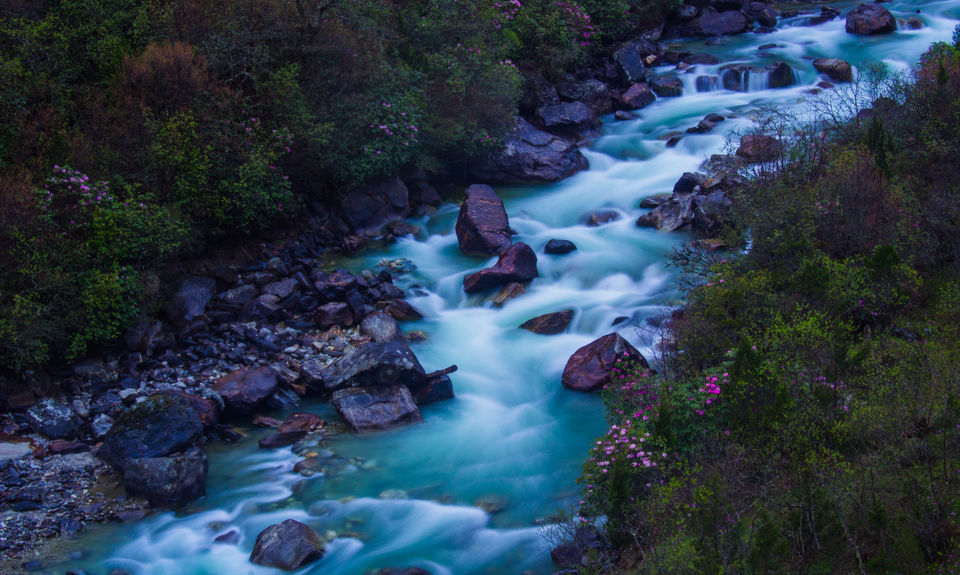 In the hills, it is always advisable that you reach your destination before sunset. North Sikkim is even more secluded and underdeveloped in terms of road facilities.So, help the drivers do their job responsibly by sticking to the schedule. Start early in the mornings, spend moderate amounts of time in the spots you really find beautiful, do not have your meals as lazily as you would at your home, return safely and spend the rest of the night in the markets or under the warmth of your blankets.
:)