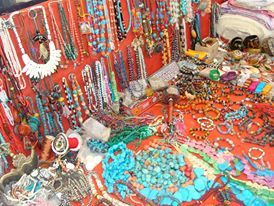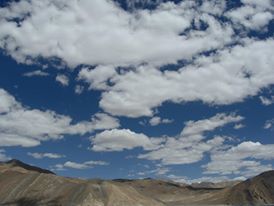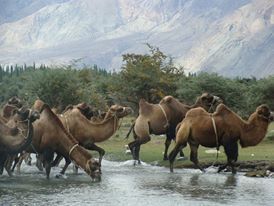 It is said that Ladakh is the jewel in the crown of our country, India. And, a jewel it is. While on a recent trip to this biker's paradise in the northern most part of India, we were amongst the lucky few to have been assigned a witty, humorous and a well-educated driver-cum-guide, Stenzin. While we drooled over turquoise, silver and Buddhists monasteries and tried to get over the awe of the magnificent landscape of the cold desert, he would stop en route to the destination and made sure we didn't miss the little beauties of the place. That's how I had my first taste of a Leh-berry, walked around with a tabby cat and held a baby Pashmina goat in my arms. It certainly made the journey more enjoyable than the destination.
After one of our visits to a beautiful, awe-inspiring monastery, Stenzin mentioned that two of his friends were artists who painted for the monastery. Before we could say "leh berry" we found ourselves in a little room with his two buddies. On entering, I noticed that the room was like any other youngster's-guitars and music speakers all around. And, then we saw it. On one of the walls, on a canvas as big as the wall, there was a beautiful painting being completed by hands of perfection.
The painting included eight figures of Buddha, each different from the other, in extremely fine work. On asking we understood that each figure had its standardized ratios and the paint they used was not only acrylics, but also the natural colors. Each symbol, from a little ring on the Buddha's finger to the vast sky, was painted with the same level of interest and sincerity.
The entire painting was an epitome of hard work, loyalty, faith and belief. It reflected the simplicity and sanctity of the artists' lives; it reflected who they were.
What price did they sell it for? "It is a painting of God, we don't ask for a price, whatever they offer, or even if they don't, we accept," one of the artists said. Examining the painting, anyone would accept that it would deserve much more than what it is getting, financially. For this duo, it wasn't the money that mattered, but the blessings and goodwill. But, this art is what has to be recognized all over the world for its beauty and simplicity. Till then, these crown-less princes will continue to add color to the desert of Ladakh, but the real "jewel" will still be missing from the crown of the nation.
I understand that this trip's overview may not be as useful for those looking forward to plan a trip to Ladakh, other than inciting them to, so do ask me any queries, and I will be happy to answer them. :)