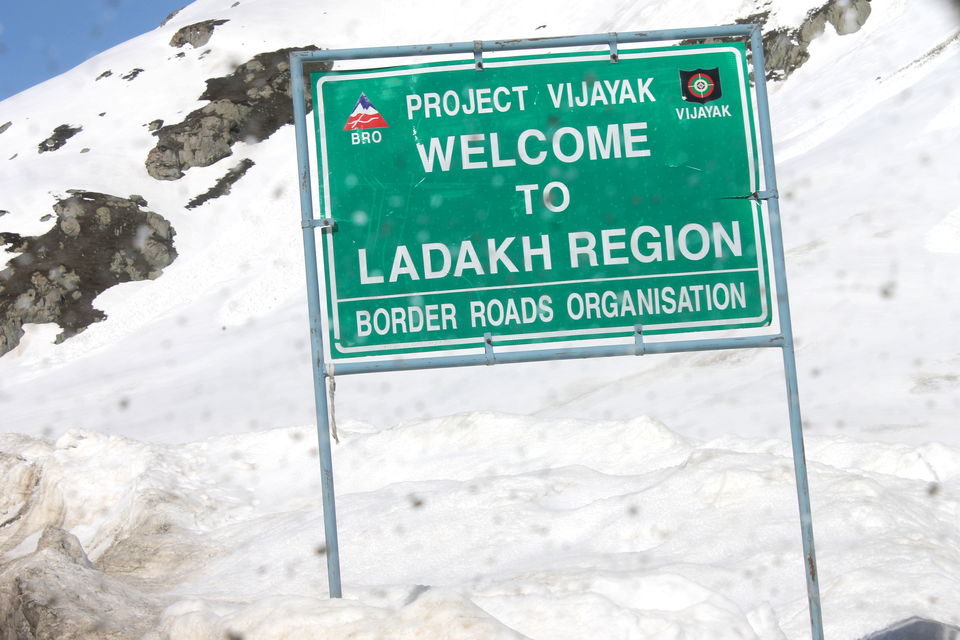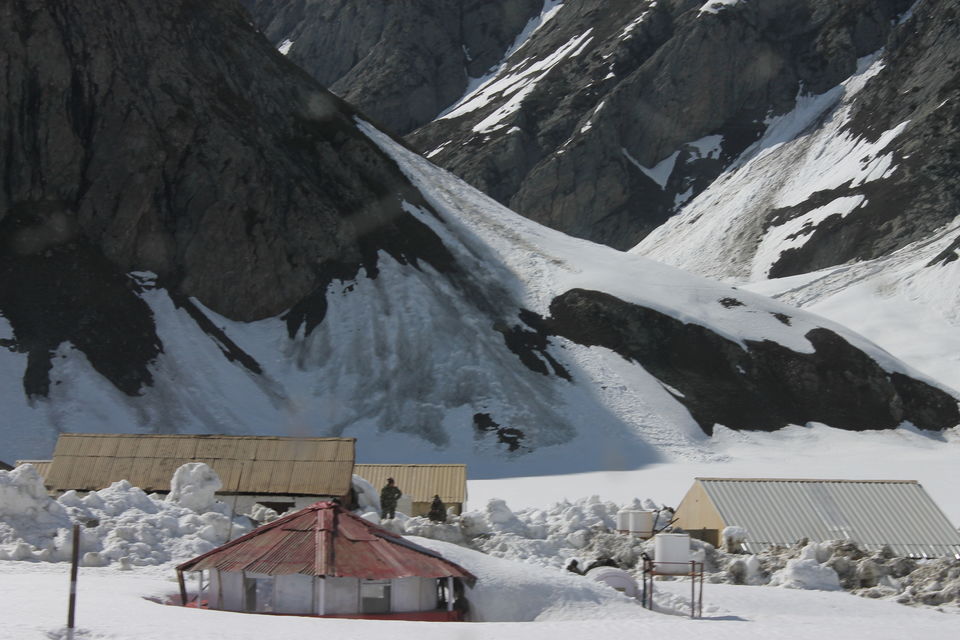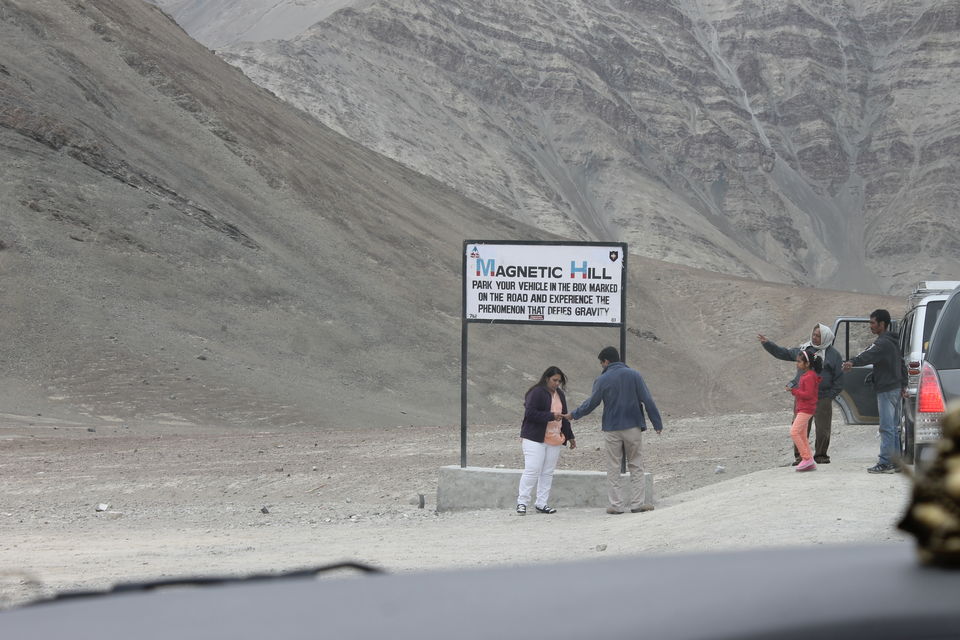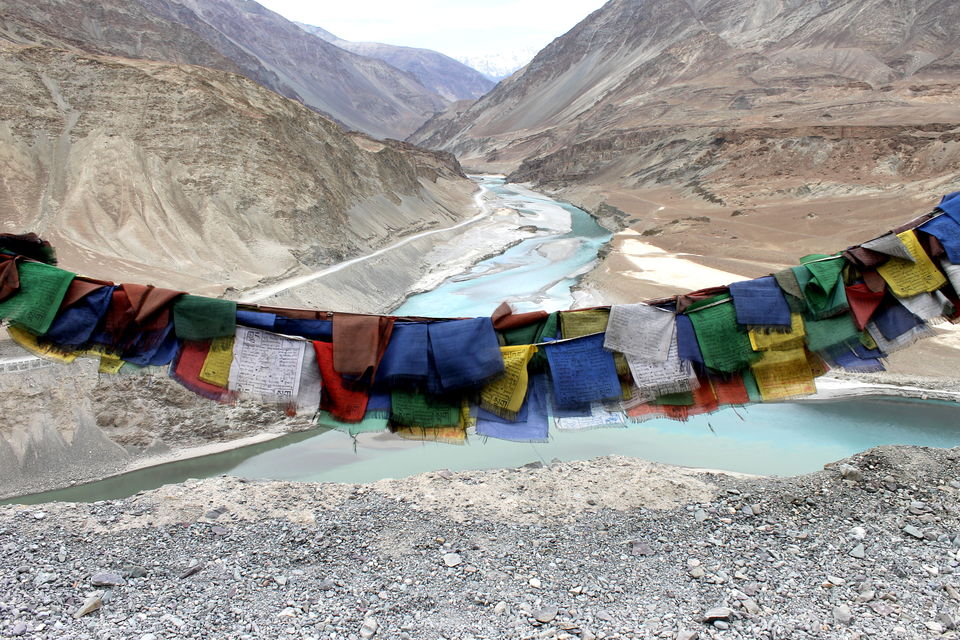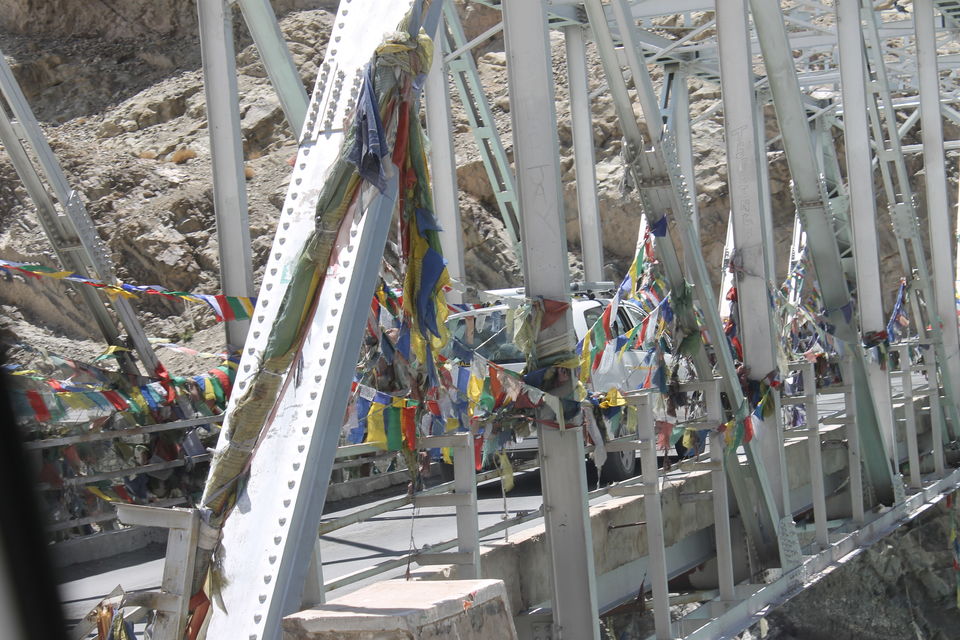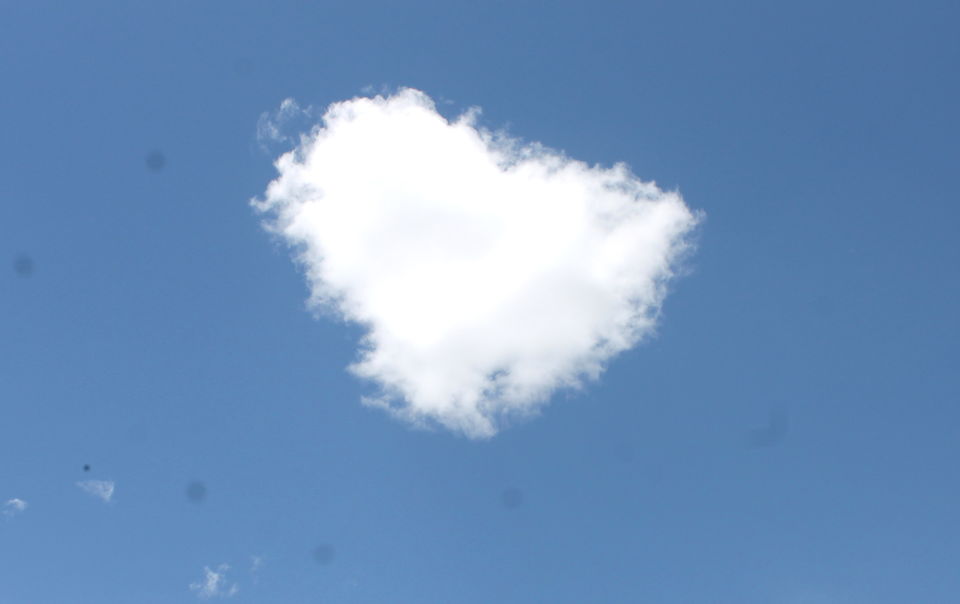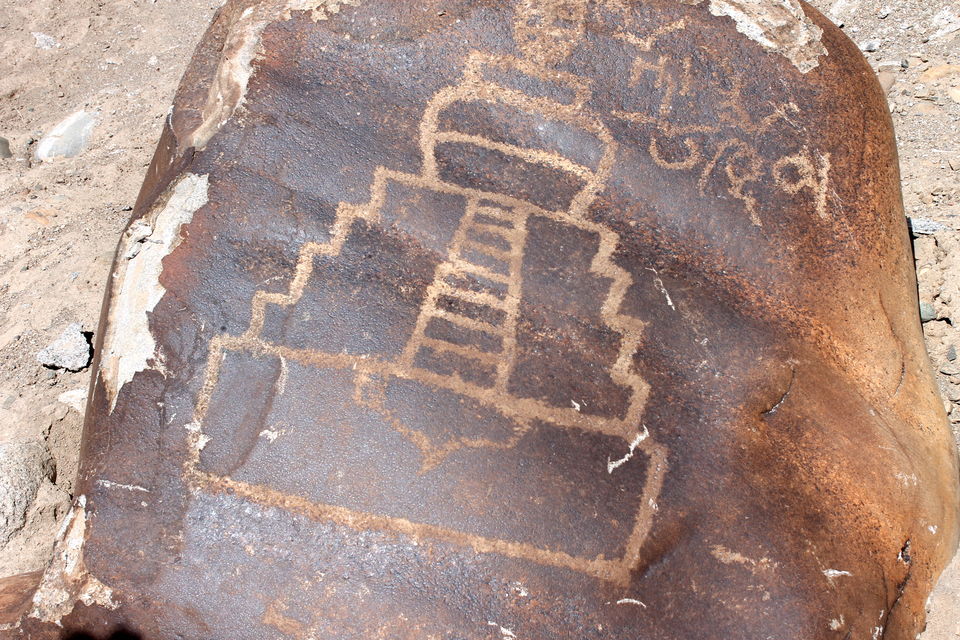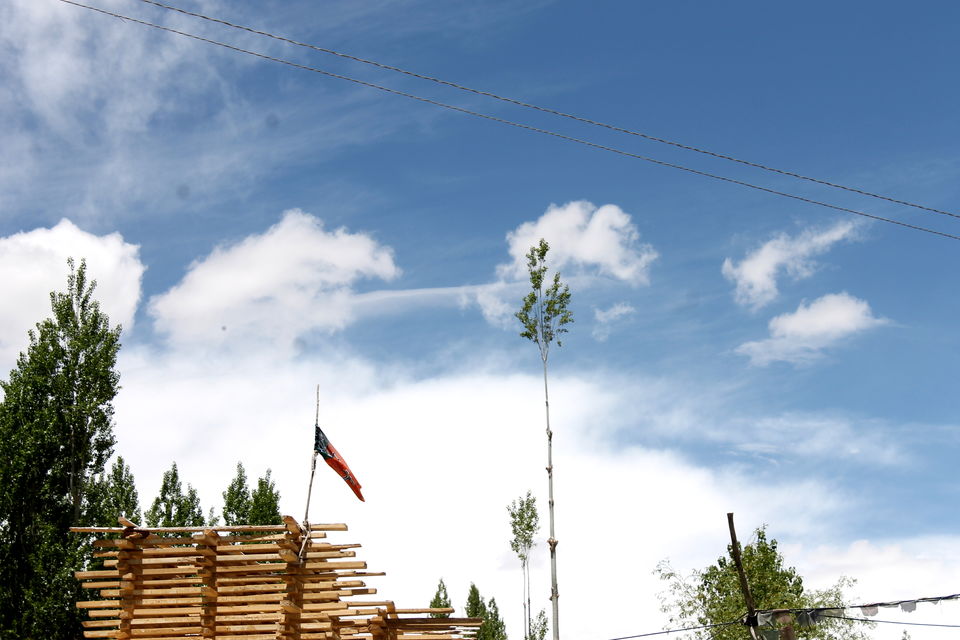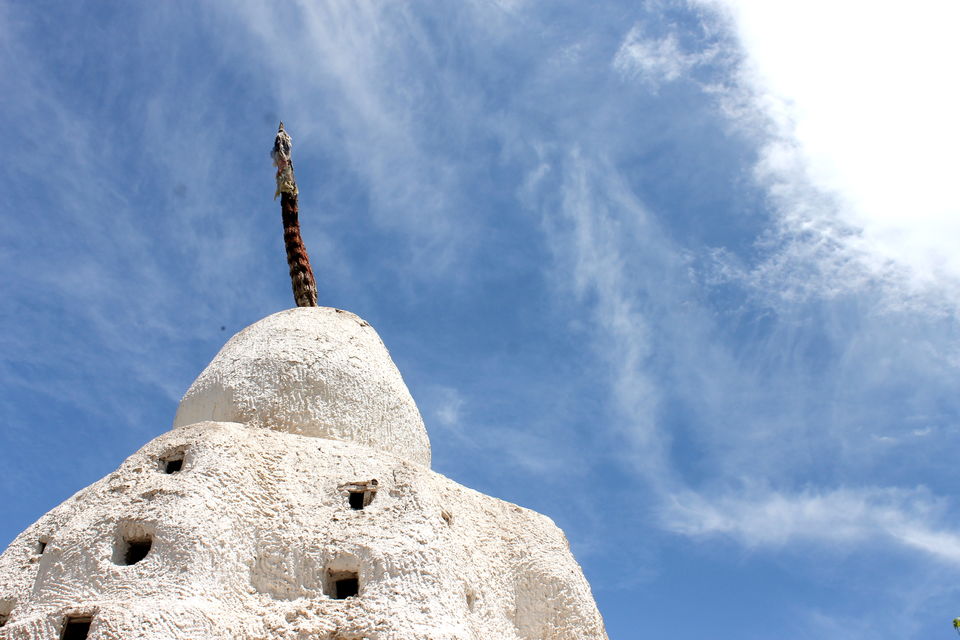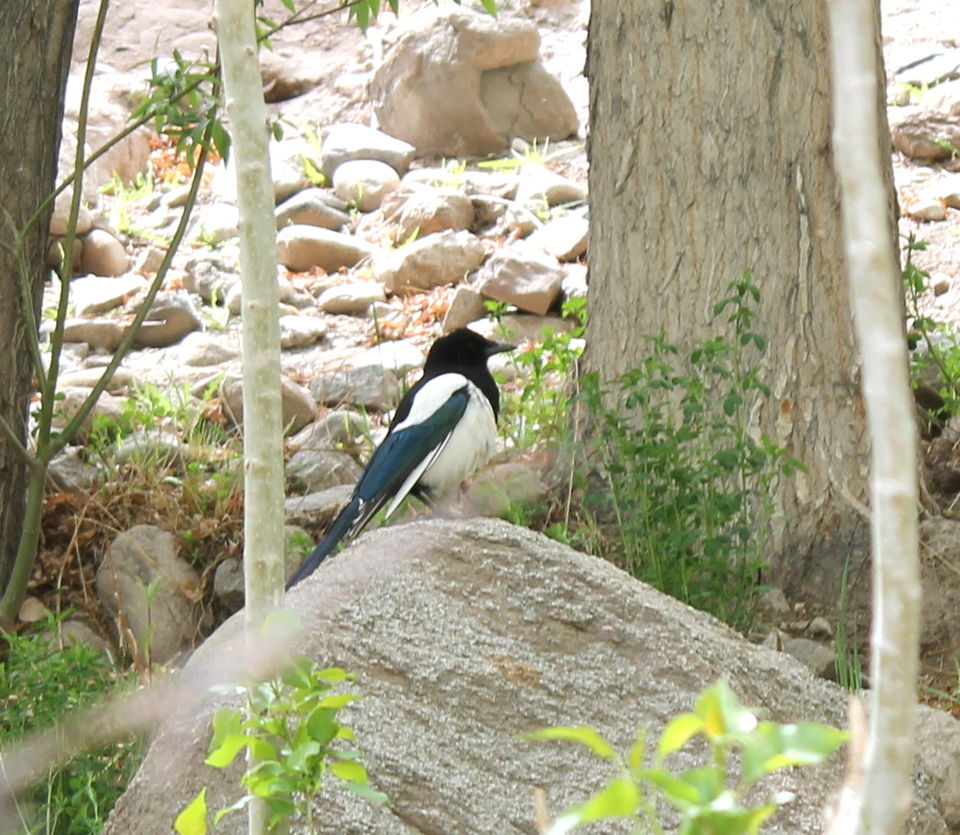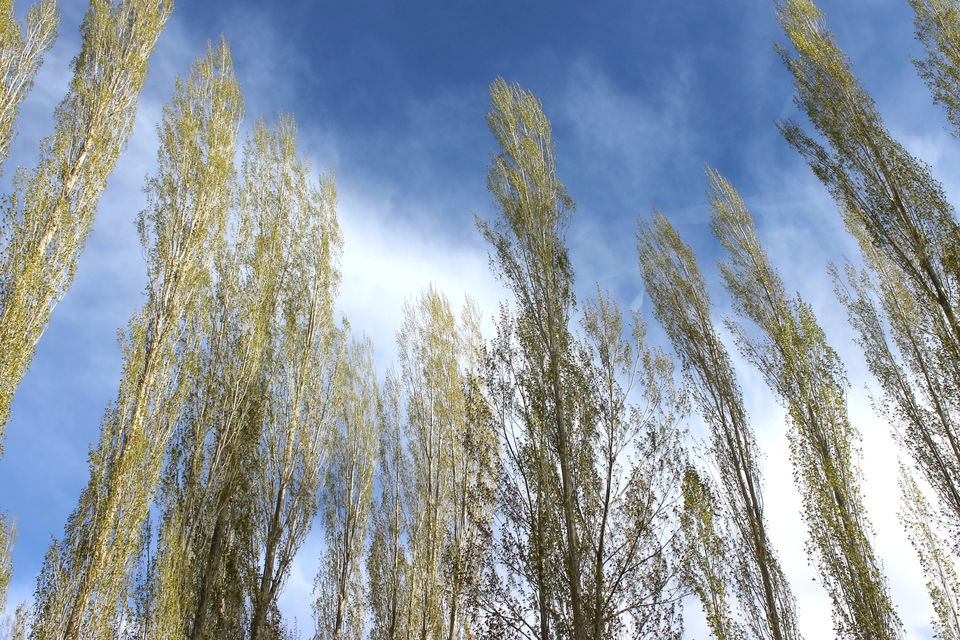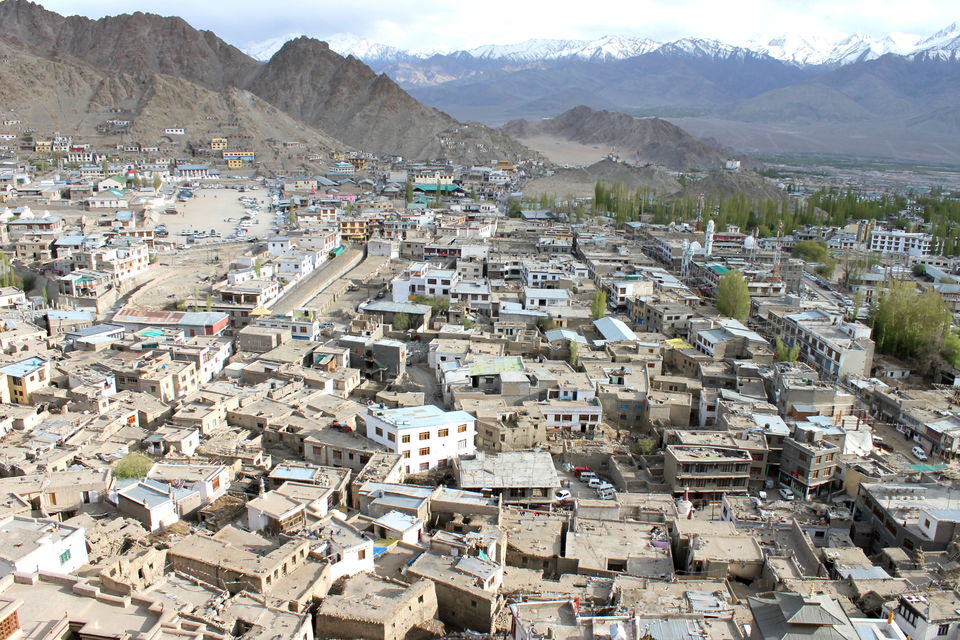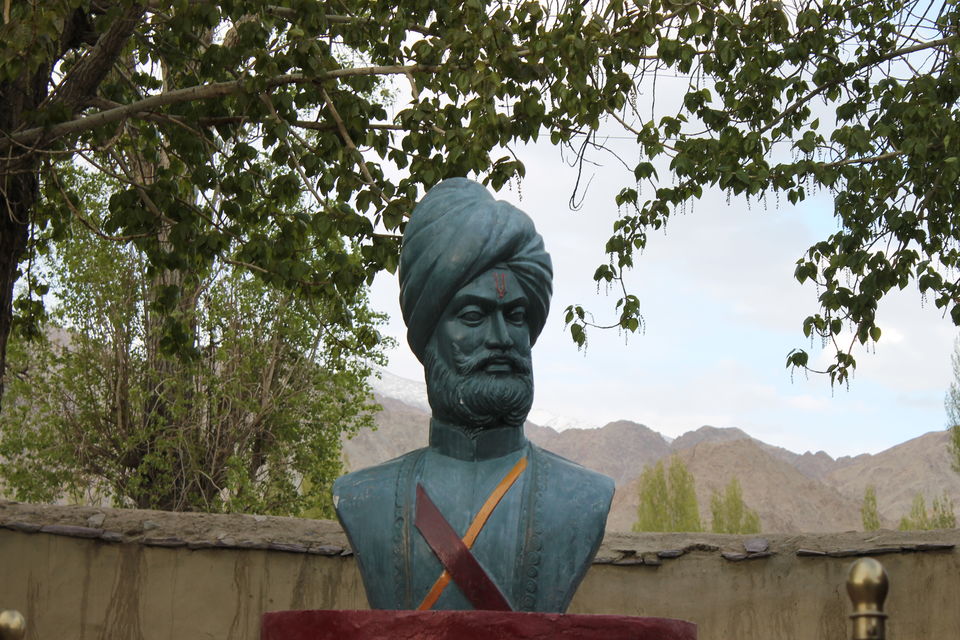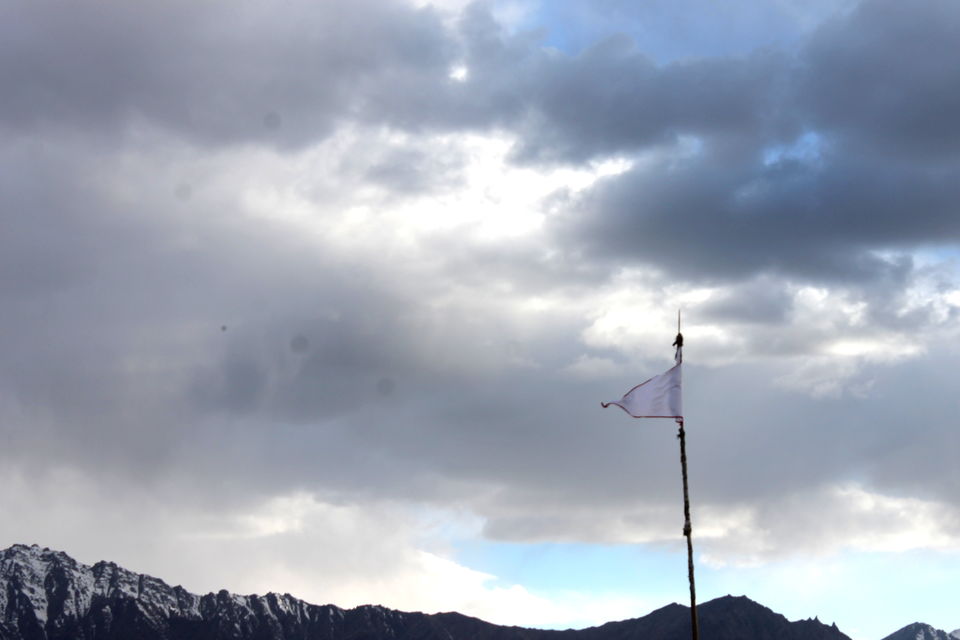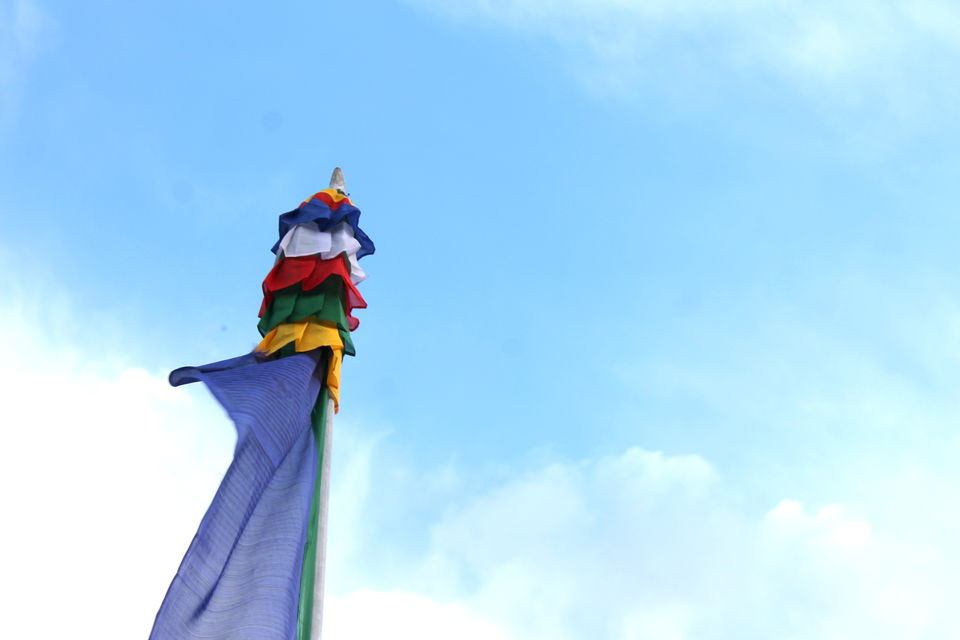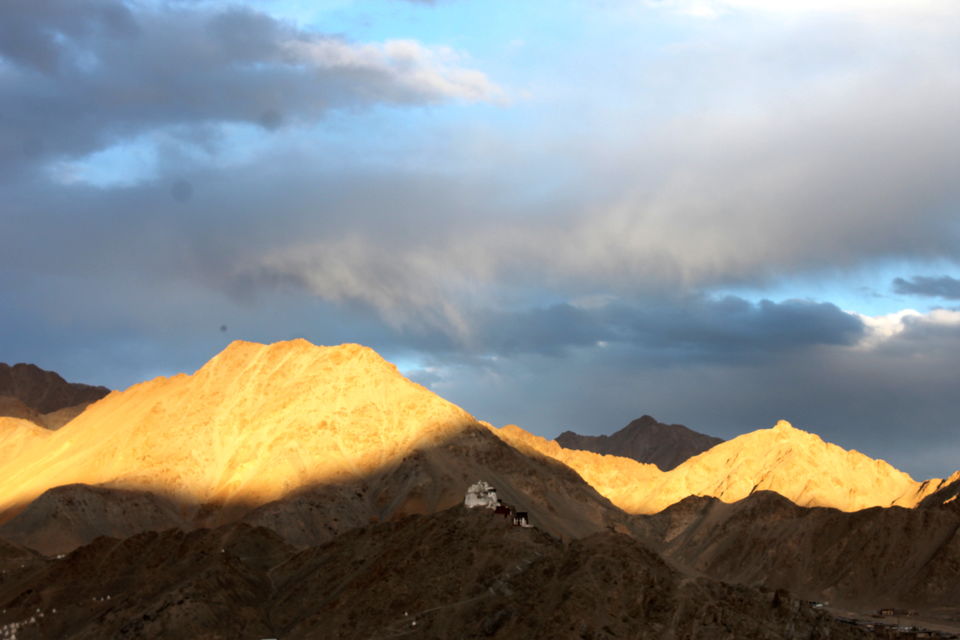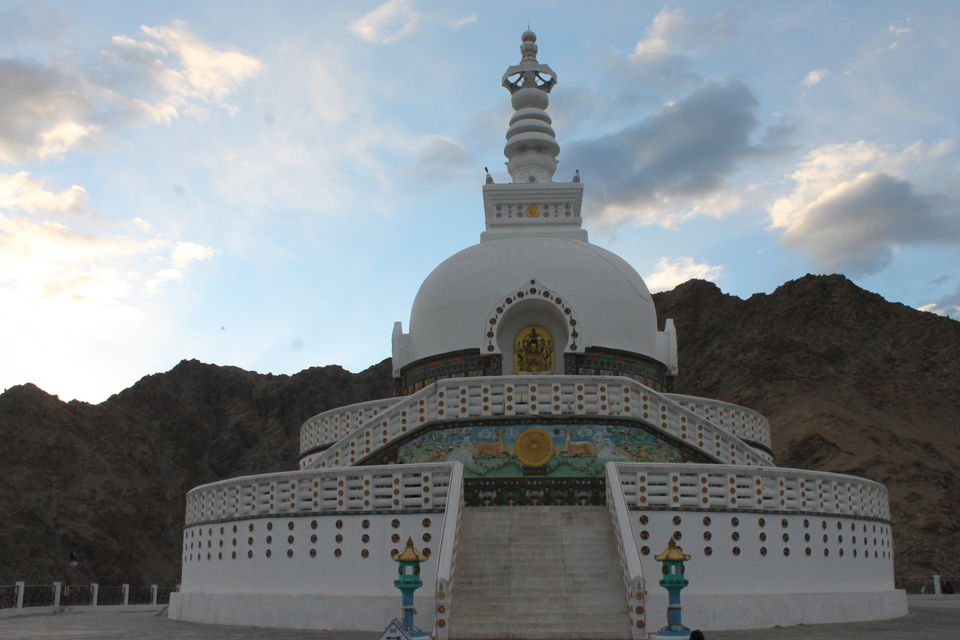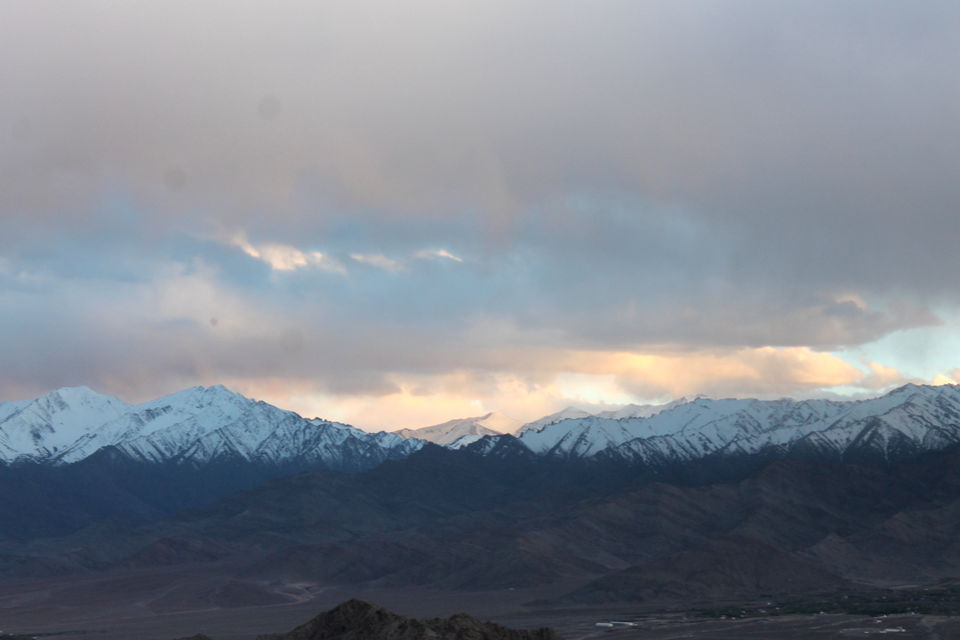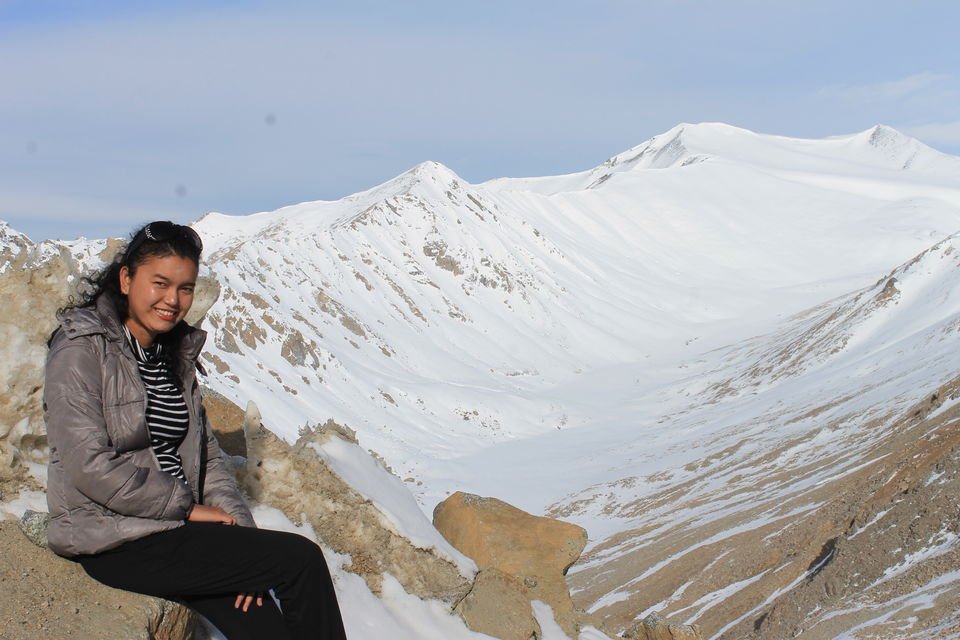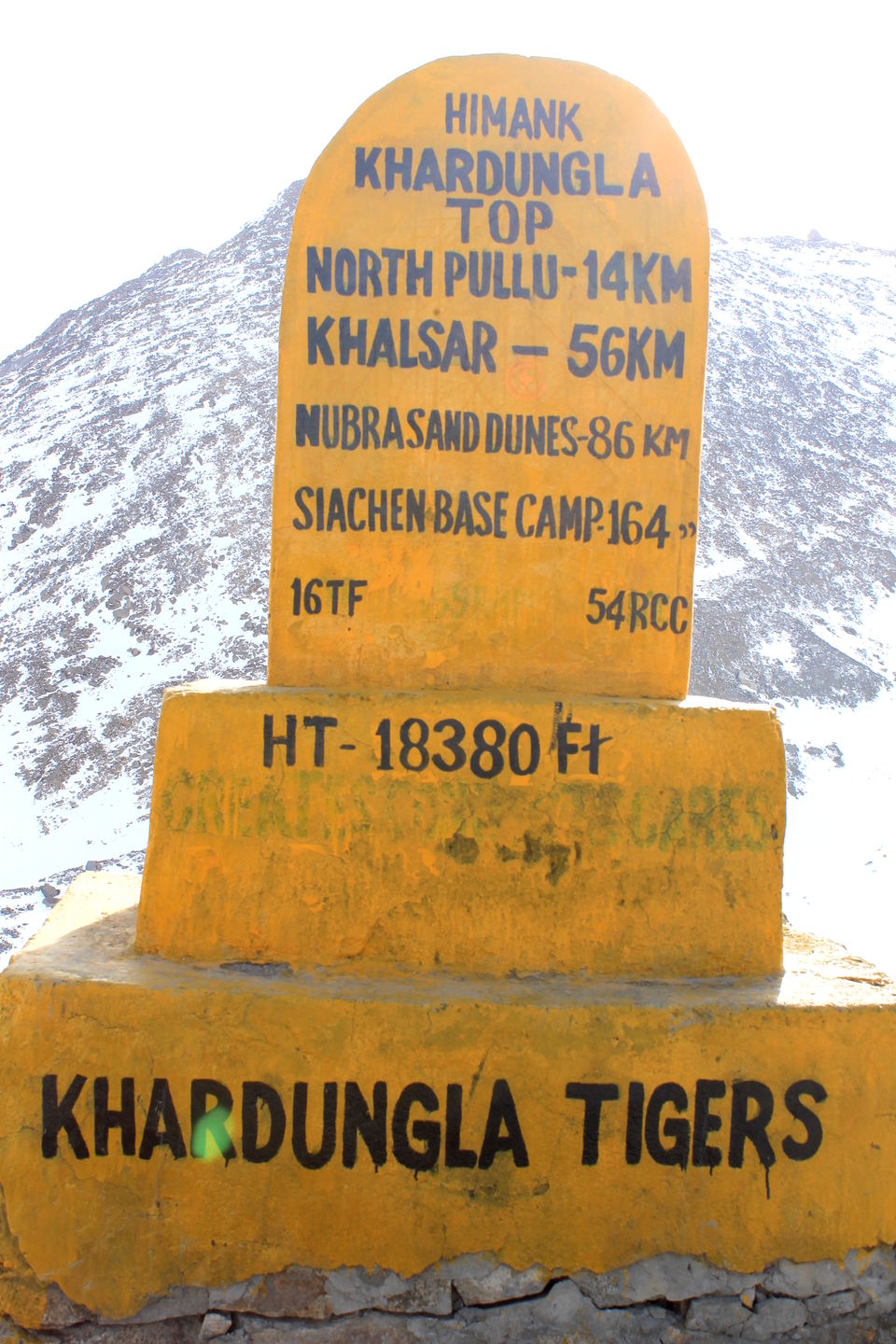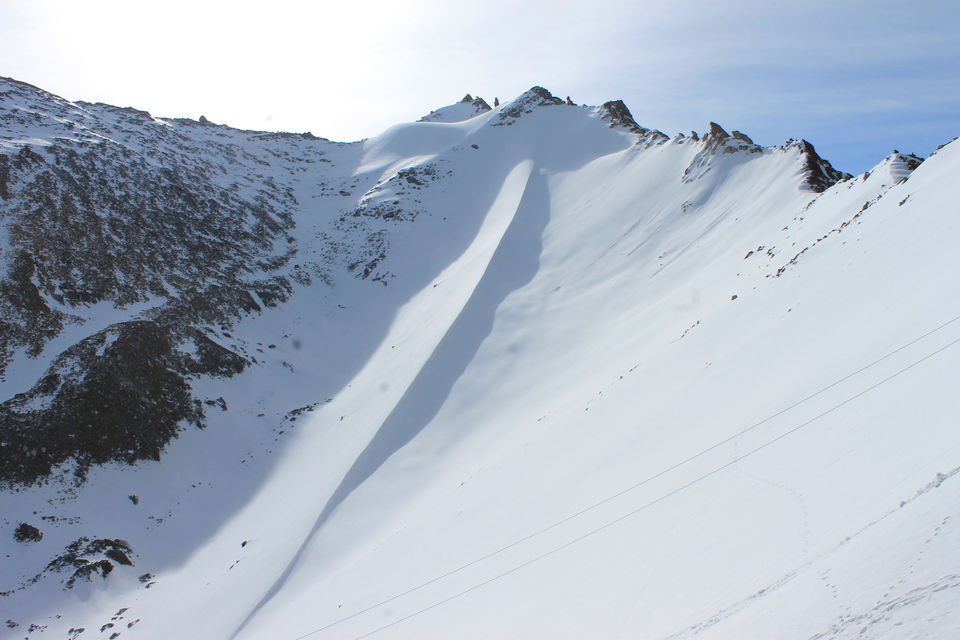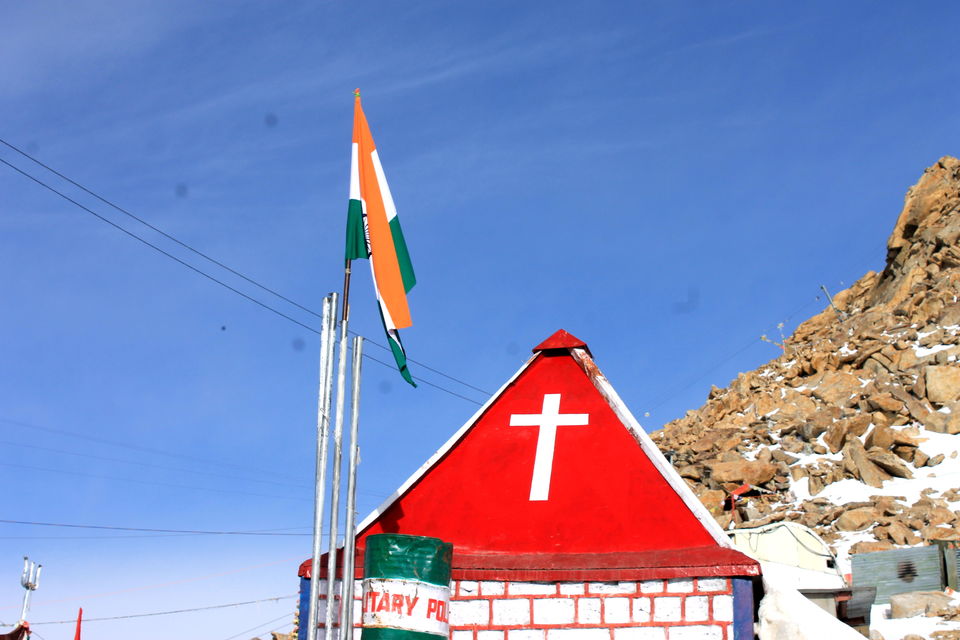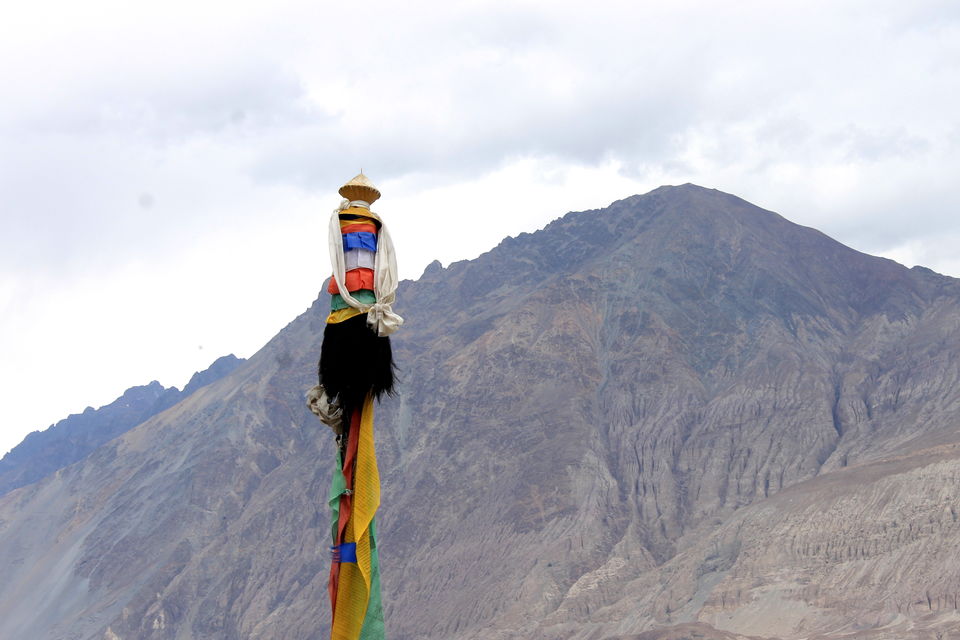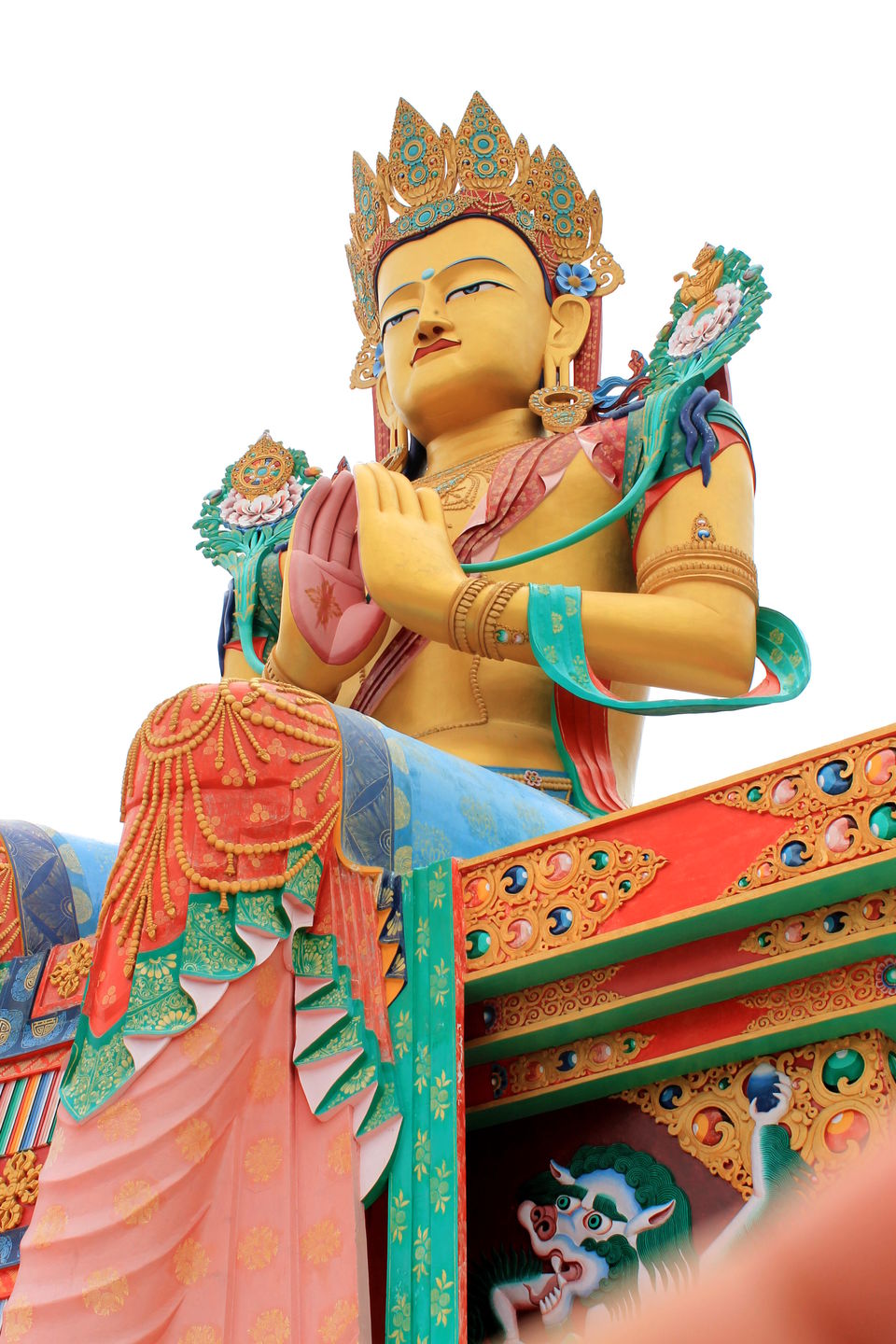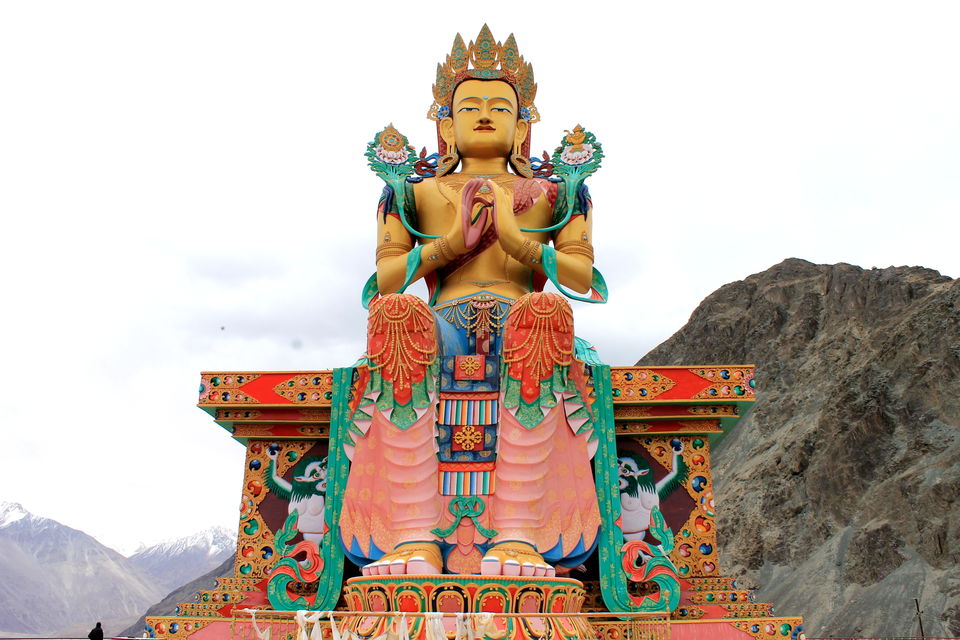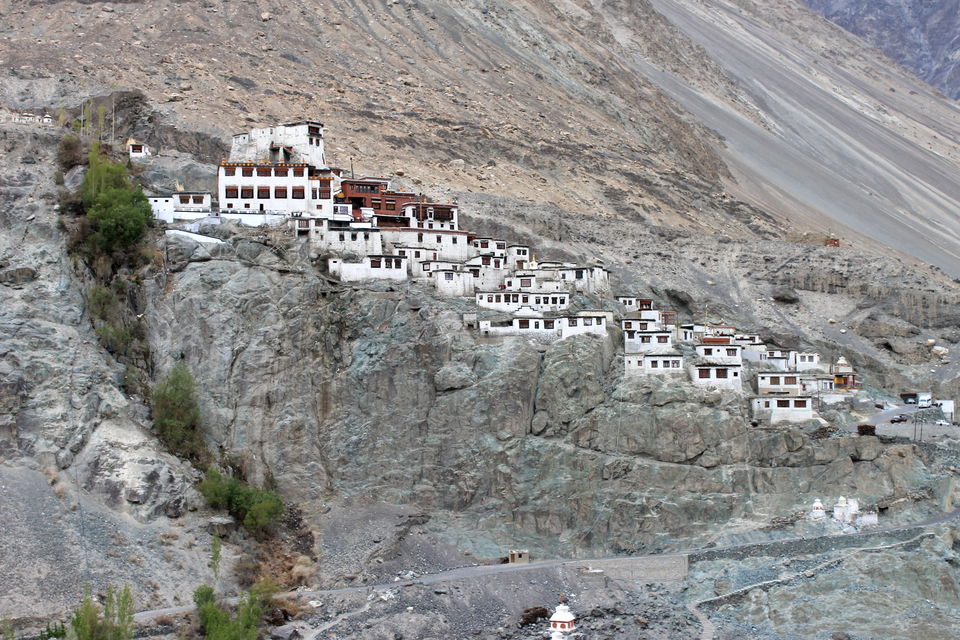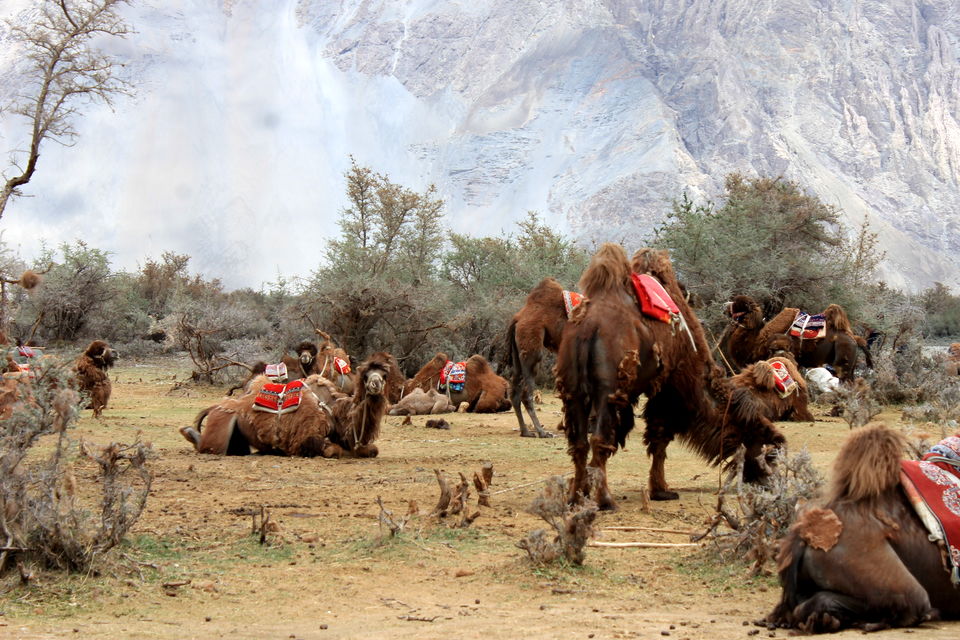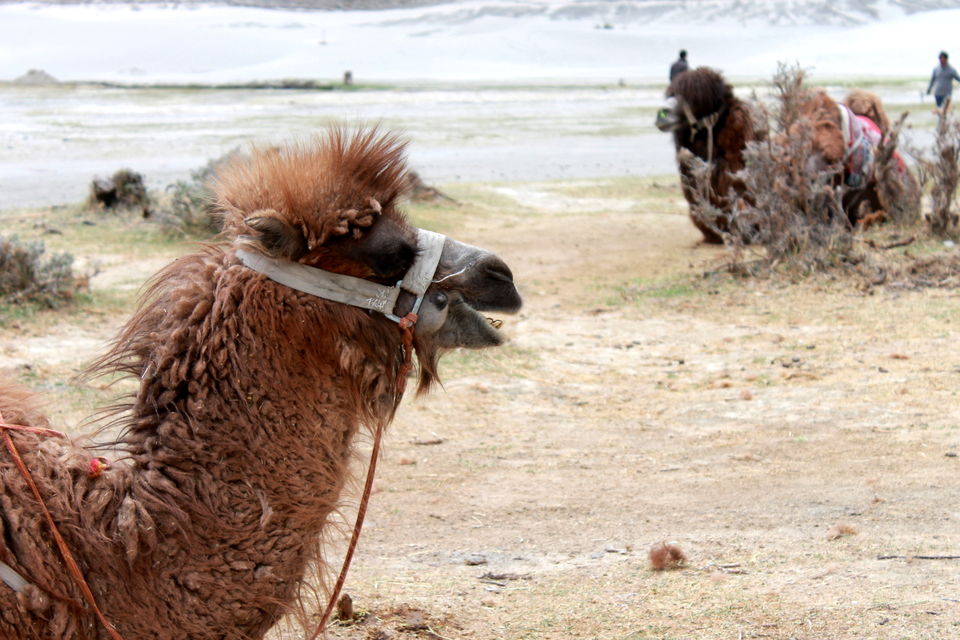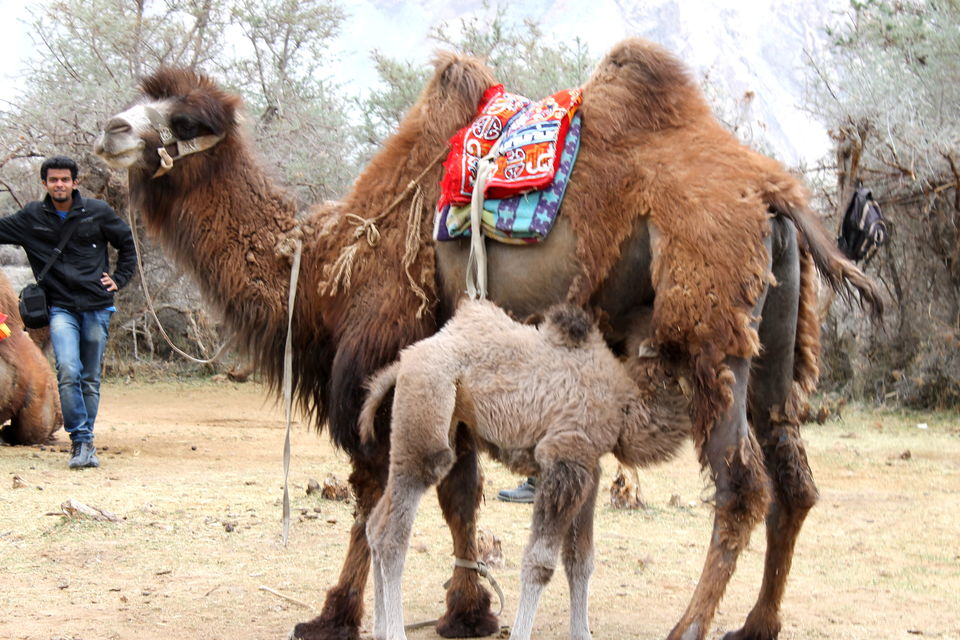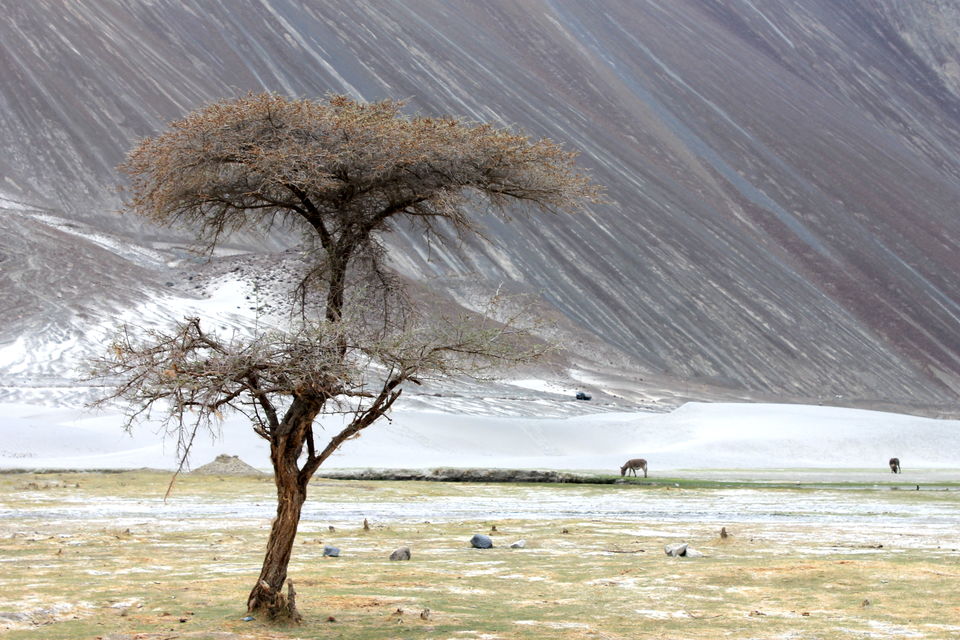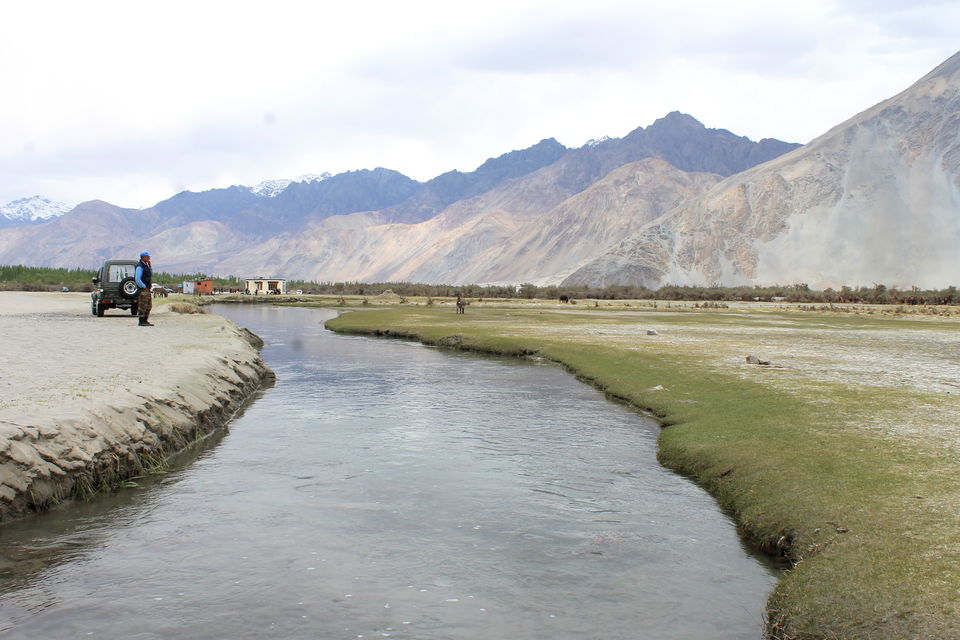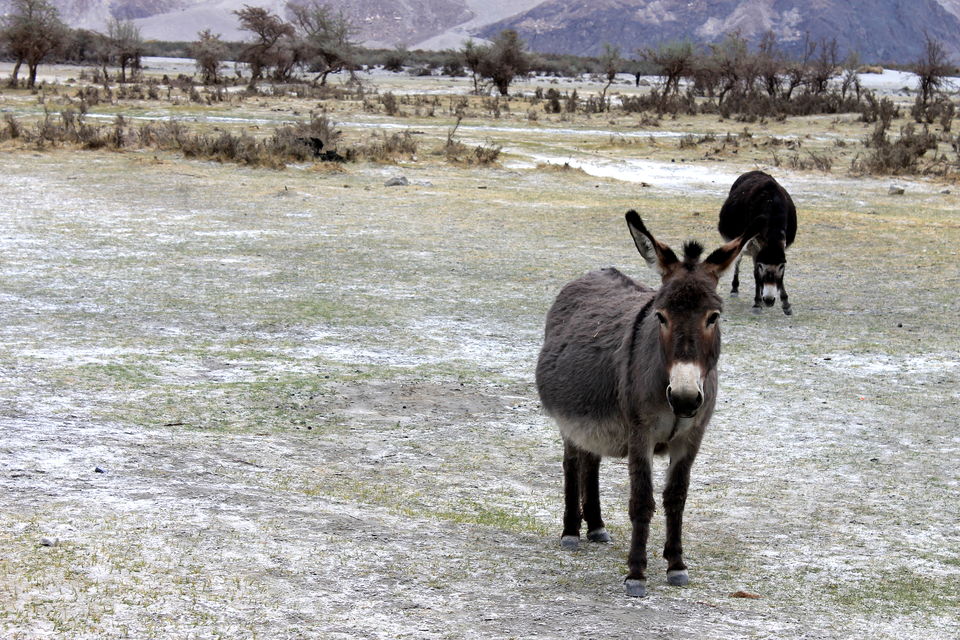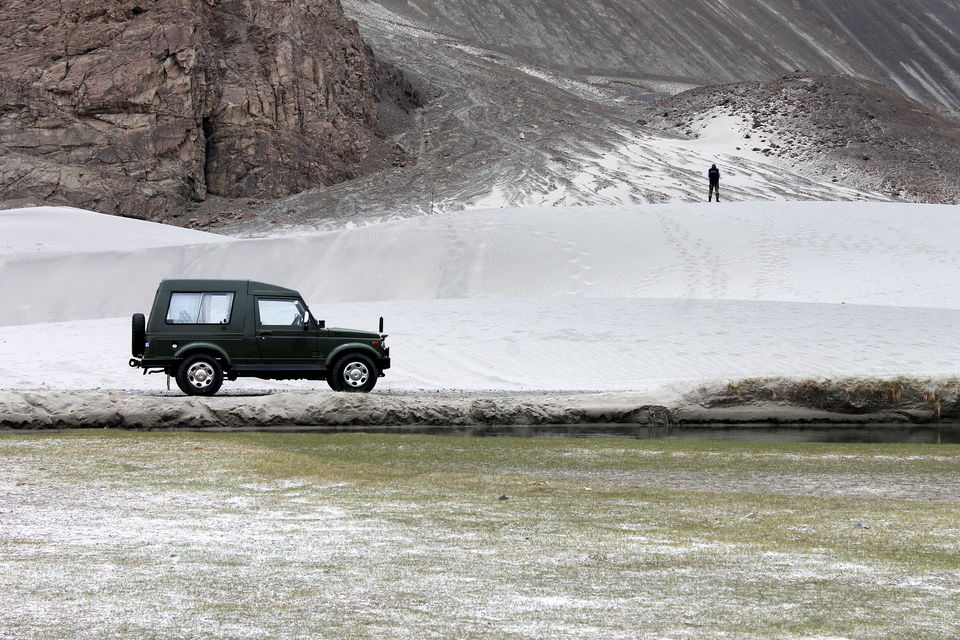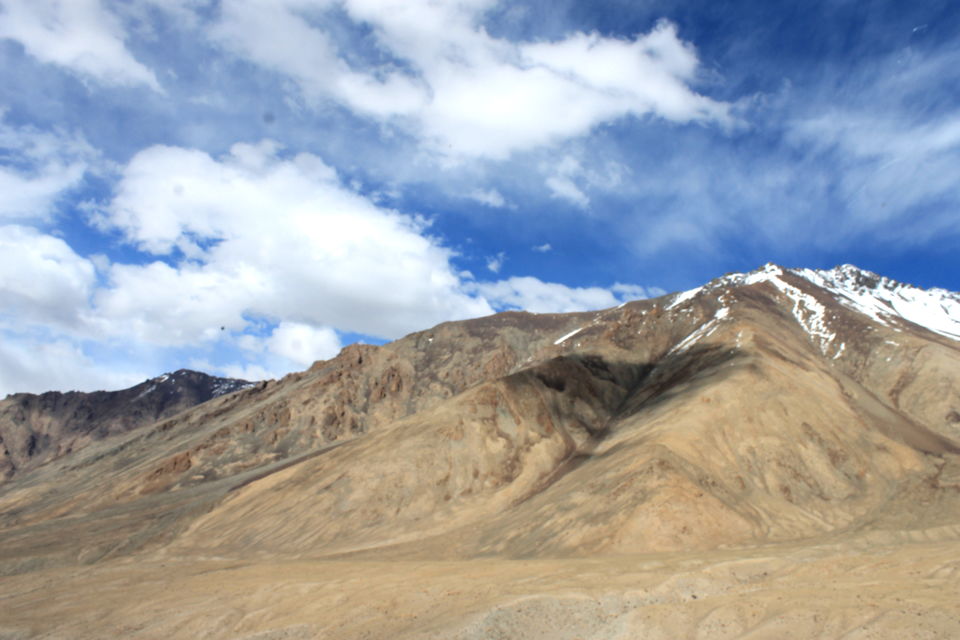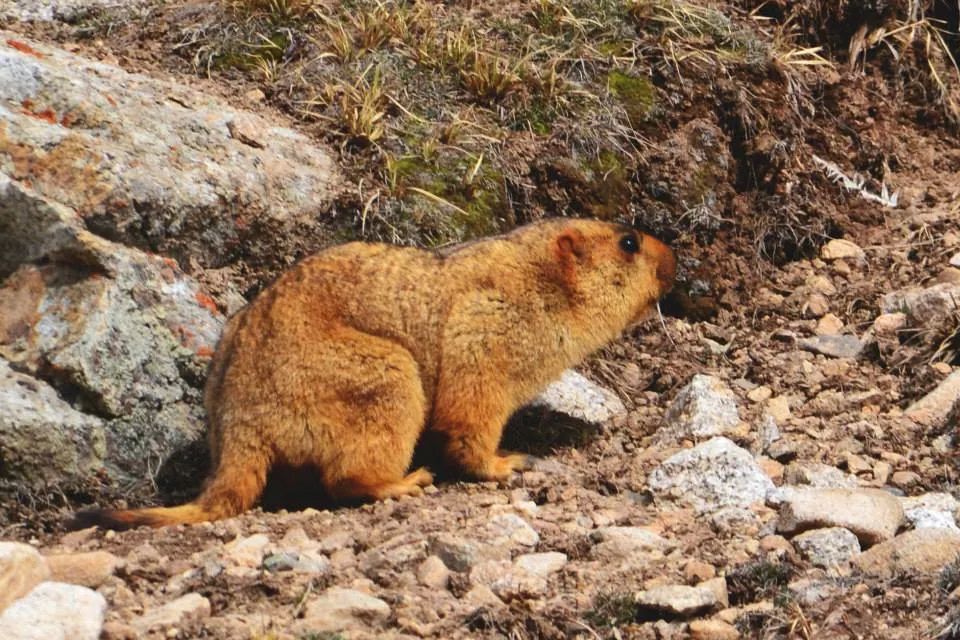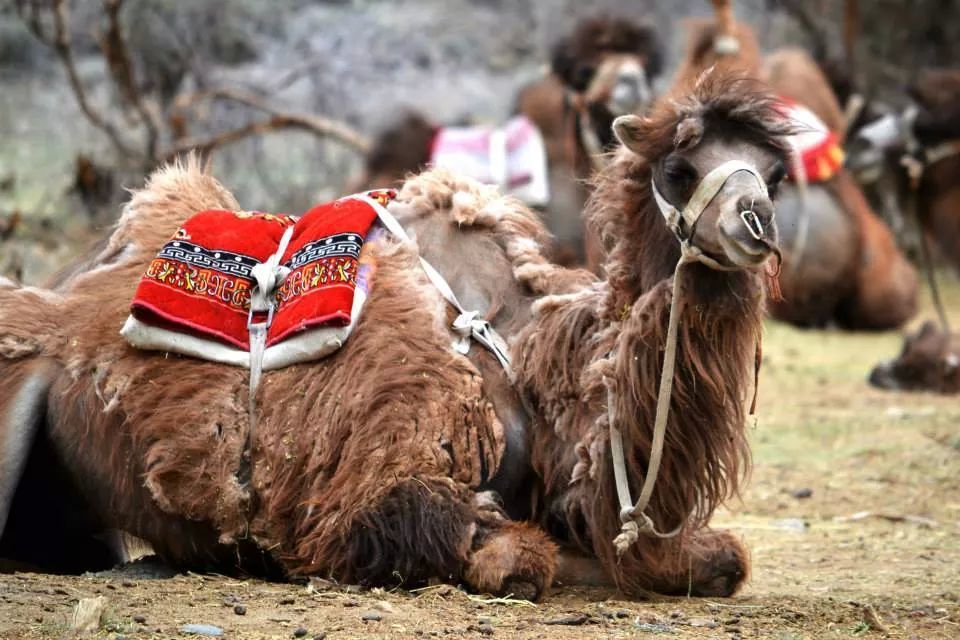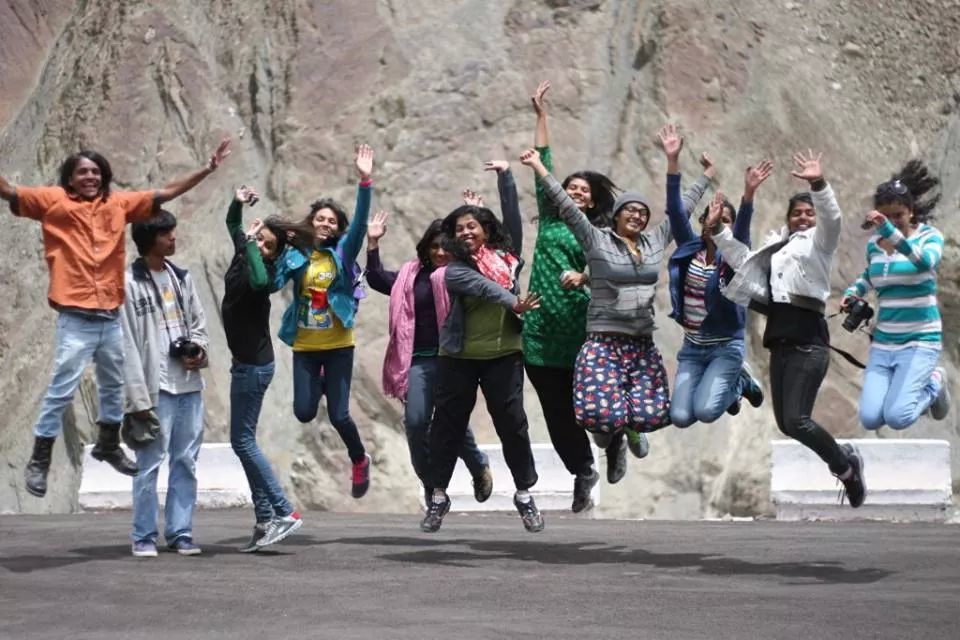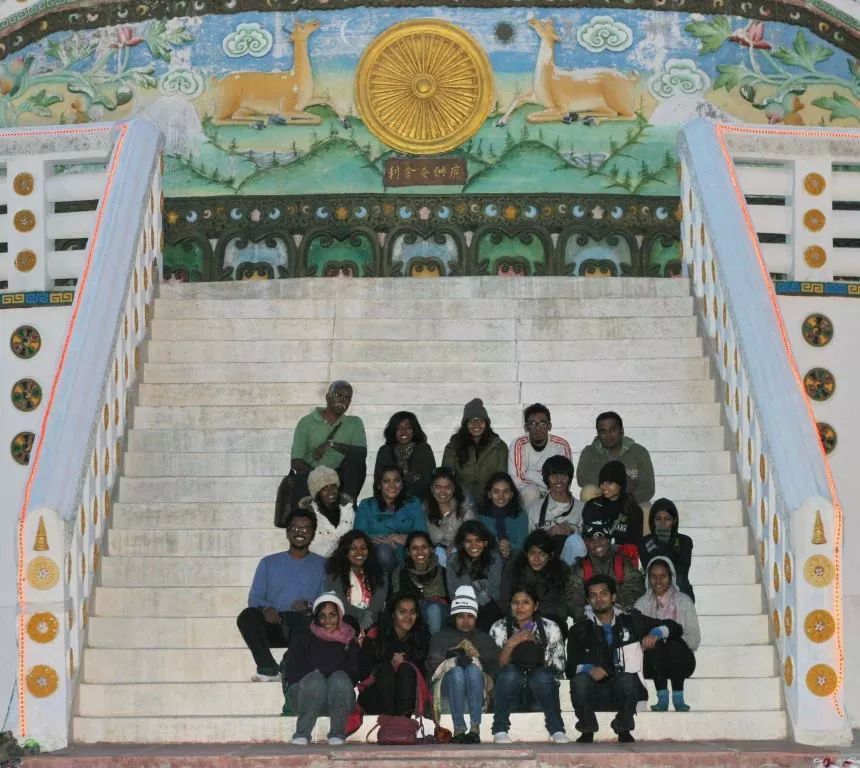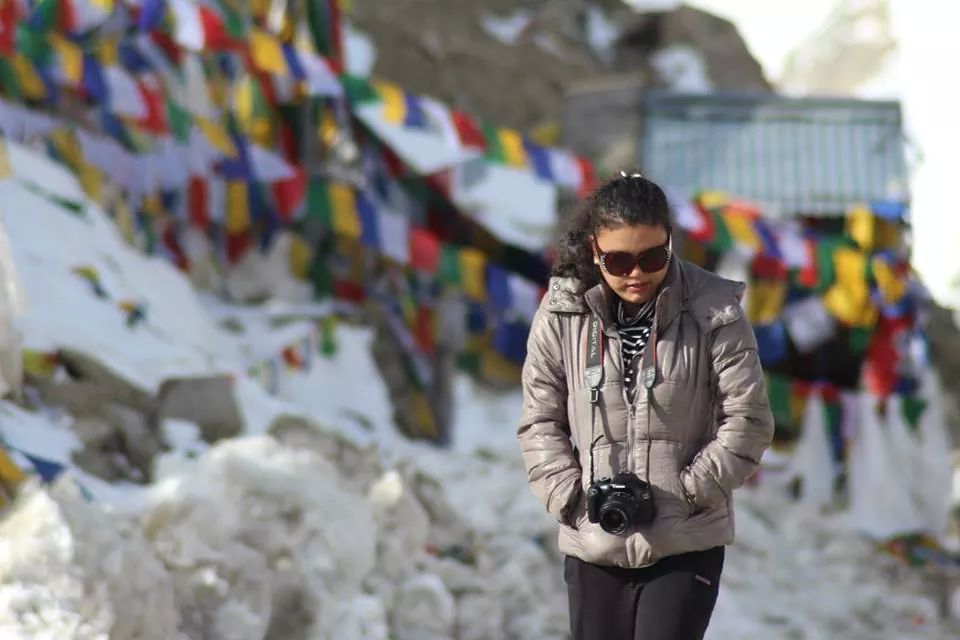 It was a 3 day stay at Leh; the plan for the first day was to visit Alchi, a Buddhist monastery; Basgo, the remains of a fort at the old capital of Ladakh and climb Shanti Stupa in the evening. We decided and were excited to complete climbing those 585 steps at 11,000 feet.
We had arranged cars to travel within the city as well. Our driver was a Ladakhi and his name was Tachi. He taught us some words in Ladakhi; 'Juley' meant Hi/ Hello. The landscapes were amazing. There were barren mountains, barren land; not a tree on them. We stopped to see Petrogyphs on the way, at the confluence of Zanskar and Indus and pass the Magnetic Hill too.
Once we visited Alchi, saw the paintings around; ofcourse it interested many who were interested in art, not me :/. I was more interested in shopping at the stalls that were outside the monastery. We spent some time at the banks of the Indus river. Anushi Ma'am and me sneaked out from there to shop at the stalls. The handmade books were cute and I bought one of them along with prayer flags.
We sat in our cars to travel to Basgo. It was nothing great :P. Some of us even wondered why did we go there. All throughout our journey I noticed the pollution let out by the cars there. Do they ever conduct a pollution check? Apart from that, the sky looked beautiful; it was bright blue. My pictures mostly had a subject with the blue sky in the background. We returned to the hotel for lunch, took a half an hour break and left at 4 pm to the Leh castle; it was more like a museum; did not interest most of us :P. But, we clicked so many selfies :D. We headed to go to Shantistupa, but, on the way, we stopped at the Zoravar Singh memorial. Another not so interesting place :/.
So it was at 6-6.30 pm that we reached Shantistupa. The wind blew and we started freezing. 585 steps and we did it! Ofcourse, with many halts and those dance moves (Oh Baby Doll main sone di!). It was beautiful at the top, so calm, so peaceful. The sun rays chose to fall only on certain areas of the mountains around us creating contrasting shades; and to top it all, it was the setting sun. Such shades could be seen only here in Ladakh! It was picture- perfect. We clicked so many pictures. We drove down Stantistupa because it was cold, reached the hotel, took some rest, ate dinner. We laughed so much We needed to get up at 4 am to leave for Nubra valley the next day. 
We woke up by 4.30 am, had a cold bath as I was never was fortunate enough to have the privilege of even a drop of warm water fall on me; 5.30 am breakfast and left for Nubra valley at 6 am. In order to reach Nubra valley, we had to cross the Khardung-la, the 3rd highest motorable road in the world. It took us very long to reach there. The place looked so barren, so dry. This time I sat on the front seat. I did not find the landscapes great, apart from the blue sky that managed to amaze me every single moment. As we approached the pass, it got cold; ears started getting blocked, but, the sweets that our driver got for us kept us busy all throughout the way. The curvy roads, those bumps; we could be victims of motion sickness easily. As we reached closer, there was snow all over, like a plain sheet covering every corner of the mountains; the soft snow in which if you put your leg, it would bury it. 
Khardung – la ('La' means pass in Ladakhi) was at a height of about 18,000 feet above sea level. Once we reached the top, the breeze blew like it wanted to push us off; we shivered and clicked many pictures, until it was unbearable and forced us to move to the car where the heater was on. On the way down, a friend fainted due to altitude sickness (we had all taken DIAMOX before we started our journey to Khardung- la). Well, the smell of camphor and sweets to chew brought her back to normal. The mountains on the way looked unrealistic; so tall, so huge. Not that I was fascinated with them. The bright blue sky managed to amuse me more. The mountains played the roles of very good subjects against the blue sky. Together, they looked beautiful.
We reached Diskit and visited a monastery where they followed a combination of Tantrik Buddhism and Bonism. They worshipped an idol that appeared similar to Kalimata; they called her that too. There was a skull placed there too. Every monastery had a pole covered with prayer flags and the Yak's tail tied at the top. It played a beautiful subject against the sky. We visited a 10 feet tall Buddha too. We learnt so much more about Buddhism.
Later, we reached Hunder, the desert; saw the two-humped camel and they were ugly :P. They began to shed their hair as summer had just begun. While the rest took a walk in the desert, I walked the opposite side and sat by the bridge that was built over a stream that flowed through the desert. We clicked pictures; of sand dunes, on sand dunes, the valley. The mountains looked tall, but, dry. But, the sky made up for it all.
We had lunch and left Nubra by 2.30 pm. I had an Avomine (motion sickness) tablet and slept. On the way, we stopped to pee behind the rocks (there are no sanitation facilities); and again at Khardung – la. I slept the entire way and fell sick as soon as we reached the hotel. We just had a 15 minute break. We went to the Moravian church cemetery and then to the Moravian church where a priest explained to us about the origin of Moravian Christians.
Today, we saw mammoths on the way, a hare, some birds too. And on our way back to Leh, we experienced our first snowfall at the pass. 
We had Chinese for dinner, spoke so much, gossiped, had a hot bath finally and slept thanking God for bringing us to such a beautiful abode.