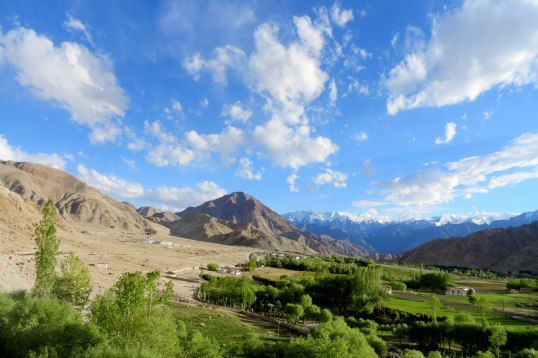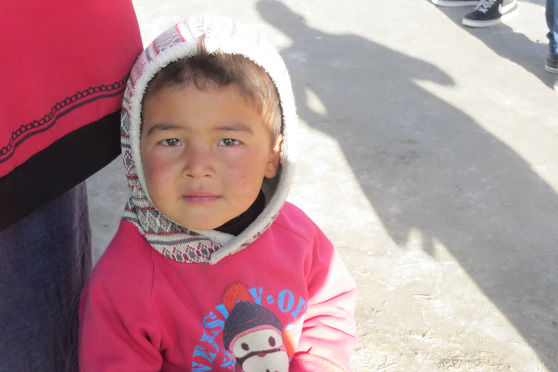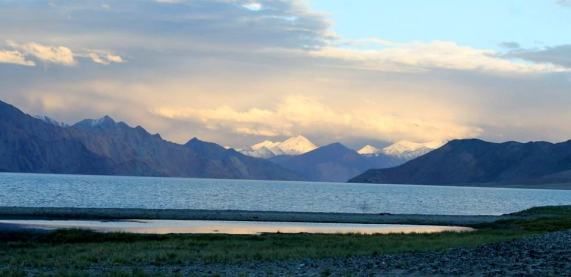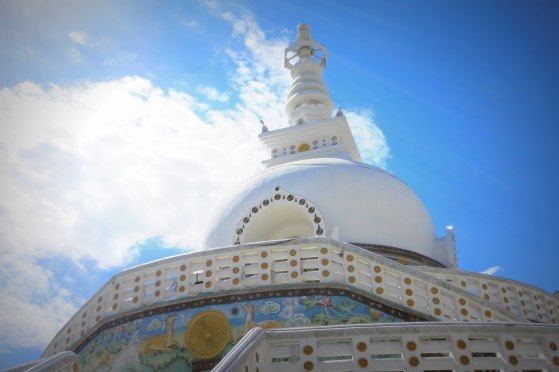 One would imagine that Leh, the hottest holiday destination of the country this season, would be teeming with excited tourists. You would have to get past a lot of pushing and shoving to get a glimpse of the 'must-sees' of the place.
Strangely, Leh in the Ladakh region of Jammu and Kashmir reveals a very different picture; the picturesque little town, cocooned amid the hills, is drowned in calmness. You can savour every little moment and enjoy your holiday in the true sense of the word.
Leh, you realize, is not just a destination; it's an experience.
Boarding an early morning flight sounded pretty boring, but today I am more than awake at 2.00 am waiting for my alarm clock to ring. Its 23rd june 2015 and I am en-route to the dream destination of many 'Leh- Ladakh'. I have fancied this idea for quite sometime and here I am all set with 2 pairs of jacket, goggles, sun screen, scarfs, a roll of cotton to plug  in my ears and loads of essentials as recommended by experienced relatives.
The flight from Mumbai to Leh halted at Delhi and soon proceeded its onward course to Leh slowly and steadily beating the heavy winds. We thus climbed the altitude of many 1000s of feet soon leaving behind the familiar temperatures and weather conditions. The hill tops seemed sprinkled with white dust unevenly, much like what results from the pranks of a little boy. Very many peaks of the mighty Himalayas appeared just a breath away, all beautifully snow clad. Finally as the pilot announced our arrival at Leh, I couldn't help but grin from ear to ear at the otherwise suave crowd around. As we stepped out, the only sight around was endless stretch of mountains flaunting their snow-clad blankets glistening in the morning sun.
This little town of Leh is adorned with remnants of Buddhism as you take a walk through the main streets. The market place and the street corners, all give way to a set of Buddhist Prayer wheels which u can just push gently and let the prayer rolls inside invoke the almighty.  The people whether the sweet meat vendors or the Tibetan handicraft sellers are so amiable and warm as against the spine chilling cold Ladakh. 'Julley' was how they said Hello, Bye, often times Okay and its the kind of unique identity of a Ladakhi. Another common sight is that of Monasteries with their beautiful aesthetics, seen at every village and every settlement in the region wherein the religious leaders preached and enlightened the community. Its Buddhism I guess which has made people so warm and unselfish. All my 7 days there I never heard a ladakhi soul uttering forget a Bad Word, not even a sigh of irritation. They can be synonyms for Happy Face.
While travelling to Pangong Tso (Tso, as they call it, means a lake)  on day 2 I faced that strange helplessness that happens when our body reacts to abrupt change in altitude. Beginning with a mild headache, it aggravated to nausea and sometimes leading to break down of sensations during the journey. And after twists and turns we almost reached a level ground soon to be followed by the magnificent sight ofthe stretch of blue waters which helped me almost instantly forget what I just went through to reach there. Day 3 We visited the hemis monastery during the The Hemis festival which is one of the biggest and the most famous religious festivals of Ladakh and is an attraction for both the tourist and the local people.
On 4th day we left for nubra valley. The Nubra valley, at a distance of 150 km from Leh, is again a must-visit. Famous for being a cold desert, when there, a ride on the double humped camel, also called the Bactrian camel, is worth experiencing. Driving on one of the  highest motorable road at Khardung La, at an altitude of more than 18,000 feet, is again a must-do.
Day 7 A visit to Shanti Stupa was my last rendezvous with Lord Buddha. The Stupa which overlooked the town of Leh almost symbolically expressed the influence of this prince turned spiritual leader over each and every nuance of a Ladakhi.
At one glance Ladakh appears to be a complete desert but you definitely cannot help but notice the very many colours of Indus as she climbs down the valley or winds through them during her course; the hues that change at the Pangong Tso; the wild ass  which gets often camouflaged in the landscape and the marmots which peep out of its comfort zones to excite the travelers. Leh Ladakh has more than what meets the eye and all that I can wish you is 'Do visit Leh, but with all necessary preparations in place'.
This travelogue was first published by Shreya more.