The Maldives conjure up images of pristine beaches, reef-ringed atolls, and luxurious bungalows on the water, where lucky guests can observe fish through glass floors and jump into the sea from their deck.
This island nation has always been on my "bucket list"
Especially, since there's now a budget travel scene in the country.
In 2009, the Maldivian government allowed locals to open their own guesthouses and restaurants to tourists. Whereas before travelers were limited to the resort islands, now they can visit and stay on any local island they choose to. Suddenly, home-stays, hotels, and guesthouses have started popping up everywhere!
I decided to spend four days in a resort and fifth days on the "real" islands.
I landed at the Conrad Maldives Rangali Island , 90 km south of the capital, Malé. Like all resorts, the hotel is on its own private island that boasts beach bungalows, their own restaurant, bar, spa, and operated tours. (And, like most resorts here, meals and drinks are included in the cost of the room.) Conrad is on the lower end of the price spectrum, costing $300USD per night (honors discount for members), which, while not super budget, is a lot cheaper than other resorts like the Park Hyatt ($940 USD per night), the Taj ($945 USD per night), Komandoo Maldive Island Resort ($650 USD per night), the W ($1,288 USD), the Four-Seasons ($1,600 USD), or the St. Regis ($2,000 USD a night).
The staff was super friendly, they knew how to make a good drink, and there was always food around. Meals were buffet style in atol market Restaurant. But there are other 11 world-class restaurants and bars serve an assortment of international, Mediterranean and grilled dishes. Over 600 bottles of premium wine can be enjoyed at The Wine Cellar. Of all the best restaurant would be the ITHAA which means mother-of-pearl in Dhivehi, is an undersea restaurant located 5 metres below sea level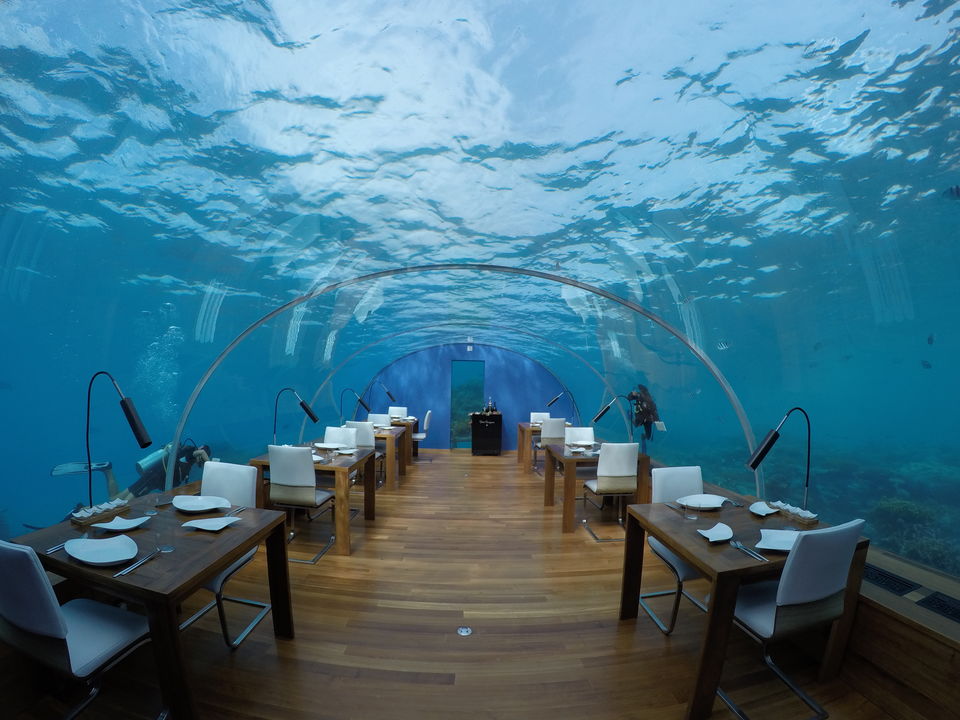 Taking advantage of some of the hotel's tours, we went dolphin watching (so many dolphins!),turtle Safari,snorkeling with whale shark, snorkeled each day, and visited a couple of the nearby islands.
Travel Tips for the Maldives
While the Maldives don't have to break your budget, it's important to know a few things before you go – or you'll make some costly mistakes:
Ferries require planning (and don't always come) – The Maldives' atolls are served by a series of ferries from Malé. They run on opposite days ,rarely on Friday (it being the Muslim sabbath). You can jump from Malé to an atoll's capital island then to smaller, nearby islands in the chain. The ferry is only $2-5 USD depending on distance.
But they don't always show up. They only travel once a day (in the morning — don't oversleep), so if one doesn't come, you'll have to fork over money for a speedboat ($25 USD, or $160 USD to rent an entire one) or wait for the next day's departure.
When you are visiting the Maldives, research the ferries beforehand so you know when and where you can go next. Island hopping is very difficult without planning. I messed up by not looking at the ferry system before I arrived.
Inter island ferry schedules can be looked up http://www.atolltransfer.com/
Speedboats are your friend – From Malé, you can take speedboats to a few of the nearby capital islands of surrounding atolls. They cost $25-30 USD but also leave infrequently, usually once a day (Maafushi is the only island I found with multiple speedboat departures).
There is no alcohol – As the Maldives is a Muslim country, you can't get alcohol anywhere in the country, except on the resort islands which have a special exemption
Flying is not cheap – Flying is incredibly expensive here. Flights from Malé to surrounding atolls can cost up to $350 USD each way. Skip this.
but if you are booked in south atoll then the only way to the resort is by sea plane as speed boat are more expensive.
Take lots of USD – Though the Maldives has its own currency, US dollars are widely accepted, and you often get a better price if you pay in USD. This varies from one restaurant or shop to another, so I carried both currencies with me and paid in whatever currency had a lower price. (Though you're talking the difference of 50 cents, every penny counts!)
Moreover, Maldivian ATMs charge 100 MVR ($6.50 USD) per withdrawal. Taking cash or making one large withdrawal eliminates or reduces those fees (and so does having a bank that reimburses those fees).
And don't worry – the Maldives is very safe. No one is going to steal all that cash. I never once felt uneasy about having lots of money on me.
Is it good for solo travelers?
Yes, if you just want to read, relax on the beach, and focus on you.
While you'll see a lot of travelers in Malé heading to dive boats or bouncing from island to island, it's all friends, couples, and families. Despite the cheap cost of travel, the Maldives is still not on the solo traveler radar.
Yes, the Maldives is surprisingly cheap (except airfare). Though they import a lot of goods, if you stick to local ferries, guesthouses, and local food (fish, rice, curry), you can get by for $50-70 USD a day ($60-70 USD per day if you are solo, closer to $50 USD if you are splitting the cost of a room). Since there's no alcohol on the islands, you don't have to worry about drinking away your budget. Here are some typical costs:
• Single room in a local guesthouse: $40 USD per night
• Public ferry: $2-5 USD per ride
• Airport ferry to Malé: $2USD
• Speedboats: $25-30 USD per ride
• Tea at local cafés: $0.33 USD
• Snorkel trips: $20-30 USD
• Diving for whale sharks: $100 USD
• Meals: $7-10 USD each
• Buffet dinners: $10- 15 USD each
• Sandwich on Male: $4-5 USD
• Bottle of water: $0.40-0.80 USD