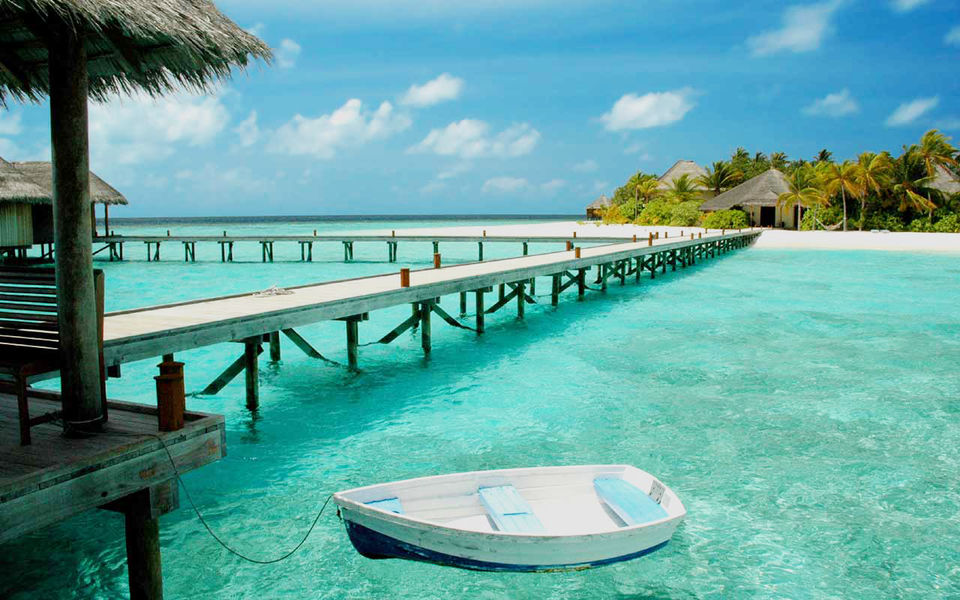 White sand beaches, swaying palm trees, crystal clear waters and waves of fun rolling over your feet – Welcome to the oh-so-beautiful islands of the Maldives. This is one country where you can spend days and days doing absolutely nothing, yet soaking in the wonders of nature, enjoying a relaxed pace of life and feeling rejuvenated with every experience you indulge in.
Here's a detailed itinerary with recommendations on the best things to do in the Maldives, activities, resorts, meals and more.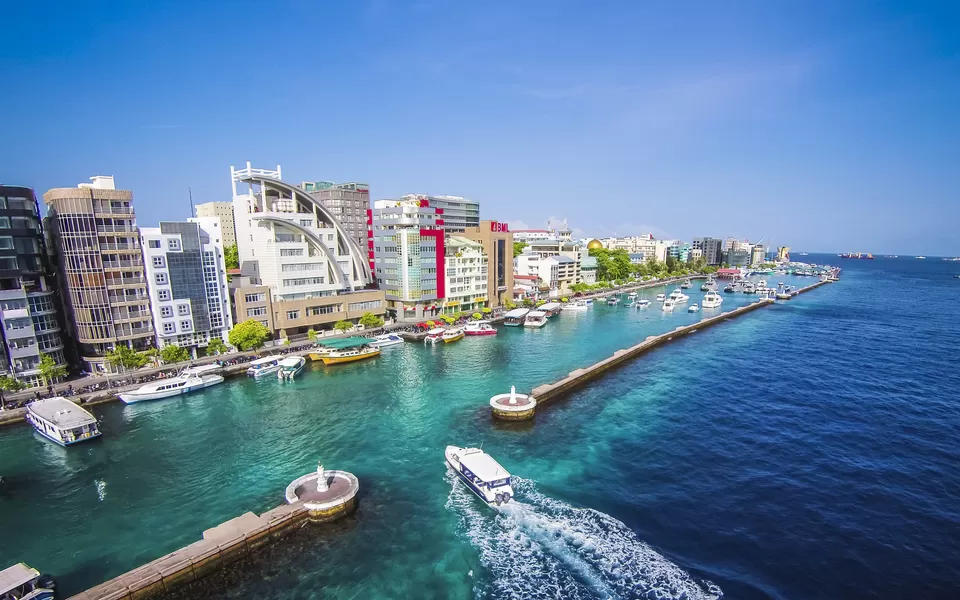 As soon as you land in Malé, the capital of Maldives, you will be welcomed by vibrant streets, colourful buildings and many beautiful mosques. The ride to your resort will surely be a memorable one. Relax at your resort in the evening and get set for the many adventures and fun-filled moments planned for you in the next two weeks.
Start your day early with a nice tropical breakfast and make a beeline for Malé Hukuru Miskiy, or Malé Friday Mosque. Being the oldest, largest and most ornate mosque in the country, it has over the years become a symbol for the same.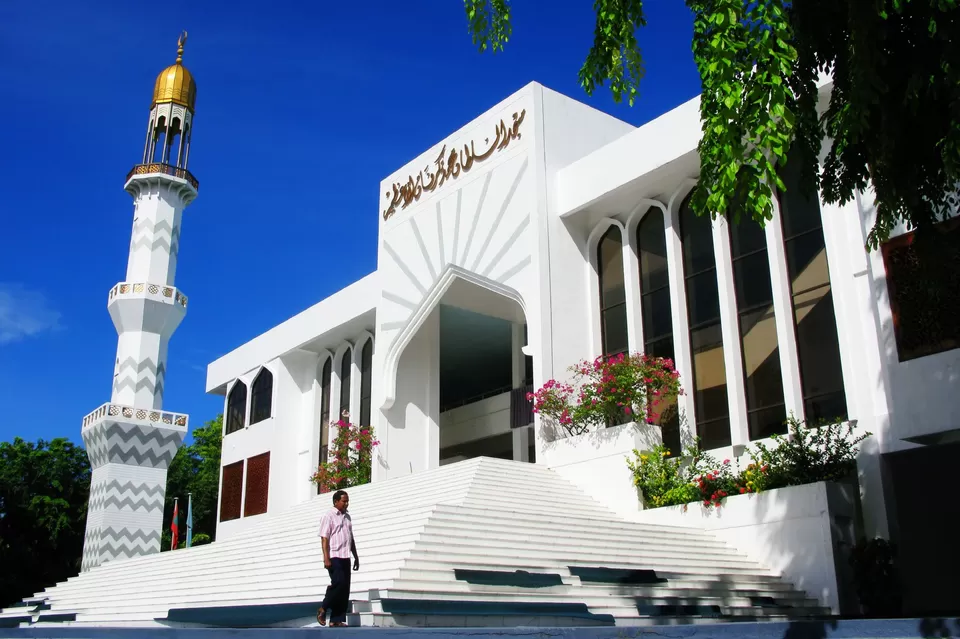 Next, visit the National Museum, home to many valuable archives, and the architectural marvel of the Islamic Centre.
Also spend some moments praying for the Tsunami victims as you visit the Tsunami Monument in Malé.
For dinner, head to the basic Newport restaurant or the extravagant Seagull Café House for international cuisine. Dawn Café is where you can enjoy local Maldivian delicacies. For your Indian food fix, head to Bombay Darbar.
Early in the morning, a speedboat from Velana International Airport will take you to Furanafushi, the first of the Maldives islands you will visit on your trip. Most resorts offer this speedboat facility, so make sure to check with yours while booking your stay. Sheraton Maldives Full Moon Resort & Spa is among the most luxurious all-inclusive resorts in Furanafushi.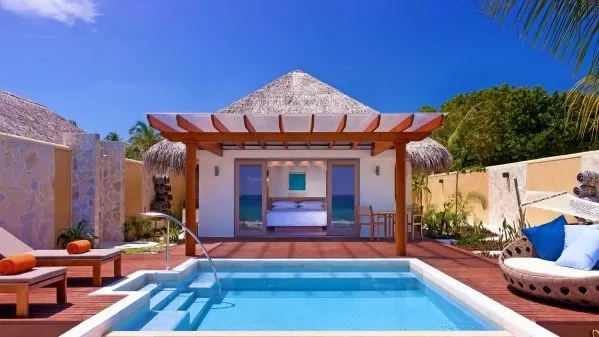 Take a refreshing dip in the hotel's very own freshwater pool and rejuvenate your senses as you head to Shine Spa for a massage.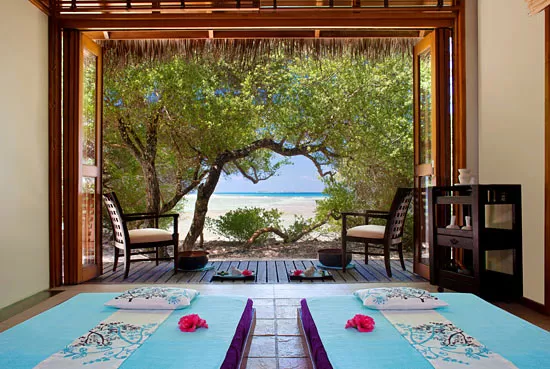 End your day with a lavish meal at the in-house dining options Sea Salt, Sand Coast or the Anchorage Bar, all overlooking the pristine beach.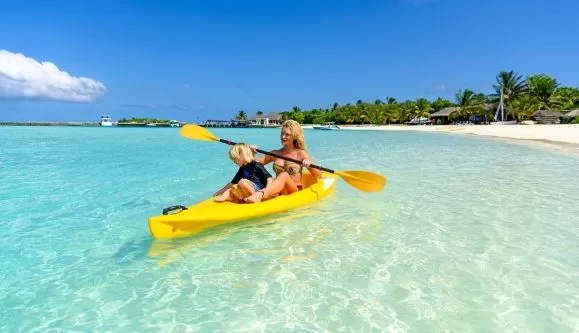 Get set for a whole lot of beach fun as the resort offers direct access to the beautiful beach and lagoon. These two days will be all about relaxation, sun bathing, water sports, exploring marine life, building sand castles and more.
Ask at the reception for a diving experience at one of the stunning 40 dive sites located very close to Sheraton Maldives Full Moon Resort & Spa. If you're an amateur, pick from one of the diving courses organized by Extreme Maldives.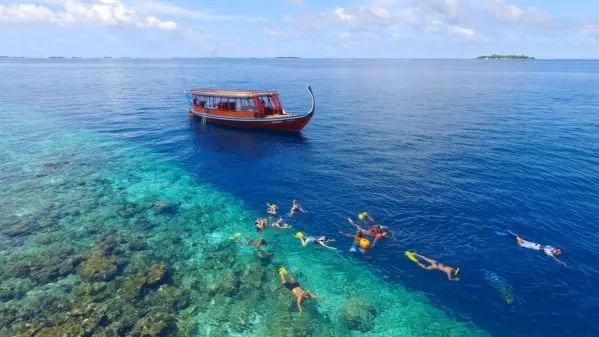 Other water sports at the resort's beach include parasailing, wind surfing, banana boat and canoe rides, snorkelling, catamaran sailing, wakeboarding, kneeboarding, jet skiing and wave surfing.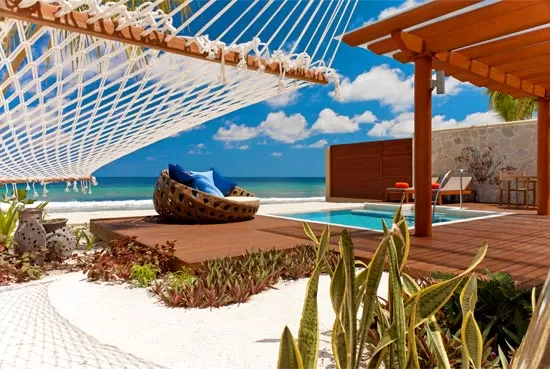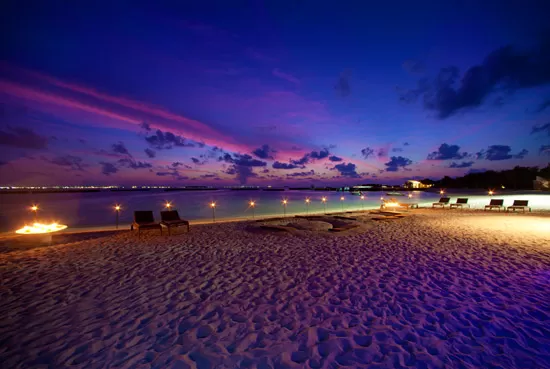 While you indulge in various adventurous activities, spend a morning or two at the beach simply watching the sunrise and lounging on the hammocks, admiring the beauty of the turquoise waters.
Your next destination is the island of Maafushi, which boasts of four beaches namely Public Beach, Bikini Beach, Water Sports Beach and Coral Beach. While the names are self-explanatory, here's a quick look at what you can do here.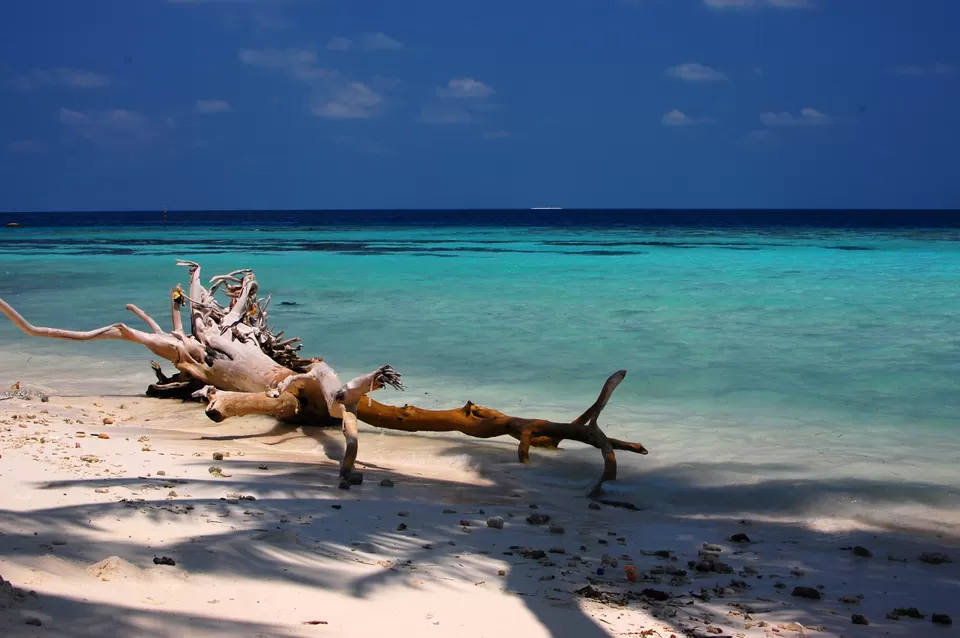 Visitors must dress up conservatively on all beaches on this island, except for Bikini beach where skimpy swimwear is allowed. Bikini Beach is where you can enjoy mesmerising sunsets, the swaying of the palm trees and chilled coconut water as you sunbathe. Water sports beach is your go-to place for some adrenaline pumping fun.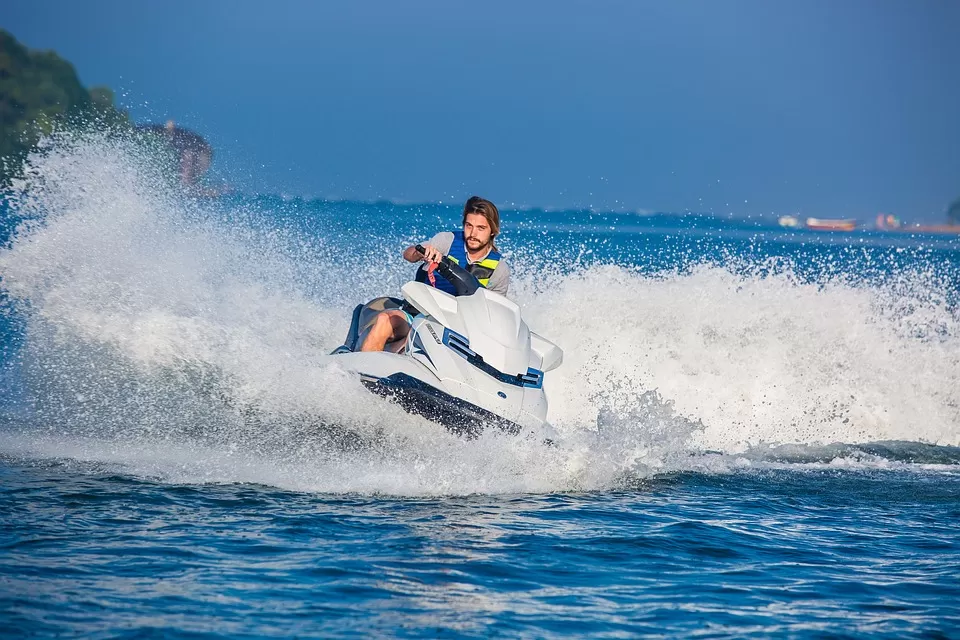 For meals, head to Summer Kitchen & Bakery, serving delicious Maldivian and Chinese food, Pizza & Pasta Mamma Mia or Stingray Café, an al fresco restaurant must visit for its seafood specialities.
In the morning of your eighth day in the Maldives, take a ferry to Fulidhoo Island in Vaavu Atoll. The ride is a beautiful one with dolphin sightings if you're lucky. Among the smallest Maldivian islands accessible to public, Fulidhoo is unlike any other island. The typical water bungalows, infinity pools, overwater spas et al can't be found here. Instead, here you can experience the calmness of a stroll on the beach, the serenity of a quiet island inhabited by very few people, the warmth of staying at a guesthouse with locals and other such simple pleasures of life.
Reserve this day for bucket list worthy adventures at the beach as Fulidhoo Island has some of the best diving spots.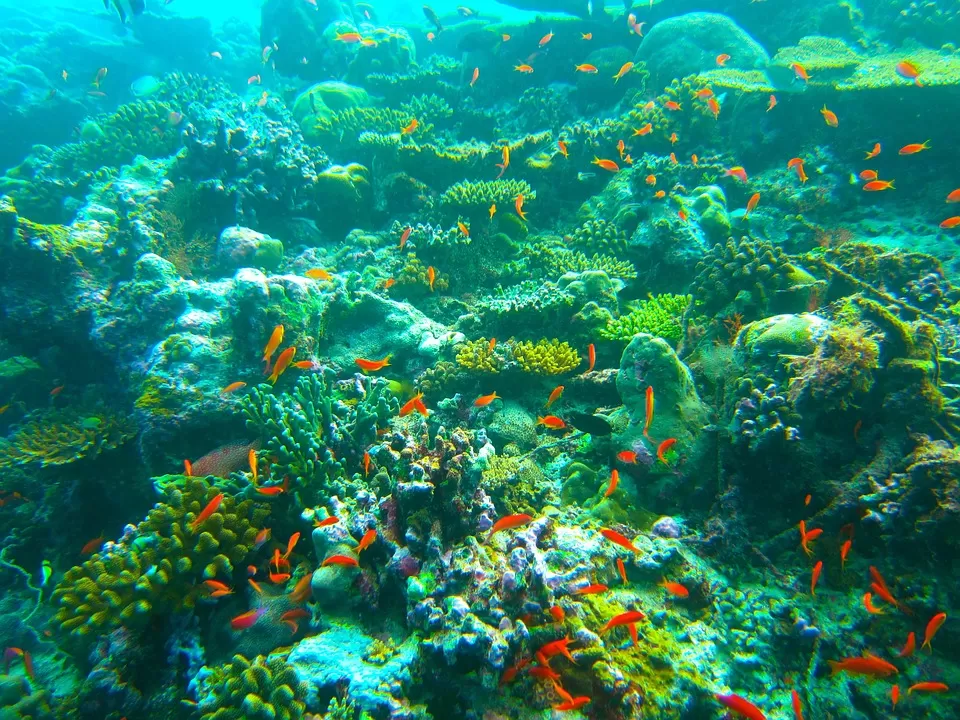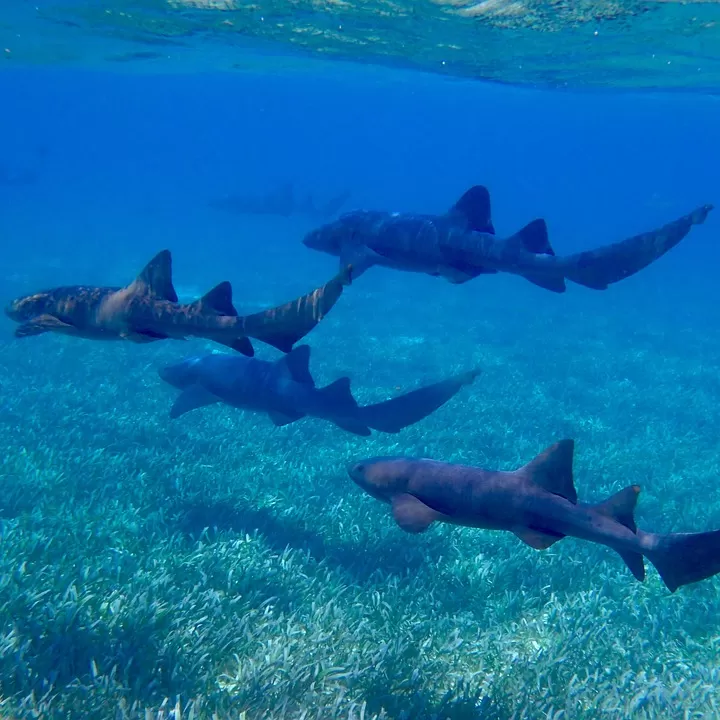 This is because it is less crowded (you'll often be the only ones diving there) and because Vaavu Atoll boasts of Alimatha House Reef dive site, popular for nurse sharks, stingrays and more. It is also among the few diving sights that offer good sightings throughout the year.
As they say, always save the best for the last. Your last few days in the Maldives will be all about a luxe living, relaxation, exotic experiences and everything glamorous. This is what Conrad Maldives Rangali Island is all about. No trip to Maldives is complete without staying at the resort, twice voted Best Hotel in the World.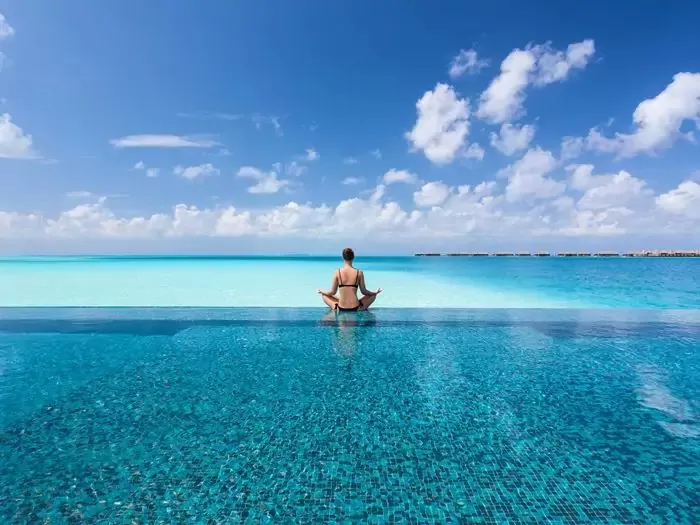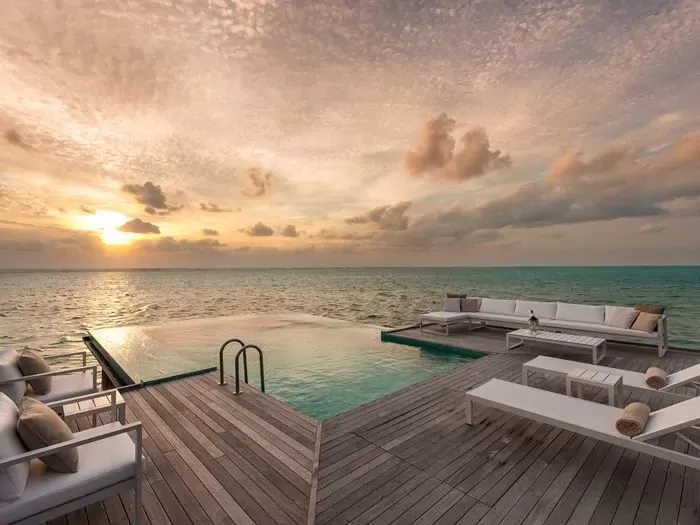 Spend the last 4 days of your trip walking through secret gardens that you've read about in books, stunning plunge pools, private beaches, lots of natural beauty and the most exceptional dining experience underwater.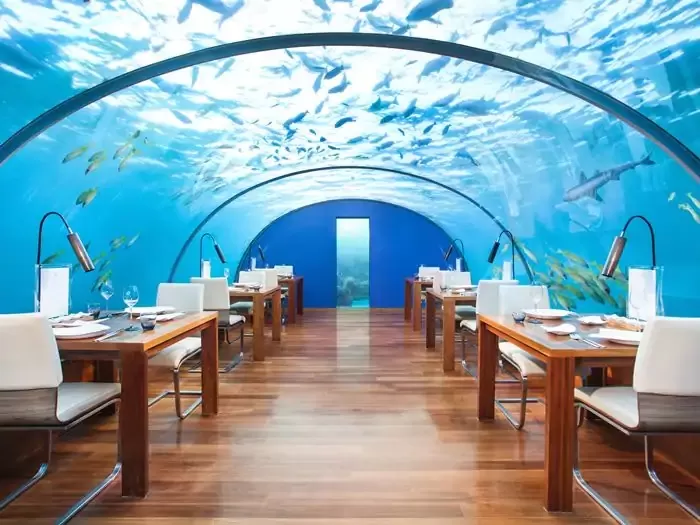 Don't forget to reserve a slot for dinner at the world's first undersea restaurant, Ithaa. Indulge in local flavours as you enjoy views of the coral garden and explore exquisite marine life in the Indian Ocean.
There are countless water sports to keep you busy at the resort. Even a day will not be enough to try out the various activities, such as catamaran sailing, kayaking, jet skiing, water skiing, paddle boarding, wind surfing and wake boarding.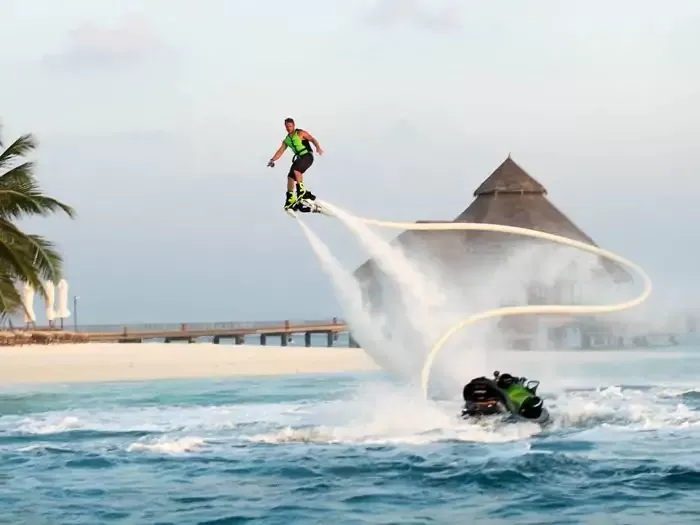 The less adventurous folks can head for the glass-bottom boat ride, which offers many fun-filled moments and photo opportunities. The resort also offers unique activities like snorkelling with whale sharks and manta ray watching from the bridge between their two islands.
You can also register for a small diving course fit for amateurs and make the most of your third day at this island. You can opt for a certificate course while the kids in the family can try out bubblemaking diving! Isn't that so exciting?
And the list doesn't end! A therapeutic massage at the overwater spa at Conrad Maldives Rangali Island will be the cherry on the cake and the perfect way to end this uber luxurious holiday. So, are you ready for all the pampering?