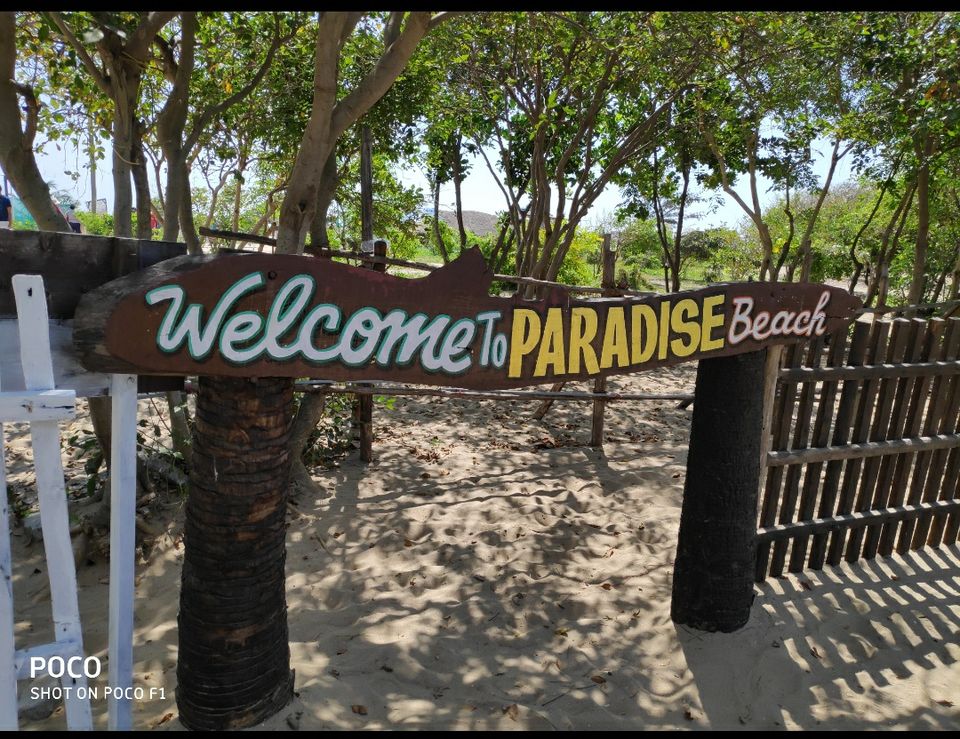 It is located 8 Kms from Pondycherry Main Bus Stand. Reachable by bus if one is lucky and knows the topography well. The beach is located on Cudallore Main Road and is accessible by Town buses. If not can reach by Autos, when we took an auto we paid 220 INR each for To and Fro. There is also an option to hire a two wheeler by getting in touch with Hotel where one is staying. The beach is open from 9AM to 5PM so it's good to plan accordingly.
Along the long coast line there seems to be numerous spots. But this one is heavenly! Should walk few meters from road to get tickets for boat ride to reach the Paradise! Literally! The boat ride hardly takes 15-20 minutes. But is one of the pleasing rides one can enjoy in life. Surrounded by greenery on one side, sky on top, water lashing the boat below and bridge on the other side, takes away all pressure instantly!
As the boat hits the island land, pure sand beneath welcomes one! One could feel happiness filling heart! A board made of wood, "Welcome to Paradise Beach" welcomes the visitors. If people had watched Madagascar movie can relate to the place. It is more like Madagascar shore sans BGM. On the left there is Rain Dance. People thoroughly enjoy dancing and playing in shower. It's best way to enjoy with children, friends.
There are huts here and there of varied sizes with seating arrangements to chit chat. And could spot restos mostly Non Vegetarian shops. The vast expanse of land is ideal to play beach volley and for children to play with beach sand building sand castles.
When we reached it was 11.45 AM and even at 12 Noon it was too good. A different combination of Sun Light and Sea Breeze. It wasn't very hot. It was a enjoyable even during that time! We spent nearly 2 hours in the beach staring at the vast expanse till the horizon, writing names with toes, playing running race with waves, observing how babies enjoy playing in beach, collecting sea shells.
We returned with wet bare foot carrying shoes after playing in water and felt no heat of the shore sand. As we boarded boat again we carried lot of inexplicable but elated memories. As water lashed boat sides, happiness brimmed heart to the fullest. Real Paradise it is! After days memories are still fresh and refreshing!
In short, A must visit place in Pondycherry!