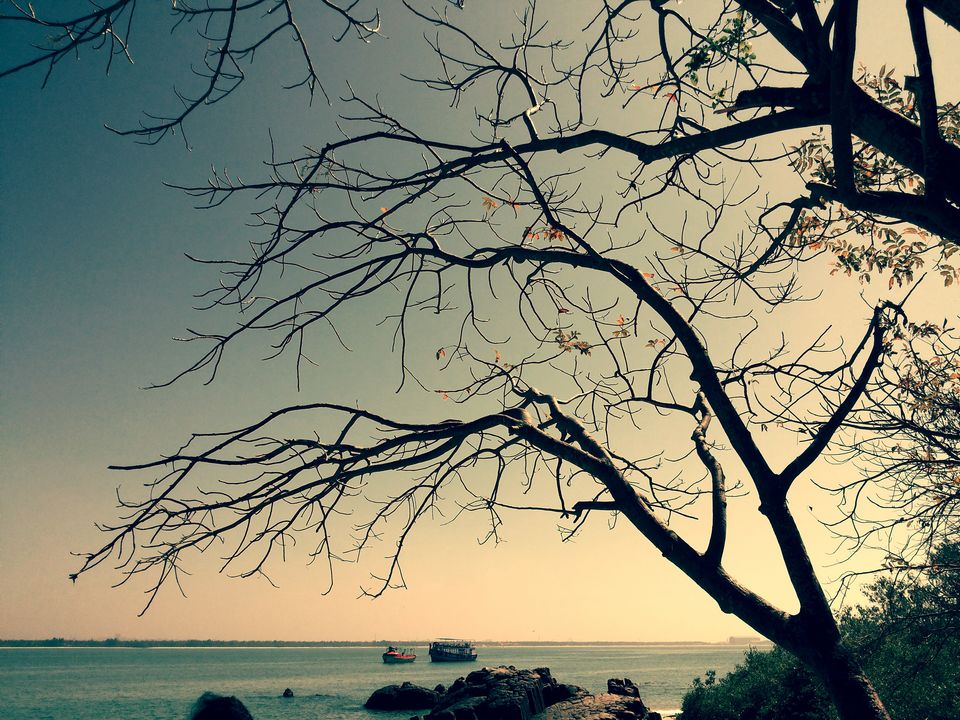 If you love spices and history, 1948 is a year you ought not to forget. For it was in this year that a Vidigueiran Count from Portugal set foot on Indian soil, ushering a new dawn in our history that was both virulent and liberating at the same time.
Legend has it that Calicut was surprisingly Vasco da Gama's second and not first stop on the subcontinent; a small island quartet off the coast of Malpe beat God's Own Country to this distinction.
Mr. da Gama isn't the islands' only claim to fame. The quartet - known as 'Ihlas de Santa Maria' in Portuguese - was about 88 million years ago a part of Madagascar, until a natural rifting played truant, causing huge chunks of the island nation to disintegrate and float towards the Indian Ocean.
The best way to reach the islands is through the temple town of Udupi; from there, catch a private bus to Malpe. You do find auto rickshaws and taxis but try avoiding them unless you want to pay a premium (Rs. 200-300 for a 10 minute ride). Buses are frequent and their fare remains evenly minimal (Rs. 10-15 per person).
Once you reach Malpe, head to the harbor. Don't forget to pause and indulge in the eye-catching view of the bay area that abounds in sea-faring vessels of all sizes and colors.
Boat ogling done, walk towards the ship building yard; that's where the islands' ferries dock.
A trip to the main island lasts for 30 minutes, costing you anywhere between Rs 100 and Rs 150. The ticket is valid both ways, so tuck it in someplace safe. Also none of the boats ply unless they have a minimum of 30 passengers.
Make sure you start before 10am and reach back by 1pm. Noon tide brings its own set of problems often in the form of a blazing sun and infrequent boat service during the lunch hour.
The islands are at best far flung and scattered. The second most prominent island after St. Mary's would definitely be Daria-Bahadurgad which boasts of a fort built by a Bidanur chieftan named Basavappa Naik. The rest of the quartet is generally inaccessible – unless you own your own boat!
A few things to remember since you'll be afloat for more than 30 minutes: Carry a sunscreen lotion, bottled water, and eatables as nothing is available on the main island. Please ensure you don't litter the place. Eco-diversity is fragile and your actions or inactions can go a long way in impacting our surroundings.
The best time to visit the islands is between November and January; the weather is lot more pleasant and less humid. Avoid going there during the monsoons unless you are eager to be stranded on an island with no shelter whatsoever.
The ferry/boat ride was by itself a fun experience; the one me and my friend Arron boarded was full of peppy school kids singing and swinging to the latest tunes on the regional circuit, a few newlyweds, a couple of elderly folk, and three wannabe ornithologists who kept clicking their DSLRs at every two winged creature that crossed their path.
The ocean was by itself a study in deep blue and green; we noticed several schools of fish swimming close to the hull, while gulls perched lazily on perpendicular Madagascan rocks dotting the seascape. The sun too played its part in mesmerizing us likewise, its rays lapping each wave that jutted our boat to and fro.
A bigger surprise awaited us as we drifted close to the shore. Shallow water makes it impossible to dock onshore and hence you have to wade through the final few yards to access the island. I still believe it was the elderly folk - and not the school kids - who enjoyed this part of the journey to the hilt!
St. Mary's Islands - which also goes by the monikers of Thonsepar and Coconut Island – is a geologist's dream come true. Distinctive geological formation of columnar basaltic lava and a wide array of coconut palm trees encompass the entire island, making it a must-visit for the film fraternity down South. There was of course a Kannada film song sequence being shot on the rocks when we alighted at the island – full paisa vasool to say the least!
The islands' geology is what leaves you spellbound from the first foot forward. Known for its volcanic past, the area is a delightful exhibition of imposing hexagonal shaped columns split on the very basis of a horizontal mosaic.
And that's not all: The lava rocks form regular five, six or seven-sided pillars, called 'laminar lava,' and are found in varying heights across the islands; the tallest of these columns tower to almost 20 feet high!
The rarity of such an occurrence was what made the Geological Survey of India to tag the islands as a National Geological Monument in 2001.
Seashells of all varieties and sizes abound the coast. Abandoned crab casings add a further flourish to an already picturesque beach. The same holds true for the fauna that's mostly restricted to Brahminy Kites and Egrets – both grey and white.
As you enter the island, the first thing you notice will be an empty circled grove that houses nothing but rocks. A few feet ahead and the path open up to pavilions built for the tourists' comfort.
Lagoons, pools and crustaceans – these have always been part and parcel of the quartet. St. Mary's Islands is a selfie paradise, but do heed caution while climbing the columns; humidity can make them redundantly slippery. There's also a small shrine dedicated to the islands' patron saint, were you to walk westwards.
The beauty of the island never diminishes no matter how many times you gawk at it. The hexagonal rocks continue to litter right into the shoreline, reminiscent of beaches best seen on postcards or on some holiday banner. That's St. Mary's Islands for you - tranquil, gorgeous, and one of the best weekend getaways one could possibly wade into.
©MLS