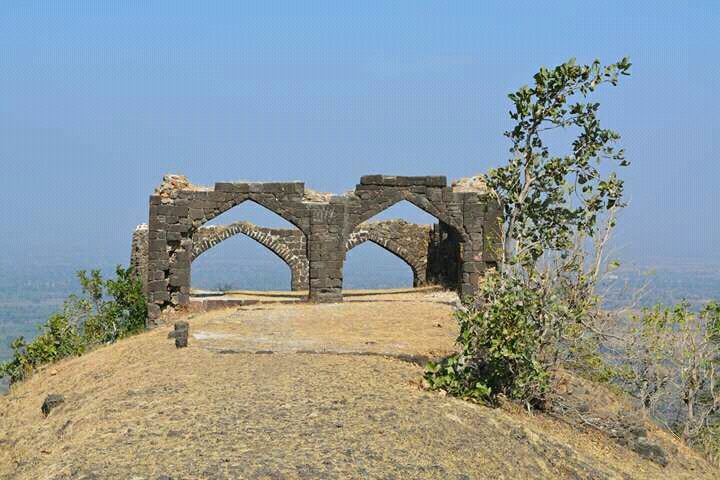 Just 30 km away from World Famous Ajanta Caves a magnificent construction who's tactical Construction and Perfect location justify its uniqueness from all other forts in Maharashtra. One day trip from Aurangabad to this fort is perfect package of trekking for trekkers of all age groups.
Also known as Galwada fort / Vasai Fort is surrounded with dense forest and fall in "Gautala-Autrum Forest Sanctuary. The fort category is Hill Fort from Khandesh Region (Khan-Desh, Kanha/Krushna-Desh) and Ground Fort from Marathwada Region. This very ideal and strategical policy to keep fort accessible from one side and difficult from another side found in very few forts in India. It is to defend possible enemy attack from North. This strategy of fort can be observed on two other forts found in same mountain range. First one is very near from Wadi fort itself and visible too, Ghatotkach Fort (May be denoted to Character from Mahabharat, Son of Bhim who is one among five Pandava's) and another is little far Antur Fort.
As on the date fort walls are in very good condition even though other constructions such as Rajwada (King's Palace), Darukhana (Storage for Aminition), Dhanya Kothar ( Storage for Grains) are almost ruined. The mostly entrance for fort is from hill side. Walk of 10 minutes after you cross road take you at main entrance of the fort. This marvelous Gomukh or Matsya; entrance is very impressive. The rock used in construction of wall is different on various side. The rock at entrance is bit shiny and seems recently fixed ( around 150 years or before) . Various structures and constructions on fort suggest that the fort is older than 500 years. Especially " Baradari might have constructed in earlier years and re erected later in muslim rule. Exact location of Baradari which is perfectly visible from Rudreshwar Cave reveals its connection with period of Hindu Rulers. No evidence is available as of the day but Shilahars or period of Buddhist Dominance might have experienced by this fort. After fall of Devgiri there were hardly incidences where Hindu Kings ruled in this region except marathas in late 17's. Beautiful Pond on right side on fort is beautifully constructed. The prayer place at pond shows is Islamic connection. There is no temple nor mosque found on fort. I humorously therefore classify this place as Perfectly Secular. We can feel glory once upon enjoyed by this fort. The whole fort is surrounded with properly constructed stone wall. The gate from Wadi village is more attractive and several other constructions can be seen if entered from it. Two hours are sufficient to cover whole fort.
There are no boards or signs available on fort. For the sake of evidence and to threat trekkers Archaeological Survey of India has kept a board mentioning their right on this monument and possible legal actions. Except this board everything is stolen from fort. Since Independence of Marathwada from Nizams, hardly anything is done by Government for this site. At many places wall and monuments are about to fall and immediate repair is required to conserve them. Several cannons are lost from fort. Holes are made all over the fort by poor treasure hunters, they are even removing wall stones in search of treasure.
Even though history is silent about this fort it doesn't mean this fort has no History.
You must plan trip to this unspoken fort...god knows he might be waiting for you to share all unknown secretes.
How to reach : Option 1 : Take left on Aurangabad Jalgaon road from Village Golegaon which is approx 85 km from Aurangabad. Next to Undangaon and Halda village before you decend ghat to Soyegaon fort is visible from road. Distance from Golegaon 30 km.
Option 2 : Reach Soyegaon located near Pachora Railway Station on Mumbai Kolkatta track. Half hour travel take you to village Galwadi, base village of fort.
When to Visit : All seasons except peak summer.
Where to Stay : No stay is available on fort. Stay can be made available in Village Halda.
Drinking Water on Fort : Not Available