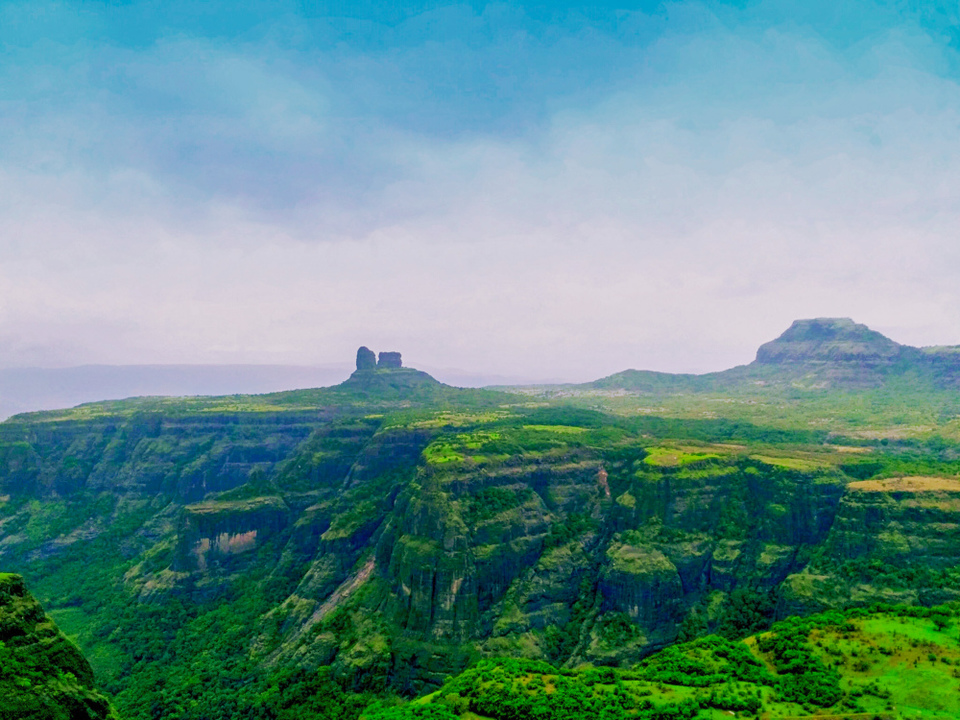 Driving on the perilous road, an unexpected challenge of starting a hike from altogether a different location, a pleasure of plodding through fields, unusual route of the ladder to reach on top of the fort, witnessing massive valleys and the breathtaking view of Taila Baila made this trek really a sweet memoir.
Ghangad is a beautiful fort located in the heart of Tamhini Ghat. The photos on google might be a little deceptive and you might think that the trek is difficult, but it's not. It's a relatively simple trek but still offers some awesome views from the top of the fort.
Route - Lonavala-Ambey valley- Ambavane- Ekole
It was the second time when I was escaping into the wilderness with Soham after Koraigad. Whenever we trek together, we land up in passing through Lonavala and its valleys. This place plays an important role in every Punekar's and Mumbaikar's travel trails.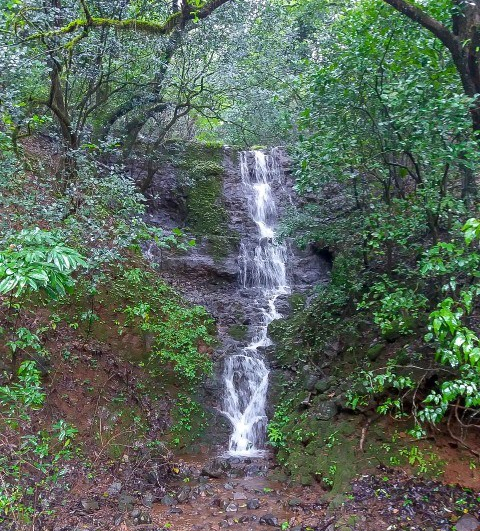 While going through Khandala, we took a stop at tiger point to see the flawless monsoon beauty. In no time, it started raining heavily like cats and dogs. Initially, the sky was clear and suddenly the clouds came together to drench us from tip to toe when we ran to take a shelter nearby. I always feel irritated to drive in such wet condition, but no excuse. We drove towards Ambey valley on a road covered by dense fog while moving at snail's pace at certain stretches. These things slowed our speed and eventually increased the travel time.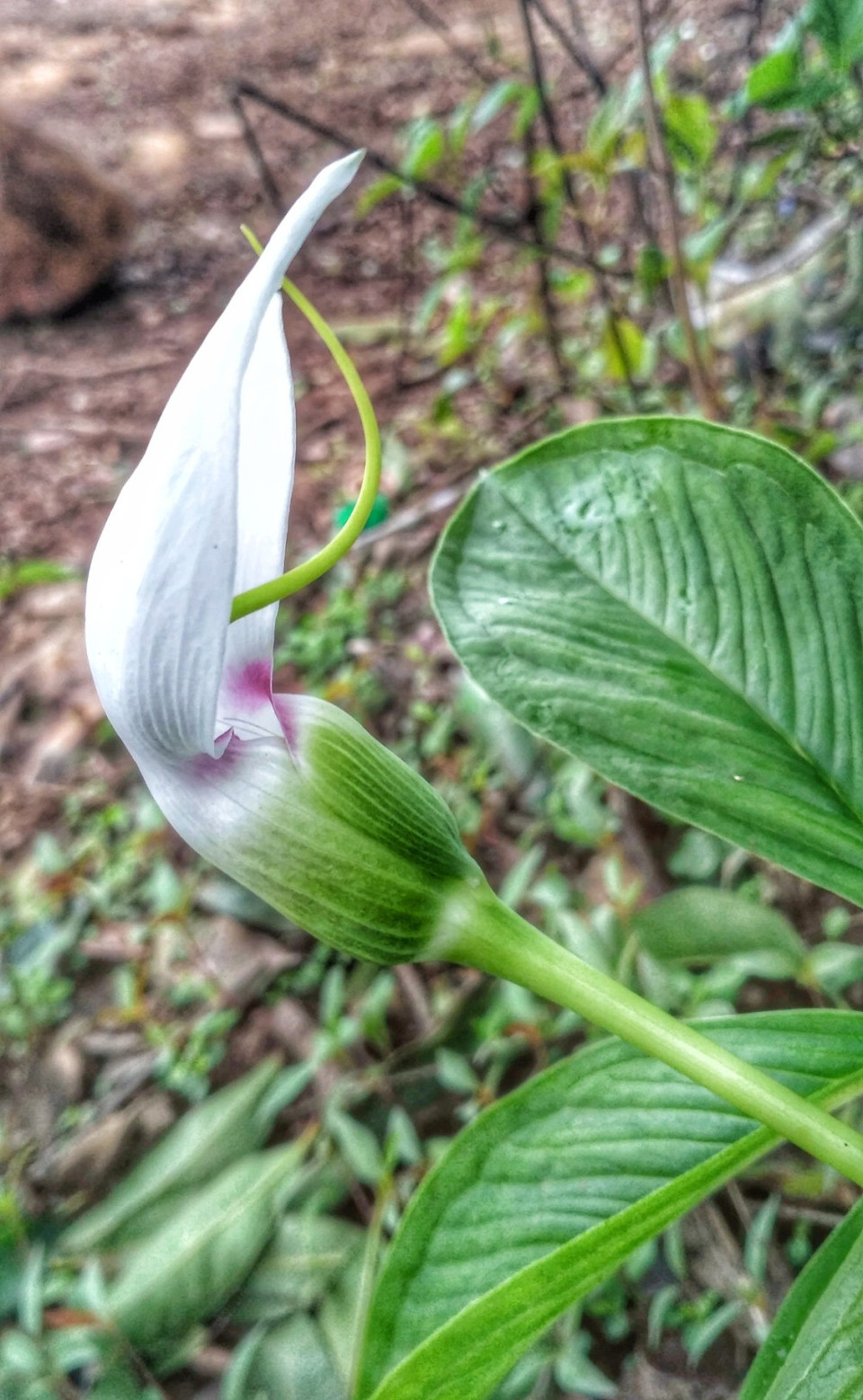 Feeling quite puckish, we had enough breakfast to move ahead. In about 30 minutes, we reached to Peth-Shahapur, base village of Korigad. I trekked here long back which was quite easy and soothing. While taking a "Darshan" of Koraigad, we moved towards Bhamburde.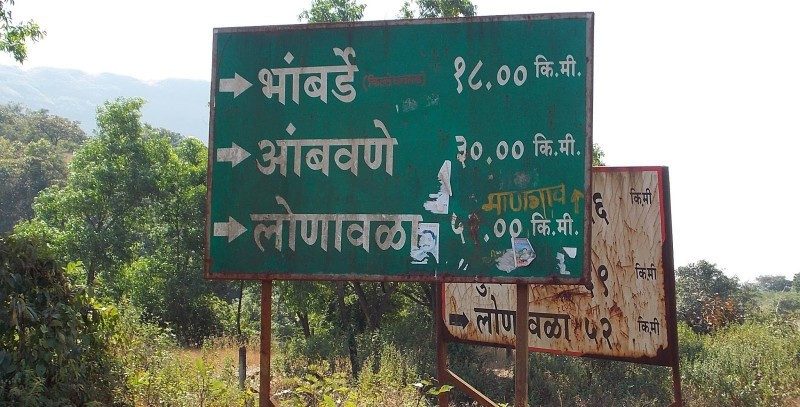 The road till intersection to Bhamburde village was smooth and once we turned right to proceed towards Bhamburde, we were welcomed by a horrible, almost non-existent road full of potholes. This was the worst road I had ever driven. For many miles, no vehicle passed by and there was hardly any soul in sight. I had not imagined the road could be so bad. After a while, we came to an intersection where the road seemed to have been repaired. I was not sure which road to take and we halted with the uncertainty. We confirmed the direction and to our dismay, we had to continue on the same pathetic road.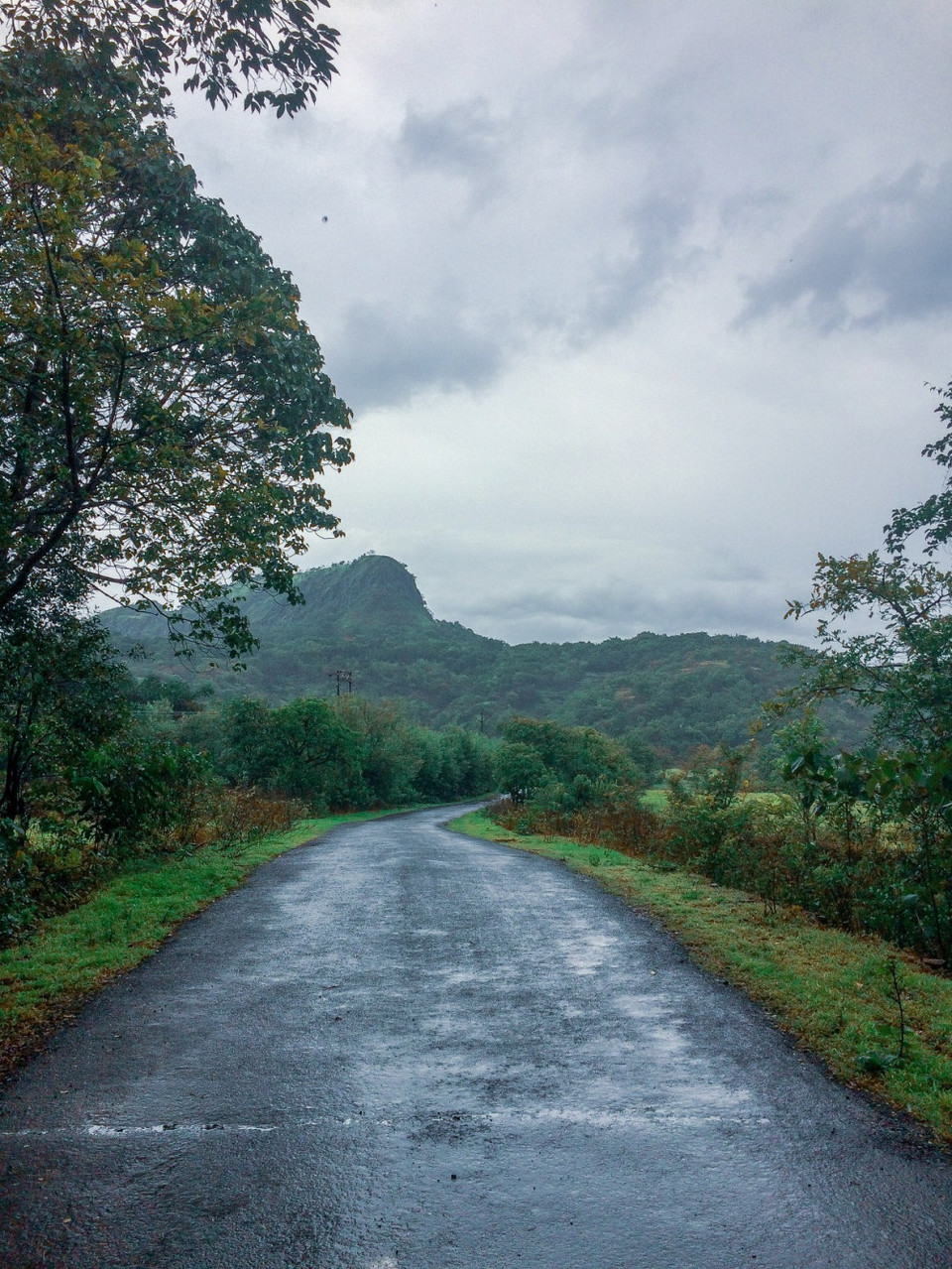 Just before we were reaching to the base of the fort, there was a patch of red sand mud where our bike almost slipped off. It was a nightmare to drive through the same path while we reach Ekole, the base village of the fort.
The trekking path starts from the hillock south of the Ekole village. From distance, one can see the mighty fort. A trail goes through directly towards the fort. It takes about half an hour to reach the entrance gate of the fort. This trail goes through a jungle which has an uneven pathway. It was a little tiring after an ascent.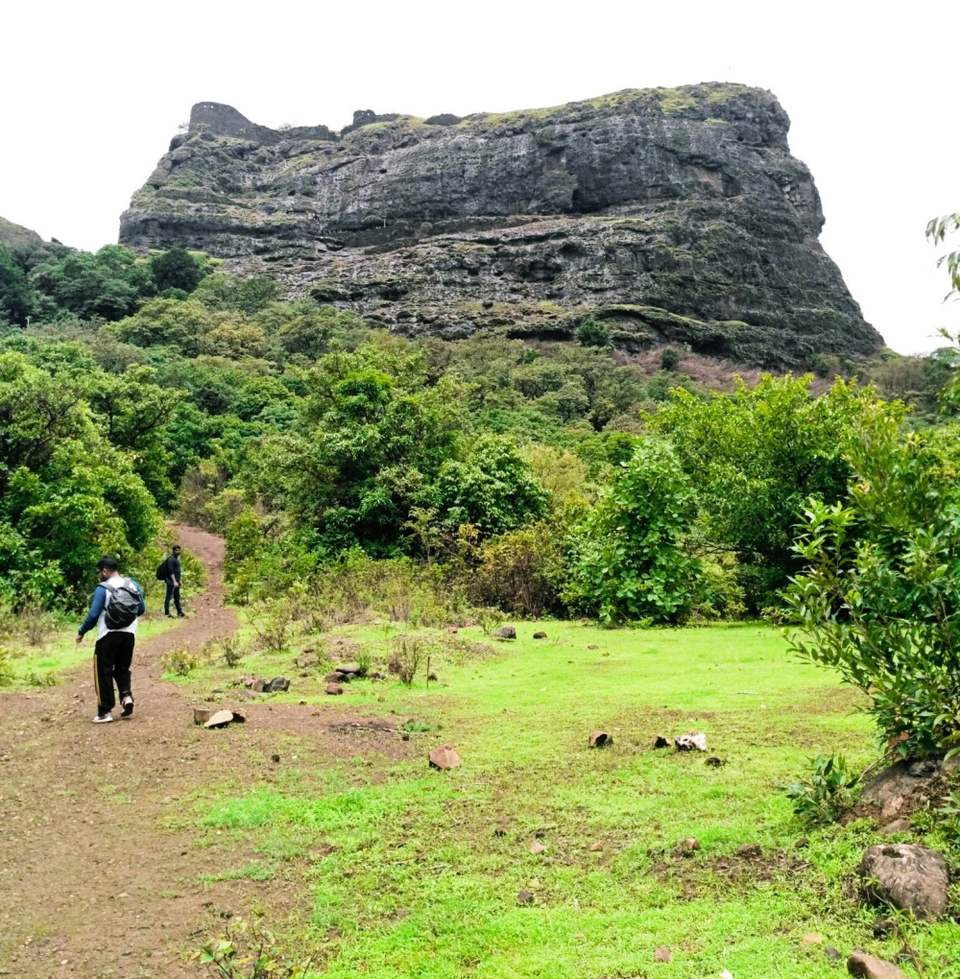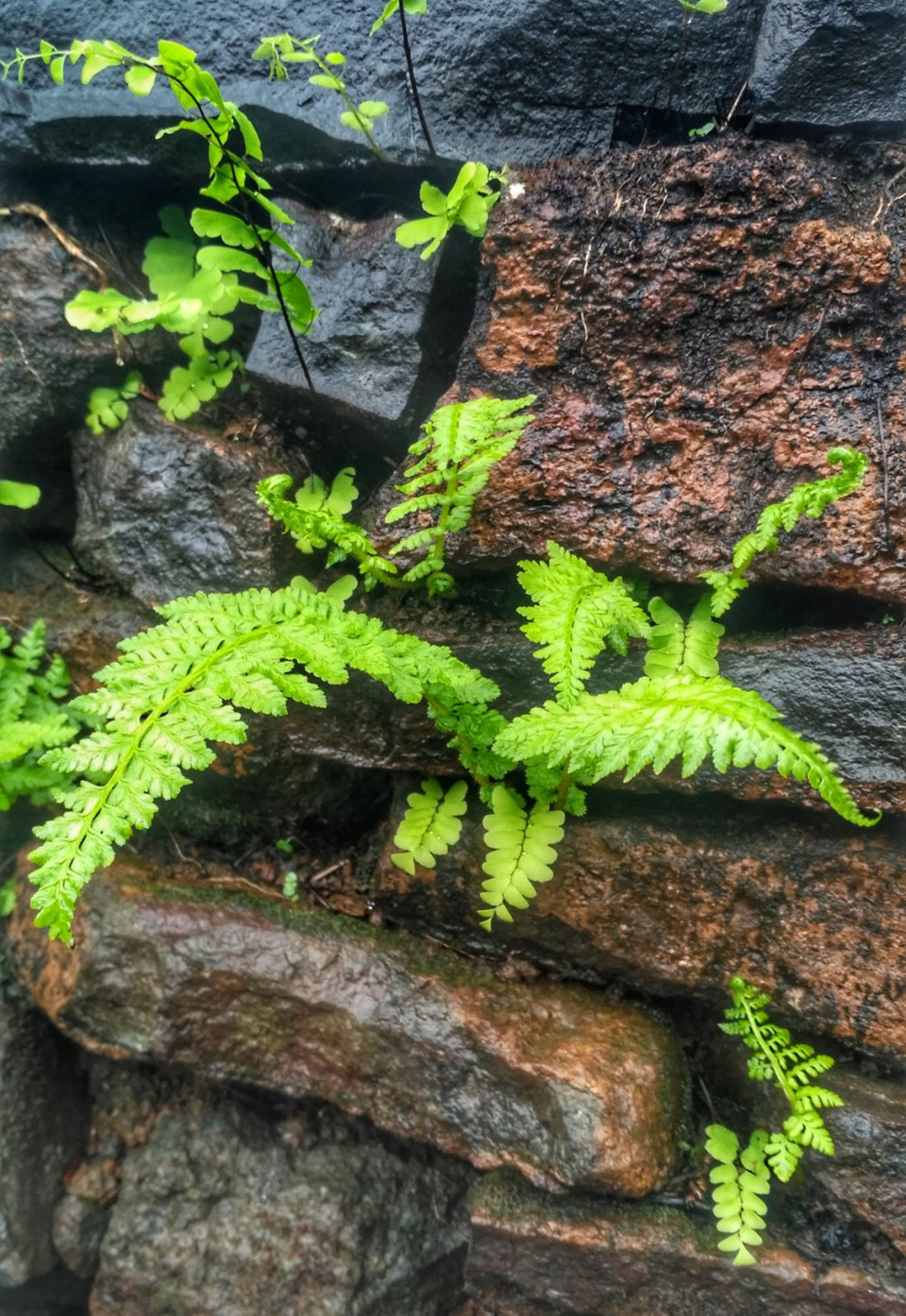 The main entrance has an arch missing. According to local villagers, the fort was used for keeping prisoners and for keeping watch on the trade route from Pune to Konkan.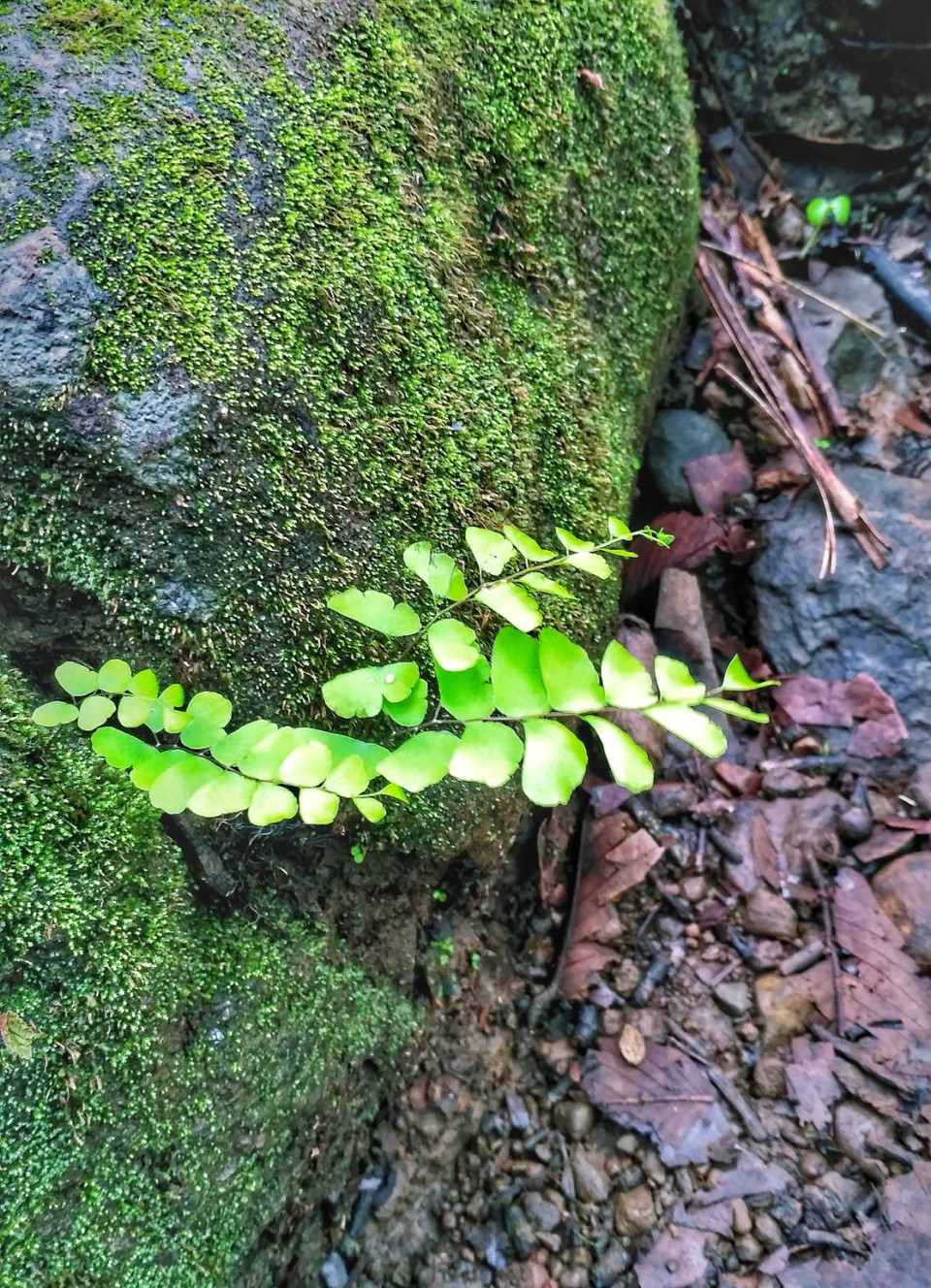 Going further ahead, there were steps made of rock. There was a Lord Shiva temple and a rock structure opposite to temple. We took blessings and moved on. In the rainy season, it is a daunting task to get past this as it is very slippery.
After the main entrance, another nightmare comes in the way where most of the trekkers lose hope. There is a narrow opening to go the Balekilla which is so narrow that one can barely place a single foot against deep valley down. Fortunately, the villagers and Shivtrail group have placed an iron ladder to climb to up. I still can feel my heartbeats while crossing that path!
There is a rock-cut water cistern on the way to the second gate. The water is available around the year for drinking purpose. But to visit this water tank, you need to walk over the edge with the deep valley on the right side. There is a small metal rope attached to the bolts and you need to take help of this rope to walk over a very narrow route to reach to the water tank. Your heart skips a beat if you look down as you walk over this edge. Definitely not for the people with Acrophobia!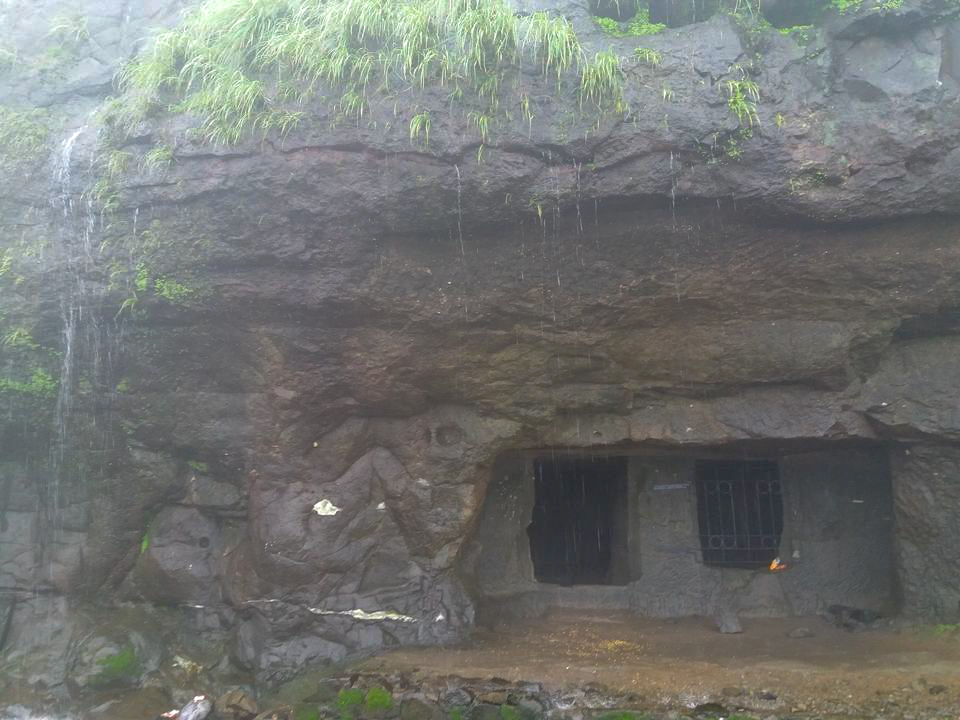 After climbing the ladder, there is a steep ascent of about 5-10 minutes which will lead you to another entrance of the fort. The adventure of climbing the ladder was worth. I will recommend not to fear to climb the ladder as a flawless beauty awaits for you. This patch of the fort reveals the extraordinary beauty of western ghats down the hill. The beauty of the lush green jungles and the mighty Sahyadri takes your breath away!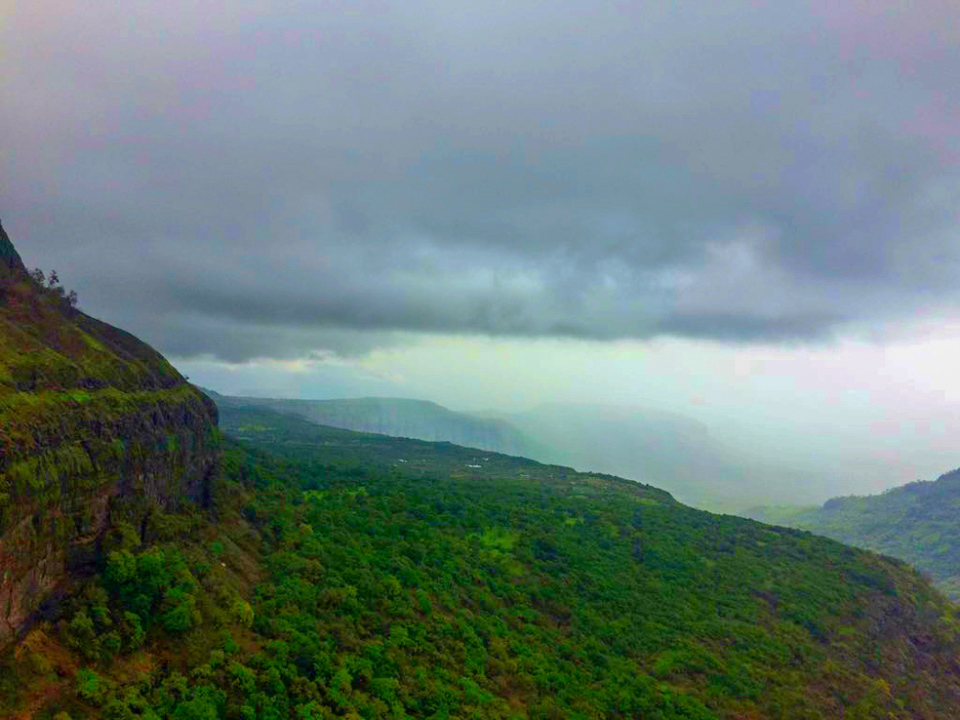 There is a large opening created between the two giant rock faces. One huge rock seemed to have separated from the main cliff and inclined on the wall of the fort. This triangle-shaped opening is so breathtakingly beautiful that you just can't take your eyes off.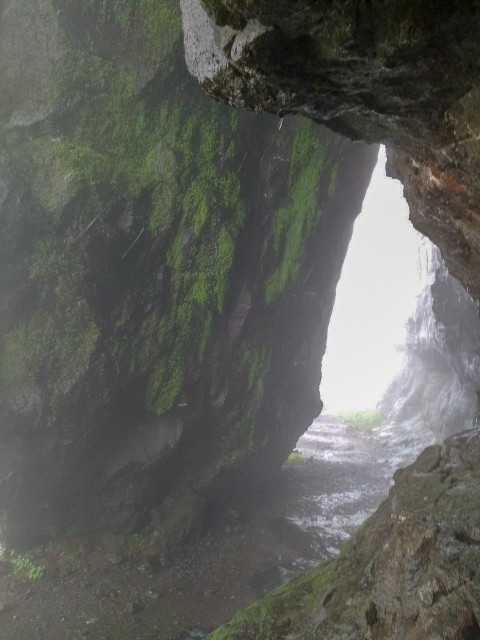 Once you stand in front of it, you just submit yourself to nature's splendour and your existence seems minuscule in the presence of nature's grandeur. How small and insignificant are we in front of mother nature?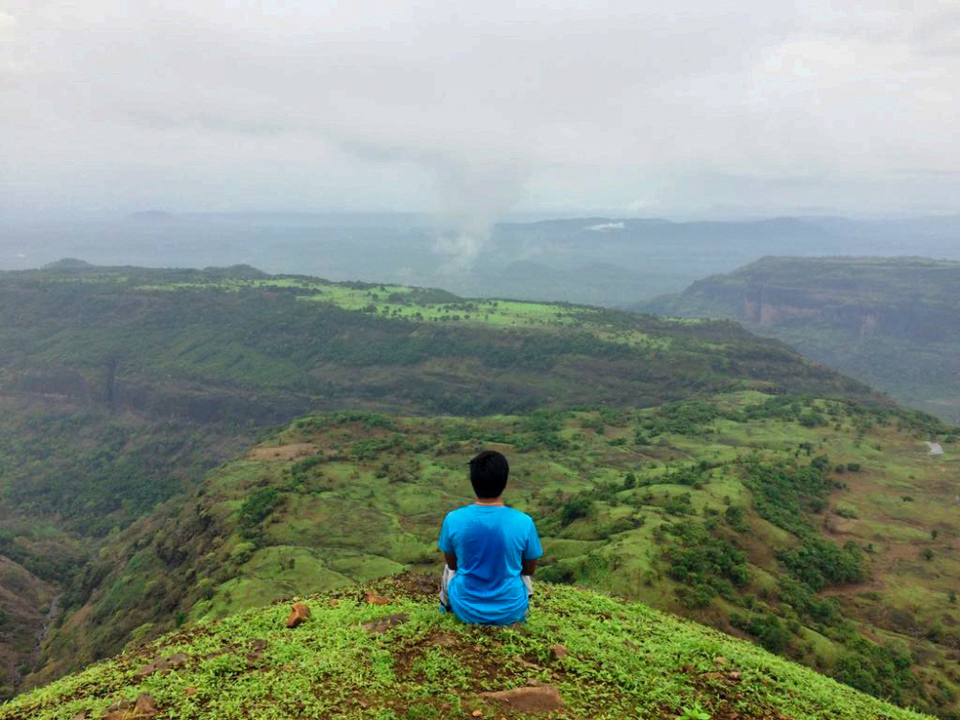 After spending a few minutes, we went towards the western side of the fort. We were stunned by the sights of deep valleys; valleys so deep that your eyes cannot locate the bottom of it. We were transfixed to see the real rugged sight of Sahyadri mountains.
Moving ahead, we moved at back side of the fort and the sight was just outstanding! I pinched myself so as to come to senses. The mighty Taila- baila stands in pride at the top of broad shoulders of Sahyadri. many miles of wilderness insight left you speechless. I still remember we sat for half an hour just to enjoy that serenity, calmness and a pure bliss!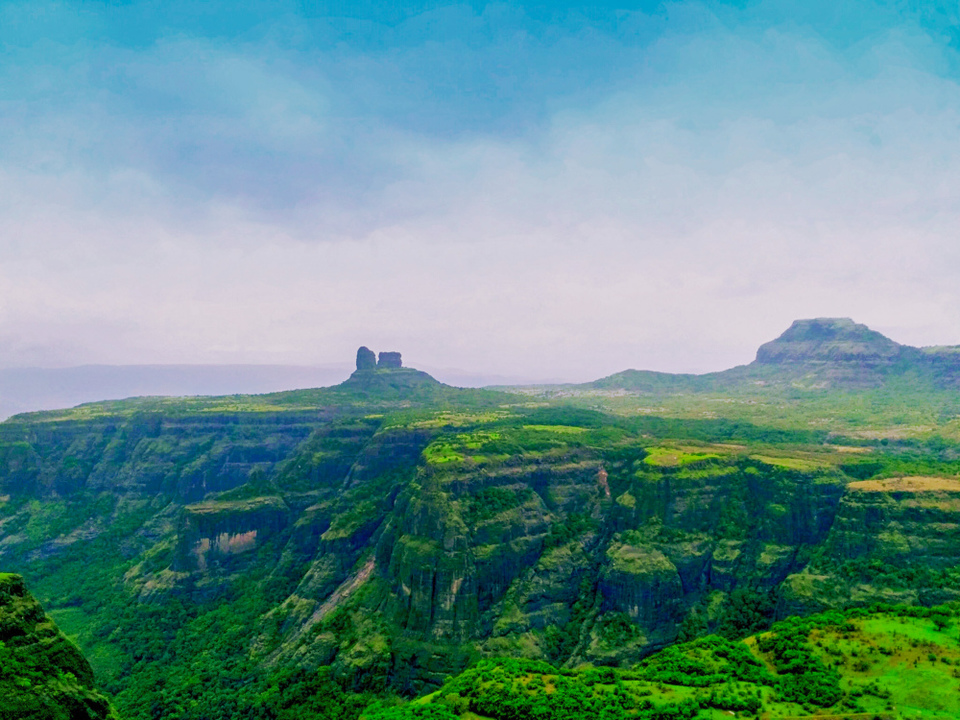 There are remains of few dilapidated buildings on the Balekilla. Few of the spots that one must not miss out are the large Bastions, fortifications, a few water cisterns, Goddess Garjai temple. The fort is surrounded by many spots on like 'Taila-baila','Sudhagad','Sarasgad' and Backwaters of Mulshi lake. After spending an hour, we decided to climb down. It was a bit slippery due to heavy rains and we again passed that nightmare successfully, Lol....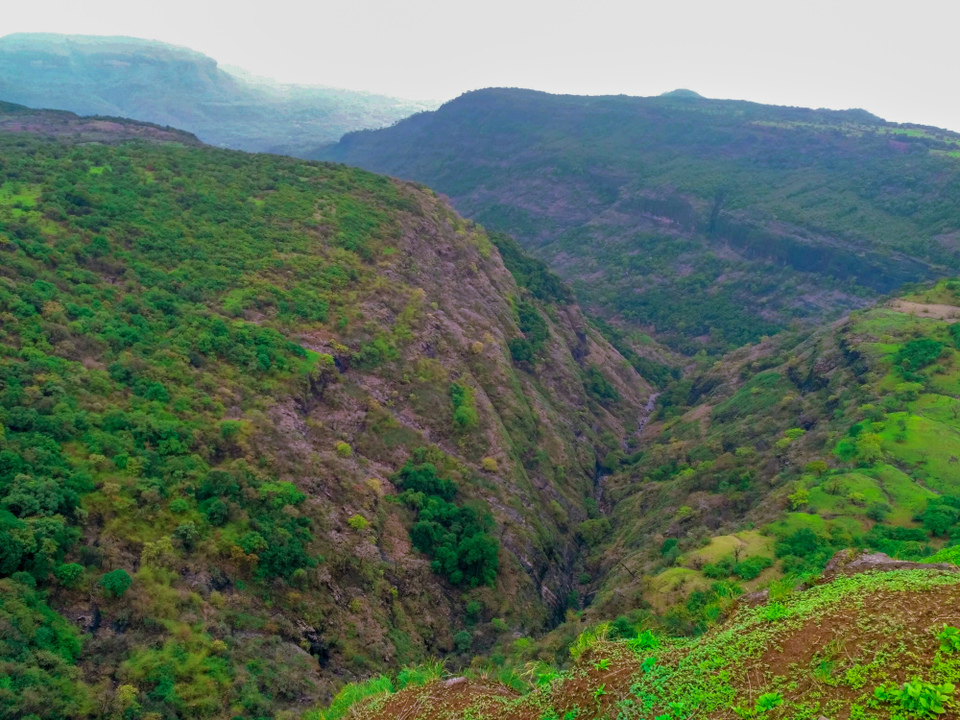 We skipped the option of visiting Taila- baila as we were running behind the schedule and we didn't want to ply further on a treacherous route. Moving back home, we faced heavy rain again. It was such a pleasure to get a plate of mom-made hot Poha in the chilling cold just after a hot shower. It was a weekend which was well spent!
Camping Info: Most ideal place for camping. The caves provide good shelter and the open space in front of these caves can be used for making bonfires and cooking food. If you have your own tents, there is nothing like it. There is plenty of open space on the top of the fort where you can set up your tents. Heavy winds can be a problem in the open space. Ensure that you carry plenty of food and water with you as the villages are very small and you won't find anything in those villages.
Keep travelling, exploring and Sharing!