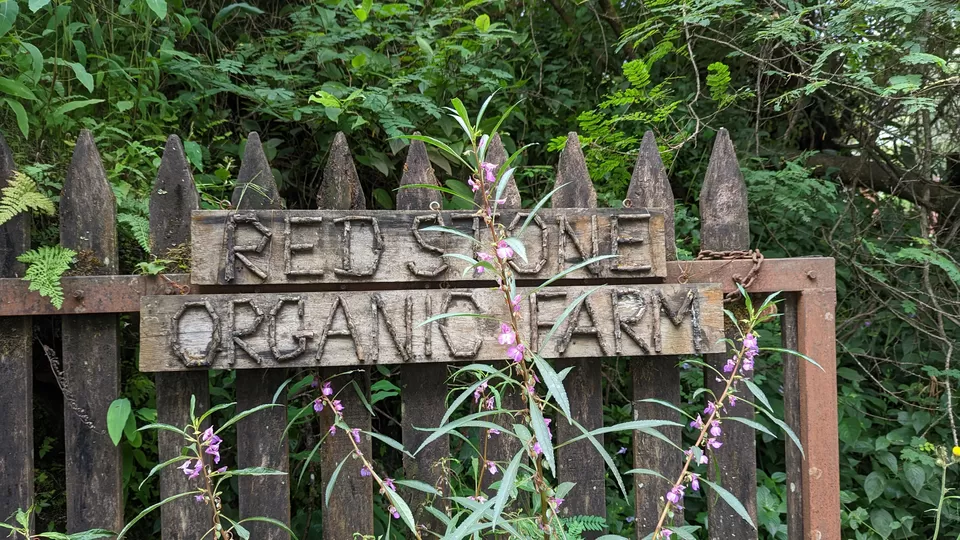 Peter Patrao asked, "Would you like to be the wife of a poultry farmer or an academician?"
Mona Irani blurted "Farmer, of course!!!" – that's how it all started way back in 1972 when they bought a 2-acre land for INR 5,000 which was later named "Red Stone Organic Farm"!
My research on places to stay in Panchgani brought me to this eco-stay that is around a km away from the main Panchgani market. Needless to say, this place immediately caught my fancy!
Since my choice of stays over the years have evolved from fancy hotels to modest hostels and to eco-friendly stays, this place appealed to my aesthetics. And rightfully so, because it stays true to its purpose.
A Little History of The Place - It's Going to Celebrate Its 50th Anniversary This Year!!
Jal Irani, who took a bold decision of shifting from Bombay to Panchgani in 1930's had a daughter after three sons – Mona, who grew up with her three brothers on the banks of the Venna Lake, an outdoorsy child.
She met an academically brilliant guy called Peter Patrao when she was 10, by 12 she was completely charmed by him. So, when he got an opportunity to head to the US for his PhD, and wittily proposed to her on what kind of life she would like, she opted for farming in a heartbeat!
The plot that was bought with the purpose of turning into a poultry but had to be turned into a farm instead owing to restricted finances. Since the piece of land was a rocky slope, they had to level the land. While leveling all they harvested were red stones, and that's exactly what Peter Patrao decided to name this place – "Redstone Farm".
Not a single tree on the plot, they toiled hard to give it the green cover it is today. Peter Patrao even attended a course on permaculture in the early 1980's which was the first of its kind that was being offered in India. In fact, they were the first outside settlers who cultivated strawberries in Panchgani.
There was only a small pocket near Mahabaleshwar where the locals were growing strawberries. Peter and Mona's mali or gardener taught them to nourish the strawberries. Till then no one had tried cultivating strawberries in Panchgani. Their strawberry harvest was doing so well that Mona was stationed for a while in Bombay and was selling directly to five-star hotels.
However, it was only one stage that they were focusing on but the other stages like marketing needed finance, time and energy so they decided to stop and concentrate on farming.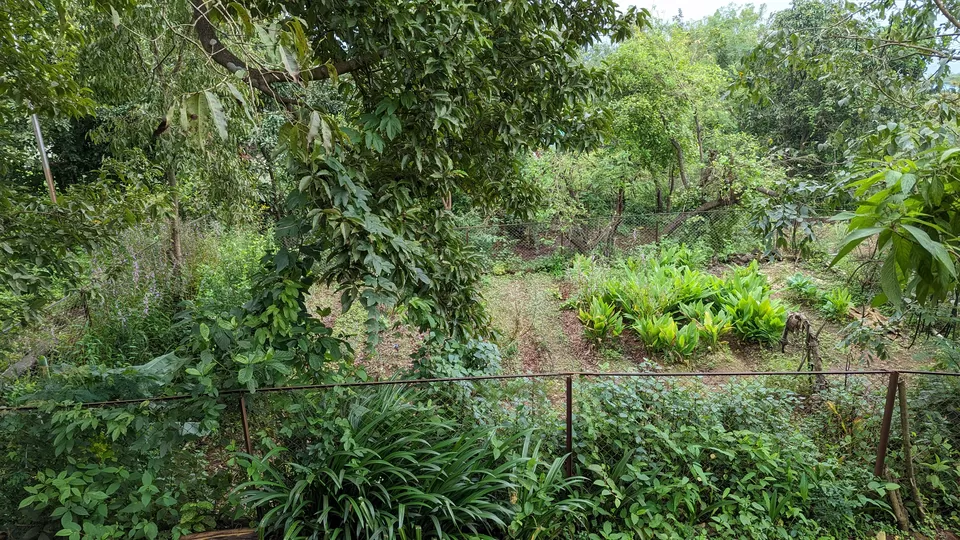 A Bit About The Enigmatic Chemistry Teacher, Peter Patrao Who Taught Mrs. Funnybones When She Was Studying At St.Peter's!!
You read that right!! Peter Patrao taught Twinkle Khanna, who is popularly known as Mrs. Funnybones. I wouldn't have known, had I not had the opportunity to read an article that she dedicated to her beloved, bearded, bespectacled teacher – Peter Baba!
Remembered fondly by Mrs. Khanna as the smarter version of Robbie Williams in her article, who had a unique way of teaching the periodic table through poetry was perhaps the only teacher with any memory of Freddie Mercury (of Queen fame – Bohemian Rhapsody whose actual name was Farrokh).
A maverick at heart, Peter Patrao, like his unconventional self, encouraged his students to think out of the box and not just be confined to the lessons inside the classroom. But his claim to fame was cultivating strawberries successfully in Panchgani and also teaching locals his method of growing that they were quick to adopt. Unfortunately he passed away in 2012 and now his wife Mona Patrao looks after the farm stay.
The artwork dedicated to Peter Patrao by Nilesh Artist on the wall of Zostel Panchgani which has now been repainted with other murals
Interesting Facts About Redstone Farm and The Owners
• Recently a movie directed by R Balki starring Abhishek Bachchan has been shot !!!
• This is the place where the first successful strawberries were grown in Panchgani.
• Mona Irani, a Parsi married Peter Patrao, a Mangalorean Christian when she was just 18!
• St. Peter's, the school where Freddie Mercury, the lead vocalist of rock band Queen studied is hardly 10 minutes from Red Stone Farmstay!! And Mona Patrao's husband and brother had studied in the same school as him!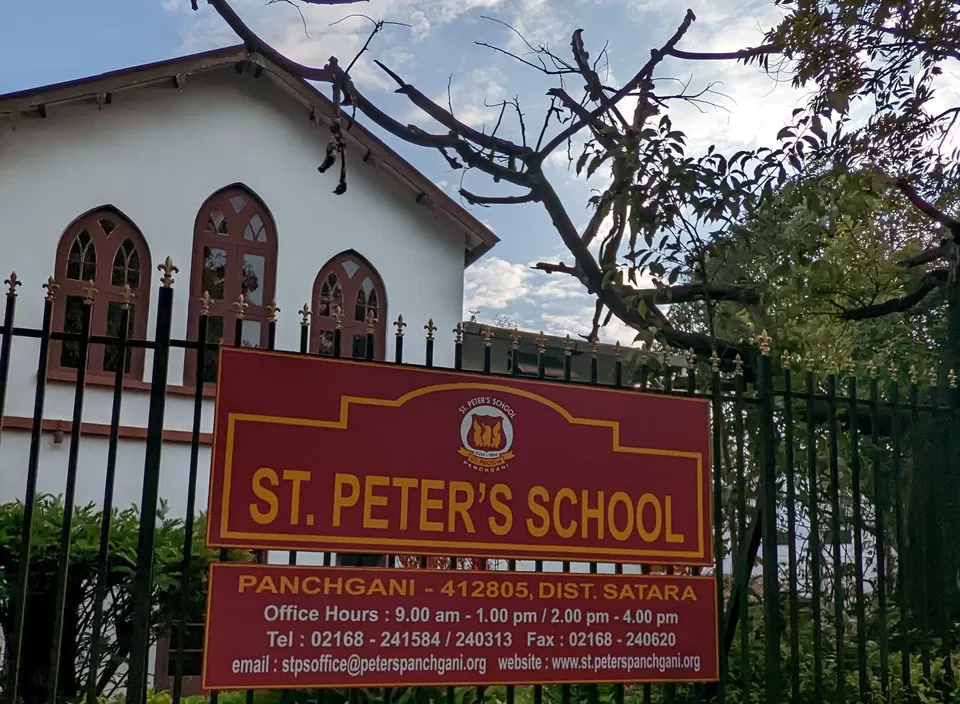 • You will find saplings that have been planted in the shape of various Mandalas like Siddhivinayak mandala, the Durga Mandala, Mahalaxmi mandala etc. that the host will explain during the farm tour.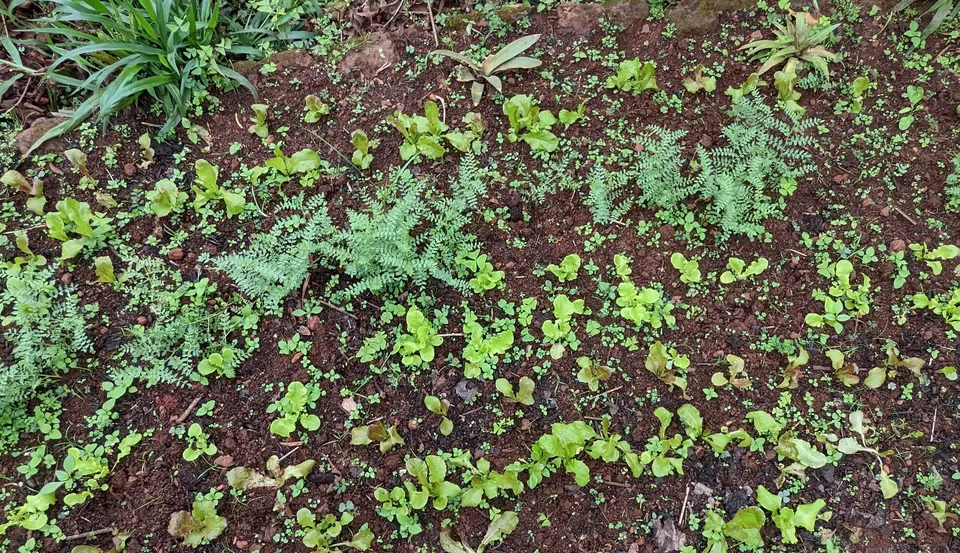 • Influenced by stalwarts like Rabindranath Tagore, Mahatma Gandhi, Elm Hurst and Carl Rogers, Mona opened a school called Redstone Farm Home School for Ovnar, their second daughter. When Oovi was 11 they wanted to home school her. On hearing of their decision, their friends wanted to send their children too. So, for three years between 1998 to 2000 they taught 15 children where they had an eclectic approach of children leading the class and not teachers – it was a safe environment for children to share their thought process, dialogues and encouraged to speak freely of their fears and joys.
• With no concept of homestays earlier, when people used to ask if they could stay at Redstone farm, Peter and Mona would pack their things and immediately leave their room to accommodate guests.
The Stay:
It is a two-acre property with an organic farm homestead with two cows, three dogs and a cat. This wonderful rustic farmhouse is for nature lovers who wish to experience sustainable organic living.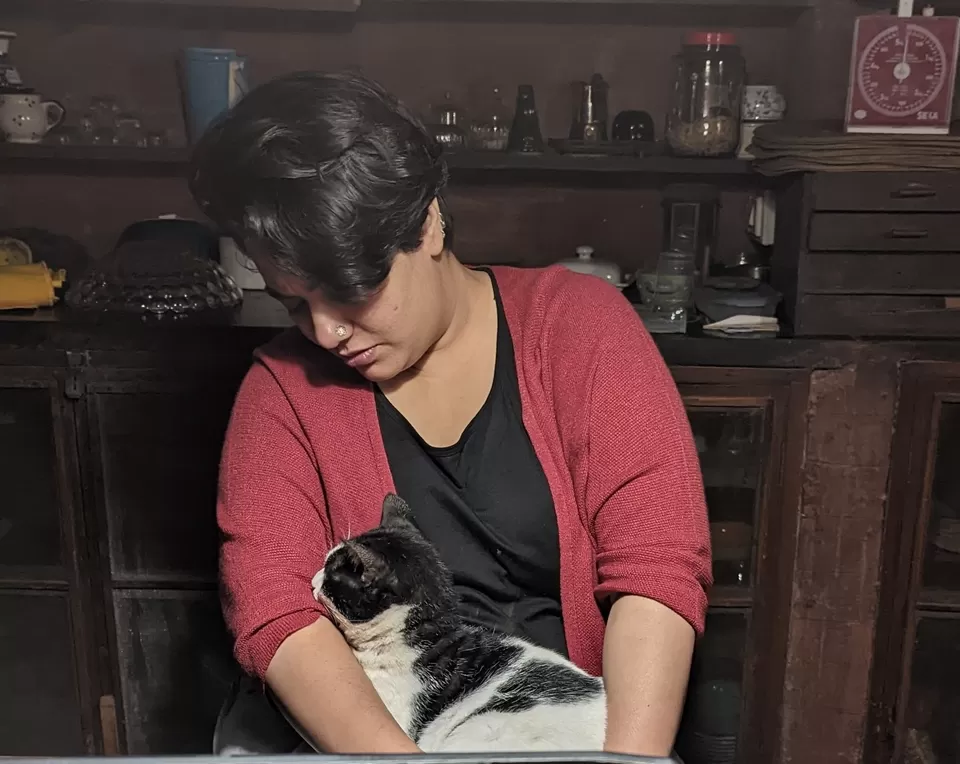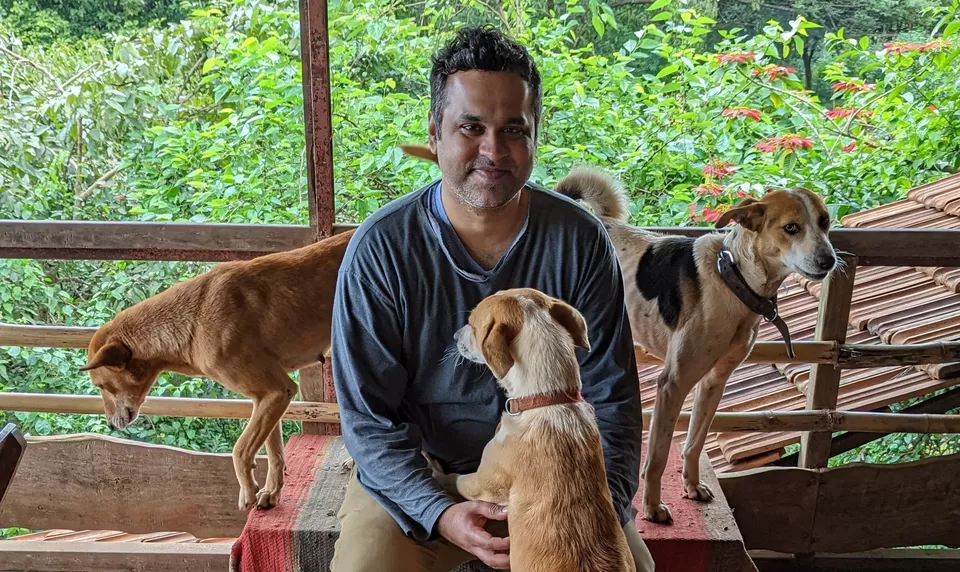 A farm that has lemon, kale, strawberries that would give runners, bananas, wild balsam, the leguminous Indian Laburnum that has nitrogen-fixing bacteria called Rhizobium and many other plants that would help to keep the soil fertile and produce organic vegetables and fruits.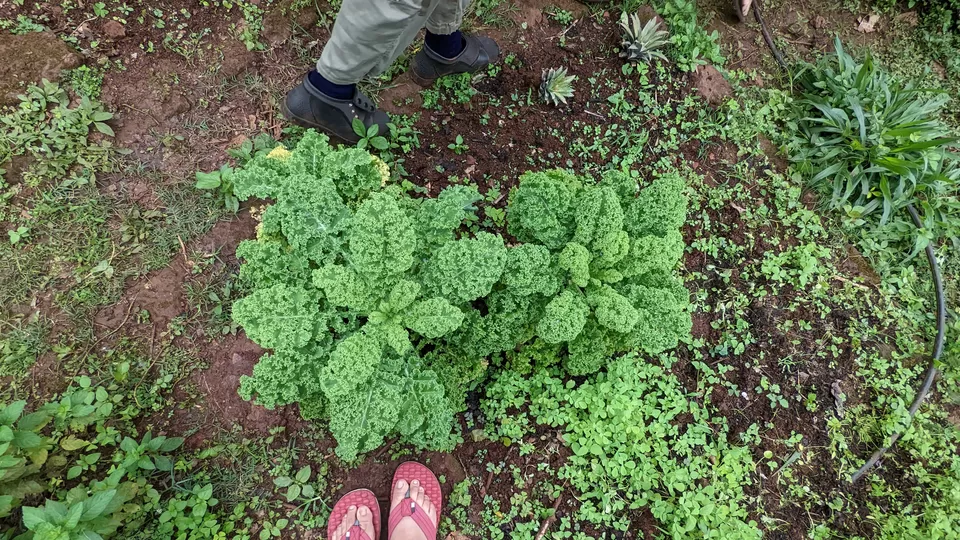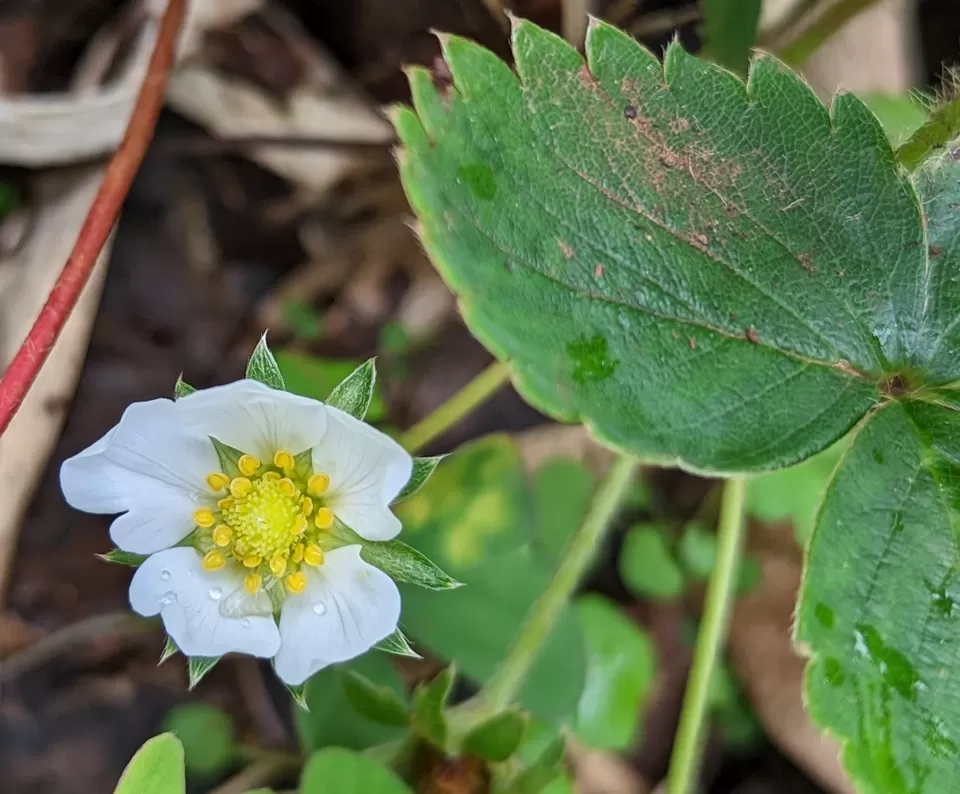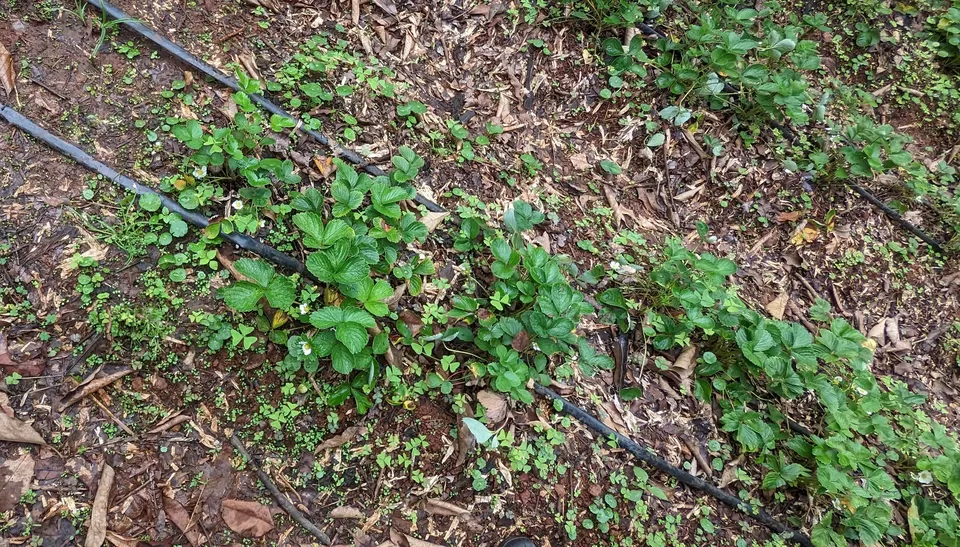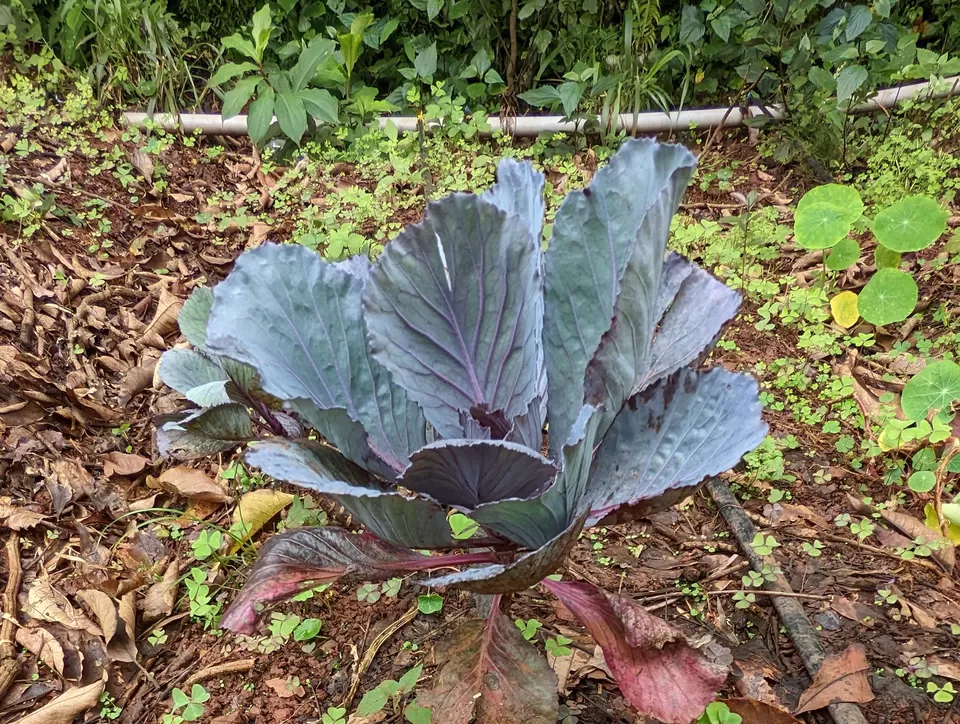 The red bricks that were harvested while leveling their rocky land were used to build the house. They constructed on the go. In fact, construction is still in progress bearing in mind the concept of eco-friendly. Some walls are plastered with mud and cow dung.
It is an eight-bedroom farmhouse with five rooms in the main house on the upper floor along with one bedroom in the annex on the ground floor. Every room has garden, farm, or forest area views. One room on the ground floor is adjacent to the common deck and there is another room known as the Harry Potter Room because it has a trapdoor that leads to the room!!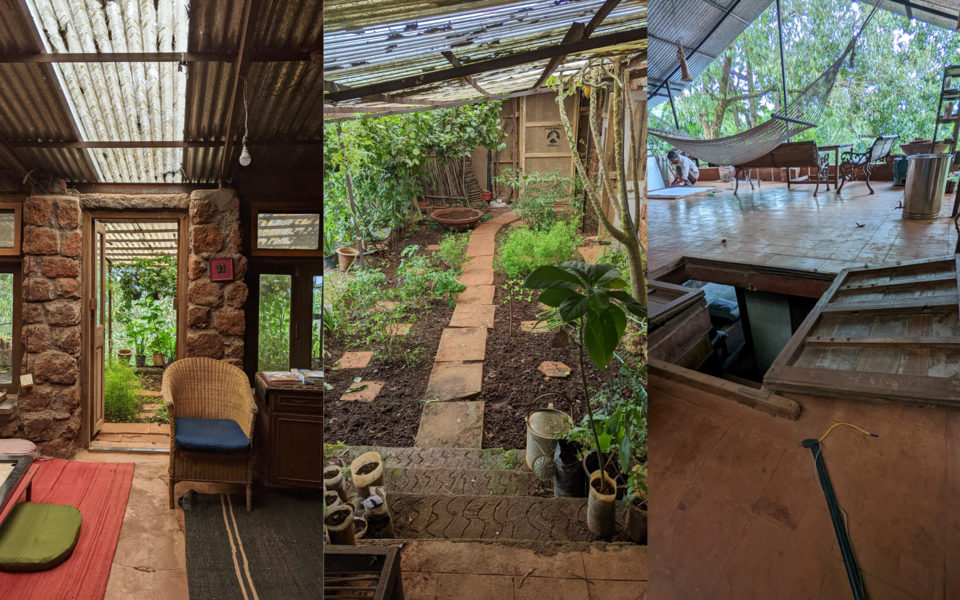 There are eight Western style washrooms with water jets that are on the ground floor that are clean and well maintained but not luxurious.
The second room on the ground floor is the only room with an attached bathroom. It can be booked on request with an extra charge of INR 1000 extra per day. Extra person beyond 3 will be charged Rs. 950 per head.
There are a lot of shared spaces like the decks with good views, sit out areas, library, game room, large kitchen and indoor dining room and indoor sitting area.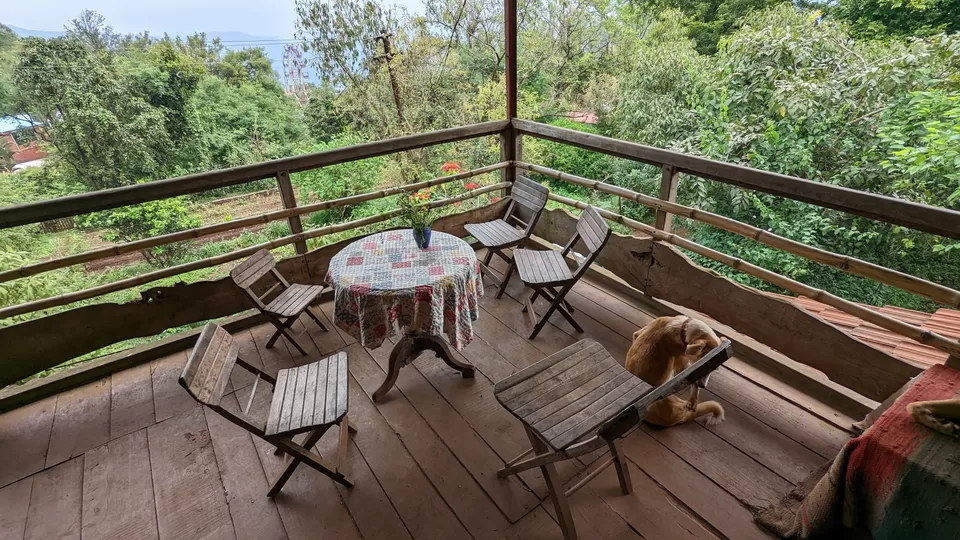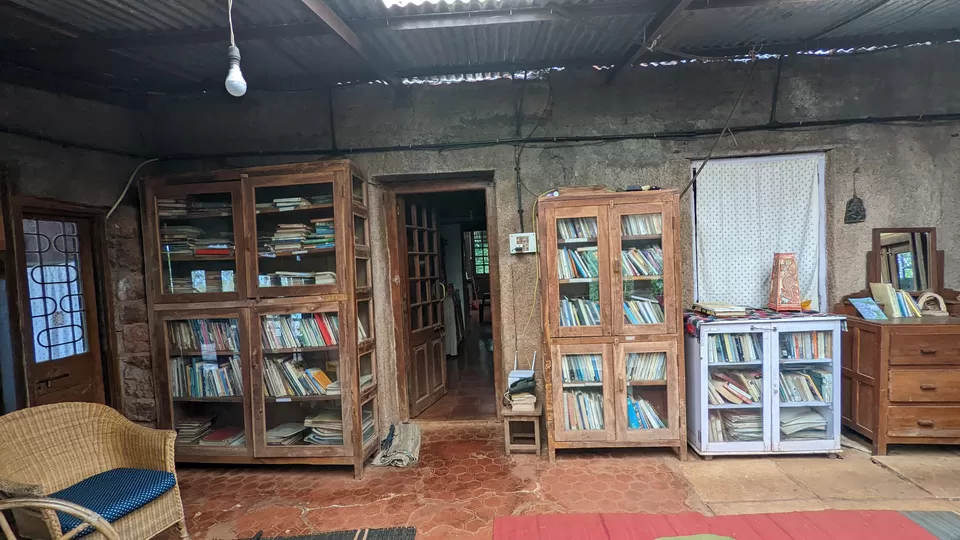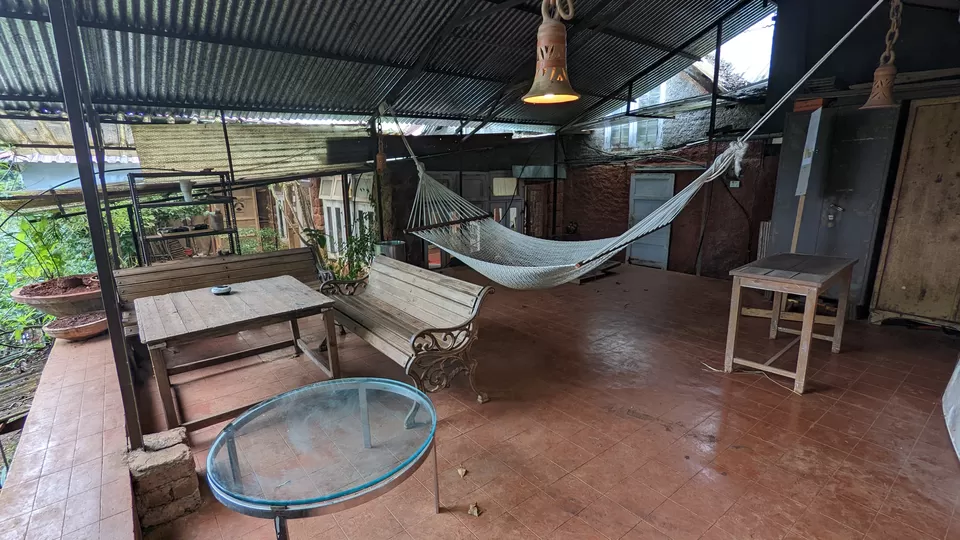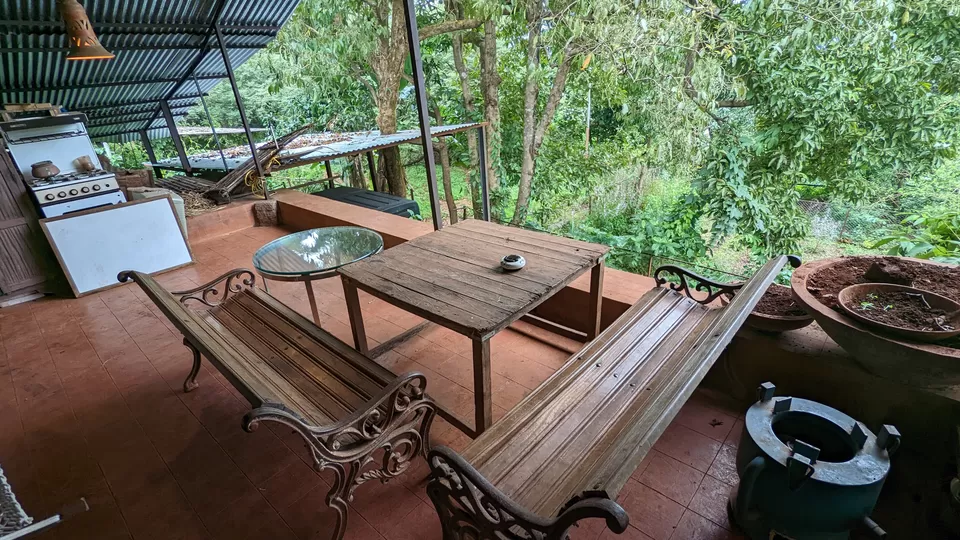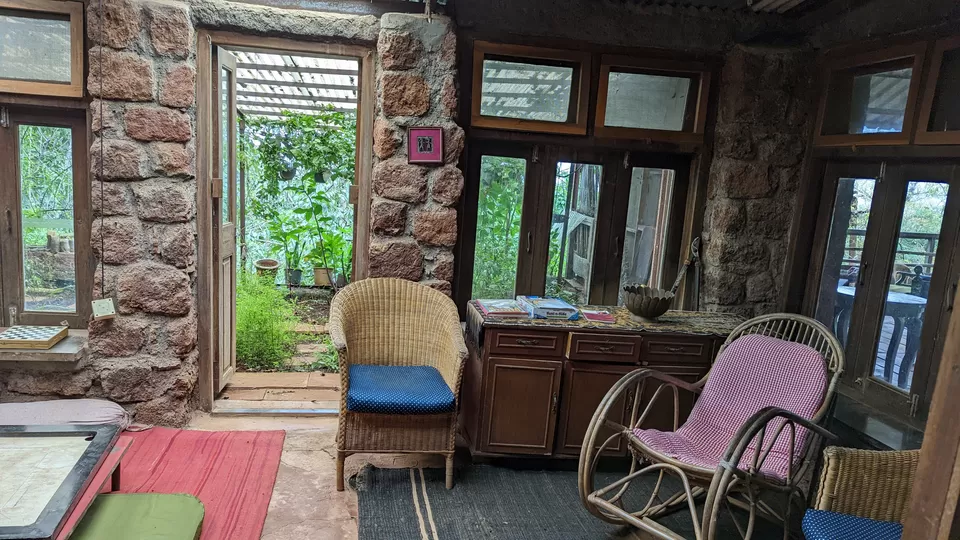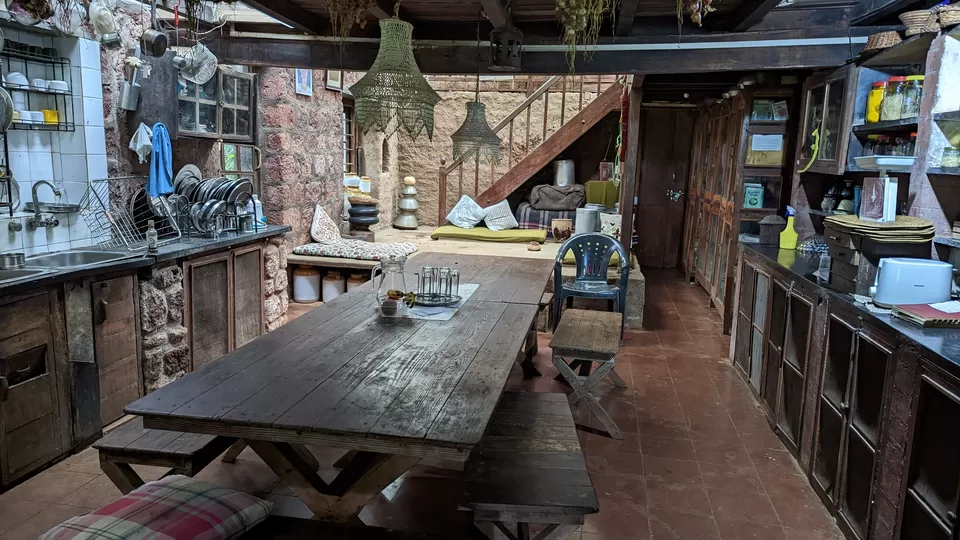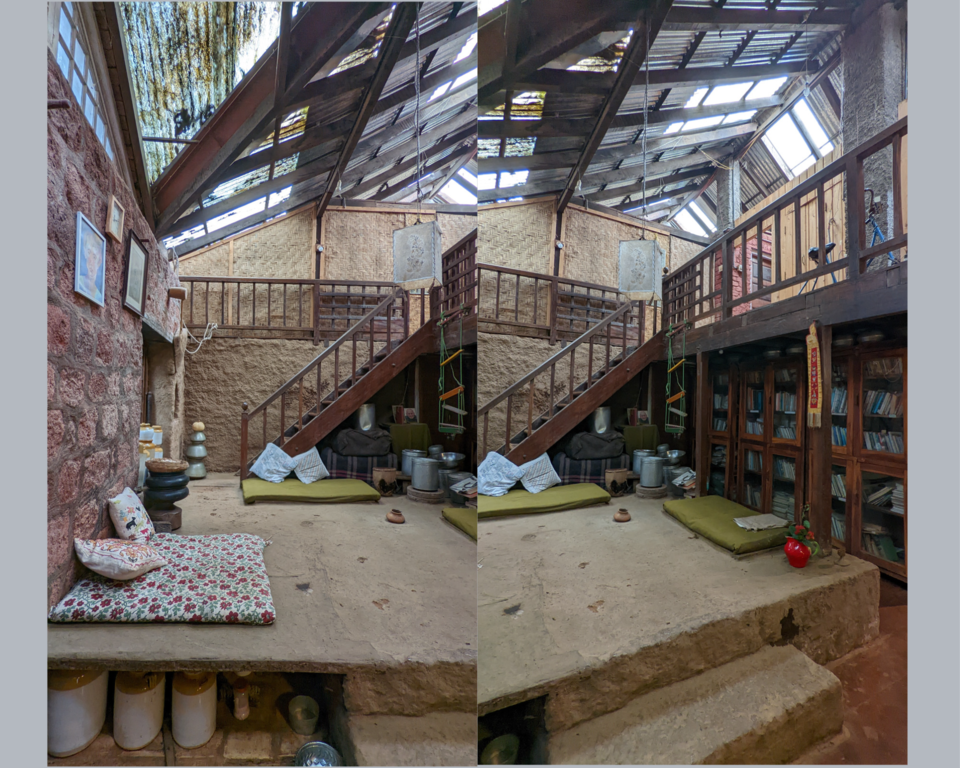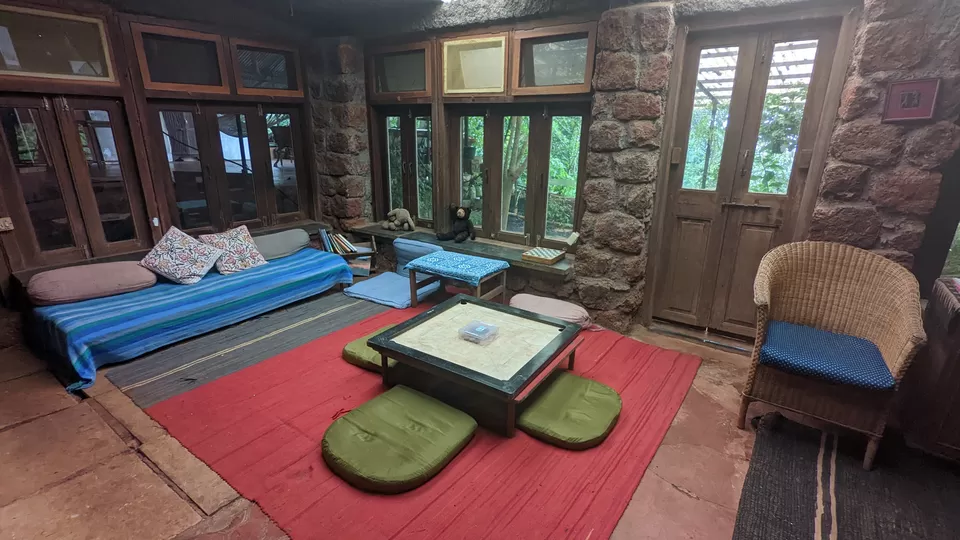 Exciting Experiences Offered:
Along with a large sprawling space to ensure that the guests' privacy is intact, this property also provides a wide variety of experiences.
• You can enjoy a complimentary farm toured offered by the host Mona Patrao where she provides a detailed insight of the various fruits and medicinal plants that can be cultivated.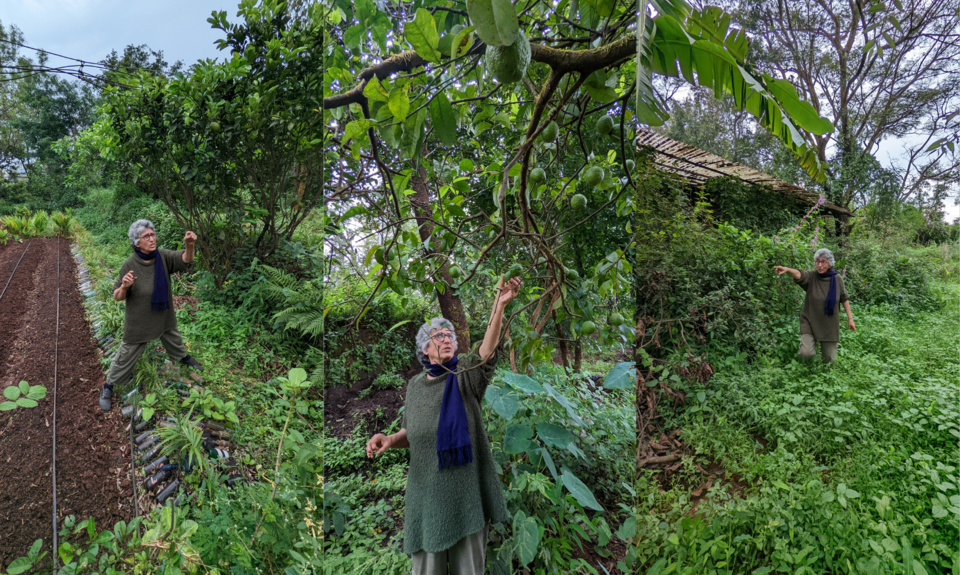 • You get to taste the home-made kombucha that is offered after the farm tour.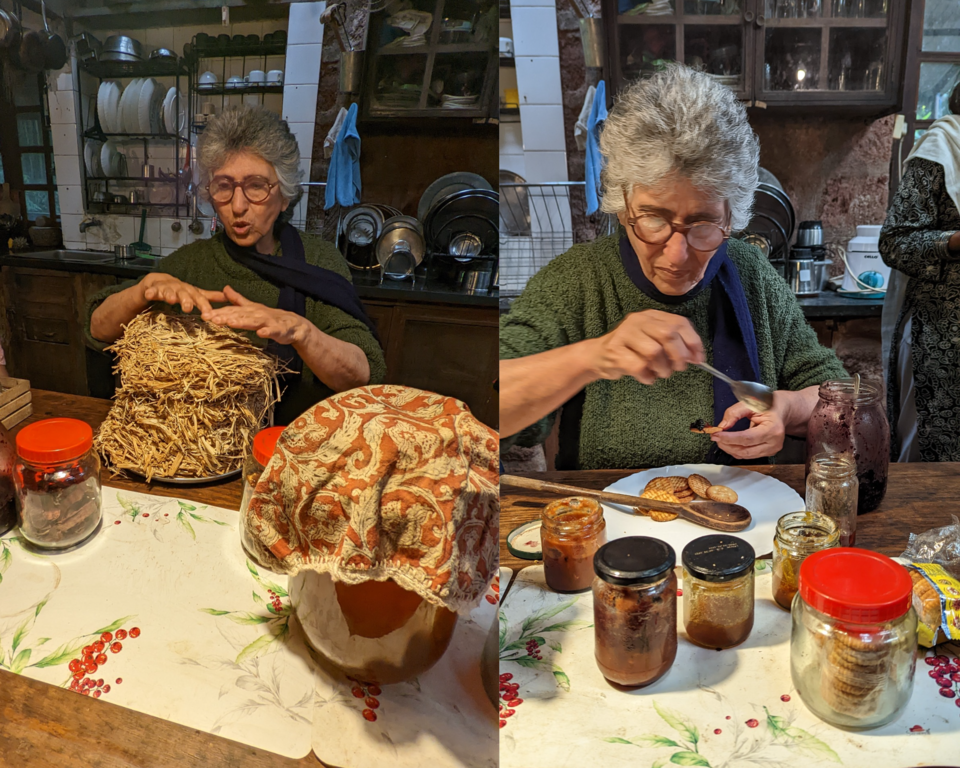 • Also learn mushroom growing.
• You can enjoy scrumptious homemade meal on order (the meals have to be requested well in advance).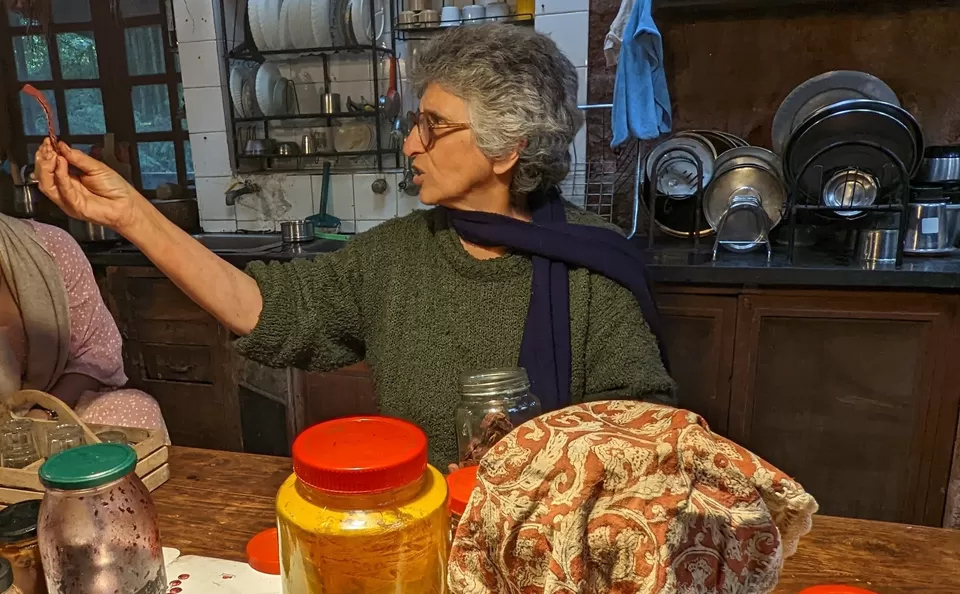 • For an extra charge for firewood/charcoal (INR 300), you can use a rudimentary grill and also a fireplace on the common deck.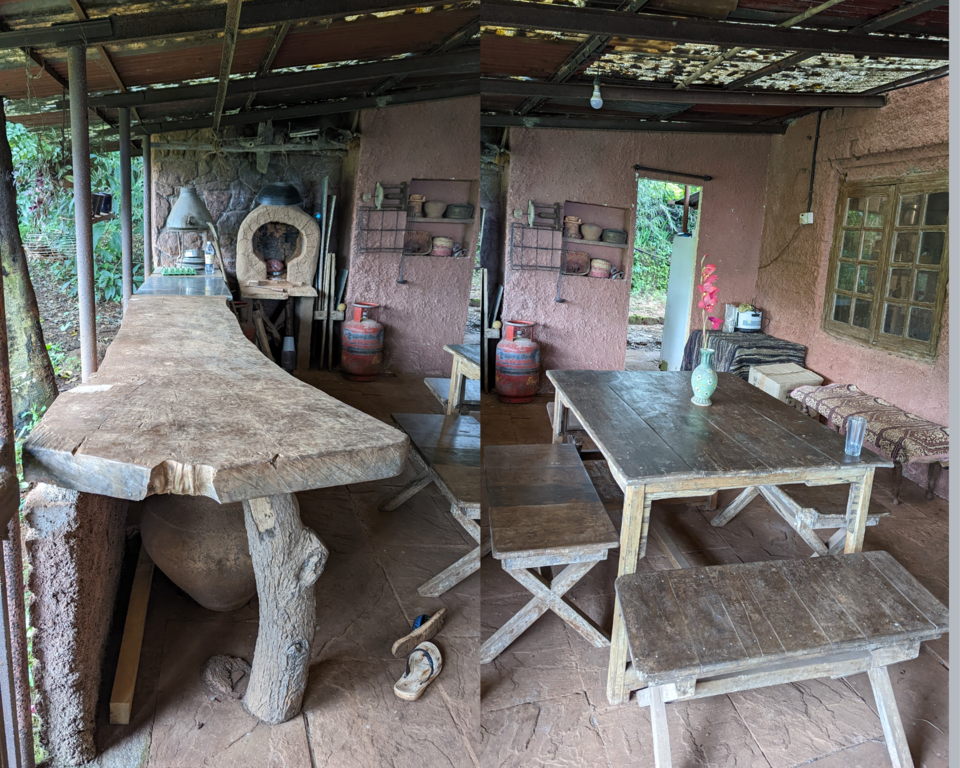 • The highlight of the stay was a hike to a plateau. Host Mona will direct you to a lesser-known plateau behind her property that looks better than Kaas Plateau which gets enveloped in blue and yellow bloom during flowering season.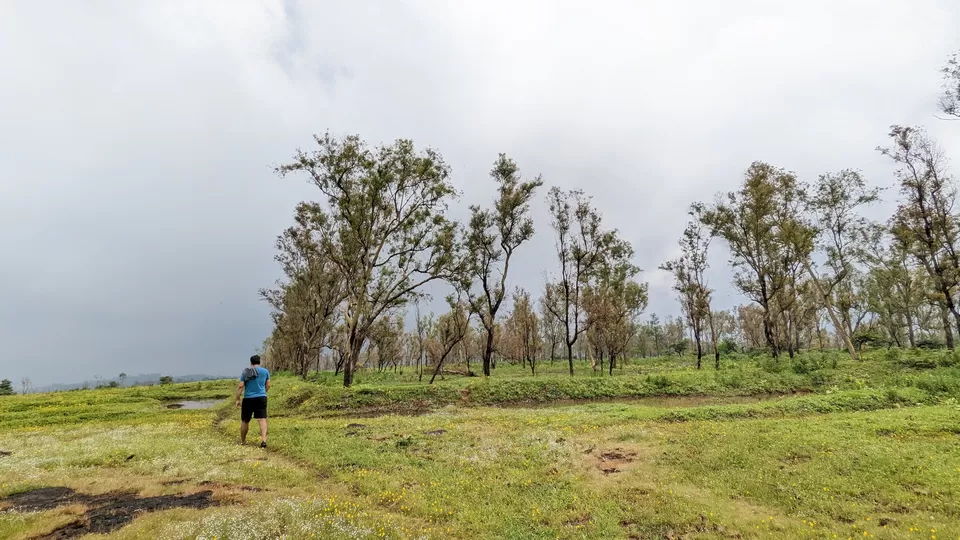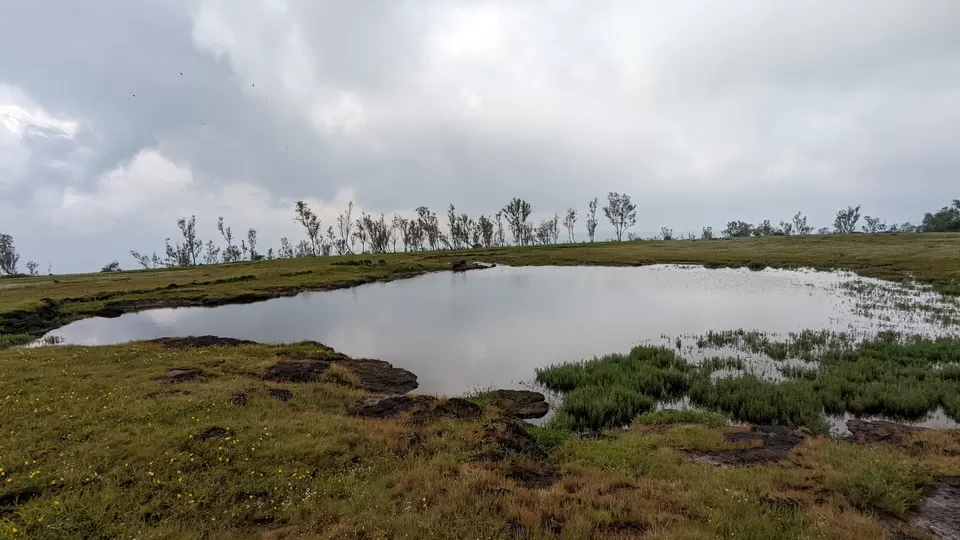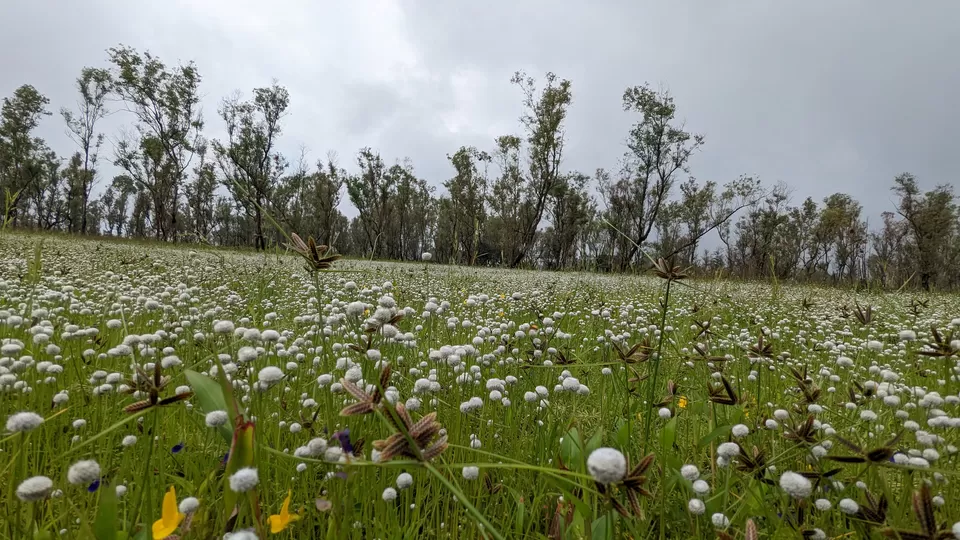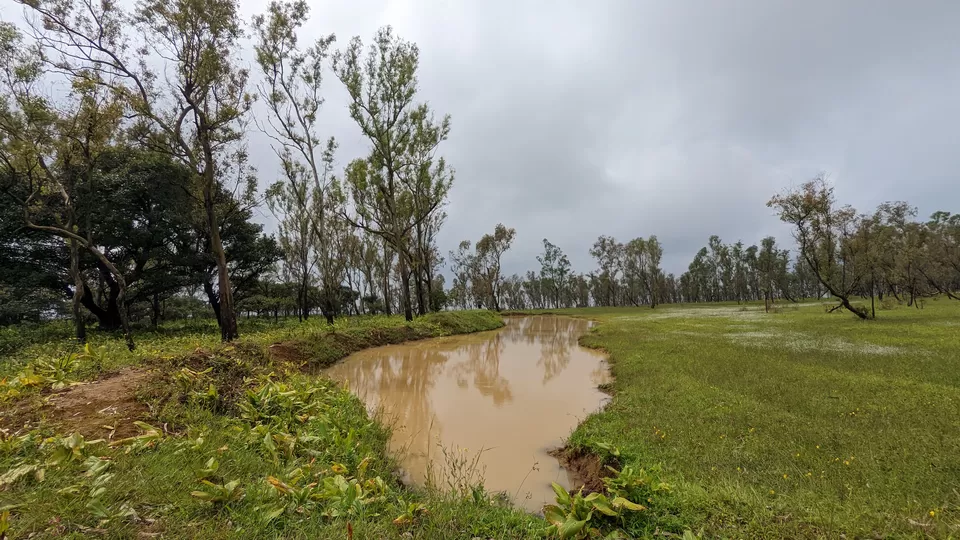 Things To Remember
• Do not feed the dogs and cat (if you want to, do seek permission from the host).
• Panchgani and Mahabaleshwar have been declared as Eco sensitive zone. All plastic and non-biodegradable waste should be avoided and if brought should be taken away if brought in.
• This is a self-service sustainable space and not a serviceable space so you are requested to pick up after yourself.
• Special requests can be considered when it concerns elderly and children.
• Since this is no restaurant where food is ready to be served, you should select items for breakfast, lunch and dinner and intimate the host well in advance.
• Light use of the kitchen is permitted for baby food, seniors or health related special needs.
• Morning cup of tea/ coffee may be prepared by you in the kitchen - dry ingredients like tea, coffee, sugar and powdered milk will be provided but no cow milk.
• All utilities and space should be left as it was when you started.
• Loud music should be avoided.
• Check in time is 1.00pm. Check out 11.30 am. Flexible on request.
• Jio network works very well here. There is also a 60 MBPS BSNL wifi and an inverter.
• Hot water for bathing is provided once a day after 9.30 am in the morning.
• Soap is not available for bathing and washing but Shikakai is.
Shikakai has been used since ages for bathing and is a more sustainable form of living. But if soap is required then it is better to carry a tiny one.
Tariff:
1. On Airbnb - Book here
Starts from INR 2800 for 3 guests(excluding tax)
2. Call & Book
If booked directly it will be cheaper. So, in case you are interested you can directly connect with Mona Patrao
Contact:
Phone: 9423866396
Email: redstoneorganicfarm@gmail.com
Address: Redstone Eco Centre and Organic Farm
Bhose Village, Panchgani - 412805
Landmarks: Opposite Temptations, near Strawberry Inn
While many may feel the need to be pampered during a vacation, it is equally important to feel closer to nature in order to understand the ecological services that the various ecosystems are providing us for our smooth lifestyle, that we are mindlessly exploiting and depleting for our needs. My attraction to this place is not just for its rustic, organic feel but also towards the host – Mona Patrao, who was way ahead of her time, knows her mind, follows her firm ideologies and principles that she does not stray from, come whatever the circumstances maybe and her focus towards bringing in a change and relentlessly working towards it. And till now is more than happy to share her knowledge and experience so that others can get a glimpse of what is around us and needs protection. And that level of focus takes a lot of courage, resilience, and grit – for which she is revered in the community and won my heart!!
So, if the monotonous city life has gotten to you and you are craving for a non-luxurious stay where you are happy to do your chores and live humbly amidst nature then this is the place for you. Not only that, every corner of this farm stay has a story to tell and a piece of history attached to its existence!
P.S. – Mona Patrao does need volunteers (preferably long term) to help her with the homestay and for the volunteers the stay would be free.
Ready to travel for free? Earn credits and redeem them on Tripoto's weekend getaways, hotel stays and vacation packages! And don't forget to be a part of the largest online community of travellers on Tripoto's Facebook page!