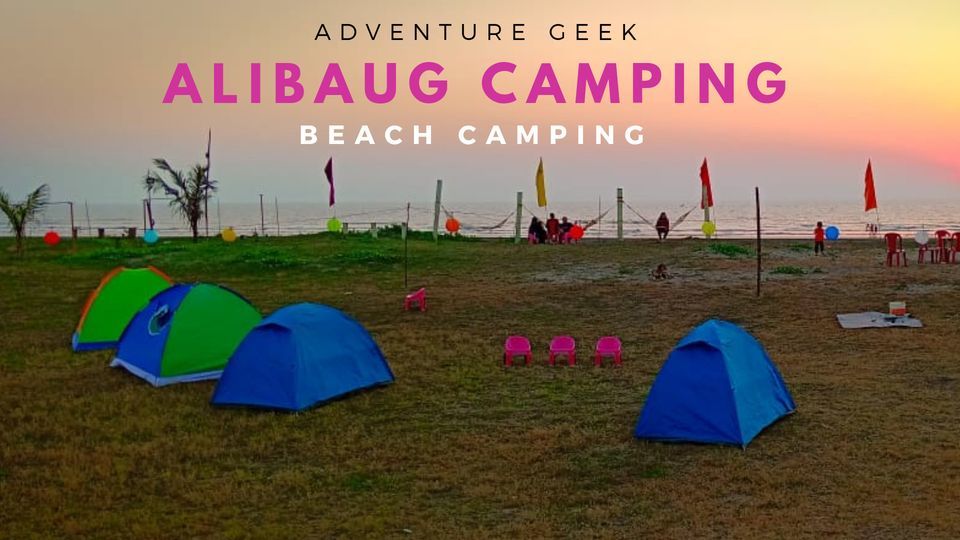 Overview
Lets go Camping at Revdanda Beach Camping at Alibaug Beach
Everyone loves the beach, right? Life is good if you get chance to live whole night on the beach under stars & moonlight. So, what are you waiting for? It's time to go for tent camping in albaug. Budget friendly camping.
Holiday+ Beach Camping+ Stars+ Bonfire+ Moonlight+ Barbeque+ Waves sound+ Dance=Happiness
Create your own happiness by joining our Alibaug camping activities. Collect moments not things.
Checkout our other Weekend Camping events near Mumbai
1 Night 1 Day 07 Nov, 14 Nov, 21 Nov, and more Revdanda, Maharashtra
Highlights
Visit the Revdanda beach fort. You can go beach walking to the fort.
Get your volleyball/football/cricket gears to enjoy at the beach.
Go for beach walks on this long & empty beach.
You can also check out the water sports activity which happens on the other end of this beach.
Watch the perfect sunset.
Roast some BBQ at the campsite
Enjoy the bonfire in the evening
Itinerary
Revdanda Beach Camping
Schedule
DAY 1
04:00 pm - Reach the Revdanda Beach Camping on your own.
(we will shared you the location of Google Map?
Welcome Drink
Freshen up and have some delicious Pakodas with Garma Garam Tea.
05:00 pm - Settle down and enjoy the sun setting from the Alibaug Beach Camping. The place is all time best for nature photography You may enjoy indoor games such as carom, badminton, volleyball or one can just relax and unwind on hammocks until sunset.
08:00 pm - Enjoy the experience of cooking the Barbeque for yourself (Veg/Non-veg).
09:00 pm - Delicious dinner will be served (Veg/Non-veg unlimited food)
10:00 pm- Campfire on Alibaug Beach
00:00 am - Day Off and Snooze inside your Tent
DAY 2
06:30 am - Don't Miss, the Sun Rise it is really awesome to watch
09:00 am - Get energized with hot morning Tea and some yummy Breakfast
10:00 am - We leave with an awesome experience from Revdanda Beach Camping with great memories to cherish for life
THINGS TO BE CARRIED
- Extra pair of clothes
- Torch with extra batteries.
- Photo ID card.
- Some ready to eat food (plum cakes, biscuits)
- Drinking water
- Personal medication if any
CANCELLATION & REFUND POLICY
Cancellation within 24 hours of payment 100% refundable. (Not applicable on payments made before or less than 36 hours of the event. Only 20% will be refunded in this case.)
If cancellation is done prior to 10 days of outing 90% refundable.
If cancellation is done prior to 6 days of outing 60% will be refunded.
If done prior to 3 days of outing 30% will be refunded
After that, no refund will be provided.
FAQ For Revdanda Beach Camping
Revdanda Camping is the over night camping in Alibaug?
Yes, it is overnight camping on the beach of Revdanda.
Can we travel by our Own?
Yes,you can travel by your own we will share the location of the Alibaug camping
Where do we stay in Revdanda Beach Camping?
You stay in Tent which will be on Revdanda Beach
Is kids allowed at Beach camping in Alibaug?
Yes, Kids are allowed with parents
Can we bring alcohol?
We dont support but you can BOYB, See to it that you dont disturb others
How Safe is the Revdanda Beach Camping?
Revdanda Beach camping is safe for all ages
Inclusions/Exclusions
What is included in the tour
Evening Snacks
Barbeque
Dinner(Veg & Non-veg)
Night stay in camps with comfortable bedsheet and pillows.
Breakfast
What is NOT included in the tour
Anything not mentioned in inclusions.
Call 9004675388
website:-https://www.adventuregeek.in/tours/revdanda-beach-camping