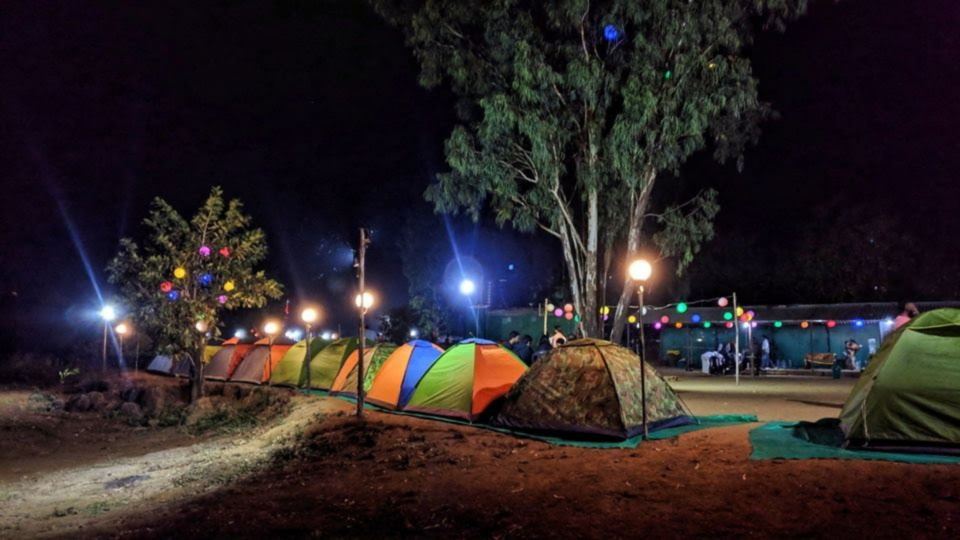 Call Vinay:9004675388
Website:-https://www.adventuregeek.in/tours/pawna-lake-camping
Adventure Geek invites you for Pawna Lake CampingPerfect Gateway! A place to witness nature at its best at Pawna, Lonavala
Pawna Lake Camping is calm and serene, our property is private and lake shore touch, hence people can enjoy with respective groups without any fear in mind. One can seat beside lake and witness natures beauty with breezy air flow.
Camping offers peace, and relaxing atmosphere. Its helps to get close to nature and much needed break from hectic routines, excel, ppts and targets.
Pawna dam has sound of chirping birds in evening and calm water rippling is beauty of lakeside camping. Trust me ambience is breath taking and relaxing to rejuvenate.
Best suited for groups, solo campers, corporate, couples, families and pets.
Checkout Our other Event for Weekend Camping near Mumbai
1 Night 2 Days 07 Nov, 14 Nov, 21 Nov, and more Thakursai, Maharashtra
Highlights
Best location in Pawna for Camping.
Spend a fun day in the outdoors surrounded by lush nature.
Camp in front of Pawna Lake
Panoramic view of Pawna Lake
Comfortable Tents with the best view of Pawna lake
Soft Archery, Dart Board, Carrom, Badminton, Cricket, Football, etc Games
Western Toilet
Barbeque
Itinerary
Pawna lake Camping Itinerary
Participant need to arrange or Travel by Own Transportation
For people travelling by own transport we will provide google map locations.
Day - 1, Saturday
04:00 pm - Reach Pawna lake Campsite
04:10 pm - Tent Allotment
04: 30 pm -Games, Photography & Fun time at lake
05:00 pm - Snacks and Tea
06:30 pm - Watch Sunset and Relax in your tent
08:00 pm - Bonfire & BBQ
09:30 pm - Dinner
10:30 pm - Music & Dance
11:30 pm - Good Night
Day - 2, Sunday
09:00 am Breakfast and Tea
10:00 am Check out - Pawna lake Campsite.
Under the Stars For Pawna Lake Camping This Weekend!
Camping in Lonavala is the favourite trending activity among the youth in Mumbai and Pune. Get the best Pawna dam camping experience .We are an official organizer of Pawna Camping and provides the best facilities and services. Camping at Pawna lake near Lonavala attracts tourists from all over India. due to its serene beauty and awesome weather, people prefer camping.
Pawnalakecamping is not only about the pristine lake! Enjoy barbeque sessions beside a lively bonfire, enjoy star gazing & lot more. Your vacation awaits at Camping Pawna Lake. Camping near Pawna lake with our friendly staff ensure you create good memories.
Rules & FAQ for Pawna Lake Camping
General Guideline for Pawna Lake Camping
Do not carry valuables or items like jewellery, laptops or any other things.
Management & Campsite is not responsible for any kind of loss or damage to your belongings.
Do not smoke or light any items inside the tent as it may cause a fire in the tent.
Please Remove your footwear outside the tent and keep the tent neat & tidy.
Weapons or any inflammable things are not allowed on the premises or in the tent.
If any damages are caused to the campsite, tent or bedding, camper/ guest will be responsible for the damage and will have to pay the charges for the same.
STRICTLY NO USE OF DRUGS IN ANY KIND OR ANY FORM OR ANY OTHER KIND OF INTOXICANTS.
All guests must follow the camping rules.
FAQs for Pawna Camping
Is washroom and changing facility available at Pawna Lake Camping?
- Yes
What is the age group criteria for Pawna Lake Camping?
- Any age group can enjoy at the lakeside, as the campsite is fully safe. We have a college group, reunion camping, company team outing, family picnic and etc.
Can I go swimming without a life jacket?
- No. Swimming not allowed.
Which kinds of vehicles are preferable?
- Vehicles with high ground clearance are preferable, as last 1 km is Off-roading. Parking space is available.
BBQ will be provide at Pawna lake camping?
- We will provide limited BBQ in the package.
How will be the stay facility?
- Stay will be in Tent (sharing of 2/3/4 basis) along with bedding, blanket, and pillow.
Kids allowed at Pawna Camping?
- Yes, Kids are allowed
Are, Pets Allowed at Pawna Lake Camping?
- No, Pets are not allowed
Can we BOYB at Pawna Lake Camping?
- Yes, But see to it that other participants, client don't get disturb because of you.
Do we have any resort near Pawna lake?
- Yes there are many resort near Pawna lake
Do you provide pawana camping for Couples?
- Yes we do allot tent to couples at our Pawana camping
How to do Pawna camping booking?
- You can book online from the website or call on 9004675388
How to Reach Pawna Lake Camping?
We will Provide you the Google Map Location which will take you to Pawna Lake camping
Pawna Lake Camping for couples is allowed?
Yes, We do take booking for Pawna Lake camping for couple
Pawna Lake Direction?
By Car:- Take Lonavala Exit and drive till Kamshet and from there ask for Pawnanagar which is 5 km from there
By Train:- Get down at Lonavala Station and Hire a Cab or Rick to Pawna Lake Camping.
What is Other Major Attraction in Pawna?
Major Other Attraction is Paragliding in Pawna Lake.
Inclusions/Exclusions
What is included in the tour
Campfire
Music
Comfortable Tent stay (on Twins/Triple/Four sharing basis).
Indoor & Outdoor games
Guide and Expertise
Meals included (Veg/Non-Veg/Jain):
Evening Tea
1 Dinner
Barbeque (Limited)
Morning Tea Breakfast (Milk/Coffee/Maggi will be served on additional charges)
What is NOT included in the tour
Meals during travel till Pawna Campsite
Packaged Water
Personal expenses/tips.
Insurance of any kind.
Medical hospitalization, evacuation, and related expenses.
Any item not covered under Inclusions.
Things to carry
Extra pair of clothes
Torch
Photo ID card
Some ready to eat food (chips, cakes, biscuits)
Drinking water
camera
Personal medication if any
Note
Since it is not a luxury trip, do not expect any luxury.
All food is hygienic and authentic local delicacy.
You are joining an outdoor activity where any incident, reasons beyond control like Natural calamities, landslides, bad road conditions, riots, political uncertainty, public transport failure etc.; Man-Made calamities, Vehicle breakdown, vehicle dysfunction can happen & you agree that the organizer/leader shall not be held responsible for any accident, mishap (including death) caused by any circumstances.
Adventure Geek is not responsible for any loss of illegal substances or items being carried by the participant.
Cancellation & Refund Policy
Cancellation within 12 hours of payment 100% refundable. (Not applicable on payments made before or less than 36 hours of the event.)
If cancellation is done prior to 6 days of outing 70% will be refunded.
If done prior to 3 days of outing 30% will be refunded
After that, no refund will be provided.