March in India generally gets pretty hot. Combine that with the humid climate in Mumbai and what you've got a hot box. It was one such day in March wherein I had an unusually light workload. I was bored out of my mind wherein I was surfing, reading articles, when I came across a list of UN World Heritage Sites in India. Living in Mumbai, I often see the Chhatrapati Shivaji Terminus, a historic railway station in Mumbai and a UN World Heritage site in its regal splendour. Perusing the list, the famous caves of Ajanta and Ellora jumped out of the page at me. I immediately looked at the calendar. A long weekend. If I could add just another, it could turn out to be a proper trip. A plan was forming in my mind.
I set about reading the details of what could be done. Aurangabad is some 300-350 kilometers from Mumbai, a meagre 6 hour drive. A 4 day trip would more than encompass what we needed to see. And when you have two UN World Heritage Sites in such close proximity to each other, it makes the trip even more worthwhile.
Now about the company. Surprisingly, all 3 people I asked, agreed. Mind you, a Goa road trip has been on the anvil (for the whole of India, really) since Dil Chahta Hai released, although it has never fructified. Maybe, it's with Goa plans. Somehow, they were as bored as I was and itching to get out of town.
"We were about to ask you", they said. To go to Lonavala, I added mentally, aghast.
We discussed about it and plans were done. Just like that. So, it was going to be the 4 of us, on a 4 day trip in a small hatchback. We decided not to plan a strict schedule and just travel by the seat of our pants.
Day 1 (Friday): It was an early (about 6 a.m) morning that we set out coursing a path towards Nashik via Thane. The climate was quite pleasant as we started but it got progressively hotter as the day went on. About a hundred odd kilometres, near Igatpuri, we had hot kande pohe and chai for breakfast.
A few kilometres later, we took a right at Ghoti (as directed by Google Maps). The roads were empty but the condition of the roads was terrible. We just wobbled around in the car for the next 80 kilometres or so. The roads improved considerably after Vaijapur and we arrived in Aurangabad by 1:30 p.m. We checked into our hotel by 3 and decided to rest for the day.
Ajanta and Ellora, although spoken off in the same breath, are actually different cave systems, quite distant from each other. Although people plan both of them in the same day, we decided to spread it across two days.
Day 2 (Saturday): We travelled to the Ellora caves the following day. It is some 30 kilometres from Aurangabad city and takes under an hour to traverse. Ellora is one of the largest monastery cave systems hand cut from rocks. It has major influences from Buddhist and Jain religions that is seen from the sculptures and murals. Ajanta, however, has a greater and more diverse collection of murals than Ellora does.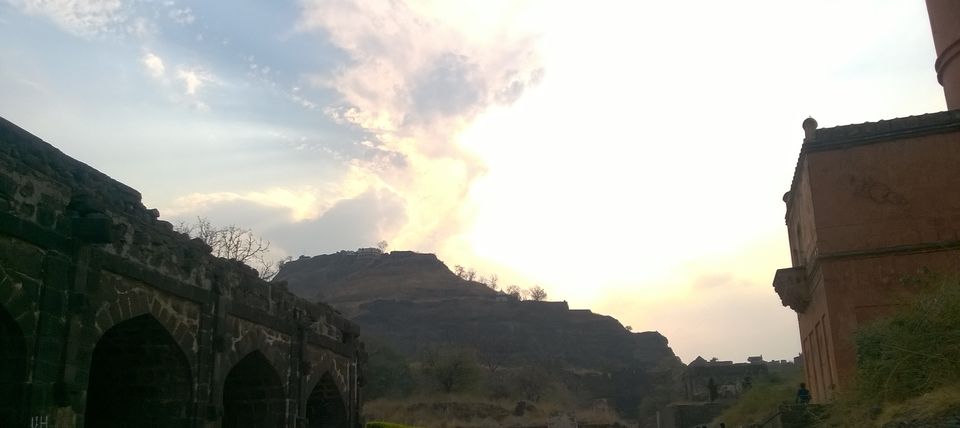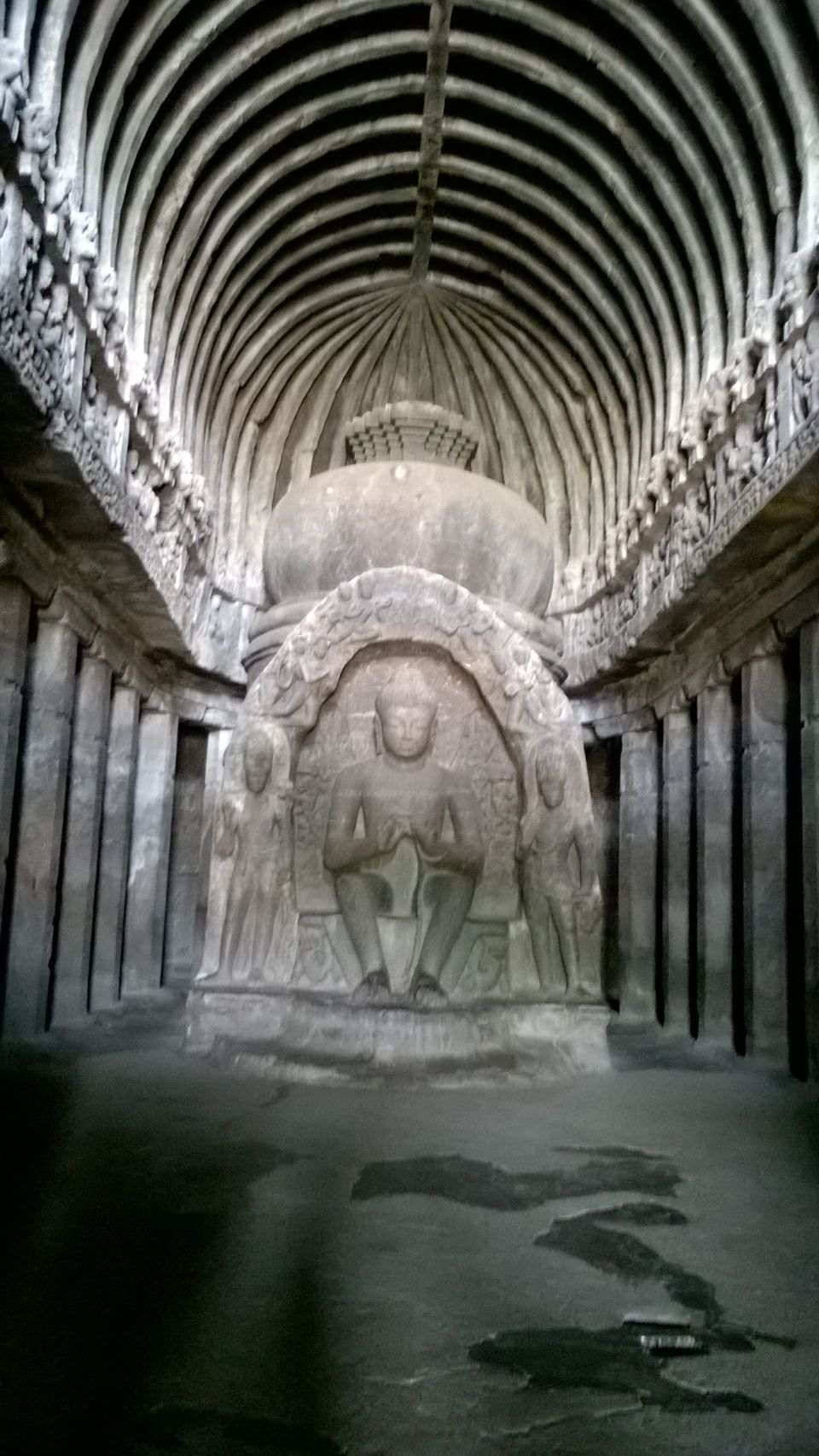 It is an amazing place to go if you're interested in cave sculptures and murals or are generally interested in visiting a vast collection of man-made history which has survived/preserved till date. ASI has done a moderately fine job of maintaining it, which might have improved after it was adjudged a World Heritage Site.
Pro tip: It is advisable to go as early (It opens at 9 a.m) as you can and wrap up your visit before noon. It gets progressively hotter after that. We reached Ellora around 11, and boy it didn't get any pleasant.
We also visited the the famous Ghrishneshwar temple which is right next door, a temple that is referred to as the last Jyotirling of the twelve.
We reached Daulatabad fort late in the afternoon. It lies along the route to Aurangabad, so no diversions were necessary. The climb up the fort is steep and laden with rock ground. But the view at the top is worth it. Despite being maintained by the ASI, everything beyond the base level, sadly, is not in great shape.
We reached Aurangabad in the night time.
Day 3 (Sunday):
Taking the cue from the previous day and the fact that the Ajanta caves were further away from Aurangabad (about 100 kilometres), we left early that day. What awaited us was as splendid as they are spoken off. The stone sculptures were as brilliant as Ellora, the mural much, much better.
Pro tip: If you're going to Ajanta, choose sandals (without socks, please) as your choice of footwear. This is primarily because there are a lot of caves which require you to go barefoot because of its religious importance.
Post Ajanta, and a very sumptuous lunch at a friend's place, we set out for Bibi ka Maqbara in the evening. Emulating his father, it was built by Aurangzeb in memory of his wife.
It looks so strikingly similar to the Taj Mahal, it is also known as the Taj of the Deccan. The best views happen to be during twilight, which is when crowds throng the tomb for its extraordinarily spectacular splendour.
Day 4 (Monday): Having faced a bumpy ordeal as we drove down, we decided to take the longer route via Pune for the return trip. It was a straight road to Ahmednagar and beyond to Shikrapur. Here, we took the road towards Chakan and then to Talegaon to join the Mumbai-Pune Express highway and it was smooth sailing all the way. This route adds an additional 60 kilometres to your route, but a much smoother one at that.
That about wraps up the long-short 4 day road trip.
I will be following up with a route map to Aurangabad and places to visit. Watch out!