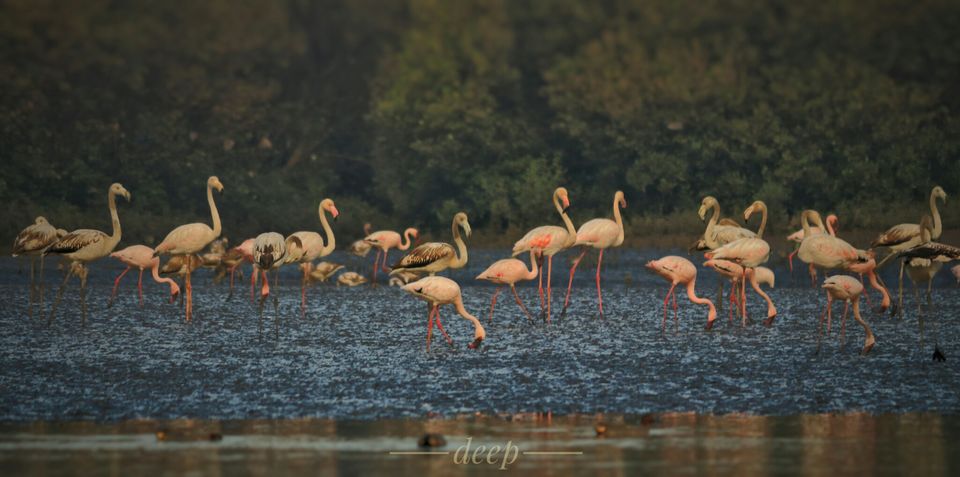 A large number of Flamingos fly every year from Kutch to Thane creek during winter and stay in the city for about 6months. Maharashtra govt has recently declared this area as the Flamingo sanctuary.
How to reach:
From Thane to Mumbai, on eastern express highway cross the Mulund-Airoli junction and after around 100 meters take left and follow the narrow road to Bhandup Pumping station.
When to visit:
The best season is from Jan end till early monsoon. Visit in the morning during low tide for better opportunity to watch them close.
What to do:
Reach Bhandup Pumping station few mins before sunrise. Take a boat ride and explore the creek along the mangroves. You may take a smaller rowing boat which can take you closer to the Flamingos. The rowing boat takes 3 to 4 hrs and motor boat takes 1 to 2 hrs.
Things to carry:
A good binocular or camera, cap, water bottle.
Birds commonly seen:
Lesser & Greater Flamingos, Sandpipers, Common green shank, Stilt, Avocet, Egrets and Herons, Ibis, Stork, Gull, kites, ducks and many other species.