Rains, a symbol of abundance. The first drops are a treat to the senses. The smell of the earth when the first drops touches her, and the lush green carpet that follows just soothes the eyes. Monsoon is the most awaited season after the scorching heat and we are blessed to be in the part of the country which provides with scenic panoramas around.
I read about this wonderful place on a must visit places around Pune blog and I knew in an instant that I had to visit this place. It had been on my "to visit" list ever since. Finally, after spending like 3.5 years in Pune, we decided to drive through the majestic Malshej Ghats this monsoon. It was nothing like what we had expected. It turned out to be more beautiful and mesmerising.
We started from Pune at about 8 in the morning. It was raining cats and dogs here but it dint dampen our spirits. We reached Alephata at 10:30. A left from Alephata and a few cramped-up lanes would take you to the road leading to the Malshej Ghats. Here we realised that its not about the destination but the journey that take you there.
The roads leading to the Ghats were as beautiful as the destination itself. We saw all shades of green lay around us. We crossed farmers working on paddy fields, saw children playing with their cutest cloak kinda raincoats on. We witnessed waterfalls every twenty feet, literally. We drove through the clouds and at times through heavy rains with visibility as low as a meter. It was a sight to behold, a sight which cannot be put in words. You have to be there to witness it, to live it.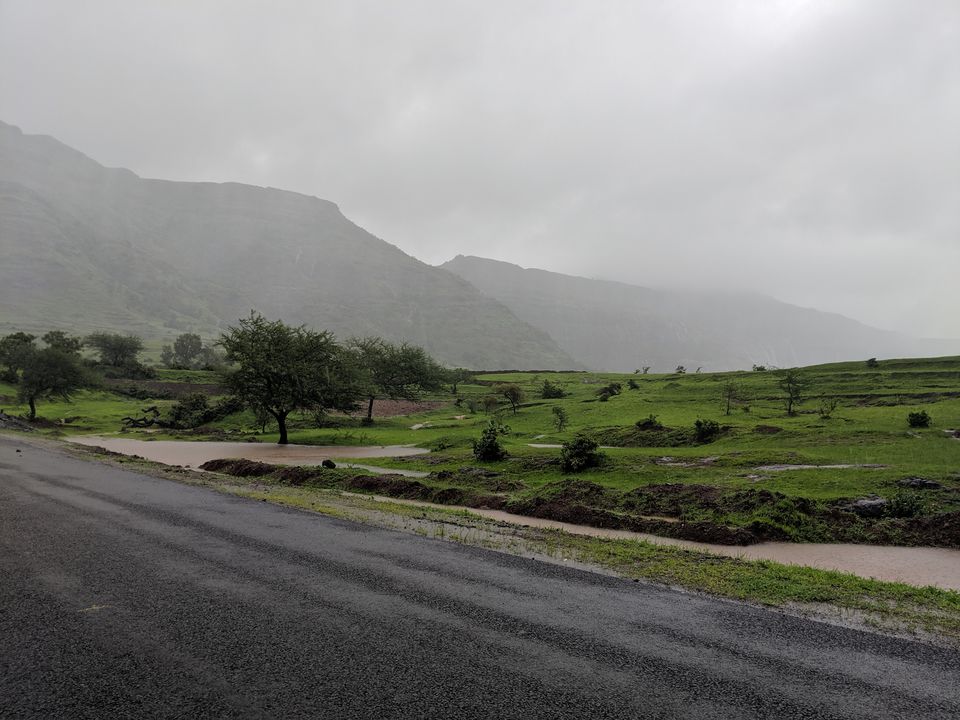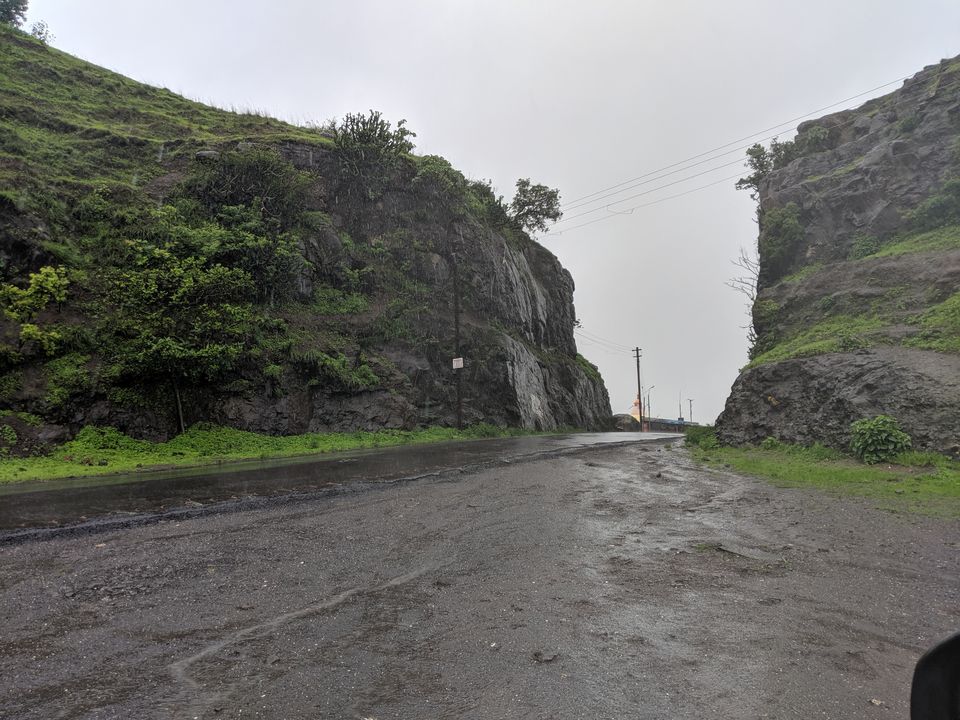 We crossed many resorts including the MTDC Resort overlooking the lake formed by Pimplegaon Joga Dam, enroute. For those wishing to stay for a night, we have heard very goods things about MTDC Resort (budget) and Saj by the Lake. They are extremely scenic and have cottages scattered all over the area over looking the lake.
After stopping every 10 mins for a picture, we finally reached the starting point of Malshej Ghat. There were many hawkers selling all kind of things from Maggie to Corn. We stopped by to grab some tea and Maggie and chit chat with the locals. With a scenic waterfall for company and the breeze hitting our face, we indulged in the steaming hot noodles and tea. While talking to people there we got to know that this monsoon specially, brought out the best of waterfalls in the area. Also, that the ghats aint very safe as landslides and stones falling from the loose rocks are a very common sight there. They also warned us to not drive beyond a kilometre from the starting point as it could get dangerous. We thanked them and drove further.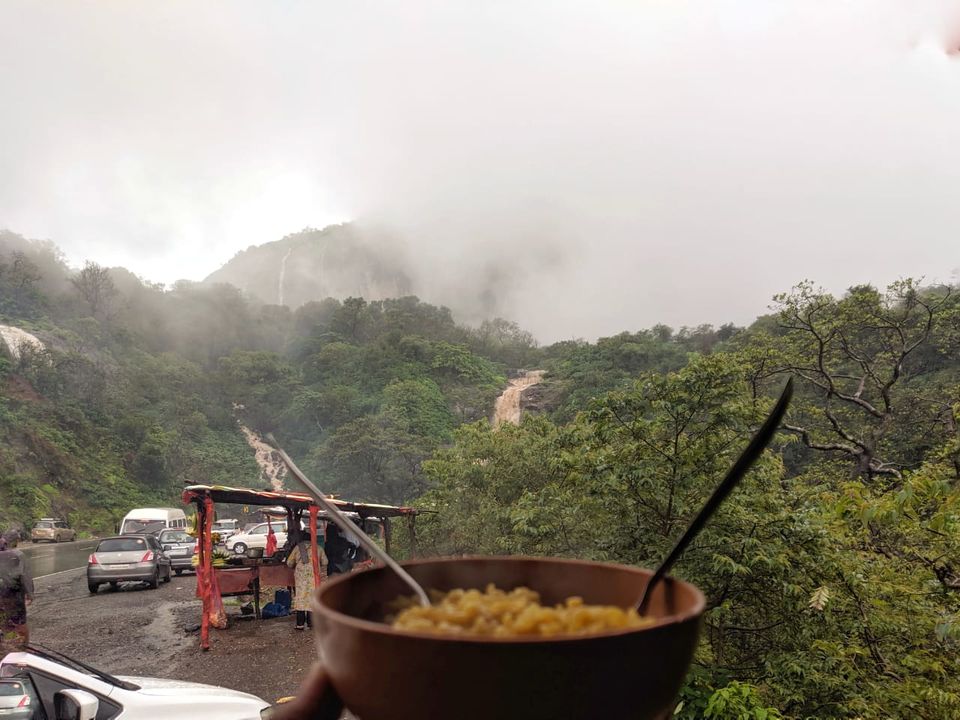 Not even a kilometre and we witnessed nature in full bloom. We have been to a fair amount of monsoon getaways and witnessed a good number of hills and valleys, but this was something else. It brought all our senses to life, it felt like a state of meditation. We just couldn't push ourselves to drive anymore, so we parked in a corner which we were lucky to find on the narrow, almost single lane ghat (you aint allowed to stop on the ghat otherwise), and spent some time, amazed, in the laps of Mama Nature. It was an experience which would stay with us forever.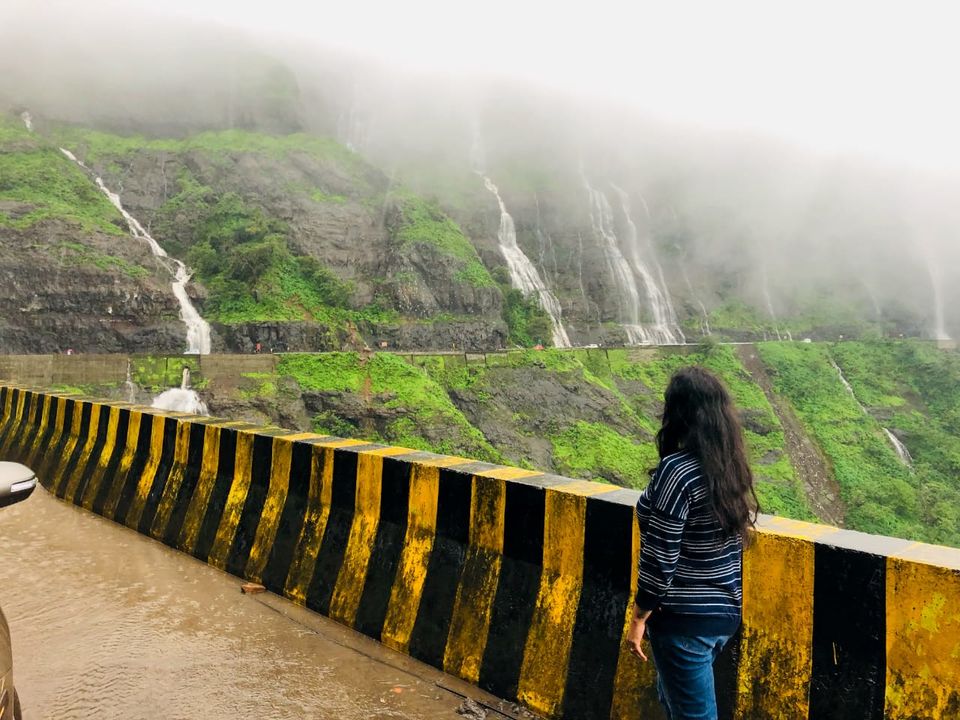 We took the advice of the locals there, took a U-Turn from the point and drove back, living the surroundings, yet again.
P.S. Do not forget to carry umbrellas or raincoats. Wear comfortable clothes and shoes. Carry a change if you wish to bathe in waterfalls.