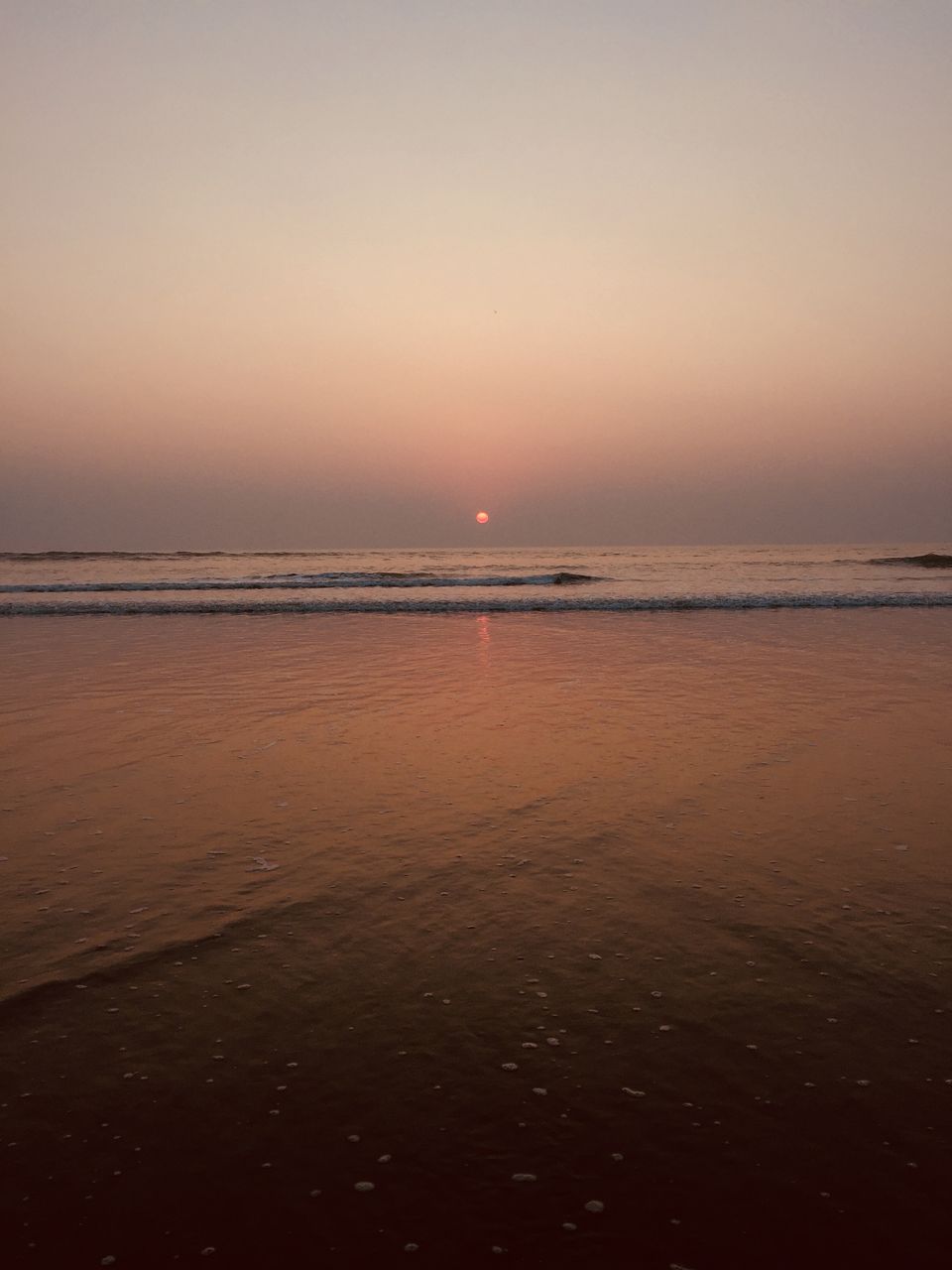 Best time to visit : October-March
I believe all of us are wanderers at heart, and sometimes it becomes necessary for that wanderer part of us to get away from our mundane lives,to explore something new. These getaways can come in form of day trips, weekend vacations or short backpacking trips, and they can satiate our wanderlust if not for long,then at least, for a short period of time.
So this time , when the New Year's eve was approaching, and every other millennial around me was planning to hop around one or the other available pub in the city, my eyes were looking for something different, something that would help me unwind, in the true sense of the word. So, after a lot of internet surfing about "Some offbeat getaways in and around Pune" , I finally came across the name of this tiny beach town Harihareshwar in the district of Konkan, which is known for the quiet beach, which is usually not very crowded, unlike its counterparts.
The journey was sort of a road trip, since we had decided to cover the distance of around 250kms driving on our own, this is an added advantage when you have friends who are experts behind the wheel. Ideally the journey should have been for 5 hours or so, but since the road was a beauty in itself, we decided to halt at a number of spots and breathe in some fresh air of the country side, and finally reached our destination after a good 7 hour journey. Would like to mention that, if you are visiting Harihareshwar from Pune by road, then do go by the Tamhini Ghat road also known as the Mulshi road, and you won't be bored for a second during your journey, trust me!!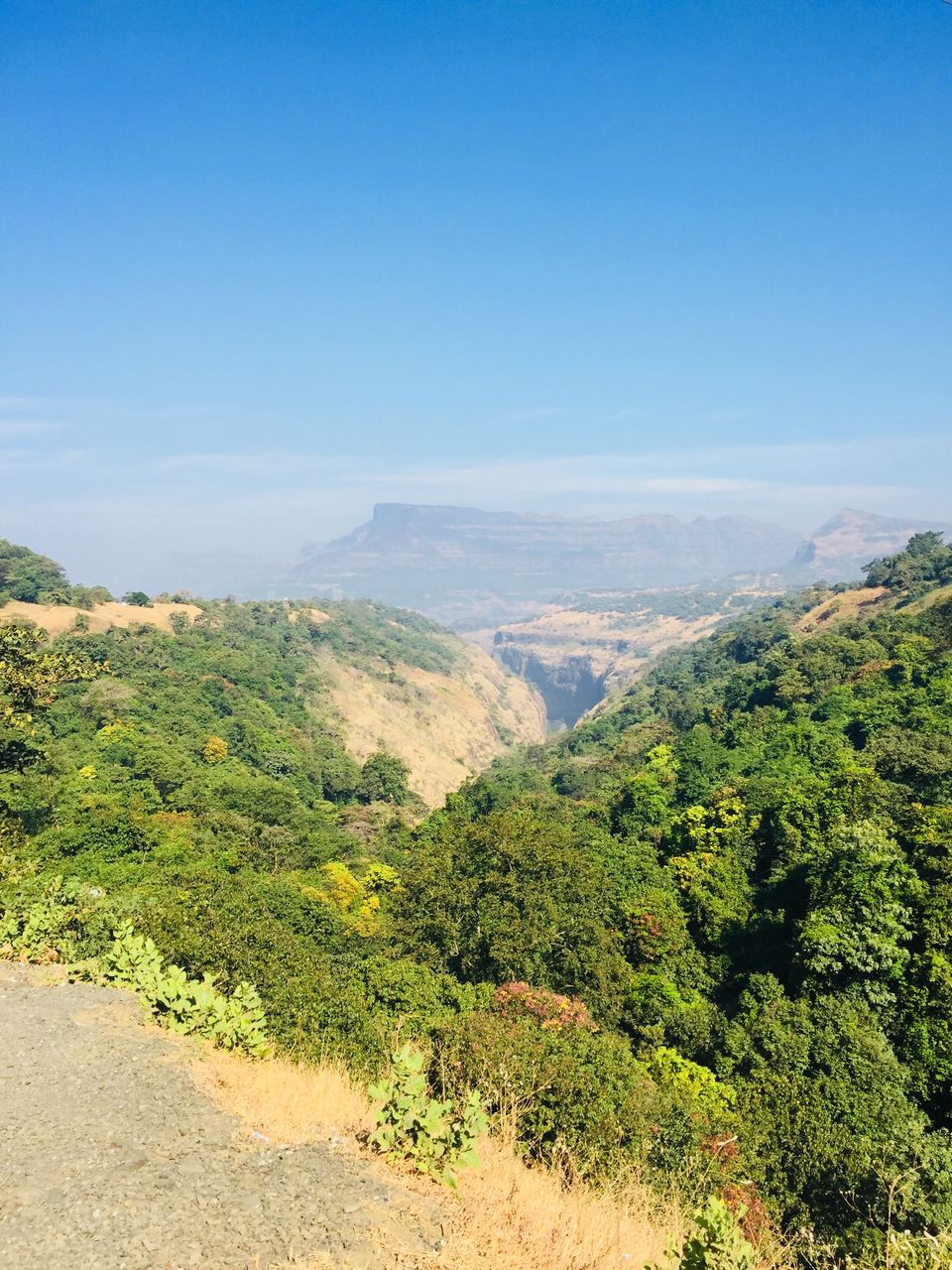 Paths paved with coconut trees on either side, small ferries visible at a faraway distance, sea water glittering in the sunlight, these are the few things that caught my eye in the very first instance, after reaching Harihareshwar. One can spend half an hour so, just admiring the magnificence of the Arabian Sea, as its waves hit the shore.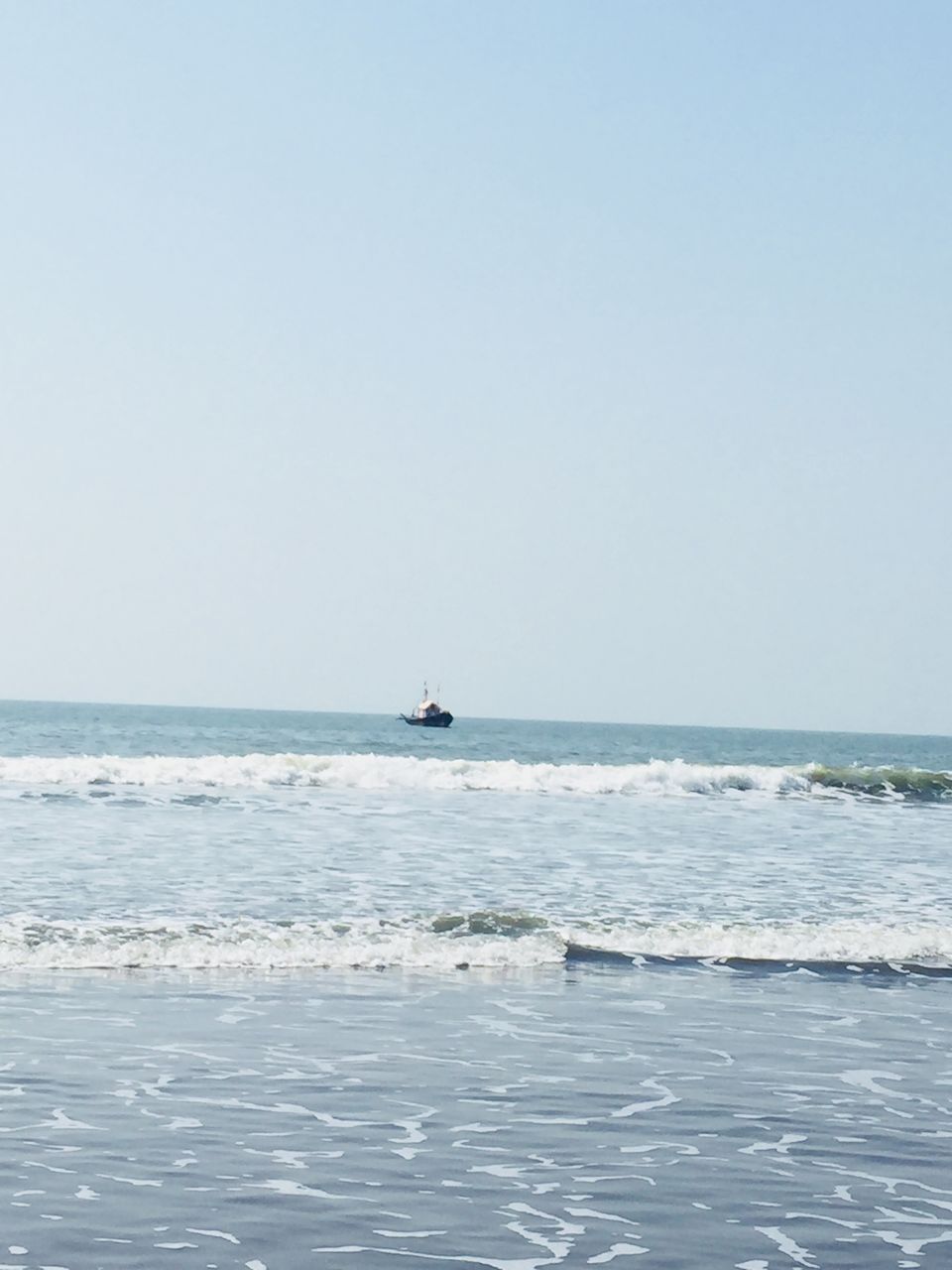 Since it was afternoon already, by the time we reached there, we decided to wrap up with lunch at the ' Tranquil beach resort', which is a sea facing resort cum restaurant, and which serves delicious konkan-style-surmai-fish-curry. So anybody got an appetite for Surmai should definitely drop in, at this place. After a sumptuous but late lunch, we went for a walk down the beach. With small waves wetting and crabs tickling our feet while running back to their holes, we reached the "Shri Harihareshwar" temple, which marks the end of the beach. The temple is an abode of two gods "Shri Harihareshwara" and "Kaal Bhairava", and after our prayers were done, we proceeded to the set of stairs just behind the temple premises, which would lead us to an extended shore of the main sea beach. The path to the shore, was ethereal, it was the kind of place, which we all, as children, wanted to run off to. It was densely covered with trees, and as we went up the stairs, there came a point, where the branches of the trees had intertwined to form a canopy, and it felt like I had landed in one of the scenes of the fairytales, I loved as a kid!!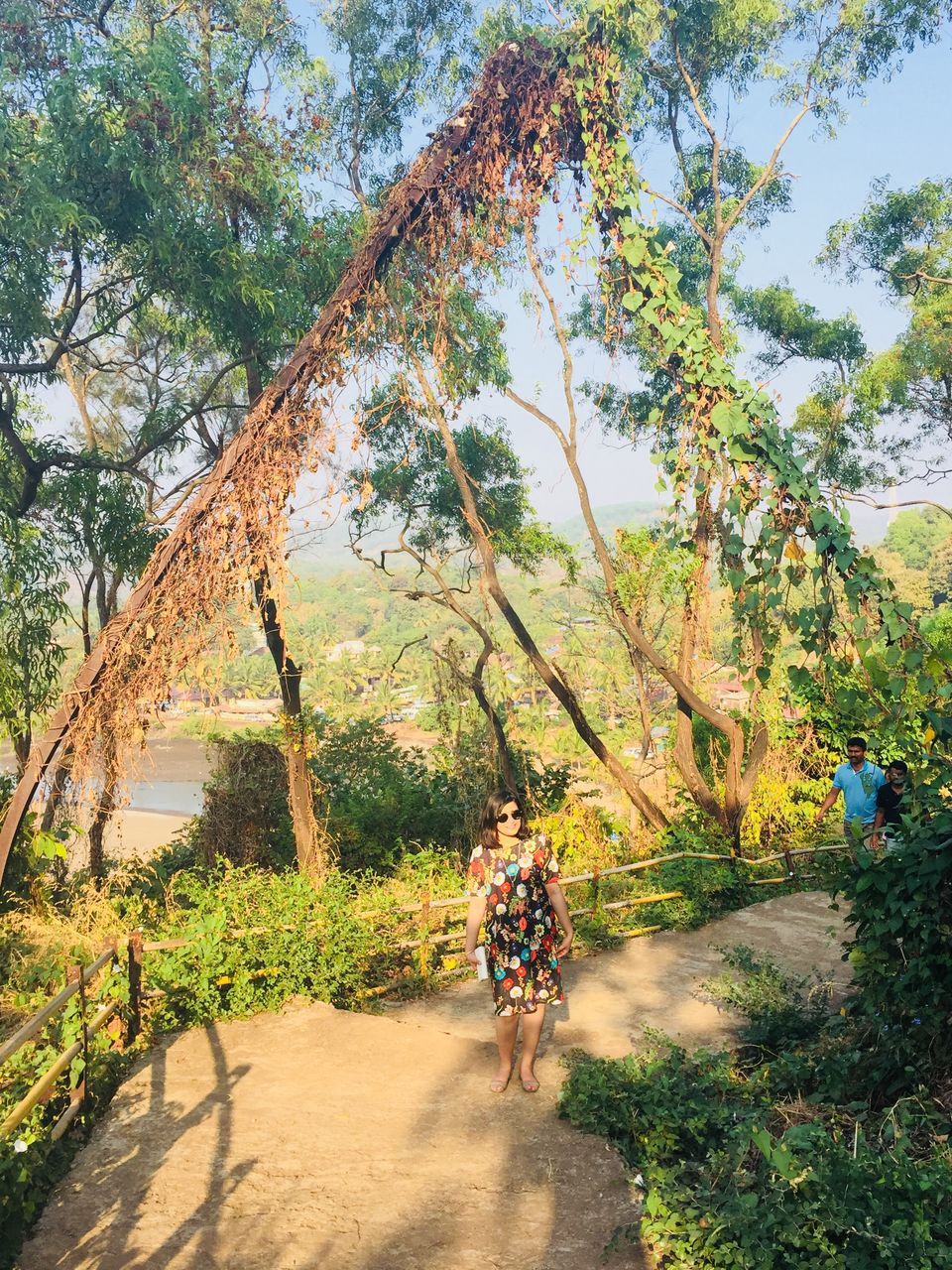 The small shore was awe-worthy in all ways, well I have named it as a shore because I couldn't come up with a better term for such a geographical structure. The sea was shadowed by plateaus/hills on either side and you can hear the roar of the waves from a height.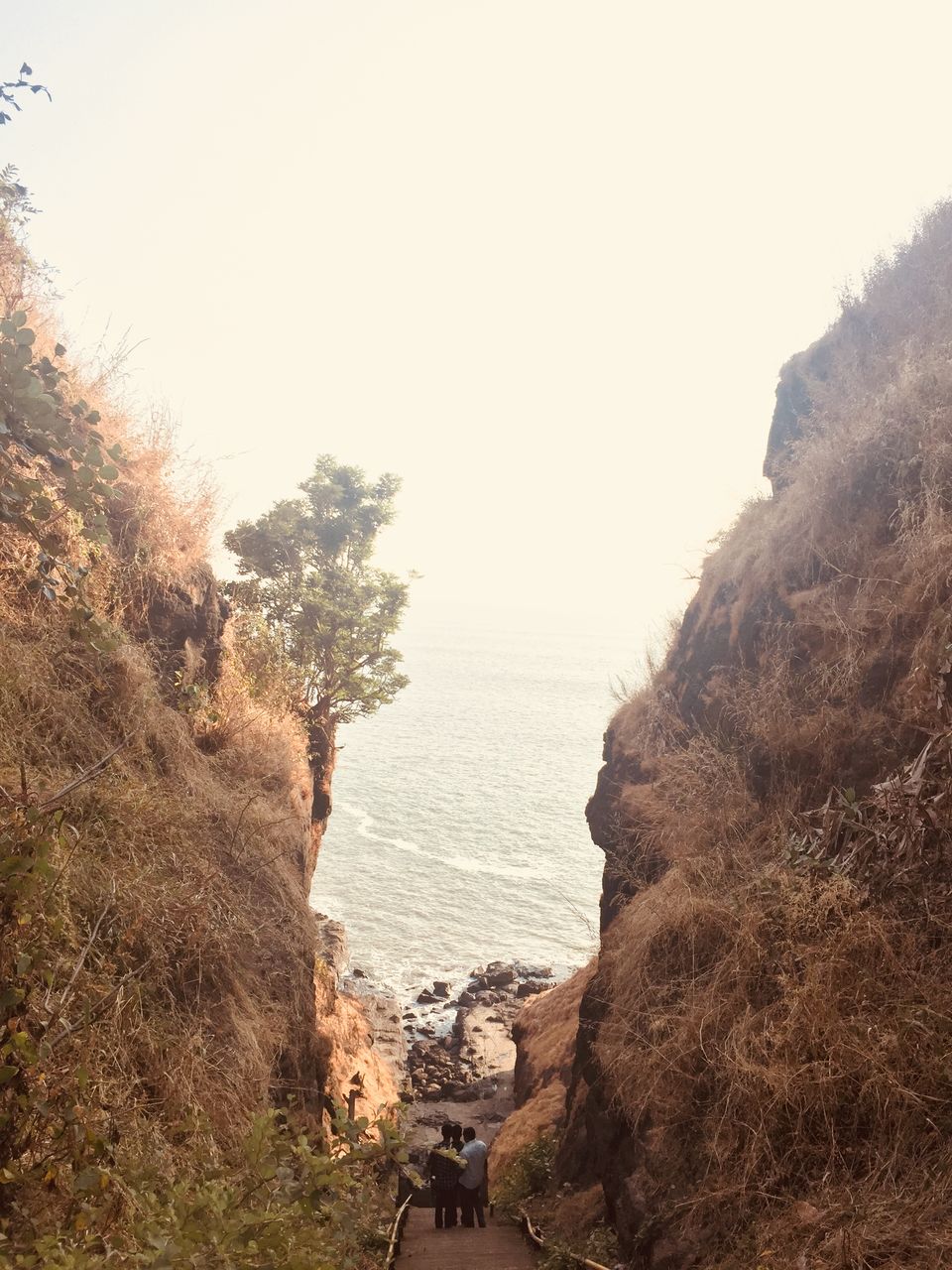 We spent some time there, since its a photographer's paradise, and the budding shutterbugs, that we consider ourselves to be, we didn't waste a minute.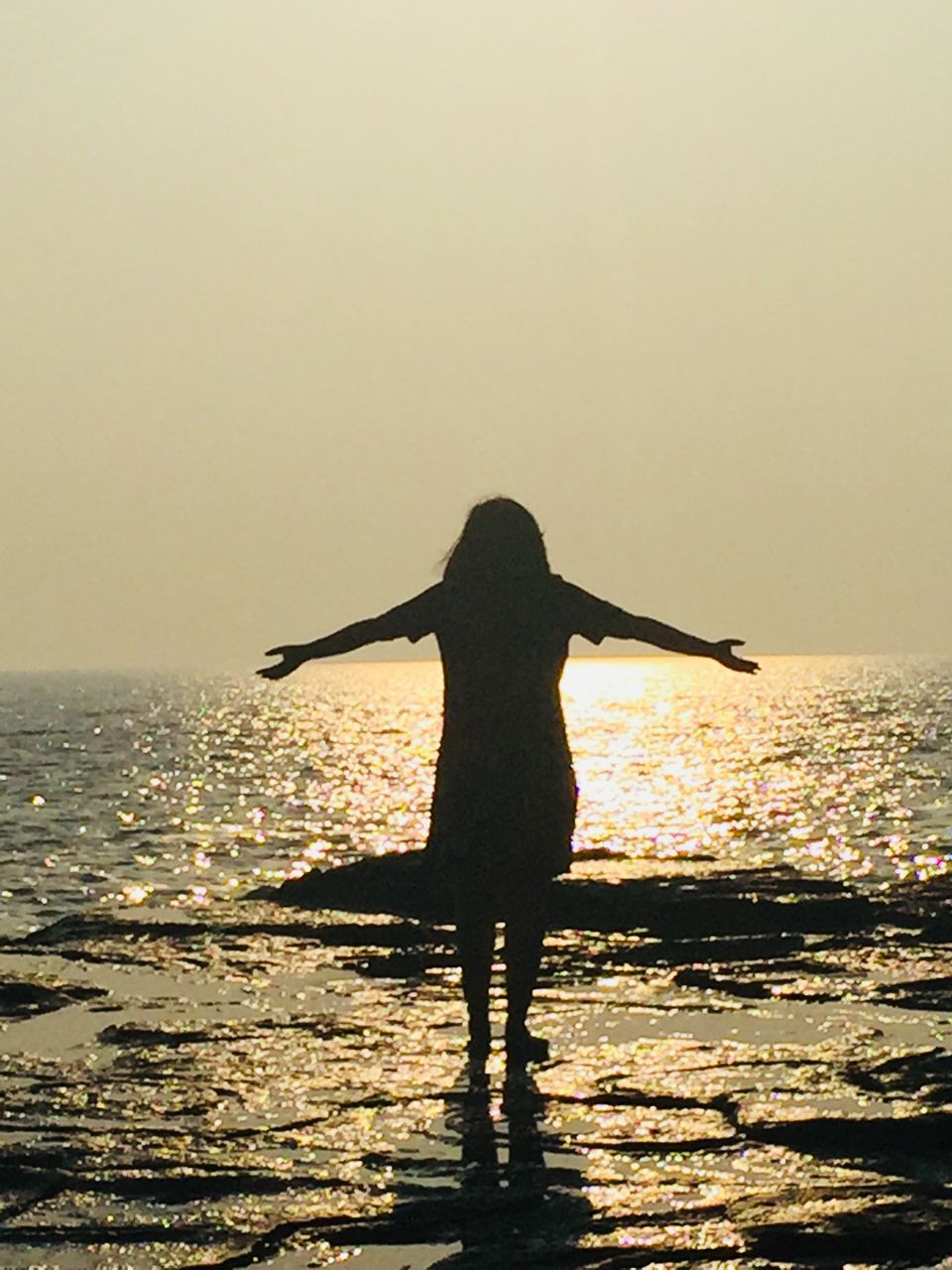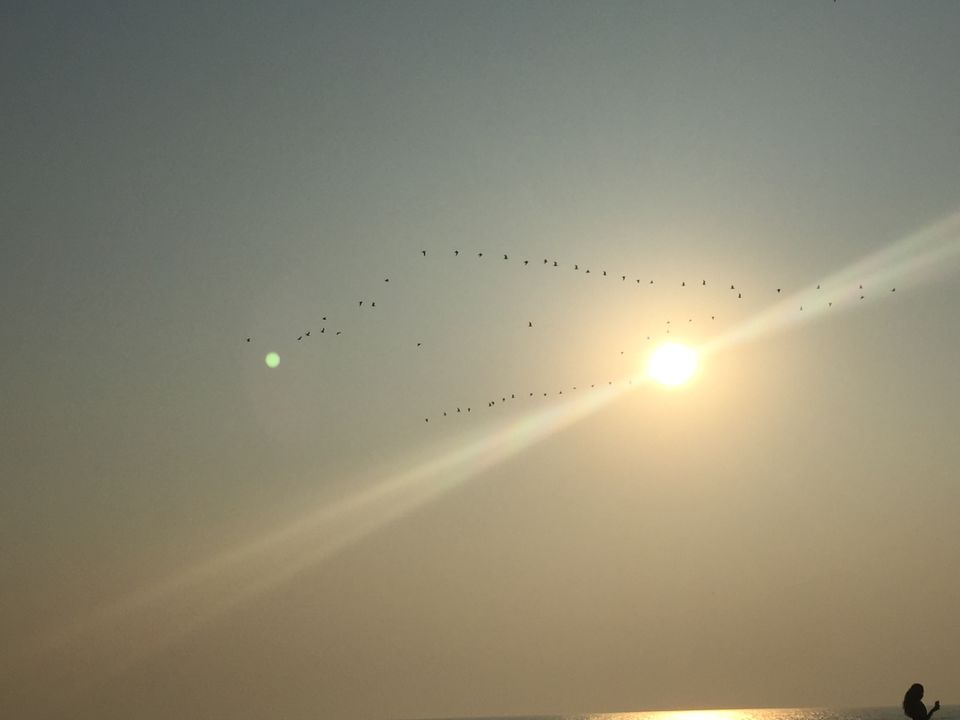 As twilight approached and darkness started to settle in , we headed our way back to the main beach, to witness the sun set in the horizon.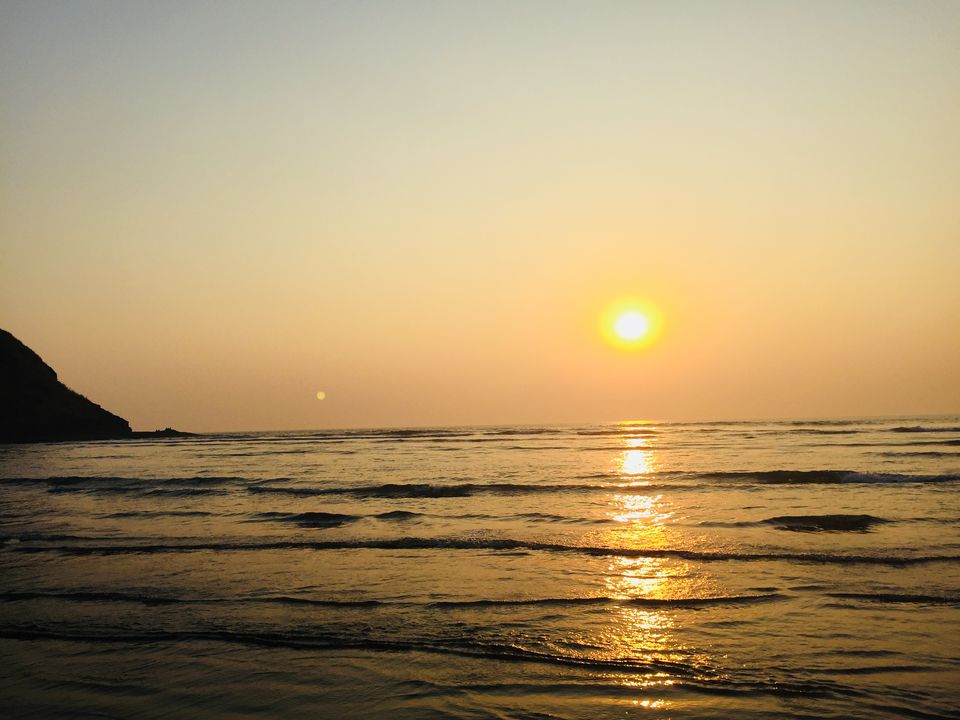 A sense of calm engulfed me, as I sat there on the sand, watching the sun go down slowly into nothingness.It was truly a mesmerizing experience, and made me realize that something as normal as a sunset, which occurs every single day, can fill one with a strange sense of satisfaction.
For the thrill loving ones, you can always go for jet skiing , which is a regular activity at the beach, and a lot of people sign up for it.Or you can enjoy a good bath in the sea, playing any self invented water sport.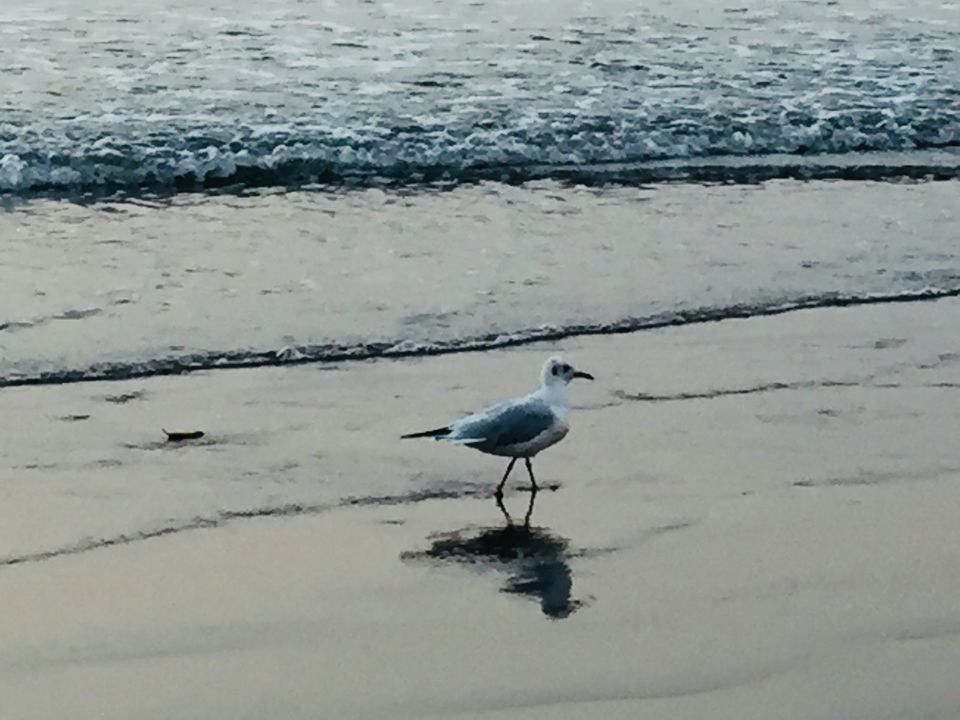 So that sums up Harihareshwar for me, and I would encourage anybody , who wants to do some soul-searching , or wants to take a binge break, to definitely visit this beach town.