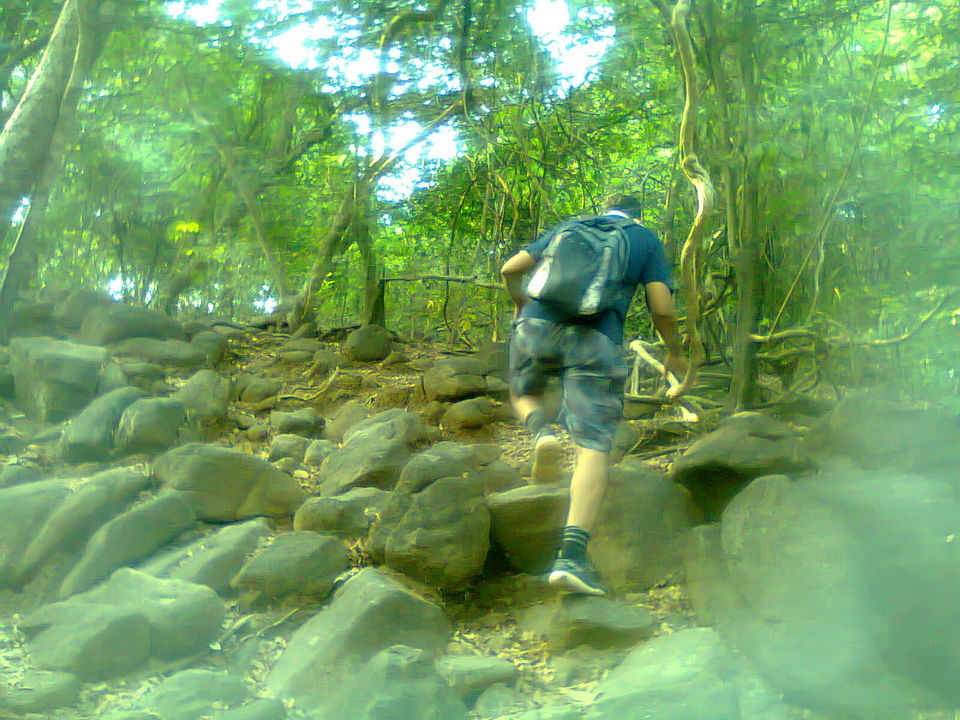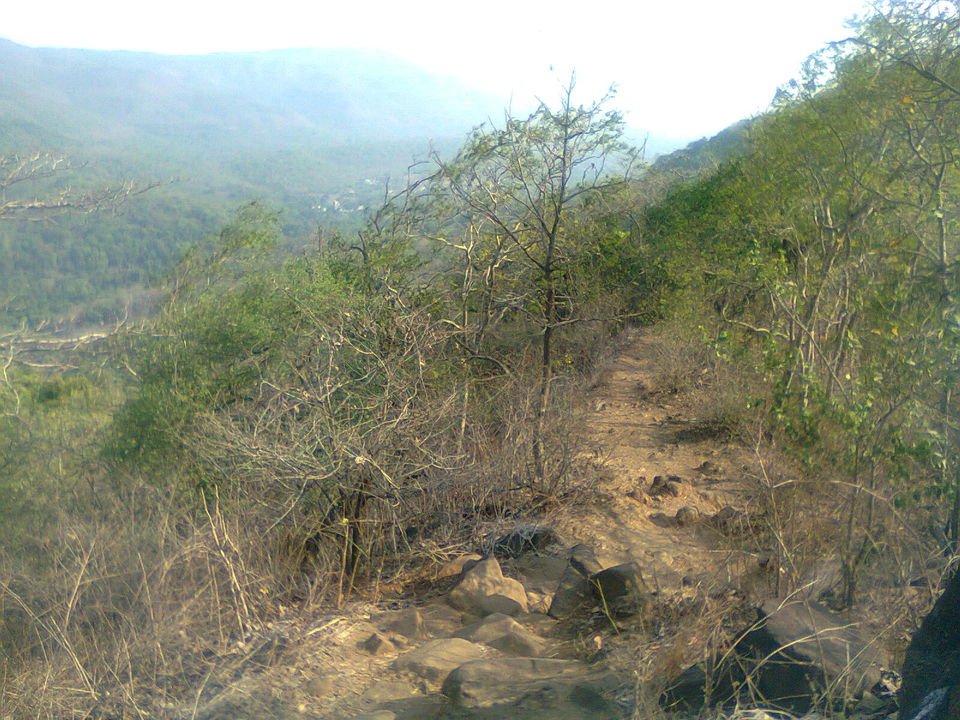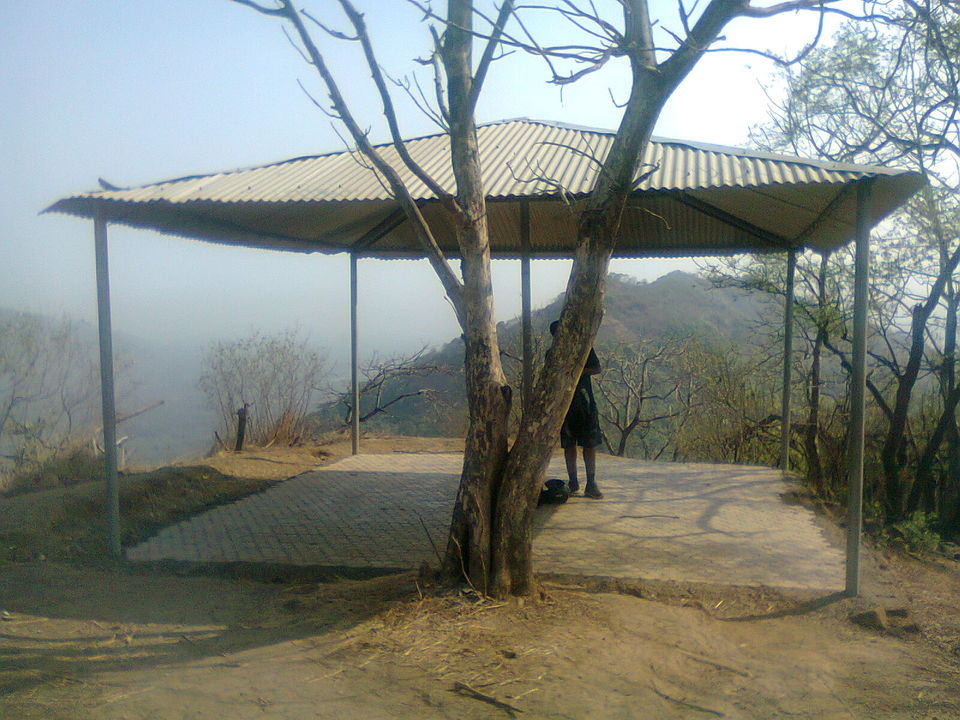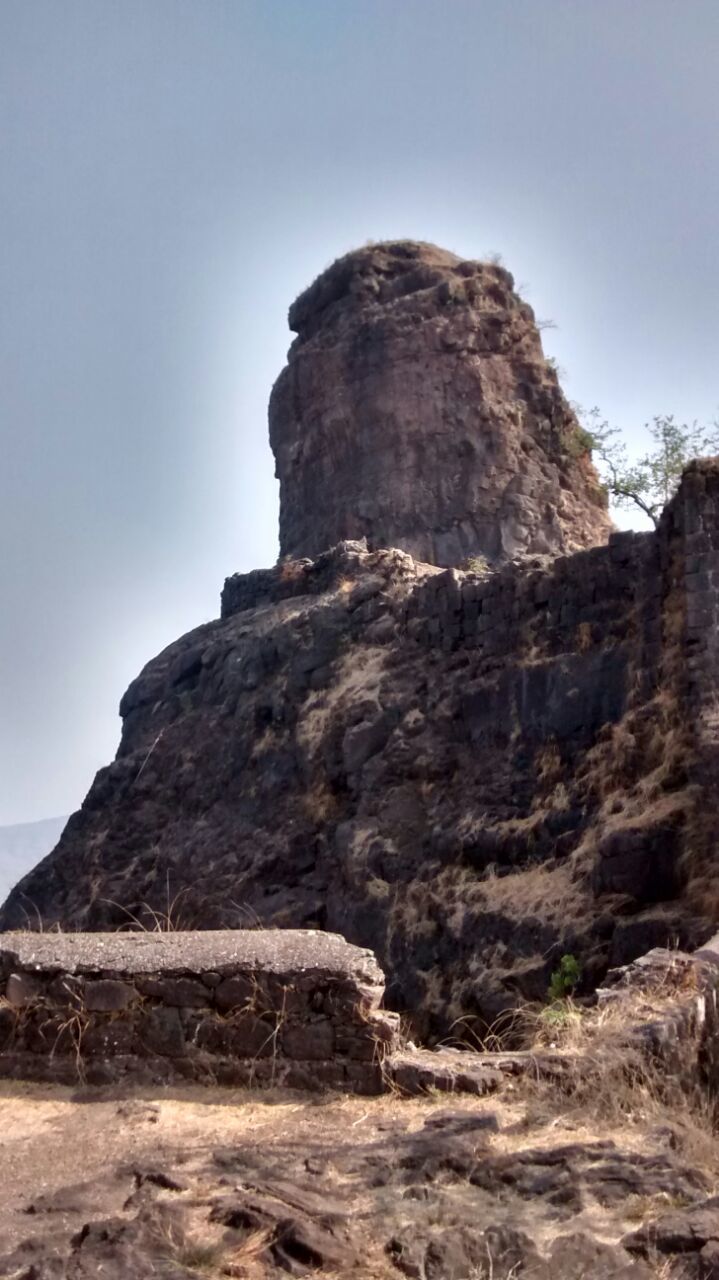 Reached Karnala Bird Sanctuary at 7.50 AM. Tickets cost- Rs. 35/- per person for entry plus Rs. 25/- for 2-wheeler parking. Professional Camera charges Rs. 100/- (Though Mobile Camera is not charged). There are 2 breakfast options available there- Poha- Rs. 20/-, Vada Pav, and good Chai (Rs. 10/-) run by women folk- one at the entrance right after the ticket counter, and the other near the cages/ hike start point for Karnala Fort.
There are two paths to reach Karnala- from the Gate (after the ticket counter) - one on the right and one on the left. The Right path (crossing a small bridge) is the tougher one- but is definitely more fun than the easier route- and passes right through the jungle. If one uses this path during rains- one would have to wade through small streams to reach the top. This path is really steep and we had to hang on the the trees and its branches to weigh ourselves up the steep climb. There are no rest points in this route though. We reached the top after a trek of about 1 Hour (this path merges with the easier path near the top)- where we reach the first resting point- shed in our path- 10 min before the Fort.
The Fort is spectacular and has good Vantage points of the Highway as well as the nearby hills and small gaons in and around Karnala.
We decided to return using the easier path- and noticed it was substantially easier and had view point/rest points/ shed every 15-20 mins and a lot more monkeys!
Since it was May (I guess), we could spot no birds in this Bird Sanctuary- though we did really enjoy our small trek up the hill to reach the Fort!
Total Expense for 2- Rs. 95/- for Entry and Parking, Rs. 50 for Poha and Tea. The same Breakfast place also provides Lunch options- made to order- including Non-Veg.
I saw a atleast 2 families carrying food (in huge bartans and tiffin boxes) to enjoy a nice family picnic!
Please note- there are no Water Outlets during the hike up or down - in both the paths or in the FORT!!- It would be advisable to carry sufficient water. Also at the entry guards check the no of bottles and plastic covers carried which if found missing while on one's return- there might be a fine of Rs. 200/-
Frequent searches leading to this page:-
maharashtra tour packages from delhi, best maharashtra tour packages, maharashtra beach tour packages, maharashtra tour package, romantic getaways in maharashtra, maharashtra tour packages itinerary