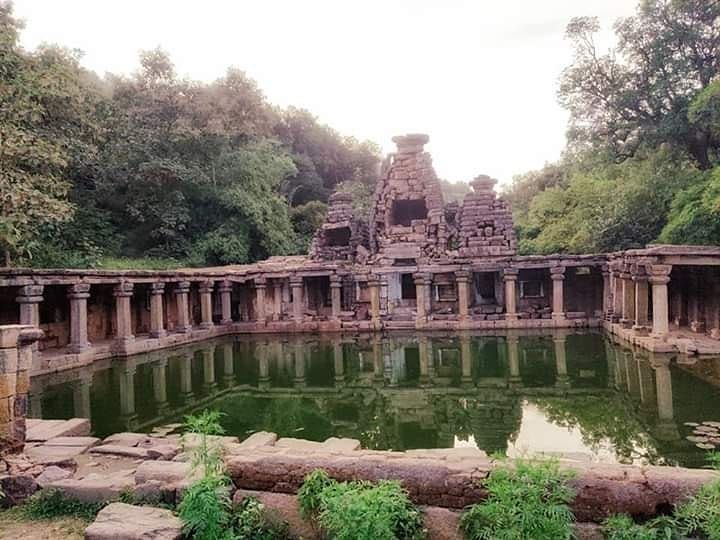 One of the stunning 1200 year old temple in Maharashtra (Nagpur) named as Karpur Baoli . Karpur means Camphor and Baoli means water tank. It is said that the Water in the well has camphor smell and was use as medication. It is an ancient Baoli few kilometers away from the temples at Ramtek and there is a dilapidated temple locally called as Kali Mata Temple stands on one end of the Karpur Baoli.
Karpur baoli is dedicated to 6 goddess namely Chamunda , Bhairavi , Ingalaj, Kali , Ranchandi and Kapurta .  It houses in the garbhagriha a fragmentary part of sculptural panel is placed inside. The temple is also provided with pillared corridors. This temple and baoli seem to be of later date and may be assigned 9th-10th century C.E. on the stylistic ground or Hemadpanti style. Locals claimed that the water level of the pond never goes down. It is a lesser explored place of Maharashtra. The combination of pond and hills behind the temple makes it look more scenetic.
A traveller may spend many serene hours wandering around the temple complex, gazing at the magnificent architectural edifice and the carvings. Or may sit near the baoli . 
Explore the unexplored
#kapoorbaoli #karpurbaoli #karpurbawdi #nagpur #maharashtra #maharashtratourism #natgeo #monuments #hemadpanti #ancient #ramtek #goddess #yolo #solo #escapingsoul
https://escapingsoul.in/karpur-baoli/