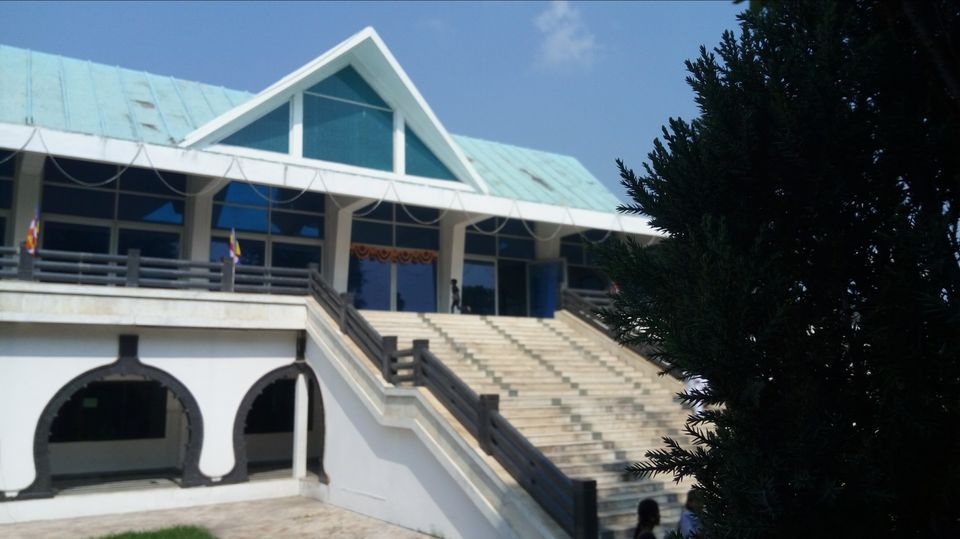 As I was born in Vidarbha region of Maharashtra, I am very influenced by Buddhist culture here. Nagpur is the city where the Buddhism is accepted by many of the Vidarbha people. And so most of Buddhist temples and structures are constructed.
Dragon palace - a Buddhist temple at kamptee, Nagpur is one of the most famous Buddhist temple in Nagpur.
The Dragon Palace Temple, also known as the Lotus Temple of Nagpur. The temple was established in 1999 with funds from the Japan-based Ogawa Society, a charitable trust.The temple complex encompassing the Dragon Palace houses a carved sandal wood  idol that is associated with the Buddha, and the building is a pilgrimage site for practitioners of the faith.
So, it was a day some of my friends planned to visit Ramtek as a road trip. Kamptee comes exactly at the middle of the distance. Between Nagpur to Ramtek. We end our trip at Ramtek and we get off to Nagpur. It was a spot plan to visit Dragon palace. It was Nearly the sun gets off and the entire area near Dragon palace was looking stunning. The night view at this place is pretty awesome. I suggest you to visit this place at night time. This was my second time visiting there with friends.
Third time I went there with my family. As this place is the best religion spot for us.
The premises welcome you with a beautiful huge golden gate at the entrance. The path from entrance to the temple is well paved and decorated with green shrubs and garden areas.
The whole path is followed by the PANCHASHILA flags. The temple have a pillar of peace just front of it which shows the symbol of peace and faith and gives the info about the temple.
The temple is symmetrical and have same elevation from all four sides. The ground floor area is a exhibition area and the main temple is at first floor. The roof is decorated with 3 huge chandeliers. Huge Buddha statue is placed inside the temple where all the Buddhist people have prayers and Buddhist chants at specific time.
The back side of the temple gives a beautiful view of PAGODA building (meditation center) with a golden shikhara at the top. The entire premises is covered with garden with different varieties of vegetation.
This place is very quiet and you can definitely find peace if you are frustrated from your day to day life.
A must visit place if you ever visit Nagpur.