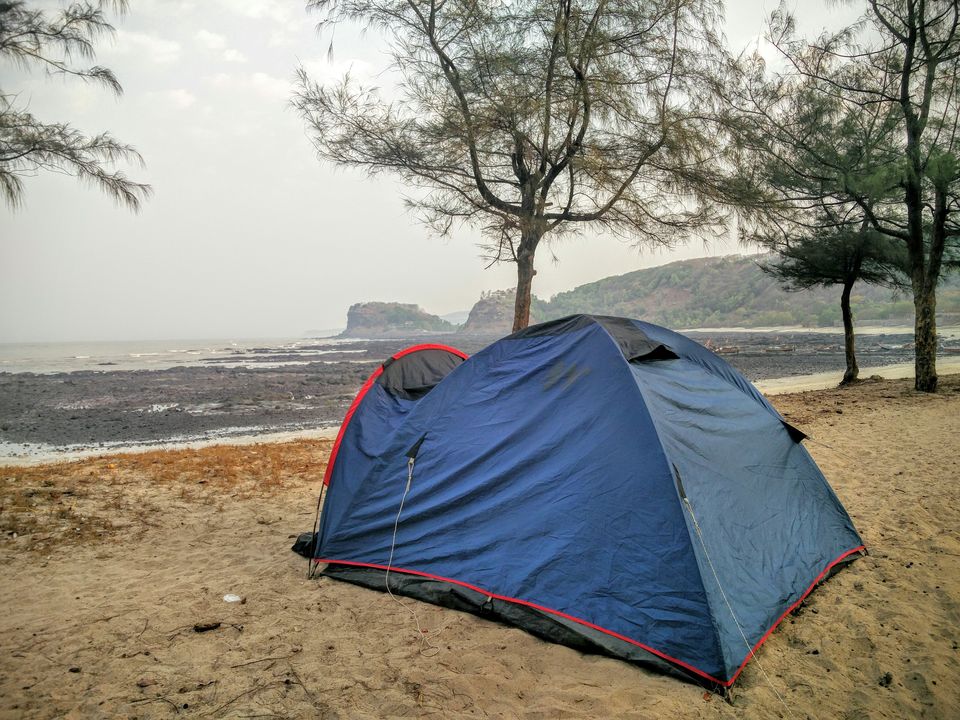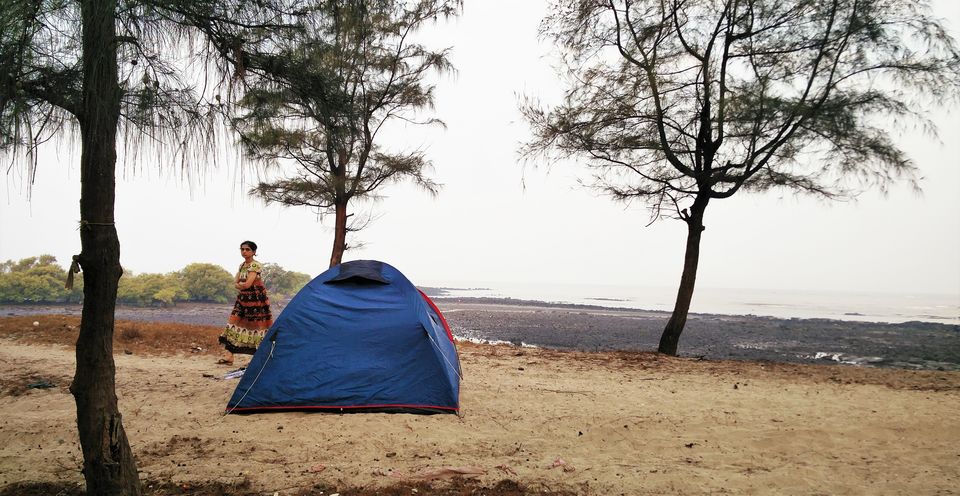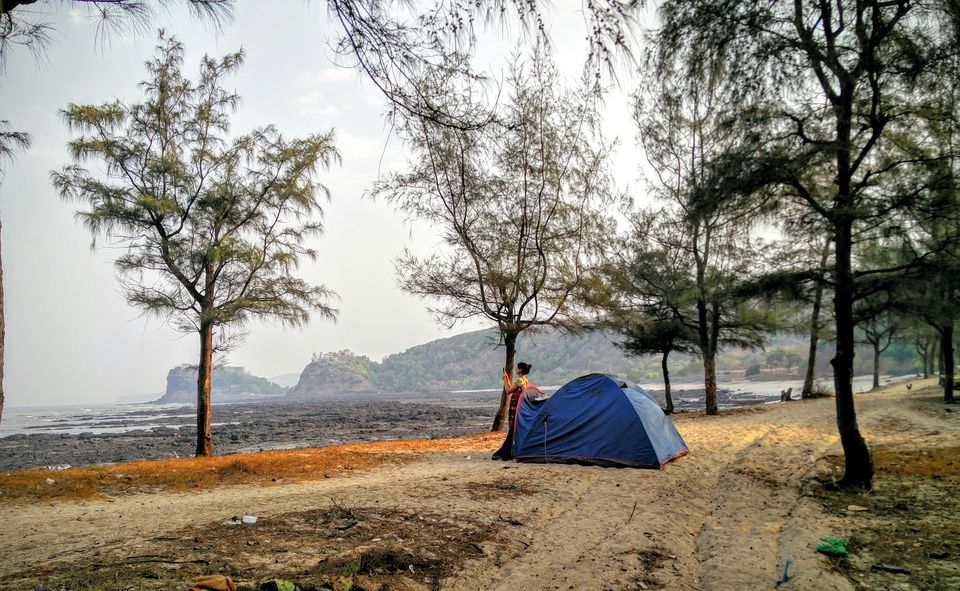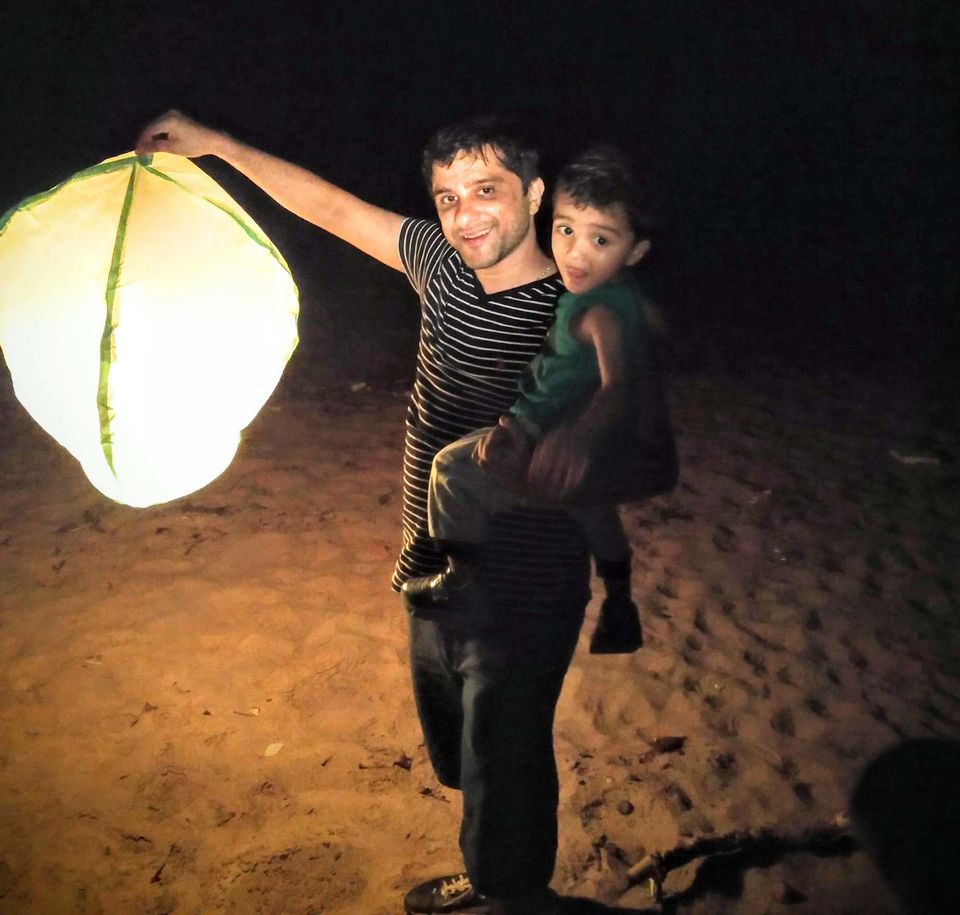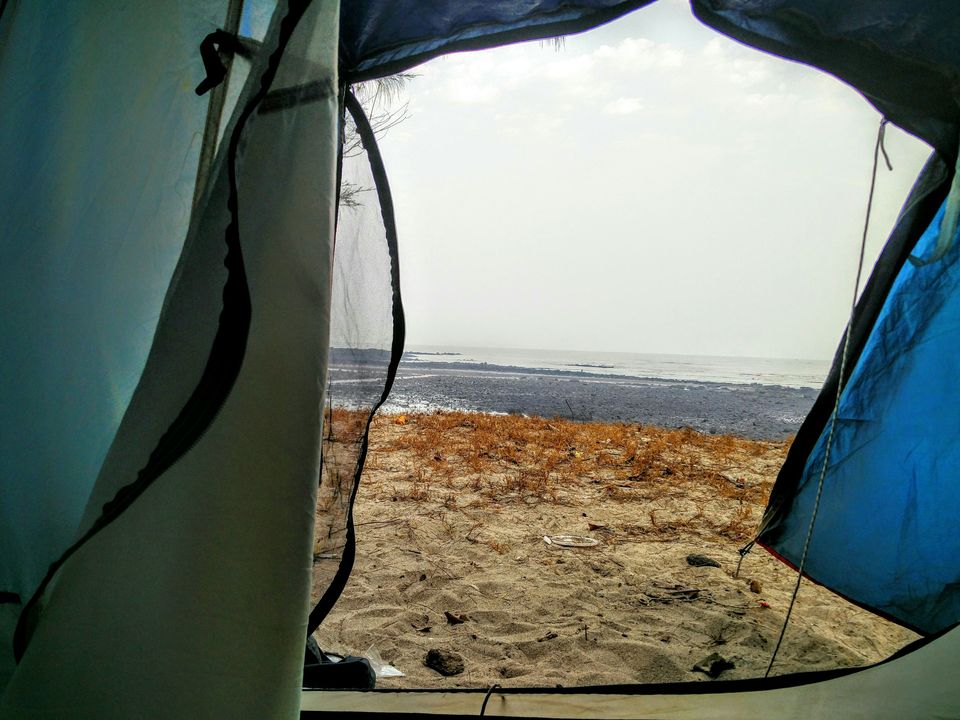 Always wanted to go for camping on my own instead of booking with some organizer where we just need to go their camp site to stay in their ready pitched tents n have food that they would provide like going to hotel with full meals included. What's fun in that?!
But going out camping on your own gave me lots of ifs & buts in my mind. How safe it would be with my wife & kid, what if some local goons come to loot or harass us or how will we defend nocturnal animals or creatures in the wild at night?! What about answering natures call for my wife ?!
You know all kind of thoughts that would come to the first timers, novice especially Indian who would prefer to go to a luxury resort which is full of comforts & luxury for holidays.
Still I did my research whether I can get camping equipment on rent n found 2 -3 online portals offering such services.
Then I look after place where it will be safe to go on overnight camp with my wife & my 2 year old kid.
Searched on google maps, browsed through some blogs etc... finally I found 3 places near Mumbai - Bhandardara lake, Pawana Lake & kashid beach.
I shortlisted with a secluded beach near Kashid beach as beach side camping would give my kid chance to play freely in sand rather then going lake side.
https://goo.gl/maps/3LujGo33iU52
Booked my tent, bbq, etc... with www.renta.in, bought a sky lantern for some amusement for my kid along with its toys to play.
Also bought one changing tent for my wife so she can use it as a closed loo for herself.
Finally decided to go on Good Friday which was 2nd day of the moon so we could enjoy almost full moon light.
We started late by 2.30 pm thinking that it will take 3 hours to reach the spot but due to traffic we reached at 6. Pitched the tent near some fisherman huts on the beach just before sunset n hardly got time for my kid to play in sand as it got dark. On the way we saw main kashid beach full of people but this beach had no single soul except some fisherman n their family staying on the beach.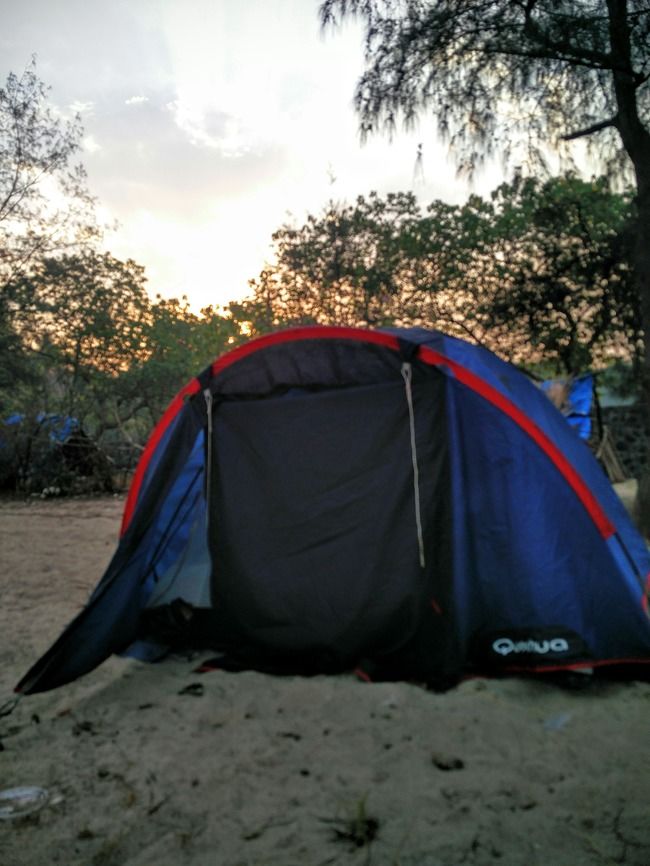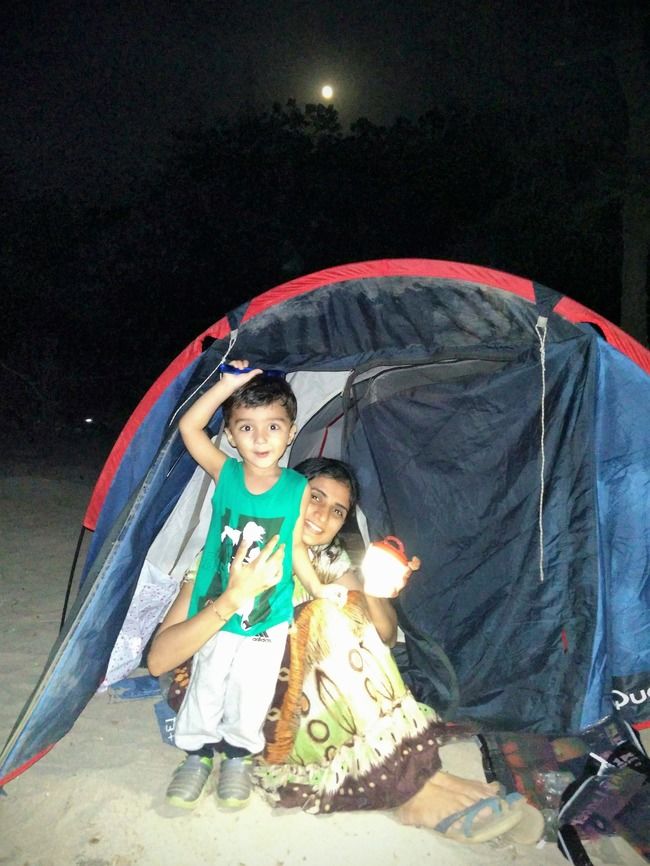 I had read somewhere that it was very important to choose a right tent which I did not pay attention n I ended up choosing the wrong tent (quechua 3xl tent) which was big in size but not much ventilation for air to pass which was more for chilled night to keep warm inside n that night was without wind little cool outside then inside that almost spoiled our mood.
We had our dinner inside tent as there were some dogs roaming outside . Later we lit the sky lantern for my son with some audience of those fisherman kids around us.
My son was not ready to sleep in tent as it was hot inside so made him sleep on my shoulder outside under the sky watching waves n staring at sky full of stars. Though always at back of my mind I kept on looking around, if any suspicious around there with torch on.
When my son slept I put off our torch n found that cool light of Moon was enough to see things around & galaxy of stars above.
At midnight thankfully we pitched our tent on start of beach, little higher side of beach that saved us getting washed away by waves during high tide at early morning.
Honestly sleeping under stars & waking up early morning with birds chirping around us is most amazing then getting up from cozy bed with AC on. I hardly slept for 5-6 hours but I had most peaceful sleep though it was without bed almost lying on sand.
As it was getting hotter at 8 in the morning we decided to go to lonavala from kashid that was 3 hours drive & stayed at Della Resort as I wanted to see myself & implant in my son that we should not complain when we have least of necessities or do not carried away when we have everything in luxury for us. Stay simple in life.
I have seen in general that average Indians don't do experiment about their holidays nor they are adventurous. For them holidays is comfort, luxury in a highest star rated hotels or resort that their pocket can afford but they miss to stay under infinite galaxy of stars.
I am glad that we enjoyed our camping adventure n also happy to see so many small companies flourishing to promote camping in India.
Definitely going out for camping one more time very soon at different location.
Happy & Safe Camping!!
Cheers!