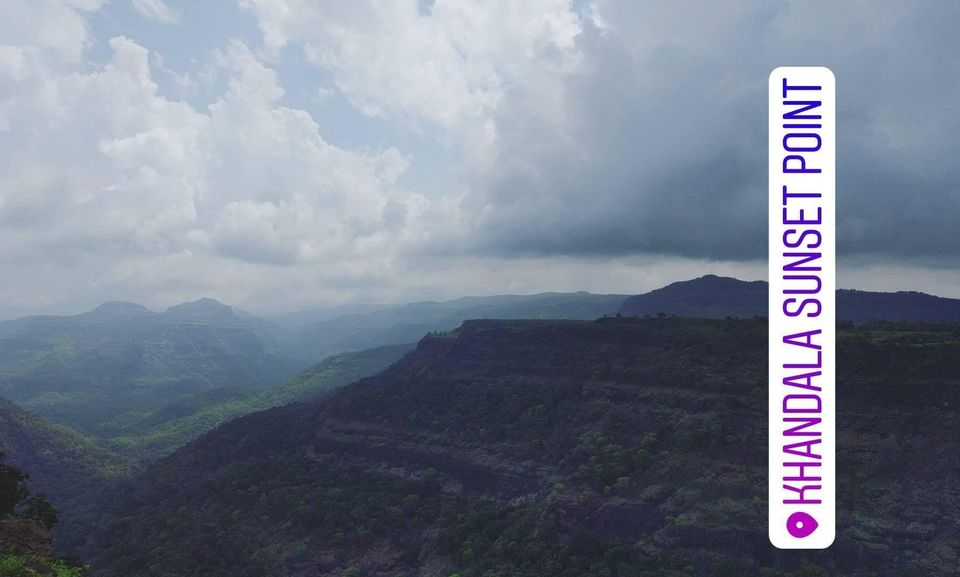 Whenever you hear this place Khandala, I am sure that you always remember the Bollywood song "Aati Kya Khandala" from the movie 'Gulam'. Because I always remember the song and also imagined to be at this beautiful place. Lonavala - Khandala both are the hill stations on the Western Ghats of Maharashtra. Basically, if you search the Internet, you will see Lonaval - Khandala comes under Pune District and is 64 Kms west of Pune and 96 Kms from the city of Mumbai.
We went to Lonavala in month of June as the weather was fine that time. We were staying in Pune at Hinjewadi Location and left at around 6 in the morning to Lonavala. It took 1.5 hours to reach there and after reaching we hired a another Cab for the whole day to visit places. Also, my friends had visited earlier also, so they kinda knew the itinerary. So, based on places that I visited I am sharing my opinion and knowledge on the same.
FOOD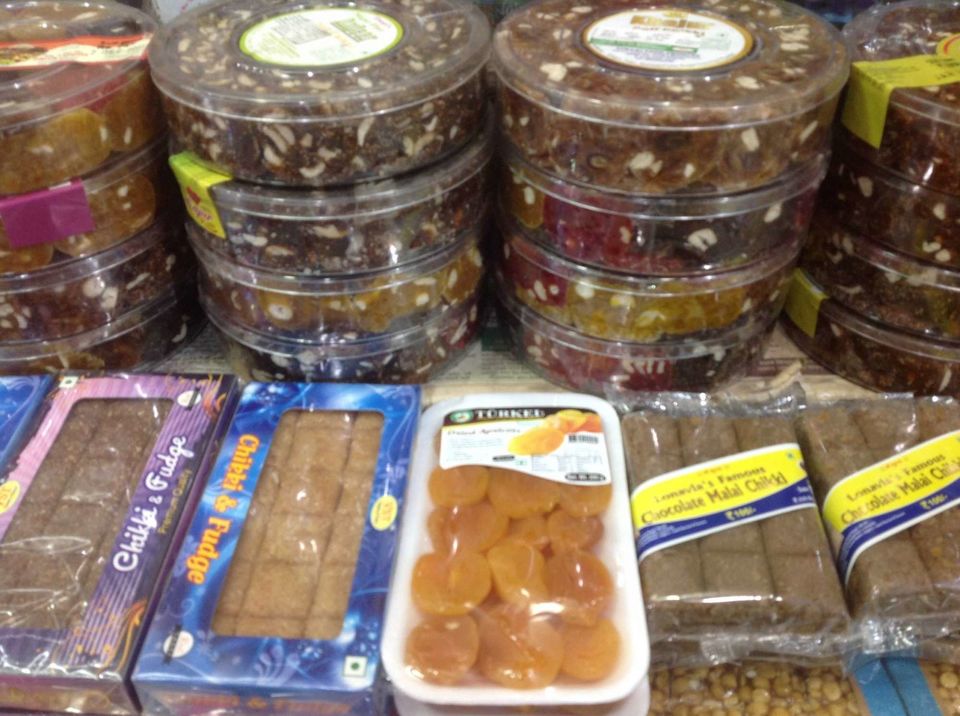 Actually if I talk about food there is no such, but if I say there is one thing that is famous in Lonavala which is sweet, its Chikki. Its basically hard candy type sweet which is available in different flavors and also with other few sweets as well. You may find Vada Pav and Tea stalls in every corner but that's common in Pune-Mumbai also. So, if you are going to Lonavala and not trying Chikki then you missing something. Well, i did miss that. Hahah...
FAMOUS PLACES
TIGER POINT
The image above you are watching is Tiger Point. If you are going then, you can by Buses to one point which is INS Shivaji and then after that you can walk on foot, or the best thing you can do is do a Cab for a day and go anywhere you want which we did. So, the story I searched is Maratha king Shivaji, being chased by Tiger jumped in a ditch by the road and the tiger leaped off the hill and since then the valleywas named Tiger Point. Click Pictures, have tea in cool weather. Also, you can also see waterfall there which is active only during the monsoon. Also, there is Lion's Point there, don't confuse it with Tiger Point. Both are different places.
BHUSHI DAM
This is the second place we visited after Tiger Point.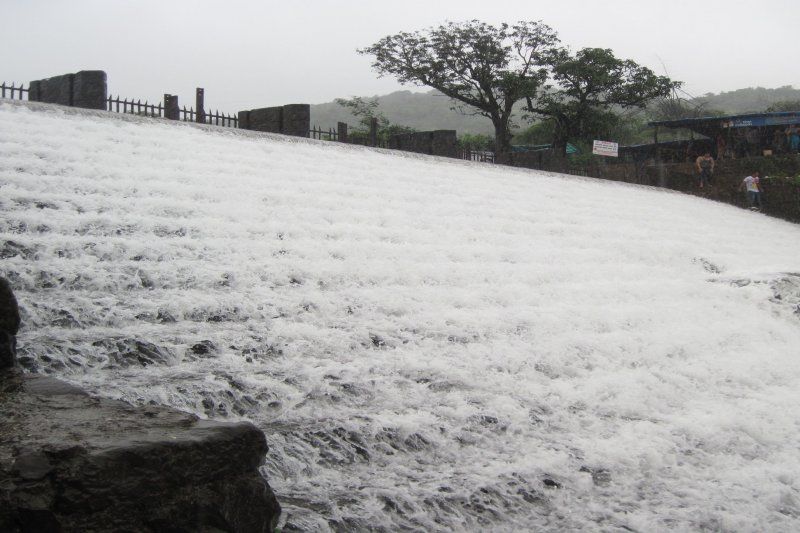 The image above is basically Bhushi Dam during monsoon season, but when I visited it something like the image below.
You see, no sign of water. So, it depends on what time you planning to visit. Some knowledge about this dam, it was built in 1860's for Indian Peninsular Railways and later it was owned by Central Railways zone of Indian Railways which is the successor of Great Peninsular Railways.
We didn't enjoy much there as the Dam was totally dry, so we just clicked pictures and went on further.
NARAYANI MATA TEMPLE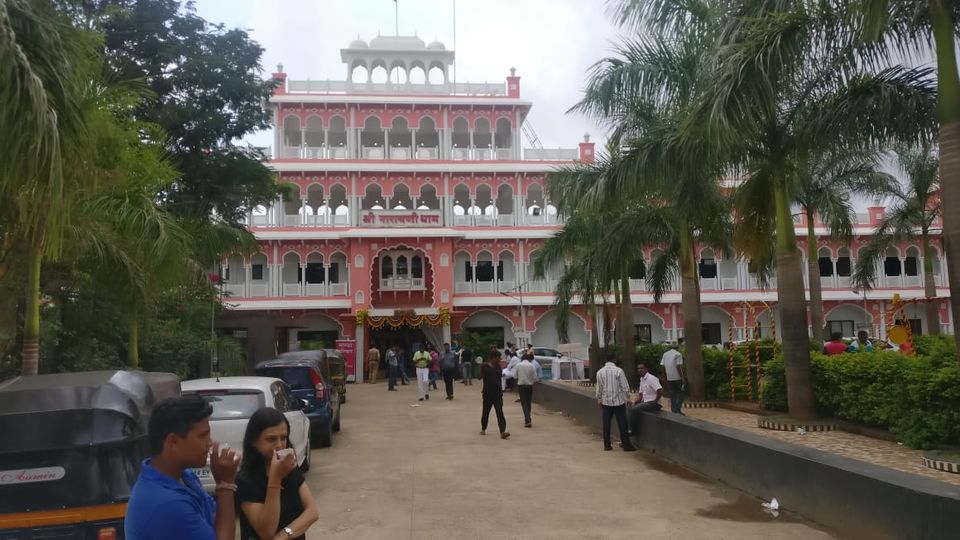 I don't know much about this temple but as per other internet sources there are two temples of Narayani Mata: one is on the edge of Sariska National Park, 14 km from Amanbagh is Narayani Mata Temple. The second one is in Lonavala. The first one is most saccred pilgrimage site for the people of india, especially of sain samaj, its sanctity is matched only by Pushkar and Mount Abu.
The story behind is that: Narayani Mata is the site of the first Sati in Northern India before rani sati. When Narayani was going to her marital house for the first time a snake bit her husband in midway of the alter that resulted into the death of her husband. Narayani was so stricken with grief that she knelt in prayer beside her husband's unlit funeral pyre and seek the permission of Lord Shiva to put an end to her life and join with her husband in life after death. Such was her devotion to Lord Shiva and so fervent her wish to join her dead husband, that Shiva sent his holy fire to consume them both. Rest is available on other sources.
LONAVALA LAKE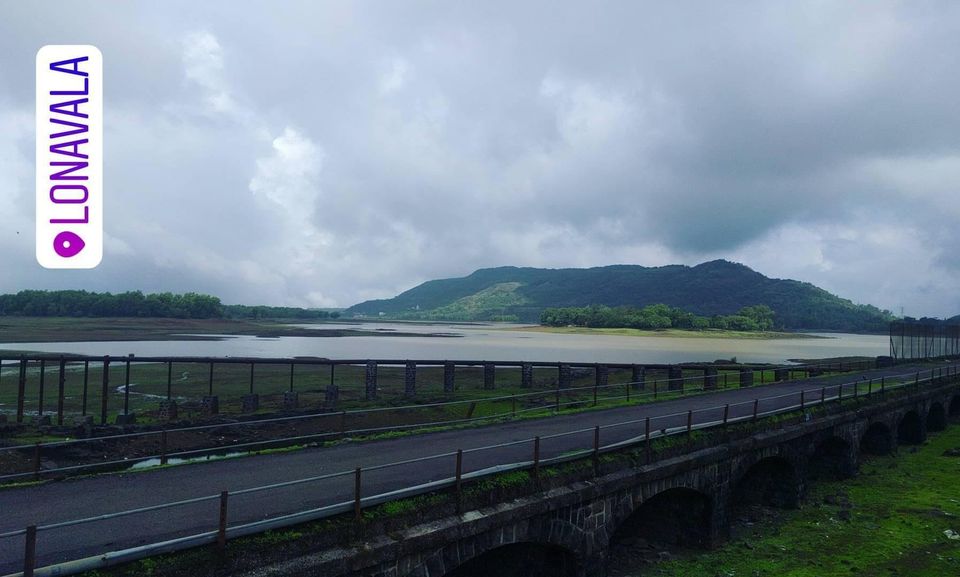 This is amazing place where you can stop in the middle of the bridge and enjoy the beauty of mountains with lake and vehicles passing by. The whole place is open and feels so soothing that you can just feel the cold breeze standing there. Click Pictures both with phone and brain so that you remember.
Other places I stopped at are Ryewood Park, Waghjai Devi Temple in Lonavala and then the last place we visited was Khandala Sunset Point which was the most beautiful and one of my favorite site.
Khandala is located at one (top) end the Bhor Ghat, a major ghat on the road link between the Deccan Plateau and the Konkan plain. The ghat carries an extensive amount of road and rail traffic. The Mumbai-Pune Expressway, the main link between the major cities of Mumbai and Pune, passes through Khandala.
Due to the ease of accessibility from nearby cities, Khandala is a common area for hiking. The route near Khandala sunset point and khopoli has been there since centuries used to connect the coastal cities like Sopara to Pune. The transport from base of khopoli was by carts both hand pulled and horse drawn, which was tarred during British time somewhere in 1840.
I hope you get the knowledgeable information above. Now the point is so much amazing, you can see the highway connecting to a tunnel vehicles passing by and beware of monkeys as they can steal stuffs from your hand. We took pictures and then the cab driver dropped us at Bus Station where my friends took some chikki from the shop and we waited for bus for about two hours and when we got to know there will be more delay we decided to take local train from Lonavala Station which was atleast frequent and mostly on time.
So basically you can visit Lonavala by 3 ways: train, bus and by your own vehicle. I prefer train as this is the most convenient way from Pune as well as Mumbai (if you are staying near to Karjat and Badlapur).
We then took the train reached in the evening in 1.5 hours at Chinchwad Station.
That's it in my trip. If you want to know more follow me on other social media handles mentioned below. Also, I have started a channel on YouTube, so if you like watching video, do SUBSCRIBE to my channel.
SOCIAL MEDIA HANDLE
https://www.instagram.com/walkoutwander
https://www.twitter.com/walkoutwander
https://www.facebook.com/walkoutwander
YOUTUBE CHANNEL -
https://www.youtube.com/channel/UCnNnLYFdgXVzX97RMg3H5cQ