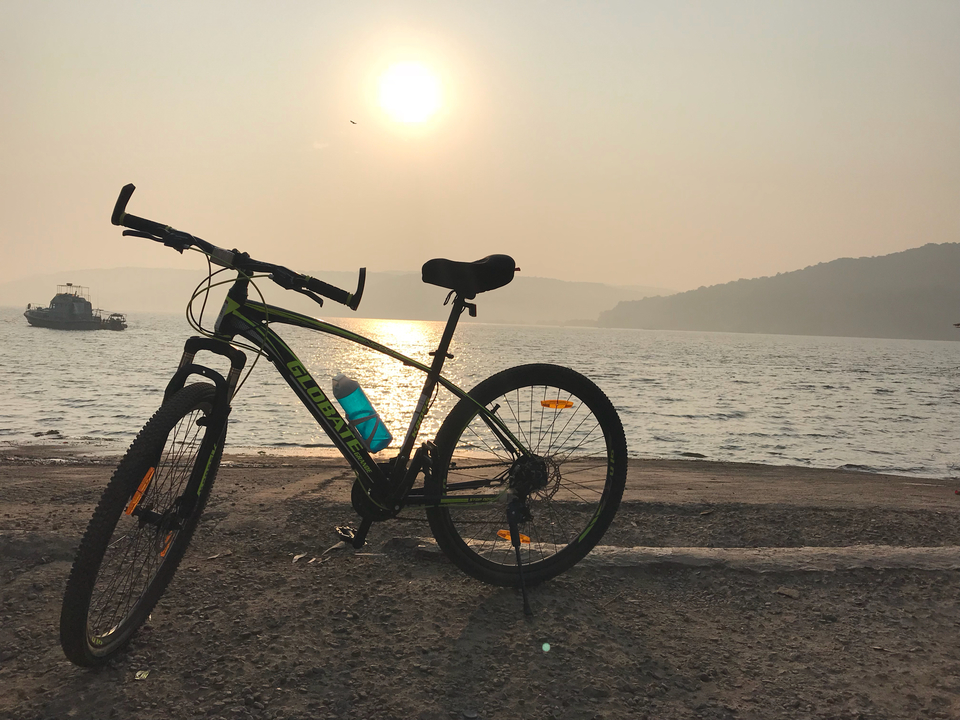 Me and my 2 friends Rakesh and Pratik started journey from Gateway Of India and we took ferry to Mandawa Jetty and from there we pedal almost 110 km to Shrivardhan. It is very difficult for me because I have started Cycling after 8 years but with I m used to with Cycle. On the way, We were passed through Alibaug,Kashid,Murud,Dighi and seen lots of pain(Cramp) and gain(hills). Riding on sea route will add energy that energy boost us to ride continuous whole day.At the end,we arrived at Shrivardhan around 06:00 PM and stayed as a PG and enjoyed local dish fish curry.
Getting ready early in the morning is tough but we managed be ready on 07:00 AM. We had breakfast in home where we stayed for night and Started journey after 10 km we have to take ferry from Bagmandala to Vesavi and At Bagmandala Jetty,We met man whose name is Smith from Netherlands who also going to Goa. He asked us for joining the group and we accepted his request. Professionally he is farmer and came here to explore south India by Bicycle.After long conversation,we again started cycling via Kelshi,Anjarle and Dapoli. We thought second day will be easy but it was very tough,we tired so we took rest at Harnai and Had lunch. Traveling through western ghats with ups and downs made my journey very thrilling. Finally at 07:15 ,we reached to Dabhol Port and stayed there. We roam nearby area after dinner and check timing for ferry to Veldur. Total Distance covered is around 115 km
Yesterday night we checked timing for Veldur so we have to be ready on or before 08:30 AM to catch first ferry so we did have lot of time to ready for ride. After breakfast,we took ferry ⛴ to Veldur Jetty and journey begun through Tavsal beach from where we again took ferry to Jaigad Beach. We started pedalling to reach Ganpatipule. After reaching there,we took some rest and visited Lord Ganesha Temple which is very famous across Maharashtra. We also had lunch there but when we started,Smith decided to take 1 day rest due to back pain so we gave him send off drink and moved on towards Ratnagiri and Finally we reached around 06:30 PM and we visited Ram temple near Market and after dinner we took rest for next day ride.
Total Distance Covered 101 Km
From Ratnagiri, early in the morning we started cycling ????‍♀️ because it was long day. We passed through Pawas,Purnagad,Adivare and reached to Mithgavane and took lunch. Traveling through Konkan area give boost and enthusiasm to ride continuously but after Mithgavane the route was tough and on journey I was suffered from Dehydration due to no shop around 30-40 km to buy water bottles and I ride almost 20 km without water and many bigger mountain on route that tired today's journey but all things we can forget when we will reached our goal same happened with me. Finally we arrived at Kunkeshwar . It is very famous for ShivaTemple,
the story is Pandavas made Shivling for worship in sea. It recognised by people when they saw that Shivling not wearing with past years they realised and made Temple..
Total Distance Covered-109 Km
This day was easy day but at starting it was difficult .we crossed through ranges of hill via Achara finally reached at Malvan a true Konkan and had lunched which was delicious.Again we started pedalling via Parule we reached at Sagareshwar beach ???? (Vengurla) and visited The most famous in that area that is Sagareshwar Temple and we booked Resort on Sagareshwar Beach and that was good decision to hear the sound of dancing waves ???? that gives me great satisfaction.
Total Distance covered— 91 Km
Around 08:00 AM, Final Ride started from Sagareshwar Beach which short journey and reached Shiroda where we have taken some fruits from market and one of hill we took rest and have fruits. At the end, we are at bridge which shares Goa and Maharashtra border. We stopped there and photo session started????????.
After few minutes,we start pedalling and we did Not stopped till Calangute Beach and after all the pain and gain we reached at Calangute at 12:30 PM Near Dayananda Bandokar Statue and party begins. Without time wasting,we tasted various cuisine and beers ????. This is my second visit to Goa so I did not have such excitement like first timer but we celebrated our night with Wine and Beers. That's a end of my Cycling Tour. Distance Covered- 55 Km
Generally people have 9 days tour but I do not give such time because other destinations also waiting to explore ???????????? So I decided to complete within 5 days but due to some difficulties we completed it within 5 and half days. It was awesome journey to travel through coastal route to Goa from Mumbai it's like Dream come true. I will recommend if you love thrill and adventure then u should have plan. I went in January second week but I will recommend to go in December any time you feels good. Thanks for reading this..????????????????‍♀️????‍♀️????‍♀️☺️☺️