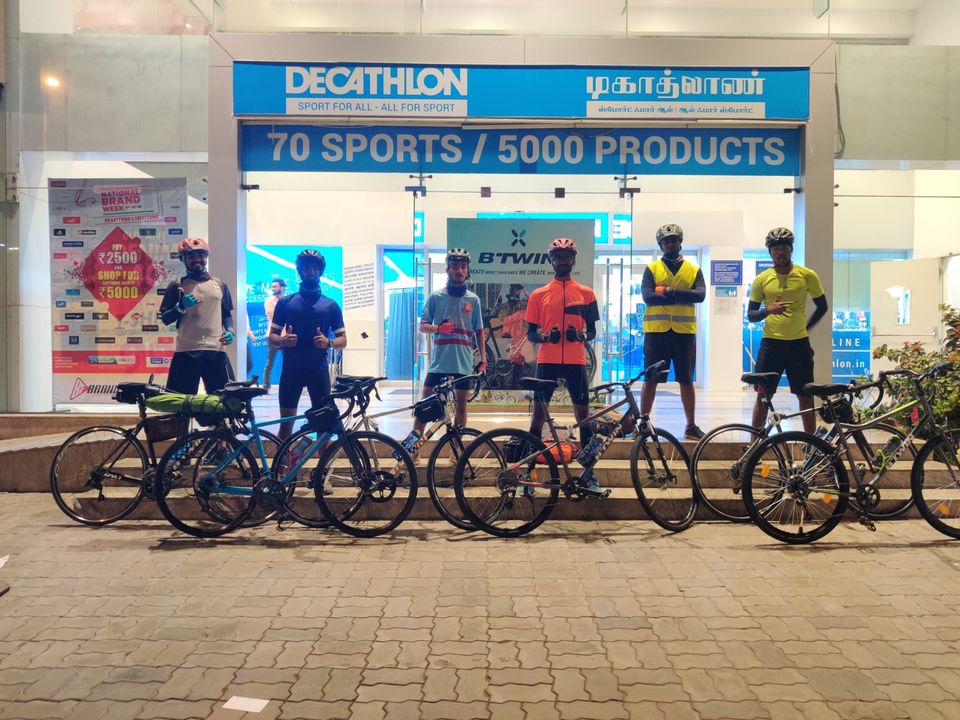 Hello friends, Me and my friends had done an achievement. That is a cycle ride to Pondicherry from Chennai.
It's about 162kms from our destination to Pondy. At very beginning we too thought the idea was lame. But then our mind drives crazy to catch up the idea to be implemented.
So we are 6 members started our journey with BTwin road bikes. We started the trip around midnight 12am from OMR(chennai) perungudi. As we are newbie for the long rides. We got a company of a guy who is working in Decathlon. He is a passionate cyclist who encouraged us to reach the ambition.
We reached Mahabs around 2.30am. As I already mentioned we all are newbie so everyone got exhausted. It's almost 2.30hrs of riding we had reached only around 40 to 45 kms. Then we struggled at the middle of the ride as our next pitstop was 5kms after kalpakkam. Where we faced a problem from one of the cycle. The pedal from the crank got unbolt and the pedal got dismantled from crank. It's almost 5 o clock in the morning and we got trapped in the middle of the way. We had no idea how to continue the ride.
Then we stopped 3 to 4 PRTC which they refused to take cycle along with them to Pondy. Then some how we pushed a guy with that repaired cycle into a bus and again we started pedalling towards Pondy.
We had break fast by morning 7am and still 70 kms to reach Pondy then we had a photoshoot session in the middle of the way. While we reached Marakkanam almost our batteries got drained off as we all got exhausted due to continue pedalling.
Again we started from there. And it's about 9.30am in the morning still 35kms more to reach our destination. While it's last 25kms stretch I got out of energy as I couldn't pedal more to move the cycle. I got a feeling that I took a wrong decision of riding to Pondicherry and then that guy who is super experienced in our gang he motivated me and inspired me to pedal. And suddenly at a point I stopped pedalling as I couldn't but the guy toed me for half km. Then I got some enthusiasm in me. So again I gained some energy to move. As that was the time of school get opened at morning. So they children who ever is waiting for their transportation and the students who all goes in auto waves their hand to us and show us victory symbols. That inspired me a lot to pedal. That moment when some one is wondering on our work and admiring our activities and motivating us to complete the ride. It's an awesome feel. The feel is like when the world thinks that we are doing the impossible and we are the warriors. I felt in that way. Then that inspired me to pedal for next 10 kms . It's almost we had covered 145kms and still 10kms more. Then we took a pitstop over there. We reached Pondy by 11am in the morning it's almost 12hrs of journey with 161kms covered in cycling as of 9hrs is the pedalling time.
I always thank to the guy who inspired and motivated me to complete the ride. The feel is unexplainable once you complete the ride. That moment I felt so proud that I could do something that will motivate others to do it. Atlast we had a happy ride to Pondy.
The one thing that I learned from this moments is that. There nothing like we can't do anything. The mindset matters. We must be strong in our mind than physical. Mental power combines with our confidence to make the things happen. So believe in yourself. You could achieve anything.
You must decide the winning or losing moment until your give up. Never ever give up. Make mind strong than physical.