-- Researched and Documented by Nishi Dedhia --
Bored of your routine life ? Looking for a change ? Planning for a weekend getaway ? Then this guide is for you! It will introduce you to the famous trekking locations near Mumbai and will give you a general idea of how to plan for a one-day trek. From DIY easy treks to treks that you can take with your family to spending weekends with your friends or spending some quality time with yourself; these awesome treks near Mumbai offer an option for everyone alike.
Trekking near Mumbai is all about experiencing the lush green hills, getting a whiff of fresh air, and a dose of ultimate thrill that will disconnect you with the monotonous urban lifestyle and bring you closer to nature and give you eternal bliss. Kanheri Caves Trek, Lohagad Trek, Visapur Fort Trek, Kaas Plateau Trek, Karnala Fort Trek, Prabalmachi Trek, Garbett Plateau Trek, Trek to Kothaligad, Tikona Fort Trek are a few of the many treks near Mumbai that will give you an adrenaline rush along with excellent photo opportunities.
In this guide, we will be covering the Karnala Fort Trek, Lohagad Trek, Kanheri Caves Trek, and Tikona Fort Trek in detail. So let's deep dive into these treks near Mumbai and explore their beauty! And oh, don't miss the 'Must-Carry Items for your Trek' section and our 'Quick Tips' at the end.
1. Karnala Fort Trek
Karnala Fort Trek Info:
● Trek Difficulty: Easy
● Trek Distance: 4 km
● Total Trek Time: 5 hours (approx.)
● Karnala Fort Height: 1500 feet
● Karnala Fort Timings: 07:30 AM to 06:00 PM
● Nearest Railway Station: Panvel
● Base Village: Shirdhon
● Region: Raigad
● Best time for Fort Karnala Trek: October to April
About Karnala Fort:
Karnala Fort is a beautiful fort that makes for scenic one-day getaways near Mumbai as it is surrounded by lush green hills and dense foliage. It is located in Raigad District along the Mumbai - Goa highway, around 10 km from Panvel city and around 65 km from Mumbai. Karnala Fort lies within the sprawling Karnala Bird Sanctuary and is famous for the pinnacle overlooking the entire region. Due to its fascinating shape, Karnala Fort is also popularly known as the Funnel Fort. Built in the 12th century, it has been ruled over by the Portuguese, the British, and Shivaji Maharaj among many other rulers. The fort was of great importance as it had an overhead view of the Bor Pass which connected Konkan and the Vidharba region. Over the years the fort has become a popular destination for trekking and hiking. It is one of the few treks in Maharashtra which is ideal for beginners and for adventure-loving kids who want to get lost in the beauty of flora and fauna!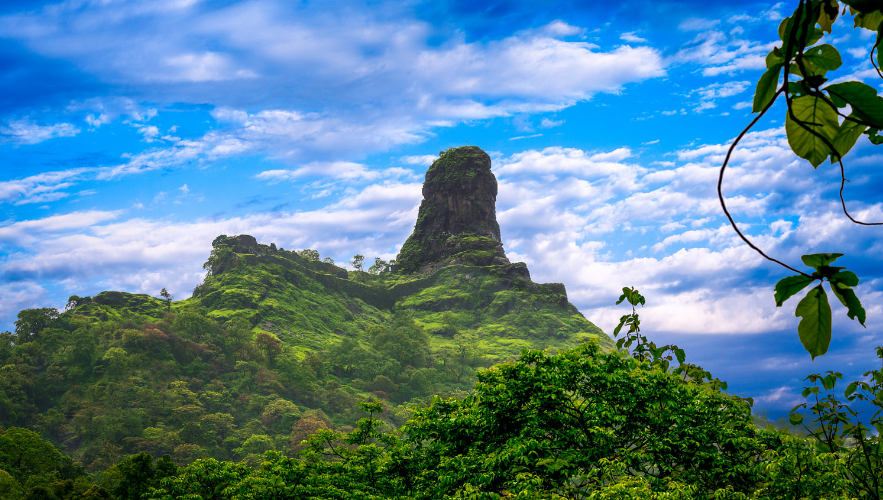 2. Lohagad Fort Trek
Lohagad Fort Trek Highlights:
Indulge yourself in the Lohagad trek to experience the serene views of the surroundings
Discover the eternal beauty of Lohagad Fort and get a glimpse of the magnificent doors on your trek - Ganesh Darwaaja, Narayana Darwaaja, Hanuman Darwaaja, and Maha Darwaaja
Catch an outstanding view of Bhaja Caves and Karla Caves from the summit
Lohagad Fort Trek Info:
● Trek Difficulty: Easy
● Trek Distance: 5 km (one way)
● Total Trek Time: 3 hours (approx.) + 1 hour to explore the fort
● Lohagad Fort Height: 3400 feet
● Fort Timings: 07:00 AM to 05:00 PM
● Nearest Railway Station: Malavli
● Base Village: Lohagadwadi
● Region: Lonavala
● Best Time to Visit Lohagad Fort: June to November
About Lohagad Fort:
Loha means Iron in Marathi and thus Lohagad is also known as the Iron Fort which is one of the most favorite destinations for trekking enthusiasts. Located just 100 km from Mumbai and 50 km from Pune, every year it draws a large number of visitors from Mumbai as well as Pune. This elegant fort was built around the 18th century and has witnessed numerous cultural shifts in the hands of various rulers like Satavahanas, Rashtrakutas, Bahamanis, Nizams, Mughals, and the Marathas. It showcases ancient architecture and majestic grace and has now been declared as a protected monument by the Archaeological Survey of India.
Lohagad is connected to its twin - Visapur Fort on the eastern side by a small range that divides the Indrayani and Pawna River basins. It overlooks the Pawna lake to the south and on the northwest extends towards a meter-long and 30 meter-wide path known as the Vinchu Kata. Whether you visit this place for a weekend getaway or to admire its lush green beauty or for an adventurous trekking route and stunning views, Lohagad Fort is definitely worth a visit.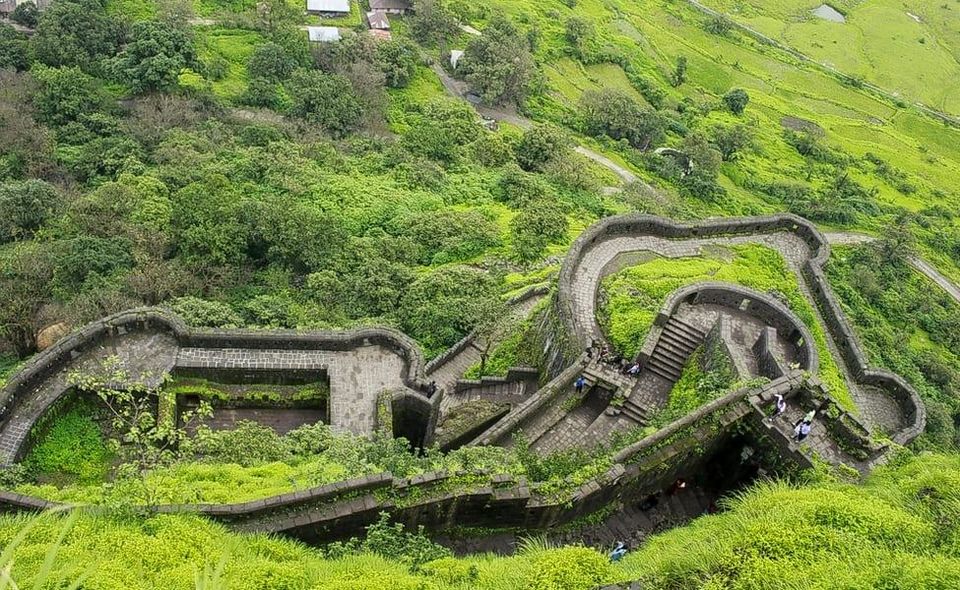 3. Kanheri Caves Trek
Kanheri Caves Trek Highlights:
The serene atmosphere amidst the chirping of birds and gushing of waterfalls is a treat for nature lovers
Ideal place for history lovers to explore ancient Buddhist caves, learn about the Buddhist culture, and experience the simplicity and elegance of Buddhist architecture
Unleash your photography skills by capturing the unique architecture of the caves
The trail offers amazing opportunities for bird watching, butterfly gazing and spotting wild animals
Treat yourself to waterfalls along the lush green forests adding to the charm of the caves
Kanheri Caves Trek Info:
● Trek Difficulty: Very easy
● Trek Distance: 6 km
● Total Trek Time: 2 hours + 2 hours to explore the numerous caves
● Highest Point: 1500 feet above sea level
● Cave Timings: 09:00 AM to 12:30 PM and 02:00 PM to 5:30 PM (*Monday closed)
● Nearest Railway Station: Borivali
● Region: Mumbai Suburban
About Kanheri Caves :
Interested in Buddhist culture or ancient architecture? Want to enjoy waterfalls in the rain or looking for a picnic spot in Mumbai? Situated in the heart of the Sanjay Gandhi National Park, Kanheri caves are the biggest Buddhist monastic establishment on the Konkan coast! All year-round, these caves experience heavy footfall from the locals and foreign tourists alike.
Did you know Kanheri Caves are over 2000 years old? These caves were constructed in the years Before Christ (1st century BC) and served as a center of Buddhist learning and a site for pilgrimage for the Buddhist monks until the 9th century. The name has been derived from the Sanskrit word 'Krishnagiri' meaning black mountain. Over time it was called 'Kanhagiri' which later evolved to 'Kanheri'. This ancient architectural wonder is an extensive network of over 100 caves that have been carved out of a single black basaltic stone. It is maintained by the Archaeological Survey of India.
Each of these caves was meant to serve different purposes. Vihara caves were used for living, meditation, and study while Chaitya caves were designated as places of worship. Cave No. 3 is the most significant one, which was the last of the excavated Chaitya Hall of the Hinayana order. It has a semi-circular roof that contains a Stupa and a dome-shaped Buddhist shrine, and it is supported by 34 Pillars.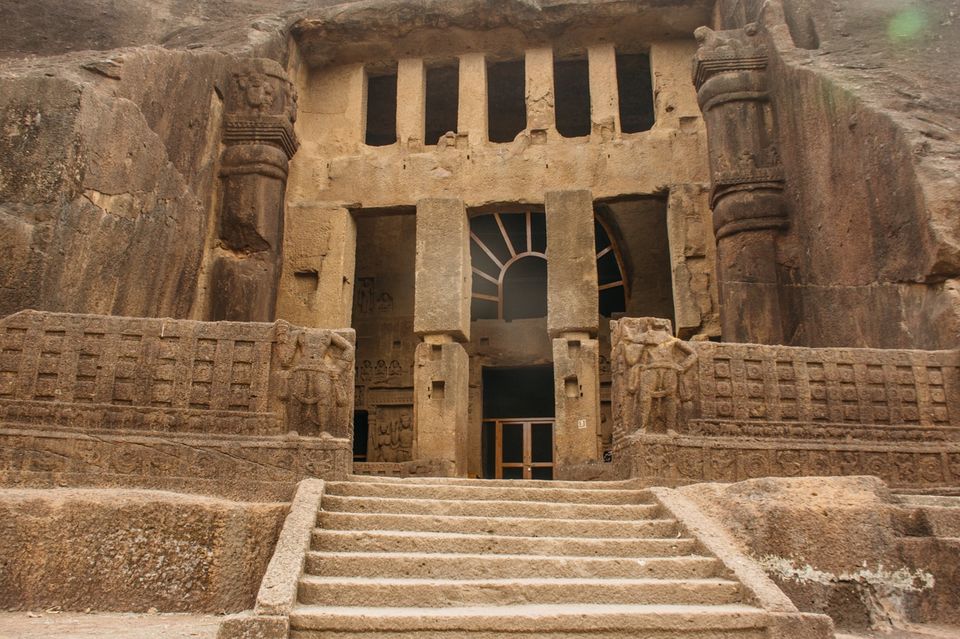 4. Tikona Fort Trek
Tikona Fort Trek Highlights:
Explore historic ruins of the fort Spot surrounding hill forts of Visapur, Lohagad, and Tung
Visit some of the amazing waterfalls near Pawna Lake and experience the famous Pawna Lake Camping on your way back
Tikona Fort Trek Info:

● Trek Difficulty: Moderate
● Trek Distance: 3 km
● Total Trek Time: 3 hours
● Tikona Fort Height: 3500 feet (approx.)
● Fort Timings: 07:00 AM to 06:00 PM
● Nearest Railway Station: Lonavala
● Base Village: Tikona Peth
● Region: Lonavala
● Best time for Fort Tikona Trek: June to August
About Tikona Fort:
Tikona Fort, also known as Vitandgad is a popular one-day trekking destination for Mumbaikars. It is a hill fortress in Konkan's Pawan Maval region situated close to Kamshet. Tikona Fort was built during the Sahara dynasty. However, it has witnessed the Maratha dynasty's rule over this region and was the nerve center for Pauna Mawal's primary activities. It was also used to keep a watch on the Pawna region.
This fort is a triangular-shaped mountain fort (thus named Tikona) and offers breathtaking views of the entire surrounding region including some of the famous forts and the Pawna Lake. Tung Fort, Bhatrashi Hill, Jambhul Hill, Lohagad Fort, Fagne Dam, and Visapur Fort are other sightseeing delights to witness from the top of the Fort. The view from the top is simply eye-catching.
Tikona Fort's mammoth entrance itself represents beauty with sophistication. Besides, large fortifications, water tanks filled with crystal clear water, large doorways, and spectacular landscapes sum up the beauty of this place. So, get ready to explore the marvels of nature as you trek through the unspoiled wilderness and explore the beauty of this Fort!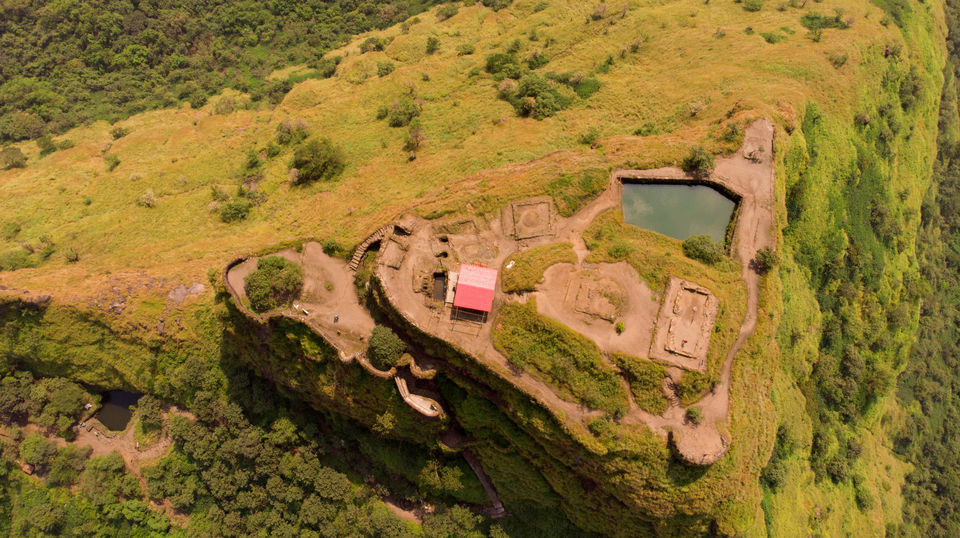 Must carry items for your Trek:
● One Day Backpack (20 to 30 liters)
● Trekking shoes with proper grip
● At least 2-3 liters of water
● Electrolyte Powder, Electoral Drink, or Glucon D
● Nuts, dry fruits, and protein bars
● Packed lunch
● Torch with an extra set of batteries (for night trek)
● Basic First Aid Kit and Personal Medicines (if any)
● Sun Cap and Sunscreen (during summers), Windcheater or poncho (during monsoons)
● Napkin or a Small Towel
● Any Identity Proof
● Camera (Optional)
● Power bank (Optional)
Quick Tips:
● It is advisable to wear full sleeve t-shirts and full track pants to protect you from sunburn, insects, and thorns
● Choose correct shoes for your trek – Good quality hiking shoes with proper grip are important. Make sure to purchase shoes that fit you properly.
● Carry an additional pair of clothes to change after the trek
● Stay hydrated throughout the trek whether you are in a hot climate or not. Due to constant sweating and losses of treath, your fluid requirements increase significantly while trekking
● Keep your backpack as light as possible. Avoid carrying unnecessary stuff with you as it will just add to your body weight and make the trek exhausting for you
● Save mother nature and make sure you do not litter around. Avoid carrying plastic bags and bottles with you. Instead use cloth bags and carry refillable water bottles along!
● Research about the trek thoroughly before going
Lastly, DON'T FORGET TO HAVE FUN AND MAKE MEMORIES!!
Visit https://www.trekhievers.com for a detailed guide on other beautiful treks in Maharashtra.
So, what are you waiting for? Go ahead and plan your next trek with us! And we promise to make your experience a memorable one. :) :)