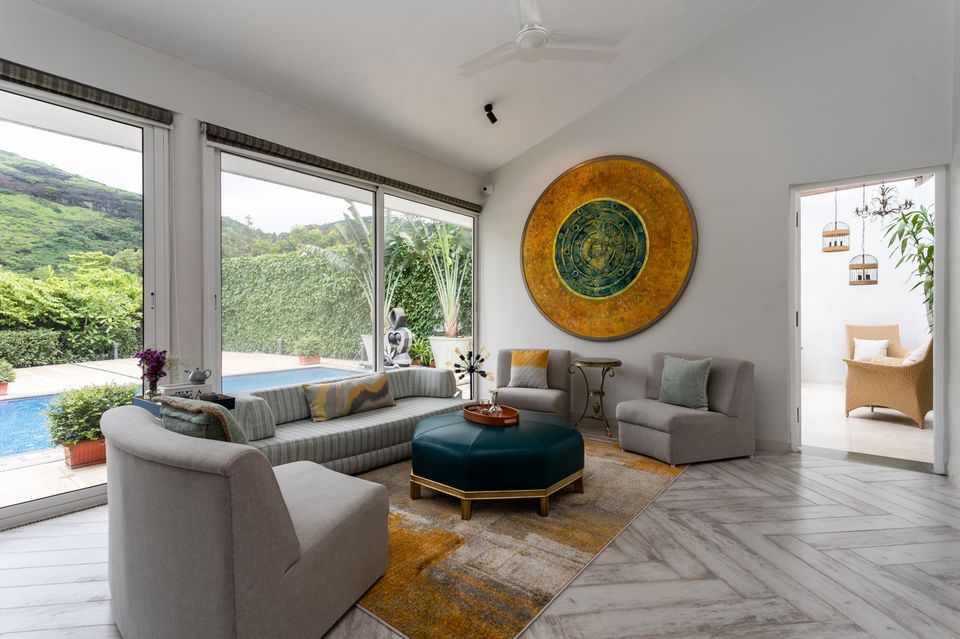 Looking for a new place to eat, sleep and chill near Mumbai? Look no further because here is India's first conceptual holiday home right in Lonavala! Drive to the rolling hills of the Western Ghats with your best friends. Right in ''The Jewel of the Sahyadris', theres a gem waiting for you to check in by the Le Sutra Great Escapes.
This luxurious Villa and Cafe is a pandemic baby. The lush property will open its other villas, and in time, a 35-room hotel to cater to wedding parties, company off-sites and shoot crews. Book now, while you can!
Picture Perfect Villa and Cafe
Located in the beautiful hill station of Lonavala, Geometrica by Le Sutra Great Escapes, is the brands first villa sprawling three-bedroom villa in a private gated community. You will be perfectly safe and at peace once you enter the property, wanting to destress. The Villa is located with a view of the magnificent Sahyadris. Adorned with abstracted geometrical forms the Villa represents some of Indian art, prized paintings, symbolic sculptures and inspiring installations.
For you romantic people out there consider this Anglo-Indian Cafe & Bistro is an apt choice. Time to drive in the rainy season for a romantic cup of coffee with your better half. The cafe is run by Le Sutra Hospitality, coming from Mumbai's Le Sutra Hotel and Out of the Blue. So you are well assured that your taste buds and ambience is perfectly taken care of. All you have to do is now indulge in some comfort food and look into each others eyes! (cheesy ideas alert)
Dine in a romantic setting!
Infusing signature European dishes and classic Indian flavours, this cafe reinterprets Anglo Indian food. Enjoy some good pizza, pasta and burgers. The menu has some serious comfort food options such as addictive garlic truffle fries, fried chicken and plant-based burgers and slurp-worthy spaghetti aglio olio.
For those with some craving for spicy food, a selection of meats and veggies prepared in a tandoor, and combos like kari-chawal (yessss to that) and Thai curry and rice won't disappoint you. Prepared by chef Juliano Rodrigues, an Out of the Blue veteran, you won't be disappointed!
For those who don't want to stay back in this property you can just enjoy the meal! And incase you are too tired to go back, extend that trip and stay back for the weekend.
The Perfect Location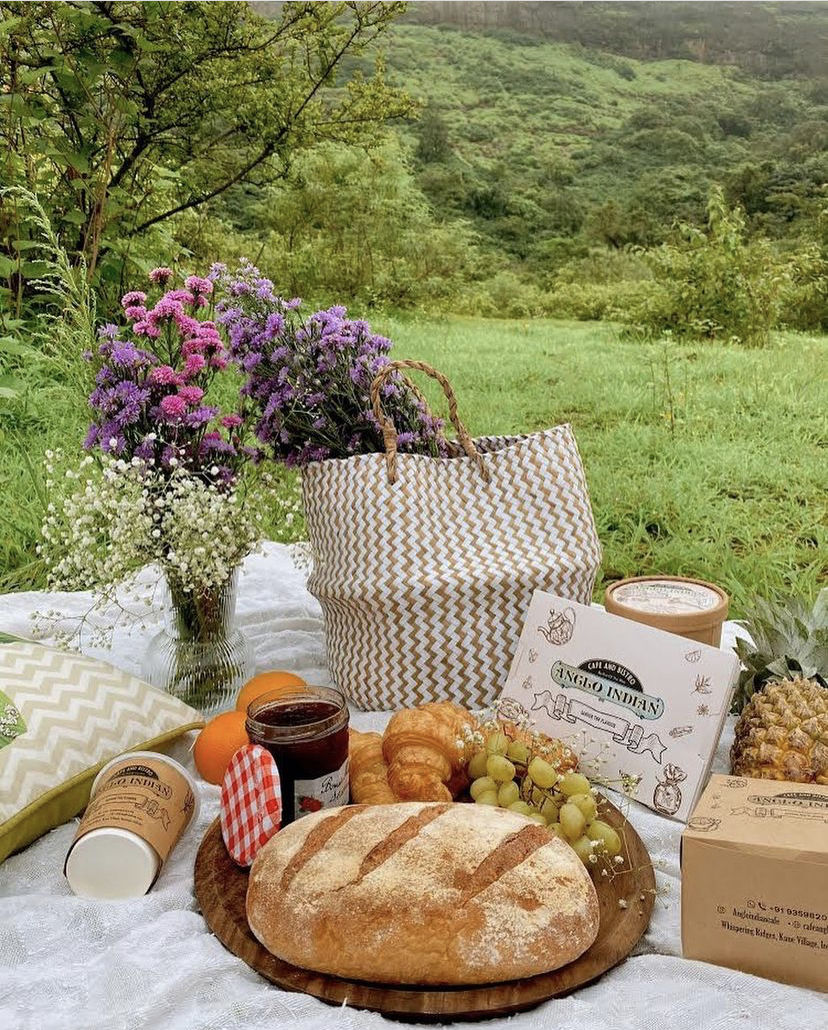 If you are in a dire need of getting away to a romantic place surrounded by the mountains pack your bags and book a villa right away! Nestled in the lush green hills in Lonavala, the villa and restaurant are housed within a 30+acre property.
How To Reach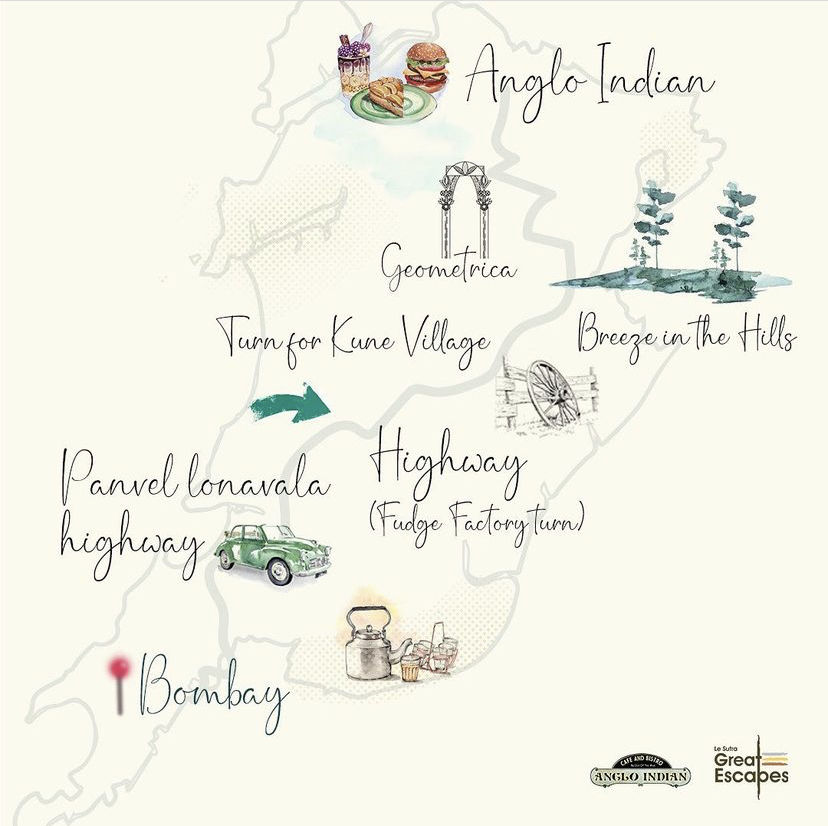 Location: Geometrica, Breeze in the Hills, Kunegaon, Lonavala 410401
Only 96kms from Mumbai and 64 kms from Pune, drive through the misty roads whilst it rains making the weather nothing but a relaxing setting.
Booking Details
From Rs. 36,000+ 18% taxes per night for 6 persons. Rates differ on weekends. A security deposit of Rs15,000 is to be paid before check-in.
Anglo Indian Café & Bistro: Rs 800 for a meal for two. The restaurant is also open for takeaway and deliveries in Lonavala.
Contact: +91 9820204355 or +91 9930004289
Website: www.lesutragreatescapes.com
Activities in Lonavala
Trekking: Tikona Fort, Rajmachi Fort, Tamhini Ghat, Lohagad Fort, Duke's Nose and Bhimashankar
Camping: Pawna Lake, Lohagad, Shirota Lake, Koarigad, Karnala, Vasinidi, Bushi Dam, Ryewood Lake, and Tikona Fort, Rajmachi Fort
Sports: Extreme Adventure sports, Hot Air Ballooning, Paragliding and Waterfall Rappelling
Caves: Karla, Bhaja and Bedse
Forts: Lohagad, Rajmachi, Visapur, Tikona, Tung and Kodigad
View Points: Duke's Nose, Lion Point, Tikona Fort, Visapur Fort, Rajmachi Point and Tiger's Leap
Water Falls: Kune, Bhivpuri, Bhagirath and Jummapatti
Lakes: Pawna and Lonavala
So what are you waiting for? Book this unique hidden villa in Lonavala and enjoy the monsoons with your loved ones!
Check out the below article if you have been thinking of a getaway in Maharashtra:
Enjoy Your Monsoon Getaway at These Dreamy Homestays and Villas in Maharashtra
Ready to travel for free? Earn credits and redeem them on Tripoto's weekend getaways, hotel stays and vacation packages after the pandemic is over!