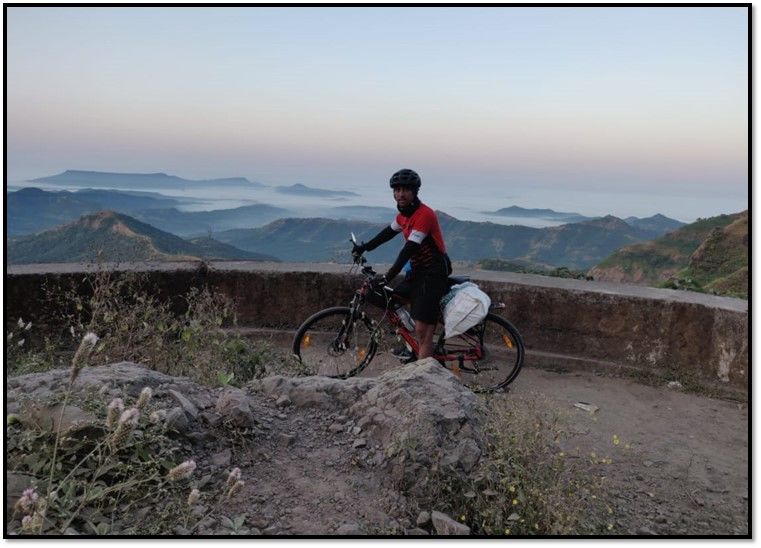 The Only Way To Achieve The Impossible Is To Believe It's Possible.
Pune to Goa – Bicycle Ride – Solo – Self-supported.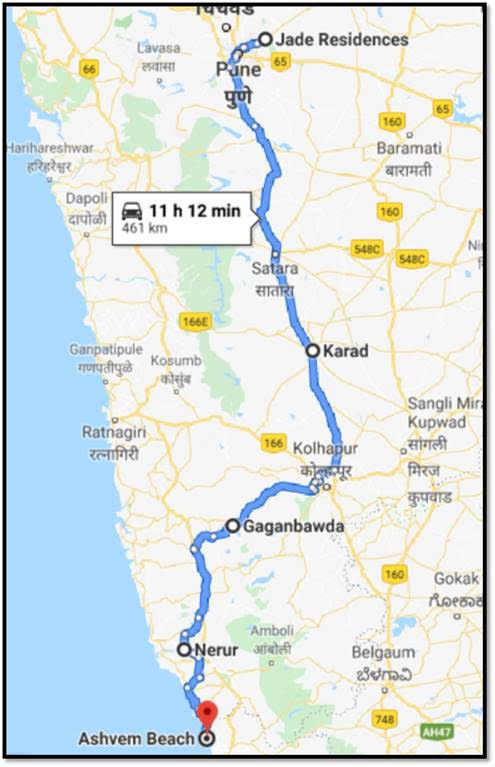 I read this somewhere, car is too fast and walking is too slow hence bicycle is the best mode to see the world!!!
This idea came to my mind few months ago where I read few stories on internet on bicycle rides across globe and countries. These were self-supported rides which would take months to complete hence I thought to do something on similar but on smaller scale.
I figured out the most simpler route, Pune to Goa, where I would come across couple of ghats and one of the easiest terrain to ride on.
Initially, I was bit skeptical about this plan whether to ride solo or in a group but both of the options had their own pros and cons. Riding in a group would have given me high level of security and the expenses would have divided accordingly, however I have to be dependent on my partner as well my partner needs to be dependent on me with regards to speed, fatigue, breakdowns, etc.
Whereas, riding solo had its own advantages like numerous breaks, my own riding speed, my own stoppage time and so on. Thought lack of security and expenses didn't bothered me much. Also, I was always preferred riding solo since I was king of my own time.
I prepared my initial draft of itinerary with the locations and halts where I will take break for the day. Also, a check-list for essentials that will be needed during this trip.
The preparation
Almost, around 4 months before I started sketching my plan on papers. Discussed my idea with few pro riders who have done long distance rides like these.
I needed to build on my endurance to be ready for such a long duration ride so to check on my capability, I headed to Gateway of India, Mumbai with a bunch of riders. This ride squeezed the juice out of me helping me to understand my real proficiency for long distance riding. Although, been a night ride I was completely shattered clocking more than 182 kms.
I started my daily runs starting from 1km and gradually increasing my distance to 5 kms. It's not like I haven't done 5 kms before but this time I made sure to do these runs without any stoppage. It benefited me to build up my stamina and strong legs required to paddle during my long ride.
AND THE DAY ARRIVED!!!
Day 1 – 8th November, 2019
Pune to Karad – 179 kms
I intended to start my ride at 0400 hrs but the anxiety didn't allow me to sleep early and I tend to wake up late, though I manage to leave my residence at 0440 hrs with a peck on my daughter cheek and a tight hug from my wife promising her to meet in Goa in few days. Too panicky to begin the expedition as I had a mammoth task to cover with distance of more than 450 kms till I reach my destination. But every journey begins with a single step and in my case it was the first paddle, I prayed God and begin this colossal ride. The roads were pitched dark and scary but I had good headlights to lit the void streets of Pune.
The first challenge began pretty early where I had to scale Katraj ghat which was one of the dare in the expedition to Goa. As soon as I reached near the tunnel, the sky was ignited with sunlight and took my first photo break.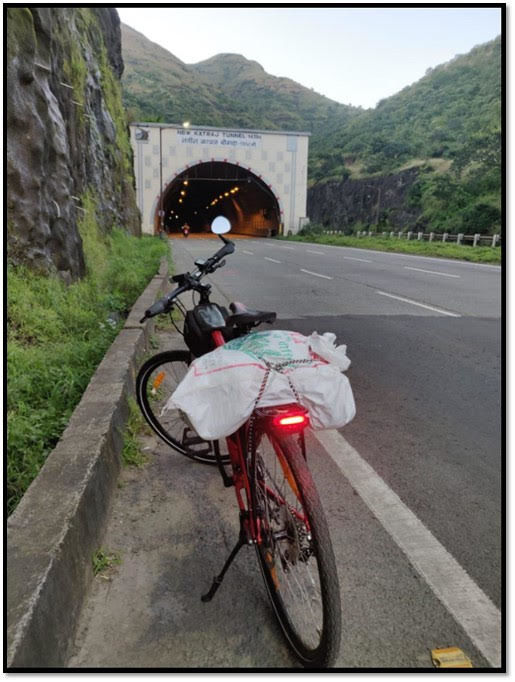 The atmosphere inside the tunnel was like a gas chamber which I was filled with carbon monoxide where my lungs were crying for pure oxygen after a steep ghat climb. It was very difficult for me to cover this small tunnel but somehow I managed to ride slow and get out of this toxic dig. I have crossed this place atleast hundred times in my car but was able to experience the venomous climate only while riding my bicycle.
My first meal break was after crossing 54 kms at Narayanpur phata, where I taught for a teeny moment to return back home and be with my family but again a saying "never forgot why you started" and I pushed myself again towards my next stop.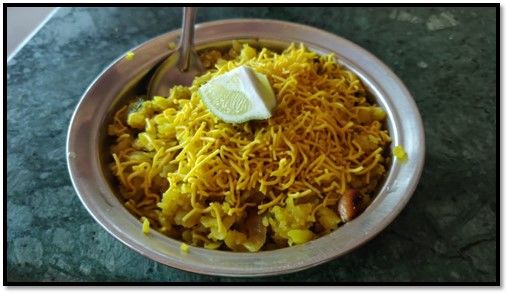 The temperature started soaring now and every moment started to make my ride more difficult and miserable. The highway was deserted and abandoned where vehicles passed me on supersonic speed where I didn't had any scope of negligence while riding my bike. My rear view mirror played a role of demigod blessing me on every nook and corner where I can see all the vehicles surging beside me.
The next challenge was Khambatki ghat but the good part as this is one way route; I had ample of space to ride my bicycle from left corner of the road.
While climbing this route, I came across the mini flow of water. It was like an oasis in dessert.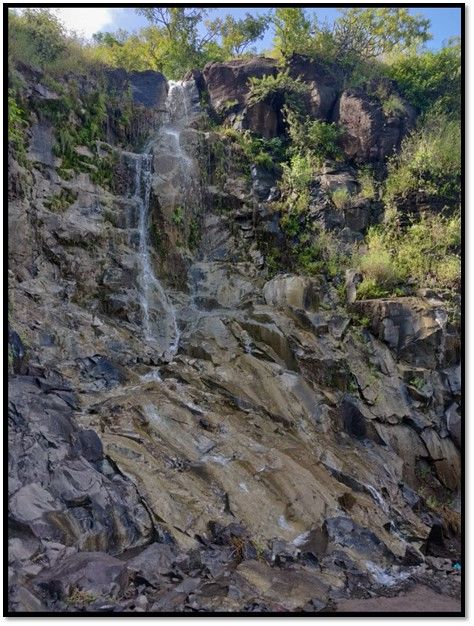 The next target, Satara to be crossed before 1200 hrs but again my snail pace didn't help me to reach on my target on time. After Satara, I took my lunch break as it was impossible for me to move forward with the rise in temperature. I am a core non-vegetarian but to play safe, I intentionally opted for vegetarian choice.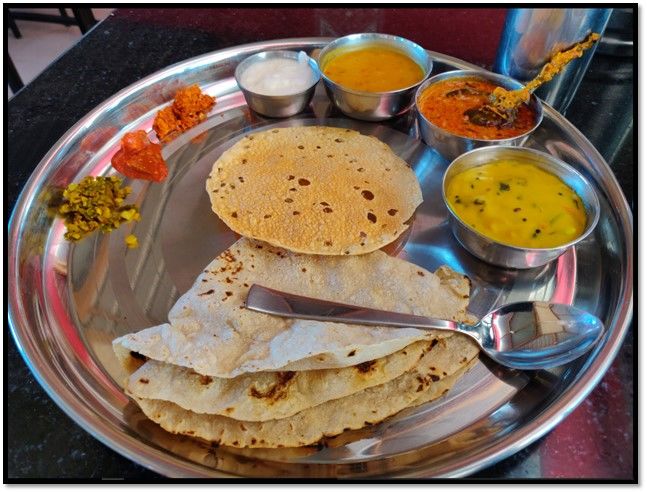 After lunch, the hotel manager allowed me to take rest in his premises where I took big break from my riding. I pumped my journey again after the sun was on a less hotter surface. The next and final stop for the day was Karad which seems will never come today as peddling was harder and tiresome.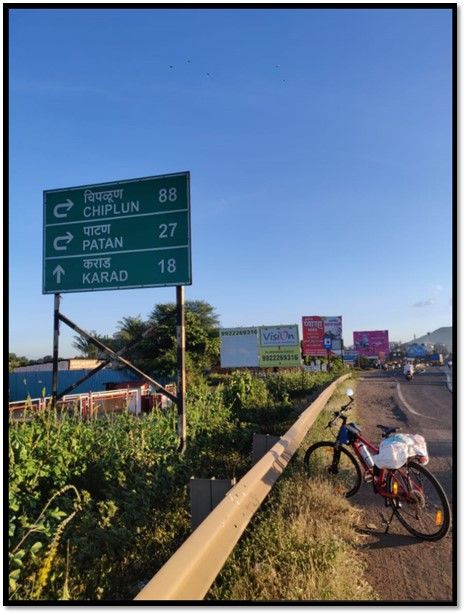 At the end after completing 178 kms for the day, I reached the final end of first day. I just wanted to crash down on bed and my miserable luck kicked in after I ended up in the worst hotel I have seen in my whole life. I cursed and abused myself countless times but I didn't had any energy to search for a new place for overnight stay hence I had no option to spend few of hours in this doom place.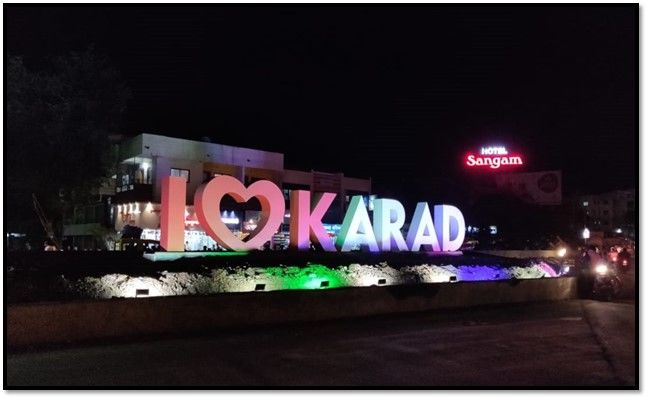 Day 2 – 9th November, 2019
Pune to Gaganbawada – 128 kms
As usual, woke up late clearing out all the fatigue of yesterday. Didn't bothered to take a bath due to filthy bathroom and no hot water facility. Packed my stuff and was time to hit the road. The atmosphere out was pleasant with whole NH48 covered with thick fog which assisted me to ride without a break till breakfast. Though the sun was out by 0930 hrs clearing my fog shield and temperature started raising drastically, I thought to take my breakfast break.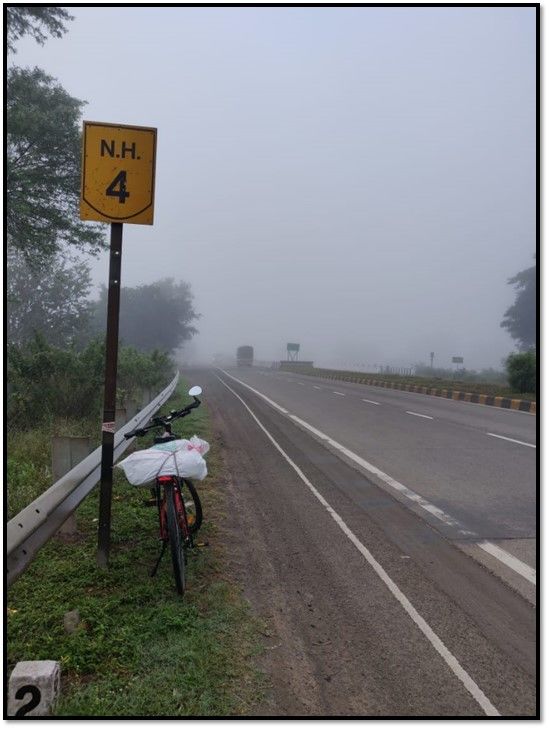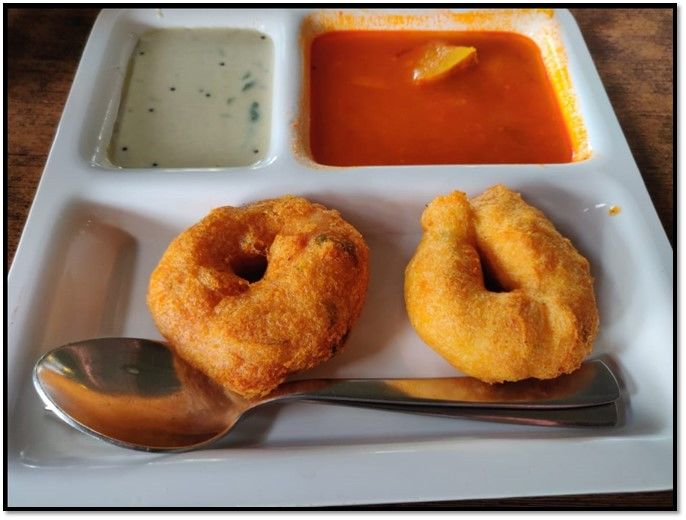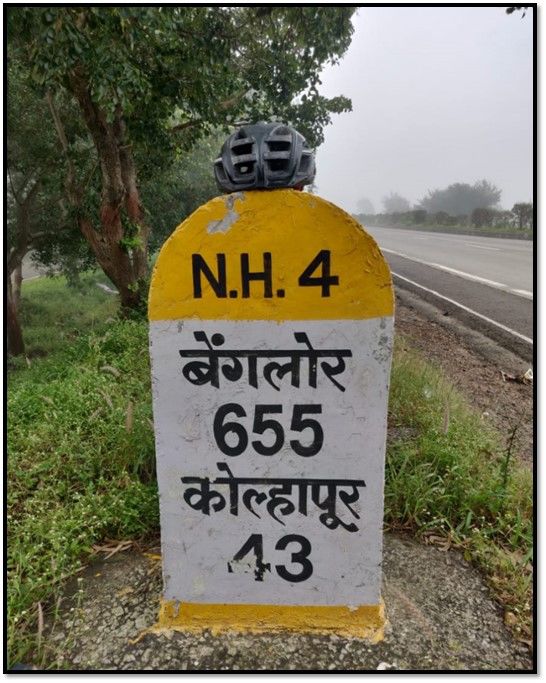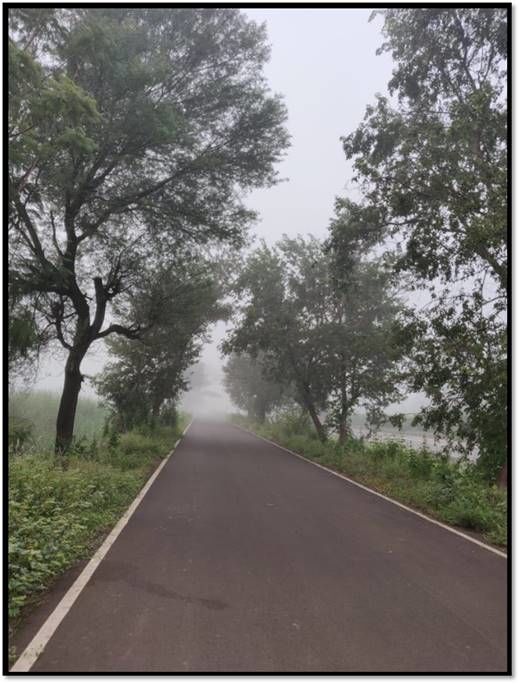 Kolhapur was still 11 kms and I left NH48 behind me taking the internal route to my pit stop for the day. The internal road was not in good shape with potholes all over the place, unfortunately had to unlock my bike suspension to avoid jerks, this eventually slowed down my pace making the ride more difficult for me. The internal road was covered with dense vegetation which provided me relief from direct sunlight and a sigh of hope to ride further.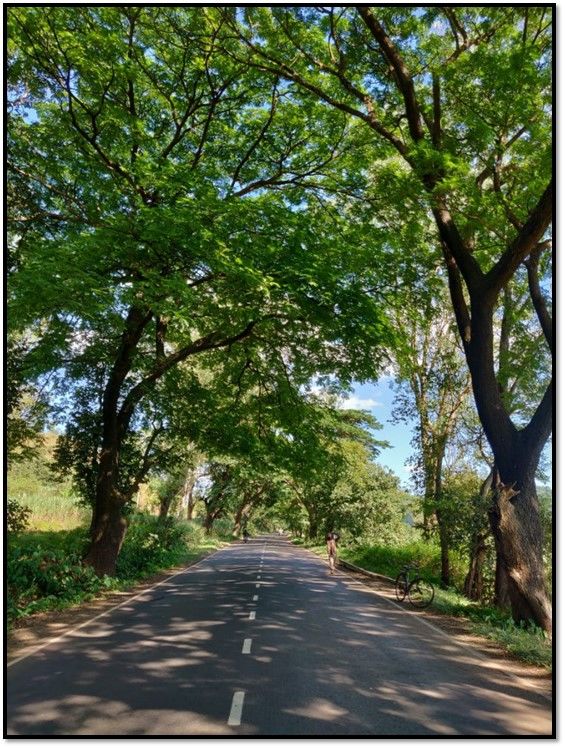 During lunch, I notice as there was no accommodation options available near my halt for tonight (Nivade), however, I manage to find a place for night stay the only challenge was this place would add approx. 25 kms to my today's ride which in due course of time will help me tomorrow to ride shorter and the destination changed to Gaganbawada. The route ahead became more miserable slowing me down, after every few meters I experienced bad patches failing me to understand if the road had potholes or the potholes have road in it.
Finally, I reached the destination for the day. The whole hotel was vacant so I had the privilege to choose which ever room I would like to check in. After yesterday dreadful experience, this hotel was like a 7 star property for me with OYO goodies and hot water facility. The bed was clean and so was the toilet which was more than enough to pamper myself after a tiring ride.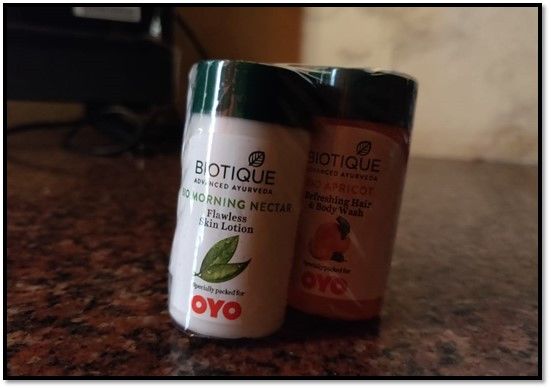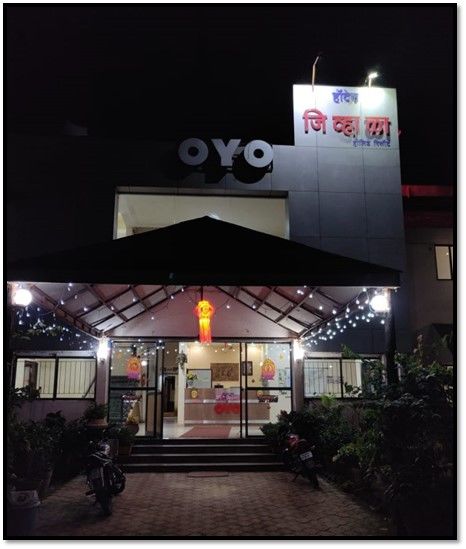 Day 3 – 10th November, 2019
Gaganbawada to Nerur – 100 kms
The day started with mesmerizing scenic view down Gaganbawada ghat. I cruised downhill without putting any efforts on my pedals for almost 15 kms and soon I entered the majestic Konkan belt.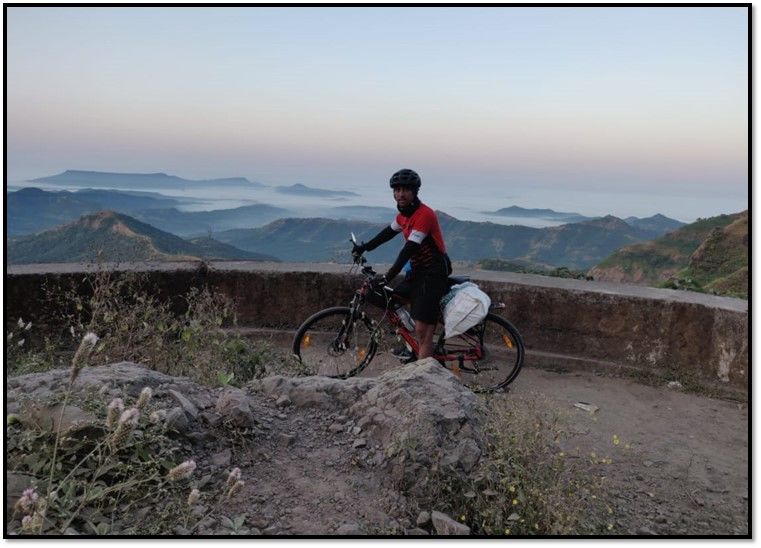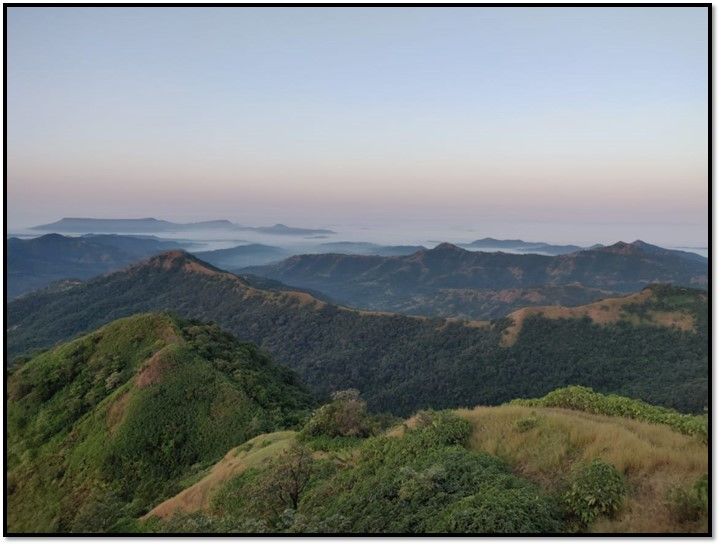 The route was covered with condensed tress and flora accompanying fog on some places, luckily I had my blinkers and headlight charged a night before which provided me ample of security in dense fog.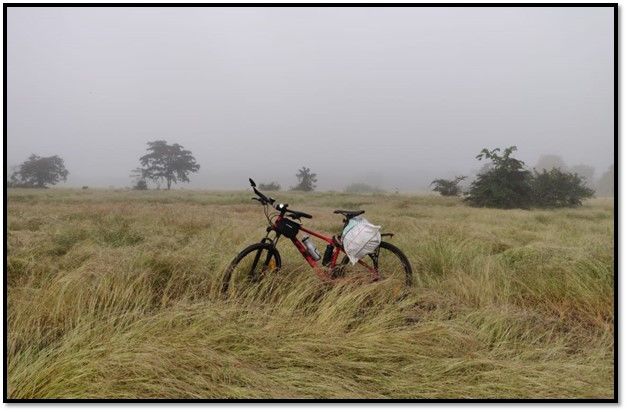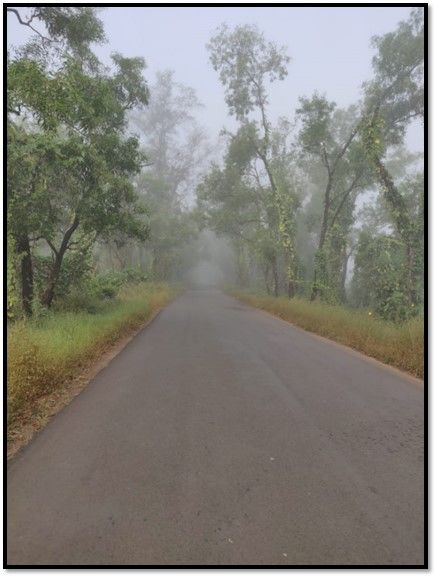 After my breakfast, the sun heat start pouring in making my life more glum and weary. After crossing Chiplun, I hit NH66, the new expressway for Mumbai to Goa, the worst phase of my whole ride started here. The freeway was dreaded without any trees and sun at its peak. The sun soaked all the fluid out of me making me dehydrated to the core. It was impossible to ride further ahead as I felt I might faint on the way. The extreme heat without trees didn't provide me any place to take shelter and rest for some time. After gulping down some liters of fluid, I managed to paddle back on the track.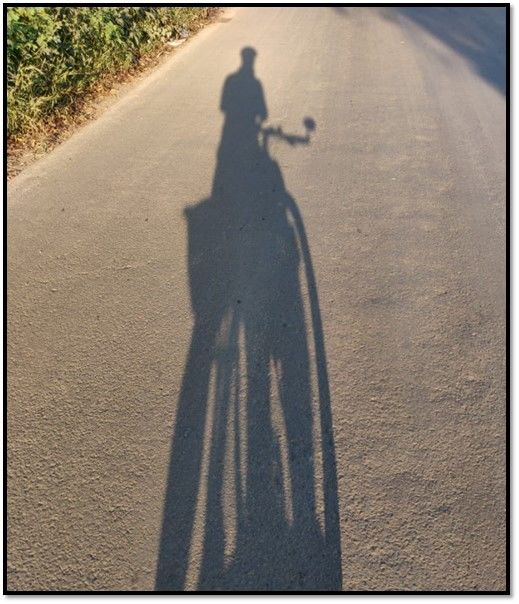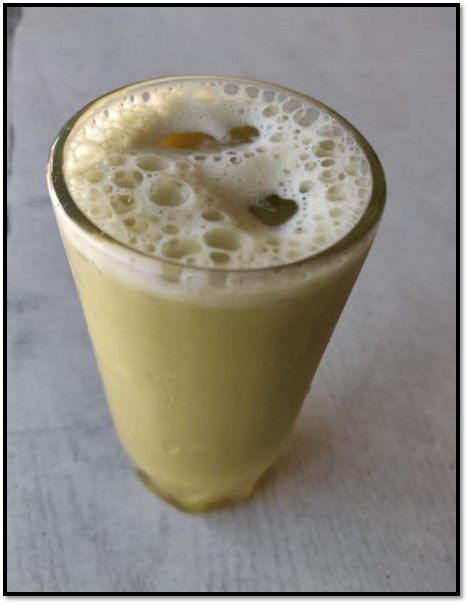 At last, I reached my native place, Nerur from where my forefathers belong.
Day 4 – 11th November, 2019
Nerur to Ashwem – 58 kms
Started around 0600 hrs with mild fog along the way and I soon hit the deadly NH66 which killed me thoroughly yesterday. The encouraging point on NH66 today was no sun and cool breeze with fog to speed up my journey of just 60 kms.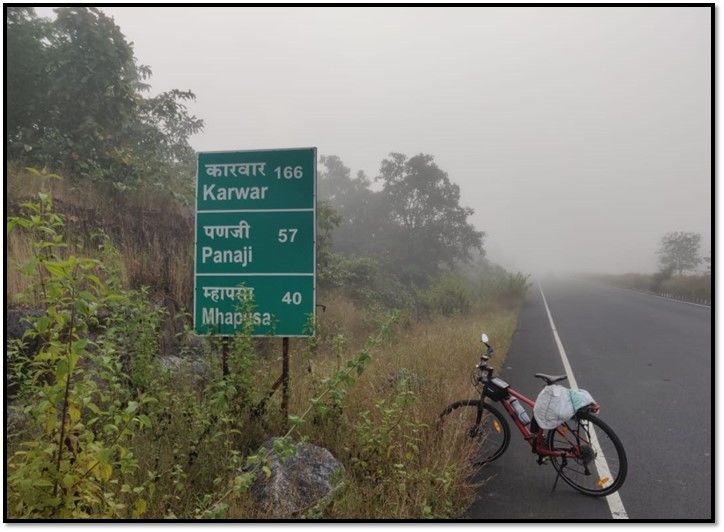 I was way too excited to see happy faces of my family and sense of achievement in myself. By 0930 hrs, I was at Maharashtra-Goa border and just 15-20 odd kms left for my last destination.
By 1000 hrs, my long lasting journey came to an end, clocking total of 464 kms within span of 3 and half days and tons of memories and stories to tell in future. My bike RED WOMAN, gave me all the required support with zero punctures and no breakdowns.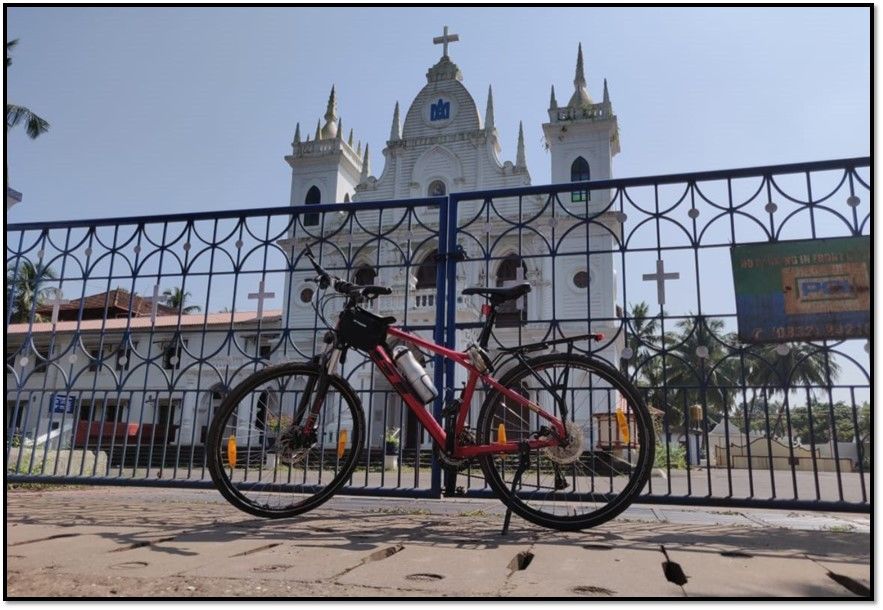 This whole journey made me understand to believe in yourself and achieve your goals. After the ride, many of them asked me concerns like endurance, fatigue, security and all. I just had one answer for them, everything is manageable until and unless you are mentally ready to do it.
These kind of rides require 60% of physical forte which can be accomplished with some fitness regime activities but the 40% of mental strength which can be developed ONLY if you think you can.
Frequent Searches Leading To This Page:-
weekend holidays from pune, weekend treks from pune, weekend cycle trip from pune, 2 day trips near pune, weekend getaways from pune