The ride till Goa was excellent as always, and it was time to say goodbye to this fantastic place......for me its always about the journey and not the destination. So I again hit the open road today, ride throughout the day and reach another destination probably by evening.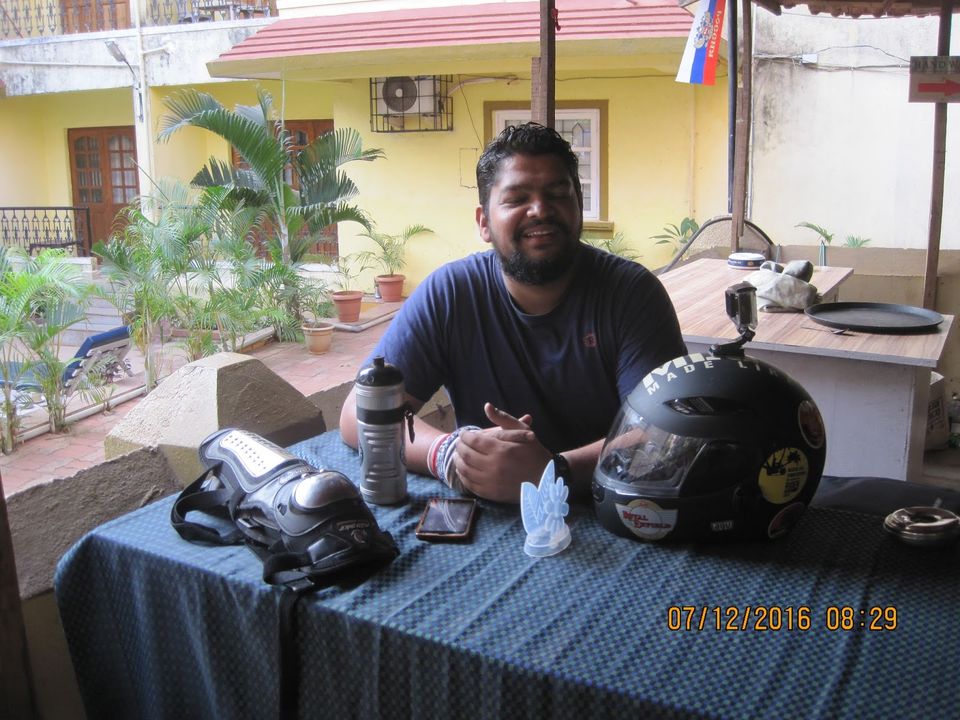 I planned to leave early after taking an early breakfast, and this is very critical for me as it keeps me energized, awake and kicking. Unfortunately, the breakfast got delayed at the place where I was staying which ensured that I was delayed by 2 hrs and then finally left at 9:00 am. It took me close to 1.5hrs to get out of Goa due to crazy city traffic and hence I always plan to start early in the morning to ensure I don't get frustrated with the cities mad rush.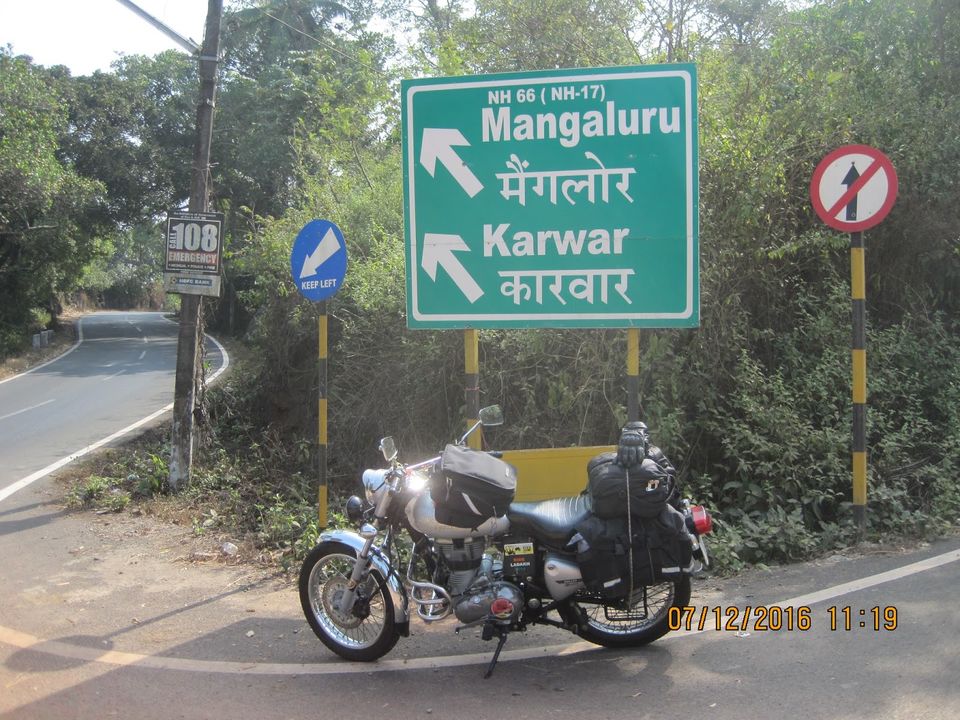 It was scorching and humid due to the coastal road which meant that I had to be hydrated by drinking a lot of water and energy drink. The route I had taken was Candolium – Karwar – Gokarna – Murudeshwar – Udupi - Mangalore covering a total distance of 380kms of national highways, village roads, and coastal roads.
Soon after exiting Goa I realized that there was some problem with my motorcycle and I stopped over at a roadside workshop to have a quick check and thankfully everything was looking ok. This was when one of the most undesirable thing happened to me while climbing back on to my motorcycle I had a major lower back sprain which put me in a lot of pain and agony. The people at the workshop helped me to sit down at a place, gave me water and made some arrangement for me to feel better. Blessed to have such amazing human beings around who were really great supports. I had two option at that time in front of me 1) return back and call off the ride 2) move ahead to Mangalore which was another 300kms.
After resting for some time, I was able to stand and was back on my motorcycle with a firm mind of taking the journey ahead. It was indeed difficult, but I had created some back support to rest my lower back while I could focus on riding. It was painful, but I knew I would forget about the pain as soon as I start riding.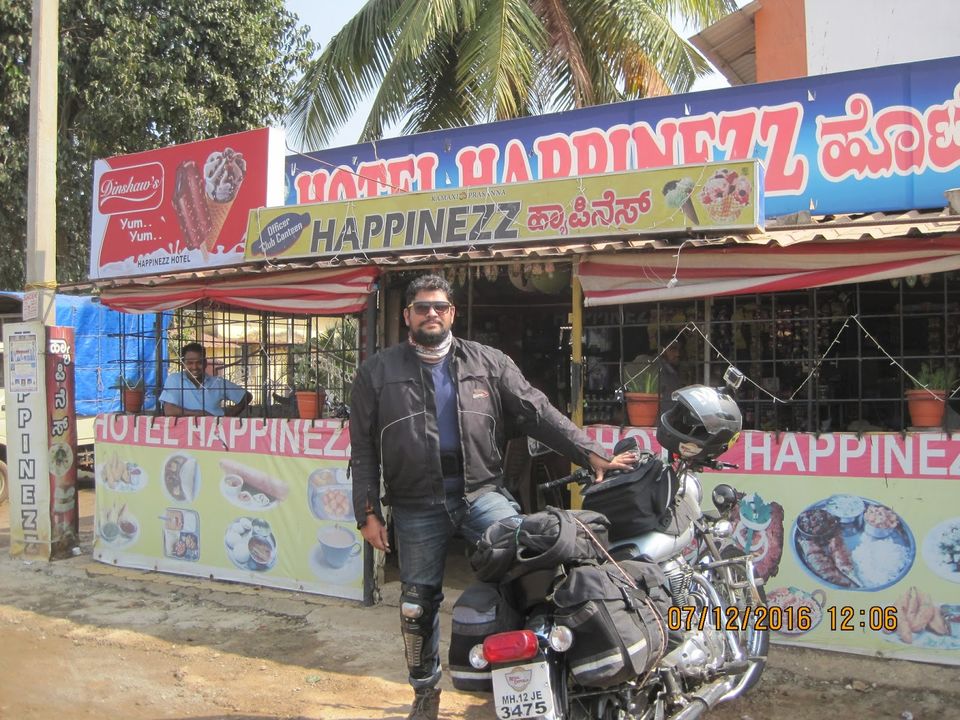 The road till Karwar was excellent with palm trees on both sides of the road, and in some stretches of the route, you ride parallel to the ocean. Good road condition made sure that my back was perfect and I was able to manage sitting on the motorcycle. I stopped at Karwar for a quick Tea and to stretch myself, and things were looking pretty good.
It was a sorry state after Karwar till Mangalore with deplorable road conditions as there was construction happening throughout the national highway. Riding was becoming difficult due to very hot climate, poor road condition and the back problem. The National Highway through this route was deserted with not even a single eatery or not even a tea shop. During lunchtime after searching for an eating joint for some time, I ended up parking my motorcycle in the shade of a big tree (thankfully I found one) and had a couple of energy bars. Energy bars are something I usually carry, and today this was a life saver, I rested in the shade for some time looking at the massive truck zipping past and few of them even shaking my motorcycle as they went past.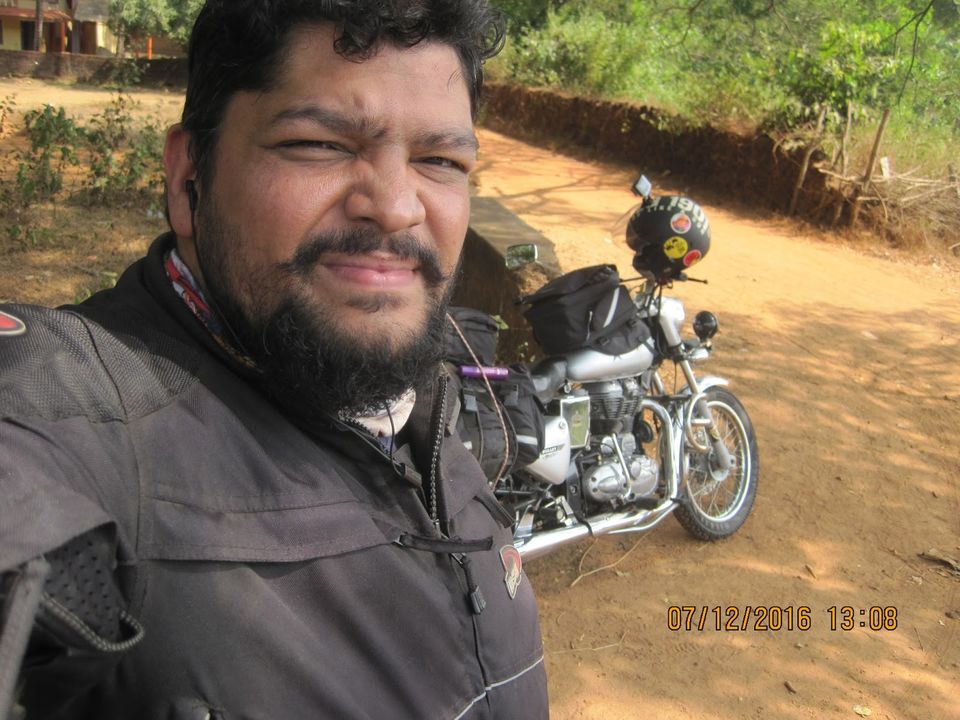 After riding for a few Kms the next scary thing happened and it was a close shave as I was overtaking a long truck on a climb (my mistake) and suddenly saw a SUV coming full throttle from the other side as if somebody has given "supari" to the driver to kill me. There was just no way to go; I had to jump off the road and had to have faith in God and my riding skill to save me from a deadly fall. I was able to manage without a fall or doing any damage to anyone, but it was an eye-opener to be careful and to stop doing daring acts while riding.
While I was nearing Udupi I saw a very pleasing site which really made me happy after all that what had happened. Long from a distance, I saw another Royal Enfield probably bikers traveling on the same route, I went closure and realized that it was a couple traveling from Pune on a motorcycle. It was amazing to see both of them enjoying the ride together, I went by and spoke to them, and we rode together for some time after which I moved ahead.
Reached Mangalore at 7:00 pm, completely exhausted and my back still in bad shape. The only thing which I wanted at that time was a bed and some pain relief medicine. I unloaded my saddle from the bike and straight went into my room, took a hot water bath before applying taking some medication and then was off to sleep. A very eventful day of my solo ride came to an end, tough times but glad I was out of all this and was able to enjoy the comfort of a hotel room. Such experiences keep the bikers life kicking and keeps us wanting for more.
Next day when I got up it was difficult to move due to the sprain but it was better, I decided to take a days break to ensure I give adequate rest to my back before moving ahead with my journey.