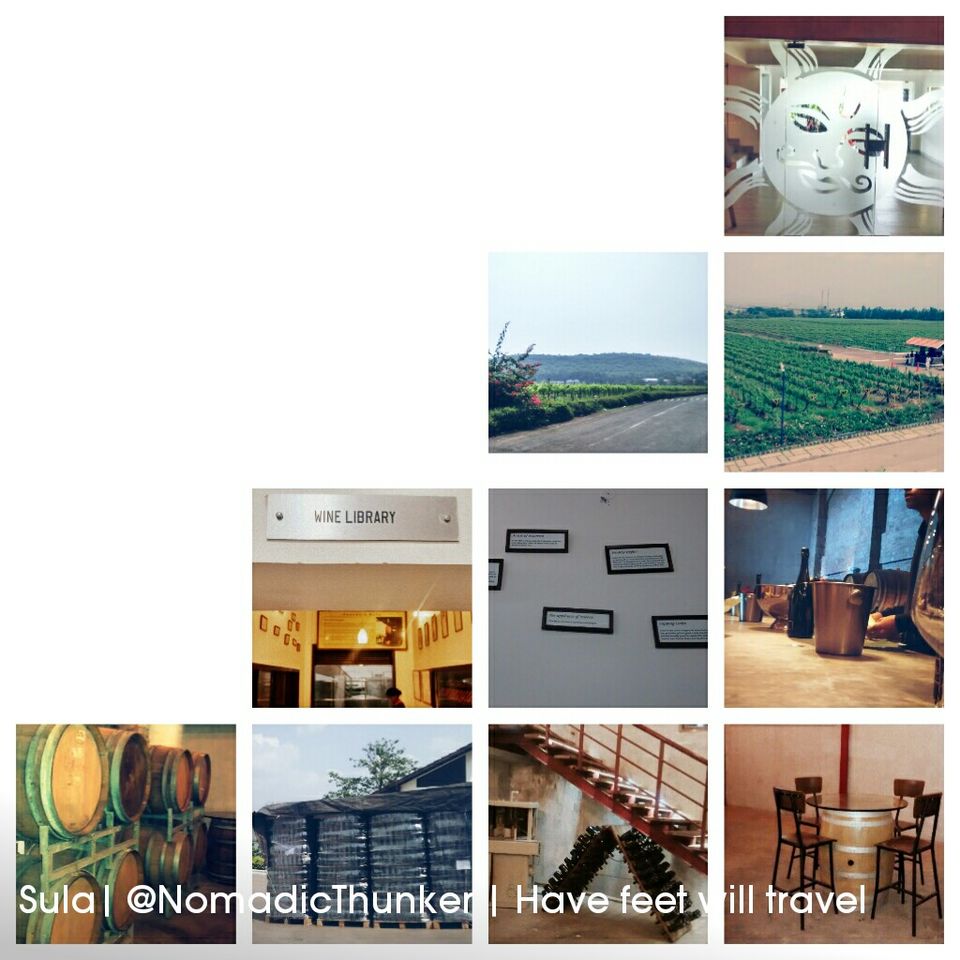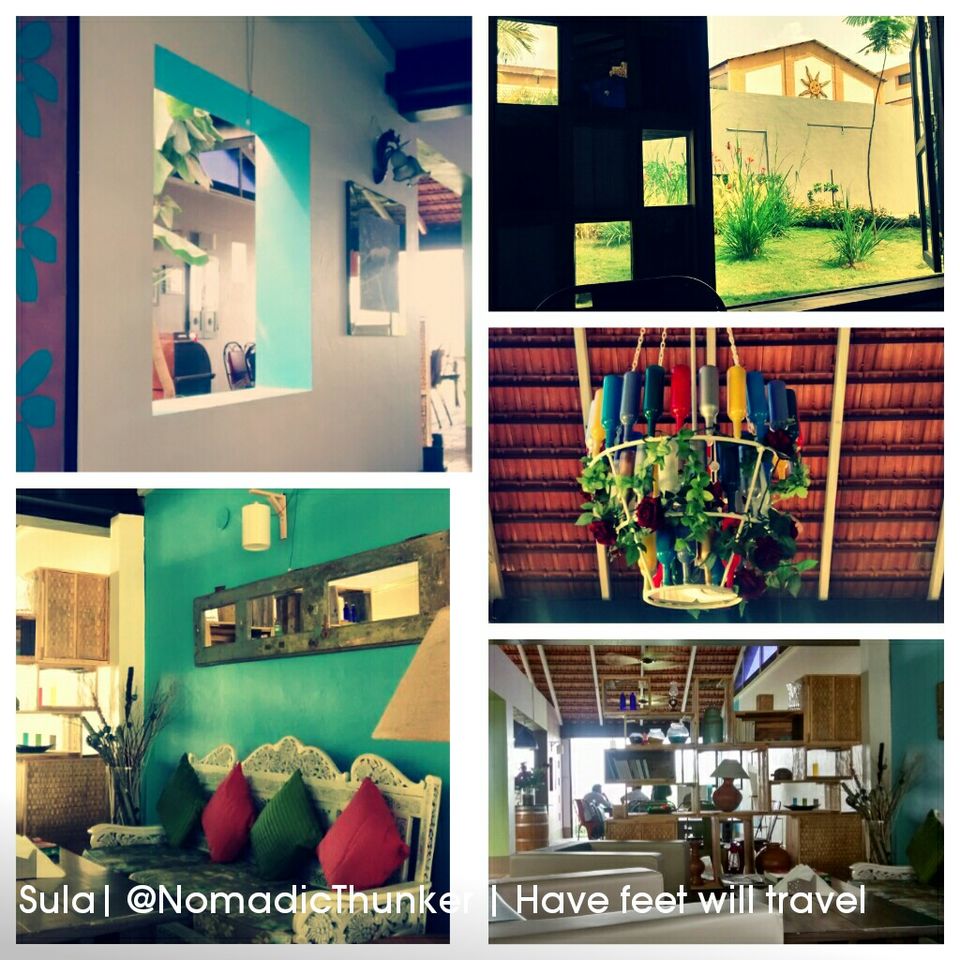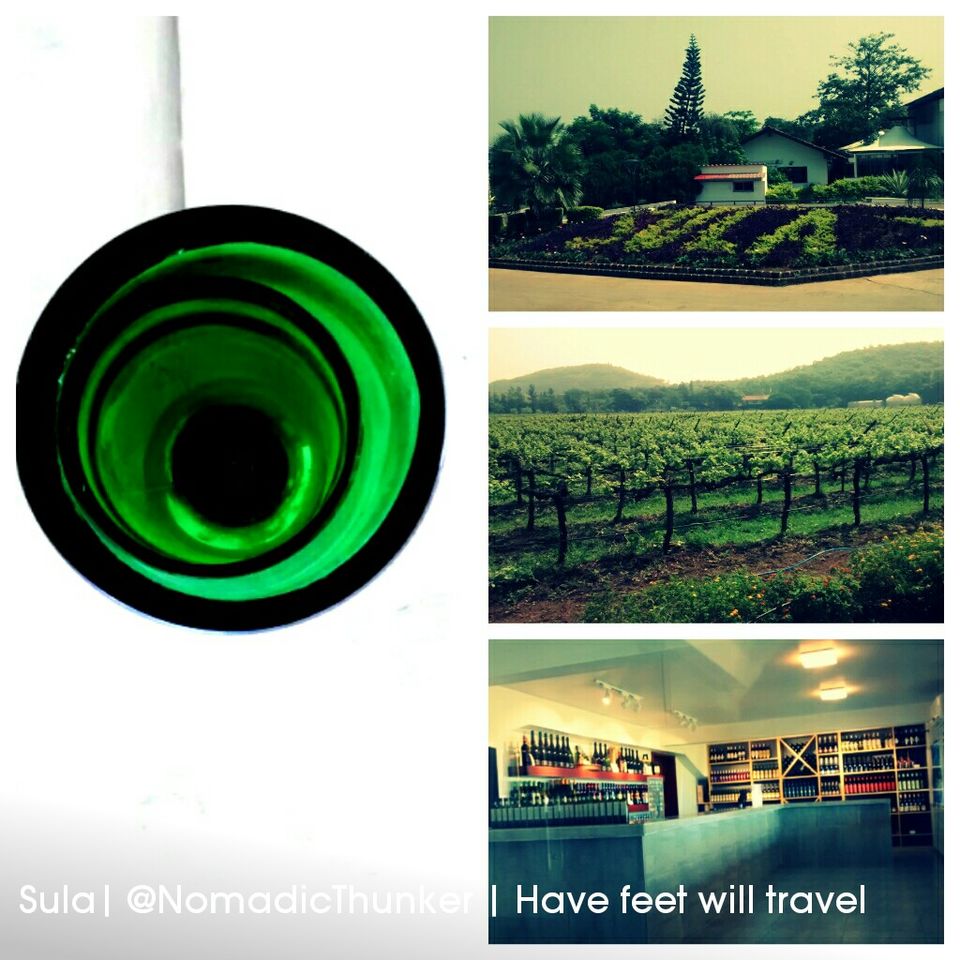 "When you're not taking off on your own to travel solo, you've already figured the company you want to travel with. If, however, you are ever looking for someone to tag along with you, do consider me."
Having created a reputation around 'have-feet-will-travel' lends itself to conversations like the one above. Interestingly enough these also translate into a ready reckoner for newer places to go to and of course good company too. That's how Sula Vineyards, that's located in
Nasik
about 180 kilometres from
Mumbai
city, happened. Just got Sula on your mind? Then a day trip would suffice.
At Sula:
Once within the premises of the sprawling property with vineyards on either side of the approach road you are quickly transported to a different world.
That travelling can be a rather edifying experience is something I've been acquainted with for a while now. Yet to say that I was going to have my mind blown is certainly an understatement.
Facts picked up in under 5 hours:
Until Sula came about in 1996, Nasik, though most appropriate in terms of climate for wine grape cultivation, hadn't been considered for it!
Cue: Enter Rajeev Samant who decided to convert his 30 acre family estate into a winery. India's first. Cue: Applause.
The wine grape plantations would see as you enter are planted in the north-to-south direction. Not east-to-west. This is so that the shadow of one plant does not fall on the other (which apparently isn't a favourable proposition). They are also placed at a distance of 3 feet from each other and grow up to 3.5 feet in height. And are grown organically.
Gigantic containers – separate ones for red and white wine – used to separate out the stem, seed and skin are a part of the wine tour.
That wine grapes cannot be consumed the way you dunk or stuff (whichever is your preferred style of eating) your face while eating regular grapes was information leaves a 'no friggin way' reaction on your face - until of course you realise that wine grapes are a whole different species from your regular grapes. #Awesome
Then you hear the barrel story. Part of the wine tour involves being taken to the wine cellar where you learn of the oak wood barrels being used as a way of adding flavour to the wine.
It's called champagne only if it was made in Champagne, France (that's how the name came about. Think Scotch from Scotland). Else it should simply be called sparkling wine.
It all sounds like a fab story until the last leg of the wine tour which is the wine tasting bit. For INR 250 you can taste up to 6 different varieties of wines (and 4 for INR 150. If you only want to tour around its INR 100). During the wine tasting new skills get added: See. Swirl. Sniff. Sip.
Here you learn that:

When you 'See' you realise that the colour of your wine tells you its own story. The lighter the colour, the younger in age is your white wine. However the lighter the colour, the more mature is your red wine.
You don't 'Swirl' your sparkling wine. It kills the bubblies. And when you swirl your wine – white and red – the pace at which the 'tears' come down tells you how high in alcohol content it is.
You can 'Sniff' green apples, litches, peaches, berries and even the oakwood in your Chiraz' and Merlot'.
And 'Sip' – well, we all know about that
You can spend the rest of the day sitting in front of the vineyards sipping wine, enjoying the cool breeze, birds chirping and fluttering about while Mozart and crew are jamming on a player somewhere near you. Now who wouldn't want that!
P.S.: There's a French restaurant right next door that has a rather delectable spread. Recommend the Parrmentier de poulet fermier, reduction de syrah Dindori, oignons grelots caramelises et olives noires (aka Free range chicken cooked in Sula Dindori Shiraz, potato puree with olive oil and caramelized baby onions). It is as yummilicious as it can get!
Getting there:
You could drive or you could take public transport (like I did). There are a number of passenger trains that stop at Nasik Road. The time taken to reach there from Mumbai is about 4 hours (factoring in train delays).
Mumbai to Nasik Road:
There are a few trains that ply early in the morning – this allows for you to get to Sula just in time for the first batch of wine tour and tasting but more on that in a bit. Back to the trains, the IRCTC website is rather helpful (when it aint being painfully slow). The Gitanjali Express or the
Tapovan
Express that leave from Mumbai around 6 AM IST are highly recommended. The view outside is gorgeous all along the route during this post monsoon period (i.e. after September) so you won't be disappointed (if you aren't battling to keep your eyelids open courtesy the super early morning start).
Nasik Road to Sula Vineyards: Cool breeze sweeps your face at Nasik Road Railway Station and that feels like a great welcome. To get to Sula you'd need to haul an auto rickshaw from right outside. The one who ferried us said he would charge INR 350 (one way). The drive's a little bumpy and takes about an hour or so. However as you near the Vineyards you begin to realise that the odds of hauling another auto rickshaw later in the day might just be a challenge. That was exactly my predicament. Our driver refused to return back to merely pick us for the station but offered to stay back until the evening for an extra charge. After some deliberation (mostly around saving ourselves the trouble of locating another mode of transport that wouldn't cause us to miss our evening train) we agree to an amount of INR 1100.