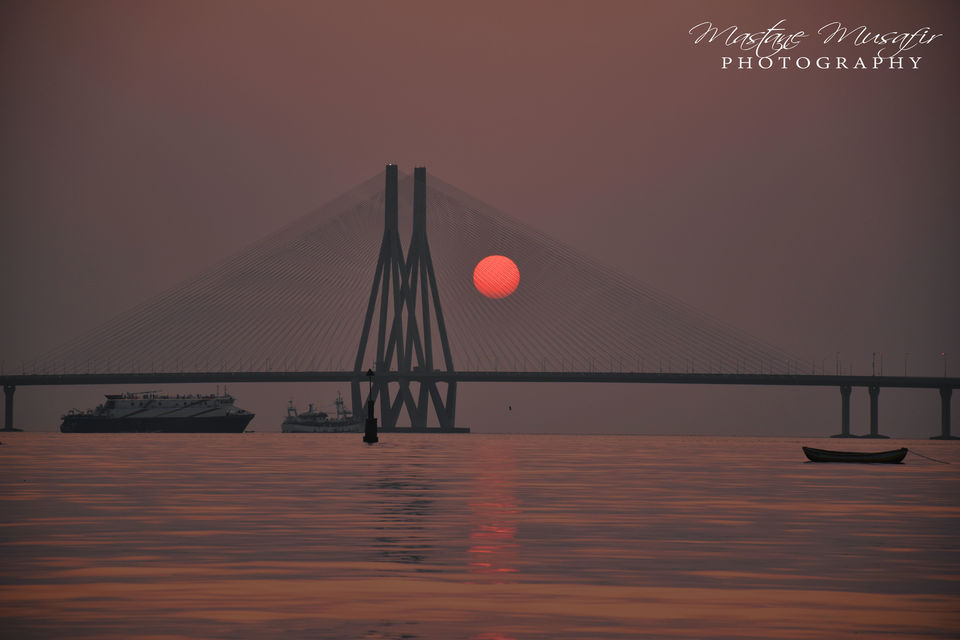 2012, the year when I had my first encounter with Mumbai. In the short layover time, the newly sprouted traveler in me wanted to experience why this city takes everyone by awe.
And as a classic "Noob" I fell for the trap of "Mumbai Darshan" that took us around in an open bus with 100s others to the most cliched locations of Mumbai, including houses of Movie Stars. This only propelled me to decide I will never ever return to this city.
But they say "It's Destiny" and I couldn't agree more as 5 years down the line I find myself embraced by the very same city. 5 more years have passed by since and I can proudly call this place a home. And over the span of these 5 years, I along with my better half, have explored quite a lot of this maximum city. So much so that we prepared our very own list of places & experiences that redefined Mumbai Darshan for us. Read on to know how much fun it is to be a Tourist in your Own City!
1. Pigeon Feeding at Gateway of India
Now, you might say that Gateway of India is Mumbai Darshan 101, but the experience I am talking will definitely make you wake up before sunrise and reach here.
The mornings at Gateway are just pristine. Before the tourists flock in heaps, the pigeons rule the roster here. Just take some chickpeas on your palm and then extend your arm and see the magic unfold. Check out the pictures below and decide for yourself.
P.S. Sunrise is an absolute treat too!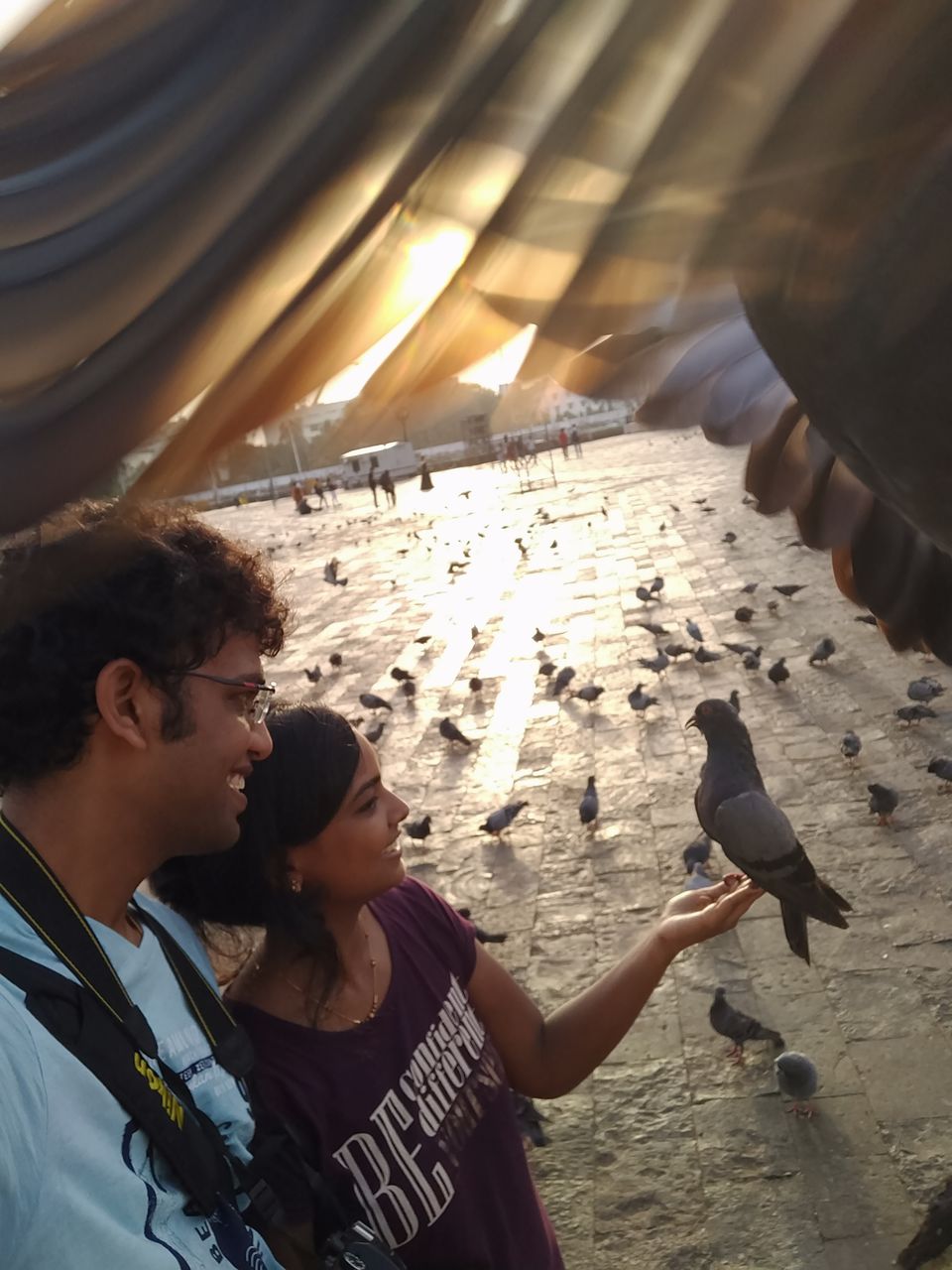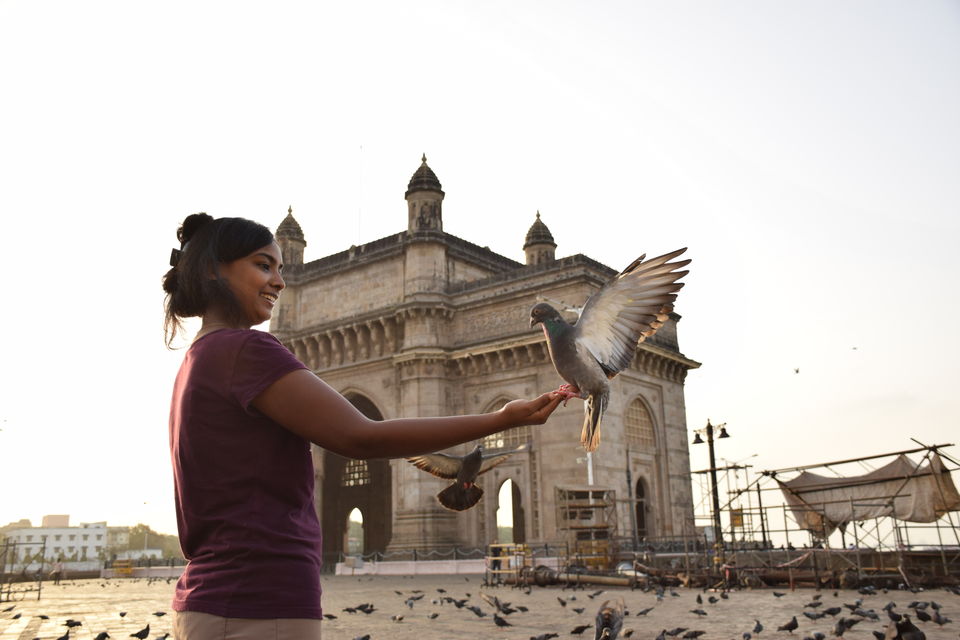 2. Get Insta-Worthy Snaps in front of Heritage Buildings
A fact that is known to a few people that Mumbai has the 2nd highest concentration of Victorian and Art Deco buildings in the world. The ensemble of these buildings are declared UNESCO heritage sites and their designs are just too pretty to ignore. You can find all these buildings in the entire stretch of Marine Drive.
Apart from the above, few of our favorite places are Asiatic Library, HSBC building, Flora fountain, BMC headquarters and CSMT station. An absolute treat for the eyes these buildings.
3. Stroll down The Cherry Blossoms Street
Come February and this 1.5 km stretch in Vikhroli provides a visual treat with Pink Trumpet Flowers blooming on all the trees here. I affectionately call this Mumbai's Version of Cherry Blossoms.
On the rare days when the temperatures in Mumbai go below 20°C, a morning walk or a jog on this little stretch is just the perfect way to begin the day.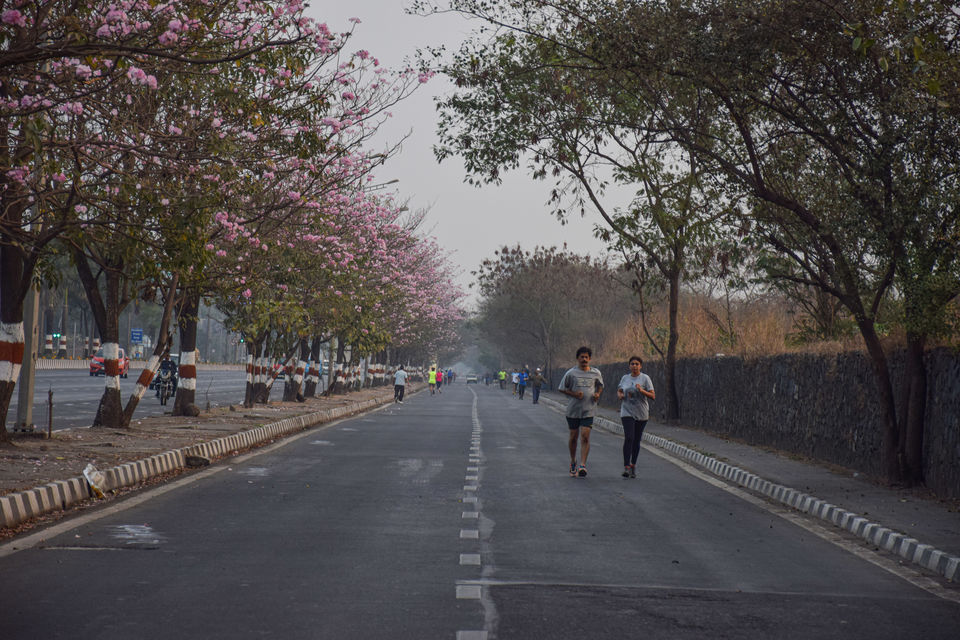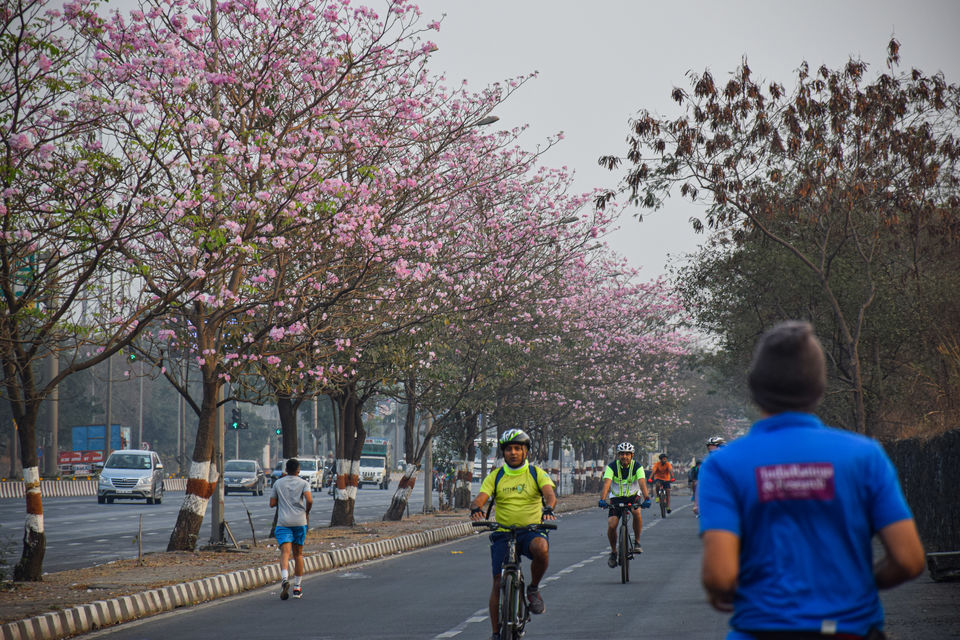 4. Experience a Slice of Iran at Mughal Masjid
In the narrow by-lanes of Bhendi Bazaar in Dongri, a big blue structure just pops out from nowhere. A closer look and you will see an exquisite mosaic tile art work, so intrinsic and detailed that if the location is not revealed, it can be easily passed for some mosque in Iran or Tashkent.
5. Take Flamingo Safari in the Wetlands
For all the nature enthusiasts, this one is for you. A fact that is hard to fathom, the mangroves and the mudflats in the creeks surrounding Mumbai and the suburbs are home to migratory birds. And of these, the flamingos have become so accustomed here that perhaps they have migrated here permanently.
A morning boat safari in Thane Creek is an experience we highly recommend. It is a delight to see such varied species of birds in middle of a concrete jungle. Watch detailed guide to Flamingo Safari in our video below.
6. Deep dive in history at Bhau Daji Lad Museum
While we are not actually fan of museums, but a visit to Bhau Daji Lad Museum was quite refreshing and beautiful.
There's some peculiar charm at the Mumbai's oldest museum, the interiors are soothing to eyes and the collection of the art work is just exquisite. It is literally a treasure trove for those who love history, and for those who don't, well the aesthetics of the place will certainly weave magic.
7. Set aboard a sail boat for Sunset cruise
Don your sailor hat and set sailing in the beautiful Arabian sea as you witness the amazing shades of the skies in the backdrop of the ever enchanting skyline of Mumbai.
Perhaps one of the most interesting experiences we have had till date with the views of Taj Mahal Mahal palace and Gateway of India just adding to the beauty. It's icing on the cake if you happen to spot some dolphins on your way.
8. Bid Adieu to the day in backdrop of Sea Link
If San Francisco has Golden Gate Bridge, Mumbai has Bandra-Worli Sea Link. This magnanimous structure is standing in middle of the ocean with two gorgeous backdrops on its either side. One of the best places to witness sunset with Sea Link in the backdrop is from Mahim Bay, from where the sun looks like the size of football and color of a tennis ball, and just mesmerizes you as it moves goes down towards the horizon.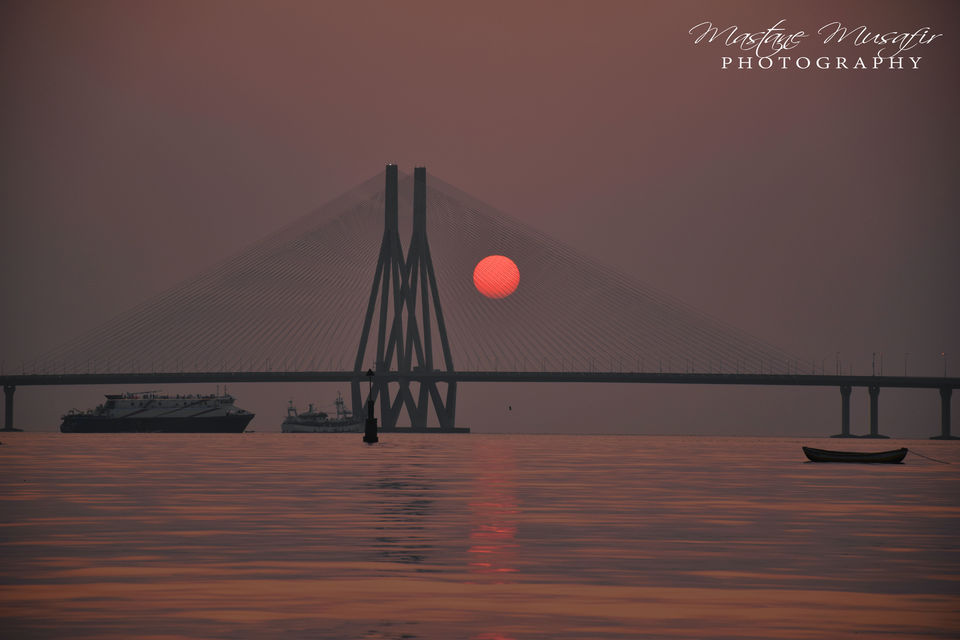 View number two is equally stunning as the Sea Link just provides a perfect foreground to the mind numbing and jaw dropping skyline of Mumbai. Bandra fort provides a perfect vantage point for the same, and I rate this skyline view among the best skyline views across the world.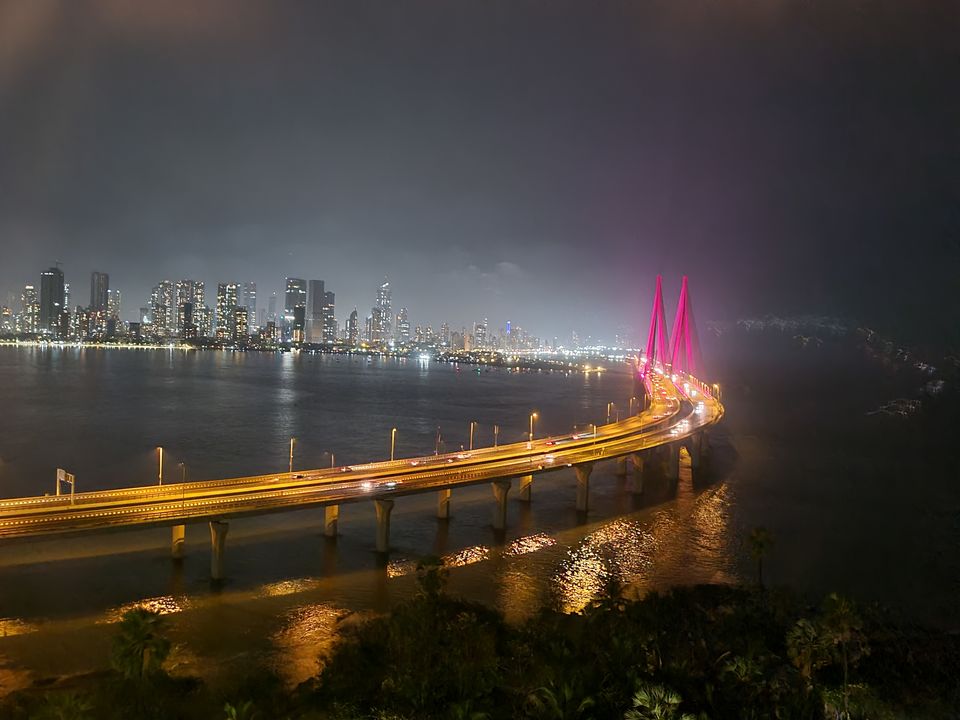 So next time you visit Mumbai, ditch the open roof Mumbai Darshan Tour Bus and indulge in the above mentioned experiences, and take my word you will not be disappointed. And for those living in Mumbai, just for your reference that your beloved city has a lot more to offer than just the cliches.
Ready to travel for free? Earn credits and redeem them on Tripoto's weekend getaways, hotel stays, vacation packages and Mindful Retreats!