After such a long planning finally I have managed the most awaited Scuba diving trip to Malvan. Scuba diving is one of the things which were in my wish list since long & I was so excited as well as nervous for the same. I & one of my friends decided to go. It would have been more fun if we were more but more or less we had a real fun.
How to reach
Kudal is the nearest railway station to reach Malvan. Malvan is well connected via road which is 30Km from Kudal. The buses are available with regular intervals of 45 minutes. Getting tickets of Konkan railways is always a nightmare.
One can also travel via road. From Mumbai the state transport buses as well as luxury bases are available at regular intervals. That can be the option but you need to be ready to bare the crowd.
If you have your own vehicle then you don't have to worry at all, Mumbai to Malvan is 430km via NH48.The road is most of the times under the knife because of landslides.
Our road map
Thane- Kudal- Malvan- Tarkarli- Devbaug- Kudal- Thane.
About Malvan & Tarkarli
Malvan is a town and taluka in Sindhudurg District, the southernmost district of Maharashtra State, well known for the historically important Sindhudurg Fort.
Tarkarli is a village in Malvan taluka in Sindhudurg district is tourist destination and a coral beach. Over the time Tarkarli has become one of the hot destinations for scuba diving.
Day 1 (Overnight journey from Thane to Kudal)
On 11th hour we managed to get train tickets from thane to Kudal, we got one confirm ticket & had to manage with the single berth. If you are regular traveler to Malvan or Konkan you might know that how difficult it's to gain the train tickets. It was hell of crowd as always. We boarded "Rajyarani Express" from thane.
Expenses: 330rs (tickets from thane to kudal)
Day 2 (Arrival at Malvan, Scuba diving at Tarkarli)
Reached Kudal by 9.45, generally train gets late because of single cross line. Reached Kudal bus depot from Kudal railway station by an auto. Had missal pav for a breakfast & moved to Malvan bus depot. The route from kudal to Malvan was truly an eye pleasant with mango & coconut trees surrounded by both the sides with very fresh air, which is very difficult to get in cities like Mumbai. Reached hotel 3G near to Tarkarli beach, got freshen up, had lunch (we opted for veg only as after that we were supposed to be headed to scuba diving).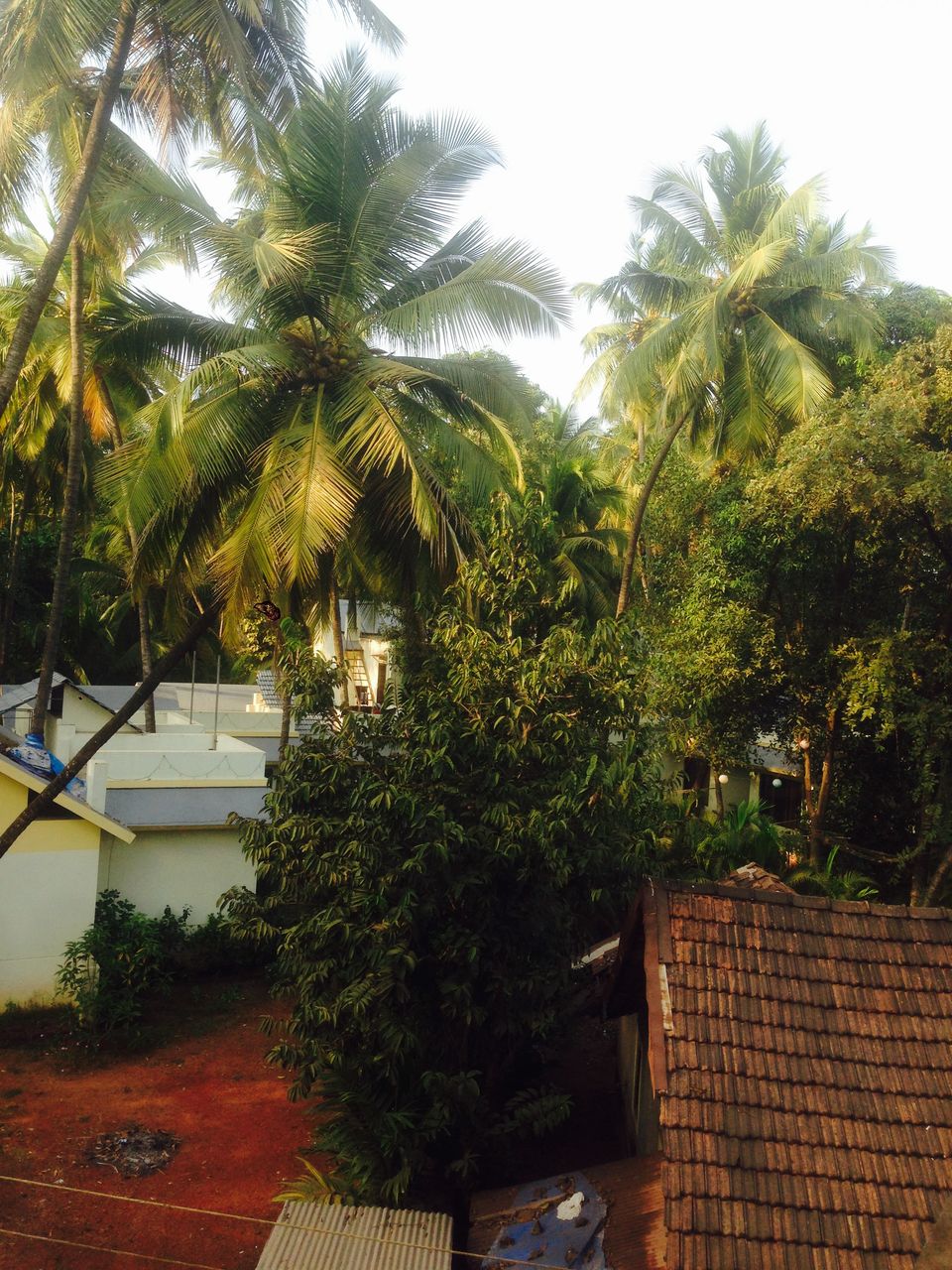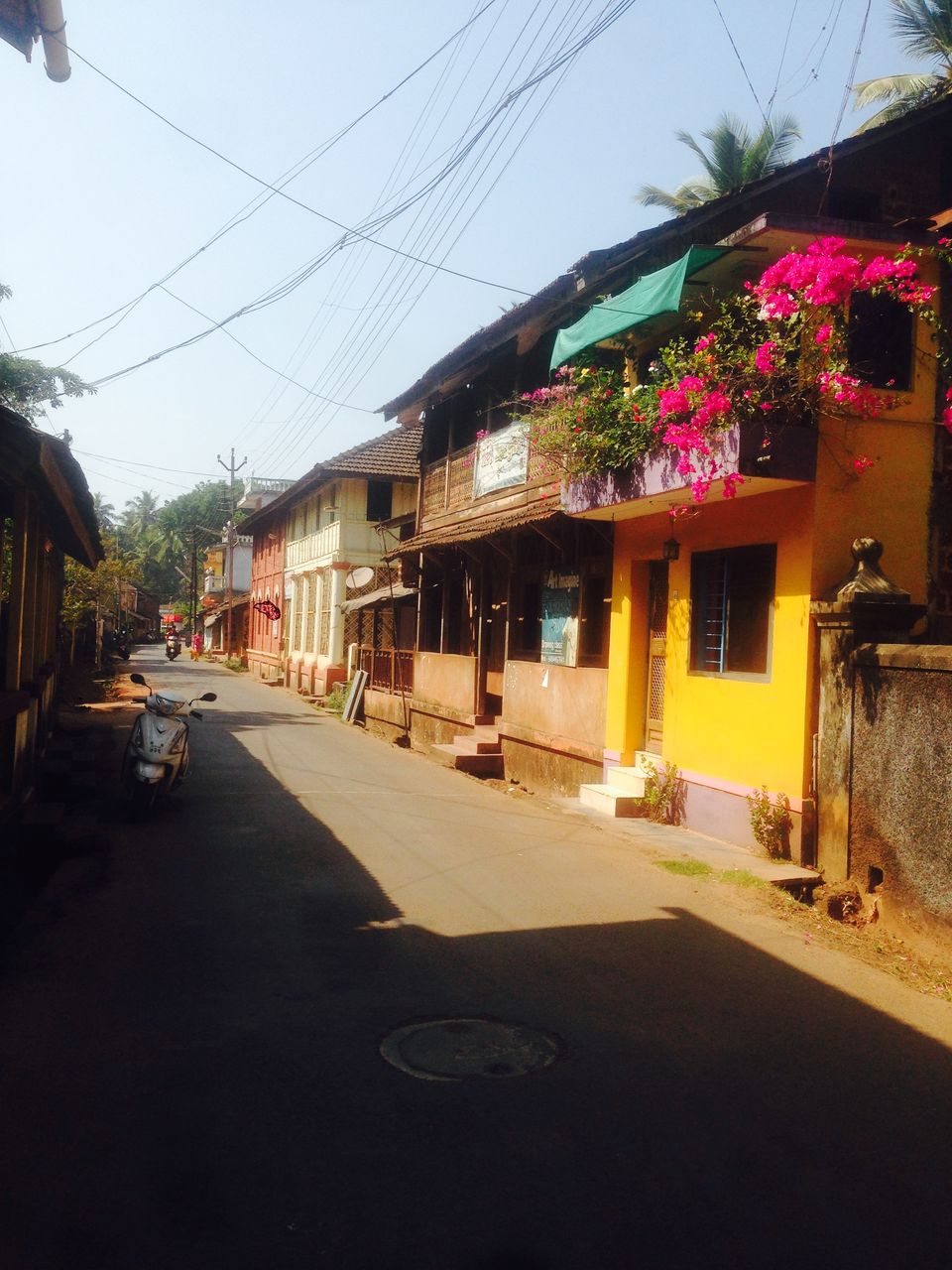 After taking a small power nap we headed towards Tarkarli beach for Scuba diving. Now the excitement has reached to the peak which was obvious. I was so amazed to see clean & neat beach. The boat took us to the scuba diving spot, currents were steady but constant movement of boat made me conscious many times. Finally the time had arrived for which I was waiting since longer, OMG it was my turn. I don't know swimming and that made me even more conscious & scared. Instructor made me calm & put my head into water, initially I got panicked & couldn't see anything but once you come to know how to blow in & blow out you will definitely start enjoying the ride. If you are trying Scuba for the very first time, don't worry as instructor is always going to be there with you to guide.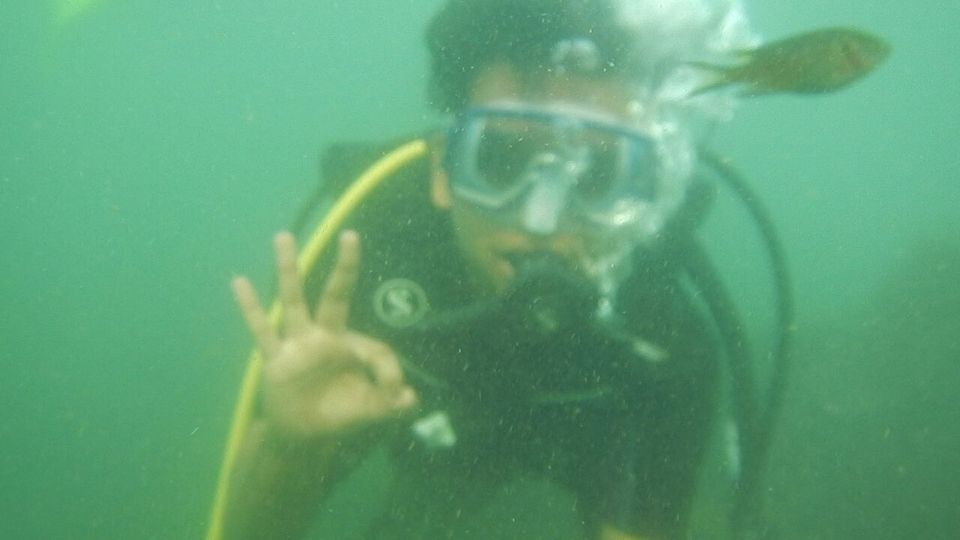 We went 25 feet deeper & felt I was in different planet all together; it was a totally mesmerizing experience which may not be expressed in words. There are plenty of corals, colorful plants & small fishes. We were surrounded by colonies of small fishes like cat fish, Blue Line Grouper, Curious batfish & many more. It was 15-20 minutes of most amazing experience of my life. We came back with memories of lifelong.
Expenses:
Kudal station to Kudal depot: 15rs by an Auto.
Kudal depot to Malvan depot: 30rs by bus.
Lunch: 75rs for veg thali @ Laukik.
(Veg thali contains Chapattis, Dry sabji, sprouts usal, daal, pickle, papad, and sol-kadhi)
Scuba diving: 600rs pp.
Evening snacks: 30rs for omelet pav @ local stall.
Dinner: 150rs for Chicken thali @ Laukik.
Hotel: 450rs each (double sharing).
Day 3 (Water sports @ Malvan beach, Sindhudurg Fort)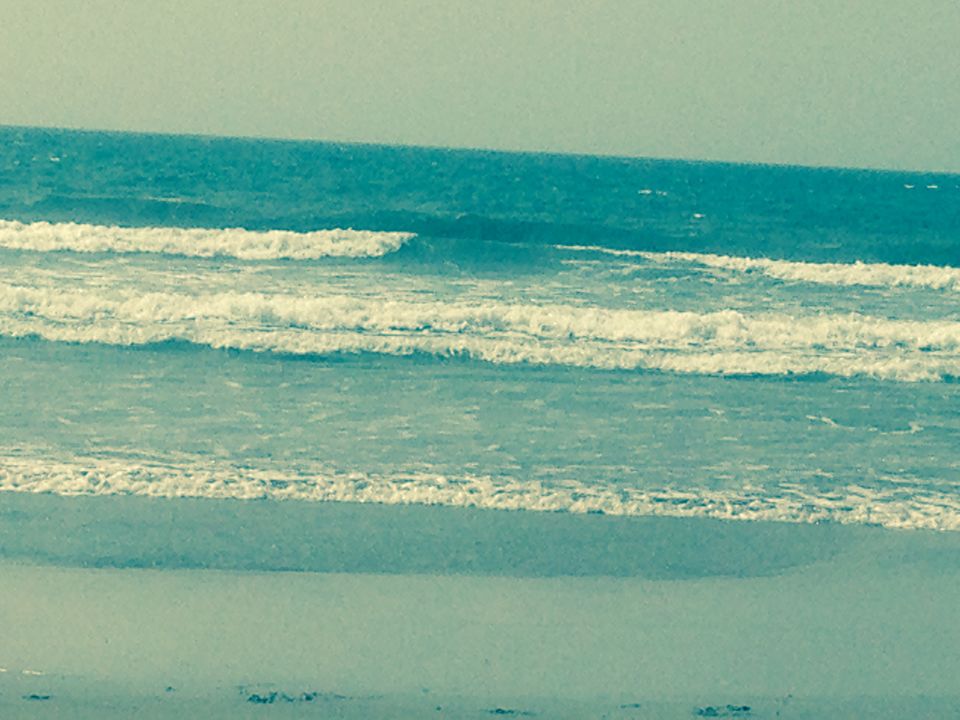 We woke up in the morning with the hangover of scuba diving we have had last evening, headed towards Malvan beach for parasailing & water sports. This morning I have decided not to eat anything to avoid dizziness and motion sickness which I had the day before. Likewise yesterday, today I was dam excited for parasailing. We went to the location from boat with high tides & we were literally feeling the tides with up & down movements of boat.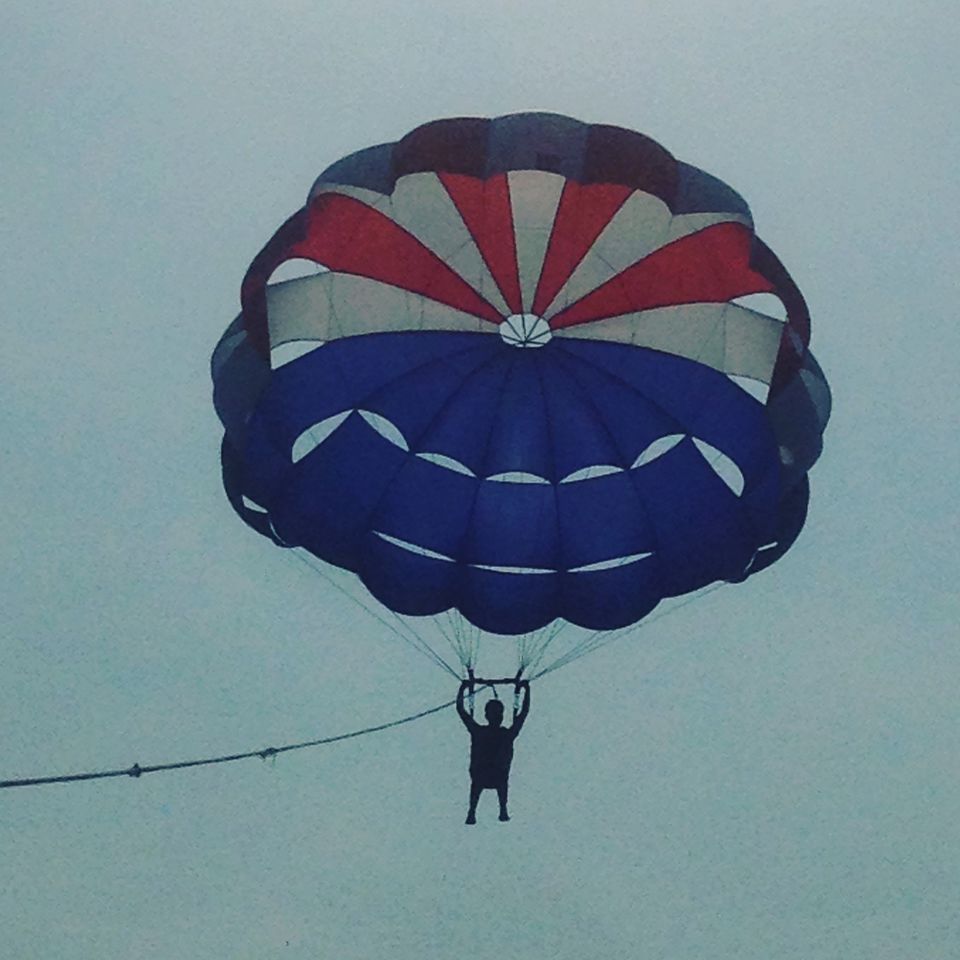 Again doing parasailing for the very first time was a real fun; it was a matter of 10-15min where I was actually flying with the flow of wind. Seeing the expanded & never ending sea water from the top of it was really magnificent. Headed back to the beach & did water sports includes Banana ride, Ski jet, Bumper rides & speed boat ride.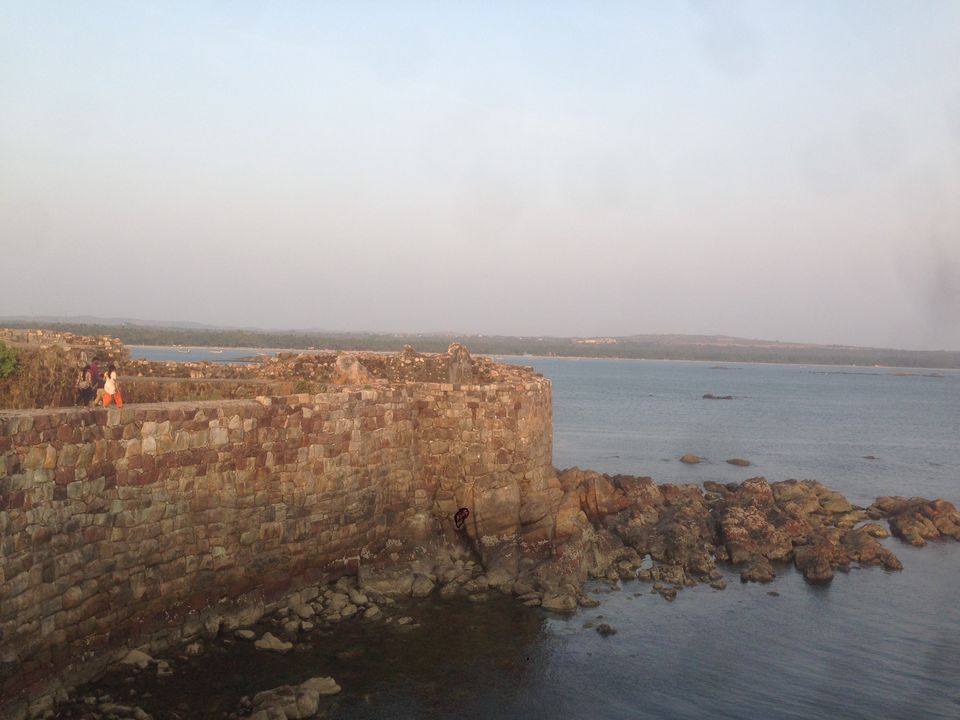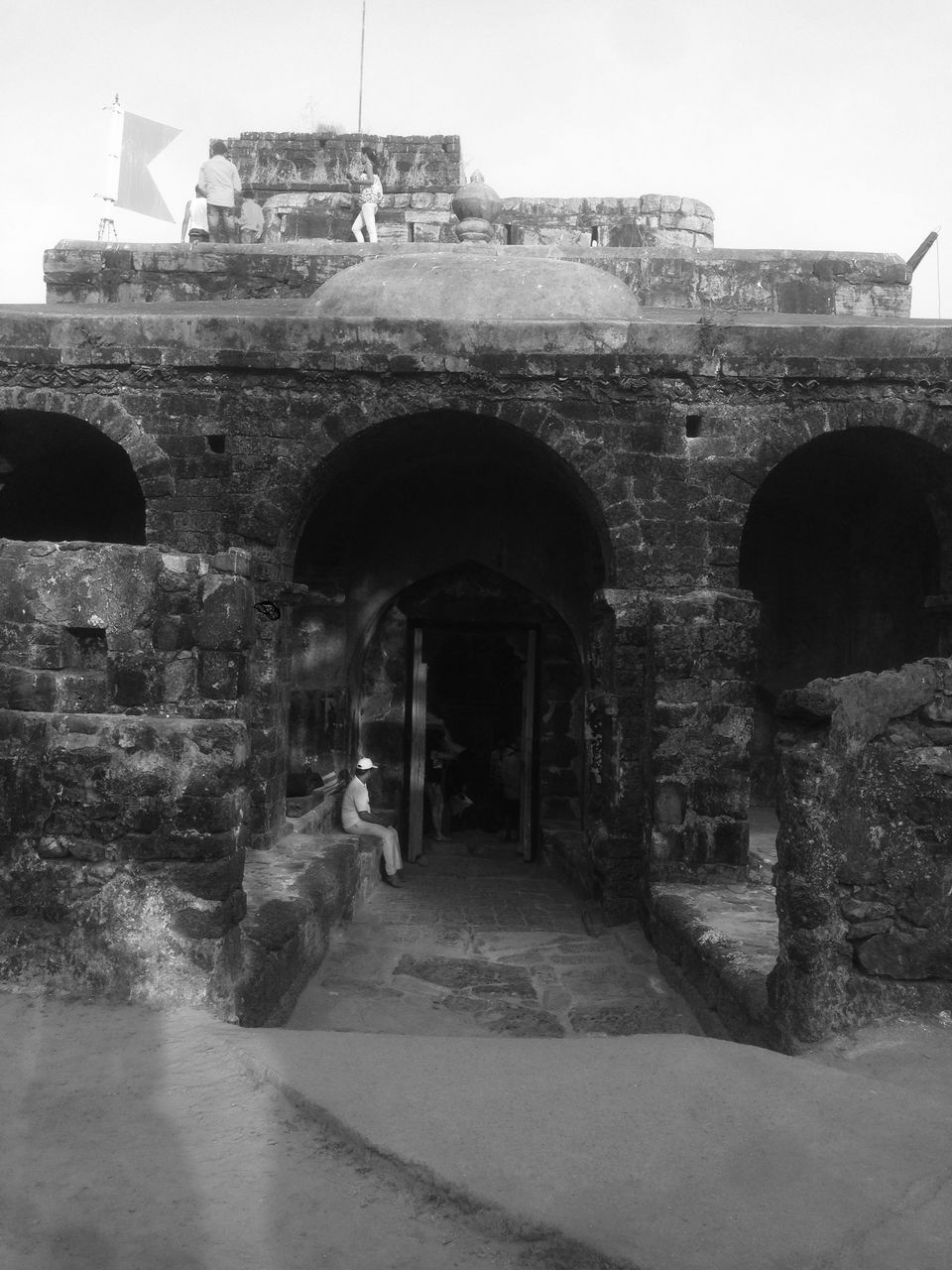 After done with paragliding & water sports we came back to the hotel, had breakfast & took a long nap. In the evening as decided went to explore sindhudurg fort. We need to take ferry ride to reach fort from beach. We took the tickets & boarded a ferry from jetty, it takes 10 to 15 minutes to reach fort. Sindhudurg (Sindhu = sea, durg = fort) is one of the ancient fort built by the great Maratha worrier Chatrapati Shivaji Maharaja in 1664-1667. Though the fort has been constructed back in 1667 still it's so strong to withstand against the sea shores & wind intensity. The fort has Shivaji Maharaja's & Bhavani temple. Also it's said that, the fort has impression of hands & feet of Shivaji Maharaja & other worriers. The fort is huge when it comes to area it covers & we couldn't explore the whole fort due to time restriction.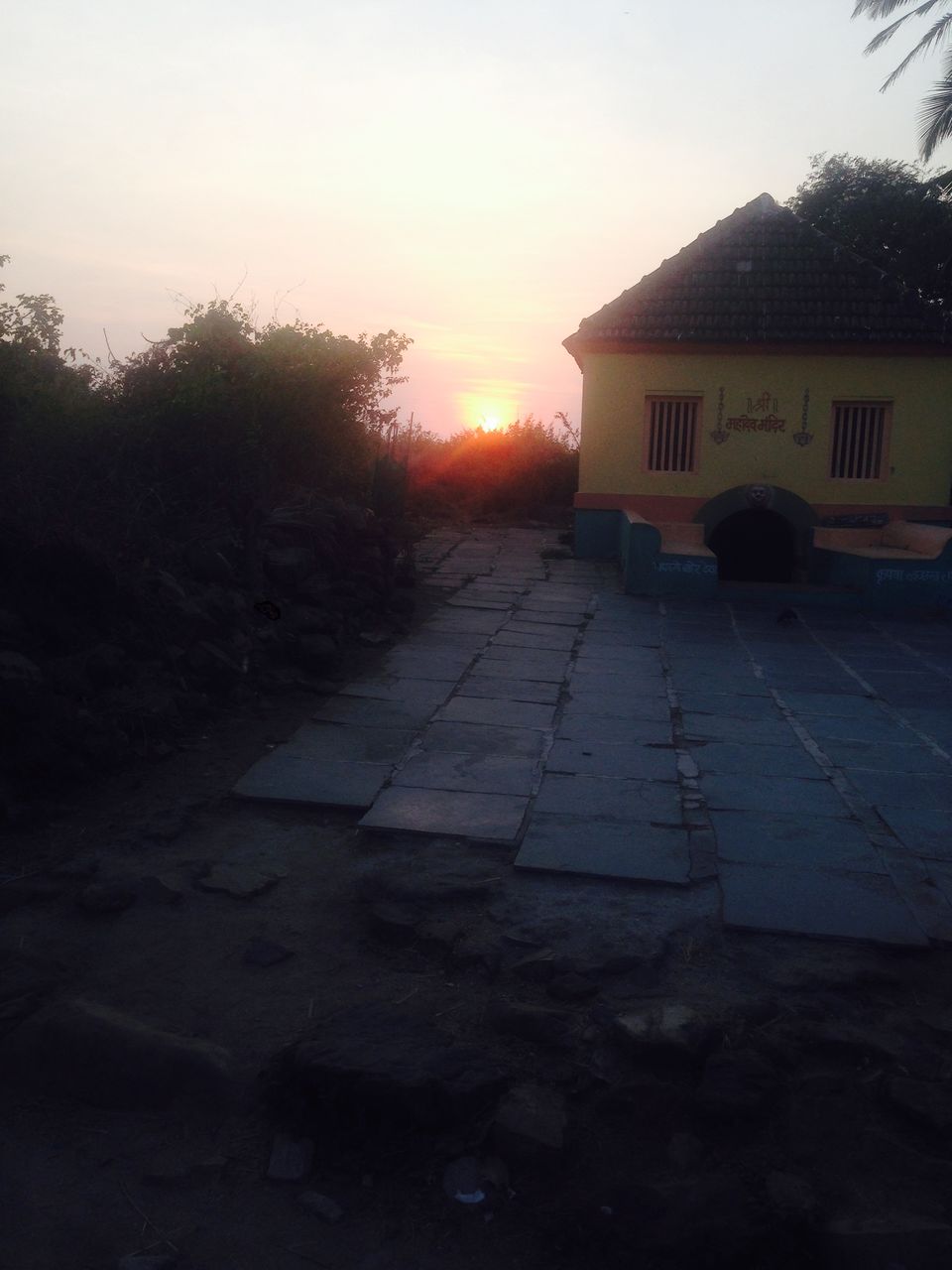 We were lucky enough to see sun setting from the fort which was again a memorizing experience.
Expenses:
Breakfast: 20rs for Poha @ local stall.
Lunch: 250rs for promplet thali @Athiti bamboo restaurant.
Evening snacks: 30rs for missal pav @ local stall.
Dinner: 220rs for Surmai Thali @Athiti bamboo restaurant.
Parasailing & water sports: 1000rs pp.
Ferry ride from jetty to fort: 30rs for return pp.
Hotel: 450rs each (double sharing)
Day 4 (Rock garden, Malvan market, Return journey)
This was supposed to be our last day on the tour so we didn't keep it hectic, instead of that we just gave visit to rock garden which is located very next to Chivla beach.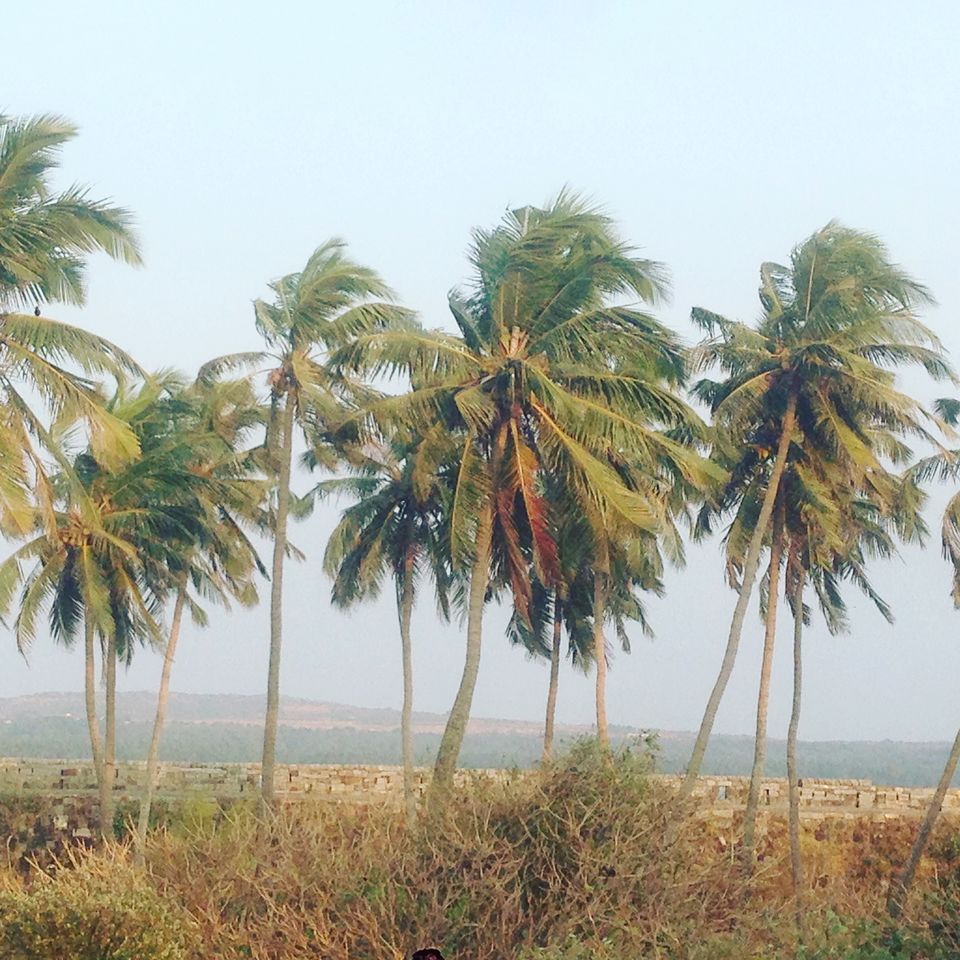 I always enjoy seating nearby sea & have a peace time. Rock garden in Malvan is a best place to relax on the rocks and enjoy the calm of the sea side. This garden offers a fantastic view of the wide spread Chivala beach. Unlike other gardens this garden is unique in its nature since there is no sand but a carpet of huge rocks and green lawns. The garden is well maintained & a treat for photographers.
If you are in a Malvan & you don't visit Malvan market, that's not lesser than doing any crime. As a foodie I am a huge fan of Malvani cuisine. Malvani khaja, malvani laddus (shev,shengdana,kurmure), kokam syrup, Kaju berfi, Amba barfi, Ambavadi are amongst the famous Malvani items.
After checking out from the hotel we started our return journey from Malvan. From Malvan we came to Kudal railway station by Bus & boarded Jan shatabdi, headed towards thane.
Expenses:
Breakfast: 30rs for Missal pav @ local stall.
Lunch: 50rs for snacks @ Kudal station.
Malvan depot to Kudal depot: 30rs
Kudal depot to Kudal station: 15rs
Ticket: 250rs from kudal to thane.
Malvani items which I bought: 500rs @ Malvan market.
About Malvani cuisine:
I am a huge fan of Malvani cuisine with lots of coconut & kokum everywhere. The usage of coconut is in various forms such as grated, dry grated, fried, coconut paste or coconut milk. Fish & chicken dishes dominate Malvani cuisine & the food varies from mid spicy to spicy. Sol-kadhi is must have drink when you are around which is mixture of kokum syrup & coconut milk combined with little bit of water, which is considered as one of the good appetizer after having heavy meals.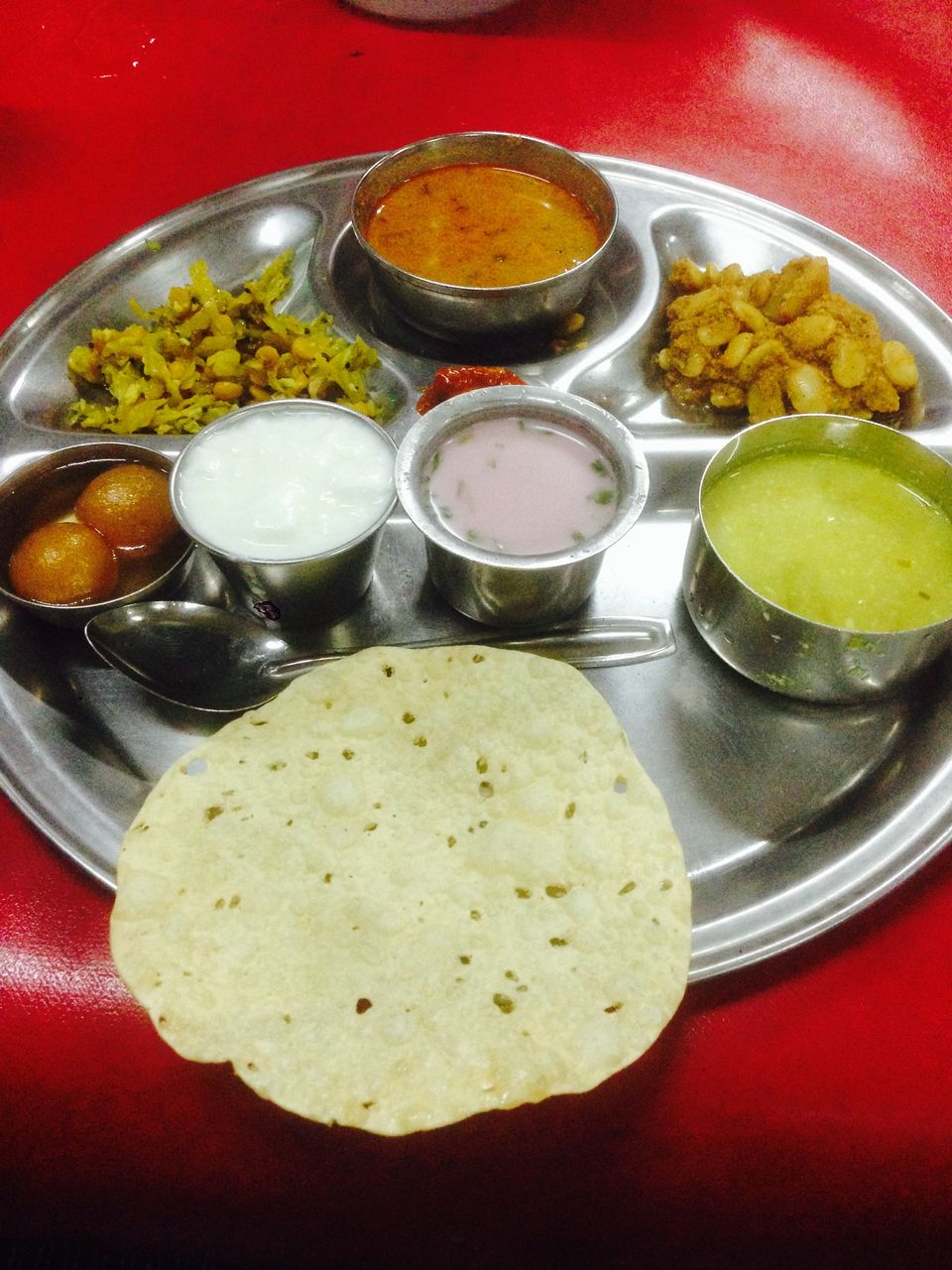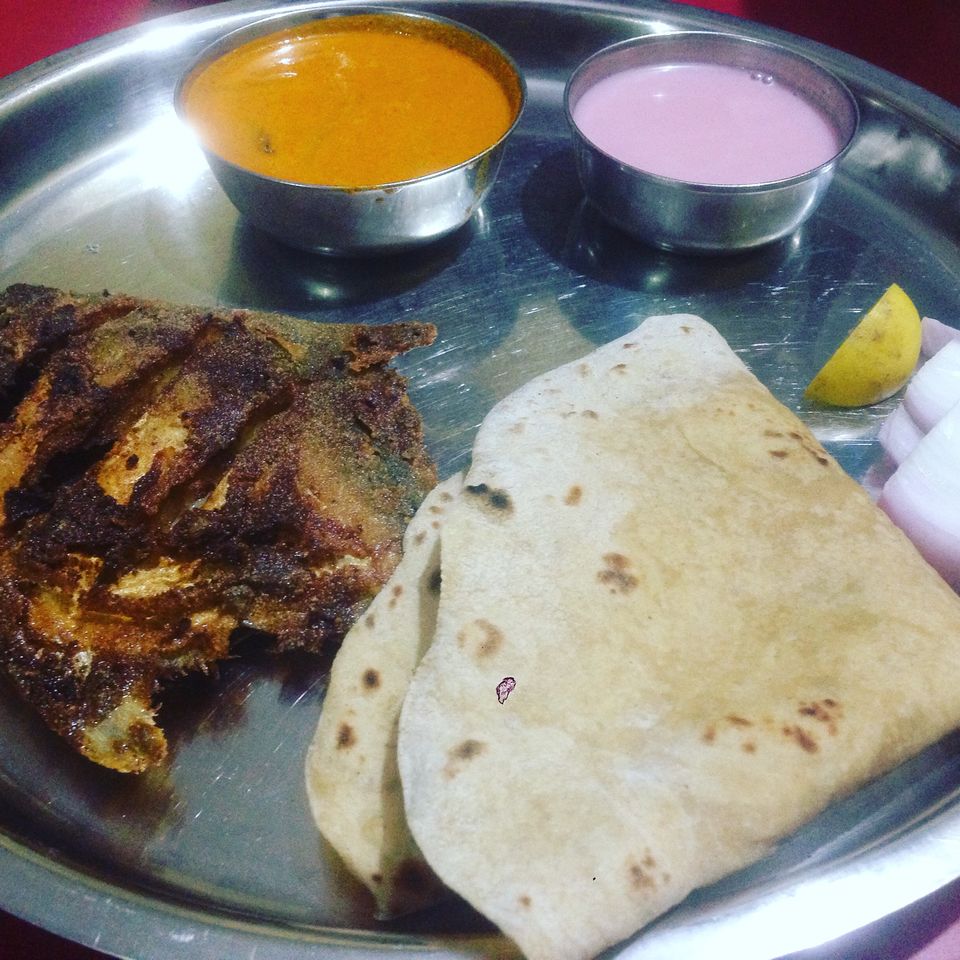 Malvan is all about kombadi vade, bangda fry, promplet fry. In veg meal one should have kaju bhaji or fanasaci bhaji which is famous in Malvan.
We had been to Malvan for three days & enjoyed fish & chicken very much. But I did feel that the rates were overpriced even if fish is local substitute/easily available meal. My friend didn't like over added coconut in curries & he had to settle out eating boiled eggs all the time.
Things to remember:
1) If you are planning to travel from train then you should need to book tickets prior to the trip soonest possible as it's very much difficult to get train tickets on 11th hour.(getting train tickets is much more difficult than getting darshan of lalbaugca raja)
2) Carry sunscreen lotion, glares & comfortable cloths.
3) Have aavla supari or lemon candies with you while traveling from jetty. They help us to get rid of dizziness.
4) If you are doing Scuba diving, parasailing & water sports for the very first time don't get panic; just follow the instructions given by instructors as they are so friendly & kind.
5) Make sure that you won't eat much before going to have any of water activity to avoid nausea, dizziness.
6) Don't forget to have the Malvani cuisine.
7) Scuba diving is a lifetime experience, go & get it done.
11th hour plan works always likewise this Malvan tour was full of fun, thrill & adventure. Been to Malvan before but this time I fallen in love with Malvan much more & deeper than before. Malvan is all about peace, silence & hard work. Malvani people are so kind, friendly & ready to help us always. We couldn't spot the dolphins but other than that we had real fun all the time. Our three days were worthwhile indeed.
Travel doesn't become ADVENTURE until you leave yourself behind…. Marty rubin.