26th February 2021
Bhogwe - Nivati Fort
MALVAN just as the name it's one of the hidden gem of Maharashtra, it's a paradise on Earth well known for its historically important Sindhudurg Fort. Malvan is a town and taluka in Sindhudurg District , the southernmost district of Maharashtra State, India. It is approximately 565 km from Mumbai. Malvan is popular gateway for beach lovers, its long sea shores, silky white sand and golden sunset makes it a must visit destination. Malvan is quiet an offbeat place not many know of.
So our journey started at 11.05 pm from Dadar station we boarded the Festival Special Train. We decided to clean our seats and settle down. Also we ordered some food as we all were very hungry. After the dinner we decided to take a small nap turn by turn as we all were carrying our heart in our bag that is our Camera and other important gears and equipment's.
As we were reaching near Kudal we experienced that it's getting chilled and foggy early morning. That brought smile on our face. At around 8.30 am we reached the Kudal station. Kudal is the nearest station around 30km from the Bhogwe Beach where we decided to stay for the next two nights. Bhogwe Beach offers you the view of the Arabian sea and the Karli river. The white sand and the foamy waves will release all your stress. There are several options for stay and the place is worth visiting. If you want to be away from the daily stressed out life this is the place to visit in Konkan.
After a lot of research and enquiry we decided to book our stay at the Samant Beach Resort,its a beachfront cottage style resort between Vengurla and Tarkarli. They offer different types of rooms as per your requirement they also have 2 bedroom 1 hall Villa for bigger group. The distance from Kudal station to the resort is 30 km and our pick up car was already waiting for us outside the station. The check-in was at 11.00 am and we arrived early at our destination. So we decided to have our Breakfast. In breakfast we had bread butter and Jam. We decided to keep the luggage at the help desk of the resort and we all ran towards the beach. It was hardly one minute distance from the Resort. The property was excellent. We could hear the waves from our room. Also in Malvan if you want fresh fish for lunch and dinner you need to inform the chef well in advance.
After our lunch we decided to rest for a while as we have planned to visit Nivati beach and Nivati Fort which is around 9km from Bhogwe beach and famous tourist attraction. We already booked a car for the Nivati Fort visit. This Nivati fort is located on the hill of Nivati village. Chhatrapati Shivaji Maharaj built this fort after the Sindhudurg Fort but was later captured by the Sawant of Sawantwadi. It takes around 1 hour to take a tour of the Fort. From the fort you can see light house in the mid-sea. We also saw a bunch of dolphins from the top. The view from the top was just amazing and at the sun going down was the cherry on the sea I can say. Also just on the left of the Nivati fort lies the Golden Rock. As it's a small type of island and just like the name it is beautiful and treat to watch. After witnessing the beautiful sunset we headed back to our resort. We got fresh and was eagerly waiting for our food which we ordered in the afternoon.
So we ordered 1 chicken thali and 3 fish thali which 2 of them were Surmai thali and 1 Prawns thali along with Rice bhakri (roti). The food was delicious. We ended our day 1 with tasty Solkadi.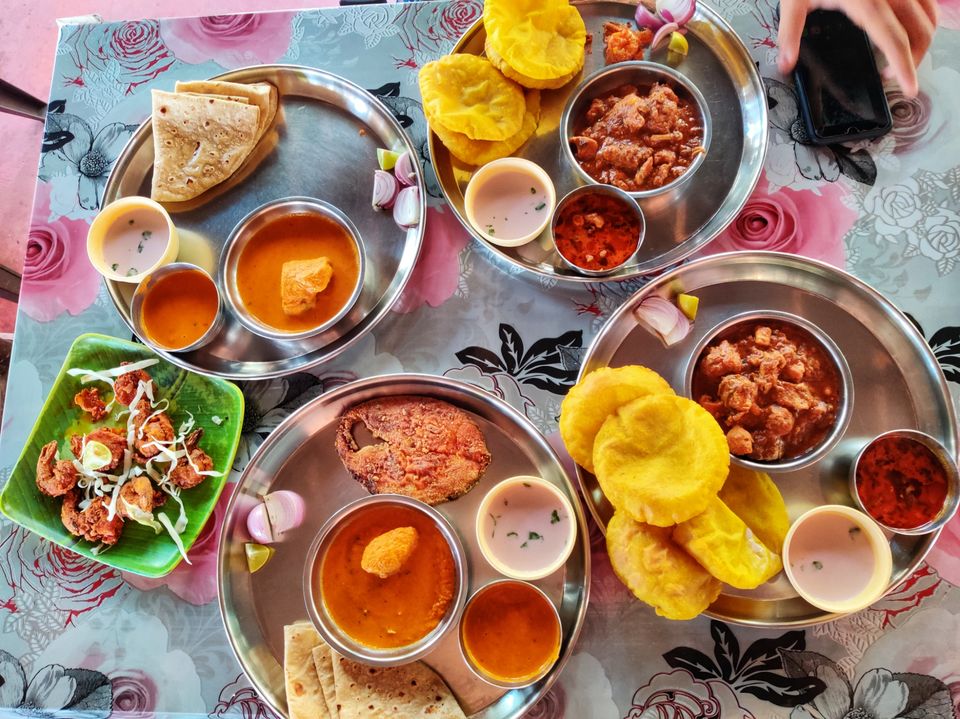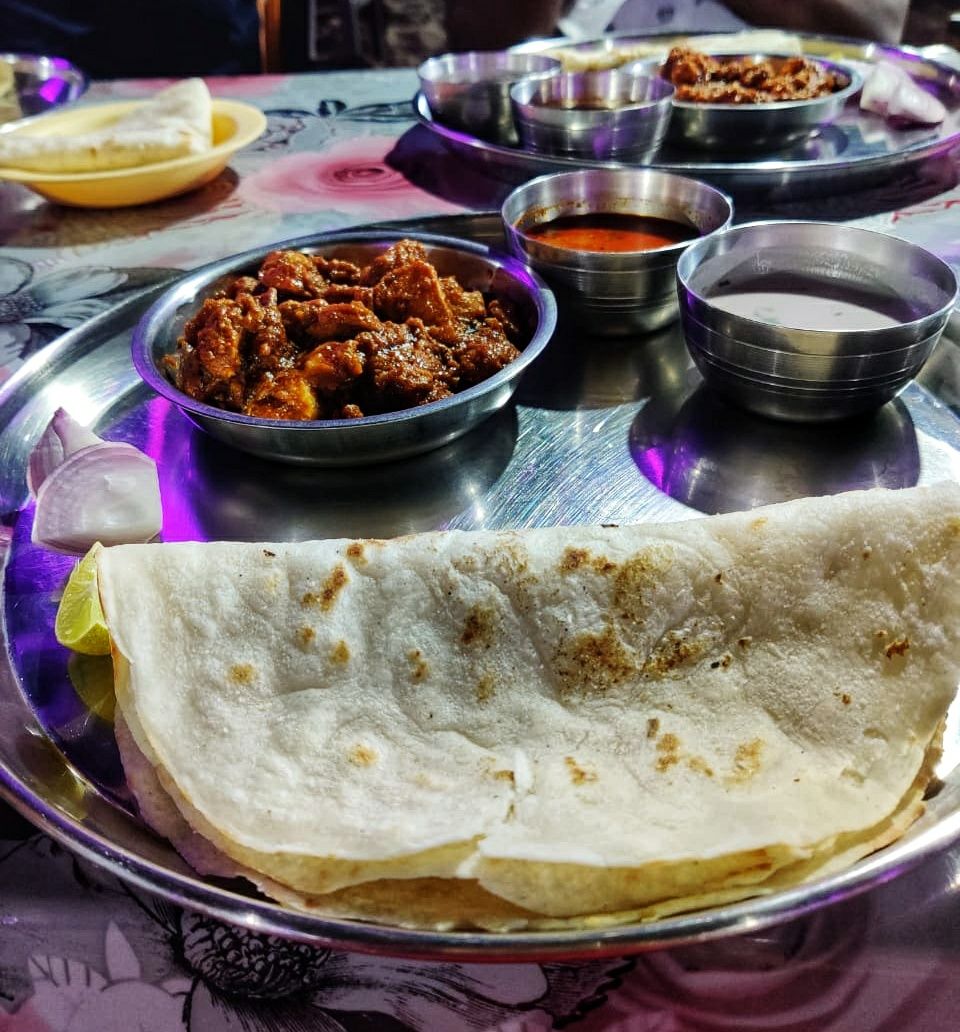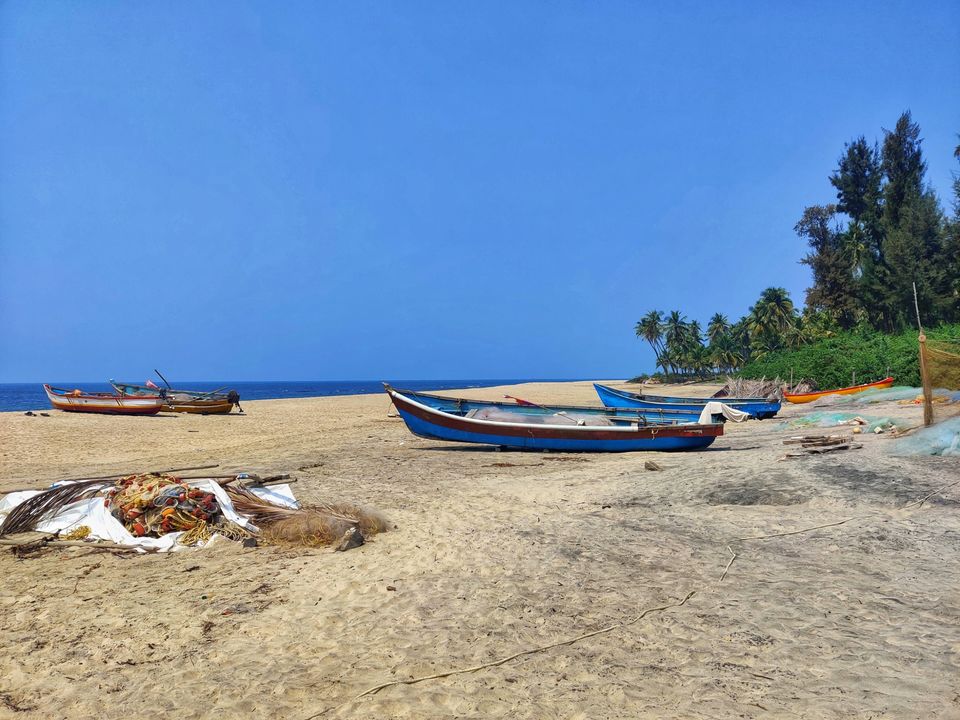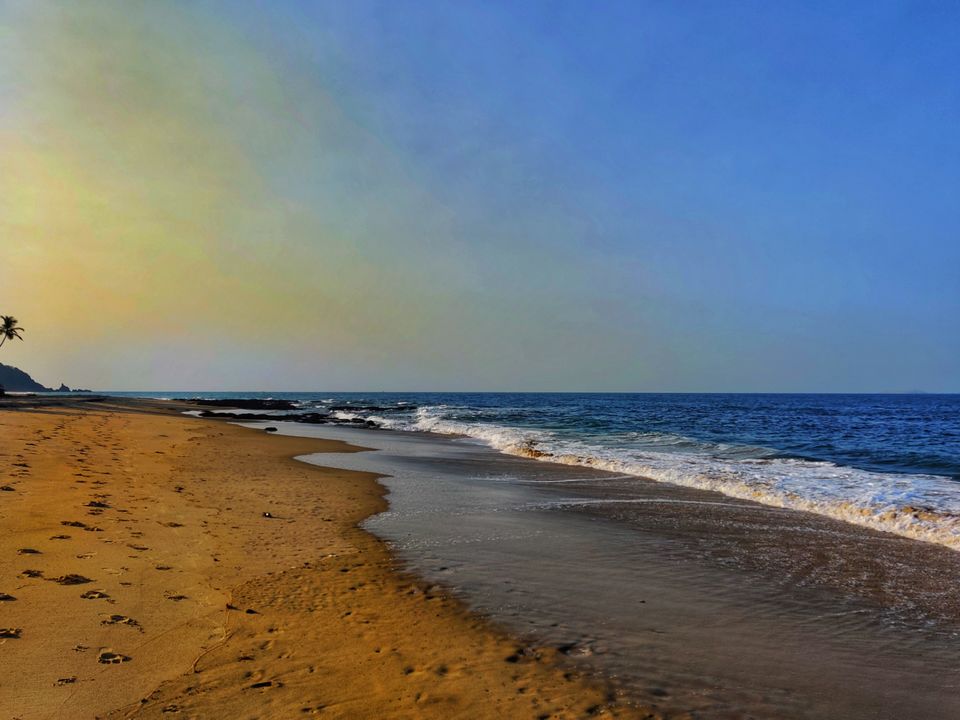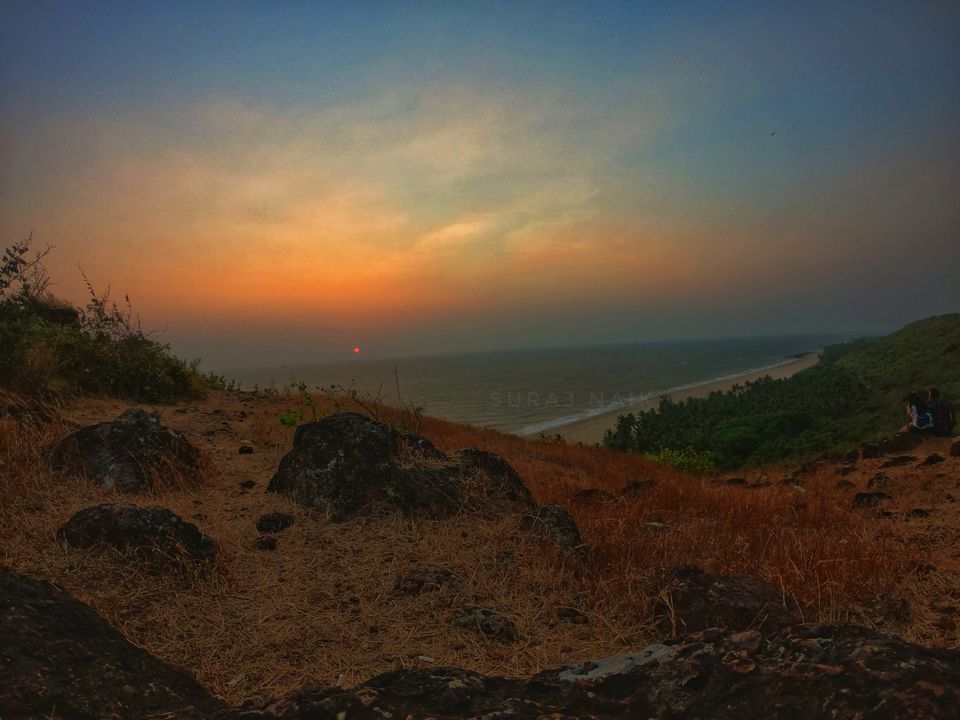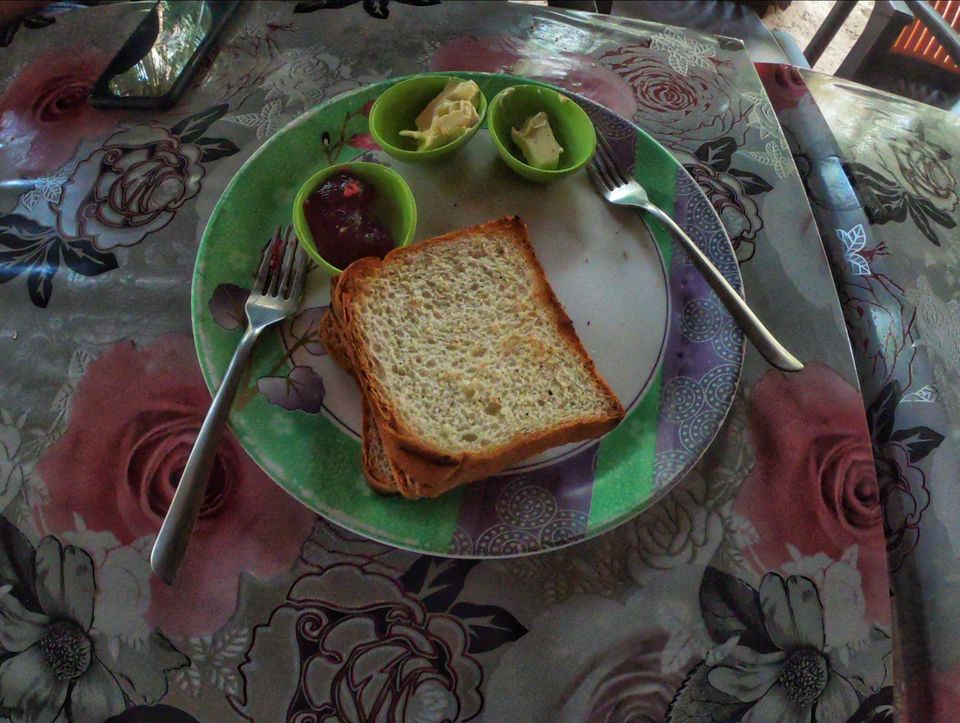 27th February 2021
Bhogwe - Sindhudurg Fort - Bhogwe
We woke up early morning and went to the beach for a walk. The clear weather and the cool morning breeze from the sea made us feel fresh. In Breakfast, we had Rice made Amboli and coconut milk. It was heavy breakfast before we proceeded to Sindhudurg Fort.
So today's day is filled with full of adventure and activities. So after last evening visit to Nivati fort we booked the same car for Sindhudurg, which is around 30km by road. Our guide Mr Rajesh Pednekar was the local person who just stays next to the resort. He became our Guide as he was well aware of the road and nearby places to visit.
Sindhudurg in Maharashtra offers a great deal of watersports to enable the adventurer in you. Sindhudurg (Sindhu = sea, durg = fort) was built by the great Maratha warrior Chhatrapati Shivaji Maharaj in 1664. Fort was built over a period of three years spread over 48 acres area. The main entrance is concealed in such a way that no one can pinpoint it from outside. This fort has the only temple of great Maratha warrior Chhatrapati Shivaji Maharaj. The fort also has a Bhavani temple and the impressions of hands and feet of Shivaji Maharaja. Guide told us all the details about the fort. We wanted to spend more time on the fort for photography but we moved ahead for some water sports. Mr Rajesh Pednekar introduced us to Mr Shailesh Lubde owner of Mangalmurti Scuba Diving. He introduced himself and gave us the package charges. Since it was the first time for me and my friends. We decided to go with the all inclusive package which costed us Rs1200/- per person which included 6 water sports. All of us were excited for the Scuba Diving and Parasailing. So we all started with Jet skis, Banana boats, Bumper ride. It was the time now to experience the under water marine life. So we all were taken to the location of the dive which is nearby the Sindhudurg Fort. After the dive we enjoyed the Parasailing. It was really a great experience, seeing the beauty of Marine Life. We promised Mr Lubde that we will visit again in future. He gave us few snaps and video taken during the Scuba Dive. With lots of memories we headed back to our resort.
When we return back to our resort it was almost 7.00 pm we decided to get fresh and preferred to stay in our rooms for relaxation. Since we all didn't had a proper Lunch as we were busy enjoying water sports. So tonight we planned to have plane Jeera Rice along with Malvani Fish Thali and Sukha chicken Thali.
The dinner was delicious. We ended our day with a bonfire sea side with some soft music discussing the whole day under the starry night.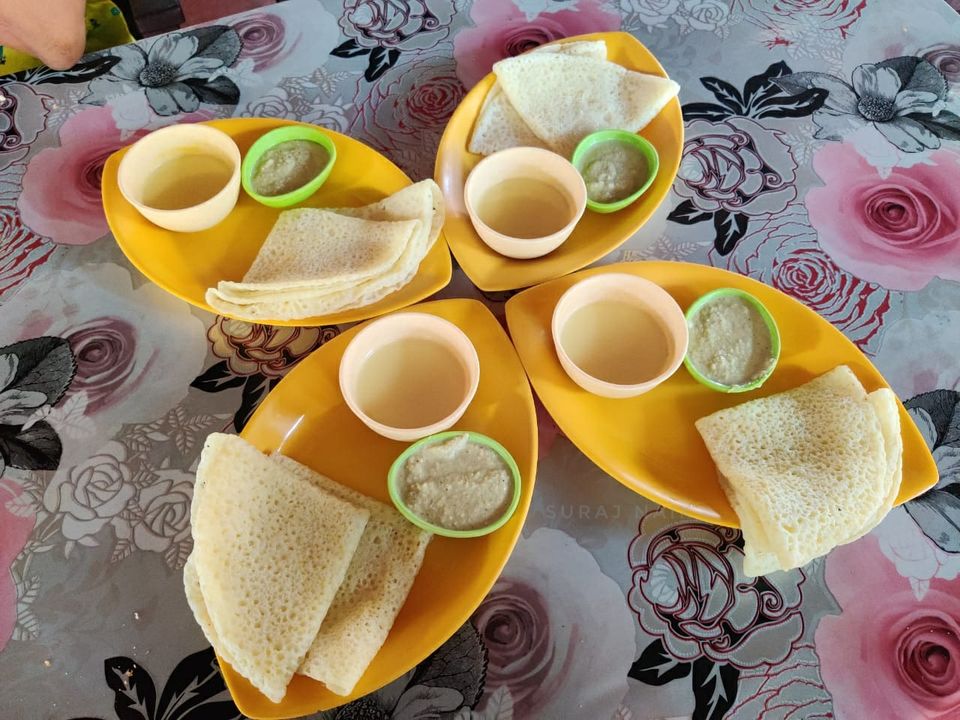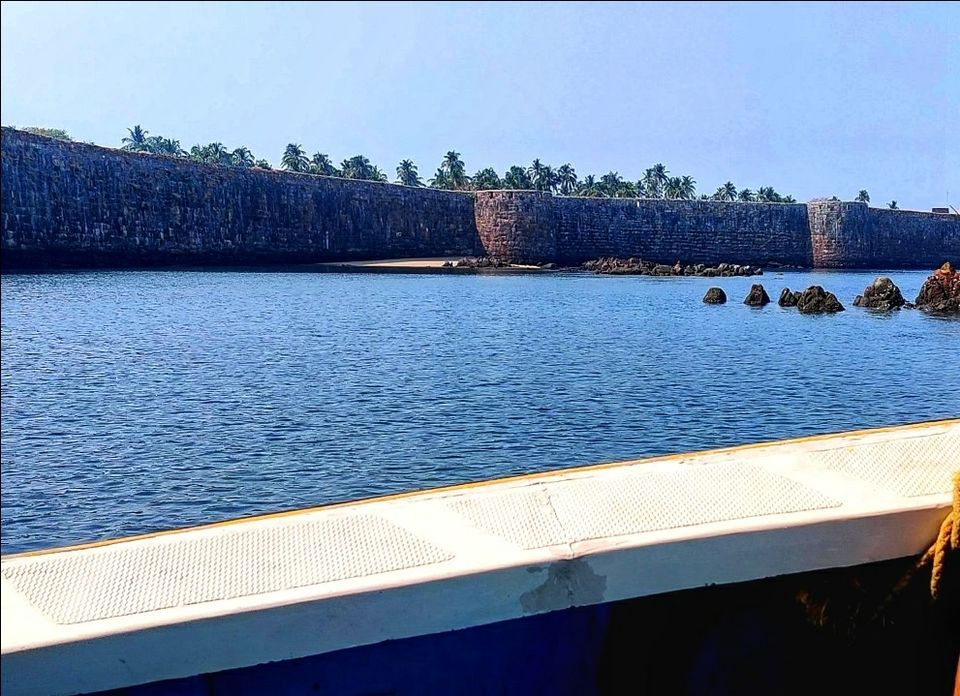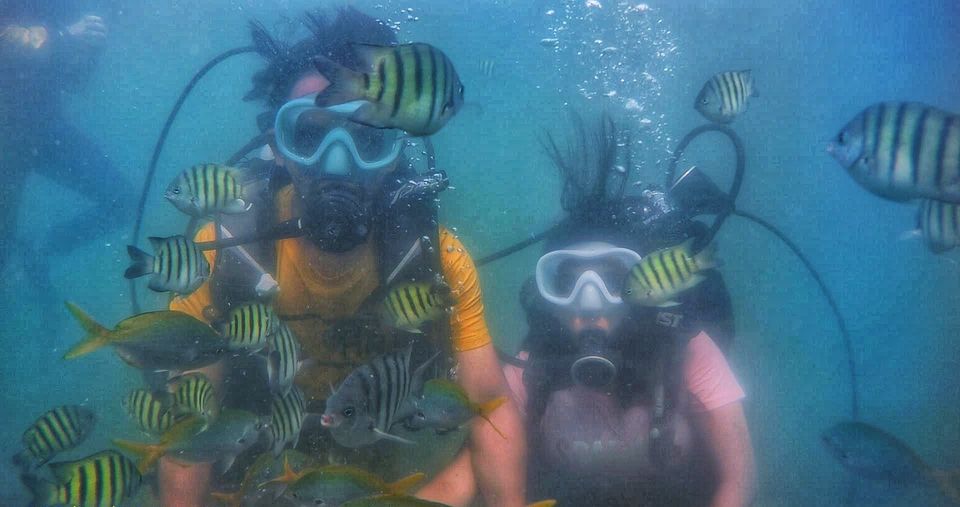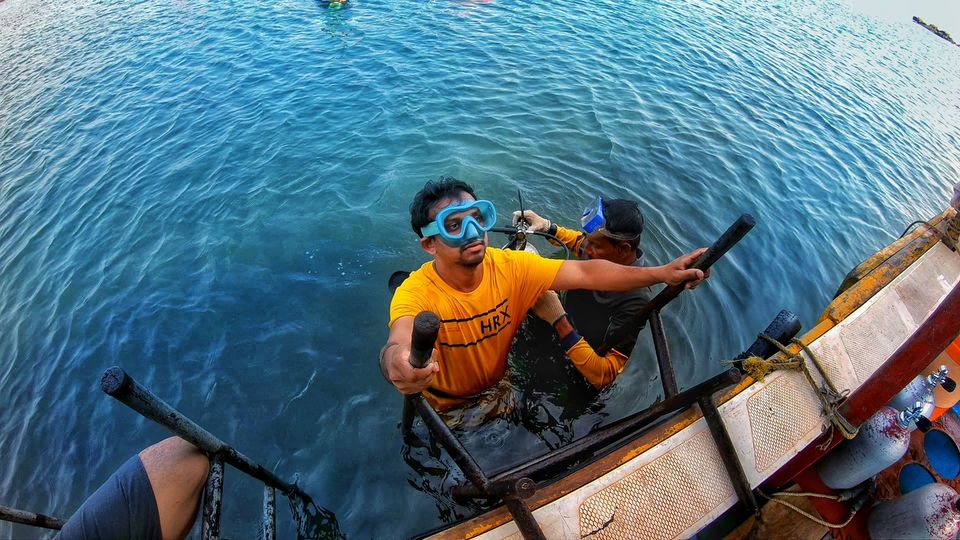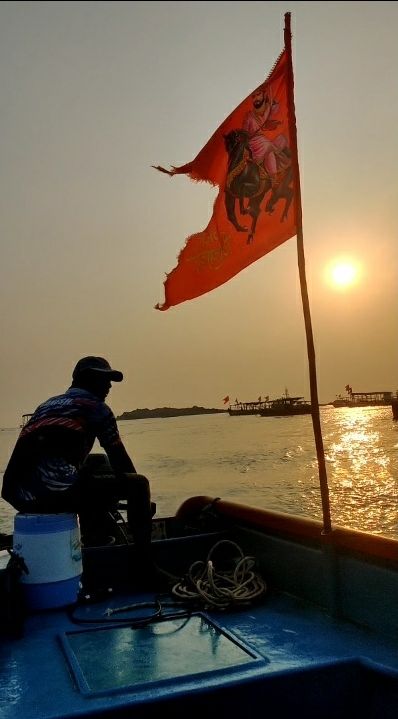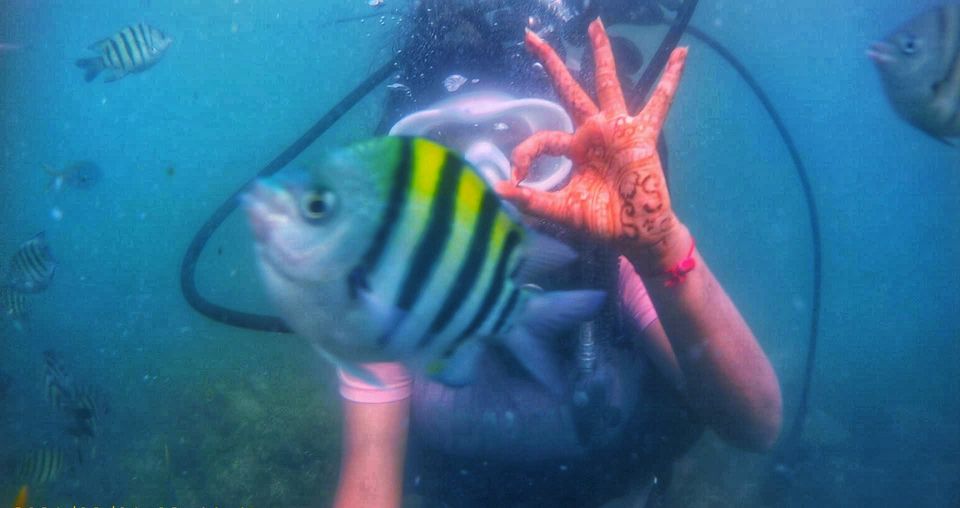 28th February 2021
Bhogwe - Devbagh
We woke up at 6.00 am and went to the beach for a walk as we came to know that Devbagh Beach is just a walking distance away. We decided to visit Devbagh Beach. Devbagh Beach - Devbagh is a small fishing village which sits on a thin strip of land with the Karli River backwaters on one side and the Arabian Sea on the other. Devbagh Beach is adjacent to Tarkarli Beach and ends at Devbagh Sangam. It is easily accessed via the Malvan-Tarkarli road. A confluence of the Karli River flowing into the Arabian Sea.
We took some Drone shots and saw some local fishing activities. There were few families who were enjoying their time with small kids by the beach side.
We came back to our Resort by 9.00 am and guess what we had special today.
So today in breakfast we had Amboli and coconut milk and everyone favourite Modak. Nothing can match that breakfast it was that amazing. We followed the same rout back home from Kudal station. We boarded Csmt Tejas Special at around 3.30 pm and reached Dadar at 11.00 pm. It was truly a stress relieving trip.
Must visit places near Bhogwe Beach Malvan.
1 - Nivati Fort and Nivati Beach.
2- Golden Rock Island.
3- Devbagh Sangam beach.
4- Tsunami Island.
5- Sindhudurg Fort
I will try to upload more and more travel blogs. Thanks for reading this Travel Blog.
Do share your feedback. Also let me know how did you like the Aerial Shots.
Suraj Naik
Mumbai