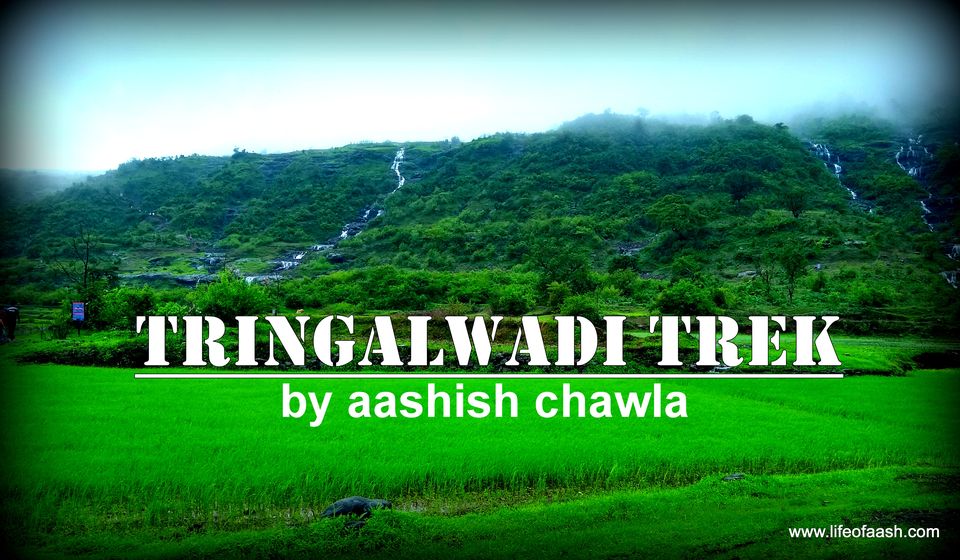 What motivates you to be here for the third time?
Well these were few questions which were thrown at me when I said I am going for the Trek to TRINGALWADI again !
The weekend was approaching and I was wandering where to go now and unfortunately over that I had lost my mobile phone , so there was no connectivity with my friends. Luckily I was able to to connect with one of my friend Ajinkya on FB through my PC, and asked him, Is there any program for the weekend? He informed me that our friend Dr Ajay was planning to go to Tringalwadi Fort Trek. I immediately said YES , However as I had said YES at the last moment, so my next worry was Will there be a vacant seat for me in the jeep ?.

As they say if your heart is set on something .. It happens! Woh Apana Sharukh Bolta hai na OM Shanti Om me...अगर पूरी शिद्दत से किसी चीज़ को चाहो तो सारी कायनात आपको उससे मिलाने में जुट जाती है... Bas mera kya tha... I was on my way to Tringalwadi.....Tring Tring Karte hue
I called up Dr Ajay, who was coordinating for the trek, It was decided that we shall be catching the 7.08 am train from Dadar Station to Kasara Station. I therefore left my home early by 6.00 am so that I don't miss this local. It so happened that I met one of my very old friend on the train and we got busy talking about old times, he was suppose to go to CST, so he said as we are early why don't we chat little more and I catch my train from CST instead of Dadar station, however I realised that it would be cut to cut time, so I got down at Byculla station and boarded this train from there. As Ajay and others had planned to board the train from Dadar and that too in the second compartment ,hence I boarded in this compartment,However when Dadar Station came and I waited and waited but could not find Dr Ajay. Soon I get a call from Dr Ajay and he informed me that due to the rush they had to take the first compartment! Ab Mumbai shaher ki ek khasiyat hai, agar local train me seat miljaye toh chodne ka nahi.( so naturally I dropped the idea of changing to 1st compartment). Good thing to happen here with me was, that YHAI mumbai unit was going to tringalwadi trek too and their trek leader Ganesh Nadar was in this compartment and he knew me, Ab jab do trekkers mil jaye toh they can chat forever, aur pata hi nahi chala Kasara kab aagaya. 9:30 am and we were at Kasara Station.
It was decided that we shall eat our breakfast near the station before embarking on a jeep ride to the base village this way we thought we can save time as there will be no stopping by enroute to the base village.
The scenic one hour drive in lashing rains from Kasara to Tringalwadi village was very enjoyable especially when you get to see deep green valley drenched in the mist, the serpentine road thrills you no end with waterfalls at almost every 10 minutes distance.
The magic of your jeep moving through the mist with the vigorous wiper on the windscreen screaming out aur tez aur tez...All these adds up to a mystical and romantic ride.

Though I had done this trek twice before but the surprising thing is that both the time the route to go to Tringalwadi fort was different. To stretch the short story long...Ab har koi bolta hai na "To cut the long story short...Per problem apne sath yeh hai , ki idhar short kuch aata hi nahi....got a habit to yarn long tales Bahut saal pehle ki yeh baat hai..."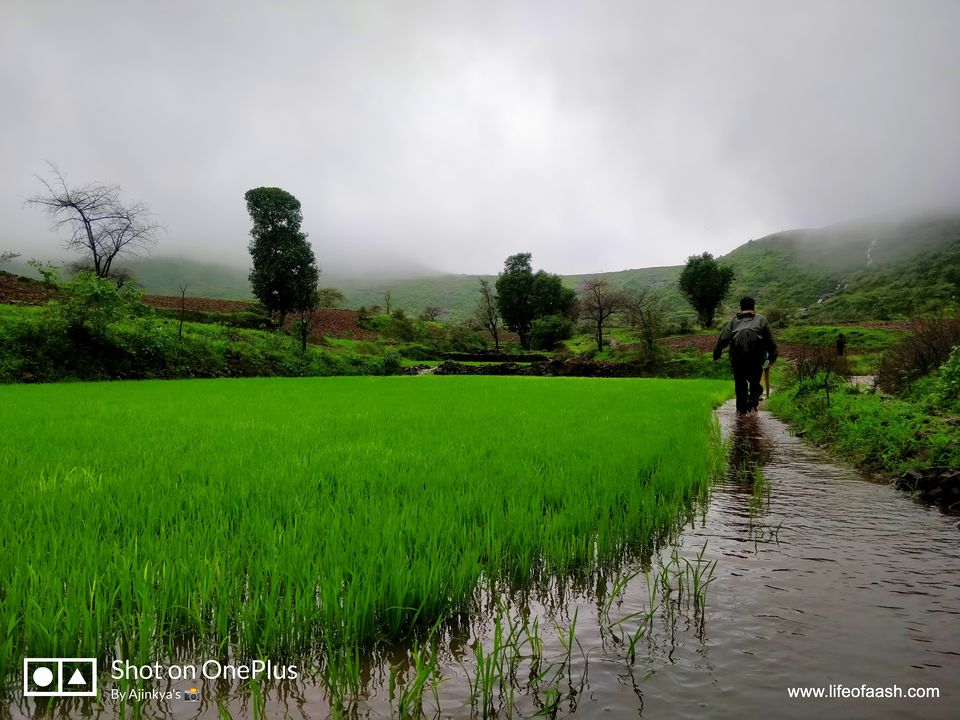 It so happened that 5 or 6 years back when I did this trek for the first time. We had taken an autoriksha from Igatpuri to Tringalwadi, and this auto driver dropped us at Tringalwadi village and from the village we walked toward the Tringalwadi Dam, we walked on the dam and then traversed around the tringalwadi backwaters passing through innumerable plots, Our organiser was not knowing the route or probably got confused and we kept walking and walking and walking for more than 3 hours under the dark clouds, we were completely lost and it was raining very heavily making our life all the more miserable, Miraculously we saw one villager and we called out to him and he gave our the direction. Agar yeh Bhaisahab nahi milte to humari khabar agle din akbhar me milti . We were completely dead when we finished this trek. It was very late almost 7 pm when we reached the village. Indeed it was experience of the life time for me.
Second time (2016) I had organised this trek with our friends and we took Jeep from Kasara which dropped us to the some village further from the actual tringalwadi village, I felt the place was little unknown to me, and last time's experience in my mind I thought it would be better if we hire someone from the village. The route from this village was quite short and sweet and we were able to finish our trek in no time.

Today was the third time and thankfully I was happy to note that the jeep guy dropped us at the same village , where he had dropped us last time.( Mere liya situation aisi thi, jaise har cricket captain sochta hai ki toss jit gaye toh aadha match jeet gaye). Even though we had fair idea of the route yet we felt it would be wise to take some villager with us.

We were accompanied by 2 village kids a girl called Kalpana who was studying in class 7 and her younger brother who was in class 3. I had tough time communicating with them, but some how I liked their company and I think they too must have liked mine

We started our trek from the end of the village diverting towards our left, and we could see a large waterfall, However I cannot advise you to keep the waterfall as landmark because Saala charo tarah Hazaar waterfall dikh rahe the aur upar se pata chala waterfall ke chhakker me Mountain se fall ho gaye ( Today I am in a cheerful mood so please excuse the Lingo)
Well we started our trek from a little temple kind of thing so mark that as your first reference point.

A little walk and we realised that we have to walk through the paddy field and that too through the gushing water,I could empathize with the first timers of our group who almost cried out "Eeeks Trek chalu hua nahi tha aur shoes me full on pani....Ab Jhute toh geele honge hi aakhir me monsoon trek hai mere bhai !.
The trek's initial walk till the Tirthankar, Bhagwan Adinathji Jain Caves is through the fields, not much incline and where at times you cross few streams. This Jain temple is quite old and one can see few relics lying here and there.
The cave temple is in a neglected condition where most of the idols are broken. Though one can see Archaeological department signpost just before you come to the temple, but no renovation or any kind of conservation procedure is done on this cave, on the contrary I don't know which nut has painted Jai Jain Dharam, He has only managed to destroy the beauty of this cave temple, Whatever that was left of it!
We spent some time at the temple and then moved towards the waterfall which was on the left side of this cave.
Our trek route moves from the right of this waterfall and climb the mountain behind it. Honestly speaking the actual climb or hike starts now. This climb is hardly 20-25 minutes till we reach the first plateau.from there we move on to the ridge section

The climb here is little steep but very enjoyable.You get good view of the valley on both the sides,the breeze is simply amazing, that it could not only blow your clothes away but can also blow your mind
Once the ridge section gets over you can traverse to your right or you can traverse from your left to reach the fort.This time around we traversed from the left side of the ridge and kept walking till we reached the stairs leading to the entrance of the fort.
Advantage of coming from this side is that climbing the rock cut stairs leading to the fort entrance( mind you each step is around 1.5 feet high.) is easier than getting down, especially in rains where the green moss makes them extremely dangerous ( last time around I had come down from rockcut stairs to exit from the fort) and realised that there is a gap of 5-6 feet from last step to the ground and in rains with no foothold getting down the last part in dangerous.One small slip and you may be lying at the bottom of the valley.
Anyways we cautiously climbed up,helping each other and reached the entrance of the fort where I was pleasantly surprised to see freshly painted idol of Hanumanji crushing some demon under his feet. We took our mandatory group photo near the entrance and finally entered the fort passing through the Darwaza.
Its only when you see and pass through the Darwaza of the entrance gate it dawns upon you that you are in a fort. First timer ko toh cheating lagta hai when I tell them this was a fort once upon a time... Jokes apart its indeed sad that most of the forts are completely destroyed.
We moved on from here , a little climb more through heavy mist and we reached a small temple.We sat on the nearby rocks and had our lunch which we were carrying with us.
It was now time to return to the base, as I had said earlier that there are two ways to enter this fort so we didn't take the route from which we came, instead we moved from the temple to the other stairs to get out of the Fort.
These rockcut stairs were shorter in length but in ruined condition, not like the one that we encountered while entering the fort. Getting down these broken stairs was again a different experience,especially with cascading rain water around you.
In no time we were back on the ridge which we had used to climb up.Getting down was quite easy and in no time we were back at the base village , where the Jeep was waiting to take is back Kasara Station.
1.One can hire Jeep from Kasara Station or Igatpuri Station to Tringalwadi.(better to hire from Kasara as Jeep Drivers are aware of this Trek)
2.It takes approx. 1hr 30 minutes to reach the top from the base village.
4. Given below is the trail map recorded by my friend Ajay when we did this trek
A small video of the entire journey shot by Dr Ajay (Click on the link to watch the video) https://youtu.be/5fPc6hAxcoo
Special Thanks to Dr Ajay Pradhan ,Akjinkya Shahane and Subhash Moreji without their video and pictures this blog was not possible.
Thank you for reading the blog,
Hope you liked the blog. Log on to www.lifeofaash.com for the original post
Please do subscribe,like and share if you like the website.