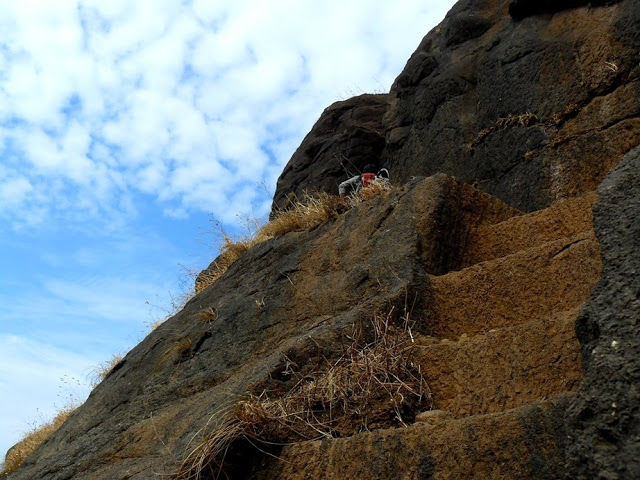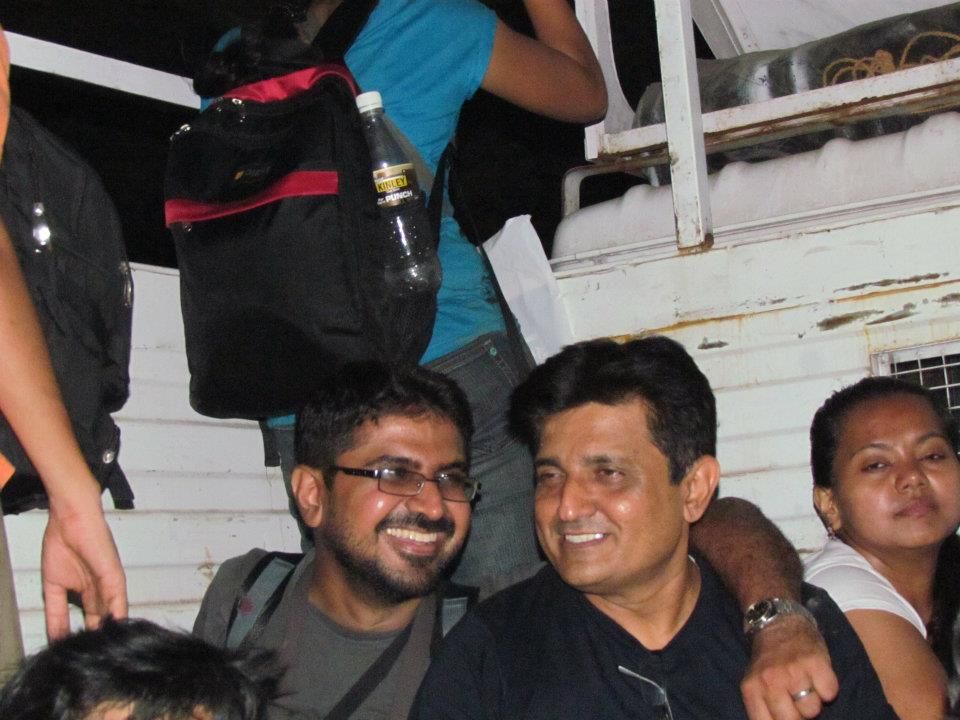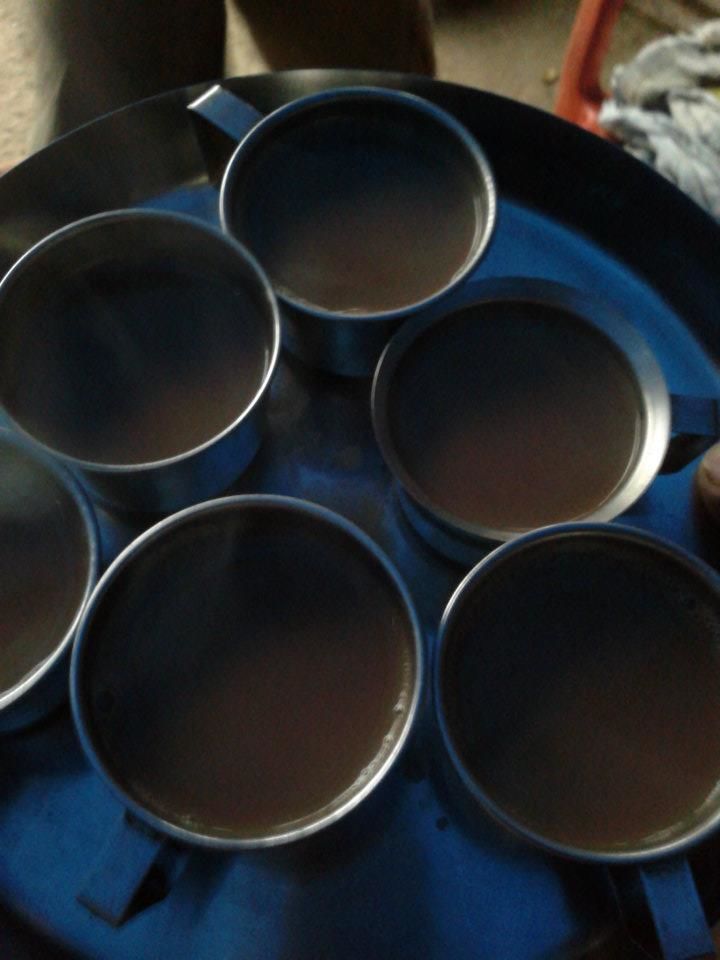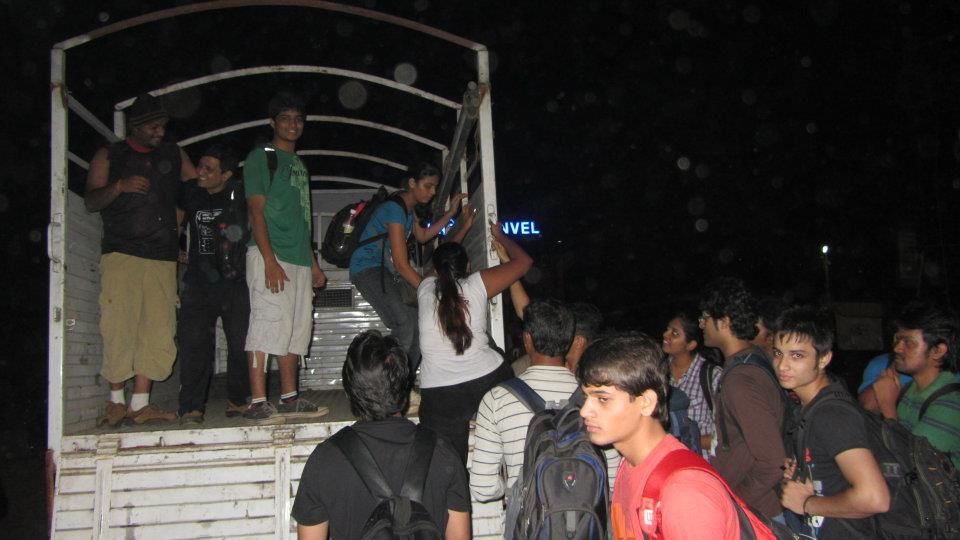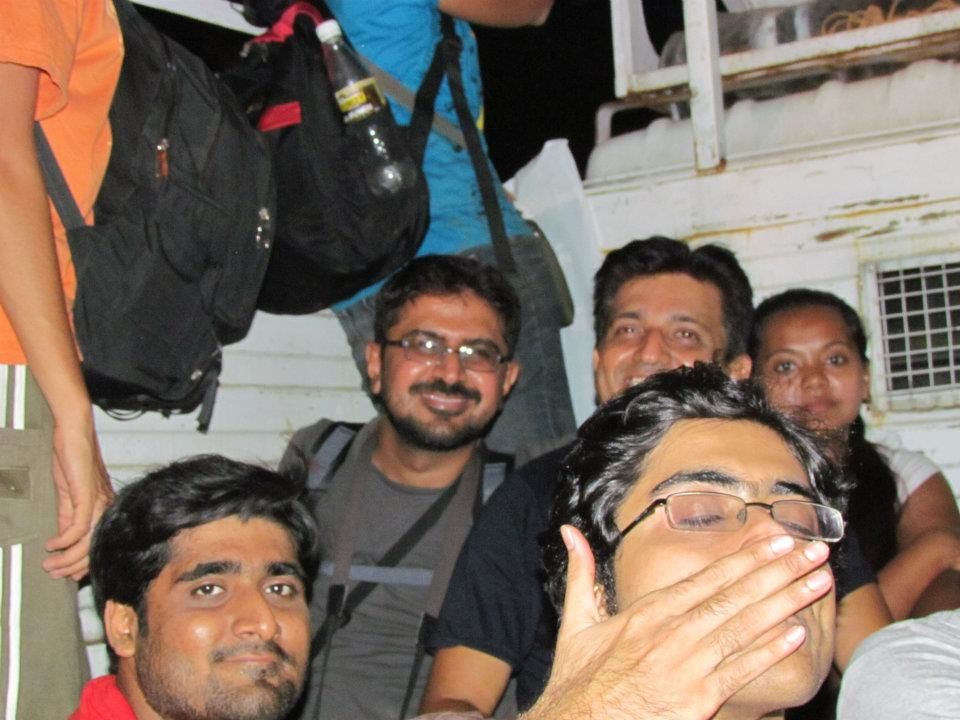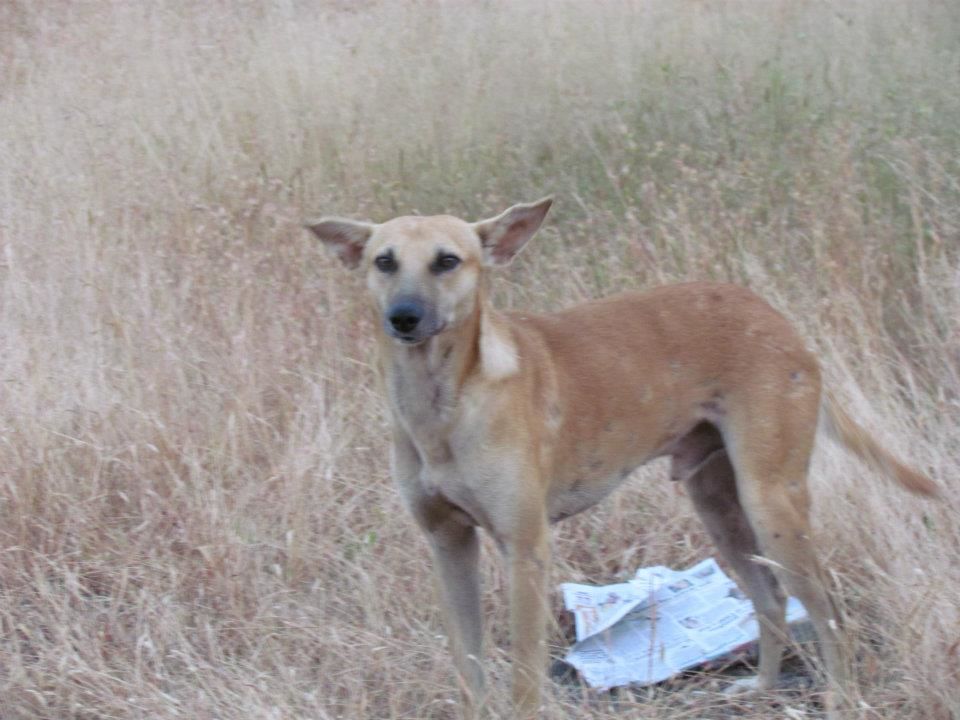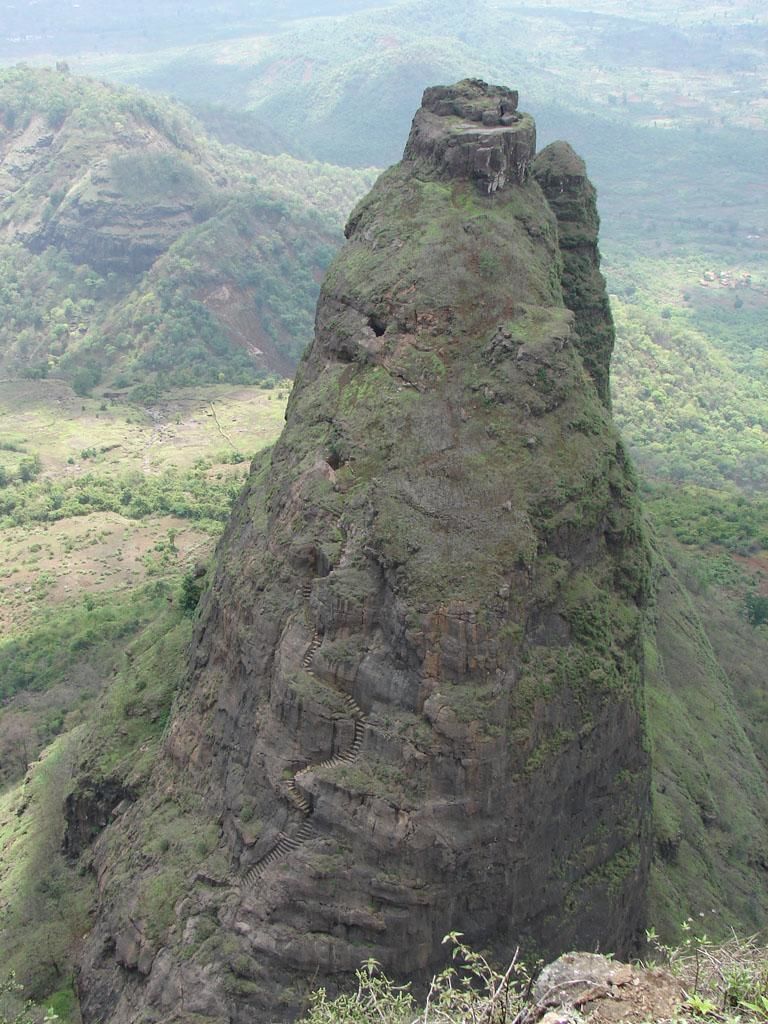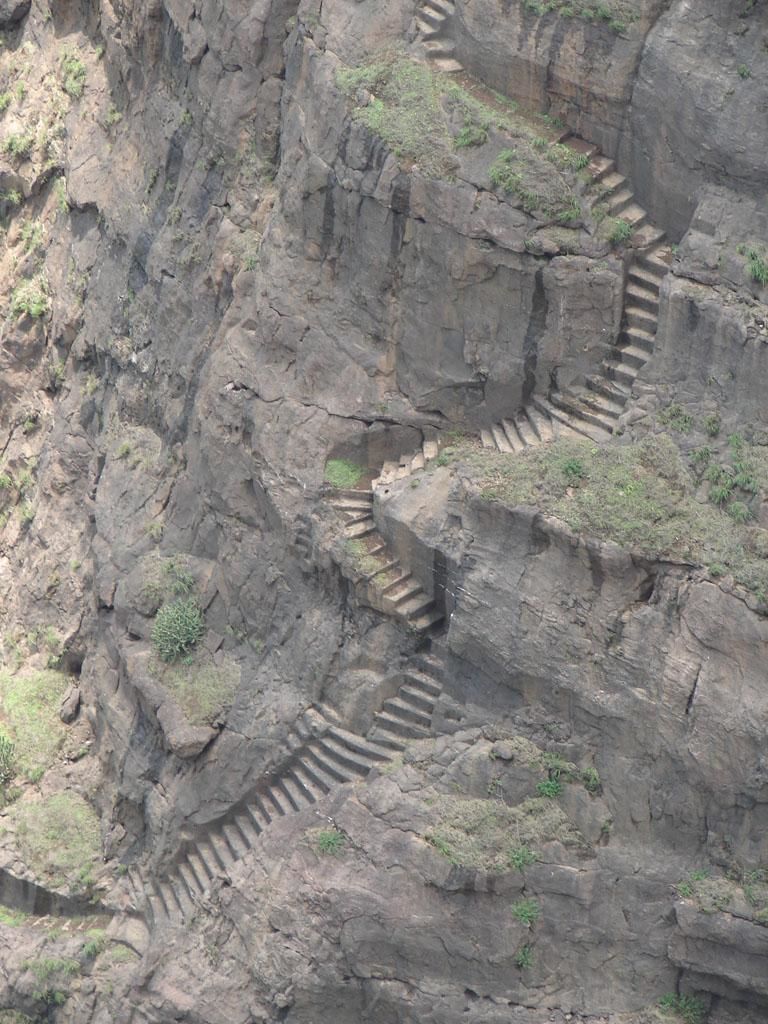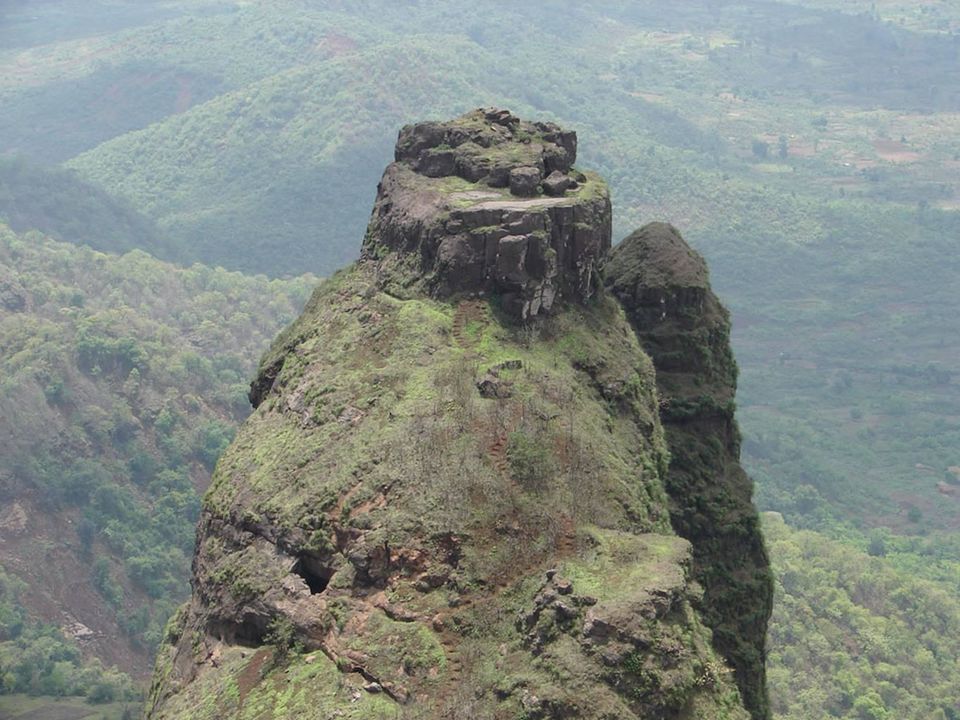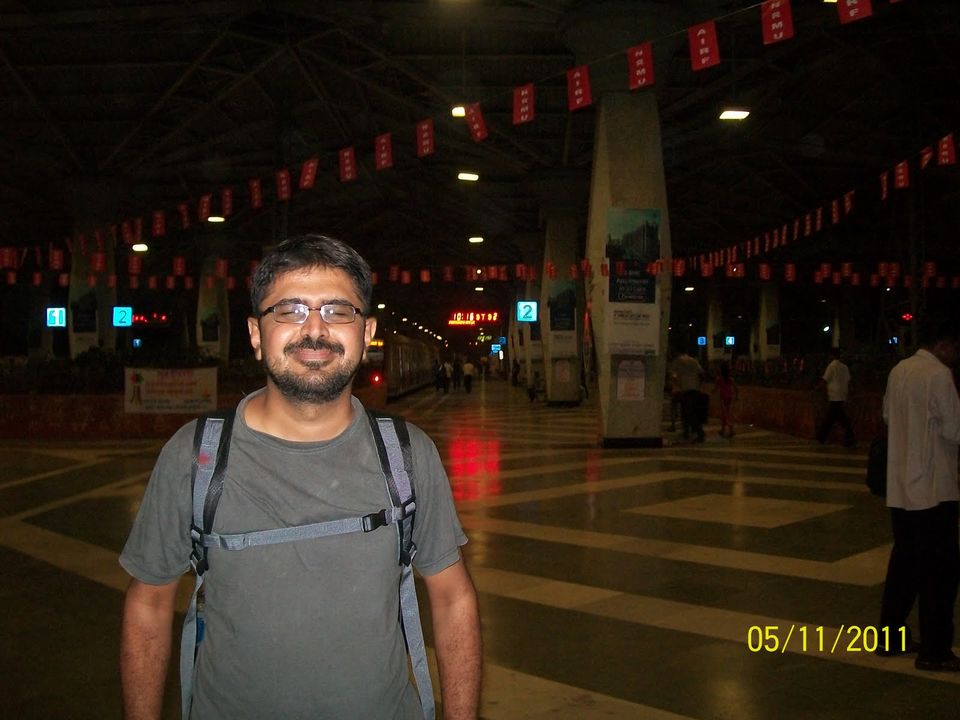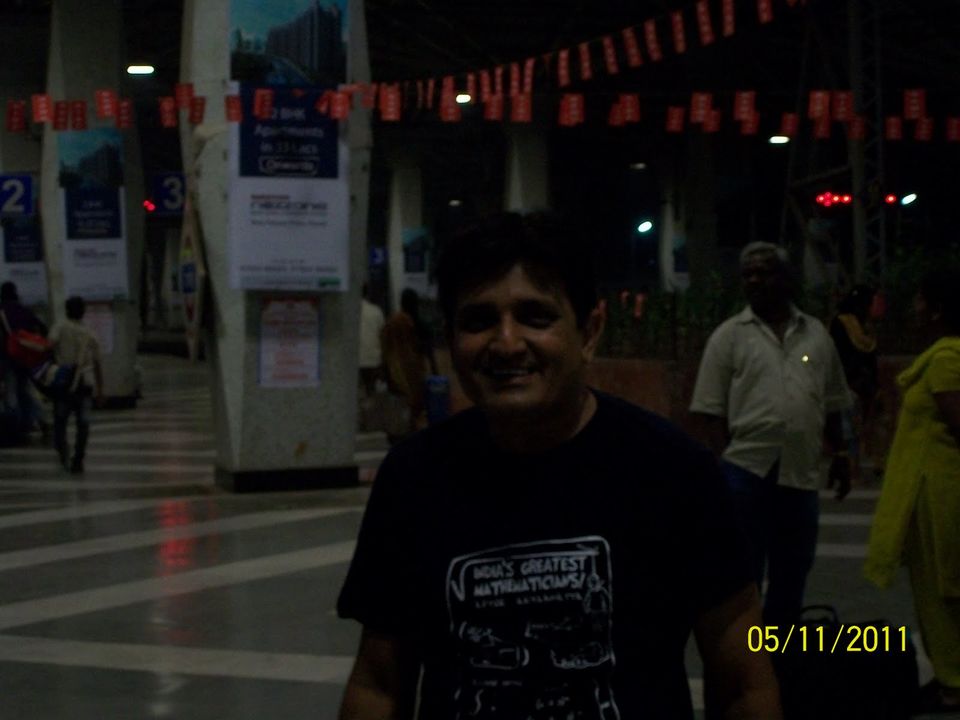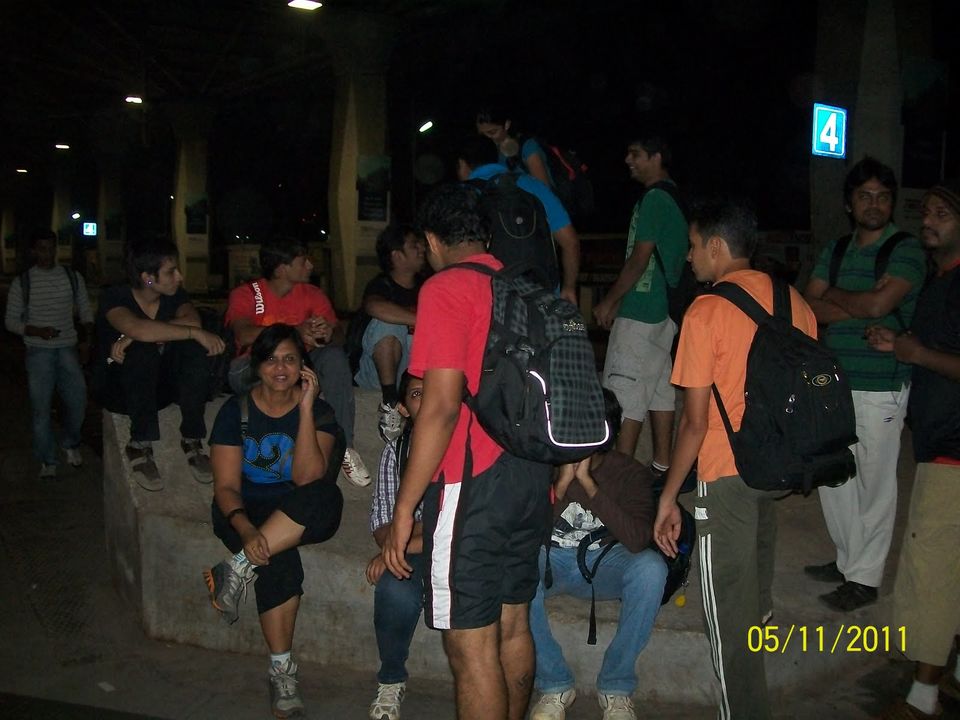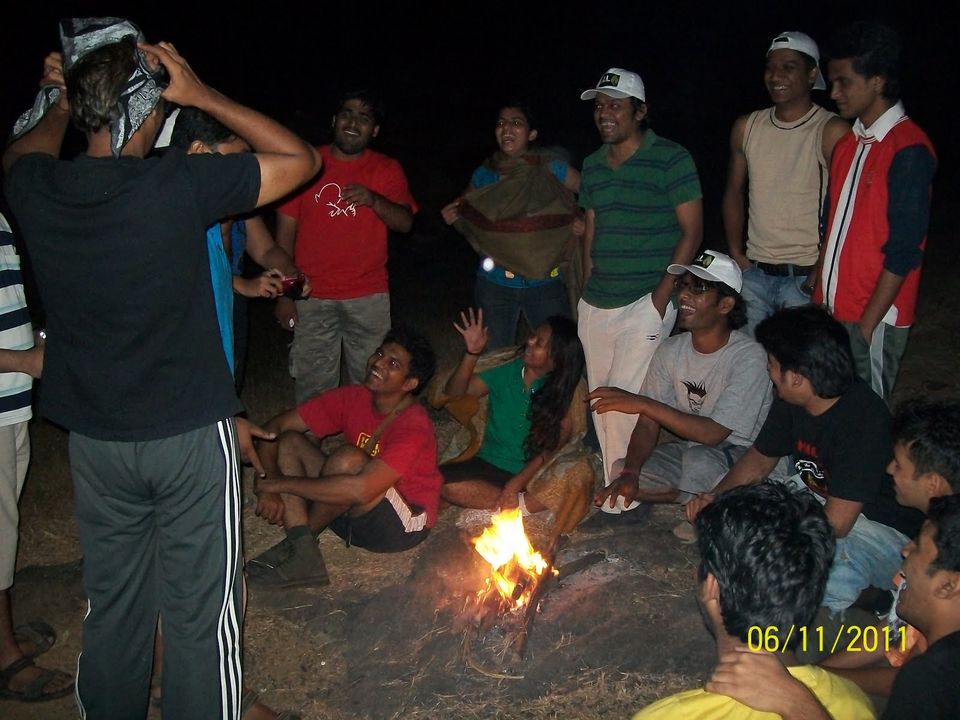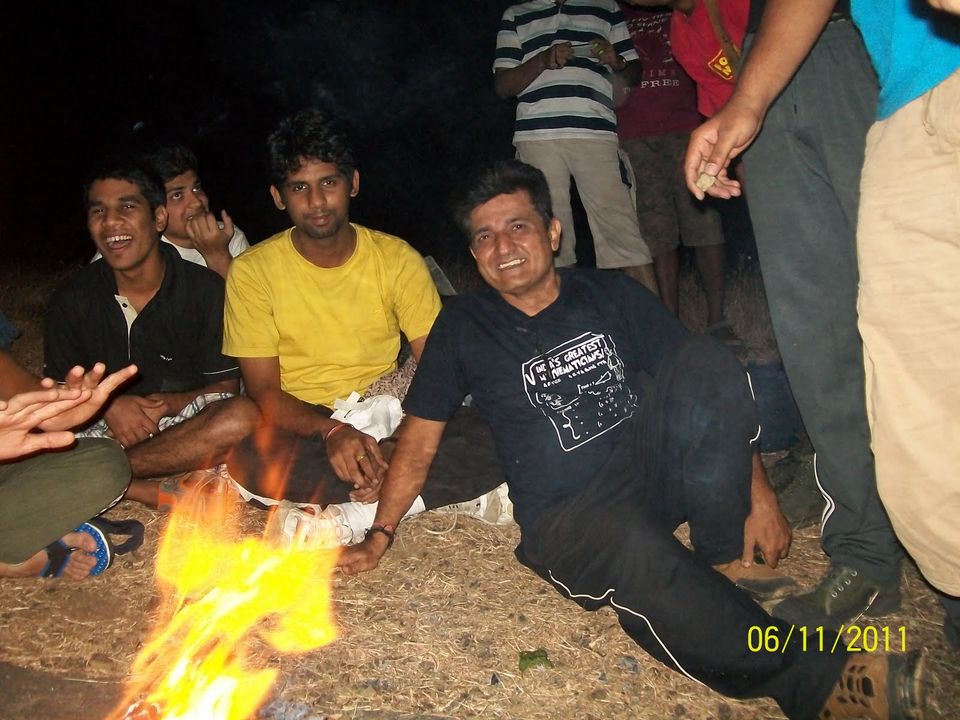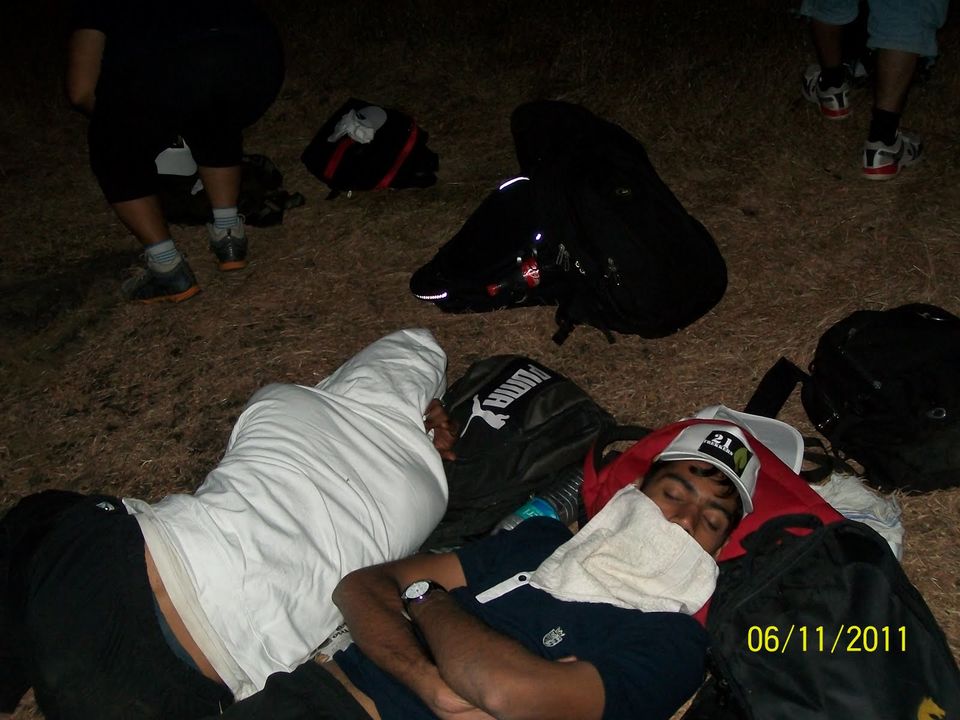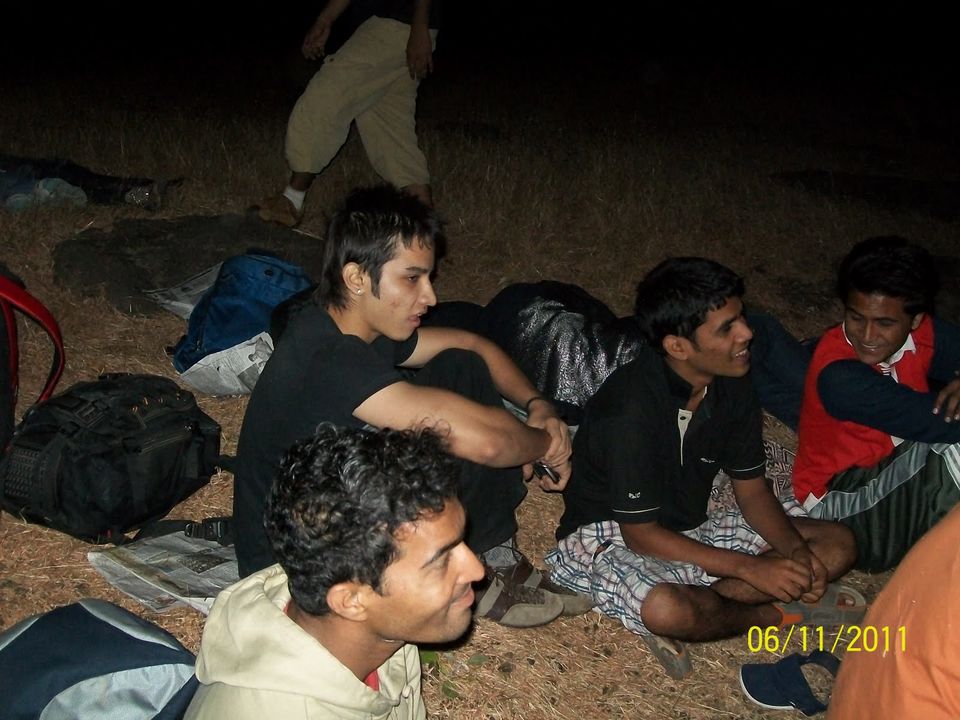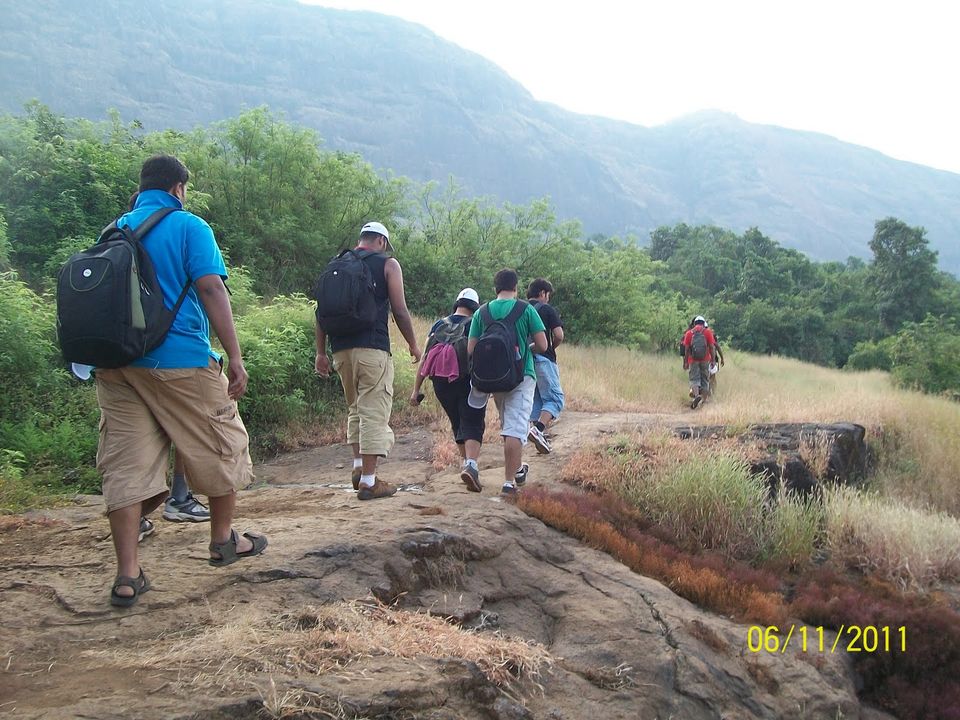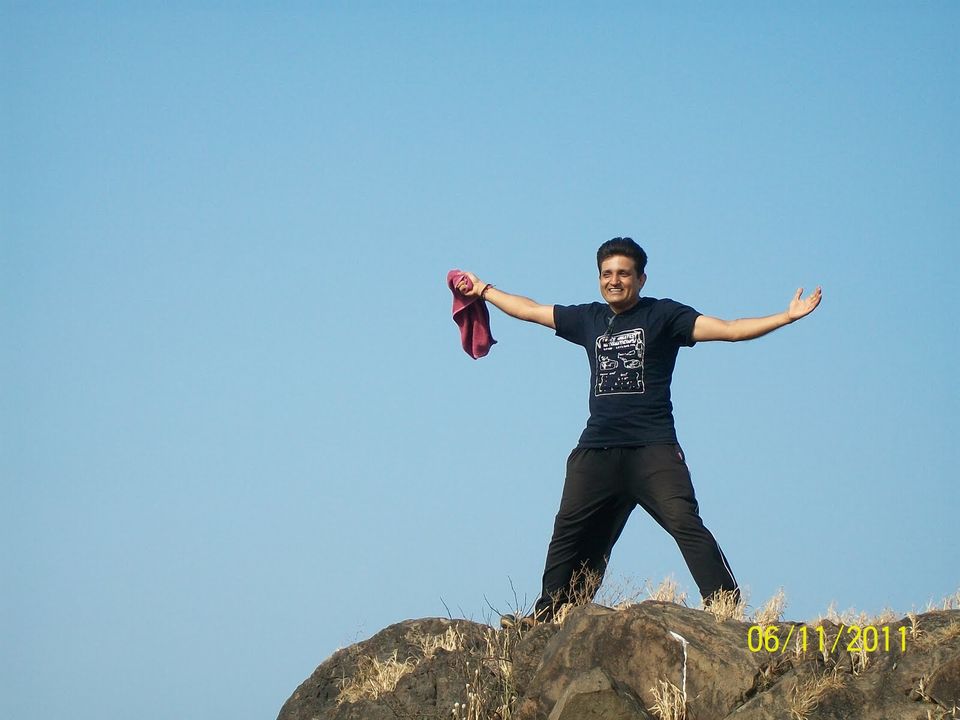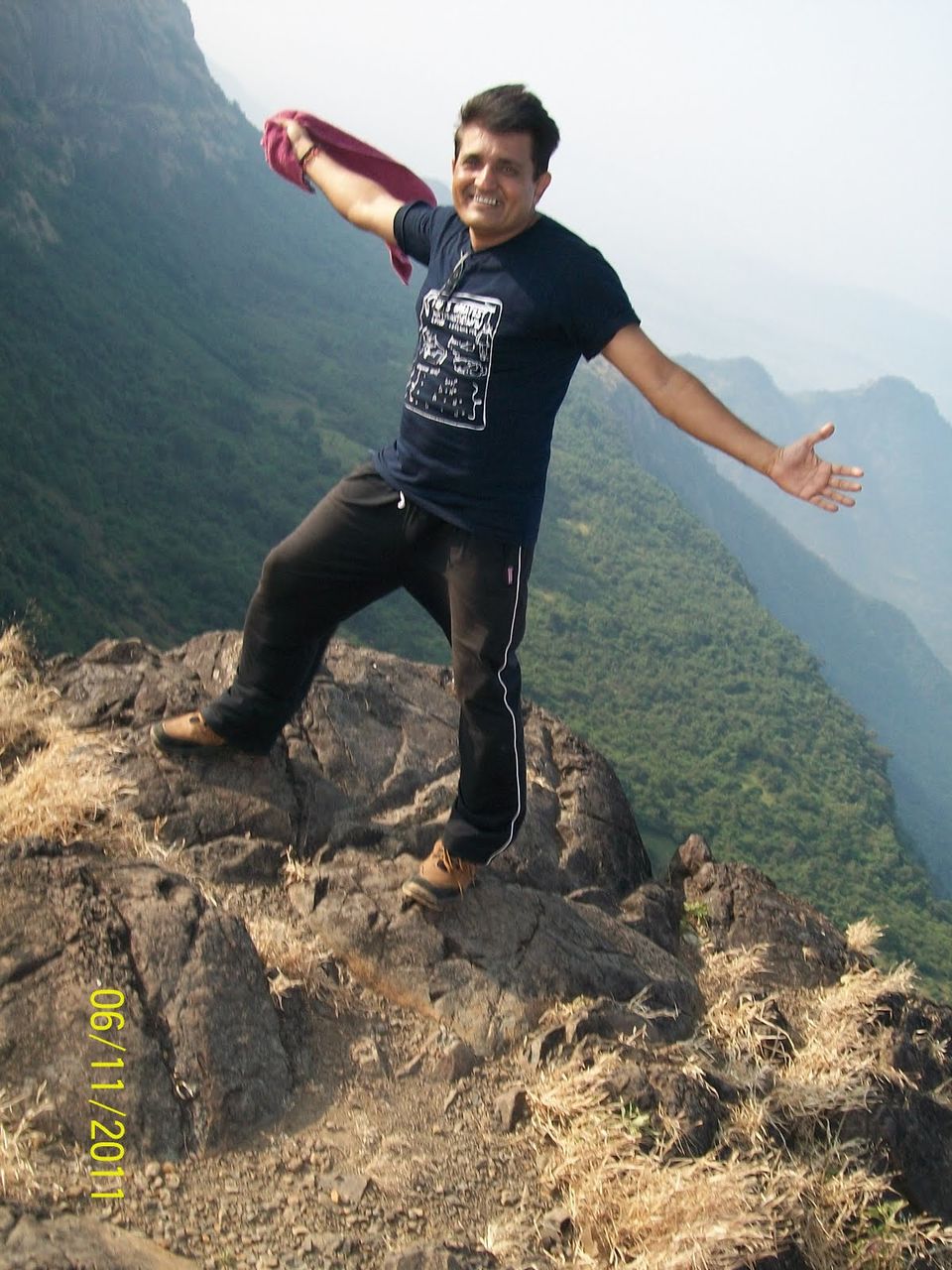 After doing the Mahuli Trek I realised that trekking during the month of October heat could be a tough preposition hence I decided that I will wait till December to do the next trek. However after sitting out for one sunday I realised my folly because that wanderer animal within me begin to get restless and I started my search for new destination to go for trekking.
I narrowed down to Kalvantin Durg. I always wanted to do this trek but being new to treks every time when I looked at imposing Pinnacle and those winding stairs my heart used to come in my mouth....
5th November, 2011

Most of the treks I do generally starts in the morning , However this time the trek to Kalavantin Durg was slotted to be a night trek.The reason this trek was slotted to be a night trek was because the stones of the pinnacles becomes very hot and even the stairs too get heated up due to the harsh sun rays.
On the day of the trek I and Nikhil decided to meet at Andheri Station so as to catch 8.14 pm Panvel Local but it was our bad luck that we missed this train and the next one was suppose to come an hour later. for a minute I panicked because we were all to meet at 10.00pm at Panvel and secondly I hate to be late. Somehow both of us hopped into CST train and from wadala took another train to Panvel and...loo we reached at 10.00 at Panvel...
"Arre lekin yeh kya...baki log kider hai....Apni toh wat lag gayi...wadala se khade khade travel kar ke aur station per koi nahi...."
Anyway baki public slowly trickled in and we waited along for few late comer to come.
It was almost beyond 11.00pm when we came out of Panvel station...Being late it was difficult to get Tum Tum or ST bus so Swapnil our organiser came up with a brilliant idea...he hired a Tempo instead..."What an idea sirjee..." So we were all packed into the tempo and dispatched to Thakurwadi, our base village for this trek.
Travelling in a tempo that too open from the top has its own beauty. Tell me how many of you would have travelled this way in your life had you not come on treks..."Har trek kuch naya zaroor shikhata hai...atleast to me toh definately..." It took us around 40 minutes to reach the Base village Thakurwadi.
Thakurwadi;
Raat andheri hai bhuj gaye diye....yes it was pitch dark when we reached here "aur ek Khutta bi nahi bhook raha tha...sirf hum logo ki wait me bhata tah...my co-trekker I hope samaj gaye honge...what I meant !!!"
Like Jew prisoners from nazi camp we got down from the Tempo the only difference here was that we were a happier lot...beaming with energy and bounce jo har naya trek aap me le aata hai...kyo right kaha na mere dosto!!!
Once everyone was grouped together obviously...total andhere me..there was this Reveal your identity round oh I mean introduction and instruction round...!!
Journey begins...
So the trek was on ..... slowly and surely the group started to walk leaving the tar road we took a right and into the trail . Weaving our way through complete darkness armed with torch lights we were climbing...the climb is quiet gentle in the first hour of the trek.We kept taking small halts at regular interval so that the whole group of 31 members remains together.The climate was pleasant with occasional soft breeze hugging us and the demure moon following us through out the trek.
We had completed almost one and a half hour trek when we all reached a plateau.This plateau is called prabal machi. at this point one has a option to go to Kalavantin or Prabal gad Fort.
As we were on the outskirts of the machi nothing could be seen .The time was 2.30 at night.It was decided that we will all halt here to rest and then start our ascent in the morning at the sunrise.
I simply cannot describe to you the experience of spending a night lying down in the grass with wilderness all around you,surrounded by the mountains with unlimited glittering stars overhead, smooth breeze caressing you and above all this a group of unknown co-trekkers who would bond with you like they were your friends since ages!!!!
Friends this what I call is the magic of trekking which I feel everyone must experience if not regularly then atleast once. Trust me you will be addicted to it for life.
We spent the night at the plateau sleeping with no care of the world, few friends indulged in scary horror story session , someone lit up a small camp fire.
We had hardly closed our eyes for resting that it was 5.30 am Prankster in the group were having wail of time pulling legs of the people sleeping, putting the torch light straight into the sleepy eyes of trekker and scaring them, Calling out sleeping people dead body...it was craziness written all over but Friends !! these mischiefs go a long way in bonding of people.
Raat ki Camp fire se it seems some people were not satisfied toh subah subah ek aur campfire round and with that ek aur photo session,some titbits, and suddenly all sleepy trekker were alive ....I mean ready for the day man !!!
The sun was just rising from behind the mountains just as we often used to draw in our drawing book when we were school going kids. we washed our faces with the flowing water of the stream passing nearby and had our Village style breakfast of Poha and Tea With milk almost missing.
After the country side breakfast we all resumed our ascent .The climb from here onwards was much steeper then what we were doing last night.
We kept walking for about 40minutes when we reached a small base of he famous step whose picture I showed you earlier in the blog.As the climb from here onward was steep we all kept our bags here at the base of the steps and started to climb free hand on this spiraling staircase.this was definately one of the thrilling moment which I was waiting for .."Jiska mujhe tha itezaar..woh ghadi aa gayi aa.jeena hai ya toh ab mar Jana hai"
Seeing the height of the steps which was nothing less than 2 feet I was wondering how tall the soldiers were of that time.
After climbing these giant steps for some time we again reached a flat top and from here we can see the top portion of the Kalavantin Peak just ahead and on the right hand side the mighty Prabal gad fort is staring at you all the time. To reach the Pinnacle we have to climb the rocky patch.
and Yahoo!!
At-last I am at the top !!!!
Suddenly all the exhaustion , all the sleepless night of the climb disappeared the moment I reached the top. The whiff of the wild wind,the mesmerizing view of the neighboring mountains and picturesque lakes beneath take you to another world "aur Dil kahate hai ki mai to bas yehi rahoonga...mai to ghar nahi jaoonga...".
At the top everyone went crazy clicking photos, with all kind of Superman,Spider man,and many more man poses until Swapnil has to literally drag us out from there.Everyone had a great time at the Top with short bout of song session, PJ riddles ,Jokes and what not...I simply cannot remember the entire craziness!!! as our bags were not with us so no food for us at top, yet "Khane ki kisko padi hai...Maajja karo yaar was the attitude there."
Very reluctantly all of us left the Top and started to make descent.Getting down was becoming a task, Most of us were skidding at one time or the other. At some portion one had to be very careful because if you lose your footing you can be lying at the bottom of the valley.
Kalavantin Trek could be very challenging during the monsoon because of he slippery stairs and I would love to do this trek in monsoon.
We reached the base village thakurwadi by 2.00 pm.and were informed that we have missed our ST bus and the next one will come after 2 hrs. so another wait...few of us rested in the temple and few sat at the village shop. two hours of waiting was spent by snoozing,eating junk icecream costing Rs 2 each!!! Aap Mumbai city me aise ice cream zindagi hath nahi lagaoge lekin boredom mai you can eat any rubbish!!!
Thankfully the rickety ST bus came at around $.15 pm we all boarded the bus and finally reached Panvel ST stand.
Another memorable Trek with lots of sweet memories and lots of sweet friends!!!

PS.Thanks to 21 trekkers the organiser for doing a wonderful job.
Factual Information of the Trek
Kalavantin Durg is a pinnacle which lies adjacent to the famous Prabal fort, off the Mumbai-Goa highway. The V-shaped notch between the triangular Kalavantin durg and the adjacent massive Prabal plateau, along with the saddle shaped top of Irshalgad are easily identifiable from the highway. It was used as a watch tower to keep a vigil on the adjoining forts and the surrounding area

Height: 2300 feet
District: Raigad
Grade: Medium
How to Reach: Reach Panvel by local train/ST bus. From Panvel ST stand, you can get ST buses to the base village of Thakurwadi. or alternatively you can get 10-seater autos (Tam-tam) from near the ST stand. You will have to use all you negotiation skills to strike a proper deal.

Time Watch: It takes around half an hour by bus to reach the base village i.e. Thakurwadi .
From Thakurwadi to Machi Prabal the climb is for 1.5 hrs.
Forts visible from the top: Badlapur hill, Haji Malang, Navra-Navri, Mhasmal, Chanderi, Nakhind, Peb
Kelve-Teen, Prabal and Karnala
The Gadeshwar lake and the dam located at the base of Chander-Mhasmal-Peb-Nakhind can also be seen. The plateau of Matheran and the col between Peb and Matheran can also be located.
Food and Water: Carry your own foodstuff. Water not available on the top. The well at Machi prabal village is the source of drinking water. The villagers can also cook food for the trekkers if requested.