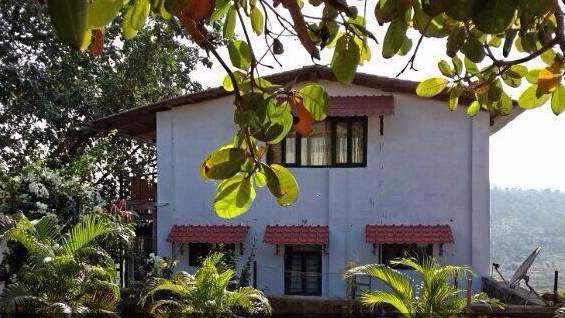 A perfect weekend getaway has a basic recipe – cutting off from the world, adding some relaxation to taste, mixing it with a view to die for, and garnishing it with some rejuvenation before finally getting back to the grind. And while living in a hustling city like Mumbai can be overwhelming, I've found a homestay just two hours away to help you get in touch with your roots.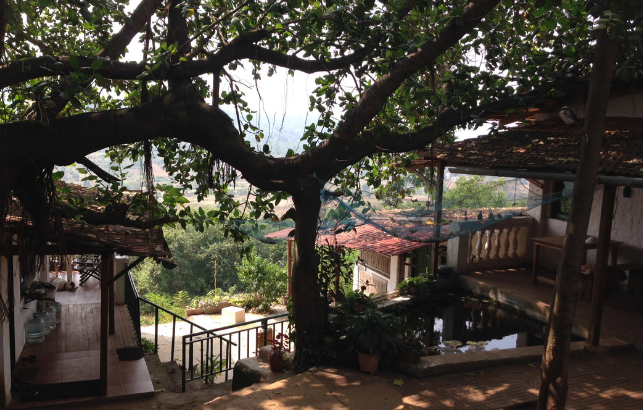 Ideal for
Anyone who doesn't mind taking a step back and enjoying the simple things of life. Families, pet lovers, couples who find solace in silence and nature, head here right now.
About The Property
Hosted by Beena and Vinod Nair, Banyan Bliss sits on top of a hill with the Amba River flowing right below it. It has a 360 degree view of Lonavala, a popular hill station in Maharashtra and the stunning Amby Valley. Away from the chaos, it's the ideal haven for a much needed break.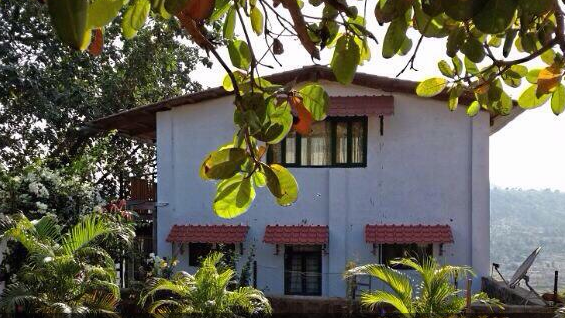 An ecologically constructed home, the Banyan Blisshas five cottages that have a capacity of 5-6 people each and is built using locally sourced materials. The wood keeps you cozy, the couches are inviting and every corner weaves a different but warm tale of tranquility.
Maybe, ask Vinod about the stories behind the décor over a cup of tea?
Luxe tents with attached washrooms are also available for those on a budget. If you're travelling solo then my suggestion would be to opt for this since it'll save you a whole lot of moolah.
If you're wondering why the property is called the Banyan Bliss, you'll get an answer as soon as you step in. A huge Banyan tree covering everything under its shade leaves a lasting spell.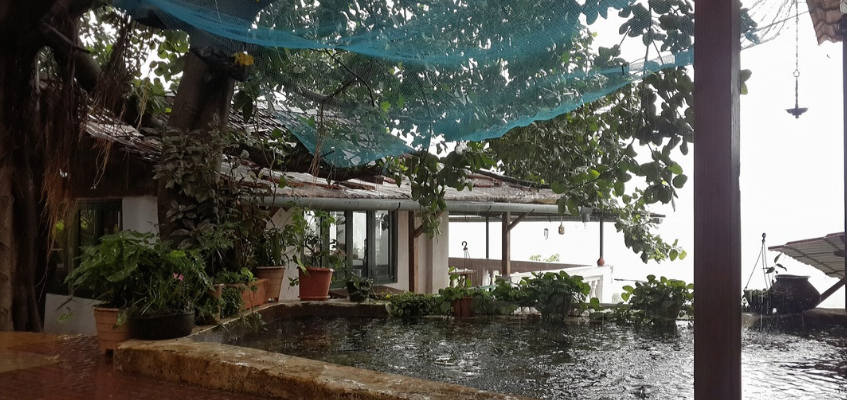 Banyan Bliss is truly a picturesque place to be in. Imagine a pond full of guppy fish swimming around happily, cashew trees giving you shelter from the heat and the dogs wagging their tails with enthusiasm.
Food
All meals are prepared at the property under Beena's supervision. Be assured to dig in to a great homely spread during your stay.
The food cost is included in the overall package. Anything extra will be charged accordingly.
Cost
Rs 5,450 for double occupancy including meals that are lunch and dinner after check-in and breakfast the next day.
Rs 1,900 approx. for the tent with meals package.
Best Time To Go
Vasunde village near Khopoli where the homestay is situated is at its greenest best right after monsoon. Winter is nice and pleasant as well, when Mumbaikars can finally put their jackets to good use!
Things To Do
In the property
• Lie on the hammock or sit in the verandah to admire the paddy fields below while listening to some jazz or maybe finish reading that book that you started in 2019.
• Learn cooking from the host, Mrs Beena Nair
• Play indoor board games
• Indulge in hearty yoga practices
• Stargazing at night is an abolute must
Around the property
Meet the local deity
Interesting legends and mystical views will keep you company during a short hike to the temple of the local deity, situated 900 m/meters above sea level!
Walk till your heart's content
Unlike anything you would experience in the city, rustic trails from the property will lead you towards the forest to be left alone and surrounded by nature. You can also choose to head towards the tiny villages to get a glimpse of the local life.
Go fishing
Amba River has many spots for you to sit and catch some fish. If you're a first-timer, ask the friendly owners to give you a helping hand.Imagica, India's only theme park is just 17kms away. So if you absolutely must do something during this getaway, you can easily enjoy the park's many adventure rides.
Getting There
By air: Mumbai airport and Pune airport both are equi-distant from the Banyan Bliss. Hit the expressway towards Lonavala and turn onto Khopoli.
By Train: Regular trains ply till Khopoli which is a mere half an hour away from the property.
By road: A quick road trip would be ideal via the expressway. After the Khalapur toll, head towards Khopoli and on to Vasunde village.
Are you visiting any property in 2020? Write about it here!
Watch travel stories come to life with Tripoto on Youtube!