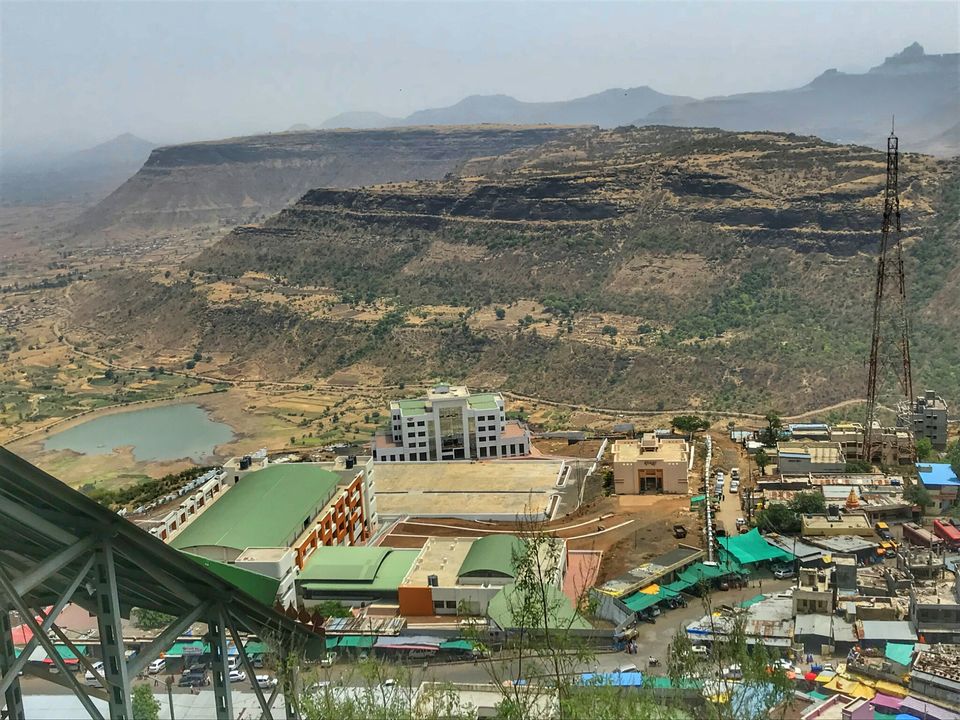 We woke up around 8 am at Chitrakoot resort saputara, then we were outside of the room at that time morning sunrise scene was very mesmerizing so our spending money on this resort is totally worth it. We took a coffee watching this beautiful scene. We took a bath in the swimming pool around 25 minutes. Earlier, we decided to go, Daman, it plan cancelled but that time I decided to go Saptashrungi temple so finally, we started the ride around 9:20 am. Its distance 45km and there are two routes to reach this place. One road is the very fastest route but another route is very rough. Accidentally, we choose rough road so we reached 11:00 am. This road is very tough and passing the middle of the village. Finally, we parked our bike, helmets and Luggage nearby the temple worship shop. I surprised by one thing is that if you buy worship things on that shop then you could park your vehicles without pay any parking charge.
Saptashrungi is a hill range consisting of seven hills locally called Ghats and form part of the Sahyadri Range of hills in the Western Ghats. Accordingly, Hindu tradition Saptashrungi meaning seven peaks. This temple located near the village of Nanduri which is located Kalwan taluka, Nasik District. This place is a 60km away from Nasik District. The temple is also known popularly as one of the "three and a half Shakti Peethas" of Maharashtra. Well, in all over India there are 51 Shakti Peethas. Saptashrungi is generally regarded to be a half Shakti Peetha. Although, the official site of the temple declares it as a complete Shakti Peetha. This temple background story it is a location where one of Sati's limbs, her right arm is considered to have fallen when grief-stricken and agitated Shiva was carrying her dead body around the world on his shoulders, and Vishnu had cut her body into pieces with his Sudarshana Chakra. In the seven ranges of mountains, the one mountain peak height is around the 1400m, and Saptashrungi is towards its west. There are 510 steps to climb the temple.
I remember exactly what I visited this place in my 8th standard tour but I was very glad to visit this religious place with my friend without any plan. We bought things of worship and walked towards the temple. We kept our shoes in the temple shoes rent shops. We are climbing stairs very fast but many times, we rested. We climbed around 400 steps and starting a beautiful Scenario of Vani village. The peak opposite to the temple is the Markandeya hill. There is a ropeway facility available but At that time repairs were underway on the ropeway. Finally, we reached the temple but the main problem for us is that the time 12 o'clock and worship had started so there was huge traffic. Our mind was to go to Darshan, but if we stand there for worship, it would be gone a long time so We decided that if we should get out of it now, we can reach Nasik in time and visit Nasik City and relax and then we can reach Surat the next day. We gave our worship items to a woman of old age standing there. We came down and had some breakfast and we started the bike and we were going to our next destination.
We reached Nasik around 3:30 pm. We booked a hotel room on Make my trip website which showed that hotel Panchavati destination nearby 5km from my location but, when we saw on Google maps the hotel distance from Nasik to 40km Sinner. We decided that we should not visit Nasik city because we were tired. Well, in my school tour, I had visited Trimbakeshwar temple, Nasik, Ajanta & Ellora caves and many other places of Maharashtra. We reached hotel around 4:18pm.we have booked a hotel room at price 1500 rs. We took a rest 1 hour then my friend decided we were in Maharashtra so we should drinks. We visited sinner city and took the Red label bottle it is price 3000 rs.we bought some Chakana near the bakery shop and return to the Hotel. We drank two pages and It is said exactly that," great ideas never come from the comfort zone". That time I am thinking about my next destination but I know that we want to go to Surat next day because my friend was doing a job. I was searching on Google map Imagica location. The distance between the Sinner to the Imagica theme park is a 234 km. when I told my friend this plan and he had confessed to my plan. My friend told his boss that he cannot come to the office and his boss approved the leave. We have not to inform our family about this trip. We had very excited because suddenly had made of this plan. This trip special thing is that it is an unplanned trip.