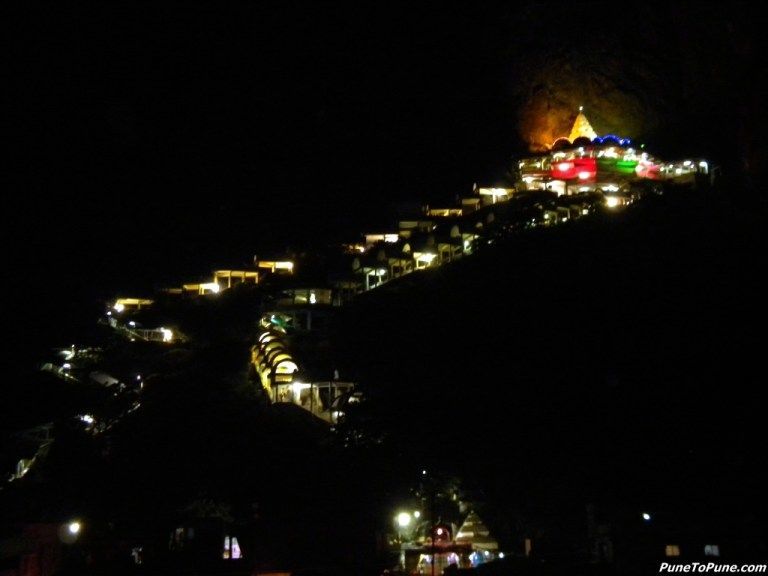 Our efforts to visit this abode of mother which is a shakti peetha were not bearing fruit. One tour operator said rather apologetically, "You see sir, people either go to Nasik- Tryambakeswar or Ellora-Grushneswar-Aurangabad or Shani Shinganapur. Sapta Shrungi is not as popular as these destinations." "If you want, we will dedicate a taxi only for you", he added in anticipation. We turned it down- Dedicated taxi is not for backpackers on shoe string budget, you see. Moreover there is no adventure or excitement in travelling by a cab. We received the same response from all the tour operators. Having read about the Sapta Shrungi goddess in the Shirdi Sai Satcharitra and seeing her awe inspiring form in pictures, I had an intense desire to visit her, of course, only when she calls, as they say, bulava (call) has to come.
My brother and I, were crossing the Shirdi bus stand where the crowd had already become thin as it was nearing 9 pm. Just out of curiosity, we ventured and asked a conductor, "Is there any bus to Sapta Shrungi?" "Yes, bhau, catch my bus till Nasik and then take the early morning 4 am bus to Vani," he replied, showing his bus. "I can wait for you for the next 10 minutes if you are coming" he added. This casual gesture from him was very convincing. I looked at my brother, trying to find his view and he nodded. Has the bulava come? We hired an auto and rushed to our dwelling- the Sai Ashram Bhakti Nivas and came back in little less than 10 minutes with some essentials for the morning and some money. Strangely, there was no trace of that conductor and his bus but the enthusiasm remained.
This was the perfect setting for an adventurous back packing to Sapta Shrungi. We took the next bus at 10 pm and the bus trundled out of Shirdi and deposited us at Nasik little short of midnight at the Mahamarg MSRTC Bus Stand. We were welcomed with open and deserted streets of Nasik bathed in yellow glow of sodium vapours. . We enquired- "Oh, you have to go to the Devi gadh!" replied one bespectacled man from behind the Enquiry window. Go to the Thakkar bazar bus stand, which is just couple of kilometers from here, you will get a bus to Vani from there. Saptashrungi Gad is 26 kms from Vani. All temples on a mountain are generally referred to as Gadh in the local parlance.
We took an auto and reached Thakkar Bazar CBS Bus stand. It was a brightly lit small bus stand with half a dozen platforms and some dozing passengers on the cement benches. We found a long cement bench and felt relieved as it would be able to accommodate our long frames and parked ourselves there. Next, I tried to enquire about the possible bus to Vani but got a gamut of confusing answers- 'Yes, a bus starts at 4 am', 'I think it starts at 5.30 am', 'Oh! bus for Vani, you can't be sure, it might start at 6 am', 'Bus to Vani! sometimes it won't start'. We were utterly confused, what is the truth about this mysterious bus to Vani! With prayer to the mother and the arm rest of the cement bench as a pillow, we tried to steal a few naps. At 2.30 am, a jeep drove into the bus station compound and came to a screeching halt. I woke up with a start by the sound. Being curious, my brother approached the jeep and started a conversation. He found that it will take us to the nearest point to Saptashrungi Gad. We grabbed the opportunity with both hands and were heading towards our next destination Nanduri with the hot breaking news of the morning. We were in a jeep which transported the Marathi newspapers to the towns near Nashik.
1 hour into our semi conscious travel, we found a chain of beautiful lights hanging from the sky, beckoning us. "That's where you have to go bhau", commented the driver. We have reached Vani, but I will drop you at Nanduri, as it is from Nanduri that the ghat road starts and it is easier to get transport from there." We stopped at a small dhaba paid the jeep wala Rs. 60 each. To our relief the dhaba was open and the dhaba wala was awake. Time was 4 am. The dhaba wallah a man in his forties was of a jovial disposition and was enjoying golden hits of Bollywood on his cable TV. "Bhau, at the back there is a hand pump, go freshen up, I will make hot Bread Pakoras and Misal Paav for you. You can enjoy them with the topping of evergreen Rafi hits", he said with a twinkle in his eyes and a strange freshness even after a supposed night shift. That day Bread Pakoras and Misal Paav tasted delicious. We asked him about a conveyance to go to Saptashrungi. "Just walk a kilometer ahead, there is a detour to the right where the ghat starts. Stand there, any vehicle going up will take you", he said. We were exactly at the back of the Saptashrungi mountain.
The darkness of the night was getting overwhelmed by a faint crimson glow on the eastern horizon. Fresh monsoon clouds were drifting like cotton wool towards the sacred mountain perhaps for the suprabhatam darshan of the mother. It was around 5.30 am. Sun was all set to herald another day. We strolled enjoying the cool morning breeze and reached the beginning of the ghat. A tempo trax came and stopped and we requested for a lift. The driver obliged for Rs. 20 for a distance of 10 kms.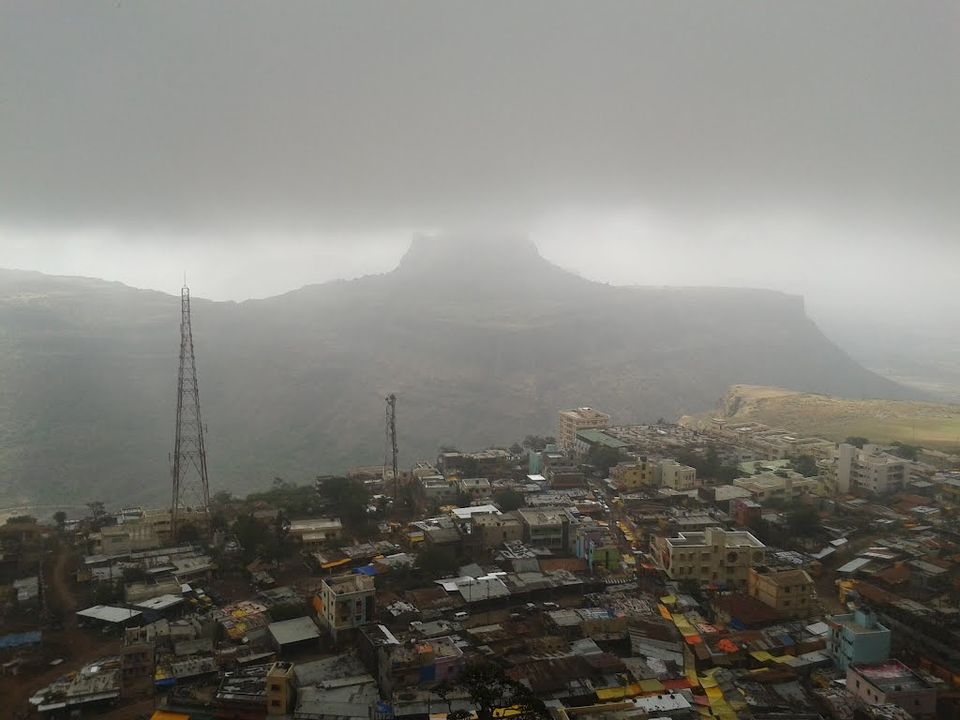 As we tread the serpentine road and gained height, our vehicle played a hide and seek with the morning mist. In the next 15 minutes we were at the doorstep of the goddess. There was a vertical wall of stone nearly half a kilometer high and at the top of it was perched this sacred abode of the mother. There were a flight of 450 steps from the base. We climbed the steps with the mist descending from the steep slopes of the mountain and caressing us.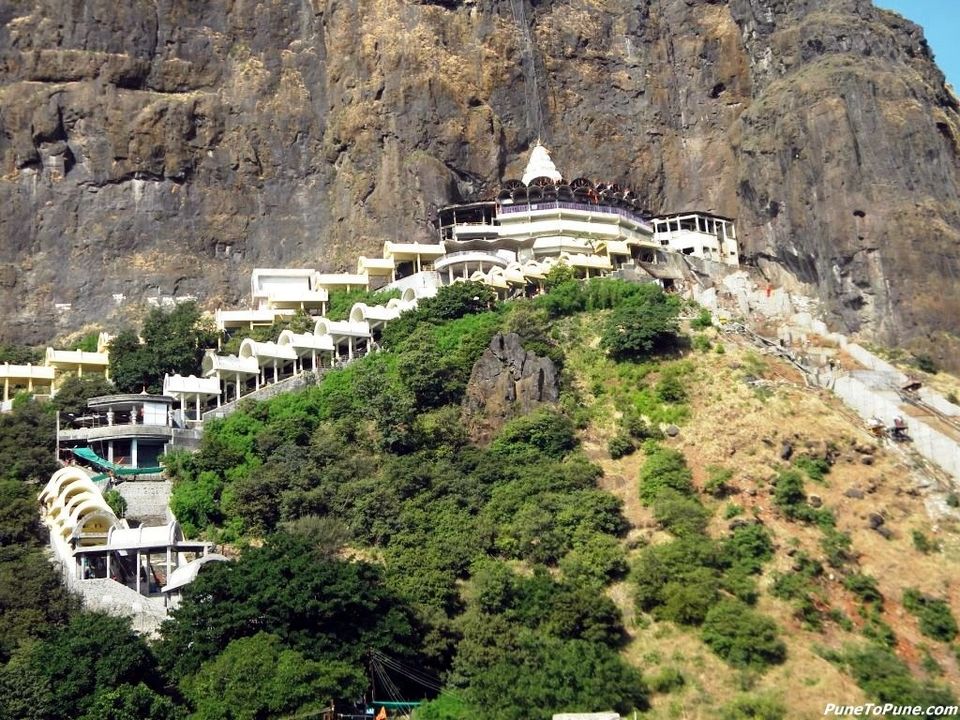 After a brief climb of 2o minutes, we were ushered in into the presence of the magnificient swayambhu form of mother. It stood nearly 10 feet high with 18 hands, filling the whole atmosphere of the temple.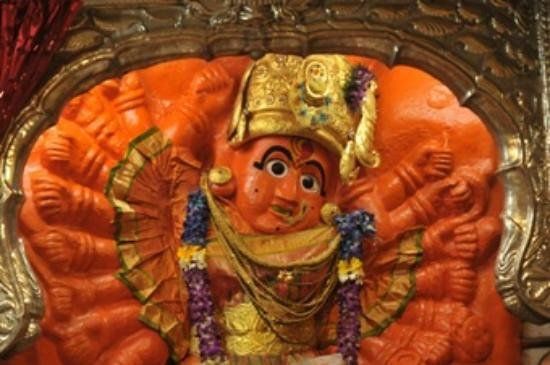 Seeing her bewitching form, we lost all our tiredness and sat there beholding her. Strong incense, the gong of the temple bells, the mist shrouding the temple and the cool breeze touching our beings transported us to an ethereal world. There was very less crowd and the devotees were allowed to sit in an enclosure just in front of the deity. We sat there witnessing the morning puja and two hours elapsed without our knowledge.
After having a fill of the mind and soul, we climbed down the steps and took a shared tempo trax back to Nasik.
Preferred travel- Best season is the monsoon season.
Surya Kund- One can have a refreshing bath at the Surya kund at one corner of the ridge.
From Vani there is a trekking route which takes you to the Saptashrungi Gadh directly, one can explore that...
Note: A bus to Vani starts from Nasik in the morning but time is not certain, it can start anytime between 4am to 6am.