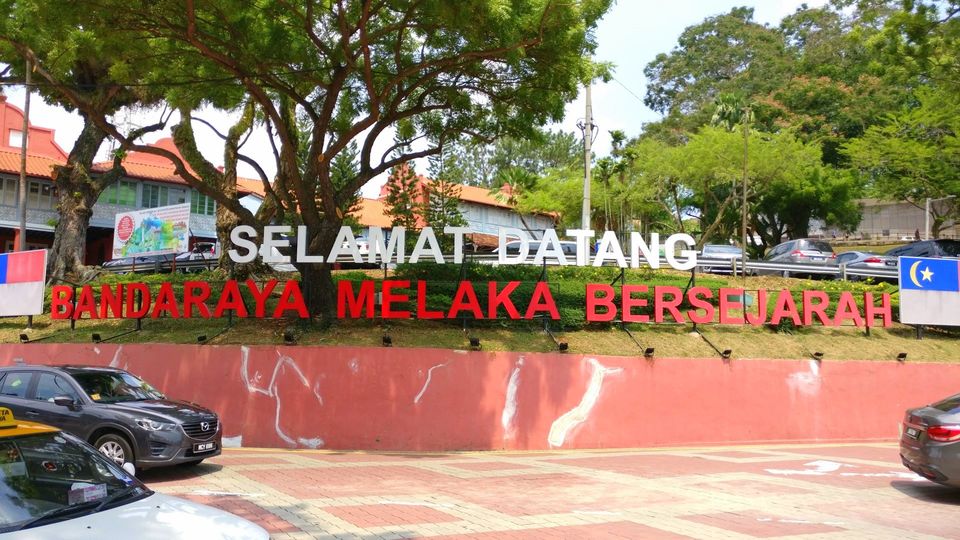 Melaka city is in the state of Melaka or Malacca as it also known as.
A cultural and gastronomic melting pot, this city in Malaysia owes its rich heritage to the traders and colonizers that visited it and made it their home, over several centuries.
The strategic location of Melaka in the southern region of the Malay peninsula and within the geographical safety of the Straits of Malacca, was what drew explorers from lands far and near and this land became the gateway for traders and merchants who discovered its potential. They brought with them their culture, cuisine and flavors which mingled with the local to form new and lasting versions of their blends.
This story is a brief glimpse of some of Melaka's signature cuisines and popular dishes.
Melaka culture and cuisine is strongly built up by the Pernanakan community. Pernanakan literally meaning descendants, refers to the the people who were born of marriages between the traders who visited Melaka and the local women. The mixed race that was the outcome of such unions between the foreigners and locals, gave rise to new sections of society and they now form the ethnic communities of certain regions like Melaka, Penang etc.
Initially taking birth (or giving birth) with the Chinese settlers but in due course with the arrival of merchants from other lands, there were eventually also Peranakans who descended from marriages between the local women with Indians, Arabs and Europeans.
The Chinese peranakans are also referred to as Baba Nyona where Baba stands for the male and Nyona for the lady. Their cuisine is famed for its use of coconut, tamarind, glutinous rice, pandan leaf etc.
Baba Charlie Nyona Cake -
Our sweet beginning will be at Baba Charlie Nyona cake.
This is Melaka's most famous of 'cakeries' specializing since 1988 in the traditional Nyonya Kuih as they call it. From initially selling their products at pop up stalls in night markets they now have progressed to their own production unit where they make the kuihs, as well as a cafe where customers can have a sit down meal.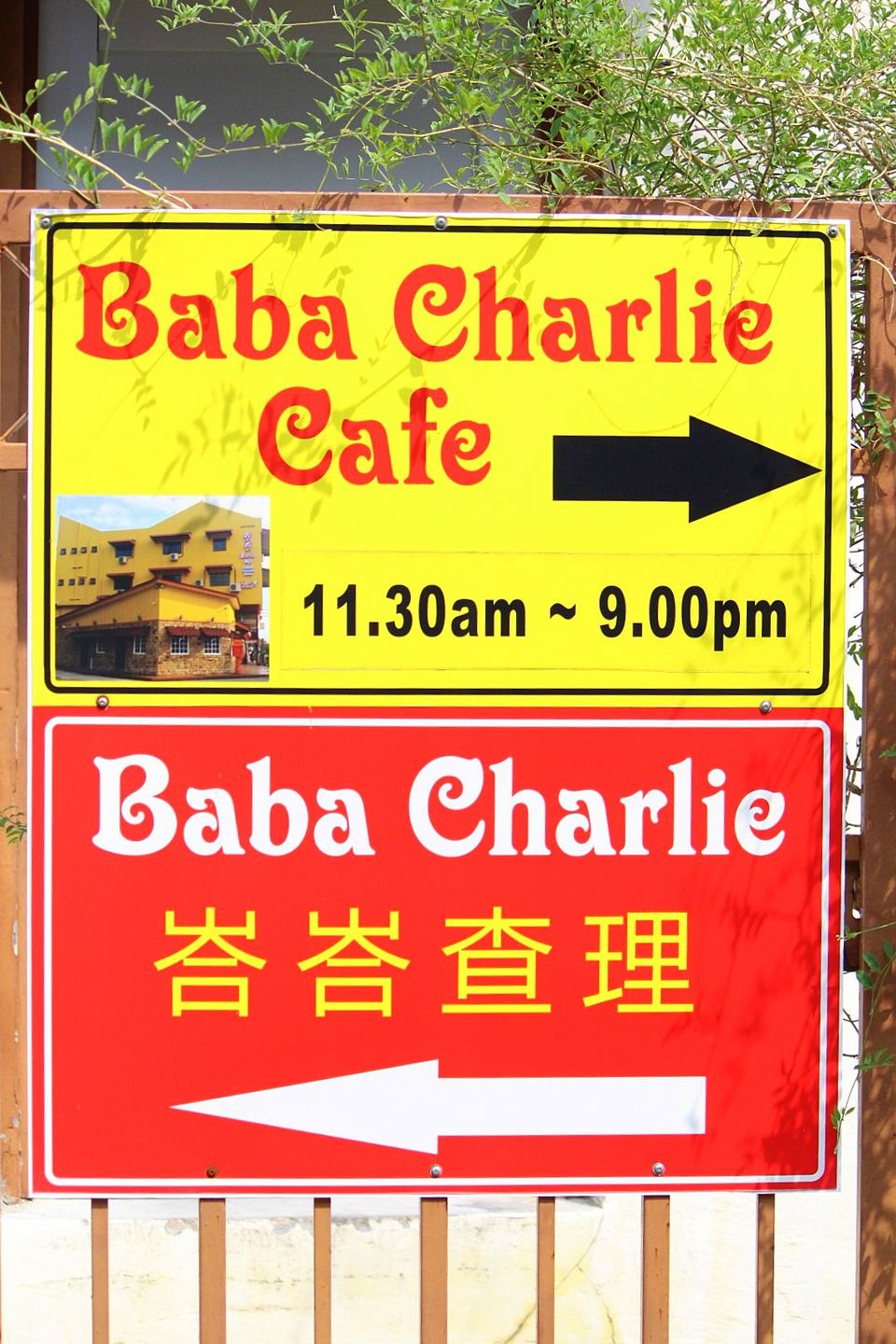 Just a few main ingredients of coconut milk, glutinous rice paste and Gula melaka (palm sugar) are used to create umpteen combinations and give rise to several unique varieties of kuihs.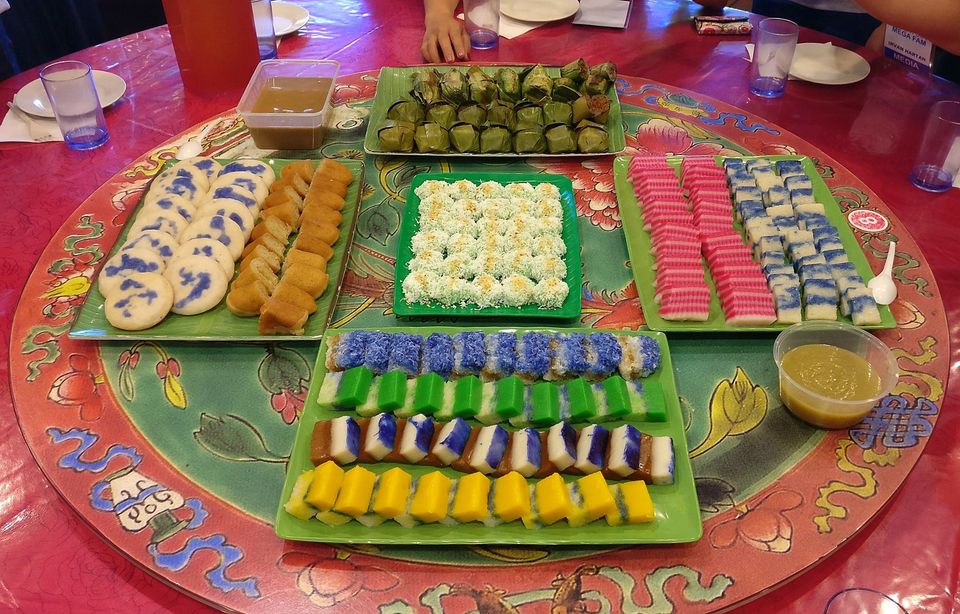 It is a nearly 8 hour process that begins the previous night with making the rice dough and grating huge blocks of palm jaggery. It is also heartening to note that to a large extent, only natural flavors and coloring are used, like pandan leaf extract, the very popular blue pea flower and other natural ingredients.
The store also has an inner section where the shelves are stocked with the packaged confections for sale and framed pictures of the family look down from the walls on their customers.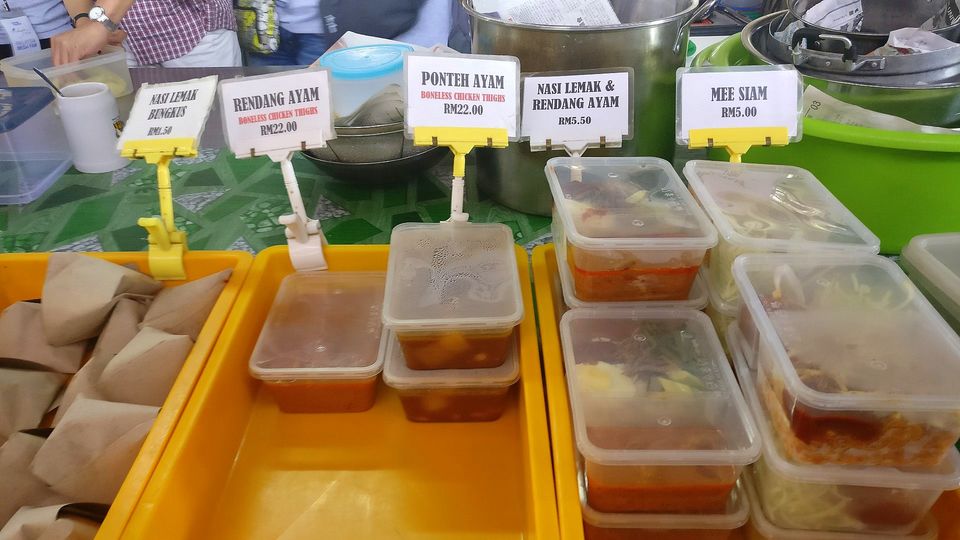 Baba Charlie Nyona Cafe is a 5 minute walk from the production unit and is a sit down space for those who want to dine there.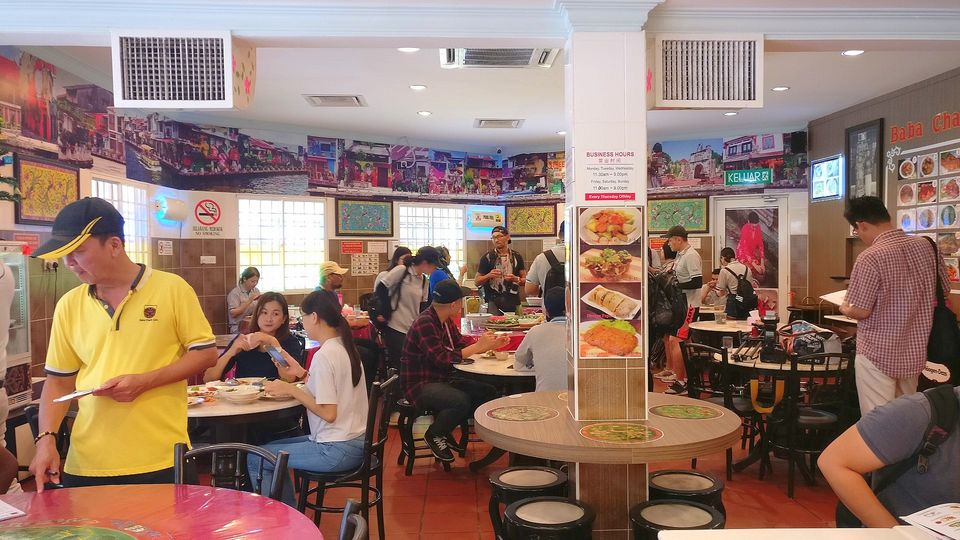 Large posters on the walls bear the menu which has pictures helpfully accompanying the names to enable quick decisions :-D
I sampled the ondeh ondeh, rempah udang, kochi hitam, apam balik durian, pulut tekan, apam bekua, 2 kinds of mixed loyang and then chased it down with chilled, refreshing Tai bak. Your job is to recognize them on the menu that I have provided :-D
Hot cups of Chinese tea are advised to be drunk, to aid the kuihs down on their journey through our gullets.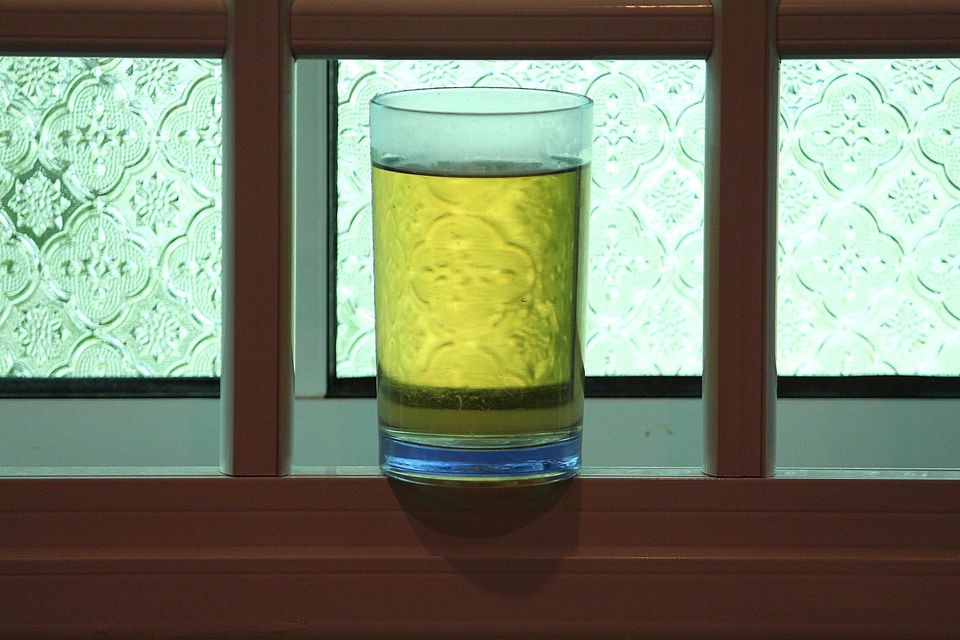 Nyona 63
Located deep within the confines of one of the buildings on Jalan Tun Tan Cheng Lock, Nyona 63 is another quaint restaurant that hides behind the facade of a shop selling traditional costumes, gorgeous enamel wear lunch boxes and other bric a brac.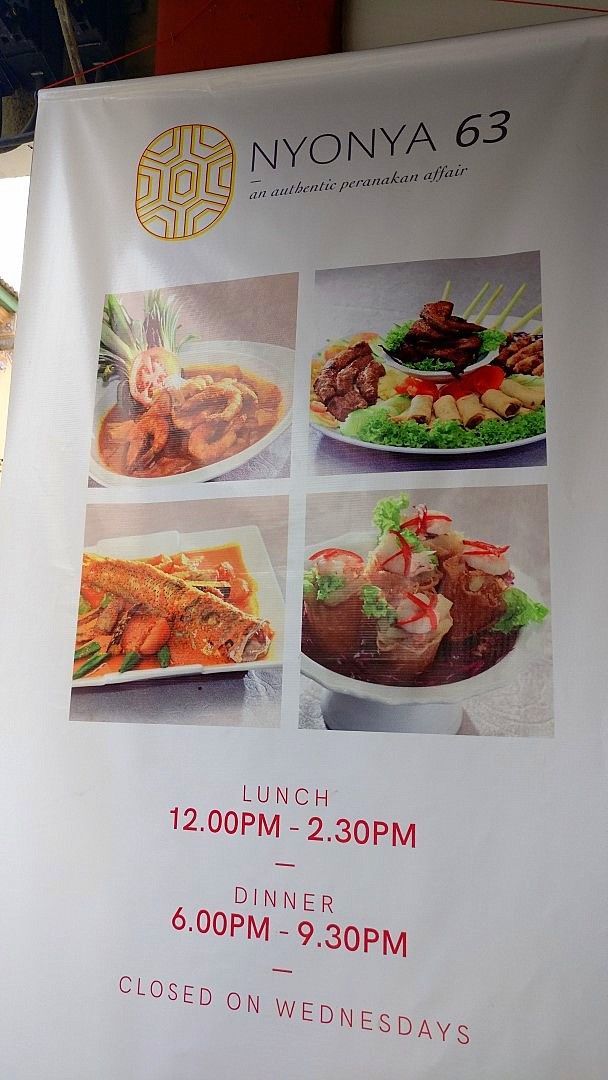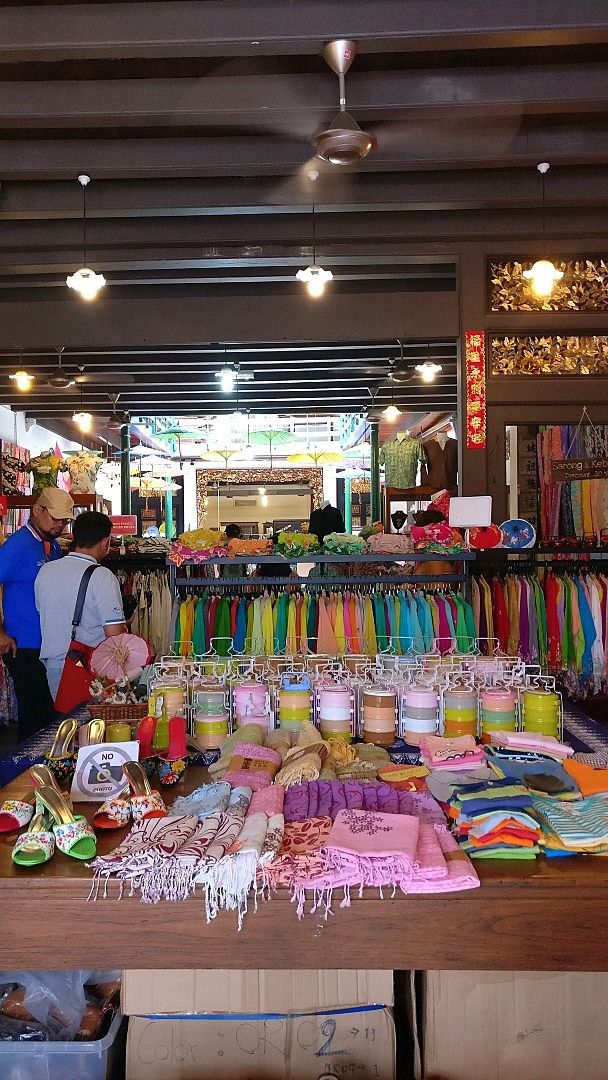 Named after its address No. 63, this place is famed for its authentic Nyona food.
Some of the ingredients used in this cuisine are candle nuts, torch ginger flowers, buah keluak and of course many of my own familiar Indian condiments and spices like coriander powder, cumin powder, turmeric powder, curry powder, chilli powder, nutmeg, cinnamon, cloves etc.
Candle nuts called Buah Keras have a hard shell (keras meaning hard) and they have to be cracked open to get at the oil rich nut within. Toxic when raw, these are used to thicken gravies.
Torch ginger flowers are used in certain dishes for their piquant flavor and its fragrance graced the Masak Lemak Nenas prawn curry (Pineapple prawn curry) at my meal.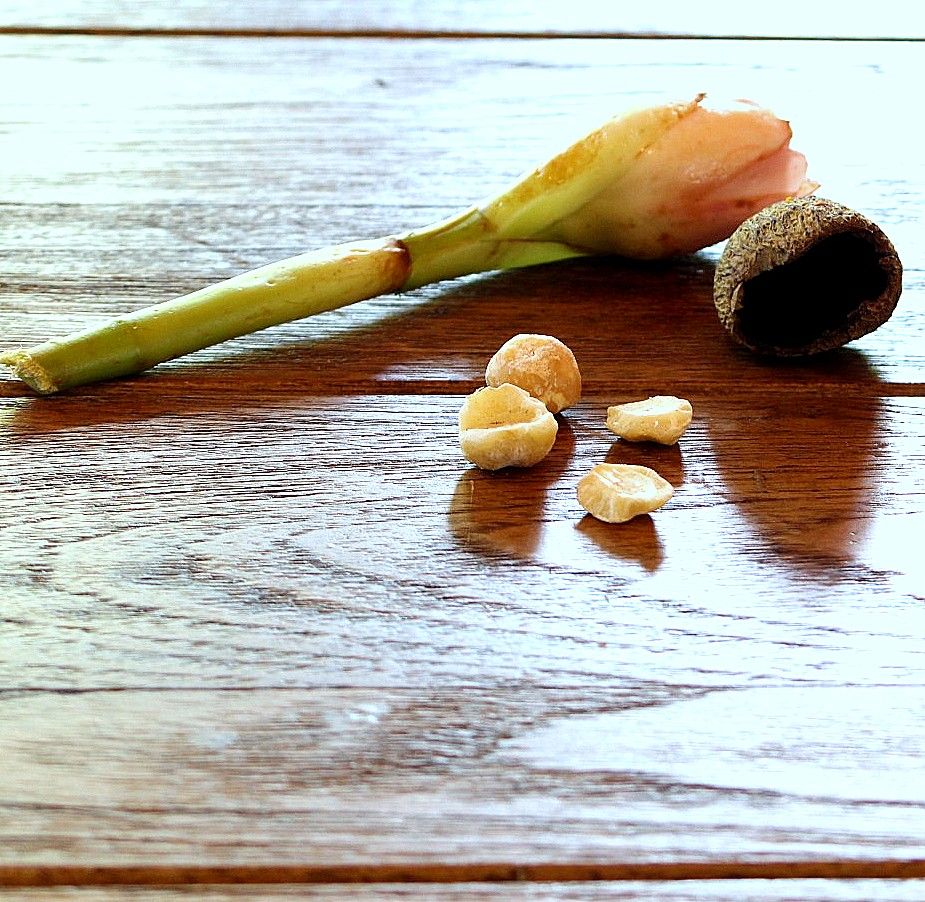 Buah keluak was something totally new to me and I learnt that this exotic nut is to be used after soaking for a week to leach out the toxicity. After this it is cracked open and the insides are scooped out, cleaned and then seasoned with spices, refilled into the shell and then braised with either chicken or pork. This is a much sought after and unique dish in peranakan cuisine.
My meal was an exotic spread of Vegetarian spring rolls, Ngo Hiong (5 Spice Meat Rolls), Steamed okra with dried chilli paste, Nyonya Chap Chai (mixed vegetables), Masak Lemak Nenas Prawn, Pongteh chicken and pork, Kangkung balacan, Kurau Chili Garam and the very welcome dessert of chilled Cendol (pronounced chendol).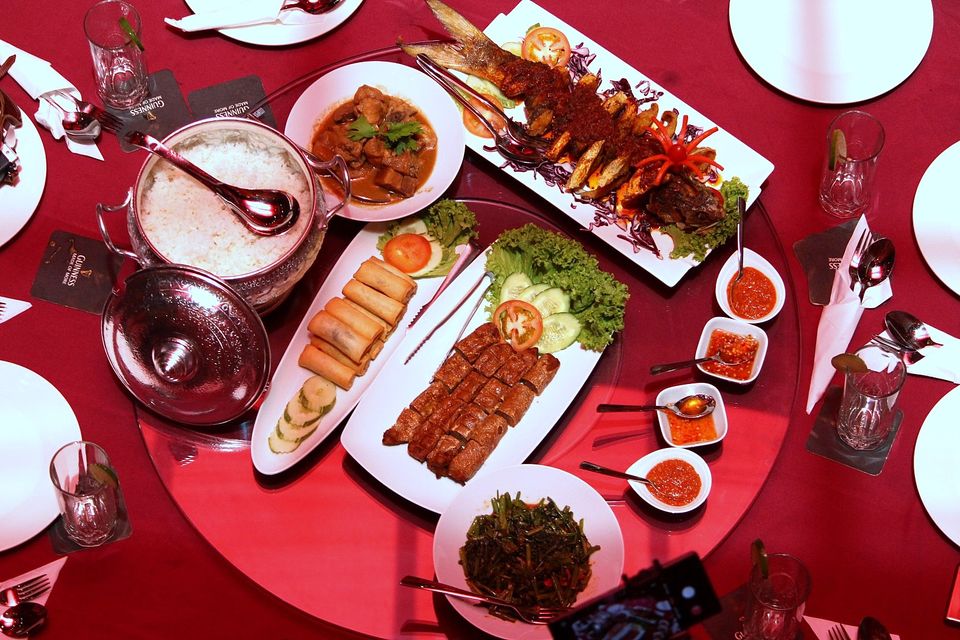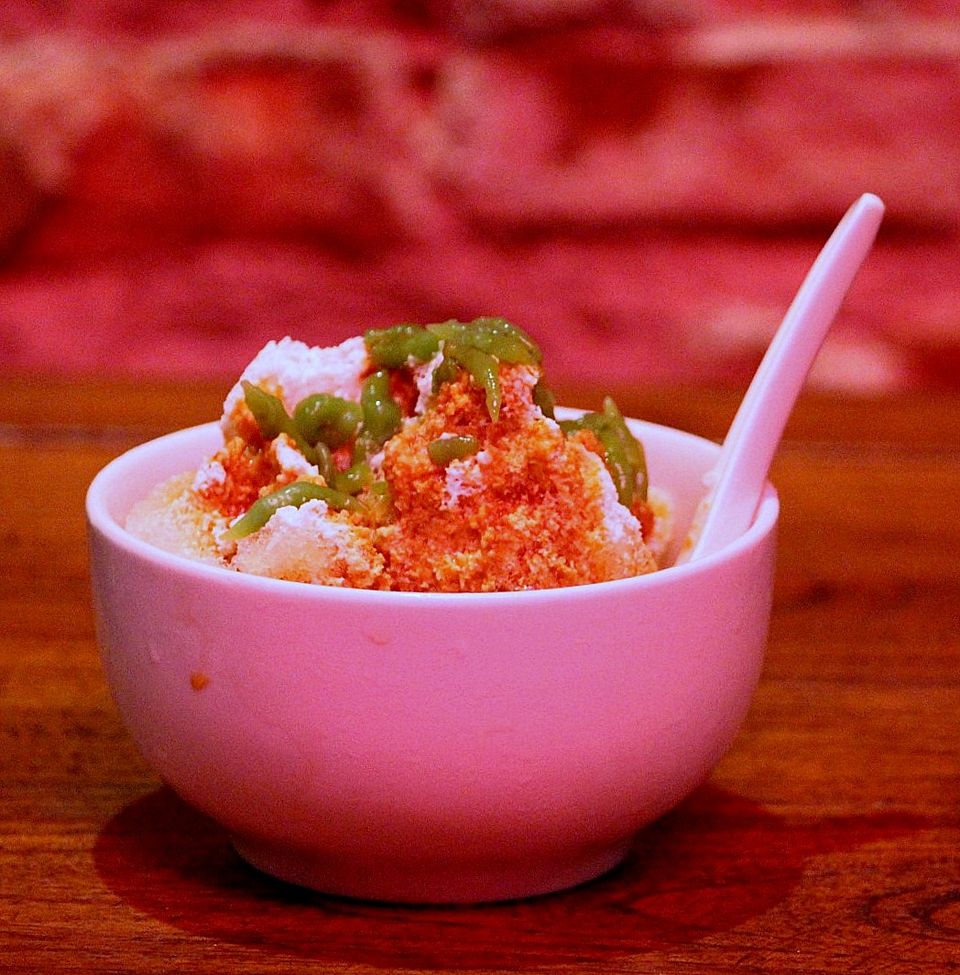 Hot flasks dispensing Blue pea tea did the rounds of the tables. Of course in that heat, I begged for ice and converted the beverage into iced pea tea :-D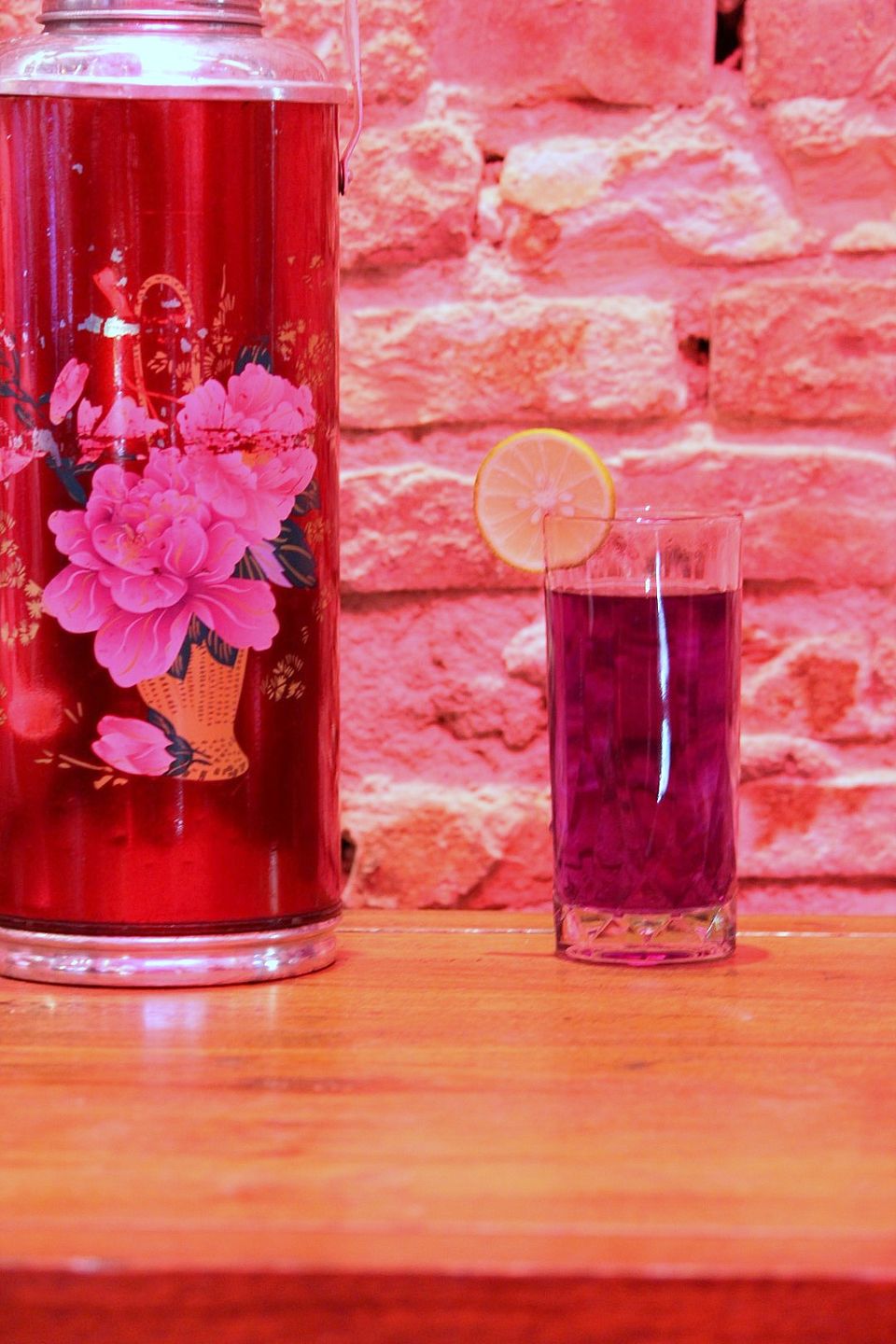 Sightseeing in Melaka (a brief glimpse) -
As I said, Melaka is very special because it bears testimony to the Portuguese, the Dutch, the Japanese and the British who colonized it in turn, right from 1511 AD to 1957 AD.
Jonker street is a popular tourist attraction. This quaint little stretch is flanked by charming antique stores and is a short 5 minute walk that eventually leads to the bridge across the Melaka river and the Red square on the other side.
There is also a heritage museum showcasing exhibits right from the colonial era but I did not have the time to visit it.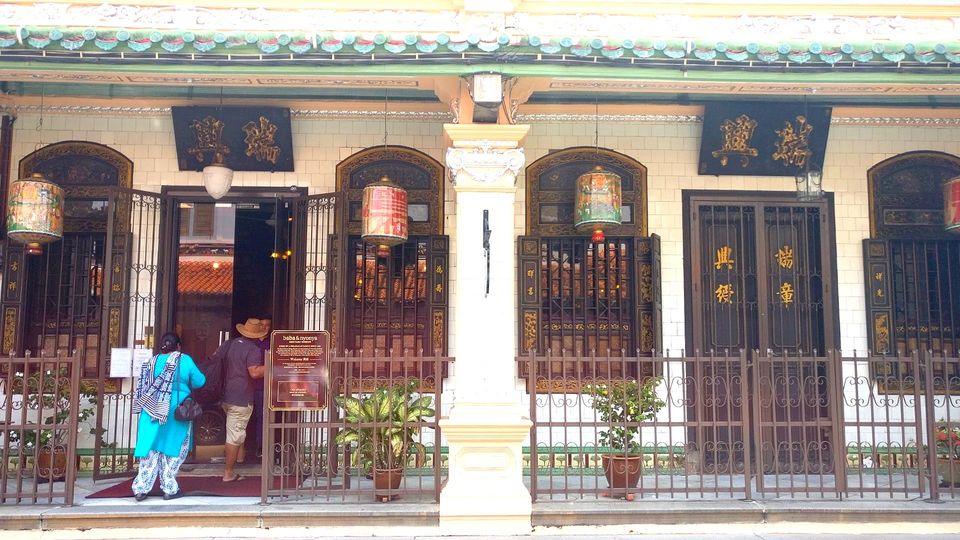 The Dutch square or Red square still maintains a few monuments from the Dutch era and the scene is complete with the river Melaka flowing by, a bridge spanning it and of course a windmill which adds the real Dutch touch :-D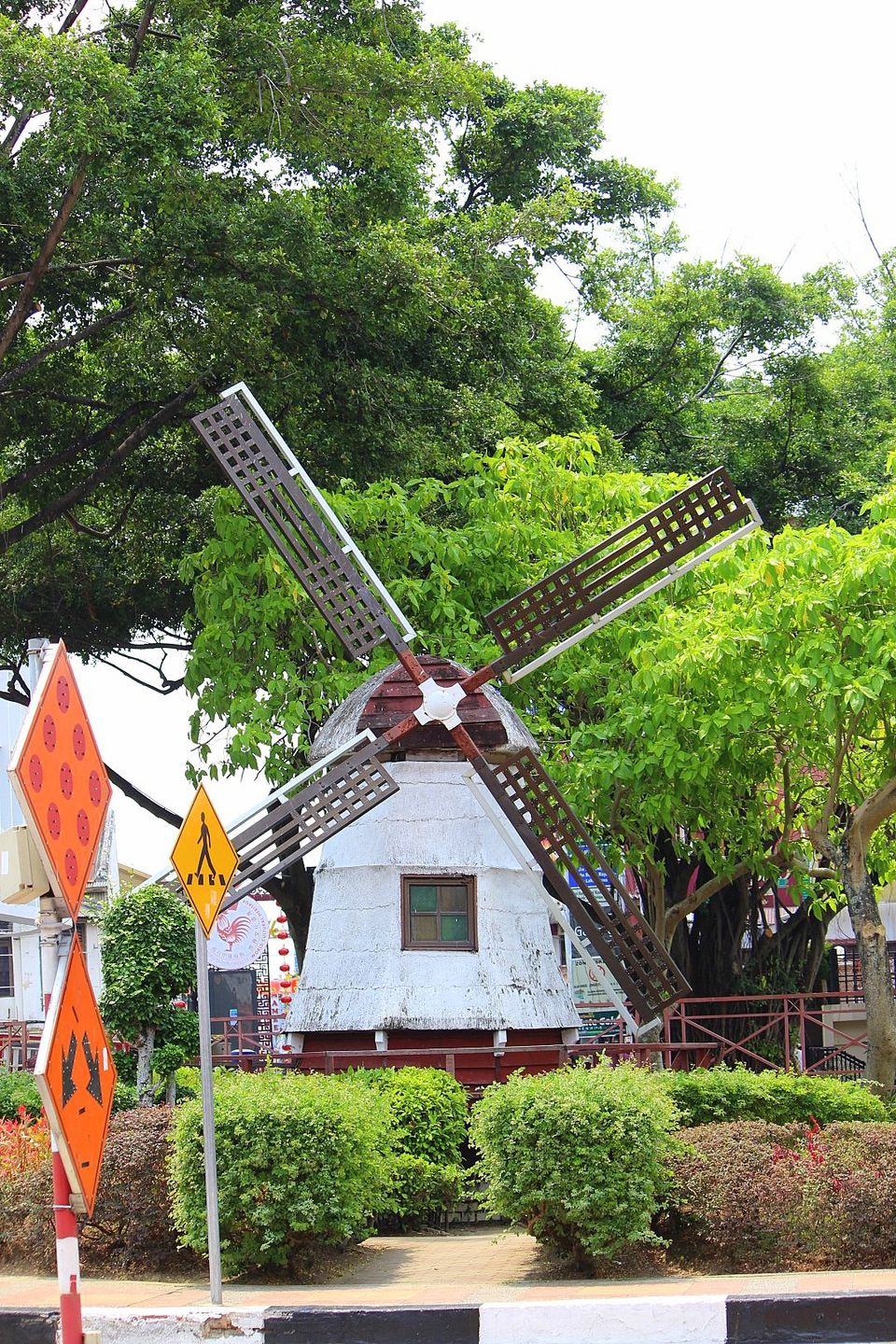 One can spend time at the instagrammable 'I Love Melaka' spot and also visit some of the heritage buildings like the Stadhuys museum, Christ Church, art gallery etc.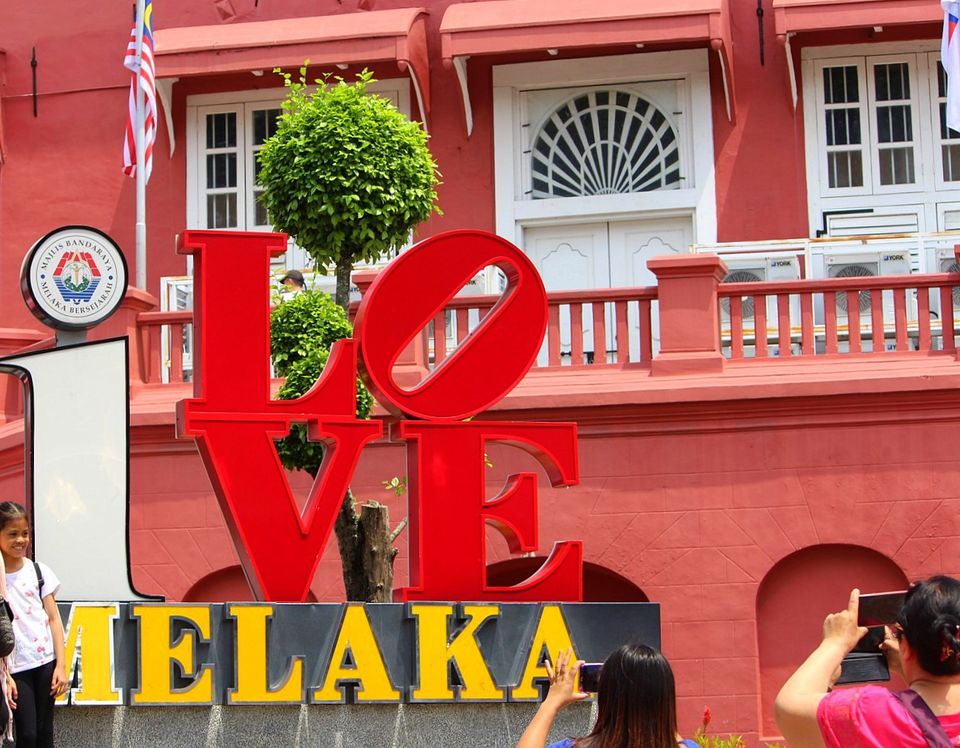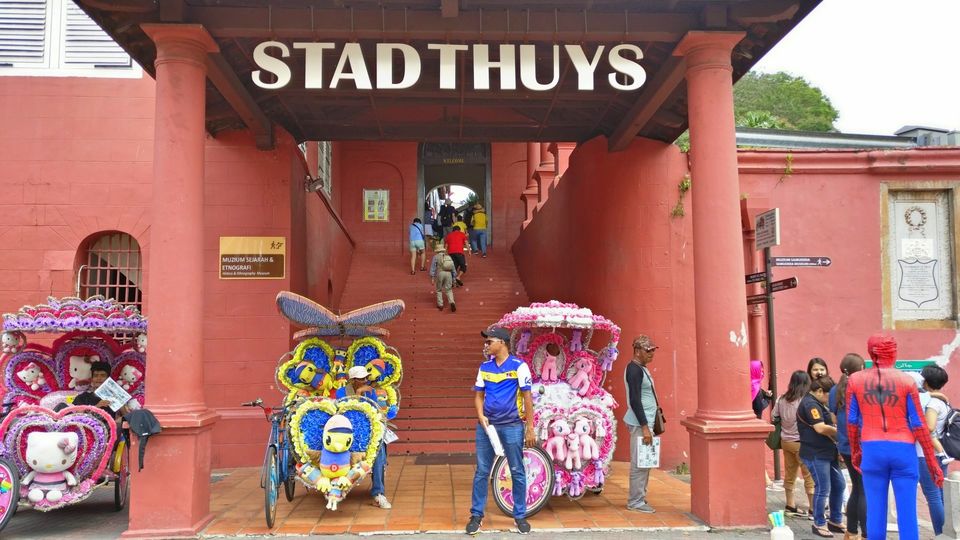 Getting to Melaka -
Melaka has its own International airport but with a limited number of flights.
The major airport is the International airport at Kuala Lumpur and is 145 km away. Private vehicles, cabs or buses are the means of transport between these 2 cities.
This post was originally published on Currylines
and more details can be found there.
I hope this story interested you. I would love to hear your thoughts in the comments. Find more of my stories on my Instagram @currylines and my Facebook Page @currylines
Frequent Searches Leading To This Page:-
Cheap Malaysia Packages, Family Package For Malaysia, Malaysia Family Holiday Packages, Malaysia Sightseeing Tours, Malaysia City Tour Package, Famous Tourist Places In Malaysia