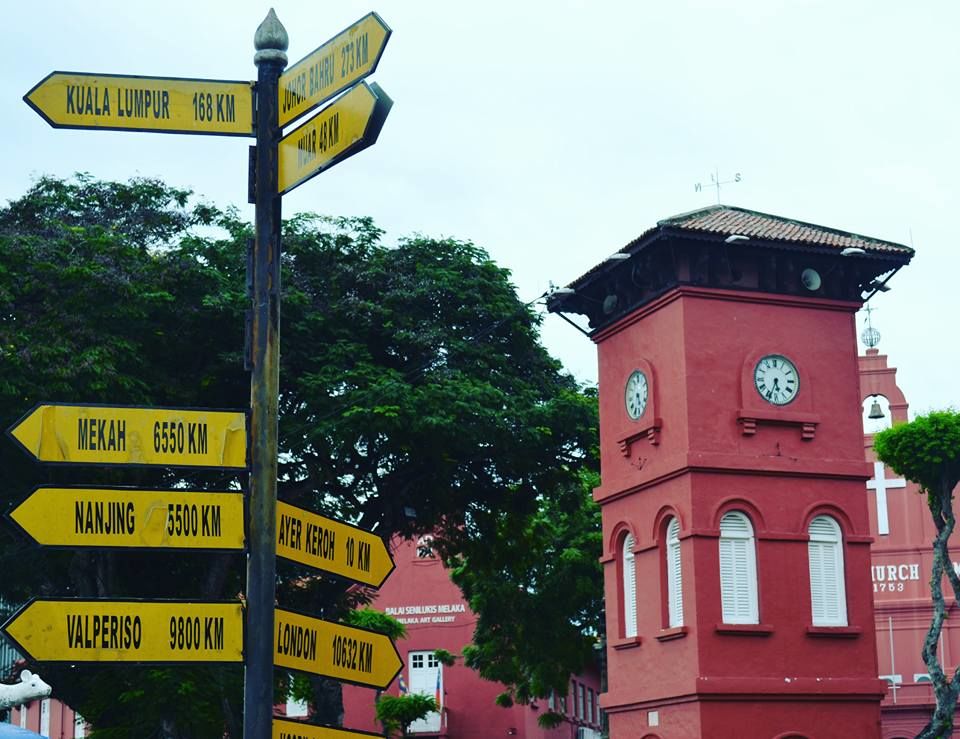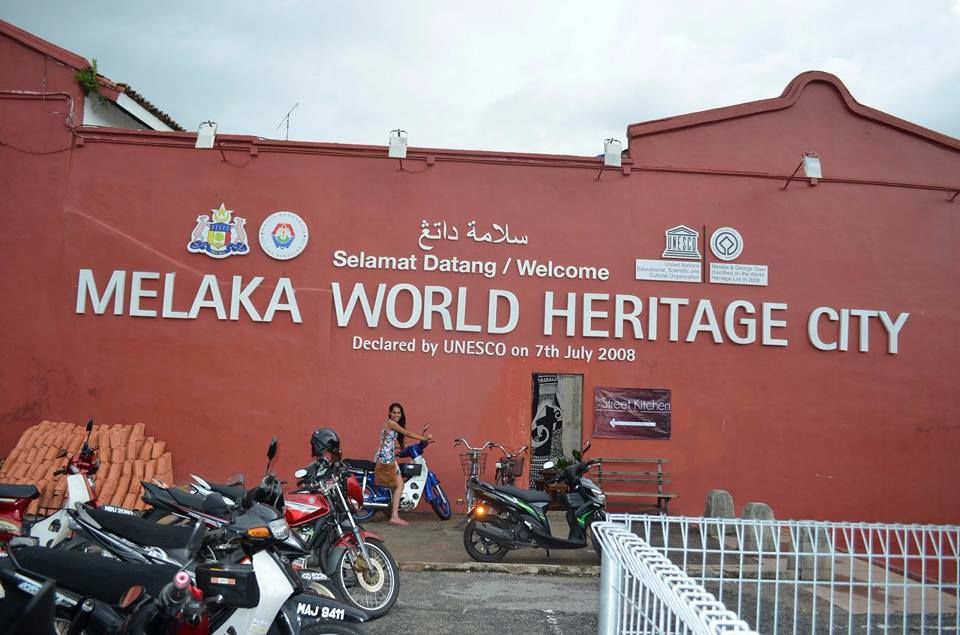 I would simply start by saying your Malaysian trip is not complete untill you've visited Malacca ( Melaka) . Having said that I Hope the inner columbus of many globetrotters reading this article would make a point to add this beautiful city as the part of their Malaysia/Singapore itinerary. As I highly recommend ,this city mesmerises your senses and is a treat to your visual display.Let me start off on how I managed a 40$ .That being said it definitely excludes food and drinks because according to me we can never estimate on food and drinks.On a lighter note estimating on food is a sin for a foodie like me and I know many foodies will vouch for that.The 40$ would be distributed across the travel from Kuala Lampur, stay(considered per person sharing a double room) and sightseeing for per person for 2 days and a night.
To start off my better half and I planned on adding Malacca to our itinerary only after we landed in Malaysia and spent three good days there.Impromptu trips are always the best trips.Lucky to have great Airbnb hosts who convinced us to go city hopping to Malacca and I must say Its the best decision we made.So on reading several travel sites I listed down my plan and found the shortest and cheapest way to reach Malacca.Although most of the sites suggested the easy way of hiring a taxi,but it's an expensive means of commute so I thought why not do it the local way.So we finally ended up taking a train and a bus from TBS (Terminal Bersepadu Selatan)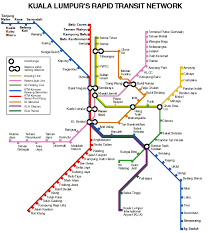 We set an alarm at 6 in the morning only to end up waking at 8.We rushed and headed to KL Sentral station as we were put up in Bukit Bintang. From KL Sentral station we took the KTM Komuter Train to The Bandar Tasik Selatan station priced around 3-4 ringgits (Less than a dollar).The Bandar Tasik Selatan where TBS is located is only FOUR Station away from KL Sentral. The journey from KL Sentral to TBS using KTM Komuter train will take about 17 minutes. The frequency of trains are 15mins

NOTE: On reaching TBS train station alight the train and walk towards the main entrance. For KTM Komuter Train, from the main entrance, take the pedestrian link bridge towards Terminal Bersepadu Selatan TBS main building.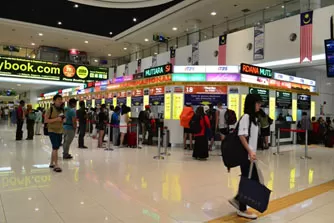 On reaching inside TBS we encountered people waiting in queues to buy their tickets.One can book their bus tickets online to Malacca (http://www.easybook.com/) however I preferred going to TBS counter and purchasing the tickets so that we had the liberty not to stick to a pre defined scheduled and hence not facing a risk of missing a bus.Purchasing a ticket at TBS is simple as there are around 20 ticket vending desks and you have the option to choose between the bus operator based on the time you are travelling.I preferred travelling by the bus operator named Delima as there were many buses which where departing in a shorter time interval and seemed punctual.Also the buses were clean, luxurious and had comfortable reclining seats.I ended up paying 12 ringgits (3 USD) for the ticket however the rates vary for different bus operators.

The journey took us around 3.5-4 hours(depending on the traffic).It's always better to leave earlier in the morning to avoid peak traffic .We reached our destination that was Melaka Sentral bus station .Once at Melaka Sentral we had two options to take,either the local bus or a taxi.We took a taxi which charged us 15 Ringgits(less than 3USD) and took me 15mins to reach Jalan Merdeka Square (where the clock Tower, Christ Church etc are).The reason I opted for a taxi was because the buses were not departing at frequent time intervals.Although the ride by the bus is more colourful as you get a tour of the entire city and costs just 1 ringgit, I saved that for my return journey back to Melaka Sentral bus station.

Note : The bus journey back to the Melaka Sentral bus station from Jalan Merdeka Square took an hour although it is a 15 mins journey.The bus travels around the town picking up local passengers.

As soon as you set your feet in Jalan Merdeka Square you see a vibrant city hustling with tourists, tuk-tuk's and blaring music.
For our stay we choose Aldy's Hotel Stadhyus and I would highly recommend this hotel as it is a stone throw away to all the major tourist attractions including the Jonker street and has a very vintage renaissance feel to it ,at a super affordable price.Most of Malacca's attractions can be covered by foot.I have mentioned a few places of visit below: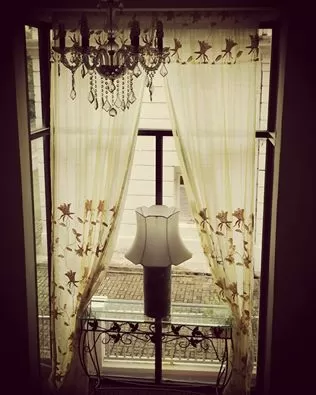 St. Paul's hill: A beautiful church up top a hill assures you a breathtaking view of the city and a tour of a ruined down sacred place consisting a temporary tomb of St.Francis Xavier (who's miraculous undecayed body was bought to my hometown Goa ,India and is still there) and tombstones of many noble Dutch men.
Walking down the St paul's hill will lead the fort A Famosa it is a 16th century Portuguese fortress. It is among the oldest surviving European architectural remains in south east Asia.Luckily the day I visited this place there was a vintage volkswagen beetle rally that was a treat to my eyes.

The Malacca Sultanate Palace: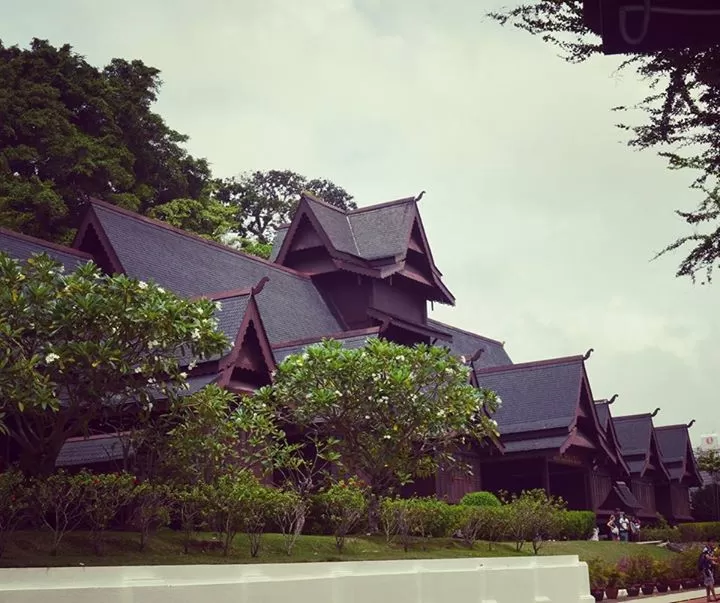 The Malacca Sultanate Palace is actually a replica of the structure which was built by the already extinct sultanate of Malacca. The sultanate of Malacca was the ruler of the city before the arrival of the Portuguese in the 1500s.There is an entry fee to the museum

Jonker Street:
Jonker Street is a street in Chinatown that is famous for it's night market on Fridays and Saturdays that sells everything from food to cheap keepsakes sold mostly by the locals. It's always nice to plan a tour keeping these days in mind.

Jalan Merdeka square:
Jalan Merdeka square or the Dutch square has most of the attractions situated around it.From the Christ church ,to the Victoria Fountain and the Stadthyus Museum located around it.It is also the starting point for the tuk-tuk rides.

Malacca River:
You can stroll down the romantic pathway of the Malacca river or take a boat ride across or simply sit in one of the pubs admiring the scenic view of houses and shops on the side of the river with beautiful wall arts.Don't forget to check the 13 meter water wheel of the Malacca Sultanate and the Middleburg Bastion fort built by the Portuguese on the edge of the river.

The other things to do in Malacca is to visit the The Baba & Nyonya Museum, take a ride at the Menara Taming Sari tower where the ride offers you a spectacular and panoramic view of Malacca from a height of 80 metres which comes with a fee ,visit the Maritime Museum which is a replica of a huge ship,or go for retail therapy at the Pesar Besar Market where you would find almost everything under one roof.If none of these interest you ,sit by the river and breath in the freshness of the city or take a stroll across the narrow by lanes of the city which will take you back in time.I tell you it's totally worth it!!!