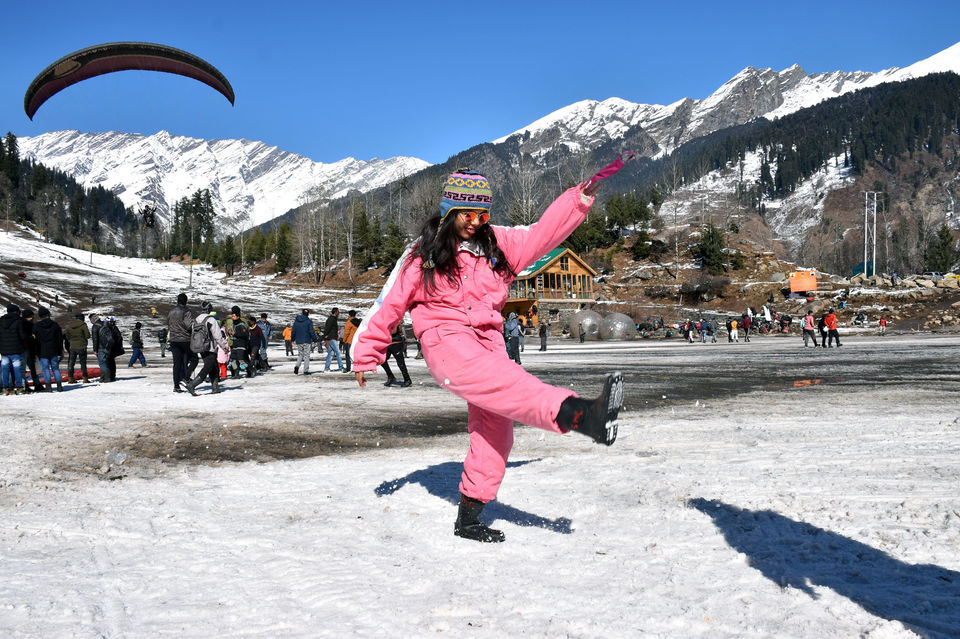 So here we were sipping some tea, on a slope of a mountain that's covered with a blanket of snow at 8,500 feet above sea level. Surrounding us were a multitude of activities such as paragliding, snow tube riding, ice skating and many more in Solang Valley. This scene was worth capturing not only by the camera but also by burning it in memory. Now if you look at us, we are wearing extreme thermal wear which is nothing short of spacesuits straight out of NASA, minus the helmets of course. It felt like we just landed out of a space shuttle. It's easier said than done that we are here, but it sure took a lot of itinerary and motivation to reach this destination. So let's begin with that.
The Planning Stage
It all started with a small group of 4 individuals to visit Dehradun before the end of 2020, after such a long period of isolation and lack of in person interaction, which we were looking forward to, we just wanted to welcome the new year with a fresh start. But here's where it started to become complex. Two more friends wanted to join us on this trip and that was great, however, they were from Bangalore, which is about 1800 Kilometers from us and not to mention the ongoing curfews and restrictions in various cities along the route. So before we even set off on this journey, careful planning was required that was sure for now. We had to make sure our time would be utilized optimally and none of it was wasted. Everything must be done on a timed schedule. And along these plans our destination shifted to Manali, which was one of the best things that happened in 2020.
Second task was to figure out where to head to and our stays that fit within our budget. Obviously, we went through many options, from the most expensive ones to overbooked hotels, we explored it all but we couldn't find anything that matches our requirements and budget. Yet again we were distraught, we started thinking our plan might've been cancelled and here came our Saviours, our tour guides Ankita and Pragya, who planned out everything for us. They knew the places already and the best thing? They were available. All got sorted out, tickets were booked, reservations were made, the destination was finalized and we were ready to roll. With 3 more individuals now, including our guides.
A Get Together
Before I begin telling how we met, let me take you back a little. All of us were from different walkways of life, wrong walkways for us at least. But, somehow we all found our serenity and passion in designing and animation. All of our previous struggles to find that destination of creativity bonded us very strongly.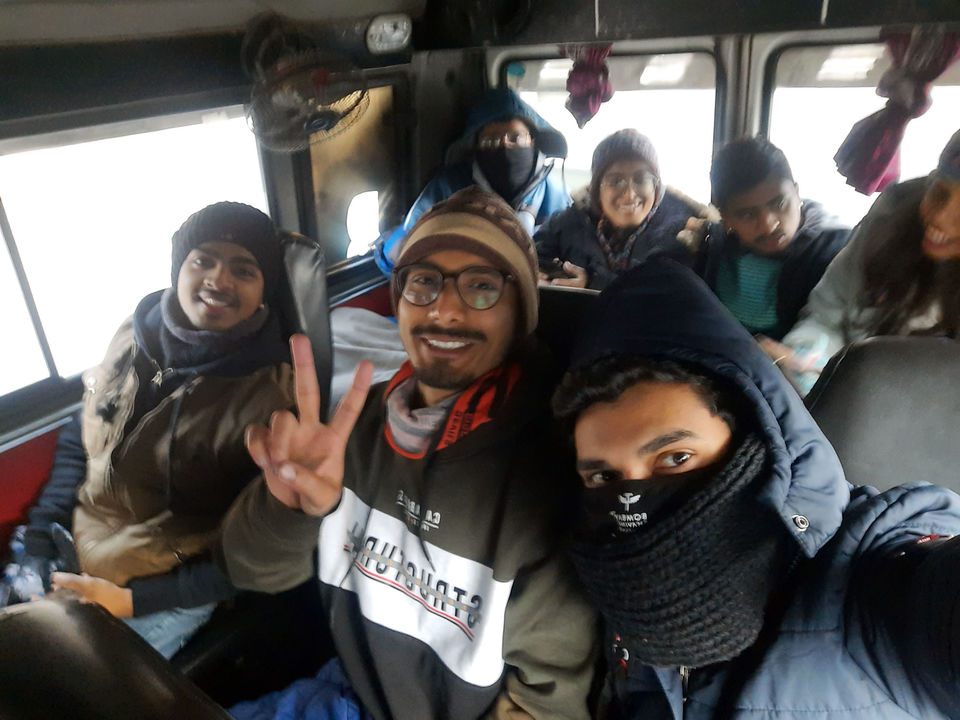 So here we were waiting for our little pick up bus. Excitement was through the roof. We went there quite early and waited for our pickup. Finally, it was the day that we'd once again meet our friends that we haven't seen over 3 years. As our bus travelled to their pickup spot, I'll be honest I couldn't see anything as it was extremely foggy that night, but as we stepped outside of the bus we were attacked by heartfelt hugs coming straight from the soul. It was our friends, with full winter gear and masks on, although they were wearing masks it was easy to identify each one of them. I guess you can say that's what deep friendship
Is. While I'm at it, let me tell you extra layers of warm clothes are always a bonus during these winter times. After our emotional rejoice, we settled on our seats and at this point we were a bit calm and started talking in a low voice. Here we were, 12 friends heading to Manali. For the next 10 hours we'd be in this mini bus, except for eating and restroom breaks of course.
Snow, Snow Everywhere
Day 1 , Old Manali & Hadimda Temple
We reached our hotel at around 9 in the morning, after such a long trip we all needed some rest, after getting some rest we were ready for our Manali mission, to head to Old Manali. We reached the Old Manali Market and what a beautiful day, sun shining the soothing sunlight upon us. There were some small vendors selling fast food from tiny hut shaped structures, just adjacent to Manalsu River. From here you can have a beautiful view of fresh snow on the river bed,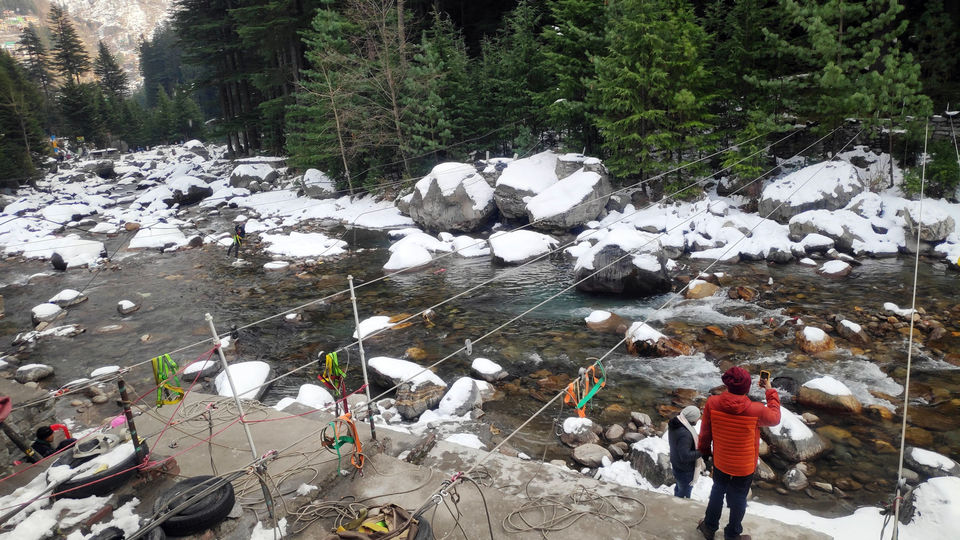 this place also held some fun activities. After being loaded up on some tasty but not so healthy food from one of these shops we proceeded for Hadimba temple.
Hadimba temple is a protected monument at the top of the mountain. While it was on the top there were some small eateries to grab a quick bite, which we did obviously. Now for the temple there were some stairs to reach the temple, however they were extremely slippery due to the snow and as you can predict some of us slipped a couple of times, I won't say who but we did. Somehow we managed to climb up top and there was this 3 story tall wooden temple, which looks almost like a Japanese Pagoda. A bit further there was a Ghatotkach Temple. Unfortunately, we were unable to visit that one as it was already dusk and at such an altitude, daylight disappears in mere minutes so we had no choice but to return to our base. But, there's always a positive aspect to every sad story, as we returned to our base we enjoyed some comfort foods like Pakoras and Maggie with a cup of hot tea in such a cold weather, in my book that's a happy ending to a day.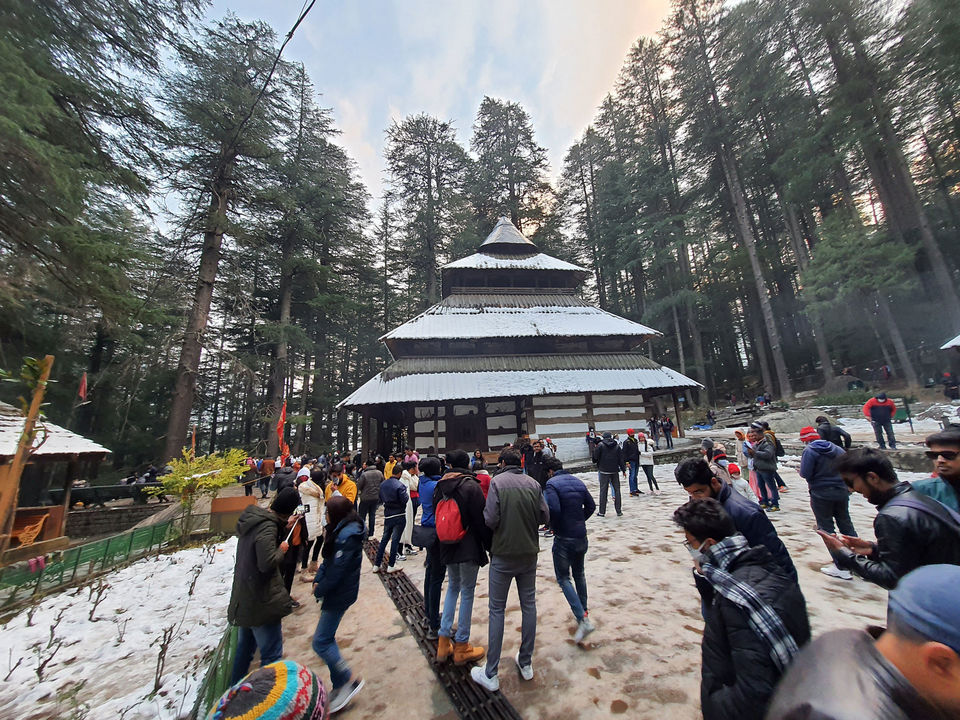 We decided to head to the night market and with a small trek to Mall Road we reached there. This place was full of people and happening, everyone was there for their souvenir shopping I suppose. I remember before coming to Manali somebody told me that cash is the only go to means here, so then 2 of our friends were standing in the queue for an ATM, we made them designated accountants and the rest of us were focused on more important tasks like stuffing our mouths with fast-food. I won't say much of this but I will say one thing, you must be a skilled bargainer here, which we were not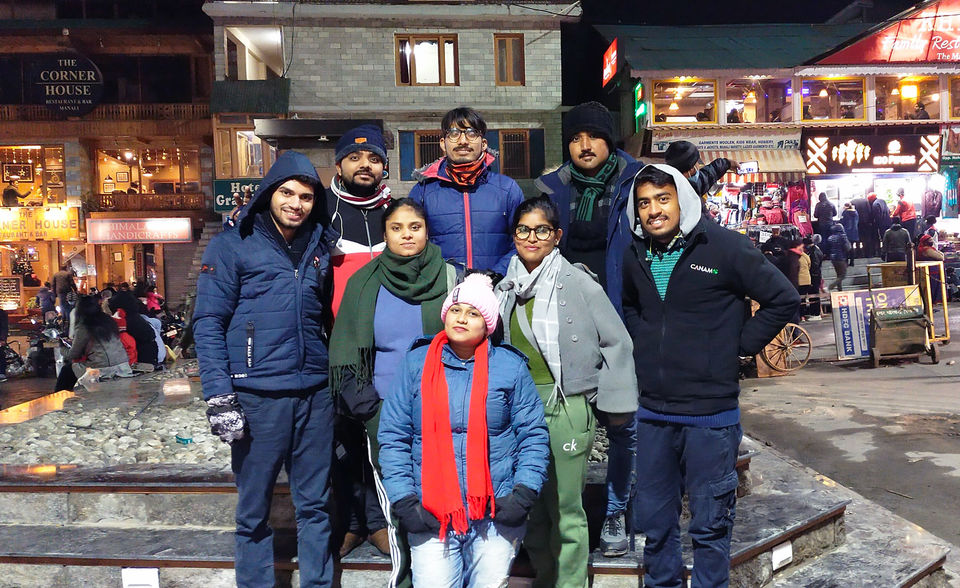 Day 2 : Solang Valley
As we moved further for Solang Valley, a local told us about the cold harsh weather. Our tour guide suggested we should pick up some snow clothing, which not only protected us against cold but also kept our woolens dry and gave us an ease of mind while engaging in activities. So at the next stop when we halted for a meal at a restaurant called "Beas Sangam" we rented some clothes. Rs 250/- each for around 5-6 hours, not a bad deal in my opinion.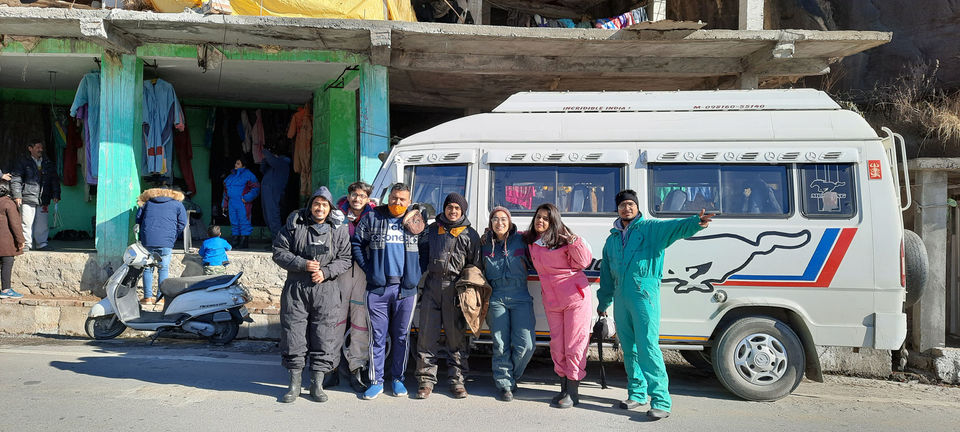 So what was Solang Valley? An enormous place covered in a sheet of snow, surrounded by mountains and you guessed it, covered with snow. This entire place was a hub for various activities. For the snowy fun there was skating and tube ride down the slopes and as for sightseeing there was a rope way up from the bottom of the mountain, also for the thrill seekers, paragliding. Now you can expect from my tone I didn't participate in the latter. While we were exploring this place we came across a temple at the bottom of the ropeway station called "Naag Temple", and as the name suggests it had some connection with Lord Shiva and his serpents. As a group of people who never saw snow before it was both chaotic and exciting for us, as a snow fight broke through and momentarily friendship subsided. Anyway... After that we enjoyed some much needed hot tea and calmly soaked in the site while our traveller was parked at some distance and mind you all of this was amidst traffic.
Day 3 : New year eve & Shopping
It was New Year's Eve, the day we've all been waiting for. At first, we had a plan that we'd head to Rohtang in the morning, but I guess it wouldn't be an Unknown Geek's Trip without something going wrong and so it did. The road to Rohtang was closed off due to heavy snowfall the previous night, but we couldn't fight nature so we stepped into Old Manali. But surprises were here as well, it was packed, I guess we were not the only one who wanted to spend their new year's in the mountains. It felt like the place was maxed out. So with that reality, we explored and since there were some girls in our groups who couldn't resist shopping, an impulsive shopping spree began. Some of us bought Kashmiri scarfs, Tibetian flags and I myself got a sick Tiger cap. This market was just adjacent to Manali's bus terminal. After all this we went back to the hotel for a New Year's night party.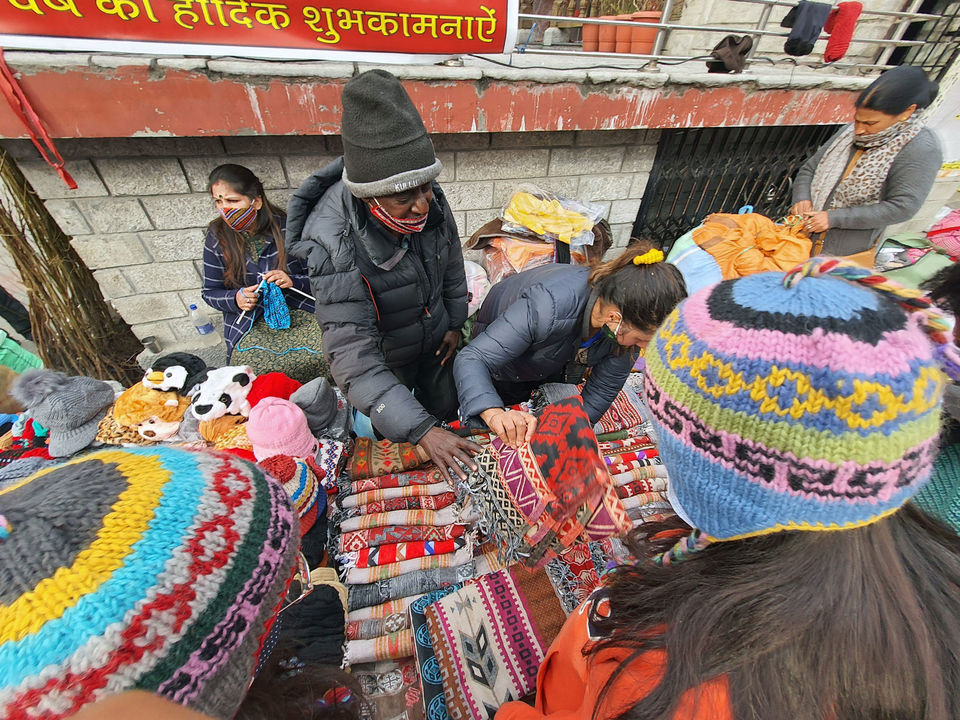 Back to hotel :
Following our rest after the shopping, our guides laid out a plan for a bonfire with a music system. We also wanted to surprise one of our friends for her birthday's celebration. But, let me tell you it isn't easy hiding a cake from others in open gardens. So 3 of us decided to make it look like we bought the cake for the New Years' and somehow it worked, I don't know how but it just did. Our friends bought into this idea and I'm still surprised by that, but as for the cake only 3 of us knew what it was for.
Bonfire Time :
So picture this, our roof is the pitch black sky with billions of stars shining through and underneath it we're all sitting in cold weather around a bonfire,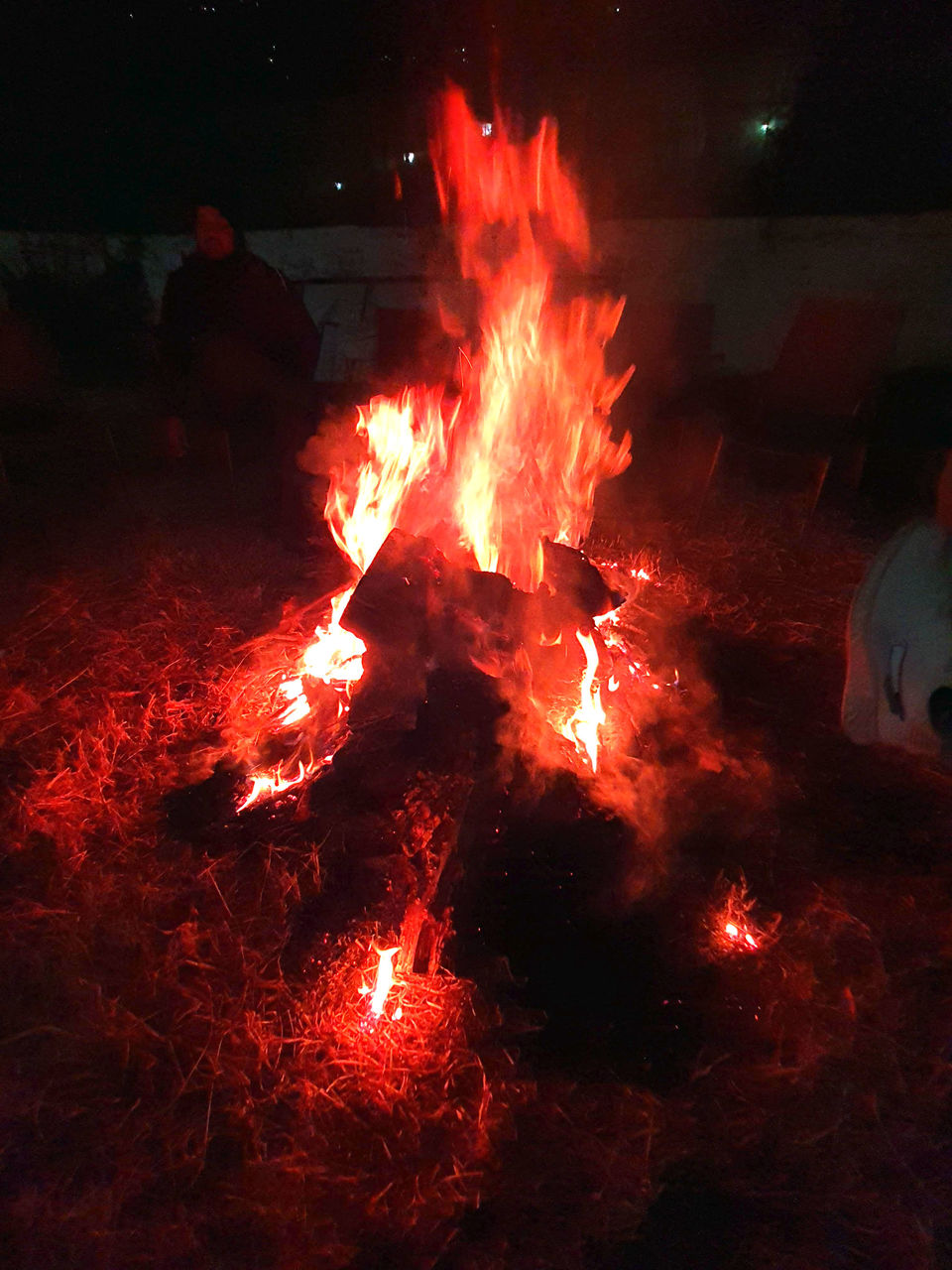 sharing new stories and reminiscing the old days. This was our new years' eve, couldn't have asked for it to be any better. We surprised our friend with her birthday cake and rest of the friends too. We celebrated it by cutting the cake and using it as cold cream to protect our friends from such harsh weather. Remember our animal caps we bought earlier? Well, somehow, someway I don't know how we ended up expressing our respective animals' mating calls. No question on that. But it was followed by our marvelous, Oscar winning acting for Naruto, Harry Potter characters and I don't want to toot my own horn but I think I'd win over them all. We were enjoying ourselves to the fullest and it was time to welcome the new year. We started the countdown and we were unable to control our excitement. 3…2...1 Happy NEW YEAR! As we cheered and welcomed 2021, we all were very thankful to be celebrating it with our friends who understood each other at such a deeper level.
After sometime we got a bit calm and were sitting around the bonfire when one of our friends played a song on friendship. The floodgates of our emotions bursted open, and all of our emotions rushed outside. Some of us even started weeping and went to bed early with a heavy heart and eyes, while others decided we'll sit around the fire until it fades to honor this invaluable and unfathomable moment. At around 2 AM the fire faded and we all silently went to sleep.
BACK TO PLACE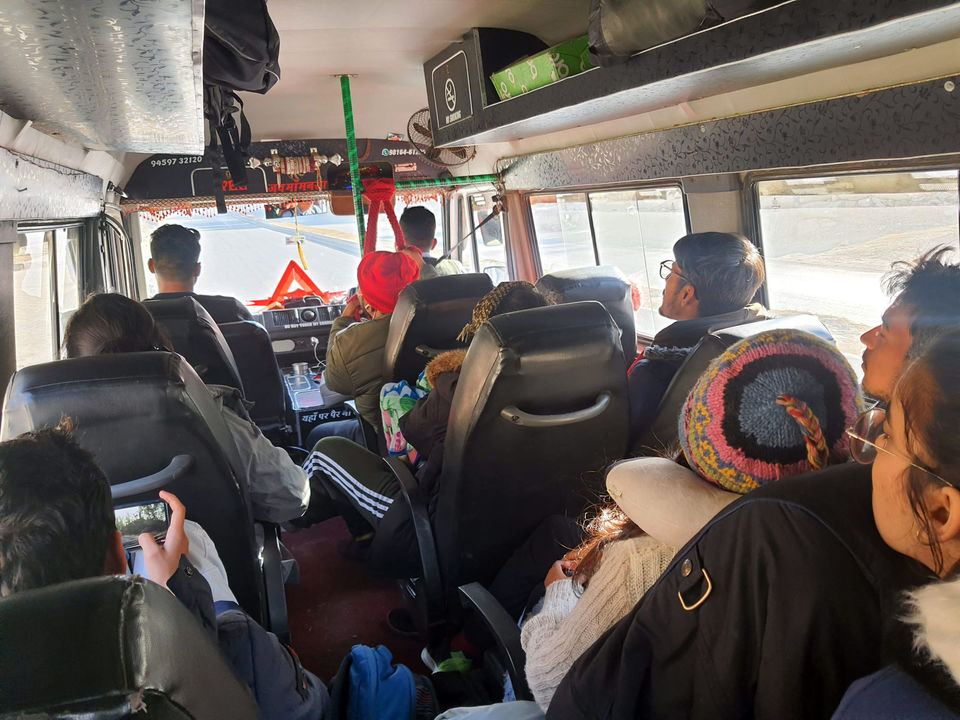 Next morning, some of us woke up early and some of us were still in the dreamland. I may or may not be one of them. After packing our bags and a shower, we were feeling refreshed and actually happy about our trip and the beautiful memories we had created. We sat down for our breakfast, which was Paranthas and hot tea. Being full and burping like an old person we settled on our seats in the traveller and started having our usual conversations as we slipped in the journey of 10 hours. Finally, our stops were here, one by one we said our final goodbyes to one another and headed to our same old lives.
It was only after some days of this journey that I started to feel such an intense emotion of loneliness that I can't describe in mere words, I started to miss my friends strongly which I had seen just 3 days ago. I learnt something after this trip that although love for true friends in itself is one of the most beautiful feelings you ever had.
Some important Links
Vlog of our whole trip made by our beloved friend "GaneshThisSide" =
Day : 1 , Day : 2 , Day : 3 Coming Soon!
Awesome Trip Illustrations by = Pularts
Our Enthusiastic Moment Capture = Freezing memories
Our Tour Guide Instagram page for any enquiries & stuff : Instagram Handle