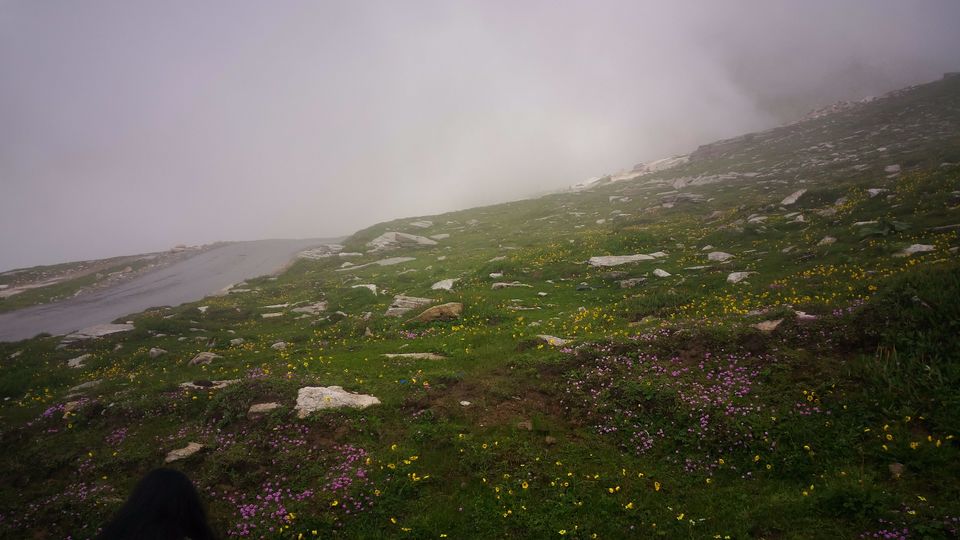 If something Good happens, Travel to Celebrate..If something Bad happens, Travel to Forget it...If nothing happens, Travel so that something happens..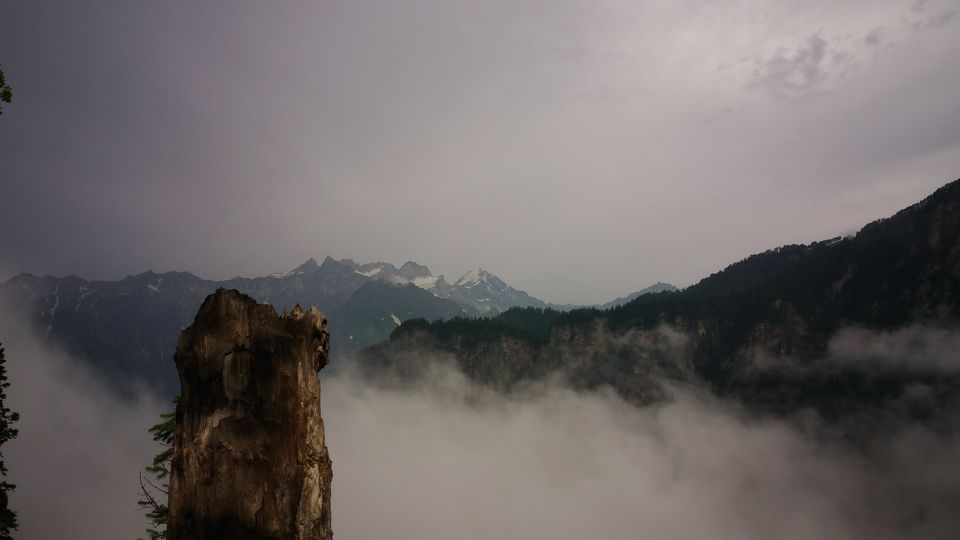 After the last Goa trip, we decided to plan for another girls only trip..Now the search hunt started. 25 year age is the most prettiest and adventureous age in your life i would say! You have a job in your hand(eventhough you didnt like it, afterall we are financially independent), You have got a wonderful gang of friends to roam around..You can make anything happen if you try..
No responsibilites..No strings attached..Totally enjoying the freedom of air you have. Living with your friends is such an amazing joyful life..Cracking jokes all the time, having fun, movies, small outings,cooking experiments, birthday celebrations, shoppings, music etc..They are really a second family to us..
So yeah..
Finally me and flatmates strictly engaged in Trip search..and we finally chose Manali trip..Now We researched for many trip sites but the package price they provide was too costly and we had only 5 days in our hand...So finally we decided to book package via MakeIndiaJourney..We contacted them and booked for the package. Package amount is 27000 for 4 people.
We booked our flight tickets (Air India @ 9.30pm from Kochi to Delhi and Indigo @ 6.30 from Delhi to Kochi, To and Fro Rs.12353 INR per head). For us it took around 35k totally per head for the whole Manali trip including flight + package (including stay) + shopping + adventureous sports. So save atleast 35k..
Mesmerized by the beauty of Manali in pictures, we all were super excited and waiting for the big day. Finally the most awaited day is here....July 29th wednesday 2016..Yo..Manali dreams are going to fulill..Only a couple of hours remaining between us and Manali trip..We packed our bags with tshirts, jeans, sweaters, caps, glasses, enough biscuits and other eatables, id prrofs, flight ticktets etc...We are a gang of 4 people including my 2 flatmates and my office friend..
Yeah so we reach kochi airport by around 8pm and entered flight at around 9.30pm.AirIndia took only 3 hrs excatly to reach Delhi Airport..Late night Dinner they served was kinda yummy maybe bcoz we all were starving.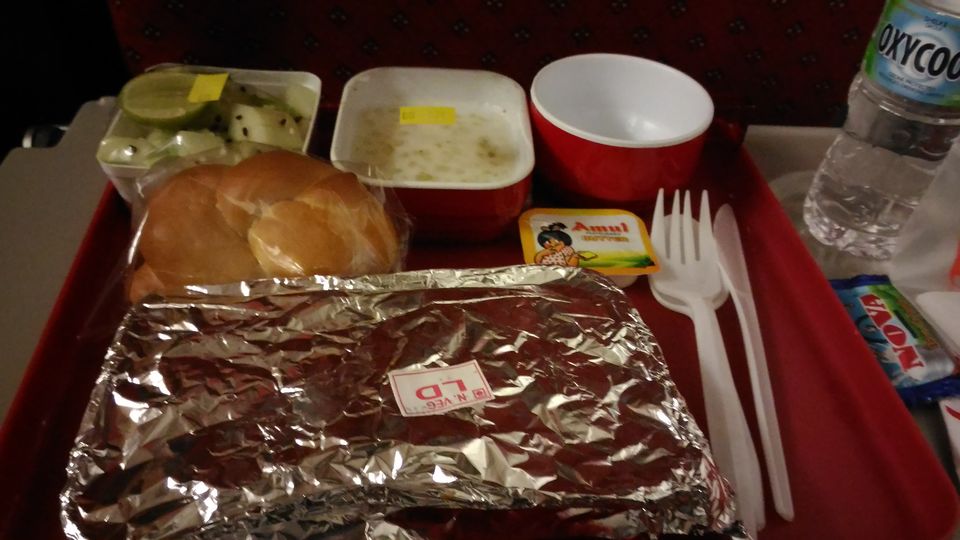 Reached Delhi Airport by around 12.30am.. 'MakeInidaJourney' had arranged a cab and driver throughout our Manali trip..And they gave the cab driver details on day before travel day..We contacted the driver and he picked us from airport by around 5am on 30th..So from 12.30am to 5am, we simply spent the time in airport..At 5.30am he came and we entered the cab. It will take around 580km from Delhi to Manali via NH44 road. When we had conversation with driver, he seems to be soo quiet..He was not at all answering to our curious questions and his voice was not audible and clear to me..I really felt angry and got sad..Oh God..This is the one with which we gonna travel for the next few days?!!
Day 1 of Manali trip: Road Travel : Delhi- Haryana- Chandigarh- Punjab- Kullu- Manali
Our Journey started at 5.30am and by around 7am the driver stopped at one Haveli on the roadside in Haryana and told us to have breakfast and also to give the package cash of around Rs. 5000 INR to him(This 5k was included in package and should be given to driver). After receiving the cash he seemed to be happy. Dont know why he was behaving very indifferently.
Bitten by the hunger, we went to that Haveli and had Tea and Dosa. It was really costly there and Dosa didnt satisfied my taste buds.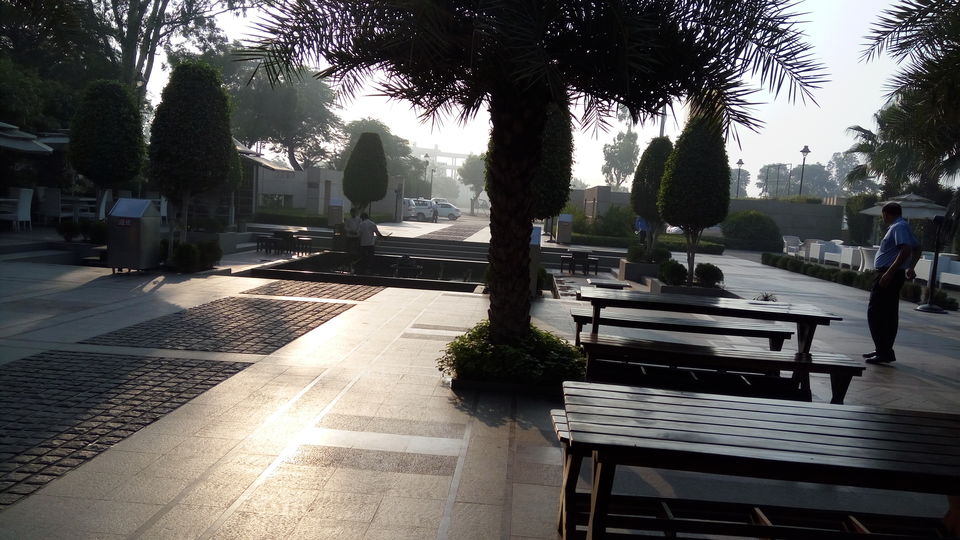 Again we continued our journey..We started playing songs in our mobiles to break the silence in the car. When we went to Goa last time, the cab driver was soo good and he was explaining alot about Goa history and about Local things. It really feels good to hear and explore the things in a place from the locals itself. You will get a lot of information. But this driver, he was soo damn strange. Grr..!
We went via Haryana, Punjab, Kurukshetra, Ambala, Chandigarh..One should really know driving while you drove across Himachal Pradesh..Road is soo dangerous and many curves and turns everywhere. We had lunch from one Dhaba in Sundar Nagar. One thing to be noted is that you can find only Dhabas everywhere. After Lunch, again we continued our journey and we were taking shifts regarding sitting in front seat in cab since the driver already made rule that 'Those who sit in front seat is not allowed to sleep'. Stupid!
After lunch it was my turn to sit in front and continued our Manali trip..Somewhere between Mandi and Kullu, the road issoo bad..And there is one tunnel where you will pass though..I was partially sleepy and suddenly i felt like light was gone and then I understood that we were going inside tunnel road :D That was coool..And at around 6pm we passed kullu.
On the way, we could see a board with 'River Rafting' and we stopped there and enquired about the same. The man at the counter told Rafting will start at mrng 8.30am-5.30pm and its closed for that day. So we told him we will come back on Sunday for doing Rafting. He said its Rs.500 INR for per person for 3km rafting. We decided to do it once we return back from Manali on Sunday..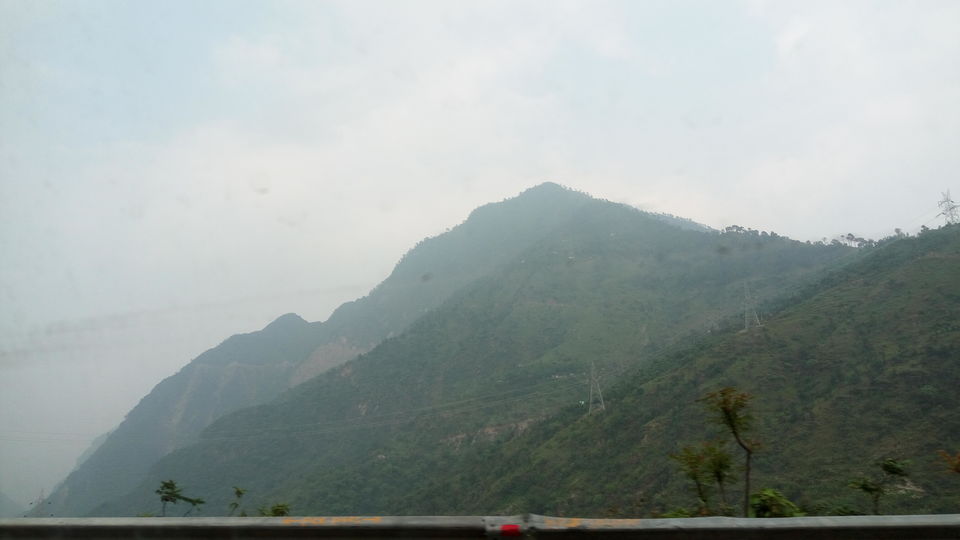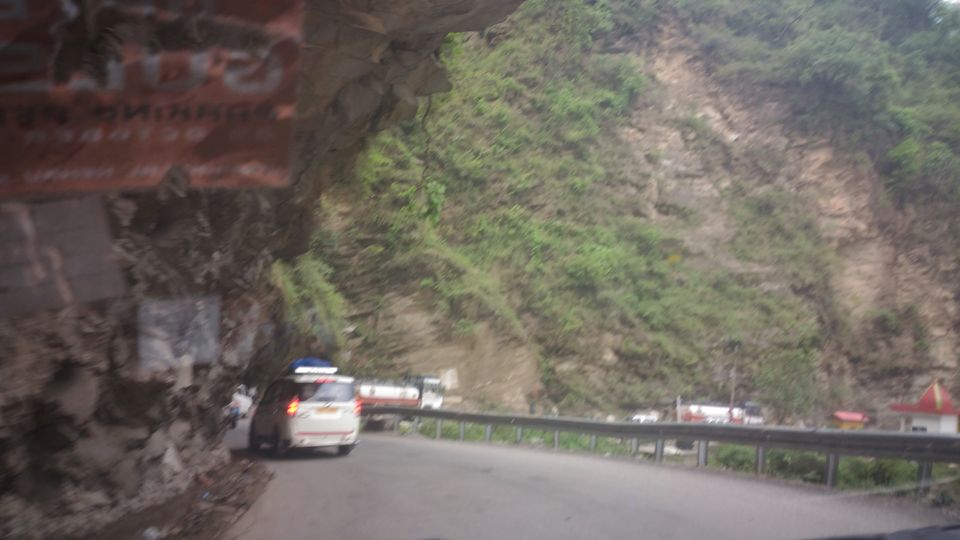 And we continued the jouney....At one police checking point in Manali, some ladies approached us for selling many fruits..We bought blueberries and almond fruit..I was tasting it for the first time and was sooo fresh and tasty...each box cost Rs. 10 only..And Finally we Reached our Hotel Him Regency in Manali by around 8pm.
The hotel was around 500m from Mall Road which is the main shopping destination in Manali. We checked in and went to sleep. It was really tiring day..Whole day travel..I must say this - Copy films or good songs to your mobile and take laptop with you if possible to kill time for this longg drive on your Manali trip.
Since the driver told that he wont drive us to Rohtang Pass(Thank God, we were damn bored with him), he made arrangements for another driver to drove us to Rohtang Pass(Here totally we paid 6000 for new driver for 1 day charge and snowdress). We wake up at 6am in morning and had breakfast from the hotel itself(3 day Breakfast and 3 day Dinner was free in the hotel). The new driver came and started jouney to the dream place Rohtang Pass. He stopped the cab at one snow dress shop and we all got inside this snow dress..Different colours are there and we can choose from that..I choose pink purple mix coloured snowdress and we bought boots, gloves and glasses which costs around 2100. Dont forget to take these boots, gloves and glasses once you come back from Rohtang.
We had tea from one opposite shop nearby snowdress shop and continued our journey.
This driver played some superrbb Hindi songs of Atif Aslam and others and the journey to Rohtang Top was soo awesome.
As we go up the mountains, Cold wind was blowing..Cool climate, enchanting sceneries...Glacing mountains which glaces when the sunlight strikes the snow..Mesmerized by the beautiful sceneries I felt soo peaceful...No worries..No Tensions..Calm Mind...The Real Voyage of Discovery consists not in seeking new landscapes , but in having new eyes..Suddenly Driver showed us one spot where 'Yeh Ishq Haayee' song from 'Jab we Met' was shoot. I was wondered seeing it because in the song you could see snow walls on both sides of road and here there was no snow wall.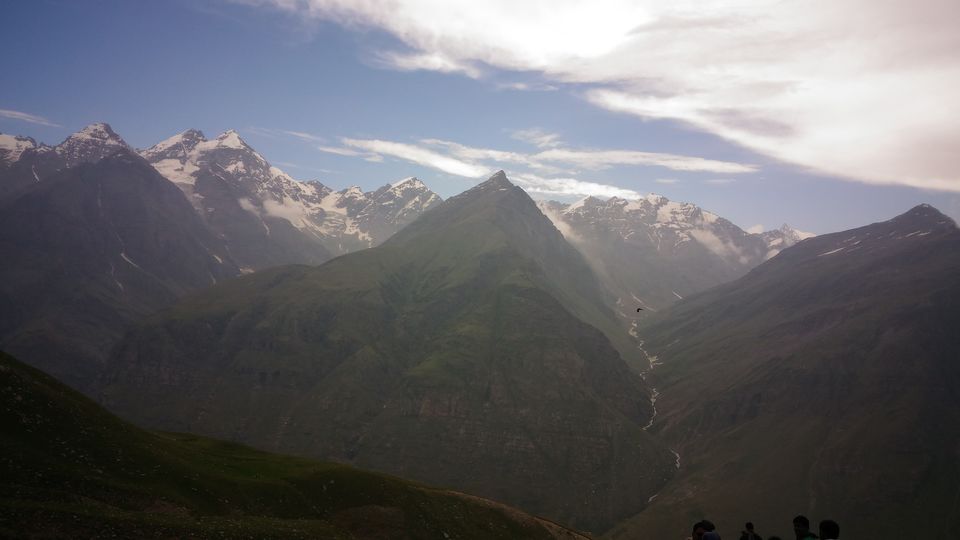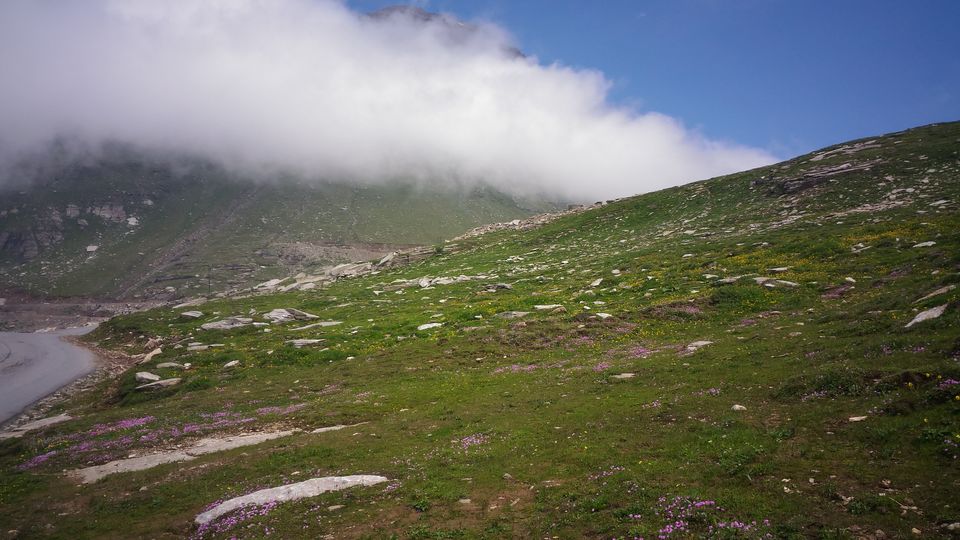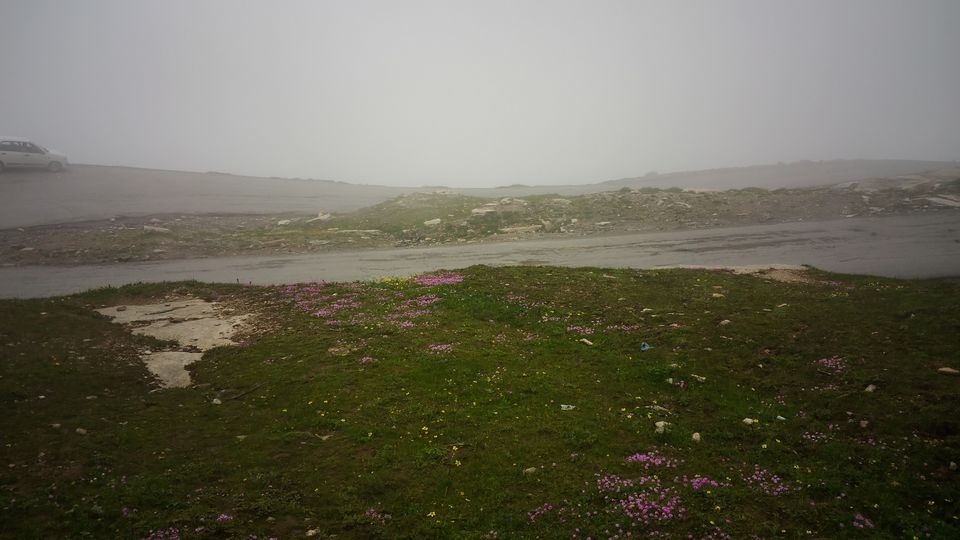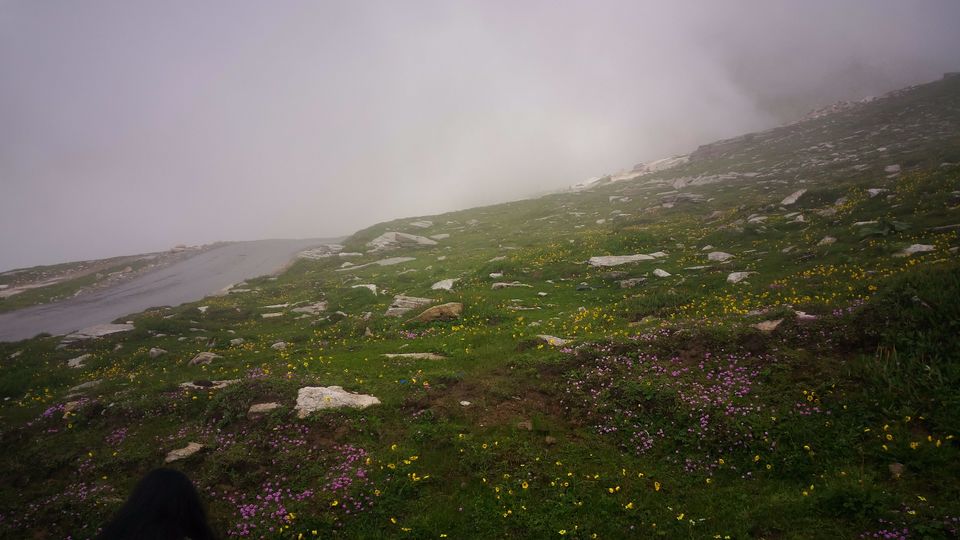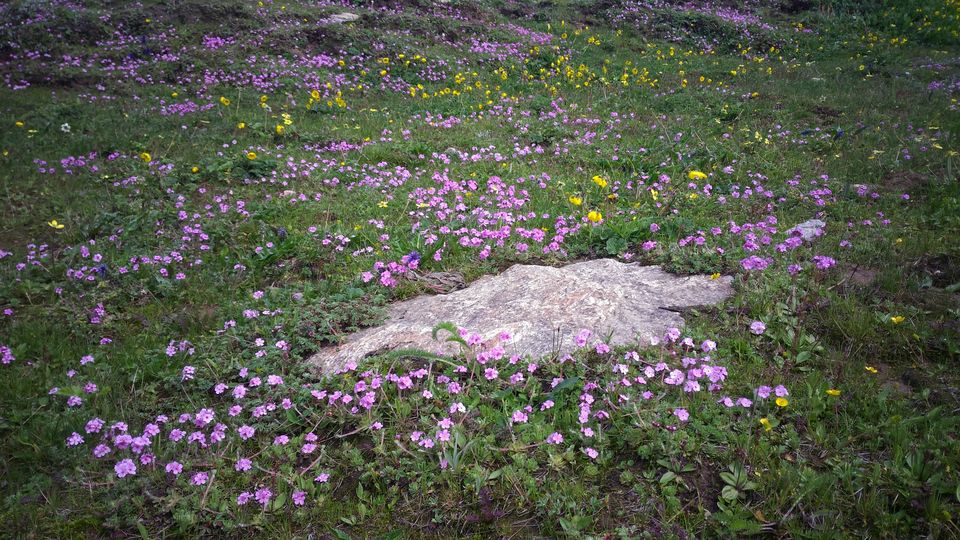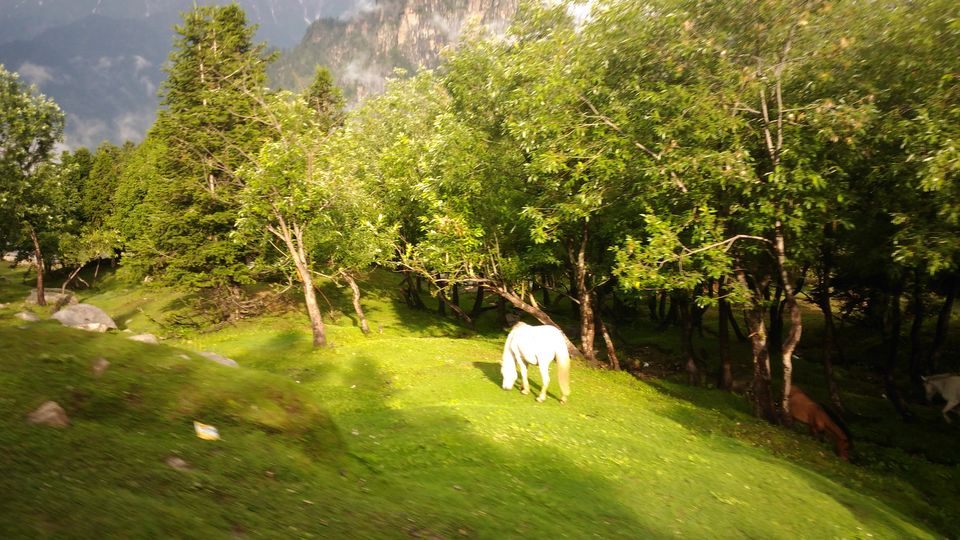 We clicked soo many pics and videos of all these valleys. Really wished that my eyes could have the recording power so that i can rewind whenever I want. Your cameras will be in busy mode while you pass these valleys. I could see many sceneries which I had seen in pics only..Really this drive to the top is always a feast for your eyes..Finally we reached the destination Rohtang Top. Driver bro told if we come by December - February time you can see the snow capped mountains everywhere. We walked towards Rohtang Top. It was soo slippery and slanting. There was snow there and becareful while walking..Otherwise you will slip. We made snowballs and threw each other and had fun there. It was scary when you slip in ice since it was slanting there. But the view was soo superb..Simply sit on the snow..Breath peacefully..Let your mind free from everything.. Enjoy the real beauty of nature...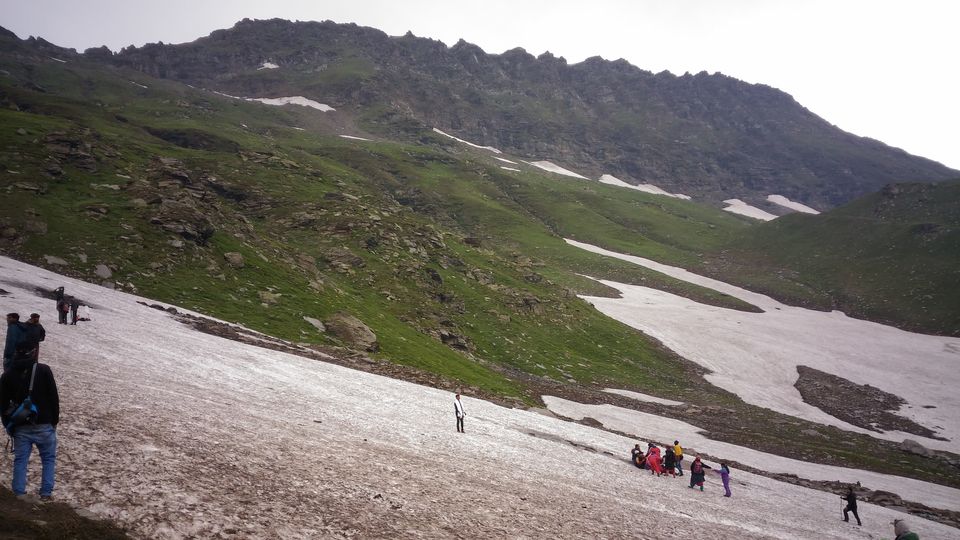 While we where mesmerised by the beauty of mountains, suddenly the Driver bro brought a DSLR cam with him and he took many pics of us..And we paid Rs.50 for each pic(hardcopy+softcopy, I took 19 pics).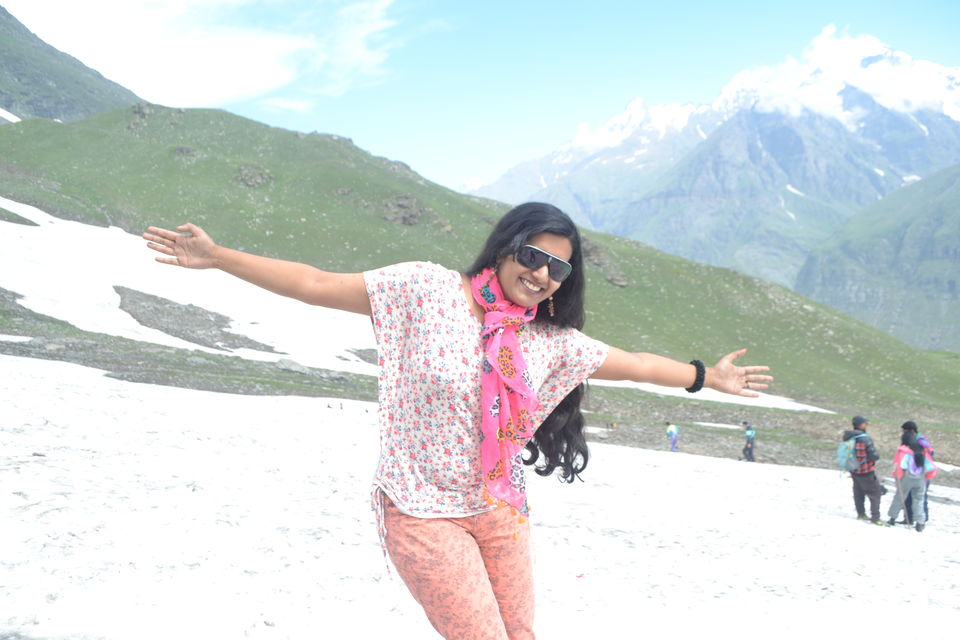 After spending enough time there, we retuned back to cab. He told if you go straight further and drove down the valley, you will reach some junction and from there the Leh-Ladakh road starts. (Leh- Ladakh is ma another dream destination).
We came down the valley and he stopped at one spot and told us to trek down that place and at the bottom end we will find a cab and should get shifted to that cab since the one we were travelling should go up the valley again with some other people. So we left the snowdress and gloves in that car(Dont leave boots, gloves and glasses there, we paid for it, take it with you..we forget abt it and we couldnt take it with us :( ). And we treked down towards the new cab. That treking was also cool. We got inside the new car and started the return journey. We stopped in between and click many pics.
Finally at Manali town, we paid for pics clicked in DSLR cam and a photographer man brought that hardcopies and softcopies to our Hotel. We reached hotel at 3pm and slept for sometime and then walked towards the Mall Road.
Mall Road is the main shopping destination in Manali. You can see multiple shops selling sweatshirts, jackets, kashmiri shawls, silver jewellery...And on road side shops, i bought 2 shawls with 100 rs each..It was soo cheap..Beware when you buy from Big Shops because they increase the cost for these shawls. So better to buy shawls from roadside itself. Also, we saw one Monastry there...But since it was evening time and little bit dark , we couldnt go inside....Also, you can see stalls with name embedded show case items where you can write your name in a painted wood .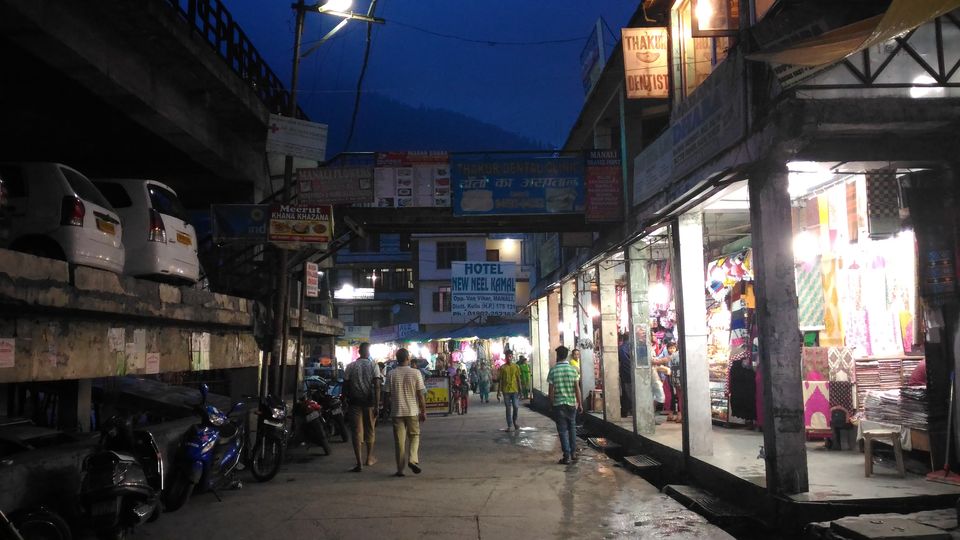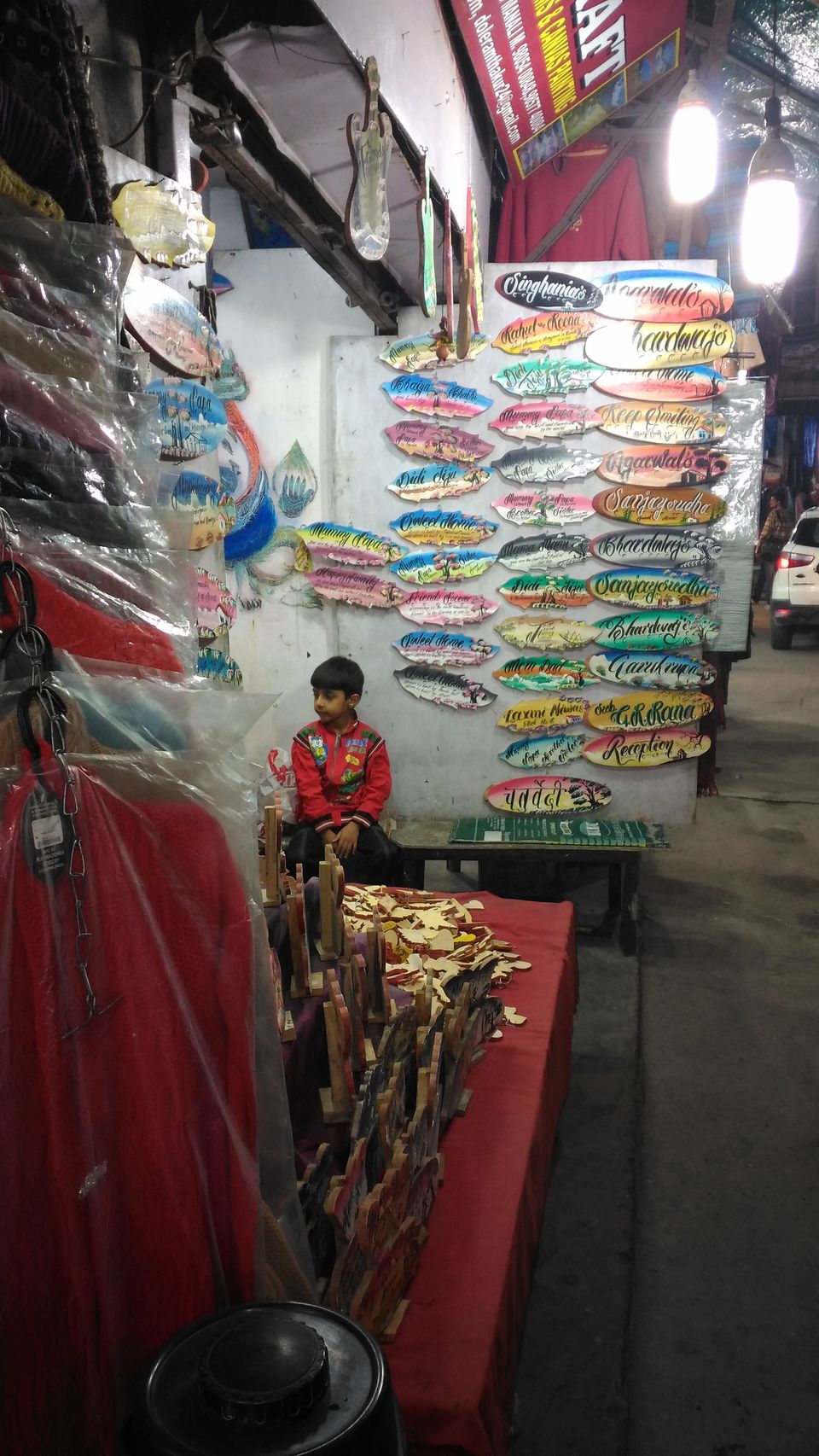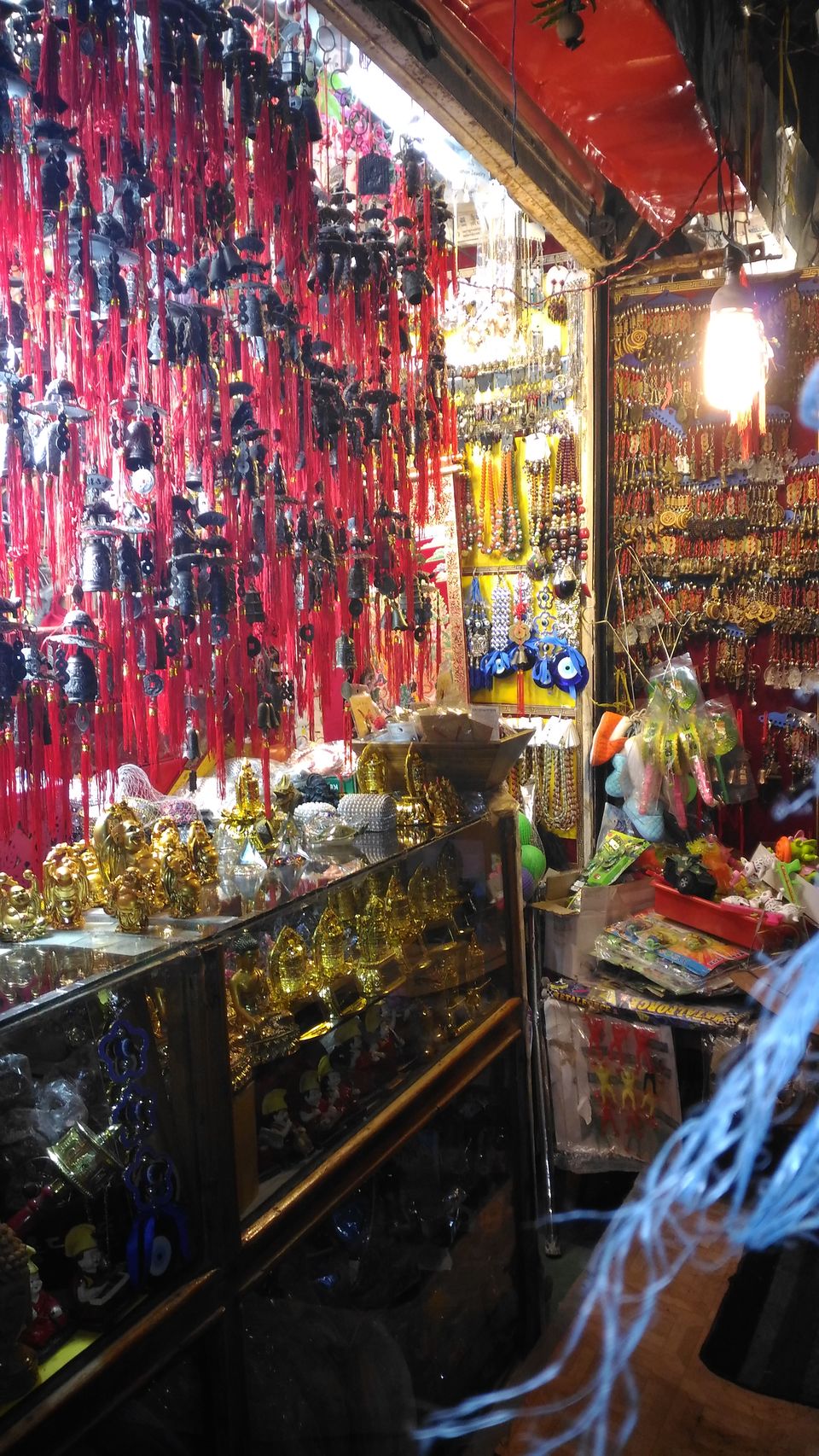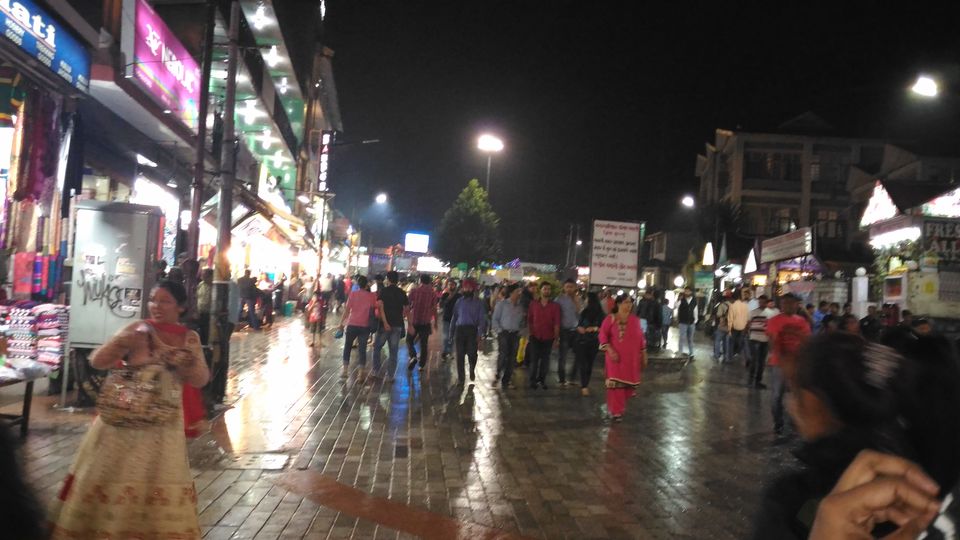 We had a discussion among us whether to bath in Hot Water Spring in Vashist and finally conclused that we will just dip our feets and hands and wont bath. Vashist temple is around 7 kms from our stay and the old boring driver (Haa he started talking!!)dropped us at one alighting point there in Vashist. He told us its 5 mins walk. We walked towards the temple. There are stalls and small food stalls on both sides. While we reach the temple, some ladies with rabbit in their hands suddenly approached us and gave us the rabbit in ur hands and told they will click pics. We agreed and clicked pics by holding the rabbit. You need to pay just Rs10 INR for the rabbit pic.
We entered temple and prayed infront of Vashist and the pandiji gave teertha to us. Then we could see boards 'Hot Water Spring' which is separate for both men and women. We entered the spring bath area and checked the water. It was reallyy hott so that you cant even dip your feet more than 5 seconds.
We came out of the temple and entered Ram Temple which is just nearby the Vashist.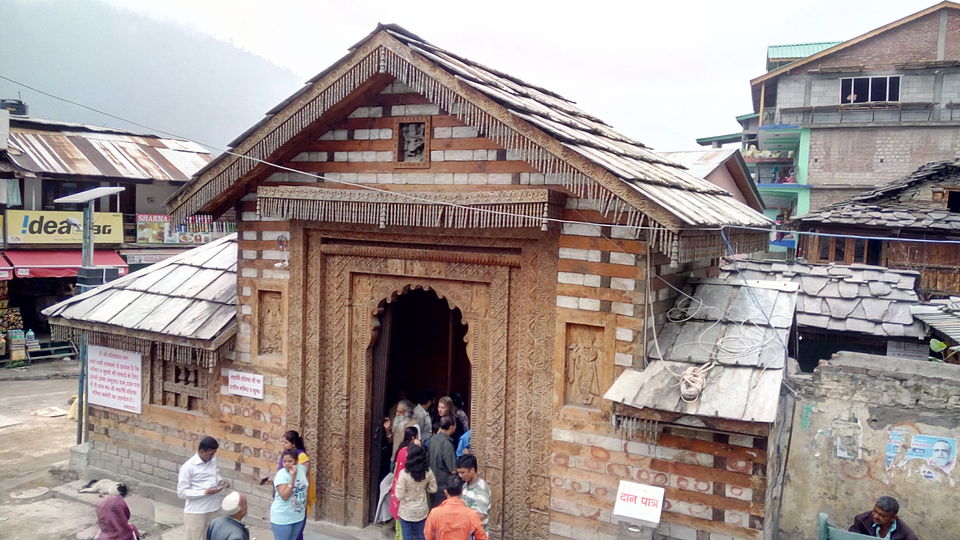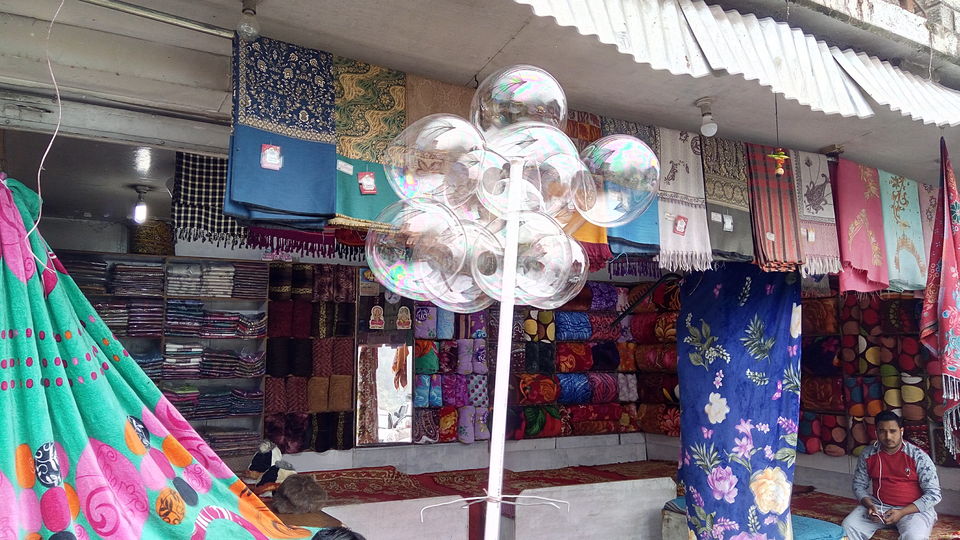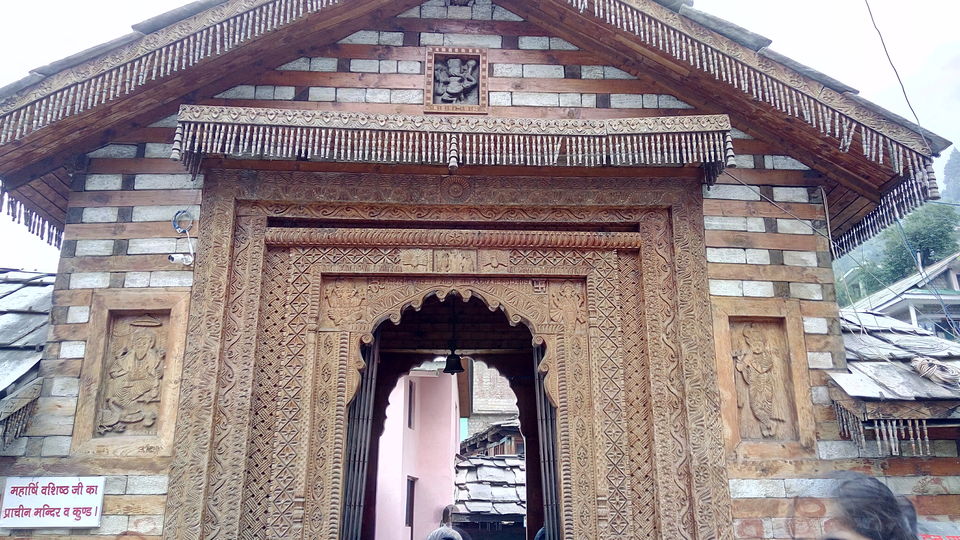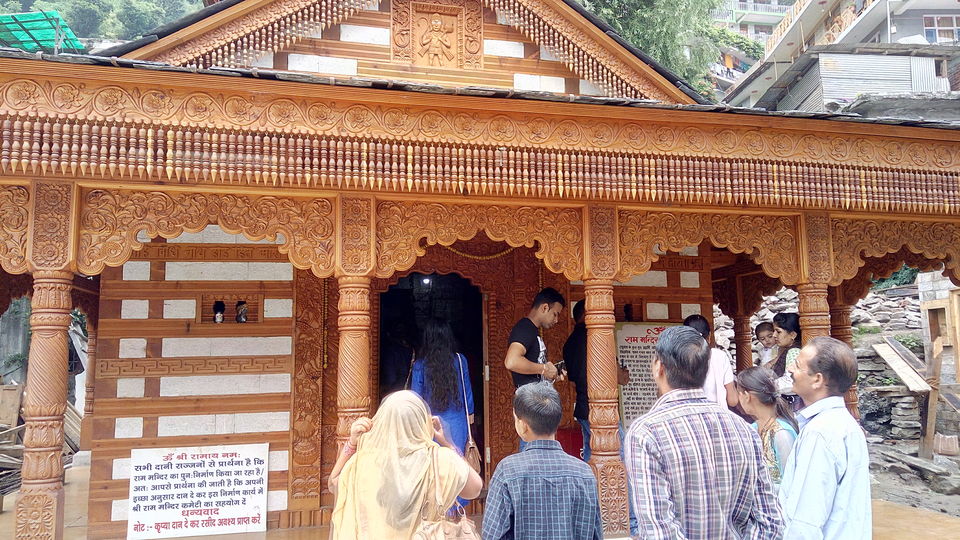 I bought the Family Tree structure which embedded 'Father- The Brain, Mother-The Heart, Brother-The Hero, Sister- The Happiness of our Family' in it. This one you can see only in Manali.
Suddenly we got hungry and wento a maggi shop. Here in manali town, you can find small stalls selling tea, maggi, boiled eggs with salt and pepper, bread omlette and momos. We had tea and maggi. This maggi tastes soo good..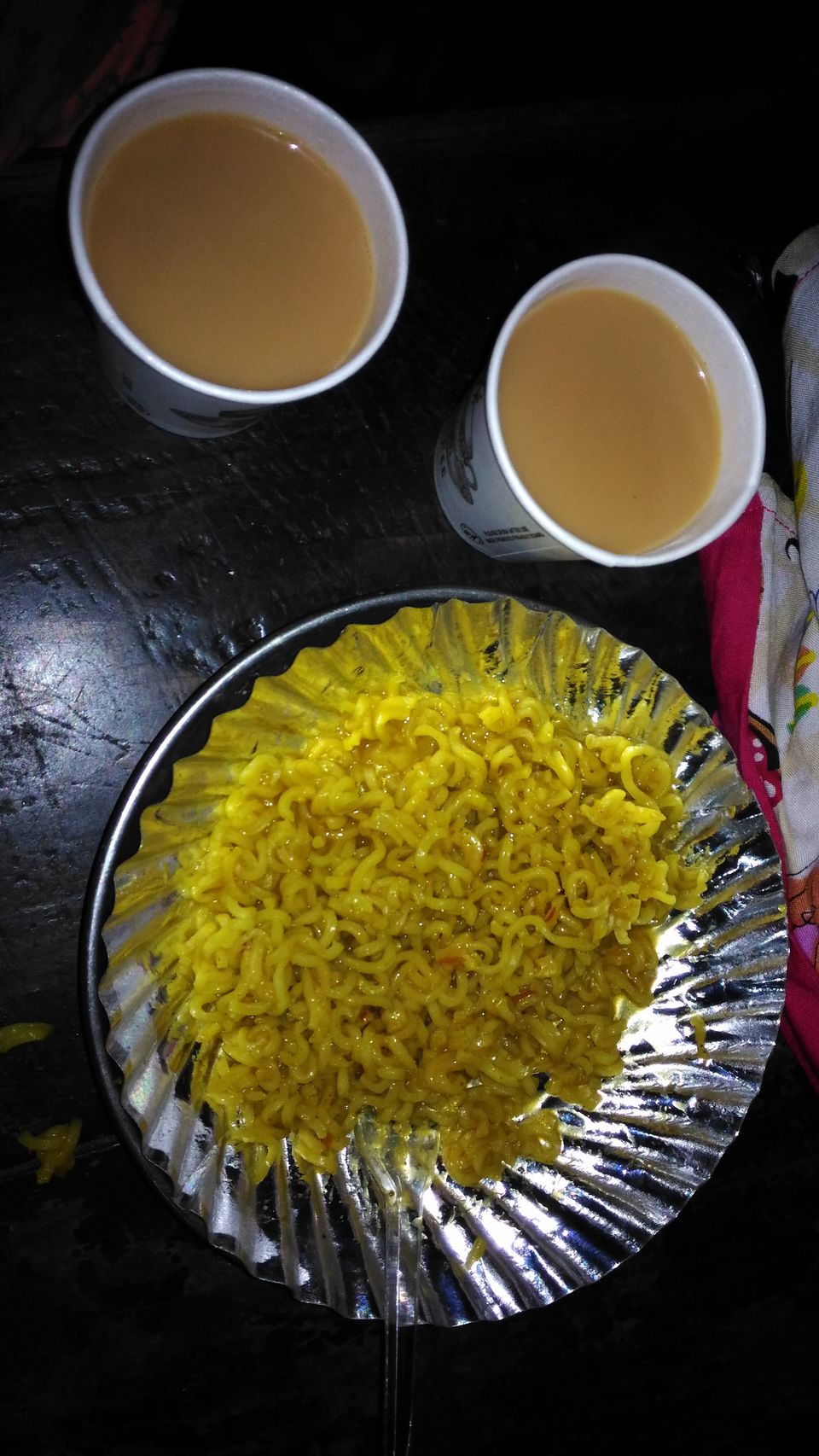 I think the aunty had put some puthina leaves or something in it..It tastes soo refreshing. The tea is also superb. Best tea i ever had.
Then we returned back to Hotel. One thing to be noted here is if you are a gang of girls only, be inside your hotel after 8pm. After that time, Manali is not safe..You cant see a single women there outside after that time.
On the way back to car , my friend saw a Fish Spa and we could hear people laughing out soo loudly from there. Out of curiosity she entered inside and saw people doing fish spa and since its tickleing they were laughing. She called out me out and We found its interesting and decided to do it.
If 4 persons are doing the spa, they will give discount, Rs.200 for one person for 20 mins. Its written there 'Fish are food for the soul, Soles are food for the fish'. Haha :D We also couldnt control the laugh because of the tickling.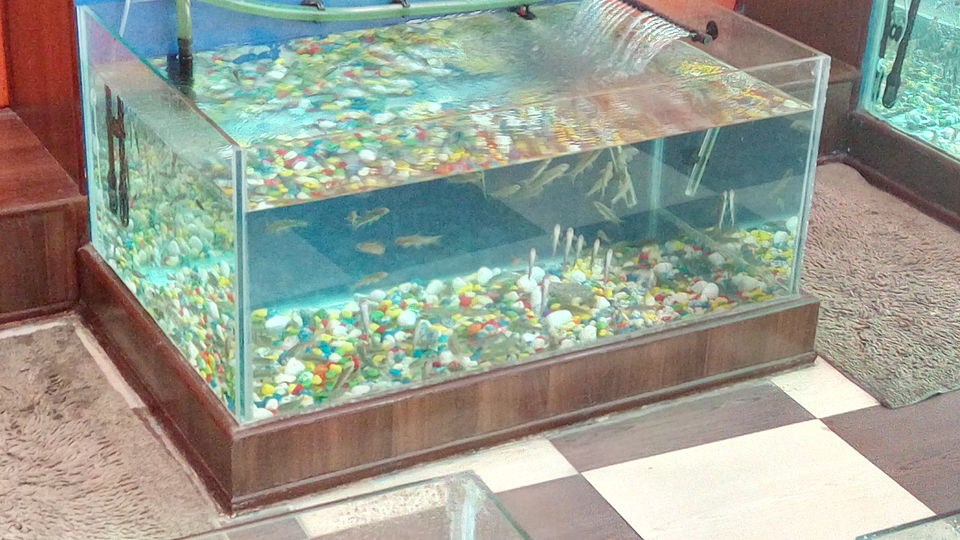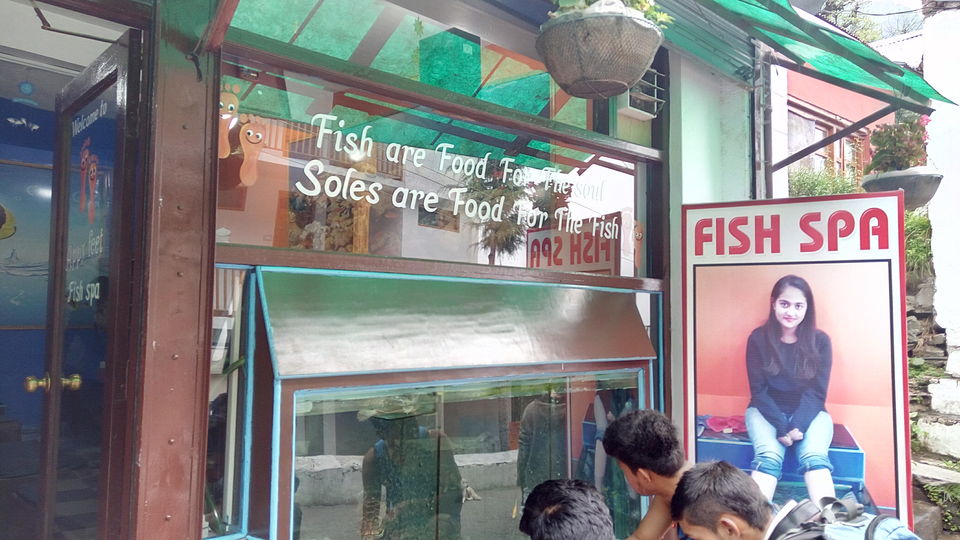 After the relaxing fish spa, we went back to cab and go to Hidimba Devi Temple.
Hidimba Temple Architecture is really special. Esp the greenery is awesome..Unluckily you cant enter inside the greenery there and yeah I guess its still clean because of that reason only.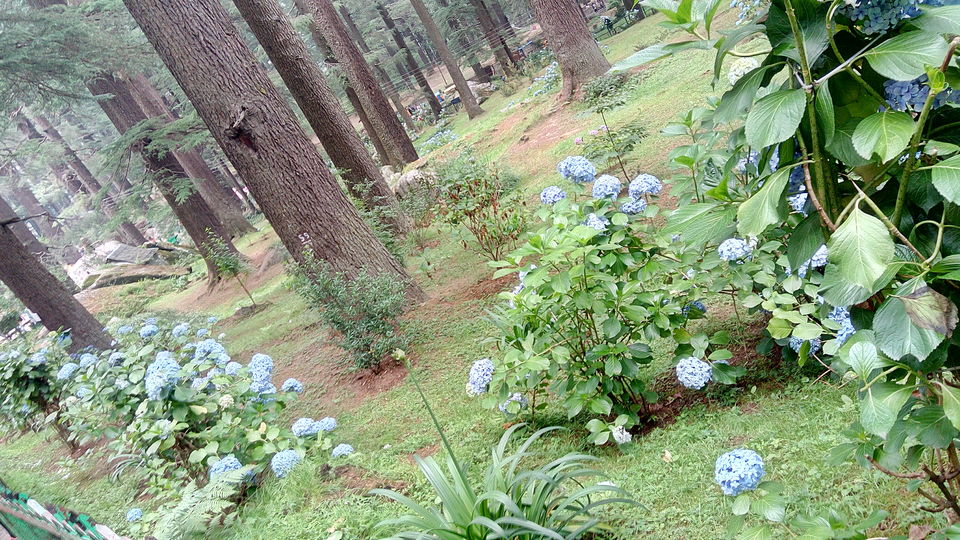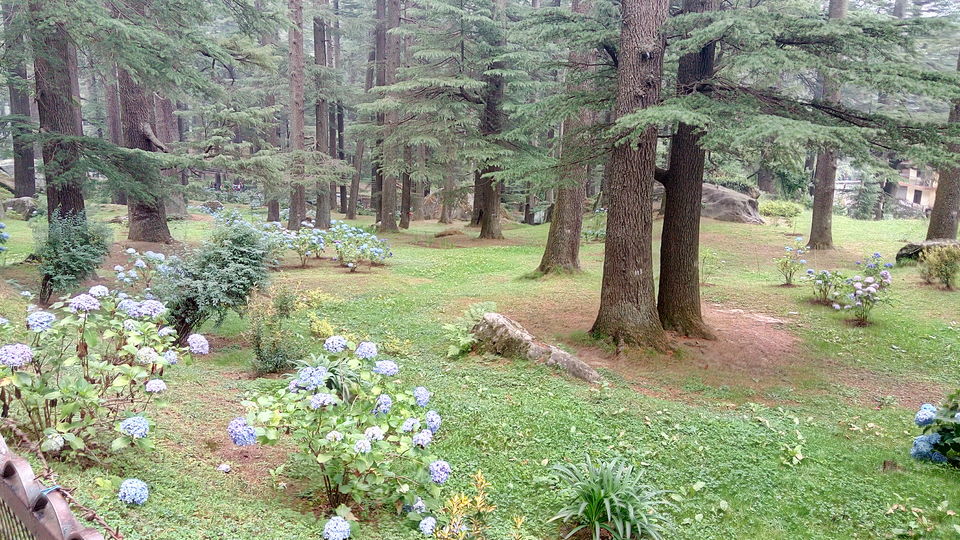 Then a lady approached us and said 'Bachoo wear the Manali traditional dress and took pics for 50rs per head'. We found it interesting and said yes. That lady brought some red shawls and made us wear the dress and jewellery..It looks amazing. She gave a flower basket also to get the perfect finish in pics. We all felt happy by this photoshoot :D And was excited to see how we look in their traditional dress.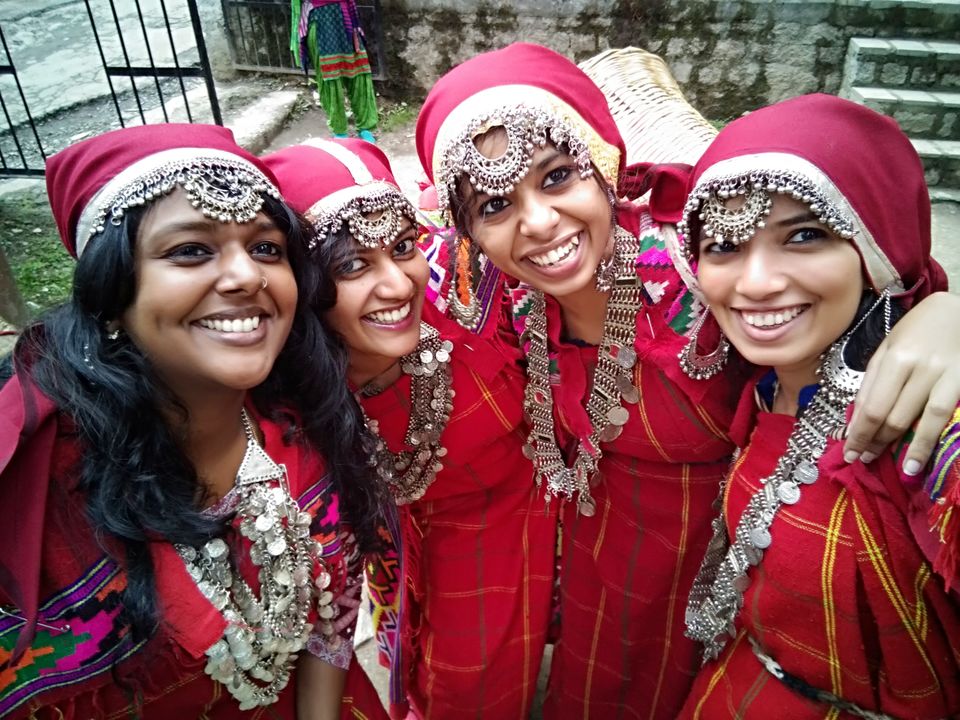 After clicking pics in the traditional dress and gave back the dress, we entered the temple. We could see a huge queue there and so we prayed from outside. We clicked many pics and spend some time there.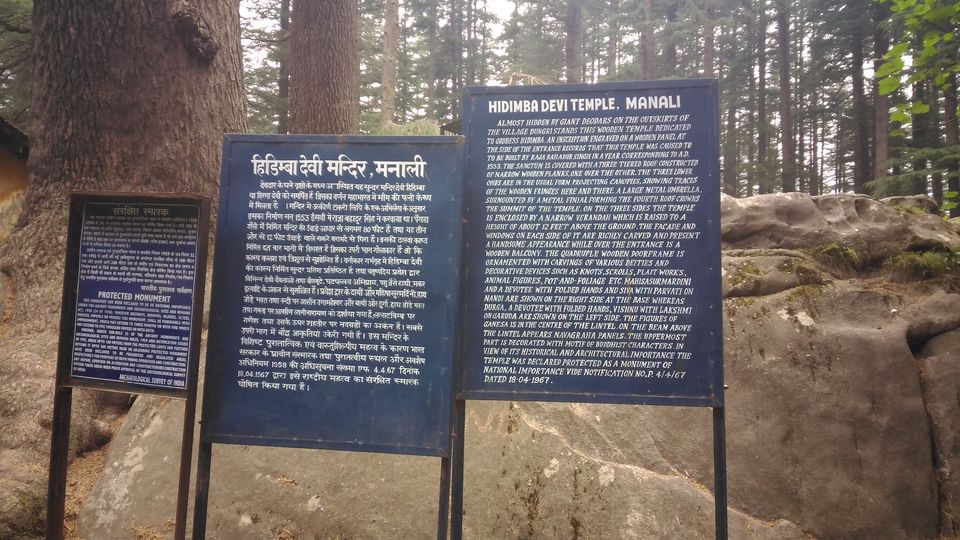 You could Many pine trees which seems to touch the sky..It really felt like a Magic Land.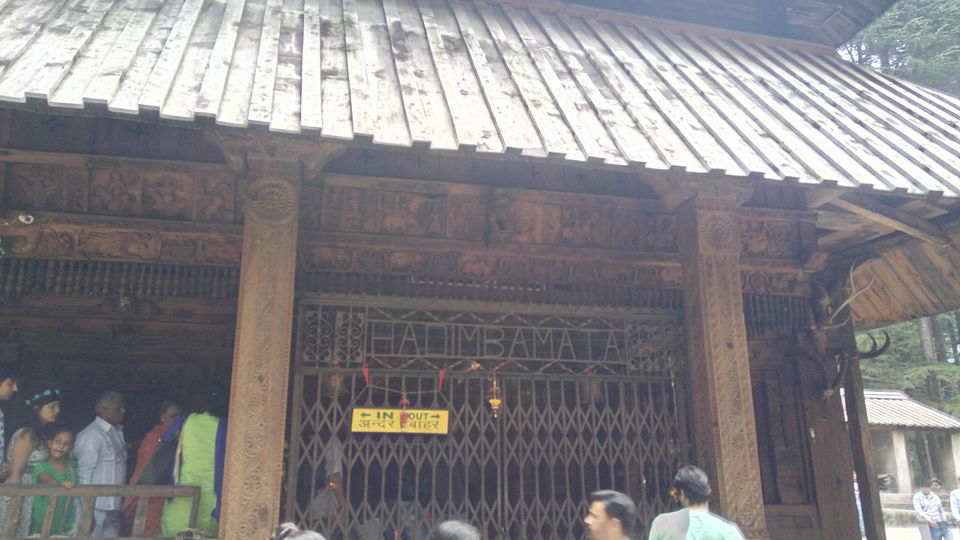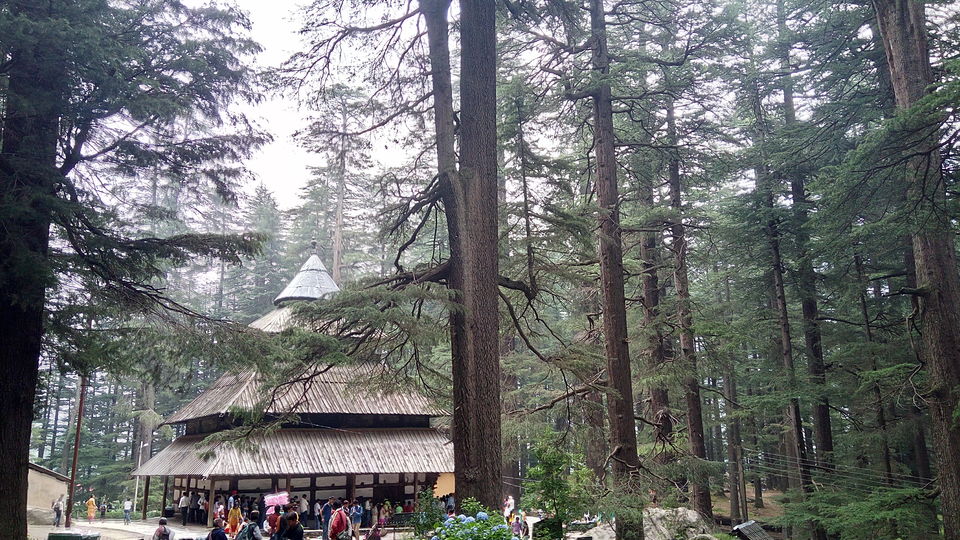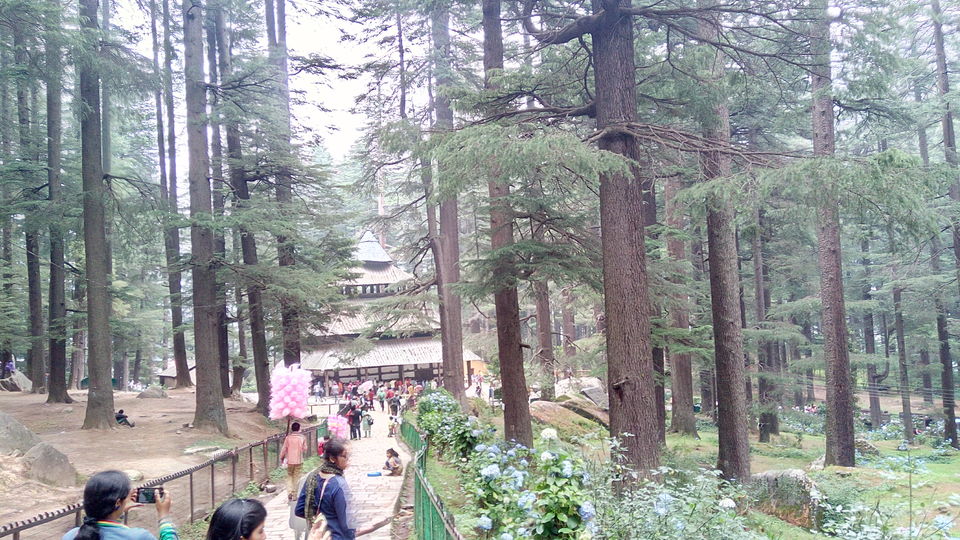 We came out of the temple and was sooo hungry and started searching for a hotel. We could see one dhaba der opposite to temple and we entered inside. Ordered Tibetian Roti, Rajma Curry and Aloo Tomato. The Tibetian Roti was good. By eating 2 Rotis, your tummy become full.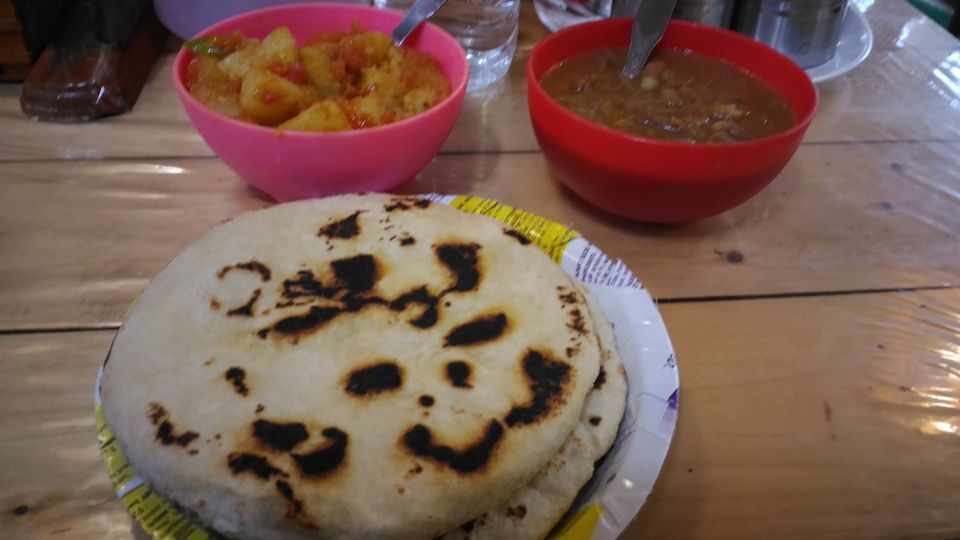 The driver then dropped us in Mall Road and told to explore by ourselves.
When I enquired the local people about whats soo special to buy from manali, they told about Apple Pickle and Fruit Sweet Burfi. So I bought one bottle Apple pickle, Lingri Pickle and 4 packets of Different Sweet Burfi for family and friends.
Then we went to the same food stall were we went yesterday and had Tea, Veg Momos and Chutney. Momos also tastes soo good.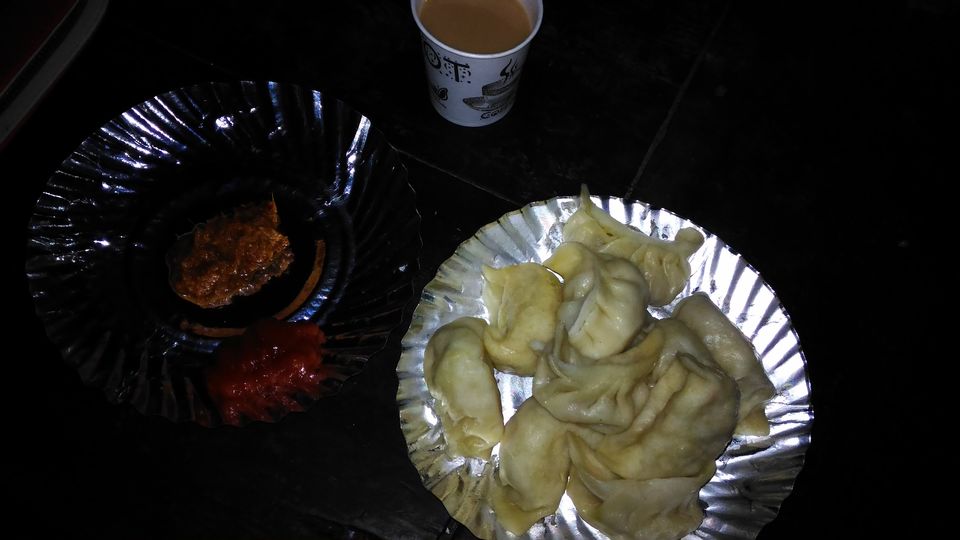 Since it was little rainy that day evening, I cudn't see some road side shawl stalls which i saw the day before yesterday. After walking for sometime, we returned back to Hotel.
Driver told us to pack and get ready at 8.30am. We all were in sad mood like 'Ohh Are we really gona leave Manali today? :('
Dont know why, but Manali seems to be familiar and used to within 3 days of Stay. We started at 8.30 and the target destination was Rafting Point in Kullu.
Due to weather condition, Paragliding was cancelled in Manali and now a days Gliding happens in Kullu only. Also, Solang Valley was also closed for some work. Adventureous Heart of mine wanted to do both Rafting and Paragliding.
We said Adieu to Manali and went to Rafting Point in Kullu but couldnt see anyone there. It was closed. Driver called some other people and asked whether rafting is not there. They said because of the rain, water level rise and rafting is closed. We all felt sad. But the driver told there is some other place and we went there. Thank God..We could do it..for 4km rafting, its Rs.800 INR per head. We were the only first and last group who did rafting on that day. It got closed afterwards. When i enquired about Paragliding, they told its also closed due to weather and they told us to come back next time to do it :( I really felt sad because it was my dream to do Gliding in Manali :(
Haaa so we got ready and went to Rafting. They took us in a car to the starting point and all 4 of us got inside the Raft. The rider also got inside and he told he will record video and pics of rafting and should pay Rs. 800 once we complete rafting. These are only once in a lifetime experience..No matter how much money it costs, you should definitely do it. You can always make money..But you cant always make memories na..These are really valuable memories. So we agreed for video recording. Rafting wass soo good..Such a beautiful experience. The water is soo damn cold..when the water falls on you, you will definitely got freeze..It was an amazing experience.I couldnt believe how fast we covered 4 kms and reached the ending point.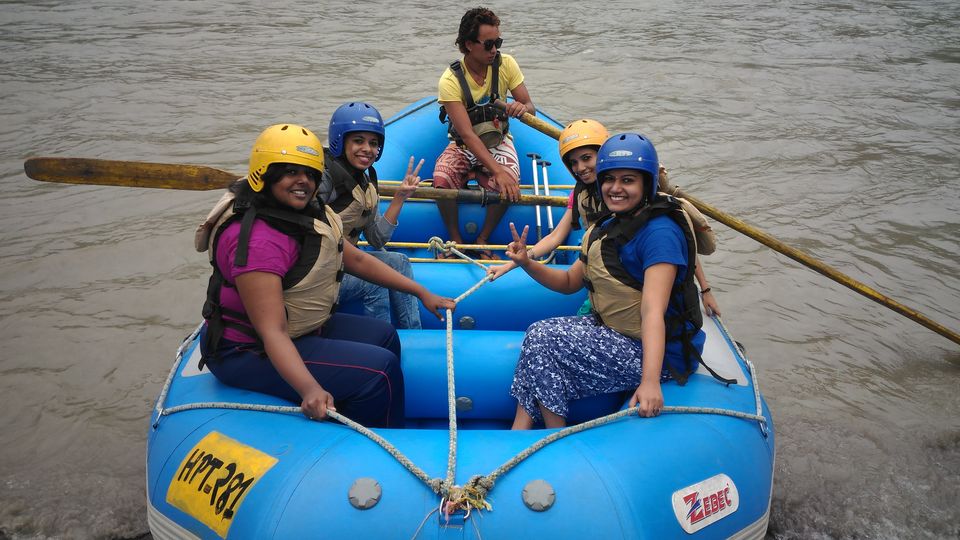 Then we gave back the jackets and all and approached the coordinator for collecting video recorded. Video recording costs 800Rs. Then what he told next made my day...'Weather is ok now and Paragliding is openn'..My happiness has no boundaries :D ..I suddenly told him We are ready and go for it..We paid 3000 per head for paragliding and if you want to record the paragliding and get pics you need to pay 400 per head extra. We all paid for that too. They took us in a cab and went towards a mountain. We need to take off from a top position na for paragliding. First we went to landing point of paragliding. We waited there for 15-20 mins. No one was doing paragliding because of wind problem. We could see pear trees and cabbage plants nearby and saw an old lady pluking cabbage. We went near her and asked her whether we culd pluck some pear from the tree. She was soo kind hearted and she climbed that tree and gave us 6 pear fruits..It was soo fresh and yummy..We thanked her for taking the effort..While eating the pear, we could see a parachute coming down..My mind got excitedd...The parachute finally landed and a 50 year old lady came out..We were surprised to see a person with this age doing paragliding. She was soo happy and excited. She told its really a superb experience and she felt proud of doing it. We coudn't even wait more to do the gliding. Suddenly the gliders took all the parachutes and we got inside a new cab and drove towards the starting point. We reached the spot.
They took the parachutes outside. We wore the safety belts and all..and the gliders safety belt and also parachute will be connected to us. And yeahhhhh..The time came...The dream which i was dreaming of gonna happen within a matter of seconds..My instructor, his name was Yash, he told me i should run a little while take off and i did as he said..And yooo Started Flying..The Top View was sooooo amazing..Really..!! The Words are not evough to express the pakka emotions....Birds are really lucky enough that they can fly everytime..Paragliding is kinda therapy..were you will get inner peace and divine feel...You will understand what a tiny position you occupy in this world..Yash told hez gona do some Zig Zag flying and it was realllyy exciting..At one second you can see mountain below you..Another second you can see sky...Really amazing..I could see mountains, small rivers, water bodies, trees, cabbage cultivation, etc etc....I felt sooo proud of myself..Cant believe that Im 5000Ft above land. I asked him whether he can increase flying height..He told 7000Ft is their maximum and on day day due to the wind problem they cant increase beyond 5000Fts. It was really an amazing feeling of flying in air which cant be compared with anything. I cant believe that i stayed in air for around 9 mins.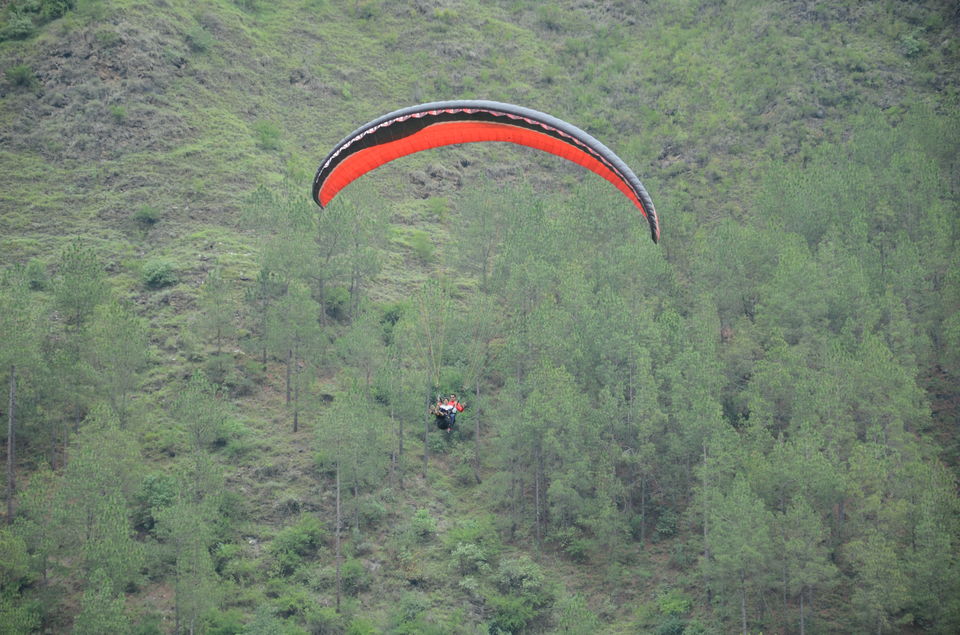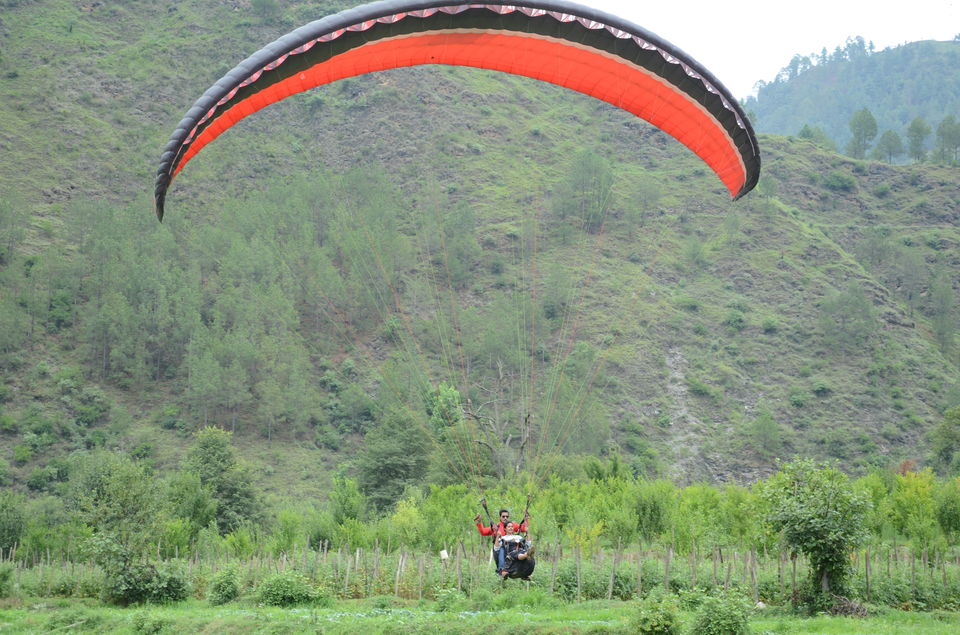 And Yash told to get the feet straight and get ready for landin :( It was sad that i felt like the flying finished soo fast :( And i landed...For all the Adventureous people out there, you must definitely go for paragliding...These Adventures will surely fill our soul..
I felt very good so that the man purpose for coming to Manali is fullfilled.. :) Then we went back to the spot were our driver was waiting..We parcelled momos for lunch and started the longggg journey at 2pm back to Delhi Airport.
Yet another surprise happened on that day..I was able to meet my ILP Friend after 2 years in Kurukshetra which was on the way to Delhi..I really felt happy and fulfilled...We reached Delhi by around 4am in morning and enterted flight at 6.30am...Reached Kochi at 9.30 :( Again back to schedules..Job..Busy Life..
Now a new idea got stuck on my head..What if you can do a job which is both your passion and source of income ? I felt like just resign from IT industry and start a career as tour guide or freelancer so that you can explore different places and have self satisfcation at the same time..Good thought na...But difficult to execute...Well...
Take every chance you get in your life..Bcoz some things only happen once..May be the best moment of your life will be on your next big adventure..! As for me it was a memorable Manali trip!