2014, Third Year College Trip to Manali, Couldn't go.
2015, Second time After College and Before my First Job, my friend asked me to join but again didn't joined due to some reason.
This time 2018 when I left my Job after 3 years, I made my mind and planned this second trip of the year as well as my second visit to any in Himachal.
18th Oct'2018. Packed my Bag with clothes, Tripod, Headphones and left Home at around 5. Booked the tickets a day before is risky task as you never know you will get the tickets or not and even if you get then it might be very costly. Texted the details to my friends and met them at boarding point, and according to rickshaw drivers all buses to Himachal starts from Majnu ka Tilla which is true. We bought some food/snacks in case the driver doesn't stop for dinner. We boarded the bus around 7 and settled at our seats. Talking, Munching and after a Little Nap, it was 12 and the driver was still moving. We assumed the bus will now stop in the morning for breakfast but around 12:45 he stopped at some Dhaba when everyone was almost slept. Finally we had our dinner after which everyone slept.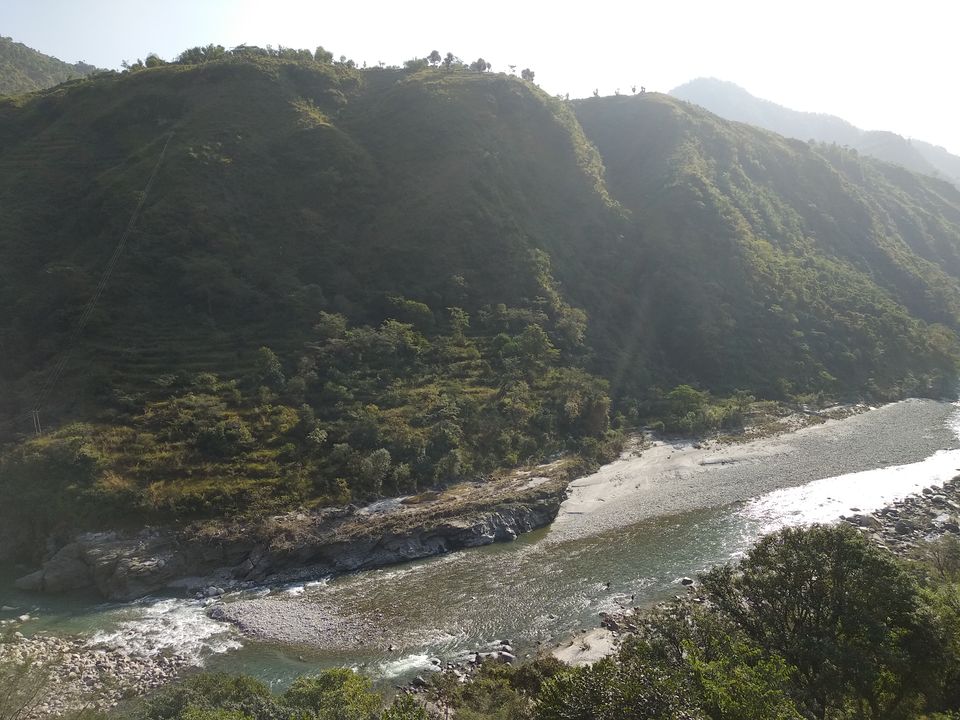 Day 2, It was beautiful Morning as we were in the middle of the mountains moving in circular and zigzag way. Around 9 AM, Bus stopped for breakfast from where the view was river flowing between the mountains as in the image. We got fresh, brushed our teeth with our fingers and believe me such things brings joy and keeps us in reality that we are actually on a vacation. We had our breakfast, Aloo Parantha standing at the back of that cafe where the view of the above image was clear and one could just close eyes and feel the wind flowing at peace. Now the last stop was Manali and in maps it was showing 3 and a half hours. Enjoying the view outside, talking and after a little nap we reached a place few Kms from Manali. We took Cab from there as there is no other option to reach Manali. Luckily our Hotel was not so far and we reached there though we missed the check-in time which was 1 PM. So, basically it took around 15 Hours to reach Manali.
NOTE: Nowadays most Volvo buses stops few Kms before Manali due to bad roads and landslide in rainy season.
Hotel Himalayan River & Camps, we checked-in to our room, had my tea and got freshen up. About the hotel I can say that it was nice and decent hotel, rooms were nice and comfortable. This hotel also have Camp facilities available. We booked it for 1 day so, we got it for cheap rate at MakeMyTrip. Also, you can check the Vlog I created during the trip on my YouTube channel.
We decided to leave as we were not having much of a day left. We planned to visit nearby places like Mall Road, Hidimba Temple, Nature Park.
At the End we reached Mall Road and was just wandering there. By the time we were deciding the plan for next day, we bought some groceries for breakfast.
Though it was too early but we had dinner at Mall Road and decided to go back to hotel as there is nothing nearby our hotel to have dinner nor it was included. While coming back we talked to a cab driver for next day's plan. We asked him for Rohtang & Solang Trip for which he told us the cost Rs 3000 but we bargained to Rs 2700 and give him Rs 500 Advance.
NOTE : Rohtang is 51 kms away from Manali and you need to have a permit to visit Rohtang La. The Permit you will get online and will cost around Rs 750 depends upon the petrol or diesel car. Permit because its a zone prone to heavy mist and can be dangerous in low visibility area that's why it has opening and closing timings. Snowfalls, Landslides occurs anytime due to frequent patches of Ice. Rohtang Pass is permanently closed in winters due to heavy snowfall.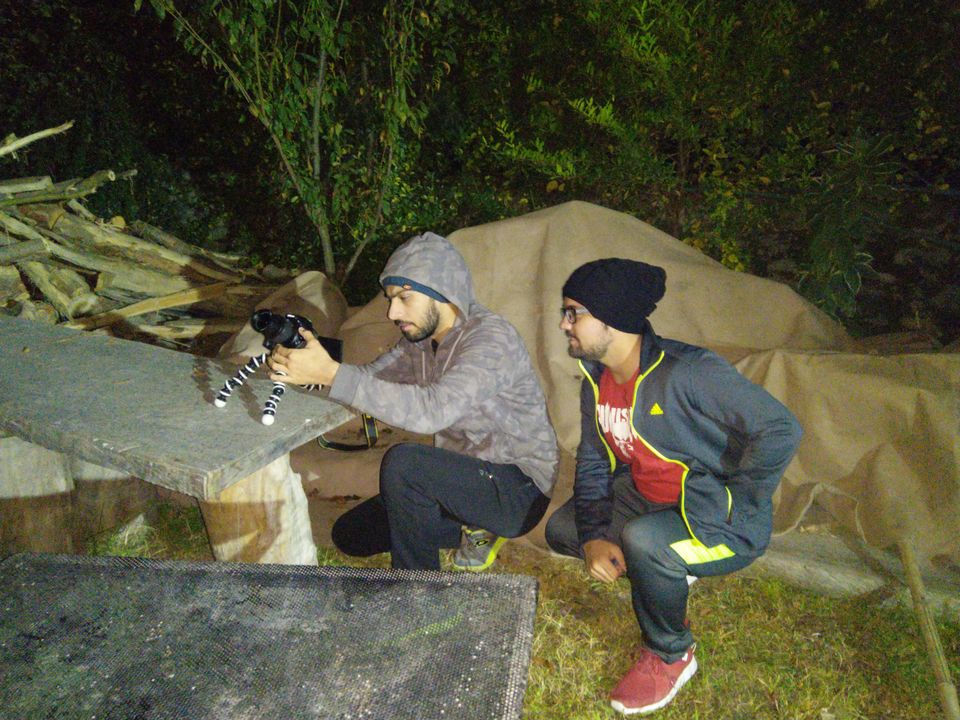 Day 3, Chilly Morning as the temperature was around 2 degree. I woke up and tried to look outside the window, but couldn't due to fog all. We got ready and Cab was arrived, we made and packed the breakfast that we took last night from Mall Road - Bread, Cheese and Jam, rest we saved for the journey as it will take around 2 hours to reach at the top of the mountain. We checked-out from the hotel and went across the bridge to take the cab. So All Set Now.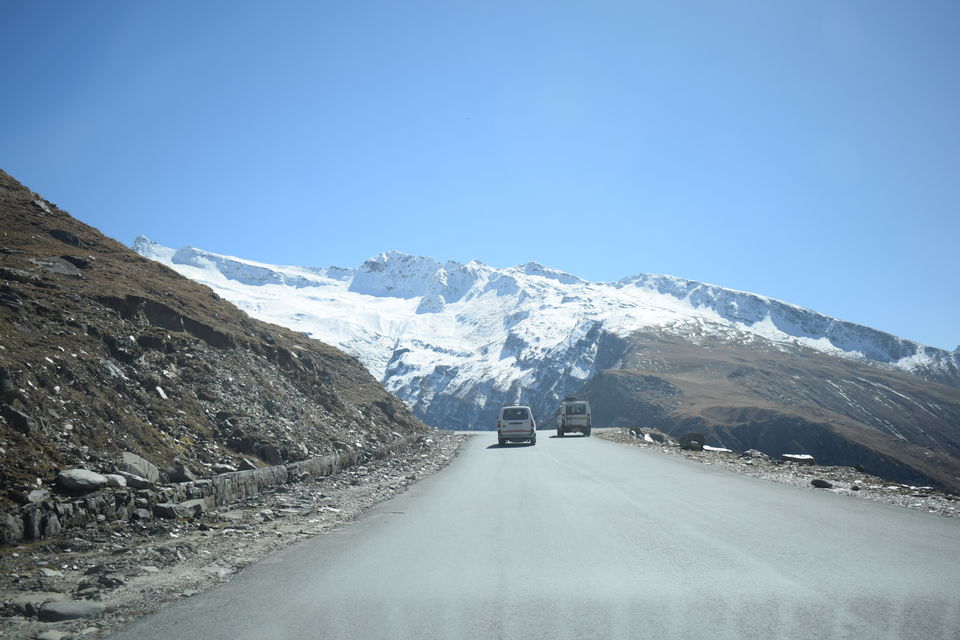 We took a stop at Mall Road for some cash as we will be needing for the whole day. Then we next stop at rent shop where we rent the whole suit and gum shoes for which the cost was Rs 250 per person. We will be needing the suit as there will be snow and temperature in minus above. Also, they were trying to sell us Gloves and Socks, but we didn't took as we thought wet will be okay but going on and reaching close to the top when we took break for tea the wind flowing was enough freeze our hands and luckily we got the same gloves at tea center. Moving further we started seeing ice on rocks and then snow on the sides of the road.
NOTE: You can bring your own Winter Stuff (Clothes & Gloves etc.). As renting is waste of money unless you have no winter stuff.
It was 9:00 PM , we realized that it got too late that almost all buses have left for Delhi. We asked one the bus coordinator but it was full, then we asked one more bus there but it was only going to Chandigarh, that could be one option for us. So we tried one last standing and ready to leave in few hour that was the last one available and luckily it was going to Delhi with seats available, we took it immediately and hold on to our seats. We knew now he will only stop for Dinner so we slept and next morning I woke up and checked, the bus running on time and stopped at the same Dhaba where we stopped for the dinner on first day. We had our breakfast and at around 11:30 we reached ISBT Kashmiri Gate, Delhi. It was short though Amazing Journey and the achieved this at expected Budget of Rs 5000.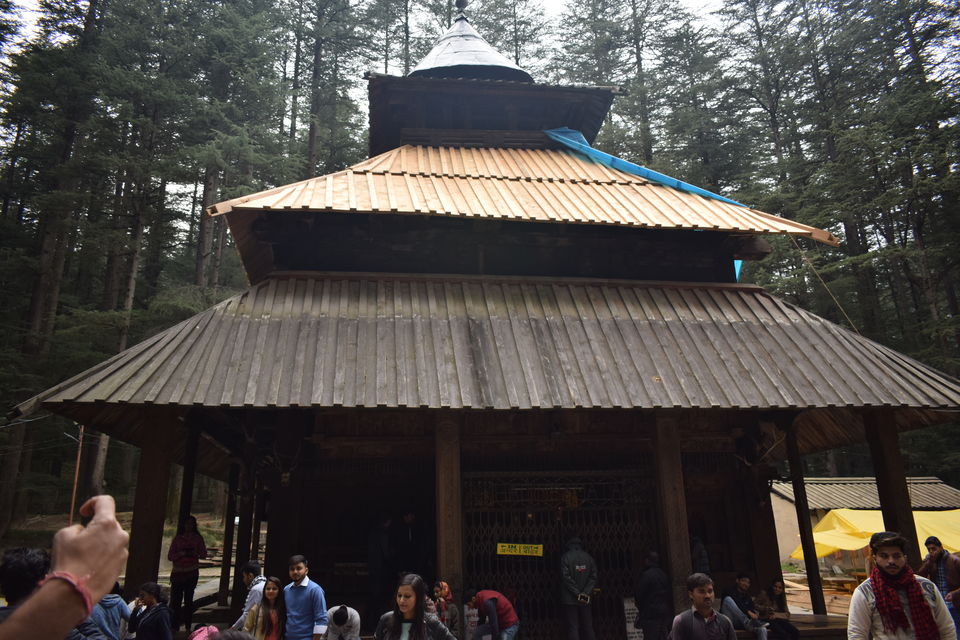 We took Local Bus from across this bridge and stopped at local Manali bus stop. From there we walked in Mall Road and took auto to Hidimba Devi Temple. As we reached there we went inside and saw sellers sitting around the corner selling caps and glasses, small children can ride on YAK (animal), local ladies were holding giant rabbits so anyone can hold and take pictures. We went inside the temple, prayed and wandering around the temple taking pictures. Also, this is the same temple where 'YE JAWANI HAI DEEWANI' was shot where Ranbir and Deepika were arguing about having kids. We asked around what else is nearby and they told that there is park near Mall Road and that was of walking distance so we walked and clicked beautiful pictures around.
Came back to hotel, changed and rested for a while and then thought of going outside joining the people dancing around Bonfire but by the time we got out of our room, everyone was gone and there was silence all around, just the heavy noise of river flowing. So, we did some photography around the Hotel and then again went back to room, had some tea/coffee and slept so that we could wake up early as the cab driver told us to be ready by 7:30 PM.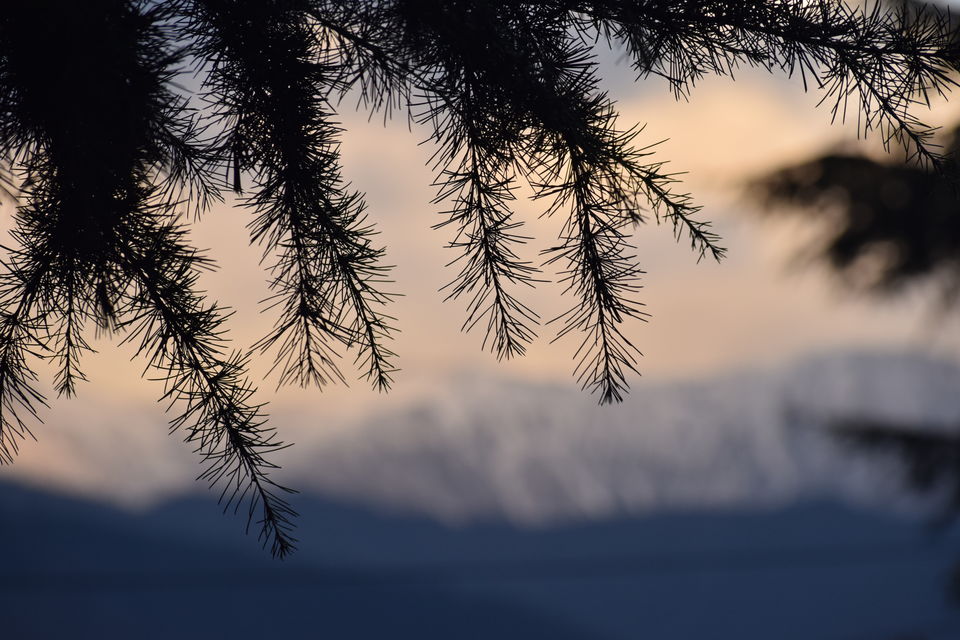 I am all set now to cross check one of the place in my Travel Bucket List, Rohtang Pass, Himachal Pradesh. I have seen many vlogs and pictures on Instagram, people clicking picture in front of the Landmark Board of Rohtang Pass and today it was my turn to accomplish the same.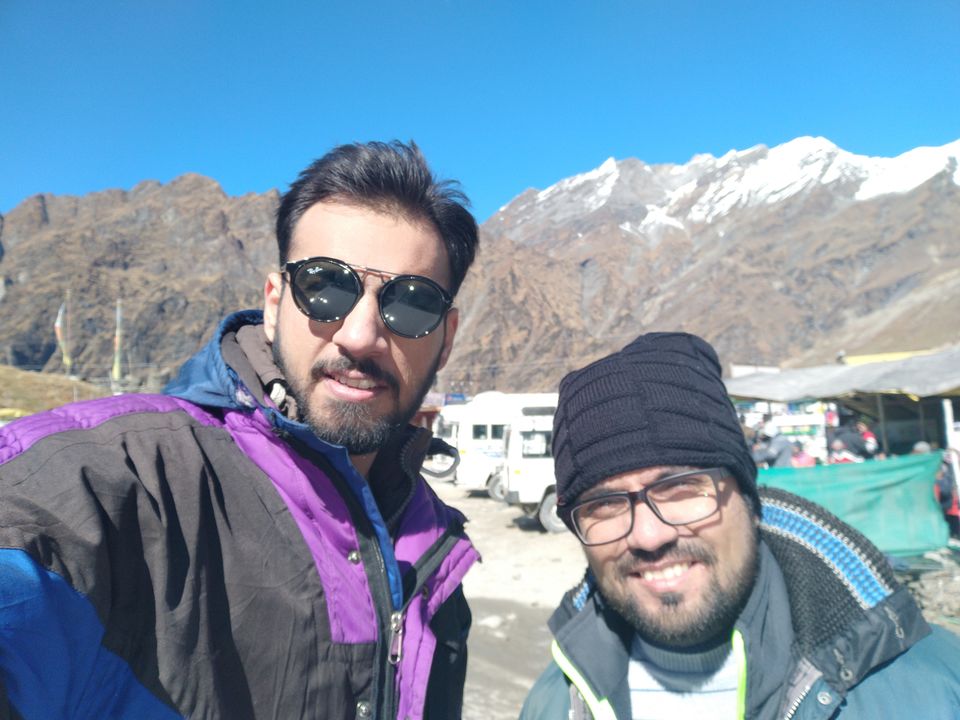 Finally, Most Wanted and Most Awaited Destination. I never imagined in my life that I would be here, usually when I see vlogs and pictures of people, I just wish that I will be visit here once and now that reel moment feels like real moment. We were playing with snow, laughing, taking pictures and as I climb up running, I started to feel low oxygen and that's obvious the more you go up the oxygen level will fall, though it was not that high. Luckily, we got network up and I video called my Mom and she saw everything around.
We were going up and up, racing sometimes, throwing snow at each other, sliding, making butterflies, eating Momos at top (What else do you want?), had coffee and later all went to normal, basically body temperature automatically adapted the weather but it was the month of October and it was sunny also but temperature was still -5 degree. So, it depends on which month you visit.
As told earlier, I took a picture in the above one and finally my trip got successful. Eagerly searching for this landmark was a task. Since starting after reaching here I was keep saying to search for this landmark stone. And now I got to know that if have accomplished this then I can do other trips as well.
After this we finally went back to cab and started moving towards Manali.
Due to some work going on the Road we got stuck in the middle of the way and that because of which we were not able to see our next destination Solang Valley. So we were now at the end of the day deciding what to do as we could have used our one more day for one day trek but I was happy with this much of my trip. Also, we were not having Hotel booked and just for one night booking a hotel somewhere is waste of time. So we decided to head back to Delhi. We had our dinner and asked Cab driver to Drop us the same bus stop where we De-boarded when we got here.